SpringHillNursery.com
Tipp City, OH
Consumer Complaints and Reviews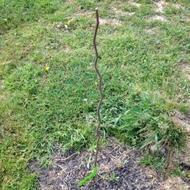 Around May 2016 I called this company to order a twister lavender redbud tree to be told they were out of stock and they do not accept back orders. Marked my calendar for January 2017 and ordered two lavender redbuds and one rising sun redbud on January 2, 2017. I received the trees February 28th which they literally looked like sticks. I planted the trees per their instructions doing everything exactly correct. Within two weeks, we had a blizzard. (I live in Northeast Ohio.) I called their customer service which advised me to put a garbage can over them and assured me they stand behind their product.
Now it is May 18th and of the three, one still looks like a stick. I called customer service, talked with a person with an accent that was difficult to understand and hung up. Called the next day and again got someone hard to understand, explained my problem, asked "how long do I wait to see growth" and requested a replacement. Was told they are out of stock and that they would send me a voucher. As everyone knows, trees take a while to grow. I am now out another year if I wait on their product which I will not. I do not want a voucher as I do not want to deal with them again with their lousy customer service. Like another reviewer, I would have given a negative rating if that was possible.

Ordered 2 plant hangers beginning of April. Never came and when trying to track package... says shipping method unknown. Spoke with someone on chat who apologized and would reship. Now 2 weeks later... never received package again. Again my acct clearly shows the second order... shipping method unknown. I chatted again and was told it is going reg mail and this is why no tracking #. Not sure how they fit 2 plants hangers in a mailbox. So she said it's on way and would be here Friday... I told her it's been ordered for close to a month. Friday came and went... nothing. So I see they refunded my acct the day I spoke to her... with no notification of are they sending free? Did they do out of courtesy? I will never ever order anything from this company again... and will be sure to share my story!!!! Very unhappy.

I put an order and was given a ship date; when the plants did not arrive, I e-mailed to inquire and was told that the plants will arrive mid-March. I called to ask about the shipping date and was told that the ship date was changed to end of March. I had to call twice and was put on hold both times without warning. I canceled my order. I frankly do not know how the company is still in business.

I would give them a negative number if possible. I put in an order and SpringHill could not find it so Jenny, Mark and Jason determined that I would be charged double for these items. They were condescending, rude and unapologetic for their mistake. When I asked if the flowers were grown in the US Jenny indicated that she was unsure. At a time when jobs are needed in this country why buy here?
How do I know I can trust these reviews about Spring Hill?
794,387 reviews on ConsumerAffairs are verified.
We require contact information to ensure our reviewers are real.
We use intelligent software that helps us maintain the integrity of reviews.
Our moderators read all reviews to verify quality and helpfulness.
For more information about reviews on ConsumerAffairs.com please visit our FAQ.

I have ordered twice from this company, I have emailed them twice. Never got a response. When the package arrived, they looked dead already, but we planted them, plus a peony, and they never came back to life. We bought the best potting soil, food, we did everything. I emailed the company asking for a refund, NO answer. Before you buy, read reviews.

Two years ago I ordered a collection of reblooming daylilies. I expected to receive 2 each of 5 different plants. They did not bloom the first year at all. This year they did bloom and in the end I have 8 yellow daylilies all the same and 2 mauve plants also the same. I was very disappointed and will not order from them again.

Plants said "June special", so I ordered June 6, but received half the order. Waited a couple weeks, called and was told the other half would ship four months later in late September or early October. They had my credit card on file without my permission and would have kept it to charge me for plants four months later without notifying me. Rather than marking the plants OUT OF STOCK, or even WILL SHIP IN FALL, they kept the plants on their website without either notice until well after they sold out. Later in June they have marked some as shipping in the fall, but still try to hook you in with "June special", as if it will ship right away. No help from the call center - they clearly get a lot of complaints. Stay away from this deceptive company.

I ordered bulbs in the fall. They shipped them to the billing address and rather than the shipping address. It was almost impossible to get a person on the phone that could do anything to fix the situation - it was a call center in India. They finally shipped a second order to the shipping address and then I had to return the one that came to the billing address. They returned money to the credit card which I assumed was for the box of bulbs that I returned but it was for the whole order. I was surprised to get a call from a collection agency saying I owed them money!!! Why - this was their screw up, not mine.
I paid in good faith when I made the order. They also said I made multiple orders which actually was a reflection of their staff trying to fix their errors. Also, bulbs were listed under the wrong code in the order and there were other smaller problems as well. I suggest getting your bulbs elsewhere. These people are just too frustrating to deal with. Personally I don't think I should have to pay what they say I owe them. But I will just to make them go away. However, I will warn others not to deal with this company.

I ordered red and blue ground covering phlox from Spring Hill Nursery in 2014. The blue phlox arrived hardy, well protected & packaged. I planted them and they're thriving. The red phlox showed up 2 weeks later poorly packaged, and dried. I potted & watered them, but they were dead. I notified Spring Hill Nursery by phone & e-mail with my order # and issue several times. Never heard from them.

I ordered flowers based on the delivery estimate date of 3/7/16 - 3/12/16. I looked at my account several times and my order never showed up. I called customer service and reached someone who barely spoke English. I gave him the order number and he said he was able to see my order, but it wasn't going to ship until 3/15. I emailed customer service, no response. After 5 days I emailed them again. I received a response saying part of my order would ship after 3/17... and to allow 7 to 10 days for delivery. So, we went from a 3/7 - 3/10 delivery date to now a 3/27 delivery date! NEVER again.

I ordered flowers. Only one survived. I asked for credit. They gave me credit. I've paid my bill in two installments after I finally got the credit and they are charging me $10 for late fee. When I called Customer Service, I stated my invoice states I owe $35 with $10 late but I actually only owe $20. They said I owe $23, which is nowhere on the invoice. Who knows.

Send in order, it is acknowledged. Later called SH about shipping, an uninterested person answered, no date set. Later a shipping date is provided. Shipping dates are extended. Extended again. Notified item is out stock after shipping date. Received two sad looking plants. Another item shipping date is extended. Again extended. Received notice item is out of stock. Spring Hill Nursery is an unreliable company and is a waste of money and time to do business with.

Beware: SpringHill is non-responsive to website customer inquiries and does not provide itemized prices or shipping charges on their email or hard copy receipts! So you are at their mercy when registering a complaint. I ordered 13 plants which came in 2 orders (not my choice). Despite being charged immediately and receiving an expected shipping date via email, I received a number of follow-up emails informing me that 12 of the plants would be delivered later - a total delay of over one month, which coincided with my being out of town. The plants arrived and sat outdoors for a week in 90+ temps. - thus dead.
I contacted customer service via their website, and requested new plants or a refund. After 2 weeks of no response, I called the customer service line (ha!). The agent was befuddled and seemed unable to determine the charges himself, and would only refund half my total shipment charge (meaning that it costs the same to ship 1 plant as it does to ship 12 plants, which I am certain is not the way they phrase it when you are making a purchase - and no receipt from them has any prices or shipping charges, just plant names). A rip-off. Any perceived cost savings from this low budget operation aren't worth the aggravation to this experienced gardener!

I will never order from this company again. I was charged for over $70.00 worth of flowers that were either dead (twice with the Hen and Chicks collection - 30 plants in all and 3 roses of 5 did not make it), or were forced substitutions for my original order (supposedly due to being out of stock). Also, plants were shipped well over a MONTH after my PAID order and was actually shipped past our planting season of 7a. Due to my concerns over the delay of shipment I called several times and asked to cancel the order. I was told they were unable to cancel as my account was in LOCKED status. When I asked what that meant I was told that it was probably because my plants were on the truck to be shipped out already.
They did not ship out for another two weeks after that conversation (and were not what I ordered anyway but were a substitution Everlasting Hydrangea was a substitution for the Kaleidoscope Hydrangea). In the end I do not have what I ordered. I have 1 live Hen and Chick out of a total of 30, 2 roses out of 5 alive, 6 commander in chief lilies that I still do not know how they will do as they were planted in a pot two days ago since I am not sure where to put them as they do not go with my color scheme in my flower bed and several bags of pills for plants (that I have no use for when the plants I ordered were dead or died anyway). :(

I ordered 21 North Hills Phlox from Spring Hill, and for some reason they shipped the plants in bags, and 10 of them were dead, and obvious that they had been dead before they were even shipped. The ones that weren't dead honestly weren't in the best shape. I emailed them and they did give me a credit. So I ordered replacements, and 6 of the replacement plants were dead when they arrived.
I again sent them an email requesting a credit and asking why they keep shipping me dead plants. I have not received a response and based on the comments on here I doubt I will. Until this occurred I had been a satisfied customer and bought quite a lot of flowers from them. Based on this treatment I won't order from them again. You are taking a chance ordering from them because you don't know what you are going to get, and their plants are not cheap.

After searching the internet for perennial flowers, I opted to order from Spring Hill Nursery primarily for the selection and the fact that they were running a May special of $25 off a $100 order. This special was supposed to be good through May 31, 2015. I placed my order on May 30, 2015 and did not receive my discount at checkout. I immediately emailed Spring Hill requesting they credit my order and did not receive a response. Three days later I sent another email asking to either credit me the $25 or cancel my order since it had not yet updated to shipping. The response I received was that my order was in process and they couldn't make any changes. I haven't received my plants yet so I cannot speak to the quality but I will say I feel duped. I will never order from them again.

First time ordering from Spring Hill nursery and waiting several weeks for plants. They came in little tiny pot (they claimed to be 3" pots but was smaller) with leaves all brown. The hens and chicks plant I ordered were dead.

Slow shipping, inferior quality, tiny plants? The 3 coneflower plants I ordered which were advertised in 2 inch pots are really in 1" plastic wrap and have black leaves. I don't have much hope for them. They ship very slowly and give you stupid answers to inquiries. The second order I placed came before the first and they were shipped laying down in a box with broken leaves.

I ordered 7 daylilies in June of 2014. They arrived in late October 2014 and I planted them right away. Only 1 survived. I called to have them replaced and was told the new guarantee was only 30 days instead of 1 year. How are you supposed to know if daylilies planted in late October will be alive in the spring? They are sending me a credit, because they no longer stock the ones I had ordered. I have ordered from them for many years, but will reconsider where I get my plants from now on.

I have been a customer of Spring Hill for a while. I ordered several trees with a lifetime warranty and called last fall and told them 2 trees died. I received an email last fall saying they would ship this April and gave me a 5 day window to receive. It's now May 7th no emails no trees so I called their rude overseas customer support and was told they no longer carried one of the trees and were out of the other. I would not order from this company that lies and has rude people working for them. Also if you Google Spring Hill Nursery you will see many negative reviews and now I can see why. VERY RUDE PEOPLE HERE... THEY HAVE LOST MY BUSINESS...

Ordered 9 Victorian Primroses - the colors were going to be "a mixture." In the photo there were bright, beautiful colors - red, maroon, purple and black. The order arrived - all 9 plants were Black!!! I called to complain (apparently, Customer Service is in India). The gentleman I spoke to seemed to have a problem understanding me, but agreed to sent a replacement. OK, the replacement order arrives - out of 9 plants - 7 were BLACK!!! So, out of 18 plants, 16 were black. Now, I don't plan on opening a funeral parlor and black was never my favorite color. I emailed the company after the 2nd shipment arrived and was given a kind of nasty reply stating that there was no way they could tell what colors were included in the order. But, I disagree - each of the plants were individually wrapped and marked as to color. I have always been quite happy with this company, but I am not sure what happened to this once great company.

I have ordered from Spring Hill for so many years that they shipped my plants & would just bill me. I never had any problems with replacements, or the plants I received. Then in Sept. 2009, I was in a horrible car accident which I needed 5 major surgeries. Well, during that time, I missed payments to Spring Hill. After I was back on my feet & it was brought to my attn. I owed them money, I paid them. The next time I went to place an order, they refused to take it. Even with a credit card. I even explained what happen to me. So I would never do business with such an uncaring company.

I feel as if I am being given the runaround. The shipping dates have been changed so often that I have lost count; yet the company was quick to charge my credit card. I prepared the flower beds to be ready for next week as was promised, and now I am stuck waiting another 2 weeks!!!!! By the way, the plants I ordered are ready at my local nursery!!!! I did complain and was given a reason that credit cards are charged right away in case the card expires before plants are ready to ship... Give me a break! My only hope is that because I complained they won't send me inferior plants.

Springhill Nursery has a great selection of products. However it appears that they intentionally delay shipping the order. Why should an in stock 10 ounce envelope of seeds takes two weeks to SHIP? Not receive... but two weeks to even ship. I have purchased four items from them over the last two years and it takes around three weeks to receive your products. On one of my last purchases, I order a tree. It was broken in half inside the box and the box had no outward signs of mishandling. It took over three weeks to received the tree and I ask the representative I called about the damaged product, "Would I have to wait another three weeks?" It came in under two weeks. I have decided to work with another vendor.

I just placed an order with Spring Hill Nursery for some rose pills. The total order was for $8.99. The shipping was $7.99; that is totally ridiculous to have to pay that kind of shipping price on a box of pills. I won't be ordering from this company again.

Dear CUSTOMER SERVICE. I have just had a very unpleasant experience dealing with your company that I felt compelled to relate to you. I have been a customer of yours for many years and wonder what has become of the quality of service and product that I had come to expect of you.
PROBLEM 1 You do not service your customers. On receiving one of your online email messages, I decided to order the Blushing Bride Clematis at a price of, I believe, $24.99. Moments after placing the online order, your catalog came via regular mail and, lo and behold, the price was $14.99 - ten dollars less! I sent three emails to you with the catalog code for the catalog price and requested a credit for the difference of $10. Two of the emails were returned because your web server for Customer Service was not operating (weekends?). The third one evidently went through because mailer daemon did not return it.
PROBLEM 2 Delivery dates are totally false. The confirmation said that the delivery date estimate was for 5/14/2014 to 5/19/2014. The delivery was received today, April 12th. Had I decided to take a vacation this week, I would have returned home to find a dried up clematis vine.
PROBLEM 3 The size of the plant and packaging are nothing less than PATHETIC. I expected to receive a plant that was at least a year old. Instead, it was a clone from this year - pathetically small and fragile in a TINY pot that had lots of roots protruding through the 4 holes in the bottom. I spent a half hour with surgical scissors trying to extricate the vine without severing the roots. PISS POOR QUALITY. The vine should have been transplanted to a larger pot long ago. Any other customer would have just ripped the plant out, severing all roots. In addition, the pot was in a cardboard protector with no kind of wrapping to keep the soil contained in shipping. Most of the soil was loose in the gigantic box that it was shipped in. You should take a look at how your competition ships their plants - especially High Country Gardens!
In conclusion, I WILL NEVER ORDER FROM YOUR COMPANY AGAIN because of its CUSTOMER DISSERVICE, POOR QUALITY AND SIZE OF PRODUCT, REFUSAL TO HONOR A COUPON CODE FROM A CATALOG , and inept, incompetent packaging and shipping.

This has got to be the WORST company that I have EVER done business with in my life! They send emails that are all colorful and packed with flowers and colors and make you BELIEVE that if you order, you will receive your items within the next few days! NO WAY! It takes WEEKS/MONTHS to receive an order from them! At the beginning of July 2013, I ordered some carnations because I had a credit for some other plant that I ordered that didn't survive. I just called them to ask when it was coming and find out that it won't be shipped until the FALL! Say what?
WHY don't they tell you that when you order? They said they only ship orders in the SPRING and the FALL! There should be a SHIPMENT DATE NEXT TO EVERY PLANT so we can plan accordingly! Once this plant arrives I will NEVER do busy with this place. Their plants are VERY FRAGILE to being with! They look like they are about a WEEK old when they ship them!

I ordered some special petunias early this spring. They arrived in good condition, and have been growing well but have not shown any signs of cascading so far. My complaint is that I received no blues, only two whites and the rest are red or pink. One of the blues was supposed to be more special. I was planning on red, white and blue window boxes for the fourth of July, but it isn't happening.

I placed my original order on 4/26/13, three days after the shipping opened up for my zone (4/23-6/7). I placed an order ranging from trees to perennials and grape vines. All the items said they were in stock, so I hopefully expected to receive my items fairly quick, at the latest June 7th. Over the course of a month and a half, I received various emails stating my items were being processed. By this time, my order had been split up into four orders, three shipping out at different times and one ending up being delayed until the next season, spring 2014. From 4/26/13, when I had gotten my order confirmation email, until 5/20/13, I did not hear a word from them, until finally, I got an email that some of my order was to ship and the dates the rest would ship. After receiving 12 emails from 5/20-6/12 changing shipping dates multiple times, I finally had shipping confirmations for my four supposed shipments that were stated to be delivered 5/23-5/25, 5/31-6/2, 6/9-6/11, and spring 2014.
Over this course of time, I assumed that the shipments were again delayed which is why I had not received them yet, but eventually I would get them. Yesterday, 6/12, I gave up and called the company to cancel my order, as I had enough waiting and the planting season is over for the most part. According to the customer service rep, all of my orders -- except one plant, the one now due to arrive a year after ordering it -- had shipped, and I should have received my plants. I then looked at all the shipping emails I received, and my shipping address had magically changed from West Fargo, ND 58078 to Fargo, ND 58102. I looked at my original order confirmation from 4/26, and my address is stated as West Fargo, not Fargo, so it was not a mistake I had made. Spring Hill had changed my address and sent my plants to somebody else. If I had not looked or called, I would be out of $220.
I am still stuck with a large plot of dirt/weeds in the middle of my yard where I had planned on planting my order. The only positive thing, so far, is my order was refunded without question, but I have still yet to see the money refunded on my bank account, which could take a few days; we'll see. OVERALL, DO NOT WASTE YOUR TIME ORDERING FROM THIS COMPANY OR THEIR ASSOCIATES. PAY MORE AND BUY FROM A LOCAL NURSERY. YOU WILL WASTE AN EXTREME AMOUNT OF TIME WITH THIS COMPANY AND END UP WITH AN EMPTY GARDEN. Some people have had success and some haven't; don't take the risk. Your local nursery will do everything to make sure you leave a satisfied customer.
Spring Hill Company Profile
Company Name:

Spring Hill

Formerly Named:

SpringHillNursery.com

Website:

http://www.springhillnursery.com/