Consumer Reviews and Complaints

My large size glass Pyrex measuring cup (64 oz. size) exploded yesterday while preparing a Labor Day side dish. I placed a stick of butter into the glass Pyrex measuring cup and heated it in the microwave for 40 seconds. I removed it from the microwave and as I turned around while holding it at waist level and headed toward the kitchen table, the Pyrex exploded in my hand. The glass handle was still in my hand, but the rest of this large size glass measuring cup was in shards all over the floor in the kitchen and even reached through the doorway to the living room on the carpet.
That wasn't even the worst of it. Trying to get the butter that was all over kitchen was quite the task. I only had a small cut on top of my foot (I was in bare feet) from a projectile piece of glass. I never had this happen to me before. It was quite startling and loud too! From now on, I am doing it the old-fashion way and melt the butter on the stove in a sauce pan. I have been using Pyrex for 30 years. What happened to them being oven/microwave/dishwasher safe?

My wife was cooking breakfast this morning and put bacon in a Pyrex baking dish and put it in the oven. The oven temperature was set at 425F which should not be an issue for what Pyrex claims their products can withstand. After 20 minutes of the Pyrex being in the oven my wife pulled it out and put it on the stove. The burner did happen to be on medium from her previously cooking on it. I walked into the kitchen approximately 5 mins after she had placed the Pyrex on the stove top and happen to be standing right next to the Pyrex baking dish as it exploded.
I say exploded confidently due to the loud noise the Pyrex made as it shattered and threw glass from my kitchen to the other side of my dining room leaving melted holes in the carpet and marks on the linoleum of my rented apartment. My wife standing only 3 feet away ended up with a shard in her foot luckily only a minor injury came of it. I previously read on here that Douglas S. Arnold stated "We want to assure you that neither PYREX glass bakeware nor other glass bakeware 'explodes.' Glass does not explode but it can break. As glass bonds break, people may hear a noise and be surprised." If you have experienced this it is obviously not true and maybe Arnold himself has not had the same events some of us have unfortunately had to deal with.

I purchased two Pyrex baking dishes about 3 months ago from Wal-Mart. I've used the dishes several times; however, when using one of the dishes today, 8/27/2017, it exploded in the oven! I was baking chicken at 350 degrees, and it had been in the oven for about 20 minutes when it suddenly exploded! There were no cracks in the dish, there were no sudden temperature changes, etc. So I have no idea of why this happened. We now have glass not only in our food, but also all over the oven.
We're now on our way out to get take out because our dinner is now ruined! We're not taking chances on possibly having glass in our food. I'm now reading other complaints from users who have experienced the exact same problem and I have to say, this is not a good thing for the company reputation. Is there any compensation that users can expect to receive due to this happening? You can be guaranteed, I will NEVER purchase anything from Pyrex ever again and I'm definitely letting everyone I know to avoid Pyrex at all costs!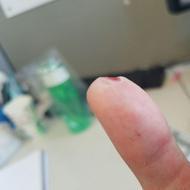 Bought a new box of Pyrex dishes. Was giving them an initial rinse in soapy water, however 2 pieces were stuck together. I attempted to pull them apart only to have them explode slicing a huge chunk out of the tip of my thumb! I was lucky this happened in my sink under water so I did not have pieces shoot up at me. I instantly grabbed a dish towel to attempt to clot the bleeding. I did not realize this was a thing until I told a co-worker about it the next day! To say the least I did return these and will never purchase another Pyrex. I cannot trust them now knowing how lucky I was I did not get more cuts!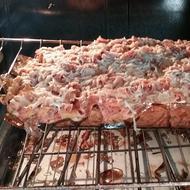 I made a delicious looking pasta casserole in my 9"x13" Pyrex baking dish for company. After baking at 350 degrees for a short period of time, the dish exploded and melted all over the oven. I have used Pyrex for decades and never had a problem. I was so mad and embarrassed! I then had to order pizza for my guests. What a mess and waste of time and money! I really hope my oven is not damaged from this incident! Fortunately, no one was injured as it was all contained in the oven. I will NEVER use Pyrex again!!! I am going to get rid of all of my Pyrex baking dishes.
How do I know I can trust these reviews about Pyrex Cookware?
880,156 reviews on ConsumerAffairs are verified.
We require contact information to ensure our reviewers are real.
We use intelligent software that helps us maintain the integrity of reviews.
Our moderators read all reviews to verify quality and helpfulness.
For more information about reviews on ConsumerAffairs.com please visit our FAQ.

I was baking a casserole like I have done many times before. Minutes into my stove it started smoking. Opened my oven and my Pyrex baking dish had exploded!!! What a mess I have to clean up!!! Is there any compensation?

I put cinnamon rolls into the oven this morning; placed them in a glass Pyrex baking dish. I took the dish out of the oven and went to place it down and it exploded everywhere. I had glass all over the floor and stovetop. I couldn't move because I was in my bare feet. My 7 year old grand-daughter handed me the broom so I could sweep enough of the glass up to get myself out of the shattered glass. I had blood dripping onto the floor from cuts on my legs and feet. Needless to say, my grand-daughter did not get her cinnamon rolls for breakfast. I'm glad she was not standing there because she may have had cuts to her face or worse. I have never seen something like this happen. Yes, Pyrex, it DOES happen!

My daughter was making dinner in a Pyrex dish. The stove was preheated at 350. About 10 mins later my daughter and granddaughter were standing when all of a sudden it exploded in the oven broke the glass on the inside of the oven. I have used Pyrex for years so I thought it was the stove but I just bought it 2/27/16 so I called CPSR. THEY TOOK THE REPORT SO I CALL BACK AND TELL GE about the situation. They told me to look into the Pyrex so I did. I couldn't believe what I was reading. Someone could be seriously hurt. Thank God my family was not hurt. This occurred on 6/18/17.

9x13 bakeware - I truly love my cookware. I use Pyrex all the time. I LOVE IT, for my egg bake so I made a egg bake at 350 degrees. Baked for 40 minutes. Took out of oven and set on a bread board and it exploded. HOW can I be compensated for this?

I was emptying the dishwasher. I put the square Pyrex baking dish on the top of the stove. There was a pot of water boiling on the other side of the stove. The Pyrex exploded into projectiles of shards that burned the kitchen linoleum and carpet 10 feet away from the oven. Fortunately neither my dog or myself were injured physically. I am attaching a response letter from the manufacturer outlining what they consider care that makes this baking product virtually impossible to use under normal conditions. Yes, we all know glass breaks. Pyrex however explodes. Big difference.

As we were cooking this evening, the Pyrex casserole dish I have had for several years exploded. Fortunately no one was seriously hurt. I did have several glass shards cut my legs. The entire dish exploded all over the kitchen and went everyone. We spent about 45 mins cleaning up the mess. I didn't know about the exploding Pyrex issue until I called my dad and he mentioned it and said I should google it. After seeing 1000's of other complaints I decided to write a review in hopes of helping someone else avoid this same disaster. I am still shaken up about it and so is my significant other. Neither of us knew about the potential for Pyrex exploding and I am disappointed there is not further resolution on this issue. I do not have a receipt to attach as I have used it for several years and did not save the receipt. I am very disappointed in this product.

While cooking a roast in my oven at 400 Degrees in my 13 x 9 Amber Pyrex dish, it exploded as I was removing it from the oven. Needless to say, glass went everywhere in the kitchen and oven, and luckily I had very thick oven mitts on! I've used Pyrex dishes for many years and never had any issues with them. I thought this was probably just an anomaly, until I Googled the product and found that there appears to be many users of the product which have had the same experience!

I placed a room temperature Pyrex 13X9 baking dish into a pre-heated oven. About 15 minutes into baking I discovered the glass had shattered, leaving shards and burning food throughout the entire oven. Luckily it remained in the oven and didn't explode upon taking it out (like I've seen some people saying). After it happened, I asked around and at least ten people had experienced the same problem. I will never use this product again and I will advise everyone I know to never use it again as well.

Last Thursday I pulled a glass Pyrex dish out of the heated oven. It exploded in my hands and piece of glass shrapnel punctured my foot. The bleeding wouldn't stop and I had to go to the ER and get stitches. It severed an artery in the top of my foot and I lost a lot of blood. I'm just thankful it didn't hit me in the eyes or face. I threw out every piece of Pyrex in my house. It is not safe.

I had just put a 13 X 9 inch glass Pyrex dish in the gas oven at 350 F degrees that was already preheated and had 3 other pans in the oven making a full meal. The glass dish was full of scalloped potatoes. What makes it worse is the gas range was only 1 week old. I was walking away from the range and I heard an explosion. I turned around and saw steam and smoke coming out of the oven. I ran over and turned off the oven and opened the door to see that the scalloped potatoes and shards of glass were all over the oven. Not just a broken pan but shattered glass all over the oven. Now I am trying to get the oven apart to figure out how it needs to be cleaned or if it ruined the oven. Did anyone else have the oven door affected by the explosion or the glass in the oven door broken? Or cracked??? Please write a comment if you had to use your homeowners insurance to cover the replacement parts.

I purchased the bakeware which stated oven safe from Whole Foods in Dec 2016. I used it couple of times for baking and it was fine. Four days ago, on Sunday, 4/23/17, I was cooking dinner. The bakeware was empty with no food. I took it out from a oven with the temperature of 450 degrees to make some space. It exploded in my hand and there was glass everywhere. it was extremely dangerous. I stepped on one piece of the glass and my pinky toe was bleeding badly. This product should not be sold in the market. it stated oven safe but it exploded which shows it can't handle the heat. I am glad no glass damaged my eyes which it could. Never again. I won't use Pyrex products.

I pulled a Pyrex casserole pan out of the oven with burritos in it exploded in my face. Some pieces landed on my linoleum floor and melted spots all over. Glass went in the oven, on the stovetop, counters and floor. I burned my arm and now my floor is messed up.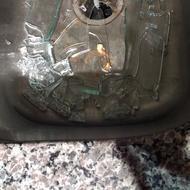 I didn't realize exploding Pyrex was a thing until it happened to me. I was one of the lucky ones who was not injured and had already removed the food. Within two minutes of taking the Pyrex dish out of the oven, it exploded in my hand and the pieces fell into the sink (photo attached). I would not trust this product around my family or friends and want to make sure others are aware of the dangers. I purchased the Pyrex from a Wal-Mart in Northern Virginia around 2015.

I had placed my Pyrex casserole in the dishwasher. It was room temperature and I had not yet run the dishwasher, I came home to load more dishes and found the Pyrex casserole had exploded into a million pieces!! I had heard of stories like this before but they all revolved around placing Pyrex in the oven or placing on countertops and then exploding. I have cooked with Pyrex for more than 25 years and never had an incident. I'm now hesitate to use this product. Very scary!!!

I put my Pyrex baking dish in the oven to bake at 425. It was only in for 15 min and I checked it and started to walk away and then there was a loud explosion and blew my oven door open and bent the door. My oven is only 1 yr old! I've used Pyrex for decades and have never experienced or heard of this! What is going on? Luckily I was walking away and didn't have my face in it! It only grazed my leg!

I was cooking stuffed pepper at 400 degrees for 45 mins. in Pyrex 13x9 glass pan. About 30 minutes into the cooking I heard a loud crash. Opened the oven door and saw the dish in pieces. I did search google to inquire about why it happened. Most people say extreme temperature changes. My Pyrex was not in the fridge or freezer. Weird... I did see other picture posted of Pyrex dishes that had exploded and it was the same kind, with red in the handles. I wonder if it's that particular model that had issues. I have three other size Pyrex dishes that I will continue to use with caution.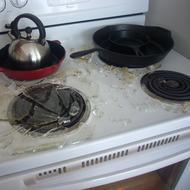 I'd just removed my 9x13 Pyrex baking dish from the oven after roasting potatoes at 450°. I placed it on the stove to cool and turned away, when I heard a REALLY LOUD pop, and turned back to see the dish shattered all over the stove & counter, and glass on the floor up to 5 feet away from the stove. I'm so glad I'd turned away and didn't get glass in my eye. Luckily I'd lined the dish with aluminum foil, so the potatoes didn't get everywhere. I will never use Pyrex again.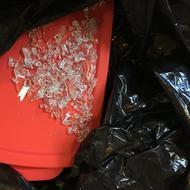 I heard a loud pop coming from my kitchen this afternoon. It was followed by the sound of tinkling, like chopped ice falling. No one else was home. I went into the kitchen and didn't see anything until I started opening cabinets. I opened a large cabinet that houses larger glass bakeware, and found that one of my Grab and Go casserole dishes had shattered, without warning. It had its red lid on it, and was on top of another one, identical, that I'd bought within the last six months. I last used it in November and hadn't moved it since washing it and putting it away. There was glass EVERYWHERE. Just strange. I'd never heard of anything like this happening.
I got the mess cleaned up, and looked at the bottom of the unbroken piece, with the instructions. I had used this according to the manufacturer's instructions, and have no idea why this happened. I Googled it and found that "exploding Pyrex" is, indeed, a thing. The formula for manufacturing it has changed. I'm lucky it didn't happen either in the oven or as I was taking it out. Very dangerous. Be careful.

I had made a bunch of lasagnas for family members and kept two for myself. One I put in a 9 x 13 Pyrex dish and the other in a stainless steel dish. We froze all of the lasagnas until they were needed. I was having family over for supper and decided to pull out one of the lasagnas. We took it out, let it sit for about 30 minutes before putting it into the oven at 350. I went to check on it a half hour later and as soon as I opened the oven door, you could hear the shattering. I grabbed oven mitts and tried picking up the dish - one complete side of the dish came off in my hand as well multiple pieces fell to the bottom of the oven. My husband grabbed a spatula to hold one side so that I could try and grab the other side of the dish and upon further inspection, that side had completely split. The edge was still there but it wasn't connected to anything!
I have never had my Pyrex do this before, so I took pictures and posted on Facebook. Many of my family and friends have encountered similar issues however my immediate family never knew this. We have always been a family that freezes food to have readily available when needed... Freezer to oven is very common... But that will be changing - I love Pyrex and will continue to use it but will be very careful. The new Pyrex isn't nearly as good as the old stuff... If you can get your hands on some hand-me-down Pyrex take it!

Tonight I removed a 2 year old Pyrex brand pie plate from the oven after baking a beef pot pie at 400 degrees for 25 minutes. Upon removal, I placed the Pyrex pie plate on my marble counter and it immediately shattered. Large pieces fell on my hardwood kitchen floor and damaged the finish. What a disaster. Dinner and my beautiful Brazilian hardwood floor damaged too.

My Pyrex baking dish (9x13) was sitting on top of my gas stove as the oven heated up. I picked up the dish to put it in the oven and the thing EXPLODED IN MY HAND. It was barely warm. Glass blew into the air and all over my counter, floor, and into the food I had out to prepare to feed my kids. I am just thankful that a piece of glass didn't go into my eye or hurt one of my children. I had to throw away about $20 worth of food.

I was baking chicken for my family's dinner. Ten minutes into baking time a loud explosion sound was made, and the house filled with smoke. I have an oven with double burner elements. One is in the bottom of the oven. When the glass 13x9 dish shattered, my sauce flooded the oven and shards of glass were everywhere including the side metal pieces that hold the wire racks. Needless to say I was shocked and thankful it happened in the oven. A year ago I had a second pyrex glass dish explode when I removed the cake from the oven to the counter (granite with steel trivets). I thought it was a fluke, but after today's experience I googled and found this page. Some agency should forbid Pyrex from continuing to produce unsafe bakeware. If somebody gets a glass shard in the eye it will be too late. With all the government agencies micromanaging life, you'd think some agency would get on companies who produce health hazards.

My cookware that I have had for two years exploded while in the cabinet. It had been over a week since I last used it. Me and my wife heard a noise in the kitchen and went to see what had fell. It sounded like ice breaking. We looked around and did not see anything. We figure it was the ice maker. This morning I go to take my vitamin and lo and behold the cookware had exploded into thousands of pieces. I had never heard of this happening and as I checked online I see it happens a lot.

I was keeping the dish of mashed potatoes warm in the oven. I took the dish out of the oven and placed it on the stove top and in 30 seconds it exploded! Upon further research they do not make Pyrex out of the same material that they used to and exploding dishes are fairly common. No more Pyrex for me!
Pyrex Cookware Company Profile
Company Name:

Pyrex Cookware

Website:

http://www.pyrex.com/