Perfect Flame Gas Grills
Out of Business
Consumer Complaints and Reviews

Bought at Lowe's my 5 burner Perfect Flame grill for $599, worked great and served me well for years, a lot of people had problem fires, I am willing to bet from lack of maintenance and simple care and proper cleaning of grill when finished. We used our grill weekly and a lot of family parties. Someone told me about 5 years ago at one of my parties that brand of grill is junk and had a recall, so I called Perfect Flame next day and he was right it was recalled, lady asked if I was handy and would send me 5 burners and flare up covers or a $175 voucher for a new grill, so I took the new parts and installed and has been great since so I think the $599 was well spent plus the new free parts. So for about $54 a year I had a great grill that always worked. I have several friends spend $250 to $400 on cheap ones and lucky to get 3 or 4 years out of them. For me Perfect Flame was a great grill. Too bad they folded as a company.

I purchased a Perfect Flame gas grill from Lowe's. There was a recall on the grill from the manufacturer. I returned to Lowes and asked how do I return the grill and was told I had to deal with the manufacturer. I asked why since I purchased the grill from Lowe's why I had to deal with the manufacturer since I did not purchased the grill from the manufacturer. I purchased it from Lowe's. I was told tough luck and that Lowe's would not help me AND TO GO AWAY.

I purchased the Perfect Flame Electronic Touchpad LP Gas Grill Model #720-0533 that is now discontinued and about 4 months into having the grill we have had nothing but problems. The electronic pad stops working. The igniters won't work. It will not light without power. The flames always blow out. I can go on and on and on. This grill has made me so frustrated. We started cooking everything inside the house just to avoid having to deal with this useless piece of garbage. I must mention it was not cheap -- 599.00. The really sad part about this is that we have only cooked on it about 15 to 20 times. I could have taken my family out to dinner 20 times for what I spent on this thing.
I was so excited when I got this for Father's Day with all the cool displays, timer, etc. I thought this is going to be such fun and enjoyable, outdoor cooking. Well, not the case. I can see why it has been discontinued. It would be good if Perfect Flame or whoever owns this company would give me a full refund (guaranteed that will never happen). I will be looking up who the new company is and will not be buying from them either. I will be cutting it up and trashing it in the next week. That will be the most satisfaction I have ever gotten out of this thing. Never again.

I bought this grill two weeks ago from a person who was downsizing because of retirement. And got a really good price for it. I was at Wal-Mart and saw one comparable for well over 200 dollars. Which made me feel real good. I went home and washed it up and used it three times cooking some eggs and bologna for breakfast. Then Sunday a week or two weeks later my wife and I decided I should grill hamburgers. I had noticed that at the back of the grill the flame was always hotter and more fire. I asked a friend at church about that and he said they were always hotter at the back. But when I cooked the hamburgers the flame got hotter and hotter. I turned the gas down and then started turning burners off. The flame got hotter and hotter.
Finally I opened the doors and could see a lot of fire in a pan. I tried to get the newly filled gas cylinder out but it was getting too hot to touch. I ran inside to get some pot holders and when I returned the fire was on the gas hose. I ran in to the house and told my wife "Get me some water now and do not go out the back door. She asked "What was wrong?" and I said "There could be an explosion from the grill because it was on fire." She found an extinguisher and we were able to get the fire out but not before the fire burnt completely through the gas hose to the cylinder.
I am not experienced with anything like this and this experience was terrible. When it was all over I lifted the grates out and the gas covers and found the reason it got so hot in the back was because all of the burners had holes at them at the back side. Now I am grateful that my wife and I are ok but the heat of the fire was so hot that all the metal around the burner knobs were melted and can not be turned and all four burners will have to be replaced if this is possible at all. This was a serious experience for us and perhaps better quality should be required.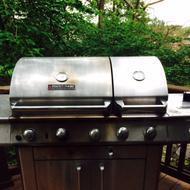 After grilling on our Perfect Flame grill we turned the burners off and within 3 minutes we hear a "pop" noise and the grill was in flames! Flames were coming out of the from drawer area as well as the coming up thru the grill. It took all of a fire extinguisher to put the flames out. We were lucky that the grill was not close to our house but was on a wooded deck. Perfect Flame grills has a recall out. This unit was purchased at Lowe's and the manager told me they had no idea of any recall. If you have a Perfect Flame grill and continue to use it, I would strongly suggest having a fire extinguisher close by.
How do I know I can trust these reviews about Perfect Flame?
794,387 reviews on ConsumerAffairs are verified.
We require contact information to ensure our reviewers are real.
We use intelligent software that helps us maintain the integrity of reviews.
Our moderators read all reviews to verify quality and helpfulness.
For more information about reviews on ConsumerAffairs.com please visit our FAQ.

I would like to verify the issues everyone is complaining about. It is not actually stainless steel. I took this grill to a recycle yard and only received 2 cents per pound $4.32 total. I would question all modern products that claim they are stainless simply test it with a magnet.

I bought a very expensive grill from Lowes and the stand is rusting apart. I have had to replace the burners seems like once a year. The wheels have rusted completely off.

I have had my grill 4 years. It caught on fire the second summer I used it. I didn't know there was a recall. We replaced the burners and the burner covers. Two years later (I only use it occasionally in the summer) we have had to replace the burner covers and one burner. I don't feel we should put anymore money into it. I also used a mild cleaner on the 'stainless' steel front and it changed the color of it.

I'm very disappointed with the request I made with the customer service center of NexGrill in regards to Replacement Burners and Tamers. My grill is 5 years old and the burners have gone bad. However when I called Consumer Service, they informed me that they are on back order and it would be at least 30 days to receive them, 10 items total, burners and tamers. 30 days went by and then I received another 30 day extension for which I had a choice to call to request another extension or if I didn't call they would cancel my order. Two months without my barbecue, I finally came to the conclusion that it was cheaper to buy another grill, but it will never be another Perfect Flame product.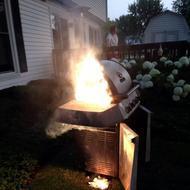 Fire. The grill had been fine in the 6 years since I bought it. I replaced the burner cover plates which had rusted completely a couple of times and the knobs to control the burners were replaced as they seemed to rot. However, this evening we had a frightening experience. I was cooking on the grill when flames suddenly started rearing up. I suspect a burner split. I closed the lid and removed the propane tank. BUT the flames kept burning under the hood and suddenly the side started burning with a bright white flame. Thanks to my high school chemistry class, I suspected this was magnesium. The metal was literally on fire! We called the fire service and they put it out with a powder extinguisher but not before some bits had literally exploded and landed among our shrubs. So they were doused with a good amount of water from the hose. Based on comments earlier, I don't have a chance of any kind of refund. I don't want one either. I shall be buying a Weber next time.

I was shopping for burner replacement parts when I came across so many negative comments regarding individual's experiences with their Perfect Flame grill. I consider myself a tough critic when it comes to cooking equipment with my 35+ years in directing large scale and resort F&B departments, along with the responsibilities of purchasing and maintaining professional kitchen equipment.
I purchased my Perfect Flame over 8 years ago when first set out to purchase a Jenn Air and compared the two as they sat side-by-side. (I did buy the Jenn Air rotisserie that fit perfectly and the PF was almost half the price.) As I stated above, I am replacing parts and these are the first. I've kept it clean and covered for all these years and I look forward to using my Perfect Flame grill for years to come.

I purchased a Perfect Flame bbq from Lowe's about 4 yrs ago. Overall it's a good unit for the price. That being said the negatives are what was advertised as stainless steel parts were in fact mild steel. The deflector plates over the burners rotted out in yr two. The drip tray the following year along with my second ignitor in two yrs crapping out. I am fortunate I work in a fab shop and made my own parts out of 16 ga. Stainless steel will last forever, but the ignitors are pricey $39.97 ea. Hoping a goodwill gesture from Perfect Flame will happen on ignitor.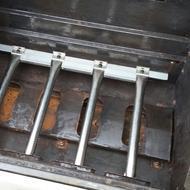 I have read most of the negatives here and I thought my 6 year old SLG2006B was just worn out. I went back to Lowe's and nothing in their computer about this. I called the Service # on the front of my manual (877-855-8227). Told them the model # and about when I bought it. Requested the burners and the back bracket. FedEx Ground delivered them in 5 days. I guess it is just who you talk to. I still have to order the heat plates and bracket. But my burgers were good tonight. Good luck to all. Pix shows need parts in place.

I also have a perfect flame grill but not the models they mention in recall. I have a 2518SL-LPG that also caught on fire. Flames were shooting from the burner knobs and melted knobs, the trim rings behind the knobs and burned up front of hood. I have put some replacement knobs on for now. Also the supposedly stainless steel grill that is not supposed to rust is rusty. Pure junk. Paid over 400.00 for the grill thinking it would last awhile. If anyone here has gotten any satisfaction from perfect flame on their junky grills please let me know how or who you contacted. Thanks. Picture 1 is the burned up hood. Picture 2 is the front cabinet rusted.

I bought a Perfect Flame Grill at Lowe's a few years ago and had similar issues to those described by others - rusting, disintegrating internal components. When I went to try to order replacements online, I discovered that other owners had similar issues and that my model of grill was recalled (along with multiple other models by this manufacturer). I returned it to Lowe's and upon researching it, they got back to me and informed me that I would need to contact the manufacturer who they had spoken to and said that the manufacturer would have a couple of options available to me to resolve my complaint.
I attempted to contact Perfect Flame on several occasions. After holding for half an hour, I finally got to talk to a woman who wouldn't help me because I only had the serial # and model # for the grill. She refused to even discuss any options around the recall because she "didn't know what kind of grill I had." I contacted Lowe's and got the manufacturer code and called back. After waiting on hold more than 30 minutes, I was told that they had closed 20 minutes earlier and that they couldn't help me today. I tried to explain that I had called well ahead of closing time, but all she would say is that they closed 20 minutes earlier and couldn't help me.
Later I learned that the "call center" is in Vancouver, which I am 2 hours ahead of in Central Time, so "closing time" on this day was apparently between 3 and 4 pm. The next day, I called for the third time and after the obligatory half hour on hold, I was told that in contrast to what I had read in several reputable sources online that my model of grill was not recalled and that it was safe. After lengthy discussion, she owned up that the grill had an issue with the ignition switch, but that if I had issues with the burners, etc., I'd have to buy replacements. This also is in contrast to what the assistant manager at Lowe's had related to me from when he had called and was told to have me call and they'd resolve the issue directly with me.
I suspect when Lowe's called, they got a substantially different type of runaround than I did. Interestingly enough, the woman I talked to sounded as though she was the same person I talked to each time I called, which is either an amazing coincidence or a major red flag. This customer service line is a total sham. It felt as though this is a one-woman show designed to frustrate me and make me give up trying to resolve the issue.
Ultimately, I went back to Lowe's and talked to the manager and he worked with me to give me a great deal on a new grill by a different manufacturer. Lowe's was very good to deal with and I appreciate them standing behind Perfect Flame's product since the manufacturer only gave me the runaround. Lowe's no longer carries grills by this manufacturer and after researching Perfect Flame online and the recalls of numerous models and the total lack of customer service, I think it's apparent why.

Perfect flame model#7200335 built 12-06 - Had flame up last year. I went to check it for the first holiday. I went to take the grills off and found out that all the burners were burnt apart. The base was rusted away. Everything was just hanging there. I bought it from Lowe's. I called Lowe's and was told to buy a new one. I paid almost $800.00 for it and got $175.00 of use a year out of it. Also, Lowe's said they called Perfect Flame but could not give me the number. I was put off. Never again from Lowe's or Perfect Flame.

My Perfect Flame 4-Burner grill (model# 2518SL-LPG) is now useless. It worked great for two years and now when I turn it on, the flame is so low, it will not cook anything. If I turn on the left side burner, the flame goes completely out. I need replacement burners as they are all rusted. I am disappointed with the stainless steel grill that the Lowe's salesman told me was a great deal and would not rust.

I purchased the SLG2006B Perfect Flame from Lowe's several years ago. I loved the way it looked, the design and function. Then, about 2 years ago, the grill caught on fire while we were cooking tenderloins. Thank God we had a fire extinguisher in the house as the flames were coming out the drawer and under the grill near the propane tank. We turned everything off and it just kept on burning. We were able to put it out. After thoroughly cleaning the grill, I noticed that the second burner was split. I picked up a new burner, generic one and put it back in service.
Then, this year, on Father's Day, my 14 year old daughter went out and turned on the grill to heat it up. Boy did it ever heat up! With nothing on it, it caught on fire again! This peaked my curiosity so I started searching the internet and found quite a number of these grills on recall. The document is **. Google Perfect Flame Grill recall and you will find all sorts of info on these grills and how they are a fire hazard! If my wife and I were not home, I can only imagine what all damage would have happened. Not going there!
So, I called the useless number on the manufacturer's tag. As soon as I said the model number, I was told, we will ship you new burners. I said, now why do you say that, because they are on recall. However, you will have to pay shipping and handling. When I replied, oh? And how much is that? $29.95, for 4 burners? What the Heck? I asked about all the other parts that burned up because of the 900 plus degrees that the grill got to prior to us being able to put it out. Well, I would have to buy those at retail. You've got to be joking!
I contacted Lowe's. They said to call the tech number from bbqtech.com and talk to them to get RA #. (That's what the lady from bbqtech told the Lowe's manager to have me do). She then tells me that they do not give RA numbers to customers. When I said that the Lowe's manager told me to do that, she then accused me of trying to cut out the middle man and to just take my grill to Lowe's and have them address the situation. So, I did. All I can say is that we are now over 8 days into trying to get something taken care of with this company and I have had the most pitiful support that I have ever dealt with. Heck, I have even had them hang up the phone on me. When I ask to speak to the manager, he either left 5 minutes ago, he's been out to lunch, or he's in a meeting.
Yesterday, I get a call back from some lady from bbqtech.com call me and say, well, here's what we can do, we are willing to send you 4 new burners for free. I asked about the 4 heat shields that are completely burned up, my 2 burner knobs that are not working correctly and the grates. The only response that I got was that I would have to buy all the replacement parts that went bad because of their recalled burners that went bad. I told them that this was unacceptable. She asked if I wanted to speak to the manager, heck yeah! He was supposed to call me back yesterday, again! No reply, no answer, no response.
This is by far the worst decision that I have ever made. If you are looking at buying a perfect flame, that's what they are. Perfect flames if you want to see your grill catch on fire! Maybe even burn down your house and worst. If you own one, google the recall, they may be as kind to waste your time as well and only send you some new burners. However, never mind that the inside of your grill will be rusted out and it may be impossible to change out! I would absolutely never use this product or recommend this product to anyone. Perfect Flame sucks from product to support!

Stainless Steel BBQ Grill Caught On Fire - We are the owners of an auto repair company and we were having our employees come over for a barbeque. We started the grill and waited for it to warm up. As we noticed a large amount of smoke, we looked over and ran to the grill to open the cover and have flames come right at our faces. The flames burnt the whole inside of the grill and almost caught our house on fire. I would like a replacement grill as this was an unsafe situation. The grill is like three years old. Our party had to be moved to inside cooking on the stove as the grill is no longer able to be in use.

Our grill will be 4 years old this May. Already, we've had to replace the burners twice at $80 each time. And the entire stand rotted out. My husband built a wooden stand for it. It looks really redneck, but it works for now. I would never purchase another Perfect Flame grill again!

The grill is stainless steel and it is rusting all over the place and the burners aren't working. The replacement burners are $35.00 per piece. We paid over $300.00 for this grill and we like the idea of it being stainless steel. Thank you for your time.

First time I used it, everything burned okay. Next time used, burner would not ignite and bottle is turned on smelled propane. So I let it sit until smell went away. All burners were off and turned bottle on, smelled butane again. I turn bottle off and let it sit. When I turn the bottle on, got a lighter burner lit. Next burner lit still off. Next burner lit still off and next burner lit still off. I turn first burner off, all four still burning low. It never did turn off and all burners are turned to off but burning until I turned off bottle.
This could have been very bad. The propane would have kept leaking even though the burners were off. There it sits used once.

Grill 720-0533 from Perfect Flames igniter wires are garbage. My #2 wire broke so I ordered a new one from Nexgrill. It took a month to receive it and after putting it in the igniter, it sparked and lit the burners but then didn't stop sparking so the burners turned off.
With this grill, the burners 1 and 2 work off the same system. I called Nexgrill for troubleshooting and the people there are morons. They are totally clueless. The first woman I spoke to told me it was the regulator. After I said "Then why does burners 3 and 4 work?" she said "Oh that's right". When I asked if they had anyone in my area that works on these grills, I was told to get an electrician.
Wow, never again. This should be 0 star rating but had to give it one star to submit it.

I bought a Perfect Flame, model SLG2007A, three years ago from Lowe's and since last year, we haven't been able to use. The middle burner lits only in the back and the left burner doesn't lit but only if the middle burner is lit. We now have to replace all three burners and the heat shield. The cost is greater than buying a new grill. It has rusted. I had a Thermos grill for six years before I had any trouble and that was the starter button.
Luckily, I saw what was wrong before it caused a fire. I won't buy another Perfect Flame again.

I bought a 5-burner gas grill about two years ago. The burners have broken all apart. According to website, there is a recall, if not there should be. Apparently there has been a lot of similar problems. Please advise.

I bought this grill about 2 years ago for my husband's birthday. When we tried to grill something recently, we found the burners had burned up and actually had broken apart. The guts of the grill are in pieces. I hear there is a recall but also read there is a scam. They want more money to replace the product. How do I know that they really will? The salesman at Lowe's told us that they should just give me a check or Lowe's credit to use towards another grill. So why are they asking for money? This grill cost me around $450 and it did not hold up at all. It's unusable.

I bought this SLG-2006B grill from Lowe's in Sept. 2006 and have not used it very much. Last week, I noticed the left hand burner flame pattern was not correct. On later inspection, I found a 1 inch diameter hole in the left hand burner and a crack starting on the third burner from the left. On calling the 1-877-xxx-xxx customer service number, I eventually got through to a salesperson (his accent was Indian). The first suspicious part of this telecom was he only asked me for the grill model number, nothing about my Lowe's receipt. He said the warranty covered the cost of the part but there was a charge of $29.95 for shipping. I can go online and pay that much for a burner and get free shipping.
So that is scam number one. Also, it is now obvious that these burners are not made of stainless steel, just painted to look like they are (scam #2). I am glad I have now read the other complaints because as yet the BBQ set has not been engulfed in flames like other users but I do have it on my wooden deck attached to my house. Unfortunately, I ordered a new burner before reading these reports. I hope I can use my Dremel cutting tool to remove the corroded screws in order to replace the burner(s). But even if I can do this, I will now move the grill off of my wooden deck and use it in my back yard.

We bought a Perfect Flame 5-Burner LP Gas Grill and there was a corporate recall on the burners. The burners on the grill split and broke apart, which caused the flames to shut up high over the grates while in use. We called the company who said the burners had an issue and there was a recall on those burners. Per our request, they sent the burners to us without the screws to the burners. We were required to pay for the shipping of $29.85, which we paid.
When we tried to replace the burners, the screws and other parts of the grill attached to the burners disintegrated due to the extreme heat from the flames coming from the recalled burners. We called Perfect Flame back and explained that we needed the screws to the burners, the rod the burners were attached to and other parts that the burners were connected because the extreme heat had destroyed those parts. Perfect Flame said they would send those parts but at our expense (cost of the parts plus cost of shipping). They said they were only responsible for the burners. I explained we could have been burned from such high flames they didn't seem to care. Perfect Flame said they were not going to honor any parts damaged by the recalled burners. We have a Perfect Flame 5-Burner Gas Grill that we can't use due to the damaged parts caused by the recalled burners.
This Perfect Flame 5-Burner LP Gas Grill cost a lot of money. If we don't get all the parts that were damaged by the recalled burners, we can not use this grill and will have to purchase a new grill, which will cause an economic burden. The price to replace the damaged parts is very expensive. To buy another 5-burner grill is very expensive. You don't expect to replace your grill every couple of years. Please help.

Perfect Flame Grill burst in flames and caused a metal fire that was very hard to put out. Grill has been used less then 6 times. It was always cleaned after each use. Grill is ruined!

We bought a Perfect Flame BBQ model SLG2008A less than a year ago. It burned hot from the beginning but we didn't think anything about it. The BBQ caught fire tonight and burned the lid and the burners and caused a metal fire. My husband inhaled a lot of the fumes and now has a bad headache and is coughing and having problems breathing. He is going to the doctor now. Completely destroyed BBQ and not sure about my husbands health yet, very scary.
Perfect Flame Gas Grills Company Profile
Company Name:

Perfect Flame