Mr. Coffee
225 International Pkwy, Lake Mary, Florida 32746
Consumer Complaints and Reviews

I had a Mr. Coffee for 10 years. So when it stopped working I naturally bought another more expensive and very pretty, BVMC-EJX3bwm. It was a dud within 2 mos. The clock stopped and so did the coffee maker. I will not buy another. I paid a lot of money for the coffeepot. So DISAPPOINTED.

Mr. Coffee Model BVMC-VMX37WM - This coffee maker quit working within two months. I bought it because I liked the chrome on it and the carafe plus the basket with filter! I put it in the garage and bought another, but it's still bugging me! Was there a recall on it?

I am so disappointed with Mr.Coffee 10-cup carafe. I thought the thermal carafe would keep the coffee hot, but it makes the coffee and then it starts cooling off. There is nothing thermal about it. I quit setting brew clock because if you get up 30 minutes after it brews it is already not hot and often have to reheat in microwave. It actually brews coffee pretty fast but, I will never buy a Mr. Coffee again and in fact if any asks I will tell them not to buy. I got spoiled with a Cuisinart that really kept the coffee hot. I wasted my money.

I bought several of this product over the years for business & personal use & had huge success w/ them. I bought this model & less than a year it quit working. Didn't keep receipts as I trusted the product. Shame on me. Doubt I buy another of your products.

Mr coffee DRX5 - I got this coffee maker used and it works fine BUT more importantly even though you turn it off if you reach behind and feel the lower back of the coffee maker you will find it is still warm. I mean it is ALWAYS warm. The next morning it is warm. It scares me to death just waiting for the fire. I ALWAYS unplug it when I am done. Has anyone else noticed this???
How do I know I can trust these reviews about Mr. Coffee?
765,713 reviews on ConsumerAffairs are verified.
We require contact information to ensure our reviewers are real.
We use intelligent software that helps us maintain the integrity of reviews.
Our moderators read all reviews to verify quality and helpfulness.
For more information about reviews on ConsumerAffairs.com please visit our FAQ.

It doesn't matter if you buy the less expensive or more expensive coffeemakers. They don't last. I have one just slightly over a year which I bought for $60.00. Last night it stopped working. I've bought quite a few Mr. Coffee products. The one that just broke is the last one I'll buy. Don't spend any money on their products.

This is not my 1st Mr. Coffee. The other one stopped functioning after a few months. I have had this one less than 6 months. There is a bunch of leftover moisture/water in the reservoir after each brewing. I've left it open to dry but it is entirely too much water! I've tried drying it with paper towels but I should not have to do this. All I want is a good cup of coffee in the morning. Is that too much to ask? Will NEVER buy a Mr. Coffee product again! They used to be the best but I'm quite sure they are one of, if not the worst!

I purchased a Mr. Coffee pot and thought I had a coffee pot we could turn back on after it shuts off after 2 hours. But come to find out it doesn't turn back on. Instead the only way to turn it back on is to make a new pot of coffee. So if you have almost a full pot you have to waste it. And there is nothing in the manual or on the box that tells you about it. So I can't find the receipt for the first coffee pot, thinking that there is something work I purchase the same coffee pot so I can return the first one. Well, I was wrong. So I call the Mr. Coffee company and I get on the phone with the representative and her words to me is "so what do you want me to do about it." All our coffee pot are set up that way. One I think, if you set your coffee pots up like that don't you think that you would let someone know so they don't get ripped off. You would think.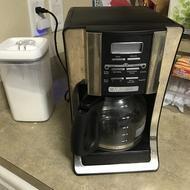 I have two Mr. Coffee pots and both quit working the same week. The first Mr. Coffee maker I owned worked for maybe 5 years, so when I decided to get a new pot I went with Mr. Coffee again. This time the coffee tasted like plastic. The second pot was bought for us when we got married and we just recently decided to use it. After only a few months of use, my wife and I noticed the clock had stopped working. A few days later the orange light started to dim and the green followed soon after. Now the pot only brews about 2 cups. So we then brought our original coffee maker back out of the closet and after one use it won't turn back on. It's like it's just not plugged in. So that's two totally different models that quit working within two days of each other. I will never purchase another Mr Coffee product!!

I purchased my Mr Coffee FTX41CP, 12-cups at Costco after reading the good reviews in Consumer Reports. Were they ever wrong!! I have owned it for 3 years, took good care of it, cleaned it regularly but all of the sudden it started acting up. First, one morning, the water started leaking at the bottom for no discernible reason then it stopped working. The light still came on when I turned it on but nothing else worked. I am very disappointed! My previous coffeemaker (forgot the brand unfortunately) lasted me over 20 years! I'm also upset with Costco: I thought they checked the quality of their merchandise more closely! No more Mr. Coffee for me!! I am buying Cuisinart.

My Mr. Coffee pot stopped working. I've had it since December of last year. Of course I no longer have the receipt for it. Everything turns on clock works etc. Doesn't brew anymore. I'm angry and never buying this brand ever again.

After calling corporate, and waiting on hold for over 30 min. I spoke to Rita. She was no help, this is the third Mr. Coffee maker they have replaced. But the one I called about the warranty just ran out, it's only been a little more than a year. They are making crap for coffee makers, will never buy this garbage again. You all should be ashamed of the garbage product's you are selling. DO NOT BUY MR COFFEE anything. It's sub-par crap. Will be going to shop from a reliable coffee maker.

I have purchased the carafe Mr Coffee maker twice and everything has been fine until now. Their coffee basket has a little washer that holds the mechanism that controls the flow of water into the carafe. Mine came off at some point and I have been trying to find one online and at the local stores and nothing will work. It has a rubber-like consistency and probably costs less than 2 cents to make. What I find is that you have to purchase the entire basket at $5 and pay at least $5 more for shipping. This is the last MR.Coffee maker that I will ever own. The maker cost around $75 and I now have to put out another $10 to fix it because the $.02 washer cannot be purchased. It has helped me as I look for a different brand of maker in examining what can go wrong and if something does can it be repaired.

After purchasing a Mr. Coffee espresso maker, we performed the ritual cleaning of the well and then made our drinks. There was an odd taste and smell, so I recleaned it but this time, I dumped the water into the sink to see if something was in there. There was a whole bunch of metallic flakes in there, so I filled, swirled, and dumped the water numerous times until it went away. However, it continues to build up the residue every now and then and I have to perform this ritual at least once a week. The melting plastic smell has never gone away.

I had a Mr. Coffee maker for over 20 years and it was great. I bought a new one hoping I would have the same experience. Wrong. The coffee had a plastic taste to it. Cleaned over and over with vinegar. Made sure the unit was dried completely before the next day because I thought the stale water was making it taste bad and still had that horrible taste. So it sits. Mr. Coffee offered me a new one but it was the same coffee maker. I cannot trust this company anymore with a low quality product.

Mr. Coffee jwx31 programmable 12 cup coffee maker - We purchased this coffee maker 11/07/2015. The first one died 4/07/2016, exactly 6 months after we bought it. I first noticed that the coffee was cold, while the pot was turned on. When I tried to brew the next pot it would not brew. I called Mr. Coffee service, and they asked about our cleaning, and brewing habits. I knew I had followed directions, and so did they. They sent me a new one. It took almost 2 weeks to arrive, but I was happy as they had backed up their warranty. On 6/07/2016 the replacement quit heating, and brewing. It lasted 6 weeks. I called Mr. Coffee again, and they are replacing this one too. I have 4 months left on the original warranty. I hope the 3rd coffee maker lasts that long.

My grinder quit in 1st use mid-grind. Coffeemaker only makes half pot at a time. This is the 3rd piece of junk I have purchased. How can your company say you're a top maker. I would never buy another Mr. Coffee product. Your products are overpriced and over-rated for what you get. All your reviews show you lie about your products.

I bought my Mr. Coffee 12 cup coffee maker, it brews 8 cups of coffee per 12 cups of water. It takes 30 minutes or longer to make a few cups. Highly disappointed!!!

I have purchased 3 Mr. Coffee pots and all of them have the plastic taste in them - cannot get it out no matter how much I've tried, I had a terrible headache. The smell was so strong. I hope this isn't harmful. I will not be purchasing any more of their products.

All coffee makers are junk. They last 3 months and start acting up. I've spent 25 to 40 every 3 months to replace Mr. Coffee makers. I believe this is the biggest rip off to consumers and someone should start complaining and we as consumers should be reimbursed for shoddy products.

My last Mr Coffee lasted 3 years, but this one just stopped brewing in the middle of a pot after just 15 months. It appears the heating element went out on Model #CGX23. I will not buy another Mr Coffee.

I bought a Mr. Coffee machine a few months ago. After a month the water started slowing and it took longer to brew 4 to 6 cups of coffee. Today I put water in the coffeemaker and the water ran out around the bottom of the machine where the glass pot sits. I tried a small amount of water to see if I could figure it out after unplugging and plugging back in and it still leaked. We have had this machine for about 4 months. Heading out to buy another machine and it will not be a Mr. Coffee machine.

We have gone through two Mr. Coffee coffee makers in less than two years. The first one's heating element went out. The one I got for a birthday gift from our son in December died this week. It spits a few tablespoons of water every few minutes. It took me 15 minutes to get 1/2 cup. In the past we never had problems with this brand. We won't be buying this brand again.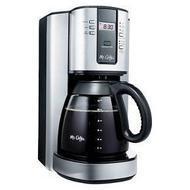 Bought this Mr. Coffee coffee maker in January and here we are in March and when I woke up I went into the kitchen to see no power with the coffee maker. Pretty disappointed with the Company, I just bought it at Target and wouldn't think $50.00 only got me 3 months or less. Hope Target takes it back. Disappointed Customer.

Well it started pouring water out the bottom while I was trying to clean it today. First time it's done that. But not the first Mr. Coffee to break after a year no more than 2 years. I sent email to company to ask. But said may take up to 3 days. I am a regular coffee drinker. I can't be without a maker for 3 days. I guess my worry is: are they worth it? They can be got pretty cheap but only last a year. And they need to be cleaned a lot??!! I only buy the 12 cup makers without clocks timers maybe get one of those Idk??

I have bought 2 Mr. Coffee Coffee makers in the last 3.5 years. The first one zonked out after less than 2 years. It just stopped brewing. We thought it was just a bad one, and my husband promptly purchased another. He got a Mr.Coffee, similar model, but not identical to the first broken one. This second coffee maker is not even a year old. I don't believe. If it is, it isn't much more than a year old. The second one went this morning. My husband made his pot of coffee when he woke up. There was enough left over for me to have a cup and then I brew a half pot for myself. I could not brew the 1/2 pot. It just beeps at me when I turn it on and the hot plate stays cold. I am completely disappointed by this. I have to go out and purchase a 3rd coffee maker in under 4 years.
I won't be buying Mr. Coffee. The brand alone lures people just because it has coffee in its name. They are real pretty, but coffee people need to have their coffee. We can't have the pot go without warning. I paid around 50 bucks for each of these 2 coffee makers. Not the end of the world, but I've had coffee makers of other brands last for years longer than I should have waited to replace them. I don't have model numbers. I am just expressing my frustration and disappointment at this point. Hopefully, this will save a major coffee drinker a nightmare. These models that have the "Clean me" alert seem to be the ones having issues. I've not had that feature before and never had issue. Unless Mr. Coffee makes this right somehow, I will never again take another chance on their coffee makers and I will be sure to let others know of my experience with their "pretty" shiny coffee makers.

Mr. coffee PSTX series water well has fish smell. Cleaned with vinegar or clorox. Used 2 months. Smell won't go away. I let soak 30 mins 6 cu vinegar. Smell still there. Stubborn film exists water well. I hate it. Afraid I have ingested mold the after effects of that??

I purchased this BVMC-PSTX91-WM from Walmart last year. At first the fresh water tank was leaking, so Walmart allowed us to exchange it for a new one. The new one worked well for a few weeks and then as it was brewing, it started to leak coffee down the side of the carafe. It would leave a puddle under the carafe and also dribble as you poured it. It also started brewing slower and slower and sometimes will not brew a full pot anymore. This really ruins my morning and is not the way to get your day started. I contacted "Jarden Consumer Solutions" as indicated on the "contact us" tab on Mr. Coffee's website. I first contacted them on January 13, and then again on January 21. I have yet to hear a response, other than an automated reply. Their website says it may take up to 3 days for a response... looks like that isn't true! Buyer beware!!

We purchased Mr. Coffee model bvmc-sjx33gt just about 1 yr ago. This past week it started giving us small issues. This morning I made 6 cups, got 12 cups. This afternoon I didn't want to waste all this extra coffee, so I turned it on (which usually warms up the coffee left in the pot). After 30 mins I go to get a cup and it is still cold. I emptied the coffee and put in new water, unplugged it again (2nd time) and nothing. Lights come on but no coffee. Also, have to pour my cup over the sink since the way this pot is made it will spill all over your counter. No more Mr. Coffee makers for us.

I have lived in my new home for three years and have purchased 3 of the Mr. Coffee makers. In that time every year at just after the warranty runs out the hot plate goes out. Seems this has happened to others. I will not purchase another Mr. Coffee if this happens with the new one I just purchased. Very disappointing. The ones I purchased in CA were good for at least 5 yrs.
Mr. Coffee Company Profile
Company Name:

Mr. Coffee

Website:

http://www.mrcoffee.com/