Consumer Complaints and Reviews

Bought several bags of Miracle-Gro soil. Went home cut the bags open and started spreading the soil and noticed little white bugs. Looked closer because they were moving. The Miracle-Gro was infested with TERMITES!!! I immediately ran inside my house and got a gallon jug of pesticide and saturated the Miracle-Gro. I just hope I got them all before they could get into the ground. I got onto Miracle-Gro's website and told them what happened. That was a month ago... Haven't heard a word from them. MIRACLE-GRO IS RESPONSIBLE FOR INFESTING PEOPLES PROPERTY AND HOMES WITH TERMITES. Today I notified Wal-Mart that they were selling termite infested soil to the public. I felt that I was just brushed off by the management. All they had to do was go break a bag open and they would see for themselves. I thought maybe they might be able to make an impact on the Miracle-Gro Company and send their complete shipment back.

Replanted all my plants this year in Miracle-Gro Potting Soil and now I have a house full of Flying Gnats. Used the same soil to Transplant 2 Philos my mother left me after her Death 3 years ago. They were Beautiful. From using all the Different methods to rid them of these nasty Gnats they both Died. Have 2 Money Trees loaded with Gnats along with at least 15 Cactus. Called Scott's and they have the nerve to tell me to put out Apple Cider Vin. and dish soap. I've tried every trick in the book and I'm still watching these nasty Bugs taking over my home and plants. BE WARNED. MIRACLE-GRO POTTING SOIL WILL COST YOU MUCH MISERY AND EVERY PLANT YOU HAVE.

I purchased over $500 worth of Miracle-Gro raised bed soil to fill my raised beds. I used thick cardboard on the bottom of the beds to keep the soil pure. A week later I added my plants and found that the soil was infested with these white flies - which turned out to be fungus gnats, bugs that kill your plants. I was baffled because all my other beds with the soil from my local soil and compost had no problems - the Miracle-Gro was/is the reason! I spent 500 dollars on this soil, and $200 on the plants to fill it. And less than two weeks it's infested - I have been trying to rectify the situation to no avail. I called Lowe's and they told me to call Miracle-Gro directly to file a complaint. Still trying to figure out how to do so.

I purchased a large bag of Miracle-Gro to start my garden seeds in a month ago. I planted pepper, tomato, zucchini and several other vegetables in Styrofoam cups and various small starter vessels with the soil and the seeds. The following day I started feeling ill. It was like I had the flu so I called the Dr. with the symptoms and she felt the same so I took the normal flu meds. But this has gone on for over three weeks and I couldn't shake it. I was watering the plants this past Sat. and all of a sudden a big cloud of what looked to me like a very nasty chemical composition arose from the soil. I literally dropped my watering can and grabbed the planters and raced to the door and put them all on the porch as fast as I could. And here it is only 2 days later and I feel like a new woman. Has anyone else had any reaction to Miracle-gro like this? I really need to know. I really believe it was this soil mixture that had me down and almost out!!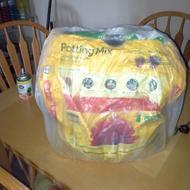 I first used this product 3 years ago. After repotting several houseplants I started to notice gnats in my apartment. It was during the summer so my first thought was they're coming from outside. By the time I was overwhelmed with gnats and realized that the gnats were actually coming from my plants, I had to throw all of them out. A year later after buying new plants and buying the same product to repot them, I ended up with the same problem. I would have NEVER suspected that a so called "trusted company" would continue to sell a terrible product. This December, foolish me, brought another bag. I inspected the bag of Miracle-Gro after opening it and discovered it had very little SOIL. Most of it was grinded down pieces of wood, I think, and twigs. And three weeks later, the same result. My fault for being trusting! NEVER AGAIN will I purchase any product from Miracle-Gro!
How do I know I can trust these reviews about Miracle-Gro?
790,221 reviews on ConsumerAffairs are verified.
We require contact information to ensure our reviewers are real.
We use intelligent software that helps us maintain the integrity of reviews.
Our moderators read all reviews to verify quality and helpfulness.
For more information about reviews on ConsumerAffairs.com please visit our FAQ.

I noticed that quite a number of people have complained about Miracle-Gro potting soil (with Gnats) & wanted to respond with some valuable information. A couple of years ago, after repotting several philodendrons & a Xmas Cactus with supposedly fresh Miracle-Gro potting mix, I began to notice a lot of what I thought, initially, were fruit flies in my home. When they migrated from the social areas into the bedrooms, guests began to complain about the possibility of dog fleas. It was winter.
After noticing them swimming in the water when I watered my plants, I went to a local nursery center and got lucky. I was able to completely eradicate the problem by spraying all my plants thoroughly with a product called Earth-tone Insect Control by Espoma for roses, flowers & vegetables, and sprinkling the granules of a product called Mosquito Bits by Summit over the soil. I never even had to repot & all of my plants are healthy and thriving today. I assure anyone with this problem, that this is the solution.

FRUIT FLiES and EGGs a never ending amount since early 2014. They gave me a coupon for a free bag of dirt when I complained. 21/2 yrs later, tried everything. I seen the same complaint over and over. How do you get them to make it right? Repotted, fresh dirt, spray and spray, going to have to throw away a life's collection of plants, aloe, orchids, funeral plants. So frustrated.

In July of 2015 while replanting house plants, I reached into a new bag of Miracle-Gro and was stuck by a filthy dirty hypodermic needle. I called Miracle-Gro's hotline and was instructed to get medical attention asap. I did. Blood was taken and shots were given, a process I was to continue over the next 3 months to make sure I had not contracted AIDS and or Hepatitis. Miracle-Gro sent me a letter stating this was not out of the norm for them, to fill out the paper work and submit my medical bills when all was done. I sent all certified receipt. Nothing. I called the insurance company Vericlaim, specifically Matt ** leaving numerous messages. No response.
I logged onto Miracle-Gro's site and conducted a live chat with Miracle-Gro, shared my situation and was told I could not be helped and had to contact Vericlaim. I told her no one will respond to me there. Brick wall. I am deathly afraid of needles, so I am surmising my experience may have been a bit more traumatic than the average person poked. Then to be subjected to the monthly tests and on top of that being ignored by the company who should have stepped up and paid my medical bills as they said they would and at least apologized for the great scare and inconvenience. Nope. I suppose big corporations are absolved of decency, honesty and humanity. My File #: **. I have the original receipt of the Miracle-Gro. I have pictures of the needle, the bag itself all my paperwork...

We have used Miracle-Gro for 25+ years and have always had great success with our potted plants and vegetables. Walmart was selling the giant sacks of potting soil in the early spring and we stocked up. Our sprouts were limp, but we blamed the seeds. Some reached a semi-decent height however the leaves wrinkled and turned brown. The soil had bugs, little snails, and MUSHROOMS were growing around the base of the plants. Taking a handful of soil under a bright light it was like a PBS special with creepies. We are done with Miracle-Gro after reading that we were not the only ones.

I bought 30 of Miracle-Gro pods that you just put into the ground and water. I did this in the spring and nothing came up. So I tried to put Miracle-Gro dirt around the plants to see if they needed any more nutrients. Still nothing. I figured that maybe give it some time and it would grow but still nothing. I contacted Miracle Gro and they told me they couldn't help me because it's past 90 days. WTH! I told them they have on the package that it's guaranteed to grow and they don't back it???? The rep said he was sorry but there was nothing that they can do. I would never recommend this product at all. I am now out of money, and product that I wanted to grow for my family to eat in the winter. I am so upset about this.

August 1st I repotted 9 orchids maybe more using the Orchid mix coarse blend. Today I went to the green house and the orchids leaves were turning yellow with rotting roots. This mix does not drain. The bag says it does but that isn't true. I have used Miracle-Gro most of my adult life. 5 years ago I was growing different plants when I found bugs in the bags of Miracle-Gro. I hope I can save my orchids.

I was fairly shocked when a day after using Miracle-Gro potting soil, I broke out with poison ivy. I had worked every day for a month in my mother's Southern California yard without any problems. On my final day there, I transplanted a potted palm that had severely outgrown its pot. I purchased Miracle-Gro soil from Home Depot in Ontario, CA and used it all to transplant the palm. I was bewildered to discover a day later that I was breaking out with poison ivy. The soil was the ONLY possible source since poison ivy is not native to Southern California and I had worked in the yard for a month straight without any skin problems. When I looked at this website and found others who had experienced the same problem, I felt validated in my conclusion.
Unfortunately, I have severe reactions to poison ivy and have to end up going to a doc for ** treatment. This is irritating since I don't do well on ** and costly since I don't have money to throw away unnecessarily. Most irritating, though, is the fact that this company is so intent on making a buck that they have absolutely no pride in their product! I have read other reviews from customers who have experienced gnats, spider mites, mold, the list goes on. I cannot change the fact that I contracted poison ivy from this product. What I can, and will, change, however, is to never purchase Miracle-Gro soil again. Period. I cannot afford to give them a second chance. And after reading the reviews from other users, I have no desire to.

I have kept a basil plant on my window for decades. I usually keep it 2, 3 years than change it out because it gets "woody". I started buying Miracle-Gro soil at Home Depot least year when I moved close to one. Gnats killed my plant. This year started all new, clean sterilized pot, new plants, new Miracle-Gro. Gnats again. In trying to fight these gnats I looked online. I was shocked to see how many others had similar problems with this product. It's all Home Depot carries, so I called around to find who has other soil. One larger garden supply store told me that problem is why they do not carry Miracle-Gro. Wish I'd read reviews before but I assumed a sealed bag was clean. Returning unopened Miracle-Gro bags I still have, and hoping I can go elsewhere and get another brand and get new Basil started before end of summer.

I repotted a plant with my new Miracle-Gro Potting Mix several days ago and now have Poison Oak or Ivy all over my face. It was very hot out and I kept wiping sweat from my face. It is terrible. I never knew that it was even a possibility or I would have worn gloves and had been sure not to touch my face. I will be miserable for weeks now thanks to Miracle-Gro.

Dead herbs - I had no idea that it could be the soil. I plant every year with no problem. This year I decided to go with the Miracle-Gro. I've lost my basil and my mint isn't doing well at all. I now know where all those little gnats are coming from. I'm absolutely disgusted. Never again.

Last summer I purchased 2 bags of Scotts Potting Soil and the Blue Granules. There is bark all through the soil and some type of insect in a round amber colored blister-like ball. The first time I planted this year with a bag that had not been opened yet I got some kind of white insect that was powdery and a bluish gray mold on top of all of my plants. I had one plant that was growing wild outside in my garden so I repotted it and brought it inside. I did not water it as it had rained so much here in Arkansas that the soil was too wet so I waited. I then mixed the blue granules with water as I have for thirty years and watered the plant. Within minutes it wilted and the next morning some of the leaves were browned and crisp and the cardboard box I had it sitting on was molded. I thought maybe I had over watered it so I thought nothing of it and went ahead and planted my organic seeds that cost me $3.00 per pack to start my herb garden.
Within days they shot up and looked really good and then I woke up to find my sage completely dead and I mean completely and my chives had one blade and never ever got another one. The soil was wet as if someone had poured water in it. Now I have been finding the rest of my plants getting leaf curl and turning brown so I inspected them for aphids and found small amber colored insect balls all through the soil. I am very upset!!! I want my money back and I will never ever buy Scotts Miracle-Gro again just like I will never ever shop at Walmart again. I expect to be reimbursed. I do not have the receipt anymore. I never thought I would need it since it was from Scotts whom I expected the best from and have never had a problem with before. I rate the experience as BAD but your stars will not let me put in any red star so I had to click the yellow one. BAD EXPERIENCE.

I just went into our greenhouse to repot several plants. I started scooping MG potting soil from the newly opened bag into pots and noticed hundreds - if not thousands - of tiny bugs all through it. This is my 3rd or 4th bag of MG I have purchased at Sam's Club. Never had problems with MG products before. Worried that there were eggs in the other bags I have already gone through. Not sure what to do. I actually just bought another bag at Sam's Club last week. Guess I'll open it up and see if it's infested as well.

I have been using Miracle-Gro soils for 20 years with no problem, trusted that soil more than other soils in market. My problem started in early 2015, when one of my plants broke and I tried to transplant that into several small pots for new plant. I got two bags of potting soil. After while my house was full of fruit flies. Read the reviews and Miracle-Gro had said the bag probably was torn or had holes when I bought it. I throw out the soil, washed all the roots and pots and got new soil, it happened again. Now all my plants in the house which are over 80 of them (small and big tree sizes (which is impossible for me to move them)) have fruit flies. I have tried everything on them and spend so much money on the yellow sticky stickers, but still struggling.
I am very mad, very very mad. Please do not purchase this product until they fix it. I just bought two more bags two months ago and still is the same story... I would give (-5) rating for the review if there was an option. You see how frustrated I am... I don't think I kept the receipt from two months ago. I had so much faith in Miracle-Gro that I thought the 2015 was just an accident and maybe the bag had holes when I bought it. I also noticed all the bags in 2016 has small factory holes and soil was very wet and heavy which was weird but I thought they may always had those and I had not noticed. I used the soil and still struggling with this problem.

I bought a brand new, large, sealed bag of this soil. When I opened the bag it was loaded with hundreds of medium size black ants with brown abdomens. This is unacceptable. I contacted the website for this product and was told they needed the last 5 digits of the barcode (**). I appreciate any help.

This soil is full of debris! Stones, broken branches of hardwood, ground up fence or someone's deck... And the wood is stained RED, so I know, it was used before in someone's yard or home! They have a hell of a lot of nerve selling this kind of garbage in bags and the bag is so heavy and compacted, it is hard to even break up the hard clumps to get the junk sifted out! This lousy quality product is impossible to use because you spend all of your time sifting through the garbage to FIND dirt!!! You will put your property at risk for termites if you put this in your garden because of all the wood debris, which I assume, they got for free, ground up, and added to make more profit. Shame on them! I am wasting time instead of gardening and planting! No wonder, lots of stores no longer even carry Miracle-Gro and now I know why!!! Never buy this garbage!

This soil potting soil if you can call it. Had so much junk from someone's yard, and including a white CIGAR tip. They said I could have refund. Never never buy this stuff/junk.

Have had trouble with MG moisture control potting mix when I bought it the first time several years ago. Recently purchased again. Used it to transplant small starter plants into - container used was small cell packs. Again having the same problem... soil seems moist but plants are not growing. This time I'd left a few plants in the original pot I purchased from the nursery - so those 'control' plants are doing much better. Both were watered as needed and lightly fertilized on the same schedule.
I think I've discovered the problem. Although the MG soil feels moist, I believe the coir it contains ('moisture control' component, apparently) is so absorbent that it's pulling the moisture away from the plant roots. I put the plants out in a soaking rain and the next day they looked better. I think you can't use the normal watering cues with this mix that you would with non-moisture-control mix. That is, moist soil doesn't necessarily mean the plants are getting enough water. At least with these tiny cell packs; maybe larger pots will be different. That's just my experience and something to consider when growing in this medium.

I purchased two bags Miracle-Gro. Thank God I didn't use it in the house like those other poor souls. I have leukemia. The day of my first oral treatment which was at eight pm that afternoon I put miracle grow in flower bed. I was wearing a carbon mask and gloves also long sleeve pants. The soil looked weird. It was black and had a lot of little sticks in it. That night I took my oral treatment. I woke up next morning rash on hands. Medicine could cause rash didn't seem concerned. By end of day rash spread up arms very itchy. Took second treatment that night. Next morning rash on hands start to blister went to emergency, rash progressed. Did tests didn't know what causing, said looked like plant allergy.
The moral of the story and emotional trauma of having to stop a medicine that could save my life is what irks me! I had a dermatologist look at it. She said rash not life threatening and doesn't think is caused by medicine because no other rash has been seen while taking this therapy. But not knowing if soil did or medicine is what troubles me. So all you out there who also had severe rash I'm thankful you spoke up, so maybe I can go back to treatment before too late. I'd like to send all my hospital bills to Miracle-Gro in Ohio product #7345740 proof purchase **.

My 35 year old Christmas cactus (it was my Gramma's) outgrew its pot so I bought this soil, re-potted it and added the soil to top off a bunch of my other plants. It was a strange texture but I chalked that up to the moisture care feature. Wrong assumption. My cactus, a 10 year old Jasmine and several other plants wilted and died. It's SO depressing to lose plants I've moved with me and taken care of for so many years, not to mention now having to re-plant all the rest of my 40 or so plants. I'm back to the off-brand soils that have worked for me in the past.

Each year I start my vegetables in my basement. I have an area dedicated to this with a growing table and a large array of grow lamps. I too noticed a large infestation of small flying insects when I start my plants. In past years it has been so bad, that I've lost some plants. I tried the "sticky tape" and it collected quite a few of the intruders. However, they seemed to multiply faster than I could catch them.
This year, I installed two indoor fluorescent bug zappers. For the first week, I emptied them everyday. After that, less and less. After two weeks, there are very few left. Maybe two or three every couple of days. I run my grow lamps twelve hours on and twelve hours off. The bug zapper is always on. I think the bugs were attracted to it during the grow light "off time". So, yes I experienced bugs, but no mushrooms or other fungus. And, yes..... I will be shopping for another starting soil for the next group.

I purchased 2 bags of garden soil. I planted tomatoes from the first bag and had ants, and flying like fruit flies all around my plants. Not only were there flies, there were mushrooms growing. I got rid of the plants and soil and what was left in the 1st bag. I then bought another bag and planted flowers. This time only to find when I opened the bag there were flinging fruit flies. I have bought this type of potting soil for the last 20 years with no problem, what changed???

I purchased 4 bags of the Scotts Miracle-Gro Houseplants Potting Soil. My home became INFESTED with what I learned were Fungus Gnats. These creatures are in the bottom of the moist dark soil and when used in repotting or adding to existing plants they blossom into a INFESTATION of flying nuisances, even up the stairs where there are no plants to light upon my BED, in my HAIR and flying into my guests' noses!
I lost many plants, some forty years old, my beautiful lush, green plants infested with these monsters! I spent so much time, energy and effort to save some plants, it was a full time job for many months!! This HOUSEPLANTS Soil is Compost from animals, food, and manure. Never should this be used in the home. I called the company many months ago, and they were not too very concerned, and never called me back. I took quite the financial hit, and spent precious time in my efforts to save my beautiful plants, and the purchase of the soil cost me much money in time and effort. How can this product be labeled for "use in the HOME"?

Miracle Gro Potting Mix - I bought a 20 lb bag of this mix at Walmart last year (2015) & I repotted 23 sm pots of Aloe vera plants & also added to my other plants I have. Evidently there was some kind of little black flying bugs migrating in there cause now I have them flying everywhere. I checked the pots & there they were crawling on my plants & in the dirt. I tried drowning them but did not work. And they are not gnats nor are they fruit flies. Now what do I do, exterminate, what are they? This just is not right. Some pretty plants with bugs all over them. I set out a cup of water with dish soap & found about 50 of them in there.

We purchased a twenty lbs. bag of MG at Lowe's in July 2015. After planting a new basil plant with the soil, I noticed the leaves were falling off and the stems were brown. We also used it to plant two beautiful mums and they immediately died. I dug into the planting box and found it filled with red grub worms. The same grubs were in with the mums. There was part of the bag leftover and I examined it to be polluted with grubs. I will never use MG ever again and suggest a boycott against this company!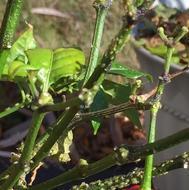 My husband received two pepper plants from a co-worker a few years ago which he took special care of to ensure they thrived. Well recently they had outgrown the pots they originally came in, and it was time to transplant. During the warmer months the plants were kept outside, but due to living in New England, the temps became too cold and we had to bring the plants inside to live out the winter under a plant light. AT the time we didn't truly how big of a problem there really was till the plants came indoors. Suddenly we became infested with these little bugs, resulting in the purchase of a fly strip to hopefully keep the problem at bay.
But over the past few months, plants that were thriving, have turned into twigs, with tons of bugs all over the stems, sucking the life out of the plant. Now my husband had to toss the two plants, a Carolina Reaper, and Trinidad Moruga Scorpion, because the soil he transplanted them into, killed the plants he worked so hard to grow. Do not buy this soil! EVER!
Miracle-Gro Company Profile
Company Name:

Miracle-Gro

Website:

http://www.miraclegro.com/smg/gosite/MGRO/home