Consumer Complaints and Reviews

I have already bought two Milwaukee tools and with both I was unable to register them for extended warranty. In both cases I went back to Builders Depot where I have purchased them and they said that they registered them for me. I have bought a third tool and cannot register so I gave up. I have bought fourth tool and what no chance. I send two emails to them and what no answer. I have never had problems with DeWalt or Bosch but Milwaukee is a big NO from me. No more Milwaukee tools.

Warranty is a joke. Bought an M18 power tool combo kit (Impact, sawzall, hammer drill, flashlight) in August of 2016 and the chuck on the drill broke a week in. Took it to Home Depot to get it replaced no problem. Now in March of 2017, the drill trigger mechanism shorted out while I was drilling a small pilot hole in a wooden shelf. Both Milwaukee and Home Depot told me it'd take at least 3 weeks to get sent in and possibly repaired.
THREE WEEKS? I use these tools every day for my job. They wanted my drill, both batteries, and my charger. The independent Milwaukee Tool Repair store closes at 4:30 every day and is closed weekends, but I work every weekday until 5 pm and am only off weekends. How am I supposed to take it in, much less not work for almost a month? Now I'm out a drill or $200, which will literally take me two months to save up. As I already live paycheck to paycheck, this is going to be absolutely crippling to me. Thanks Home Depot, for helping me choose between eating this month or replacing a broken tool you sold me.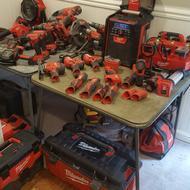 I don't know about anyone else but these M12 and M18 cordless power tools are absolutely, hands down the best tools I've ever used. I'm a home remodeling contractor and depend on my tools day in and day out, I couldn't be more satisfied. I have had a tool that didn't perform as it did when new (M12 multi-tool). I took it to a Milwaukee service center and they replaced the tool under warranty without any hesitation or delay, and I thought they might repair because it still worked. Bottom line, Milwaukee tools are nothing but heavy duty and I'm a customer for life.

I purchased a brand new Milwaukee LED M18 Light Tower based on all of the positive reviews by online construction blogs and publications. 2 weeks after I started using it, the 3 light settings stopped working. Left multiple voice messages and phone number callbacks over the course of a few days because they have no live customer or tech support. No response at all, until I started complaining. Then an email telling me to use their online repair submission system. That didn't work either, and I had to wait a few more days for a response advising me on how to get it to work. Finally, I sent the item in for repair, which they apparently are covering, but although they paid for shipping they refused to pay for packaging - I had already thrown out the big box once I verified it worked initially. Who keeps big boxes around??? I complained again, and they tell me "packaging is your responsibility". What arrogance.
This is my first and last Milwaukee tool purchase. You don't get this nonsense from Bosch, Metabo, DeWalt, Craftsman, Porter Cable, Flex, or anybody else I can think of that I have bought from. And on their website they call themselves a "Winning Team". What a joke. Donald Trump and the United States may do a lot of "Winning" in the next four years, but I can guarantee you this company won't.

Purchased 2 18 volt sets (Milwaukee m18) for my business to replace the old Bosch tools. Under a month started having problems with batteries. Six months later I have two tools in the repair center and the problems with them are not covered under warranty. Contact Milwaukee and they told me that I'm being abusive and that they won't cover it. Did the same use with my Bosch and they lasted for eight years. I was quoted $300 to repair the equipment and a possible delay of four to 12 weeks to receive the parts need it from Milwaukee. I wish I could leave a zero star review because one Star is too many.
How do I know I can trust these reviews about Milwaukee Electric Tools?
743,097 reviews on ConsumerAffairs are verified.
We require contact information to ensure our reviewers are real.
We use intelligent software that helps us maintain the integrity of reviews.
Our moderators read all reviews to verify quality and helpfulness.
For more information about reviews on ConsumerAffairs.com please visit our FAQ.

We sent a m18 PEX expander in for repairs. My supplier checked with his Milwaukee salesman and confirmed the tool was in warranty. Received an email to contact Milwaukee. Contacted my supplier, who sent the tool in for us, and he said, "They had lost the tool." Called Milwaukee and they said they needed a credit card to release the tool. This was under warranty. We are out the tool on the job and have to deal with getting it back. Customer service?

Bought M18 combo set from Costco two years ago and have been moving and did not get a chance to use it. Recently I started using it for setting up my woodworking wood-shop. I am a part time hobby woodworker. I built one work table from construction grade lumber and #10-2.5" wood screws say used 150 screws or so. The drill was working fine and yesterday started the other work table and after driving s20 and so screws I heard a thud and lost the power on the drill. It won't turn on again.
Apparently reading on internet it is common problem with Milwaukee M18 drill and impact driver. I have old Dewalt drill and have been using as roughly as possible, even used to attach chimney cleaning rods and never have an issue. Have contacted Milwaukee Tools but haven't heard back. The combo set says 5 year tool and 3 year battery warranty. I hope they honor that. CONCLUSION: BUY DEWALT AND CAN RELY ON THEM WITH 100% CONFIDENCE. CHEERS.

Bought an M18 fuel set a couple of years ago, literally sat in its case for most of the last 2+ years. Pulled it out to build some shelves and drive screws with the impact driver, and after about 25 screws, the head spews grease and now it won't drive screws anymore. My bad, buying Milwaukee. From now on... Nothing but DeWalt... And not the HD versions.

We've purchased and used a few of these electric screwdrivers in our shop. Milwaukee changed the forward and reverse button style, now there is a sharp lip and not rounded found in the older models. I've been cut and a number of co-workers also. We do production work where we hold it pointing down with our thumbs towards the battery end but doesn't make a difference. When the screw stops turning the driver will continue to turn which will then cut into our hands. I filed the lip off the button. I've included pictures of the older screwdriver with rounded button and the two newer models, one which has been filed rounded. Another concern is that these drivers will fold and may pinch hand, no lock to prevent this.

I bought the Milwaukee Hammer Drill a year ago and the worst decision I have ever made. I have been doing satellite installations for 25-years and only buy the top equipment. Was shopping at Home Depot in London, Ontario and liked the specs. The drill and battery works great. It's the chuck that won't hold a drill bit tight for more than half a drill. I have lost and jammed more bits in walls than any other hammer drill I have ever owned. Bought a Dewalt and shelved this next to new Milwaukee.
Oh and ya contacted Home Depot to complain and of course like everyone else got the Milwaukee customer service department which cycled me through the hoops and circus act which only lead me to a tech department that wanted me to pay for repairs if sent it. The arrogant person on the phone at CS really seemed trained to frustrate the customer so they just go away. That I did have made it my mission to tell the everyone in my portfolio including all customers about the Dollar Store grade of hammer drills Milwaukee sells.

I purchased this 18v hammer drill overseas expecting an international warranty being such a big brand. However this won't be honoured in Australia and repair companies won't touch it. Pros: good battery life. Cons: Within 6 months something has jammed on the screw setting so can't be used. Within 10 months the steel chuck has an issue and can't be tightened enough. Within 12 months it no longer works at all. This has had home handyman use - not trade. Don't waste your money. Off to buy a DEWALT.

Bought the m18 drill set and it lasted for one year. The hammer drill has very little power and it literally burned up in my hand, after 6 months of use. The impact lasted for a year before it locked up. This is definitely not a set for a residential electrician.

I bought a hammer drill 5878-20 for my home renovations and from day one the drill bit kept coming loose and get stuck in the concrete wall. The chuck is defective and no matter how hard you tighten the bit on all 3 holes, it will come loose again. Extremely frustrating to get the stuck drill bit out of the wall again. I complained to Milwaukee about it but they are unwilling and uncooperative to send me a replacement chuck. Awful customer service: arrogant, slow and lecturing how to tighten a drill bit. Own several Milwaukee tools and all work well except for this drill. Better buy a DeWalt!

Beware, Milwaukee, doesn't respect the warranty. I purchased Milwaukee 2310-21 camera and warranty should be 5 years. I used the camera for 4-5 times, still in as new condition and it's died. Sent to Milwaukee for repair and "qualified" idiot call himself the technician said that I shorted the camera and offered me repair for cost of a new $135. Technical support sucks, called but nobody can help. Never Milwaukee again. Products are junk and tech support suck. Don't buy Milwaukee, not trusted, it is scam company.

Bought a Super SAWZALL Reciprocating Saw from Home Depot 3 years ago and made the mistake of using it, sounds like a joke. Well, let me tell you, this is what the warranty dept told me. We wore it out, it stopped working and has a 5 year warranty... However, it is not warrantied unless they find a defect. Non working is not a defect. Buy DeWalt - they have a real warranty.

I own about every 12 volt and every 18 volt cordless tools Sold at Home Depot but the combo chargers only last me a couple months and then they burn up and now it is too expensive to go to another brand. I am very satisfied with the performance of my tools but they have no value if I have charges that keep going out.

So in eight months of use, I am a contractor, the circular saw that has a five-year warranty has decided to quit working. In trying to call customer service, their phone lines do not accept the tone prompts to get to a real person and then when it goes through all the prompts and a person comes online they can't hear me and hang up. No, the phone is not on mute. Milwaukee will not let you talk to anyone at the factory service center in my area. They say all calls are routed through to the company headquarters to allow the technicians time to work with who is in the store.
If I want to know that the store is actually open I have to go there and see for myself. Milwaukee says they can turn around my "repair" in five days. I ask, what am I supposed to do for five days without a saw that I need regularly? No help there. This was about $1000 worth of cordless tools with what I thought was a good warranty to use them for a while till they need replacing. Don't buy Milwaukee tools!!!

I just love Milwaukee tools. I've used just about every other make of tool in the past and it's true. Nothing comes close. Just in case you're wondering I use power tools on a Daily basis, fit double glazing. Years ago I used to think bigger was better, but as you get older (and wiser) you look for something lighter to handle, you no longer wish to handle a heavy tool all day long. Milwaukee tools is the answer, fast and light, twelve and eighteen volts is all you need. Who want a 36 or 48 volt tool? Some dumb muscle bound nut case? I can work all day with these tool and still finish before the younguns have got out the van. I'm 59. One word. WOW!


Milwaukee 48-22-2100 1/4" offset angle drill & impact driver - Worst piece of crap we have encountered. Broke down in 2 weeks of gentle use in electronic workshop. Complete lack of CS from Milwaukee and Rude girl on the phone who is trying to scream over you is totally unprofessional. Last time we bought anything from these Crooks.

Milwaukee M18 Fuel impact driver - I've bought this after seeing some very good reviews online. The machine is very powerful, compact so I can work in tight spaces, good grip, long battery life. What I don't like is that it is noisy. But don't buy this if you are going to work with metal. Apparently metal shavings from drilling or screwing can easily get inside the machine and short-circuit the electronics. You can actually see the exposed electronics inside through the vents in the casing. Mine stopped working after two days of use, and, apparently, the fault developed this way. It is not covered by warranty. I got mine fixed for free as a goodwill gesture from the service center.

I got a notice from Milwaukee that I was potentially a customer that had rechargeable batteries that needed to be replaced. I sent them back to the company location and received two (new?) batteries, which lasted about 3 months before they too were worthless. Nobody honored the warranty process. I bought a small Dewalt that performs flawlessly. I run a construction company and have 4 sets of component tools that I recharge on the 3 bay chargers. I like that tool but the quality of performance is an issue with batteries that don't last.

I own many Milwaukee tools, the m18 fuel impact and hammer drill, m18 sawzall, m12 rotary tool impact and drill driver. I have used many other brands and Milwaukee is by far the best. I have had no problems with the batteries. They charge just fine. They make my job at work much easier and are a pleasure to use.

I bought a Milwaukee 18v drill and went on their website to register for the 3 year warranty. After just over a year the drill stopped working. I rang the UK branch and after finding my details they told me I hadn't registered properly and I had no warranty. How convenient for them. I'm at a loss as to why you even have to register anyway. If they give a 3 year warranty proof of purchase should be enough. I will stick to Dewalt from now on as I have drills that are 10 years old and still working fine.

I purchased a $450 plus tool kit which included 2 of their top-of-the-line 18 volt lithium batteries. These batteries went dead and will not take a charge. I took good care of these batteries, followed the company's directions on how to correctly charge and take care of these items. This was to no avail. I purchased a Bosch drill over 5 years ago with similar batteries. They are still operating at full capacity. Why is it the more expensive tool is not as efficient as its competitors? Totally disappointed in Milwaukee Tools - will never recommend or purchase one of their tools again.

I purchased a number of 12-volt and 18-volt tools. I used them for a few months and then did not charge them for a few years because there was no notice that they had to be constantly charged. They were basically brand new. When I went to charge them, they would not take a charge. I took them to the Service Location and they said that despite their being practically new, and also despite the fact that there was no indication that they had to be constantly charged, I was stuck and would have to buy new batteries. I expected MUCH more from such a prestigious manufacturer. Obviously they do not stand by their products and do not care about creating and maintaining a good reputation. This is a disgrace and another example of how American businesses are losing to foreign competition.

I bought this set of Milwaukee Shockwave impact bits since I assumed (incorrectly) that the Milwaukee brand meant high quality. The packaging is very wasteful, very difficult to open (made of throw, rigid, clear plastic) and the design of the bit box is very poorly done. The bits are very difficult to get out and there is a totally unrelated white plastic compartment with no way to hold the smaller bits. These would get lost very quickly so I will return them. Milwaukee needs a package designer who knows the basics of non-wasteful package design.

I bought a pot of Milwaukee PZ2 bits for $9.99. They are meant to be suitable for impact drivers but are just as weak as normal PZ2 bit, which I can buy for half the price. Each PZ2 bit lasts for an average of 20 screws. I think that this is totally unacceptable as I am a full time carpenter and am using my impact driver for most of the day. I am getting through 3 bits per day, so at the end of the week I have nearly used the whole pot of bits, which were not cheap to buy. I would like a full refund and an explanation as to why these bits are so weak.

I was drilling a hole overhead in a beam for a 1/2" bolt. While removing the drill after drilling the hole, the trigger lock was accidentally activated and the trigger stuck. The reason the lock was was accidentally activated is because of the location of the lock. It is on the side of the grip underneath your thumb. When squeezing the trigger and grip, the lock gets pushed in without wanting it on. You cannot help it. The bit caught my shirt sleeve and twisted it so tight around my upper arm (short sleeve shirt) that it ripped my shirt sleeve off.
I have ripped skin as it was caught in the sleeve as it was twisted and have a very bad hematoma from my arm pit to my elbow and swelling as far as half way down my forearm. I can barely use my arm and the pain keeps me up at night. If the trigger hadn't stuck the bit, it would have only wrinkled my shirt. The drill has a very dangerous and faulty design. It is a Milwaukee 1/2" hammer drill.

On October 28th I was using the Portaband Saw cutting aluminum extrusion and I made 2 vertical cuts and had to make a horizontal cut when I attempted to turn the saw sideways I had to let go of the foreward handle to make the cuts. Because there is no handle on the side of the saw, the saw started to fall. I had to increase my grip with the left hand and when I did the saw started up because there isn't a safety on the saw to prevent premature starting of the saw.
Milwaukee Electric Tools Company Profile
Company Name:

Milwaukee Electric Tools

Website:

https://www.milwaukeetool.com/