Consumer Complaints and Reviews

Purchased a new KitchenAid range that costs over 3K in November, before Thanksgiving. Order was delivered on the first week of December, missing the
wireless probe, delivery of cookware delayed by back order. Probe or cookware won't be delivered till March 2017. A full 4 months after purchase. Called several times, used chat and phone calls. And it's been just a frustrating experience. The keyword for them is BACKLOG.

Parts did not fit, poor instructions, poorly made. The range hood we purchased had an msrp of $2,000. It looks like this is really a $400 unit that they stuck the name KitchenAid on and bilk us $1,600. Parts are no long available at less than a year old. Compared to other range hoods with same retail price it is junk.

I remodeled my kitchen 7 years ago and purchased all KitchenAid built-in appliances because I thought they were of good quality. I have had nothing but problems with my appliances since soon after purchasing them. I immediately purchased a warranty on all of the appliances and have kept it since because every appliance keeps breaking. The repairmen are out to repair an appliance at my home several times each year. The refrigerator/freezer has had ice maker issues and temperature issues, resulting in spoiled food several times. I cannot recall how many different parts have been replaced in the refrigerator.
My range hood has stopped working again and I am told it needs a new motor and it is not cost efficient to repair it, so they offered me a few hundred bucks to replace it. Prior to this, the lights weren't working and it ended up being a fuse, except it took the repairmen months to figure it out. Before that it was the blower/motor again. They had to go through 5 replacement motors to get a good one.
My built-in ovens have also gone out repeatedly after a cleaning. After one oven repair, the serviceman told me to test the clean cycle after he leaves to see if it is working. I did as he said after he left and then had no working oven for a holiday. When the repairman returned, he said to never run your cleaning cycle before a holiday because it might break - run it after. I have had to have gaskets replaced and the entire electronic panel as well. I am now getting other estimates to repair the range hood since there is not a replacement range hood of the same dimensions to replace this one with. My concern is that I may get a faulty new motor just as they did when they repaired my range hood a few years ago and there is a limited warranty on the motor. One thing is for sure, I will never by a KitchenAid appliance again.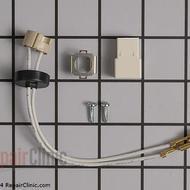 The KHTU705SS Range Hood uses two quartz lamps on its front edge to light a stove. The problem is that the lamp sockets, which have to take the high heat of the lamps, are not made of ceramic but a light brown synthetic molded material. The socket's two receptacles for the MR16 quartz lamp's pins do not hold their spring or grip and we continually have had to push the lamps in to make contact. After time, the sockets "wallow" or "change shape" and the bulbs no longer work. KITCHENAID is of course no help. On one phone call, I asked what the proper wattage was supposed to be to make sure the replacements I bought were okay. The KITCHENAID representative did not know and could not find out. She offered to sell me a pair for a cost near $60 plus shipping. I declined.
I matched my old ones at Home Deport and bought Sylvania replacements for $9. The KITCHENAID literature is "generic" and the parts outlined are "typical." All vague and misleading to us. When we finally realized we needed to change the sockets, we researched the issue and found that Whirlpool made the ONLY replacement socket kit and it was listed as Whirlpool No. W10337300. We found it priced from $11 to 75 depending on where we looked. We ordered the socket kits but when they came in, the W10337300 Whirlpool socket kit that was crossed for my KitchenAid KHTU705SSS range hood would not work as delivered. The screws were fine thread and too small; the original screws are fatter & coarse thread. The spring cage which is supposed to reach up and clamp the side grooves of the MR16 bulb do not.
The MR16 bulb grooves are about 10 mm up from the socket base; the W10337300 spring cages look like they were designed for a bulb with groove up only 5 mm. Perhaps they were designed for the MR11 bulb, we don't know except the kit as delivered is not sufficient by itself. By using the old screws and the old spring cage (bulb holder), a local serviceman that we trust was able to get them to work.
SUMMARY: We have three KitchenAid appliances and all were sent out into the market as first-rate units and all began failing regularly early in their life. The KitchenAid company is geared to selling you service and parts at inflated rates and will not help the homeowner. WE WILL NEVER BUY APPLIANCES LIKE THIS AGAIN AND AS FAR AS WE ARE CONCERNED, BUYING KITCHENAID IS JUST BUYING TROUBLE.

The lights that shine down onto my cooktop started going on the blink months before the one-year warranty expired. Finally they went out altogether, although sometimes would come on momentarily if I cycled through the H-M-L-off sequence on a whim. This is clearly an electrical problem with the unit. I first called KitchenAid with this problem on July 7, 2014. As I live in a rural area, it took the Special Scheduling team another three weeks to locate a repairman for the job. I talked with Jeff ** at ALG Service & Repair on July 31, after leaving three messages for him to call. He listened to my description of the problem and said he would order all the parts he thought might be necessary to make the repair but that sometimes it took up to six weeks to get those parts.
When I hadn't heard anything by September 17, I called Jeff at ALG to remind him that it had been more than six weeks; he said he was going home to see if the parts had arrived and would call back. Of course he didn't. I've made four more calls since that time, some to KitchenAid customer service and some to ALG directly. I've been put off each time with assurance that someone was going to check and call back--and then silence. The last time I talked with the repairman, he said that there is a service bulletin on this problem with this particular unit. He also said that some parts are on back-order till 2010. In other words, they're never going to be available. In that same conversation on September 29, he said he expected the parts by Friday, October 3. It's now October 8, so I called customer service again. And was put off again.
I explained clearly to the customer service rep that I had bought an appliance with a one-year warranty, and if KitchenAid was unable to get it repaired--because they couldn't find a repairman who would do the job or couldn't supply replacement parts--then I expected a new unit. I'm beginning to believe I'm getting played with the good cop/bad cop method, where everyone pretends that they're doing their job but it's the other guy who is causing the problem. I said that I don't care who is the problem. I'm the only one who is being inconvenienced, and I expect to be made whole.
How do I know I can trust these reviews about KitchenAid?
693,837 reviews on ConsumerAffairs are verified.
We require contact information to ensure our reviewers are real.
We use intelligent software that helps us maintain the integrity of reviews.
Our moderators read all reviews to verify quality and helpfulness.
For more information about reviews on ConsumerAffairs.com please visit our FAQ.

We purchased our KitchenAid stainless steel island canopy range hood in 2012 and it is already rusting. Stainless Steel is not supposed to RUST! It has little rust spots all over the bottom. I am so disappointed especially since the hood is only covered by a one year warranty.

We purchased the oven as part of our kitchen remodeling/renovation. We always stood behind Kitchen aid products as we had them in our first home for over 35 years. The First time we baked in the oven, large amounts of steam and condensation started to appear on the top left side of the control panel. The steam was coming out from the vent located at the left top side of the unit right under the control panel. The longer the baking process continued, the worse the steam and condensation issue became. Eventually the steam saturated the control panel above it, started dripping to the floor, and up the cabinet door completely. The cabinet door above was saturated! Obviously our new cabinets would be ruined if the issue continued. We tested again with the same results. Then we used the lower oven and the same issue occurred.
We called Whirlpool directly in October and were told this is the normal design of the oven, and it depends on what is being cooked! We then called P.C Richards. They promptly sent someone to look at the oven. The repairman received the same response from the manufacturer that we did. P.C. Richard's then advised us to allow them to have another technician come back for a second opinion, before moving forward. The gentleman that came today also called Whirlpool. He was told to check to see if the oven was assembled correctly inside at the factory first. Then the engineer at Whirlpool said the same thing to the technician. This is the oven's design, and it depends on what is being cooked! P.C. Richards and Dynamic Appliances Sales and Services in the Bronx have done a great job. Kudos to both companies! We will now have to speak to P.C. Richards again to move forward. Buyers beware this oven has an obvious design flaw and will ruin your cabinetry. We will post updates as they evolve. Thank you.

I ran the self-cleaning cycle on this 4-year-old oven for the second time and the control panel died and the oven door remains locked. The repairman said, and I quote: "Self-cleaning kills em", and that it would cost $839 to fix it. He recommended buying a new oven as the repair cost is almost half the purchase price. I have seen many other complaints like this, sounds like a bad design.

30" Slide-In Gas Range, when we used self-cleaning cycle a month after we purchased the door shields on both right and left burned out. Since then, we have been using unit without self cleaning cycle. Yesterday, my wife called me on my job (I own restaurant five minutes away from my house), screaming "Help! Help! Hurry, hurry".
I jumped in to my car and came back to my house. It was the KitchenAid oven smoking a lot. I turned the breaker off immediately and the oven finally turned off. She told me the oven started itself with a chime sound. She tried to turn it off, nothing worked. It started to smoke, the panel indicator said "remove temperature probe", but there was no temperature probe (we never used one). Lucky, my wife was home, if not, it would cost us our home. Why can't the government control their products, since there is a huge amount of complaints or issues with them?

Cleaning cycle on oven - I purchased a KitchenAid electric range model KESS907SSS02 in June 2011. This weekend, for the first time, I started the self-clean cycle for the oven and it lost power and locked up. I was very upset after what we paid for the range. The service man came right out and it was the thermostat. I had other self-clean ovens before and never had this problem. Guess I'm back to the old-fashioned way of cleaning my oven.

I just read the comment from Sacramento CA on their Kitchen Aid Gas range. I can't believe there are others out there with this problem. I can't count the times my dinners or baking has been ruined, because the oven shuts down. You think it is cooking, and you go to check, and the oven is cold. I have had 19 service calls on this lemon! There have been other problems as well. The control panel is telling me to insert probe when I am not using it. They have replaced the control panel a few times, replaced igniters, and so on. I am done with this stove, and would never buy another Kitchen Aid stove again!

I am another KitchenAid customer who purchased a "high end" gas range only to have expensive repairs bills after using the self-clean function. I have had enough of the lack of response from KitchenAid and am preparing to take legal action here in Canada. Anyone who has had these faults, please go to the KitchenAid Facebook page and post your comments. I hope at some stage KA will be unable to ignore us any longer.

We bought a KitchenAid Architect Pro Line in 2005. It's the slide in convection model. Nothing but problems. Three times we've had to replace the touch pad control panel. I searched the internet back then and found major complaints with the same problems. I had hoped they solved the problem by now, but apparently they continue to produce inferior products and reap the financial reward with service calls and replacement parts. I can't count how many times our meals have been ruined or majorly delayed because the piece of junk would shut down in the middle of baking and/or roasting. The oven is completely useless; thankfully, we never used the self-cleaning mode. Oh, my, God, sorry to all people with that issue! I will never buy anything KitchenAid manufactures again. They either need to issue a recall, offer to replace the defective units or someone with legal savvy initiate a class action lawsuit. This is simply not acceptable.

I emailed customer service at Kitchen Aid over 7 business days ago, about a safety problem with my gas range. No one has replied to my email. There is no follow-up by phone. Reps promised to call back, yet no one has called me. I will not purchase appliances from this company, and will warn others of the poor customer service by phone and email. I am also concerned about the safety of the appliances, and high repair history.

It is a huge surprise that the standard light bulb does not fit in the range hood. The difference is just 0.1 cm. It cost $115 plus taxes to order this light bulb from KitchenAid (Phillips) while the equivalent from Phillips is just $9. Is there a way to protect the consumer from this type of nonsense?

For the fifth time this year, our KitchenAid Classic Commercial Style dual fuel convection range with steam assist oven went out. It happens every time we have an electrical storm. I have to reset the breaker and then figure out how to reset the oven to get it to work. The manual is not helpful.
While resetting the oven (again) tonight, the display window went into "Test" mode. I've never seen that happen, so I looked up KitchenAid Repair online. For $38 minimum, the repair guy is supposed to help you solve all of your oven and appliance problems. Ridiculous!
We paid a small fortune for this crappy oven that, among other things, is so low to the floor that I practically break my back every Thanksgiving and Christmas getting food in and out of it. Dumbest purchase I ever made!
Back to the topic. I exited out of the non-helpful repair advice column offered by KitchenAid and proceeded to wait on their phone "help" line for 50 minutes for someone to answer my call. The person on the line was helpful, but I had to crawl along the floor to find the serial number and other codes. They couldn't have put these tiny little numbers in a more inconvenient location.
Finally, after several attempts to help me reset the oven, we succeeded. My husband came in the door and couldn't believe that this is how I spent the last two hours of my work day today. Good thing I have a home-office.
I would never recommend this product to anyone, even though I loved the model on the floor when I saw it. I plan to call the appliance store where I purchased the stupid thing and file another complaint tomorrow. 80% of the time, I have to use the cheaper GE range in our basement because the fancy "Classic commercial style dual fuel convection range with steam assist" from KitchenAid doesn't work!

We have a KitchenAid microwave range hood combo model YKHMS155LSS-1. As my wife was cooking, the metal grill fell off and hit the pot then onto the floor. The grill is metal and heavy; it did not tip the pot of boiling water that it hit, but it put a nice dent in the pot. If it had hit the fry pan with hot oil, it would have been a disaster. Checking online, I found that this is a common occurrence. KitchenAid believes this is a rare occurrence. KitchenAid should recall this product before someone's child is near a stove the next time this happens.

We bought this mircro/hood combo (KHMS2056SSS-2) in 2010 exactly a year to the date of delivery it stopped working. Had the repair co. come out & they determined that it had major problems & requested a complete replacement instead of just parts replacement. Kitchenaid will replace the unit but because it was 2 weeks out of warranty (purchase date versus actual delivery date) I would owe them $262. I said no way! Having the repair co. come back out & replace the bad parts (10 year warranty on parts) & kitchenaid can just come out everytime it breaks!

I would just like to echo what has already been repeated here. Do not buy KitchenAid appliances. When I moved in to a new condo in 2006, I upgraded (I thought!) to all KitchenAid appliances. Not only do they not work properly, they are dangerous. Two years after purchase, our range started by itself and caused an electrical fire. Thankfully, we were home, and I was in the kitchen, so smelled the smoke right away and called 911.
After much fighting with KitchenAid that I did not want it repaired, because reports here said they replaced the control panel with the same faulty panel, they finally replaced the whole unit. The fridge has never worked properly. Tonight, for the 2nd time, I have thrown out probably $1000 worth of food.
On good days, the food in the fridge would freeze and food in the freeze would melt. Water regularly drips out on the floor. Last Thursday, the microwave started working by itself; and again, thank goodness, we were home, and I was able to turn it off at the breaker. The repair guy came out today and said he had seen this many times. After a call made by me to KitchenAid, they agreed to replace the control panel. I hate to think what if we hadn't been home. Likely another fire. If I could afford it, I would have all of these hauled away and replaced, but I can't.

I have a KitchenAid Touch-Activated Induction Cooktop that has been turning itself off while showing error codes since I bought this unit. It also shuts down if water boils over and touches another pot surface. KitchenAid's fix was to turn off power to the unit and wait a bit. Now, it is showing another error code and nothing can correct it. KitchenAid says to get a repairman to fix it, but I have had this ongoing problem since it was new and I have been to the power box at least 20 times since I bought this. My 20 year old electric coil cooktop never shut down during use. This unit is a piece of **.

We moved into our home in July 2010. I have a KitchenAid gas cooktop, model # KGCC706Rsso1. In November, the left front control knob (made of some sort of resin/plastic) melted and burned. I purchased a new knob online for $25. Low and behold, in March, both left side burners melted and burned. This time, I talked with someone at KitchenAid who said that my unit was no longer under warranty and they could not send me new knobs free of charge as I suggested.
Doesn't this seem like some sort of defect? Why should these knobs burn? Aren't they built to withstand high heat? Now, I must pay for two new knobs at $25 each. I feel that the knobs should be made of metal and that KitchenAid should make this right with me!
-Unhappy customer who will probably will shy away from KitchenAid altogether!

We have a KitchenAid Electric Range model # KESC307HBS8, serial #**. According to KitchenAid, this oven was made in June of 2003. The previous owners of our home informed us that it was installed in 2005 brand new. This past fall, the digital part of the oven that tells the time and gives a temperature reading stopped working. The oven, however, still operated and came up to its necessary temperature.
Last week, on Jan 1/5/11, I turned the oven on to 500 degrees and heard two pops. The glass inside the oven popped in two places and caused the glass inside to crack all over. I am not an oven expert but I am pretty sure that no matter what temperature it reaches, the glass should remain intact. Seeing as the oven is still very new, I am completely dissatisfied with its performance. An oven should not be made to last only a few years. I have contacted KitchenAid a few times about my issues with their product and was told I would receive a call back about my problems but am still awaiting that call.

I am totally angry about how KitchenAid deal with customer about warranty service. I bought a 30" 5 burners gas cooktop about two months ago and one of the grate was broken. I sent a request and ask if this would be under warranty replacement. The customer service rep kept asking for a model no. and serial no. numerous times. The models I bought only have two different styles. I had already provided the model no. but just didn't have the serial no. since it was already installed. The part numbers of the grate for these two models are all the same, meaning, the models are using the same grate. They just wanted to fool people around and didn't want to offer any warranty. I am extremely disappointed about KitchenAid.

When I turned on the burner of my gas stove top, flames shot out the back of the burner. Fortunately, my son noticed the flames immediately and I was able to contain the fire. It burned my countertop and melted the backsplash. Apparently, the center cover on the center of the burner was not perfectly in place and therefore caused the fire.

I bought this stainless steel Kitchen Aid range about 3 years ago. It was "refurbished" when I bought it at Lowe's, and only $100 cheaper than a new one. Some months ago, the "off" button for the stove quit working, which is dangerous. I figured out how to turn it off, by going to the "stop time" button, otherwise it won't turn off. The oven does not maintain heat. I have to push oven temperature button every 15 minutes, to get the temperature back to the set amount. This is the worst stove I have ever bought.
Usually, a stove will last for at least 10 years, if not 20 or 30. This is dangerous and not acceptable. I plan to contact the Better Business Bureau to complain about Kitchen Aid. In comparison, please note that Bosch had a defective part in the dishwasher. I was contacted by Bosch's recall department after my one year warranty ran out. They scheduled a maintenance person promptly, and I never suffered a breakdown. I suggest that consumers file complaints with the BBB and the Attorney General, Consumer Complaints and CPSC.

Purchased a John ** "Luxury" Townhome in Mt Pleasant SC, closed June 4 2010. All appliances Kitchen Aid, and have had problems with all except refrigerator. Range hood is major problem. From day of final inspection burns out light bulbs every 4-6 hours of use- 1st bulb replaced by builder rep the day of final inspection. (3.99 ea x's 2) Six service calls due to burning out bulbs and A&E service could not fix problem. Builder John ** promised a new range hood twice but now doesn't seem to want to live up to those promises. Wieland insists Kitchen Aid replace it, and KitchenAid won't replace as they want to try again by sending repair again and again.

I purchased a home with new appliances. The gas stove is a KitchenAid gas range (model KGRA806PSS00) and worked fine for the first year that we were in the house. After I self cleaned the oven, the keypad began to fail. Fortunately, it was still under warranty and the only cost to me was the labor to install. The technician warned me that the KitchenAids are susceptible to problems when the self-clean option is used. As a result, I cleaned the stove with old fashioned elbow grease and did not use the self-clean option. Now after only 1 year, the keypad is failing again. This time it is not under warranty and will cost me much more ($300).
I have tried to complain to KitchenAid but cannot find anyone in their product support area nor does their website provide any options for customer complaints. Based on this experience with this stove, this is the last KitchenAid product that I will buy. I was considering buying one of their mixers but if this is what to expect from customer support, I will look to a different product (probably a European brand). Very disgruntled and disappointed on the West Coast.

We have a KitchenAid/Whirlpool gas range KGRT607H. It is ten years old. We now find out that parts for this stove are no longer manufactured. That's after spending over $700.00. We talked with the manufacturer and they told us "tough". I will never purchase a KitchenAid/Whirlpool product again. They have horrible customer service. Please don't buy their product.

Gas Range Model KGSA906 9757452 panels froze and won't turn off oven. Needed to stop oven by setting a timed bake. Replaced panel 3 times. First time I paid about a month out of warranty. Second and Third time they replaced. Each replacement was by a technician that bent the sides of the Stainless to get it to fit back together. Today Self-Clean cycle panel went blank after 2 hours.

We bought a KitchenAid stove less than 2 years ago and this was the second time we did a self-clean. After about 1 hour into self-clean, the panel in the front went completely blank, the clock was blank and the stovetop cracked. We paid this stove $2500.00 and it worked good for 2 years and we are asking is this normal? The model number is ****. The technician is coming on November 29, 2010 so we still don't know if we have warranty.
KitchenAid Range Hoods Company Profile
Company Name:

KitchenAid

Address:

P.O. Box 218

City:

St. Joseph

State/Province:

MI

Postal Code:

49085

Country:

United States

Website:

http://www.kitchenaid.com/