Consumer Complaints and Reviews

Purchased a set of star and hex head tips. After purchasing them, I decide that I did not need them because I used a different tool to complete the job that I was performing. Took the item back to the location that I purchased it from. I did not have my receipt, but the manager looked up my number and used that to retrieve a copy of my receipt. I received my refund in the form of a gift card. I will definitely be shopping there in the future.

I purchased a "Long Reach Ratcheting Bypass Lopper" #7-92363 62681 1 Last fall. The second time that I used it, it broke. The store said that they couldn't replace it because it was purchased over 90 days ago. They claim to back the quality of their tools but do not.

I purchased a gift card online for my Dad's birthday on March 8, 2017. It is now March 30th and he still hasn't received it. I have called Harbor Freight customer service several times, and all they keep saying is, 'it was shipped'. After my third phone call I demanded a refund, which they promised would appear in my bank account within 24-48 hours. This was over a week ago. I called again 2 days ago, and again, they promised the refund would go through within 24-48 hours; as expected the money has not been refunded.
I am so angry with the treatment I have received from Harbor Freight, plus, my Dad never received his birthday present! They are complete crooks; it is basically daylight robbery. They have lost a good customer, as my Dad USED to spend a lot of money with Harbor Freight, but he is now boycotting them! Just another piece of information, they outsource to the Philippines, which is perhaps another reason why the company is so mismanaged.

While visiting a sick relative I saw a sale flier with a press I wanted on sale. I went to the Worcester MA store on March 25 Sunday to buy a 20 ton press. I walked all over the store looking for help. No sales staff. Went up front, was yelled at and got a "over there" reply. Then a guy sweeping told me "the other end of the store". I got the stock number, went to check out. Waited in a line of 6 (only 1 cashier) and told her my item. I counted out $170 thinking the price was close as the sale price was $149 plus a $5 roll of tape and tax, with the rest of $200 in my other hand I gave her all the $200.
I asked her to please count as I didn't want to short her. This women grabbed the money, started yelling saying I was ripping her off and all customers are crooked. (I had $16 in change coming.) I was so shocked I forgot to notice I never got the sale price. I'm 60 yes old well dressed and own a small company. My worker would have been fired. I'm handicapped and needed help with the 250 lb press. She yelled at me again "don't you dare steal that cart. It stays there." The floor sweeper helped me with a lift card way overloaded for the task. I will now shop elsewhere. They need to be investigated. Fraud, safety violations and abuse in one visit.

The reviews on this site are mostly complaints about Harbor Freight, but mine won't be. Why? Because I have not ever had any problems with them. How you say? Well let me tell you! Recently I purchased the Harbor Freight 4 Gallon Home and Garden Backpack Sprayer that comes from Greenwood. Upon arrival 1 week later I opened up the package and everything was great except it was missing 1 gasket and the sprayer nozzles which makes the sprayer pretty much worthless.
Well I emailed customer service and I received a reply the next day informing me that they re-shipped a whole new sprayer to me. I didn't need a new sprayer. All I needed was the parts. They even told me I did not have to ship the 1st one back. Just keep it for more spare parts. WOW, no company has ever done that for me before. Anyway, I have been purchasing products from Harbor Freight for more than 6 years now and this was the first time I had a hiccup, but they took care of it real quick. So, I don't know what has happened with all the rest of the low complaints with Harbor Freight. Maybe they got the message, maybe some of these complaints are just rants, who knows for sure. All I know is Harbor Freight has always treated me very well. That's all.
How do I know I can trust these reviews about Harbor Freight Tools?
739,825 reviews on ConsumerAffairs are verified.
We require contact information to ensure our reviewers are real.
We use intelligent software that helps us maintain the integrity of reviews.
Our moderators read all reviews to verify quality and helpfulness.
For more information about reviews on ConsumerAffairs.com please visit our FAQ.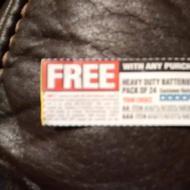 HF would not honor the free product with purchase because it didn't have a barcode on the coupon so I refused to purchase anything from them at that point and later called HF support and told them the cashier had been rude to me and refused my coupon. The service line I called asked me for the coupon code on the coupon at which time I told her it was not printed on the coupon and she took my name and asked again to give her the coupon code number that it would be printed on the coupon and again I told her it was not printed on the coupon anywhere.
She got very short with me saying it had to have a coupon code on the coupon and said she would have to check with her boss about giving me the item for free. After she did this she again asked for a receipt from the store and I again said I refused to purchase the item because the cashier would not honor the store coupon. She then took more info and said again that this would only be allowed one time because of the cost involved (24 pack HD Batteries). End result: I feel like I have been treated like a criminal and I am not so sure that I and my family/Friends will return. Maybe I just got the wrong people at the wrong time.

Defective product. I called the store and they said that they were not able to help me since I bought it with the gift card. I needed you to contact customer service at the corporate headquarters. They were defensive and rude and did not care how much money we have spent in that store. They told me a district manager would be in touch with me but I never had even a simple phone call to speak to anyone. They told me the CEO was not interested in helping anyone over the 90 day limit. This product has never worked and it is sad that they treat their customers so poorly. We would never shop there again and something should be done about their extended warranties which we were told nothing about and therefore could not protect the product. After looking at the reviews online I noticed the same exact complaint about the same air compressor from another customer.

My husband I placed our order online with this company on 2-7-17. It is now 2-20-17 and we still don't have our product. We were finally given a PRO number today and still can't track our product and no one at Harbor Freight can tell us where our merchandise is. Don't order online from them if you can avoid it.

Do not order online. CHECK OUT the FedEx Tracking ** and you will see the order was undeliverable. Now they want me to pay for a 3/8 in Air Ratchet Wrench that was in that shipment that I never received. What??? The order was 11/28/2016 and it is now 2/18/2017 and still unresolved. Maybe they need charity?

The problem is not so much about the products as it is that the Parts for Chicago Electric 12" Compound Miter Saw I was trying to get they don't offer "ANY" replacement part. I was told if I had brought a warranty for it they would replace the whole thing or repair it. The part is the Fence Extension and would take about 5 minutes to replace. They had no answer why they did not offer these replacement parts. Then they said maybe try Ebay or Amazon to see if they had it. I asked if they know that these parts were on there. The person said no, but sometimes people sell off parts of broken equipment. This will make me stay away from Harbor Freight power tools.

What I am about to write is true - never wrote one of these before. Store is in Salem, NH. I bought the handheld camera that lets you view inside small holes, etc. for $160. Came home... Started it up (after charging)... And it wouldn't turn on. Go back the next day, replace it with a new one. Come home. Put it on the charger, and it started up! But then I disconnected it from the charger and it would shut off... So again. Another broken camera. Go back the next day. Gave up hope on the cameras so I returned it for store credit (which they refused to put back on my original credit card) and I bought one of those propane heaters. Came home. Turned it on. And only 1 of 2 burners would hold a light. Just to recap. I bought 3 somewhat high dollars items from this store in a matter of a week and all 3 of them were broken.
I realized... All the boxes I purchased looked like they have been opened before. Meaning, I nearly confident this Harbor Freight just puts broken ** back on the shelves hoping people buy it and don't bother returning it. Why wouldn't people return something broken? Oh perhaps because they have 1 person checking out 20-30 people at a time w/ massive lines.

I began with really enjoying the vast inventory this place provides and the ease of access even though they tend to be located out of major cities in cheaper rent areas. My experience then went downhill when I accidentally broke a around $11 "air filter inlet assembly" on my Central Pneumatic air compressor that is exclusively sold by Harbor Freight Tools. The headquarters told me this piece would take 12 weeks to order since it comes from China and there is no other way of ordering it. They even recommended I bring the product back in and fully exchange it since the product would be so complicated to get. Taking this advice I called 5 Locations near Northern Virginia even places around two hours away. None of the stores had the product in stock. I had only had this product for two weeks and the four weeks before that none of these stores had the products.
The supply chain and set up of the whole operation is so bad the managers don't know what is on the "truck" being shipped to them and have no clue as to what inventory they have as well as do not have any way of ordering or handling customer needs. In the past month I have referred many customers to them and now I feel stupid for spending thousands and referring those people to them since they cannot handle customers' needs, frustrations, and complaints. The compressor is needed to run my business and I am now down one truck and a lot of money due to this issue. Some of the employees were understanding of my issue, however some seemed to not care at all.
I am at the point where I really want to return everything and just get justice for my lost fuel driving big trucks back and forth to hear that the "truck" that no one knows what inventory is on board didn't feel like delivering what customers need in order to operate a business and feed their families. Something needs to be done to help consumers purchasing products from Harbor Freight Tools. The company charges restocking fees and scams consumers that are already frustrated into more money out of pocket.

It seems that when I visit the store it usually happens around lunch hour or after 4 during the week and sometimes on the weekend… it never fails to see about 10 to 15 customers in line waiting to check out with one cashier working. Like today around 11:30 EST am 10 customers with one cashier. I left the store. A change in managers would help. It seems the paying people standing in line take a back seat to getting checked out in a reasonable time. And it does not do any good to complain.

I ordered 2 set on 12-13-16. Called in on 12-19-16 to find out that they had not shipped. Asked for a refund. Was told it would be refunded to my account in 24-48 hours. Called back on 12-21-16 because we had not seen the refund. Was informed at this time the refund was done on 12-14-16 and the time was not up. Called back on 12-23-16 because we had not received the refund. At that time I was informed that it was not processed till 12-15-16 and the refund would not be till 12-27-16. I called them on 12-27-16 and found out that the refund still has not processed and they never even had the product in stock. Worst customer service ever.

I have shopped in Harbor Freight stores for years. I will no longer be shopping with them. I had a motorcycle lift ordered and shipped. Almost a month ago, I ordered it on 12/29 it said it shipped. Last Tuesday I got contacted by the shipping company to schedule delivery. Someone has to be present to accept delivery and 5 scheduled appointments later I still do not have my item.
Harbor Freight has not offered the help I need to get this delivered. I have to take time off from my business to handle it on the phone day after day. I have to have family members take time off from their businesses day after day since it's being delivered to my brother as it is his Christmas gift. This company offers absolutely no help and then isn't even willing to compensate me for my loss in time and wages by refunding my money. We are talking over a $1000 in loss of wages. I paid $279 dollars for an item and they said the best they can offer is 25% back. Absolutely ridiculous. They hired this company to ship it. They should be responsible.

I purchased a small electric generator a couple years ago and it needed a part replaced. H.F. had no parts. Got a new capacitor from Newark for $2.50. I purchased an air compressor and the pressure switch (which was poor quality) broke after a few months. H.F. had no parts. Got on internet and found exact part from China for $3.00. Now I have a $90 nail gun that is a year old. The teflon seals have deteriorated and as usual H.F. has no parts. Not likely I can fix this one. So, if you're going to buy a tool more complicated than a hammer expect that you can only get it fixed in 90 days. After that it is a paperweight. I take exception to the logo HARBOR FREIGHT TOOLS Quality Tools at Ridiculously Low Prices. If you buy a tool, divide the cost by 90 days and ask if it is still a good price.

I have always been aware that one should never buy anything at Harbor Freight without it being "on sale". I needed a small compressor for my business startup and had regularly seen one "on sale" in circulars for $99. This weekend I received a "Limited Time Only - Friends and Family" discount coupon for 25% off of "any one item". I already knew the drill - today the same compressor was marked at $129, and imagine my surprise - 25% off of that brought the price down to $97. This time they refused to honor the coupon.
It happens that many years ago I was the Manufacturing Engineer responsible for making all Sears Craftsman power tools at The Singer Corporation in South Carolina. I was initially brought in to clean up a Federal Trade Commission lawsuit regarding their similar "pricing" issues. I like Harbor Freight, but I'm tired of this deceptive garbage. Just saw that a few class action suits have already been filed, currently examining some of those.

I purchased a 4" plate joiner a few months ago (probably 4-5 months) and didn't take it out of the box to use it until last Saturday. When I tried to use it I found that the levelling plate at the front of the tool was not attached on both sides. This is obviously a problem with manufacturing and quality control. I took it back to the store that I purchased it from, Wilmington, NC and spoke to the "acting" store manager. Unfortunately I didn't have my receipt, but, I thought that Keegan (store manager) would at least look at the problem before he made a decision.
I was told in no uncertain terms that it was my problem and that they would not replace it or even give a store credit. I then called the corporate office and was basically told the same thing. After purchasing many items over the years with Harbor Freight, with really no problems, this is the first time that I needed to return something with a poor manufacturing issue. Since they will not stand behind their products, I will not be purchasing anything else from them in the future. I would rather pay a little more for an item through another retailer that will stand behind their products.

I bought the solid rubber tires at the Davenport Iowa store to replace flat tires on a hand truck. The steel hub on both sides of the wheel comes loose and can cause the wheel to fall halfway off the axle. Both wheels were the same. This is a dangerous product and should be recalled. The store would not exchange them or give me credit to buy a better model. They could see that they are of poor quality. They stick to their 90 days return policy without any regard to defective products.

Ordered motorcycle dolly. Received car wheel dolly! Called Harbor Freight. They re-shipped, and what I got is missing half the parts. Harbor Freight insists on getting their junk back before they'll resolve the problem. I have to waste my time and packing supplies to pack and ship back their crap, and this two times in a row, and they won't even ship what I ordered until I finish this work for them!!! I've been a loyal HF customer for years, spent thousands of dollars with them, and referred many friends to them. No more! Buy their junk at your own risk. You MIGHT get what you paid for SOME DAY, but it WILL COST YOU more than just the advertised price. I needed this thing before cold weather so I could get my motorcycle into my garage. HF SCREWED ME!!!

Yesterday, I spent over $80 to purchase an Earthquake pneumatic torque wrench, which was advertised by HF to be able to deliver 505 ft-lbs of bolt torque with an inlet air pressure of at least 90 psig. This morning the torque wrench did not produce enough torque to loosen a single lug nut in my garage. I checked the lug nut torque and verified that it was torqued to 100 ft-lbs. I made a 50 mile roundtrip back to the store today to have my money refunded. This is not my first time to have performance issues with pneumatic tools from Harbor Freight, but my past experience taught me to test the tool right away, because HF only warranties their tools for 90 days.

Went into the chambersburg, pa. Store. Purchased a 3 ton floor jack (Pittsburgh) on 6/23/16. Used it twice. Warranty ran out on sept. 23rd. I took it back to the store on Oct 3rd because it would not work. I was told this is my fault because I DID not buy the extended warranty. They would not stand behind it. They sell "junk". I will never purchase another thing from these idiots. I could say more about them. But I'LL just get really pissed off. This junk store needs to be closed. Shut the doors.

I drove 45 minutes to pick up a 70 amp welder and a large compressor. I called to be sure they had them. I stood in line and found out they had no compressor. But they had a whole wall of the expensive ones. Stood in line again, the clerk tells me that they were out of the welders also. They again had the more expensive ones. Customer service was horrible. Don't be up sales on CRAP tools. Let them choke on them.

Purchased an 8" combination buffer for a specific project. Unpacked the product. Plugged it in and it was so out of balance that it almost vibrated itself off the bench. Never ever even touched the stone or the buffing wheel with any material and the manager of the League City, TX. store refused to accept the return. Left the junk sitting on his counter. I was a long time customer, Inside Track member and I will never step foot in a Harbor Freight store again. Good riddance to you, your junk and rude employees.

I bought a new Predator 670 cc engine from Harbor Freight in December 2015. I also got the extended protection plan. In June 2016 had a carburetor problem with the motor. I called Harbor Freight. They gave me a return authorization number. I carried the engine back and got a replacement engine. After I got home and got the replacement engine out of the box I saw that it was damaged. I called the 1888 866 5797 number on the owner's manual. The lady that I spoke with ordered a replacement part. This was on June 14th 2016. Since then I've called on four different occasions. They said the parts should be in by August 31st 2016. No one can tell me where the part is or when it will be here. Today is September 13th 2016. Still haven't received my part. No one knows where it is.

Was in the Omaha, NE store to buy some car ramps. Did not see any in a box on the floor, tried finding an employee to check in the back. After 10 minutes someone finally comes by and was told "I'm on my lunch break and I don't get paid so I can't help you". She then walked out of the store making no attempt to get someone else to help. I walked out of the store and I will not buy anything from Harbor Freight again. Absolutely pathetic piss poor customer service.

I went to the store in Worcester, MA. When I got there I wanted to look at Union Floor Safe but it was in a box. They did NOT have one open to look at. I was told I could buy it and take home... And if I did not like it I could bring it back. I don't think so, I am 73 years old. I was not going carry out and if I don't like carry it back. I worked in Den Homes, the biggest and best store in Worcester and we put every thing out on display so you could see what you're getting. If I cannot see what I am buying I will NOT buy it... Too bad for Harbor Freight Tools in Worcester, MA.

Less than a year ago, I purchased a Chicago Electric 12" Sliding Compound Miter Saw. Just recently, I had a problem where a piece of material jammed between the saw blade and the fence. Unfortunately, the fence was bent, which now makes it almost impossible to get clean angular cuts. I contacted Harbor Freight to find out where I could purchase replacement parts, so I could replace the fence. The response that I received: "Thank you for contacting Harbor Freight Tools.
Unfortunately, the parts you have requested are no longer available. We apologize for any inconvenience." Less than a year after purchasing a product, I'm told that parts are no longer available. I don't believe that I've ever done business with a company that has such poor customer service.

My mother went to store $00042 here in Yuma, AZ to buy a trolley jack that someone messaged her the ad about. She went there with a photo of the ad for the jack $27.99. She talked to Joe (who she was told later was the manager) and showed him the picture of the ad, he said to her "this is from another city you need to go find the ad for here." After a long day she said ok and came home. When she got home and told me I grabbed my ads and found the same jack for $29.99 and offered to go get it for her, she said no she wanted to talk to Joe. Two hours later she returned to the store and saw Joe, he quickly passed her to another employee for help as he ran out of the store.
My 61 year old 110 lbs. mother was told she need to bring the jack to the register and the 20% coupon I gave her she can't use for jacks. She still needed the jack so she walks around the register and there is a stack of the same exact trolley jack with a big sign saying $27.99. OK now my mom is not too happy. The original employee/manager said she needed an ad, there was no coupon for this item just in the ad. So whoever this manager/employee named Joe at store $00042 made my mom run across town in 100+ degree weather to only return to see a stack with the same advertised price. We are Inside Track Club Members and they treated my mother like this. Pisses me off to no end. I go to your store often and always spend my hard earned money. I am a longtime shopper and I am VERY DISAPPOINTED.

Went to Harbor Freight. Had a worker show me the Predator 212 engine, was told it would replace my 5hp Briggs engine on my rototiller. Brought the engine, took it home, took it out of the box only put it next to my old Briggs. Seen the bolt pattern was 3/4 out of place for it to work, put it back in the box exactly as it was, took it back to the store and was charged 24 dollars restocking fee. The sales slip clearly stated that you would be charged that if gas and oil was added and it never was. This is clearly a rip-off when as soon as you pay for an item you can't return it for a full refund, when all you did was open the box and look at it. Buyer beware.
Harbor Freight Tools Company Profile
Company Name:

Harbor Freight Tools

Website:

http://www.harborfreight.com/