Consumer Complaints and Reviews

Purchased shop fan online with a 15 percent off coupon. The day it was supposed to arrive, tracking showed it was delivered back to California. FedEx said there was damage to the box and that it was sent back to Harbor Freight. Called Harbor, they stated they could refund me or ship out. Needed the fan pronto and told them to refund me and would go pick it up. Asked about my original coupon and rep said I'd have to ask the store. Contacted store to make sure item was in stock. They said the coupon could not be honored. I said thank you (was polite the entire time on the phone), sales lady hung up the phone without saying anything... Just a biblical ending the call. This place needs some major surgery with their customer service.

I bought a 4000 watt Predator Portable Generator in November of 2016 for emergency use. I left it in box until June of 2017 and because of extreme heat lost power so brought it out because it's too hot to be without any cooling and running it during power out and then to supplement house power during hottest part of day. Filled the oil and gas, did the check list, fired over fine for the break in period then started having problems with oil sensor acting up. Called customer service and after 2 hours they had me disconnect sensor. Okay ran no problem for a few more days then started vapor locking with fuel cap on. Okay moved from porch shade to under a tree ran. Better. Then it was time to do the oil change, clean air filter, okay no problem done. Ran 3 days and quit oil blowing out of air filter start it and it does a blat blat cough die.
Okay call tech support, fiddle with this check that replace this all in 115 degree heat and they think the carburetor is bad. I bought this for emergency use. Are they telling me that it cannot last longer than 3 weeks out of the box. I did not buy a extended warranty because I did not expect to need or hopefully have to use the generator. It's very not often I lose power. Maybe once a year and only for a few hours. Power company is really on the ball here. I always keep receipts so pulled it, called them back, carburetor ordered should have to in 10-12 weeks and have to find a small engine repair to have it done out of my pocket. This is worthless to me and hopefully it fixes the problem. Until then I hope no major outages happen because I have a $350+ piece of junk that I can't use taking up room in the shed.

I've bought lots of tools from their deer park store 193 and they keep breaking. I even paid for an extended warranty and it's not in the system. Now I'm out of a 100+$ and on top of that I almost lost an eye. Harbor Freight Tools has terrible products and bad business. Do not shop there. They know their products suck. That's why they are cheap and dangerous. I'm pissed and can't get no one to help me. I want my money back.

Terrible Customer Service, Even Worst Shipping: I placed an order online on 7/6. Today being 7/13 I am thinking to myself that I should have received my order by now. I viewed my order online and it stated it will be arriving next Friday the 21st? Thinking this must be incorrect I called Customer Service and well, yes, this is in fact correct. The order did not ship out until today the 13th and it shipped to FedEx sand FedEx is then shipping it to USPS. Are you kidding me? If it was to be a 10-15 day transit to ship from CA to MD I would have never even ordered it. Very misleading that they do not state this on their website. The Customer Service was pitiful acting complain as if "well, what do you want me to do about it. I can't make it get there faster." I am not one to complain but, this was certainly enough for me to do so.

Folks; we live in a world where we ALL are "predators" looking to get the "best" of one another; be it a store or garage sale. For Example: Harbor Freight folks can (accidentally?) add a non-existing "screw" to your purchase by simply reversing a couple of the numbers on an existing item#??? Aggravated checkers; everywhere; can exact a "revenge"??? I find it especially ironic that Harbor Freight labels this "revenge": "Screw"??? However; BEFORE any of us start pointing fingers; we must admit that, if we were among the many "abused" personnel in any establishment; we would get MUCH needed relief using the "Screw", as needed??? ALWAYS check your receipts and, above ALL; Love one another, and yourself, by being Merciful <3 <3!??? PS: And try not to get "screwed!"
How do I know I can trust these reviews about Harbor Freight Tools?
850,588 reviews on ConsumerAffairs are verified.
We require contact information to ensure our reviewers are real.
We use intelligent software that helps us maintain the integrity of reviews.
Our moderators read all reviews to verify quality and helpfulness.
For more information about reviews on ConsumerAffairs.com please visit our FAQ.

I have had nothing but good experiences at Harbor Freight. Everything works as it should, and exceeds my expectations. I bought the 2500 psi gas pressure washer two years ago, and it outperforms others that cost twice what it did. I've returned a couple of things no questions asked. I also believe that your attitude determines how well your experiences are at places. If you act like an idiot, you probably will be treated as such.

I ordered a one person brake bleeding item online on July 4th around 4:20 pm and paid extra for two day shipping. I know the 4th was a holiday so I figured I would receive it on Thursday or Friday (at the latest) but when I didn't receive it today (Thursday 2nd day ) I called customer service and spoke with incompetent person. As we talked she gave me some BS that it took a day to process it then it would shipped out and I would receive it on Monday or Tuesday of next week and I told her that if it was processed on Wednesday the 5th that 2 days after that would be Friday the 7th. I guess she can't count past two. I asked her why did I pay for second day shipping if it was going to take 6-7 days, what a rip off and a joke.
I was advised by her that when I paid for the item it told me that (NOT) and to receive it in two days they would have to send it by air, well that's what I thought I paid extra for but not according to her. When I have purchased other items online from them and only pay regular shipping charges I usually receive the item in 4-5 days. But when you pay extra $$$ for 2nd day shipping it takes 6-7 days. WHAT A RIP OFF because I needed it now not next week. I ordered car parts from California last Friday and shipped to Maryland and received them today (Thursday) over the 4th of July holiday (6 days and 3000 miles) and harbor freight can't even ship something from South Carolina to Maryland (approx 500 miles) in 2-3 days when you pay extra for it.
She told me that when I receive it I could send it back or take it to a store for a refund. Well guess what, I'm not going to sit here all day waiting for UPS or drive 50 miles to a store. I just called the credit card company to stop payment. If they leave the package here it will sit out front until they send UPS back out to pick it up. I'M TIRED OF THE BIG COMPANIES RIPPING THE LITTLE PERSON OFF AND I'M DONE WITH THEM. I'll pay extra to get it somewhere else before I go back there.

Today I went to Harbor Freight. Went to counter, showed lady coupon for free meter. She said "Go get meter" and then I got back she said, "Read me number off phone." I said, "Here it is." She said, "I don't read phones." So then I said, "How was I going to my 20% if she can't see it on the phone." I told her I was going to call corporate. That's no way to act. Hope she has a better day, the manager walked out to my car and asked what was my problem and told him I thought cashier was not very pleasant. He gave me the finger. I droved off, email Harbor Freight like I said I would. This matter not over. I think when he came to my car and gave me the finger he threaten me, hope Harbor Freight see cameras before he delete them.

My gf picks things up for me so I have not been in person yet but I am GOING now. I had her buy a miter saw a few days ago & just opened it & it has been used, covered in grease, and dust. It has dings on it as well. I know this is going to be a battle with them, because I purchased a pressure washer (electric) since I live in the city & do not want anything gasoline in my house. The pressure washer put out WAY less PSI than just my garden hose. So I bought it to pay for it to reduce the pressure & cost me electricity??? I had a feeling it was just a cheap piece of crap & when I checked the reviews everyone had my same complaints. My gf returned it & explained why & they demeaned her & would only issue a store credit. Home Depot is not much more expensive & their stuff WORKS!!! & has warranties!!! I HATE THIS ENTIRE FRANCHISE & hope they are shut down.

I have bought items from them before. They have been very unreliable. They are dollar store of tool retailer. They sell lots of junk and now couple times I try to return have giving me hard time. Last one simply refused to return so I got upset and wanted to talk to manager. Wow what a manager with no knowledge on product, to show off front of his female employees, bully stand in my face, practically pushed me toward door with his chest his solution, handed me a 1800 number. I will never go back. They are taking advantage of poor people. Disgusting company.

8:00am, I went to buy a 29 gallon compressor model # 61489 at Easton Pa store. I came home, fill up and was broken. I called the store, bring it back, money back, I called also stores near me, Quakertown PA and Allentown PA. They say don't have in stock. Around 12 pm I returned the compressor and I ask the cashier if other store near have one, she called Quakertown. They have one. I went, driving 20 miles. I asked the cashier and she was mad, she say "nobody call me from any store. Only one customer in the morning and I tell him we don't have it in stock." (That was me.) We started arguing until finally she ask another cashier and the other cashier say "yes we have one in the back". I looked now it's about 4;00pm. I drove one hour to my house, 700pm I opened the new compressor and was an old model # 62765 and have couple scratches, I fill up and tank pressure gauge it's bent inside and don't work. VERY DISAPPOINTED.

Sure, inexpensive, cheap, mostly disposable tools that will last hopefully long enough for you to get a minimal ROI. But WOW. The single WORST customer service experience EVER, in the history of the world!!! And the worst systems - online and internal - ever designed. It's like they know they are so bad they are not even trying anymore.
I bought a water pump from them. I used it for 3 hours and it failed miserably, the 4 bolts holding the impeller housing to the engine housing coming undone simultaneously, 3 of which lodged between the impeller and the housing, stopping the impeller so violently that it bent the impeller, the impeller housing, and the engine screamed, stopped, and water started spraying everywhere. Okay, not good, but still under the 90 day warranty by like 89 days, so a salvageable situation. But even if it had failed beyond the 90 days I had purchased a 2 year extended warranty so all was good (aside from the pump committing Harakiri). So I called the pumps service number and I was given the choice of my money back or a new pump, choosing the pump since I still needed one.
The pump arrived, but I also received a gift card for Harbor Freight. I had no idea what it was for so called them. I was told I could use it to buy stuff or repurchase my extended warranty. I asked why I would need to repurchase the warranty since it hadn't even started yet and they should be able to transfer the warranty to the replacement pump, but apparently their systems suck so badly they can't do that. So I called the number they gave me to repurchase the extended warranty with the gift card. That's when my hatred of HF began.
They told me at that number they couldn't sell me a warranty, so I asked them who could. They transferred me to warranty services, a 3rd party company not a part of HF. They told me I didn't need to buy a warranty because I already had one. Great. Easy. So I called pump warranty services to tell them I still had a warranty, and they said no, I didn't, and I would have to buy one. So they transferred me to the purchasing department, who then told me they couldn't sell me a warranty and transferred me to the department that could, who turned out to the warranty services, who said I had a warranty and transferred me to pump services again, and back and forth all day for 6 straight hours between these 3 departments, all passing the buck in a cyclical obscenity.
A monkey could have told me if I did or did not have a warranty, but these people are all clueless idiots. I finally got so pissed off I was screaming at people over the phone "DO I OR DO I NOT HAVE A ** WARRANTY?!?" Different answers from everyone. So I hung up and called the store I purchased it from. They told me I did have a warranty. I was finally so fed up I asked if I could just return the stupid thing to the store where I bought it and get my money back, which is 60 miles away from my podunk town, and I was told they would.
So I began my 3 hour round trip (single lane winding roads filled with old people and RV's), only to find when I got to the store that they can't take pump returns in the store, even if it had never been opened, which it hadn't - still completely boxed. OMFG!!! But they told me THEY - their store - would honor my warranty no matter what anyone else in the company told me. I am surprised I didn't lose it and wind up in jail that day! Instead I left before I did anything stupid, drove home, found the corporate number for HF, called them and told them calmly to sort their ** out and get back to me with the answer.
Two days later someone from corporate called. I told them exactly how insane and ridiculous the whole situation was just to find out if I had a warranty or not and why on earth did everyone have a different answer, which clearly is an internal communication problem. And they apologized profusely, told me they were going to use my gift card number to buy a new extended warranty, and the company would sit down and get their act together, and for my pain they would send me a gift card. Nowhere close to enough to absolve them of my wasted time and the emotional abuse of the whole situation, but at that point I was happy to have any solution. I received an email the next day from them telling me they were mailing me a copy of my new warranty and the gift card. As far as I was concerned, all was resolved and I went on with my life.
Two weeks later, still no letter, no gift card, no warranty. So I called and asked where these things were, and they assured me they were on the way. Three days later I did receive the gift card, but no copy of my warranty. And still to this day, 2 months later, no warranty paperwork has arrived and I still have no idea if I have an extended warranty that I paid for or not. We'll see if the store keeps their word about honoring the warranty...
Anyway... So I don't want to have anything to do with HF any longer, but I have this gift card and I want to be done with them, so I make the 3 hour round trip last week to go to the store and buy something I need. When I get there they have none in stock. Okay, annoying, but I can order online, so I make the best of my trip to the big city and order online the next day. And irritation begins anew.
So I place the order, go to the checkout page, enter my gift card numbers, but it won't let me continue until I put in a credit card number too. Why? My gift card is more than enough to cover the purchase. So I call their customer service number and ask why. The basics of that answer were "Because". Swell. So I put in my CC card and place the order, expecting I will be told the gift card was used and I wasn't charged, but no. It just says the order was placed at X dollars. So, that is annoying as ** because on the back of the gift card it states that if used online it will tell me the gift card was used and how much is remaining on the card, if any. But that didn't happen, at all. Not even the order confirmation e-mail says if the gift card was used or not. Fine. Whatever.
IF my card gets charged I will go on the rampage with HF, again, waste my time and my life and my mental well being to try to get them to pull their heads out of their backsides. So I wait and watch. Finally, 3 days later, it says the order was placed, and my credit card wasn't used so apparently the gift card was, so that's great (even though it still doesn't tell me what's remaining on the card, even though I know how much, it's supposed to tell me how much according to THEIR OWN WORDS).
Anyway, the next day I check the order status. It shows that 2 of the 3 things I ordered were shipped, but the large item, which I needed more than the other 2, was not. I wait another 2 days, same thing. I need that item by the end of the week, so I call the store and ask if they got in a shipment of the item, and they did so I have them set one aside and prepare for my 3 hour trip to pick it up. But first, I need to cancel the online order of that item. I call their number, choose the option to check on an existing number, and the automated system tells me that item is on back order. I choose to speak with a customer service rep to cancel that item, and they tell me it has already shipped. I ask them how that's possible since their automated system says back ordered and the site page of my order that I'm looking at says that item hasn't shipped yet, and checking the tracking number shows that a label was created and nothing else happened.
They tell me everything shipped and are getting annoyed with me, but I don't care, I'm getting an answer, a CORRECT answer. I tell them to prove it, because their own systems, 2 different of their own systems, say it hasn't shipped and is on back order. They give me a tracking number. That tracking number is ENTIRELY different than the one associated with my order, and checking their tracking number says it left 3 days ago. WTF??? I guess I'll see what was shipped when it gets here. But I don't trust anything anyone there says, ever, so I'm still making my 3-hour trek to get the part myself and will deal with the online ordered item IF it arrives.
The point of my story is: These people are idiots. Not single employee knows what the ** they are talking about, everyone has a different answer, even their systems are not integrated enough to get the same answer from each system to the next. The single most HORRIBLE company and WORST customer service in the history of the world, EVER! MORONS ALL!!! They are not remotely worth the inexpensiveness of their cheap crud. Not in the slightest. Do yourself a favor and only buy small items under $20 so you don't care when it breaks and you don't have to deal with their customer service people or any of their systems other than the cash register that will get you out of their store as quickly as possible. Either that, or just stop buying from them so they fold and go under and disappear from the world and bring us all one more step closer to sanity.

I like Harbor Freight Tools, and while their tools are not top quality, they are usually good value for the money. My problem is with their customer service related to the Inside Track Club. I renewed my membership last November, but for some reason, they did not start sending me the monthly sale catalog, and also did not send weekly Inside Track Club special emails. After about one month, I contacted them through their website, but got only a cryptic reply. I called their customer service number and explained the problem, and the person that I talked to assured me that they would look into it, and also agreed to send me a copy of the monthly flyer, which I received about a week later, hand addressed.
When I still wasn't getting the sale flyer the next month, I contacted them again, and they again said that they would look into it and they mailed me a flyer, addressed by hand. After I still got no machine addressed sale flyer or sale notice emails the next month, I contacted them again using the online form, and also sent a letter by US mail to the president, Eric Smidt. I never got a reply from him. I still am not getting any emails or catalogs, except for those addressed by hand and sent when I complain. It doesn't seem like it should be that hard to get it right.

I went to the Harbor Freight in Salem N.H. to buy a side cabinet toolbox (#68785) on a Saturday. The place was a zoo to begin with. I went to the display and took the tag then went to the cashier to pay for it. After waiting quite some time in line I gave the cashier the tag and he rang the numbers thru the register, then he did it again, at this time he called someone over to talk to him. He came back to me and said, "We are all out of this item." I asked, "When are you getting more in?" He didn't know. Ok, so I asked to buy the display, he said no. I said, "You would rather not have a sale so you can display a product you don't have and don't know when you are getting another?" He said, "A truck is coming in on Monday", so I called on Monday, no toolbox. Then I called 2 other stores in my area, only at the second store did someone offer to look it up on the computer to see which store had one, nobody in the area did.
So I called Harbor Freight and ordered one, they took my information, (credit card, address, email) and said within 2 days I should hear that they shipped it. Not being notified I called them on Thursday, "Sorry it's on back order" was the reply. I said, "It wasn't on backorder when I ordered it or someone should have said something then. When did you plan to tell me this?" I canceled the order.

The policy of Harbor Freight is on the back of the receipt. It states that it will refund purchases in the original tender. However, I could not get a refund on ramps which I returned unused, because they were too steep for my vehicle. Instead they gave me a gift card of equivalent value. I have no use for this. I spoke to a supervisor and store manager and was told that was all he could do. The box was in a resaleable condition. This company does not honor its stated policies, which I plan to report to the state Attorney General.

I just read the class action lawsuit brought against Harbor Freight. Notice the 10 million dollar settlement the lawyers are asking for? Follow the money. I would like to meet all the poor souls that were harmed when they bought their item on sale and were harmed in any way. This is the kind of BS the new Administration is trying to get out of their way. Their revenues can be better spent providing jobs for lower to middle-income families. That is what will make America great again. Not lawyers.

I purchased a boat trailer through Harbor Freight online. I have contacted them at least 9 times attempting to receive the documents needed to register the trailer with the DMV. They have yet to send me the documents knowing fully that I only have 30 days to register the trailer. The average wait time on each call is 47 minutes; if you happen to get a live person, they cannot help; if you call the return #, they cannot help; the trailers email address provided does not respond; DO NOT PURCHASE from this company. They have NO customer service.

I sent a package back on April 5th and delivered on the 7th. Today is the 17th and still no refund. I tried calling to find out what the status was, after an hour on hold listening to how I was family someone finally answered. The young lady said I should call back in an hour. I do not feel this any way to treat a customer. The last time I called I was on hold for almost a half hour. I think that their customer service stinks and they should have more help.

Last summer, I bought a table from Harbor Freight to raise my motorcycle so that I could work on it. My bike is old (1988 Electra-Glide) and needed a number of small projects done to bring it up to snuff. We were going into winter anyway and I felt like this would be a great time to get started. I figured that I could take all winter and be ready to ride again in the Spring. So up the bike went.
To use this table properly, you must pump the hydraulic jack that is fixed to the table to higher than it needs to be, insert a locking bar and then allow the jack to settle down onto the locking bar. This makes for the table being safe because it eliminates any chance of a failure of the jack and the bike slamming down unexpectedly. This also releases any pressure on the hydraulic jack. So theoretically, the bike can be left for long periods of time without any danger of damaging seals in the jack. I took the table into my garage, lifted it ONE time and that's where it has remained until now.
This Spring, with all my little tasks complete, I went to raise the table enough to remove the locking bar but the jack would not budge the table at all. There was a puddle of oil around the jack on the concrete floor under the table and so, I got some hydraulic jack oil and filled it up. The table came with a manual and I filled the jack per the instructions, to replaced what leaked out and went through the bleeding procedure exactly according to the manual's instructions to absolutely no avail. Pedal resistance remained unchanged and the jack refused to lift. I studied the way the table is built and I cannot honestly see how I can remove the jack to get it up on the bench.
I'm sure that I can figure this out eventually but I really don't feel good working under this table with an almost 900lb bike over my head. So I decided to talk to the manager at the local Harbor Freight store where I bought it because I figured that they've probably run into this problem before. He told me that this table was not designed to be left in one position for long periods of time. I asked: "Why not?" I explained that there was NOTHING in the manual about this and if this was a problem, the manual should have included some sort of precautionary statement. My idea of having the Harley on the lift all winter was the entire reason I bought the table in the first place. This was supposed to allow me to work on the bike when I could take the time and leave it when I didn't have time. The manager said that the warranty was up and he couldn't help me. He turned and walked away completely ignoring me!
I have never in my life been gaslighted and then completely ignored in such a manner! Even if the table is out from under the warranty, I would think that any conscientious store manager would at least show some sympathy for my problem if he couldn't help me find a solution. I went to the Harbor Freight website to submit a review on this table. But it would not take my review giving me one error message after another. I tried to contact the regional/district manager but there is no phone number - only a page to submit all my information and a space to comment. But then, it also would not accept my submission. So here's where it stands now. I have a motorcycle that is stuck up on the air and I can't get it down. This makes the table worse than worthless and the company that sells this item completely refuses to help, even refusing to help me find any sort of solution, and makes it impossible to even complain. AMAZING!

Purchased a set of star and hex head tips. After purchasing them, I decide that I did not need them because I used a different tool to complete the job that I was performing. Took the item back to the location that I purchased it from. I did not have my receipt, but the manager looked up my number and used that to retrieve a copy of my receipt. I received my refund in the form of a gift card. I will definitely be shopping there in the future.

I purchased a "Long Reach Ratcheting Bypass Lopper" #7-92363 62681 1 Last fall. The second time that I used it, it broke. The store said that they couldn't replace it because it was purchased over 90 days ago. They claim to back the quality of their tools but do not.

I purchased a gift card online for my Dad's birthday on March 8, 2017. It is now March 30th and he still hasn't received it. I have called Harbor Freight customer service several times, and all they keep saying is, 'it was shipped'. After my third phone call I demanded a refund, which they promised would appear in my bank account within 24-48 hours. This was over a week ago. I called again 2 days ago, and again, they promised the refund would go through within 24-48 hours; as expected the money has not been refunded.
I am so angry with the treatment I have received from Harbor Freight, plus, my Dad never received his birthday present! They are complete crooks; it is basically daylight robbery. They have lost a good customer, as my Dad USED to spend a lot of money with Harbor Freight, but he is now boycotting them! Just another piece of information, they outsource to the Philippines, which is perhaps another reason why the company is so mismanaged.

While visiting a sick relative I saw a sale flier with a press I wanted on sale. I went to the Worcester MA store on March 25 Sunday to buy a 20 ton press. I walked all over the store looking for help. No sales staff. Went up front, was yelled at and got a "over there" reply. Then a guy sweeping told me "the other end of the store". I got the stock number, went to check out. Waited in a line of 6 (only 1 cashier) and told her my item. I counted out $170 thinking the price was close as the sale price was $149 plus a $5 roll of tape and tax, with the rest of $200 in my other hand I gave her all the $200.
I asked her to please count as I didn't want to short her. This women grabbed the money, started yelling saying I was ripping her off and all customers are crooked. (I had $16 in change coming.) I was so shocked I forgot to notice I never got the sale price. I'm 60 yes old well dressed and own a small company. My worker would have been fired. I'm handicapped and needed help with the 250 lb press. She yelled at me again "don't you dare steal that cart. It stays there." The floor sweeper helped me with a lift card way overloaded for the task. I will now shop elsewhere. They need to be investigated. Fraud, safety violations and abuse in one visit.

The reviews on this site are mostly complaints about Harbor Freight, but mine won't be. Why? Because I have not ever had any problems with them. How you say? Well let me tell you! Recently I purchased the Harbor Freight 4 Gallon Home and Garden Backpack Sprayer that comes from Greenwood. Upon arrival 1 week later I opened up the package and everything was great except it was missing 1 gasket and the sprayer nozzles which makes the sprayer pretty much worthless.
Well I emailed customer service and I received a reply the next day informing me that they re-shipped a whole new sprayer to me. I didn't need a new sprayer. All I needed was the parts. They even told me I did not have to ship the 1st one back. Just keep it for more spare parts. WOW, no company has ever done that for me before. Anyway, I have been purchasing products from Harbor Freight for more than 6 years now and this was the first time I had a hiccup, but they took care of it real quick. So, I don't know what has happened with all the rest of the low complaints with Harbor Freight. Maybe they got the message, maybe some of these complaints are just rants, who knows for sure. All I know is Harbor Freight has always treated me very well. That's all.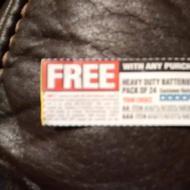 HF would not honor the free product with purchase because it didn't have a barcode on the coupon so I refused to purchase anything from them at that point and later called HF support and told them the cashier had been rude to me and refused my coupon. The service line I called asked me for the coupon code on the coupon at which time I told her it was not printed on the coupon and she took my name and asked again to give her the coupon code number that it would be printed on the coupon and again I told her it was not printed on the coupon anywhere.
She got very short with me saying it had to have a coupon code on the coupon and said she would have to check with her boss about giving me the item for free. After she did this she again asked for a receipt from the store and I again said I refused to purchase the item because the cashier would not honor the store coupon. She then took more info and said again that this would only be allowed one time because of the cost involved (24 pack HD Batteries). End result: I feel like I have been treated like a criminal and I am not so sure that I and my family/Friends will return. Maybe I just got the wrong people at the wrong time.

Defective product. I called the store and they said that they were not able to help me since I bought it with the gift card. I needed you to contact customer service at the corporate headquarters. They were defensive and rude and did not care how much money we have spent in that store. They told me a district manager would be in touch with me but I never had even a simple phone call to speak to anyone. They told me the CEO was not interested in helping anyone over the 90 day limit. This product has never worked and it is sad that they treat their customers so poorly. We would never shop there again and something should be done about their extended warranties which we were told nothing about and therefore could not protect the product. After looking at the reviews online I noticed the same exact complaint about the same air compressor from another customer.

My husband I placed our order online with this company on 2-7-17. It is now 2-20-17 and we still don't have our product. We were finally given a PRO number today and still can't track our product and no one at Harbor Freight can tell us where our merchandise is. Don't order online from them if you can avoid it.

Do not order online. CHECK OUT the FedEx Tracking ** and you will see the order was undeliverable. Now they want me to pay for a 3/8 in Air Ratchet Wrench that was in that shipment that I never received. What??? The order was 11/28/2016 and it is now 2/18/2017 and still unresolved. Maybe they need charity?

The problem is not so much about the products as it is that the Parts for Chicago Electric 12" Compound Miter Saw I was trying to get they don't offer "ANY" replacement part. I was told if I had brought a warranty for it they would replace the whole thing or repair it. The part is the Fence Extension and would take about 5 minutes to replace. They had no answer why they did not offer these replacement parts. Then they said maybe try Ebay or Amazon to see if they had it. I asked if they know that these parts were on there. The person said no, but sometimes people sell off parts of broken equipment. This will make me stay away from Harbor Freight power tools.

What I am about to write is true - never wrote one of these before. Store is in Salem, NH. I bought the handheld camera that lets you view inside small holes, etc. for $160. Came home... Started it up (after charging)... And it wouldn't turn on. Go back the next day, replace it with a new one. Come home. Put it on the charger, and it started up! But then I disconnected it from the charger and it would shut off... So again. Another broken camera. Go back the next day. Gave up hope on the cameras so I returned it for store credit (which they refused to put back on my original credit card) and I bought one of those propane heaters. Came home. Turned it on. And only 1 of 2 burners would hold a light. Just to recap. I bought 3 somewhat high dollars items from this store in a matter of a week and all 3 of them were broken.
I realized... All the boxes I purchased looked like they have been opened before. Meaning, I nearly confident this Harbor Freight just puts broken ** back on the shelves hoping people buy it and don't bother returning it. Why wouldn't people return something broken? Oh perhaps because they have 1 person checking out 20-30 people at a time w/ massive lines.
Harbor Freight Tools Company Profile
Company Name:

Harbor Freight Tools

Website:

http://www.harborfreight.com/