Consumer Complaints and Reviews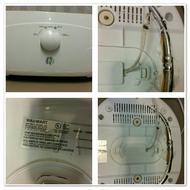 GE Slow Cooker model number 168945 - I went to put dinner in this crock pot this morning, no big deal. Well after a 1/2hr goes by I keep smelling something. It was the bottom of the crock pot. Plastic every where and burned the counter top. However, I am lucky "God" was watching over us. This could have been really bad! Please take a look at this and make sure you don't have one like this one. When you look at the picture keep note of the metal you should not see that. This should all be in closed.

I prepared a meal in my slow cooker and put the setting on low. After approximately 30 minutes, my kitchen was filling up with smoke; I noticed that the cooker was smoking badly from the bottom. I turned the power off and turned the cooker upside down and was shocked. The plastic was melted all around the heating element. Plastic has stuck to my counter tops and the cord is brown and sticky with the melted plastic. I was preparing to leave the house to run errands. Had I been out, my house would probably not be standing and my pets could have been burned alive. Right now my stress level is peaked. When I think of the times I have gone to work leaving a meal slow cooking. I have taken pictures of the mess this has caused. I await your response. Thank you.

I have had the slow cooker with the locking lid for less than a year. I was happy with it until I looked at it this morning and it is cracked at the top - the portion that holds the heating element. I will set it on the stove and use it one more time.

GE slow cooker 169200 - It said to plug in awhile when to get rid of smell. I did this, it still smells. I place it on my stove top when using because I believe it is safer. But the smell is still stronger than the smell of the food cooking. After reading what another model has done, I wonder how long before mine burns or something. It does seem to take longer for the food to cook. I am now afraid to use it. It will be sometime before I can afford another one. You can bet it will not be GE. I bought this one for its locking lid.

I bought a GE slow cooker and it worked the 1st time. After that, it took too long to cook, more than all day so I just wasted 30 dollars.
How do I know I can trust these reviews about GE Washing Machines?
699,348 reviews on ConsumerAffairs are verified.
We require contact information to ensure our reviewers are real.
We use intelligent software that helps us maintain the integrity of reviews.
Our moderators read all reviews to verify quality and helpfulness.
For more information about reviews on ConsumerAffairs.com please visit our FAQ.

I have a GE large white crock pot #168945 that I have had I believe a few years. I plugged it and ran to the store leaving my teenage son home. When I got home, my son was complaining that it smelled like burned plastic. I checked the crock pot and it was burning onto my counter top! I was frantic that my home was going to burn down the day before Thanksgiving! There is a large area burned through my counter, I need this replaced!

I was using the GE Slow Cooker (model number 168945). It was plugged in about 10 minutes when we noticed a burning smell. The metal had melted the plastic and burned my countertop. Very unsafe product! Who is responsible?

plugged in crock pot within 10 minutes it was smoking, metal part melted all the way through the base and burned a large mark in my counter. THANK GOODNESS my whole house did not burn down. I happened to be home and not leave for the day like I usually depend on being able to do! yikes...so scary. Large burned mark and warped counter top ruined where pot was and ruined crockpot.


GE crock pot or slow cooker is on recall,the heating unit drops down through the plastic and burns what ever it is sitting on, which is what happen to me. This burned a large area of a confrence table, my problem is I cannot find the responsible department to claim the damage. Every dept I have contacted does not handle that occurance or appliance , I am getting very frustrated with this issue , and I am beginning to believe that is what GE wants.Also while cooking a sauce for company last week, the GE wand or hand mixer I was using burned up in my hand.?????? What is going on with GE?.
The slow cooker, burned a whole in my table cloth and ruined the conference table in my house of worship. Nothing happened with the hand held mixer, but unless I can find the exact copy of the one I had, wal mart will not give me another one.??? Come on! this was 2 yrs ago.
I can see why people absorbe the cost of happening like this, sometimes it is not worth the aggervation.

Using a General Electric slow cooker model #168945. The metal melted through the bottom plastic of cooker and burnt the counter top.


I bought a Cool Touch Slow Cooker Model #168945 at Wal-Mart a year and a half ago or a little longer. I had never used it until this Dec. 24,2006. I set it on my counter top in the kitchen, placed my chicken in it and turned it on, about an hour or so later I was working at my sink and heard a loud pop. I thought it had broken the ceramic cooking dish inside the pot, I took some hot pads and lifted it, it wasn't broken, about that time I heard another loud pop, looked down and my Corian counter top had broken from the heat of the pot.
I was horrified that it had broken a very expensive counter top. I set the pot on top of a wood cutting board. My husband took a picture of the damage with the pot sitting there. I tried to call Wal-Mart comsumer hotline several times and can't get thru, all you get is a busy tone. I got on the internet and the first thing I saw was they had been re-called which I didn't know. There had been several counter tops scorched and damaged from them.


Corian Counter tops are expensive. Mine is ruined from a defective slow cooker that wasn't expensive. The counter top has a has a crack running thru it. It's approximatly 10 foot of counter top that has to be replaced. It just happened two days ago, I've not had time to get and estimate. I do want this on record as soon as possible. I've not dealt with anything like this before. I believe GE owes me a new Counter top.

I was given a GE slow cooker for Christmas. The handle on the glass cracked the first time I used it and a knob on the bottom came off. The entire handle has broken off only the screw is there. I would like a new top but I cannot find where to go to get one. Can you help me.
Thank you
Martha Fanning
GE Slow Cooker Company Profile
Company Name:

GE Washing Machines

Company Type:

Public

Ticker Symbol:

GE

Address:

3135 Easton Turnpike

City:

Fairfield

State/Province:

CT

Postal Code:

06828

Country:

United States

Website:

http://www.ge.com/