Gardeners' Choice
Lipenwald, Inc.1 Eversley AvenueNorwalk, CT
Consumer Complaints and Reviews

I too was scammed by this ripoff artist. Fortunately I charged it to my credit card and they issued a credit due to the pathetic sticks received that were supposed to turn into plants. 8 months later they are still dead sticks. If you charged this on your credit card, contact them and request a credit.

I too fell victim to the cherry hedge scam. I had seen the ads and commercials and thought that would be great for my small space and a great starter plant for my daughter. However I received 4 twigs dried out wrapped in plastic with a wet paper towel on it. I thought maybe It'll grow but 4 months later I still have dead twigs and a number that is no longer in service. It's a $23.90 dollar mistake and being tight on money wish I could go back and NOT ORDER.

Yes, I fell for the cherry hedge scam too... Bought 2, got 2 free. I followed all the instructions and they did nothing. Called them and was told to wait because, "sometimes they come up later around the base." I waited, nothing. Called back and phone number not working! Figures. I can't even reply to their order confirmation. I should have known but I operate a non-profit, free, garden. ** and was disjointed to lose donated monies.

I ordered those cherry hedges advertised on tv and 4 little sticks arrived dead!!! I have been unable to contact the company that sent them and I'm out the $19.20 I was charged for the 4 dead sticks. What do I do now? I am a senior citizen on a fixed income and I can't afford to spend money on something that will not produce for me.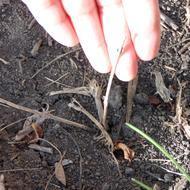 We ordered the cherry hedges. They were buy 2 get 2 free. We thought this was a great deal. We were wrong! We waited and waited for our order to arrive. We were expecting a large truck to pull up with our order since they are supposed to be living things. Finally I emailed them and they said there was a mix-up with the deliveries of some kind and they would be coming soon. So one day shortly after my husband came to pick me up from work and said our cherry bushes came. I got so excited and then he said "want to see them". I said yes and he handed me this tiny little cardboard box. I said "you're kidding me right?" He said "no look." I opened the box and I was so shocked! There were 4 little sticks!
I was so angry I wrote to them and they said if they don't survive to let them know. So, I just emailed them and the email came back saying they couldn't find them. So, I went onto the website and the website is not found either! That's where I found this and many other sites complaining of the same thing as us. I'm so angry! I don't know what to do. That was our hard earned money they took! I have a copy of the receipt. I just can't figure out how to get it from the email to this.
How do I know I can trust these reviews about Gardeners' Choice?
695,474 reviews on ConsumerAffairs are verified.
We require contact information to ensure our reviewers are real.
We use intelligent software that helps us maintain the integrity of reviews.
Our moderators read all reviews to verify quality and helpfulness.
For more information about reviews on ConsumerAffairs.com please visit our FAQ.

I order several plants from this company, kiwi vine, hummingbird plant, raspberries. I received the first 2 items. The kiwi was a ziplock bag of mushy green & black slime & the hummingbird plants were sticks with a miniature dried up root ball, dried up. I complained & got a response within 48 hours. They said that they would replace the product no charge. I received the order on 3/4/16. Again I got dried sticks including the raspberry. I have never seen a raspberry grown from a stick. They called me today apologizing & telling me that if I wanted a refund I would have to send the sticks back.
I asked for a return shipping label. They said they don't pay for return shipping! Then I was told that of the $54 dollars I paid for that order only $44 was being refunded plus I had to pay return shipping. I explained that I shouldn't have to pay shipping either way because their products weren't as advertised. They said their plants are all bare root. Any bare root plant I've seen has a moist root ball but it does not say that in their catalog. Again, I should have gone online & read all of the complaints, mostly calling it fraud or a scam, before ordering. I've learned my lesson.

If I could give zero stars. First I want to start this review by saying this is on behalf of my parents. They are not digital people so they would never think to do this and I felt it unjust that no one would say anything about the unprofessional service that they received. My parents are just good solid people. They like to buy local and support local businesses. That makes them better than I because I can't afford to do that, but they think it's important. They went with Randy Brown's company because they were right in town. Keep in mind while reading this that they live no more than 8 minutes from this company.
I'll try to give you a brief overview of the chain of events. They paid his company to come out to weed around the plants, put weed block down, put a brick wall up around the large flower bed and mulch. They spent over a thousand dollars. My mother was concerned that they wouldn't weed properly and they assured her that they would and would also uproot the plants to make sure they have weeded entirely and then replant. My mother is very proud of her flowers/plants and up until she got sick was able to maintain them more frequently on her own.
Fast forward to spring (2015). My mother got really sick and was in the hospital from winter until spring. When the flowers and plants started blooming we noticed a large empty hole in the garden. When I say large... I mean a very noticeable empty area in the middle of her garden. One that you drive by and say, "What's going on with that person's garden? They have a hole right in the middle of it."
My father investigated and found that they covered plants/flowers with the weed block. My mother then realized they uprooted and didn't replant some of her plants/flowers. For some reason she knows her plants/flowers by heart. Whereas I would only notice an empty hole in my garden she remembers type and placement. Not only did they kill plants and rob her of her flowers they put minimal (minimal means you can still see weed block) mulch down. All services that they were entrusted to accomplish and failed to do properly. Entrusted and paid.
I was upset on their behalf but my parents are more forgiving than I. So they called... And called. And called... No return calls. My dad stopped in over five times to talk to Randy. He called a couple times making promises to stop by to check it out but never came. He told my dad that they would fix the damage and bring mulch but they never did. Lots of empty promises and still... One huge empty space in the front yard. My parents have the "too nice" syndrome and I know people take advantage of them because of it. So I contacted Randy via email myself to straighten this out. He got back to me within 24 hrs and said he would fix the issue. I thought, "Well damn, that was easy." Buuuut, I was also taken for the fool because weeks went by and nothing. My dad called and stopped by AGAIN. I emailed Randy a few different times, but no response.
My parents have since given up and said it's not worth it. But to me, it's the principle of it all. What kind of small town local business does this to local customers? What kind of people do this to other people? It's just a real shame. I noticed they have positive reviews on HomeAdvisor. Nowhere else though. My only assumption is that they are all friends/family who did their write ups or you can cheat the system and write multiple reviews. I also noticed that they had some bad reviews about their service and it seemed Randy could find the time to respond to those but he blames the customer every time. Very classy. I have never encountered a company with this type of customer service or lack thereof. It's been months and still nothing has been fixed and no communication. A lot of wasted time, energy and money.
I had better customer service from the company that stole my personal belongings in the summer flood last year. That should give you some perspective on what type of business this is. If you want bad customer service, poor craftsmanship, and your money stolen then this is the company for you. I hope this review is helpful because I would hate for this to happen to anyone else. I'm willing to help you find a better landscaping company if need be. That's how strongly I feel about you NOT using this company. THE GARDENER'S CHOICE in Belleville is Randy Brown Landscaping. Tricky, tricky on their part. Buyer beware! Google them and you'll see lots of bankruptcy filings on their part.

On May 1, 2015 I made an order online buying giant tomato plant. I got deducted from my bank $51.80. I have send emails, calls, left voice messages for two months and no one tells me what happen to my 2 tomato plants. Order was never receive.

It started in 2014. Ordered vegetable plants, never received order. Called and inquired, said there was a issue with my card and there was. Gave them new card #, was told will reship order, never received it. Called again in June 2014, told no more orders will be sent this year. They apologized and said they will resend next year (2015). Received a confirmation email that order will be shipped on or about May 7, can take up to 14 business days to receive. By the end of May still didn't receive order, called again and was told they will reship order for the 4th time. By mid June still no plants so I left a comment on their testimonial page and received a call from them, so I requested a refund on June 30th. As of this date still no refund. As I type this I have been on hold for 33 minutes. Will not use or recommend this company to anyone. This lesson cost me $65.00.

I ordered 12 vine melons, 6 pawpaw trees and 6 bush apricots in 2012. Received 9 little plastic cups and some lose seeds! None grew! The pawpaw trees were little 2-inch dead sticks! Beyond all hope one tree survived (with more care and attention than any newborn baby!!) and now it's 5 feet tall and doing well... for a poplar tree!!!! That's right, my pawpaw tree that I've been babying for 3 years, looking forward to awesome fruit, is a standard, boring poplar tree!! The bush apricots were tiny stubby sticks about 3 inches tall and as spindly as a pencil lead! One of those has grown into some sort of vine with skinny serrated leaves in groups of 9 on long multiple tendrils stretching over 20 feet with no apricots in sight (or bush either)!!
If enough people threaten legal action, rip off companies like this will eventually pick up and move on. We must all be persistent in our threats to not be taken advantage of anymore!! Always pay with a credit card or even better - PayPal if it's accepted - and follow up with refund demands!! But the most important thing you can do is to google any company you are considering buying merchandise from and sending money to!!

Ordered vertical climbing strawberry plants from their website, and was charged accordingly on my credit card. When order did not arrive as expected I sent an email and attempted to leave a voice message. When I finally got their customer service rep she abruptly told me I had to be patient due to the vendor distribution problems, and then hung up on me. Still waiting for delivery 30 days later...

In March I called in and order. My first phone call asking why it hadn't been shipped, they called back and said it was shipped on 4-25-15. My bank statement shows they took the money out of my account on 4-22-15. My 2nd, 3rd and 4th calls were never answered. My 5th call, they called back and said my order was shipped on 5-7-15. It is now 5-26-15 and I have received NOTHING.

Ordered plants on April 4th, confirmed as order complete and shipped early-May. Repeated contacts with "Customer Mis-Service" through email asking ME for phone number which was supplied several times. No call backs...no plants. Over-billed for shipping as well. BEWARE. Charge to CC has been disputed! Let VISA fight them!

I placed my order on 4/23/2015. On 4/28/2015 I emailed them and ** said it shipped 4/27/2015. It is now 5/18/2015 and still haven't received the order so I called them. I was told that the order shipped on 5/11/2015. I still do not have it. When I asked, "Why?" I was lied to. This very rude lady just said, "We are busy," and if I want my money back to refuse the order. And I started to ask another question when she hung up on me. This company has very poor service and a customer service women that needs to find another job, not in customer service.

Placed a $78+ order in Feb. Was shipped early April. Most plants came dead. Called them and they said they would send replacements. Never received anything from them. Called customer service and got recording saying they would return call within 24 hrs. Never called back. Sent 2 emails requesting refund. Nothing back. Website says no more orders to be shipped this year.

Almost completely impossible to get a hold of anyone in customer service. When you do get a hold of them they are very rude. Got an email that my package has been shipped but nothing has ever arrived yet money is out of my account.. Was told 10 to 14 days. Now almost 3 weeks late. Never again ordering from this company. Took 5 emails and almost 10 phone calls to get any response. Account number is ** and invoice # is **.

I ordered some strawberry plants and asparagus on March 23rd. My account was charged on April 22 and I received an email that my plants were shipped. I have never received anything. I tried calling several times and emailed and did not receive any calls back until I posted on the testimonials section that this place is a scam. I received a call at work from the rudest person ever with excuse and runaround why they weren't giving me my money back. This place is a scam. Don't buy anything from them. $32.91 isn't a lot but take that times all the orders from people getting ripped off and they are raking in the bucks. This is fraud.

I ordered many things from them and then they disappeared. I can't reach them by phone or by email. They will return next year but with a different name, but you will be able to tell by the catalog--they always look alike. I am getting in touch with the Better Business Bureau.

I ordered a large order from Gardeners Collection on Feb. 26, 2014 1:50PM. I've tried to reach them to find out when I can expect my order to be delivered, but can't get hold of anyone. They have taken the money out of my account, for $136.75.

On May 20, 2013, I ordered 5 bell pepper plants with peppers of different colors on each plant. On May 21, 2013, my bank account was charged $15.93. To date, 6/25/2013, I have not received my order. I have sent emails asking about my order and have received no reply from Gardeners Collections Company.

I ordered a group of plants and a few trees in Feb. The ads lead you to believe you are to get plants, but for the most part, what I got were packets of a few seeds in mid-May, about 8 weeks too late to start plants inside for our growing season. Some live petunias which were to be shipped in a special shipping box were simply thrown together in a plastic bag. Four of them arrived dead (broken and rotted). Hopefully, I'll be able to salvage the others. Some of the seeds were mismarked. I got zucchini instead of basella, for instance. Some of the rooted stock came through fine, though a few had been broken.
In their scheme of things, you get a certain amount of free items per amount you ordered. I got three Crape Myrtle that are hardy as far north as Mass. Too bad, we live in Maine. The phone number on the box to call for problems, when answered, said to call the company itself. I tried several times. They don't provide an 800 number, and after being on hold without any sense they ever answer a phone, I'm about to give up. I paid a lot of money for a lot of nothing.

Dead Twigs instead of apple trees - I ordered two apple trees, described as 3-5 ft. tall from Gardeners Disgrace. I also ordered three berry bushes. I received five sticks, about 8" high in a small box. I thought it was a joke, but they were serious. Never, ever, ever order anything from this site.

In 2011, I ordered 20 Royal Empress trees, 2 Redbud and 2 ornamental Cherry trees. When received, they were pretty much dried and dead. I did rescue 5 Empress. When I called the company, they said they would resend the entire order in May of 2012. At the end of May, I went online to GardenersChioce.com and it redirected me to GardenersCollection.com. Same website appearance as GardenersChoice.com. I got the phone number and called them. I finally got a man on the phone and he told me that GardenersChoice was no longer in business and I was out of luck. I mentioned that his website was the same as the GardenersChoice.com and he gave me some double talk. It appears that they shut down GardenersChoice.com and reopened under the new name of GardenersCollection.com. They have screwed so many people that we need to report them to the BBB, as well as the attorney general of that state. Small claims suit?

In 2011, we ordered from Gardeners Choice and were very pleased with our order and the results. This year when we went online to Gardneres Choice, we noticed it was landscaping only and directed to Gardeners Collection. We figured this was one of the same and thence ordered $132.65 in items. These were ordered on March 3, 2012. The shipping date for our area is between April 22 and May 31. After not receiving the items, I called and was told they were shipped and I should have received them. I told them I had not, so they said they would reship them and I should receive them in 10 to 14 days. I waited and as of today June 15, I still have not received them. I called today and after waiting online 20 minutes for customer service just about as long as the last time, I got to talk to someone.
I gave him my name and other information he asked for and he said, "You haven't received your order yet?" I said no and he said they could reship it again and I said no as it is too late and I will have to go and buy them locally. He said they would refund my credit card. I asked for the name of a manager and he replied, "Yes, we have managers here but, your credit card will be refunded next week." I said, "Well, it better be on my card by Wednesday at the latest." I don't know why he wouldn't give me a manager's name, but you can bet that if my card is not credited by noon Wednesday, I will be calling again and will demand to speak to a manager.

Awful customer service - I placed an order on March 31. The payment for the order was charged to my credit card on April 6. When I haven't received my order a week later, I called their customer service number and was told that it had shipped that day, April 13, and should arrive by the following Saturday. I called the Monday after the date I was told to expect the plants, but was told that it could take up to another week. The week came and went and I still received nothing so I asked for a refund. This was April 23. It took over 3 weeks and several more calls, of which the shortest wait time to speak with a rep was 15 minutes, and finally a threat to sue for consumer fraud before I got my refund.

We order some vine to the tune of $43.80 from these yahoos. No luck. Phone calls no luck, emails no luck. Just give me my money back and I will go somewhere else. How do you rip off people and stay in business? My order # was **.

I placed an order from their catalog over $90.00. I got 2 trees that were sticks with moldy roots. Other plants were missing or sent all dried up. I did get onions that became large like Walla Walla onions are supposed to be. Two of the 6 tomato plants lived. There is no phone number to contact and no guarantee of any replacement. The address on my invoice indicated a PO Box in Hartford, MI. Boy, was I duped.

I could write a book about Gardener's Choice. The way they treat people is dirty. They think they are so smart. Well I'm about to see what my attorney has to say about them not putting my refund back on my credit card plus they kept the return. I mailed their sunflowers mats back to them on 8-3-11 which were received by them on 8-1-11. I called them and told them I canceled my order the very same day I ordered the mats. I told them the reason, I had read up on them and it says they have to have full sun. I didn't have anywhere to plant them in my yard, the only place I had was some woods in back of my fenced in yard, and I was afraid they wouldn't grow back in a shaded area.
The ad said 'Buy one sunflower mat for $10.00 + $6.95 shipping and get another one for the shipping cost of just $6.95'. Sounded like a good deal to me. My total should have been $23.90. I ordered two mats, one for $10.00 and the other one for $6.95 shipping cost. I know they had to receive them because I had my return address on the package and it would had been returned to me if they did not receive it. I have been trying to talk to them through customer service. I talked to someone, she said my package hadn't been received, just give it about two weeks. Well I did. Time went by, I called again, some man answered and told me he would take care of it.
I said it's been a month now, and he said, "I see your order and I'm taking care of it right now for you." I told him, "Thank you so much. He said it's done and I said thank you. Well, when I got my statement it had Gardener's Choice $47.80 on it. He hadn't taken it off. I called again and asked them when they were going to refund me my money of $47.80. And also told her my balance should have only been $23.90, but you have me down as ordering two sets. But I only ordered one and was to have supposedly got the second one for the price of the shipping cost of $6.95.
I tried calling about a week later and someone picked up. I said, "Hi, my name is Mary", and gave my last name. They hung up on me. I called right back, someone just picked up the phone and hung it up, didn't even say hello. Well I called right back again, same thing, they hung up. I called again, same thing, called again, same thing. I guess about the 6th call, they decided they better talk to me. I said, "All I'm trying to find out is, did you receive the sunflowers mats I mailed back to you." She said, "Did you get a tracking number from the post office?". I said, "No, but I can." Little did I know, you can't.
Well I said, "All you'll have to do is check with the nursery, they can tell you if they received it or not." She said the nursery was closed and wouldn't open back up until Jan 15th. I called her around 11-25-11. This was going to be almost two months before I could talk to someone again.
I asked her for the nursery number, she said, "This is it". I called Gardener's Choice. I said, "I thought you were separate from the nursery." She said, "We're in the same building." I asked for her name. She said Tesha. I said, "May I have your last name?". She said, "You don't get my last name Mary!", in a hateful tone. I said, "Well, I'll call back in January." We hung up. Since I have almost of my e-mails I sent them trying to work this problem out. Five month's worth. I will pay what I have to pay to let them know, everyone don't like being ripped off. And I'm one of them. Told you I could write a book about them.

I ordered and paid for products I never received. I received a dead tree and some dead strawberry plants and blueberry plants.

I ordered the featured fertilizer, totaling $23 and change. On approximately Aug 25th, I got an order confirmation on but the money was removed from my checking account in Sept and I still do not have any product.
Gardeners' Choice Company Profile
Company Name:

Gardeners' Choice

Website:

https://www.gardenerscollection.com/itemlist.wws?Category=HOME