Consumer Complaints and Reviews

Was with the wife at Garden Ridge in Pineville NC. We were looking for a big mirror and some specific chairs. Not only did the workers refuse to help us when we asked for assistance finding something, but they actually told us to "** off" when we asked why! I told them that was uncalled for, and they said "Maybe you should leave the store then stupid **!" I can't believe how terrible these guys are! Stay away!!!

Just to make it short management doesn't acknowledge customers. Management does not even look at you while doing override. Employees look at you like don't ask me questions. The store is a mess. Don't recommend this store. Worst customer service ever.

Mind you, Garden Ridge's are almost all called "At Home" now. They're trying to change their look, while being just as awful on the inside. There was another review from a prior worker saying that you're told as a worker to be less friendly and that is 1000000% true. I started working here a bit ago, and while they changed the store to "make it more customer friendly" and give it less of a flea market feel, it's truly one of the worst experiences I have had. I've so far been told to "be less friendly" to customers, as we want them to check out and be on their way. Basically to only talk to them if they talk to me while scanning items, and scan as fast as possible to get them going so another can be checked out. I was told that when we're short staffed we don't have time to be friendly, but that we're always short staffed.
If you try to call out, you get a lecture on how they have no one to call in and that if you can't make your scheduled times then this may not work out job wise because there is NO one who can come in for you. This is if you call out for ANY reason. On day of hire you're told it's okay if you have to call out, to call this special line, they understand, things happen, but if you do you'll have a manager calling you asap trying to find out why you can't work, even if it's reasonable you're still told that you need to find a way. I'm pretty sure they'd let me work there throwing up as long as I ran to the bathroom every time I needed to. They only hire the bare minimum, my store is about the average 120,000 sq/ft so the size of a super Walmart. On weekdays they only have four people in the store, one cashier, one manager, and two people who have to start cleaning the store at 6 if not earlier. On weekends, you have 4-6 people in the store at night.
If a customer is looking for the location of something, we pretty much are told to point them in the right direction and tell them that if it's out on the floor then we have it, if it's not that we don't, and that they should just look around. I've had customers ask who the manager was even after talking to manager because the management does NOT want to deal with customers. Their top priority is making sure the store looks clean, so they send people off to find their own things even if they've never been to the store before. I've worked retail all my life, and this store goes against any basic customer service you've ever been taught. It's an unrewarding job if you want to actually be a human and talk to customers and help them out. If you don't like to talk to people and want to be unfriendly, then this is the job for you because they promote that kind of behavior.
Training talked about how to clean up glass and spills and sexual harassment in the work place. You aren't taught how to handle the customer or provide customer service until you're out on the floor and chances are if you've worked ANYWHERE else, friendly talk, trying not to make the customer feel unwanted or rushed, or make the customer feel like they only matter if they HAVE purchase, all of that you're wrong for. A customer only matters if they have an item in hand, before that if they're looking, you don't help them, you let them figure it out on their own, after they've purchased you try to show them on their way ASAP so you can sell more stuff to other people.
I will never give this store a dime I make working here, I have a hard enough time coming in everyday planning on having to be rude to people by ignoring them or rushing them, but we have to do what we have to do. I've seen employees only make it for less than a week here, generally people who were going out of their way to help the customer only to be chastised by a manager not to. The way you're expected to treat customers goes against a lot of people's basic moral codes.

I will say I must have had the total opposite experience than everyone else here! Halloween items are 75 percent off and I found two men working there to get a ladder and climb up and get a Halloween pumpkin kitten blow-up on the very top shelf! They also told me that there was another row of Halloween stuff a few aisles down after they see my entire cart filled with Halloween items on clearance! They were very helpful, cheerful, and overall experience was fine! When they told me what the discount was, I was thinking I should go get a job here for Christmas and use the discount for holiday decorations after Christmas when they go on sale! I'm not sure if some of the old employees were fired and are holding a grudge but I think I will apply for a job on weekends and see what happens! I will do my review of how they treat the employees/customers after working there for a while.

I have spent well over $20k in garden ridge stores. I took my daughter into a lot that was 2/3 empty with two carts to teach her how to parallel park. I was promptly met by the store director who told us to leave no questions asked. Wow, guess teenagers aren't welcome. Unless you are handing over cash people don't matter. Kroger and other retailers go out of their way to help the community. I for one will never spend another nickel at Garden Ridge.
How do I know I can trust these reviews about Garden Ridge?
697,568 reviews on ConsumerAffairs are verified.
We require contact information to ensure our reviewers are real.
We use intelligent software that helps us maintain the integrity of reviews.
Our moderators read all reviews to verify quality and helpfulness.
For more information about reviews on ConsumerAffairs.com please visit our FAQ.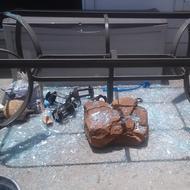 After purchasing a patio umbrella at our local Garden Ridge, we were very shock that after only 10 days of owning the umbrella that umbrella material ripped and the arm came crashing down on the 17th of June. As mentioned we only had it for 10 days. 50% of the time the umbrella was closed due to weather. The seams that hold the arms in place when extended ripped and the arm came crashing down and broke my table. This was shocking due to our prior umbrella was purchased there as well and broke after 3 years owning it. Our patio table is only 1 year old and to replace the glass it will cost $300 just for clear glass, to get the same exact glass $700. We gave Garden Ridge the option of replacing the lower cost glass.
All Garden ridge was willing to offer was $200 gift card to their store after the refund of the umbrella. However, due to the table not being bought at their store they are not willing to replace the glass regardless of us submitting the lower estimate. It took two of us 2 hours to clean up this mess in 95 degree weather. We own multiple dogs who could have gotten injured from the glass. We understand that this was clearly a manufacture error who should be held responsible by Garden Ridge. But not at our expense. Luckily no one was sitting at the table at the time. It is a disgrace that a corporation of this size is not covering the damages of a faulty product.

Ok... so reading some of these complaints is insane! Obviously some of you have never worked in retail. I found the employees to be helpful given their working conditions. I was in the store one day and saw a customer spit at an employee. The employee stayed calm.

You would be surprised how many people buy a new tree to replace their old one that doesn't work - then bring their old one back to try and get a refund. The tag on the tree's pole is the ONLY way a store has to prove that you bought THAT tree in THAT box on the date you say you did. I can only imagine how much money stores would lose without that check and balance. This is not just true for Garden Ridge, but several other stores such as Lowe's and Home Depot.

I transferred from Bham to Hattiesburg, where the manager is absolutely ridiculous. At least the GM at Bham worked. The one in MS is laughable, and asks ** that she doesn't do to be done. I'm so glad to be rid of that place. Both stores are shady. Bham, everyone lied about everyone. MS, everyone was shoved so far up that GM's ** that I'm surprised she could sit. I'll be visiting Bham in 2 days and I plan on going to flaunt my happiness. Just because I can! As far as buying merchandise - don't. It's cheaply made, you have no idea what chemicals the dye in the rugs are made from. They're ordered for like 5th world countries and smell absolutely horrible when they come in.
Freight is abused when coming off the truck and while being stocked. The "accent furniture" is made out of cork, I think. It falls apart if you look at it funny. The canvas art peels after about a month. Overpriced and not worth it. Scrubs? fall apart in about 3 months. Also, you're lucky if your "furniture" doesn't have any mold on it when you take it out of the box. And keep your receipt - they won't take it back if you don't have it. :) I have to say the assistant director is amazing. She kept me from quitting before the MS store opened, but unfortunately I wasn't able to keep in contact with her to let her know what was going on after she went back to Texas.

Trash and garbage all in front of the store. No employee I confronted seemed to care. Long check out line and lack of respect for the city that they do business in. Anyone can clean up the entrance of their business. It looked liked a ghetto in run down deserted Detroit. Shame on Management both local and corporate. I will not be back to this low class operation.

I purchase a Light Hanging kit at a cost of $19.99. I was diligent at keeping up with the receipt that stated I had until January 28, 2014 to return the item. I have four item already that I can't use because the manager will not allow me to return or exchange them. My neighbor bought one kit, so now we have 2. The neighbor's broke before we could finish the installation, so we used ladders to complete the installation. Then we decided I should return the one I purchased. I put it in the trunk and in the hustle and bustle of the holidays didn't get to return it until December 30, 2013. The clerk called the manager to get approval to return the full price, packaging is just as it came out of the store. We already discussed the warning is glued on the counter.
Of course, you place your merchandise on top of it so, how can you see it. Manager says, "I'll give you $9.99 for this item because that's what it is priced now." My reply, "I have my receipt and it says I have until January, and I didn't see the warning glued on the counter." He then said, "You should have read your receipt". I don't know too many people who read receipts. I took the item back home. Now I have 5 items that this Garden Ridge manager has refused to accept for a refund or exchange. I think I should have learned my lesson by now. I will not be shopping at Garden Ridge anymore. Warning! Please be sure you don't have to return anything to this store. Any other store that I shop in will give me a store credit or exchange on items that I return in perfect condition.

On 12-14-13, I purchased a Christmas tree. When I got home with it and began to put it together, I realized it was not what I wanted (too small for space), only put bottom piece of tree in stand and started to fan out. Now mind you, I didn't fan middle or top section of tree out, so I have receipt and today is 12-16-13. I went to return tree and store manager at Birmingham, AL location. Scott informs me this tree is considered used because 1) I put bottom section in stand, 2) I removed garden ridge sticker from pole. I mean who wants sticker showing halfway up tree in your home. I had no intention of returning tree until I realized how small it is. So you mean I have to have this product that does not work for me. The customer no refund store credit or nothing, JUST OUT OF LUCK. I AM VERY UNSATISFIED AND WOULD LIKE THIS RESOLVED!! WHAT ABOUT CUSTOMER??? AND MERRY CHRISTMAS.

I used to shop at Garden Ridge every week. Loved the products, prices and sales events. Now it's just a depressing & frustrating place. Products are overpriced, never have sales, and the employees look miserable. Not holding much hope, but I do hope it can be brought back to life.

I was only able to tolerate Garden Ridge for just about four weeks. Prior to working there, I bought several different items and was overall pleased with my purchases. My mistake was to actually start working there.
I was a Front End Manager and overall, upper management, even some of my fellow FEMs, are disgraceful. They purposely understaff to save on money, thus working everyone to an extreme. There's an average of three to maybe even four employees working at all times. If you've ever been to Garden Ridge, you know how large the store is and to only have less than a handful of people working is stressful, to say the least. Everyone is responsible for several different tasks to be done at once and aiding a customer any more than pointing them in a general direction is heavily frowned upon. I've personally been told by the GM and another FEM we "don't have time" to speak with customers or to offer help loading furniture into their cars.
It's true, they may list store numbers but they're not real. None of the stores communicate with each other and we are instructed to have our cellphones on hand due to having no phones in store. The return policies are indeed, VERY strict. We must abide by them, even if we may not agree. Employees are under a very tight leash. Much of management is very rude mainly because the people they hire for such positions have never been trained in dealing with people. Garden Ridge does not train. You're thrown into the position to literally fend for yourself. So when someone in management is rude to you, do not take it personally. Yes, it's awful and unacceptable but they're not taught to be professional. The GM at the store I was employed at had no education. He may have graduated high school but that's it. In fact, another FEM had no retail experience prior to working there. The GM also avoided eye contact and cursed out customers as soon as they'd turn their backs.
Employees and management alike have to work ten or more hours each shift. The associates have it easier, with fewer extended shifts. I frequently worked eleven hour days. They only provide a forty-five-minute lunch and ONE fifteen-minute break, no matter how long you're working for. On average, you have off one day a week, unless you get lucky on the rotation schedule.
GR claims customer service is their top priority but constantly tells employees to distance themselves from the customers. So when someone is rude to you, they're more or less told to do so. It's a combination of being forced to comply or risk losing your job and employees who genuinely don't like people. There's only repercussions for "too much" customer service. If you speak with someone "too long" or offer to help, you're reprimanded. This sounds completely fabricated but it's sadly true. They want you to be decent enough to obtain someone's money. After the sale, you're disregarded.
Yes, the stores will be in poor condition. We use duct tape to fix the rubber on the walls and buckets to catch the leaks from the roof. The District manager comes in once a month, is aware of everything and carries on. The AC was "repaired" and only worked periodically and mainly in the employee areas.
I just want people to know that it's not only the customers that get mistreated. They have no regard for their employees, either. Unlike the majority of companies, customer service is is viewed as an inconvenience. I couldn't stand being scolded publicly, mocked and told to treat customers in a similar fashion. The sheer unprofessional atmosphere is reason enough to quit.
I advise that you get in and get out quickly. Know what you want to buy, always have the receipt and do not expect anything. Don't bother speaking with anyone about discounts or exchanges, it just won't happen. We sell things as is unless otherwise stated. That's really how the store is, what you see is what you get. Most things won't have prices on them for whatever reason so if you can, bring a very similar item or another one of the same with a price. If you don't, one of the three staff members on the floor will have to go hunting for it and it will prolong the transaction. Their way of business is very backwards. Just be prepared.

Purchased a patio umbrella from Garden Ridge on I-45 and Hwy 242 in The Woodlands TX on 6/25/13. I attempted to return it with original receipt today, 7/15/13 because it was broken and falling apart after being up under normal conditions for 1 week. I was told by two managers that the Garden Ridge return policy is to only exchange or refund if the item is new, "unused" and in original packaging.
I advised that I would be taking my concerns to Garden Ridge corporate, Facebook, and all other forms of media in order to advise others of this unacceptable policy. The managers did not care that a very unhappy customer was leaving their store and was planning to share the negative experience. Buyers beware: If you purchase any item at Garden Ridge and have a problem with it, even if you have your original receipt, and return it in a reasonable time, you will get no refund or exchange. Garden Ridge does not stand behind the items they sell, and therefore I will never step foot in another one of their stores. Hopefully, enough customers will find this policy unacceptable and will no longer shop there either.

I had previously written a complaint against Garden Ridge for the extra charge I had on my bank account, to which I had not used this money. After reaching someone by email in the corporate office and the camera tapes were run and reviewed, I am quite satisfied with the way they handled it. My money was returned and deposited to my account.

My problem was solved after reaching the corporate office by email. I am satisfied with the results.
Original Review
I made one purchase on Sunday 6/16/2013. I checked my bank account the next morning and there were 2 charges. There is no phone to reach anyone connected to these stores so I went to the store in person. The manager there took the info and a copy of my receipt and said they would pull the camera and check that. I would hear from them within 24 hours. It is now Wednesday, almost 72 hours later, and there is no reply from anyone. This is money from my account that someone stole. I will pursue this with my bank if I do not hear from them shortly. I am furious and never plan on visiting them again unless it is to go back and give them a piece of my mind until this is resolved. They took my phone number also, so no excuse there.

A few years ago, I shopped at Garden Ridge all the time. I understood that the price was low and the quality was the same. Recently, there seems to have been a change in their business platform. They no longer have the shop-a-thons that made them so popular with me. So for a number of years, I have failed to shop at Garden Ridge. However, I am getting married and was visiting their store to purchase decorating items. Customer service, at best, was extremely poor at the Concord, NC store; in fact it was downright awful.
I wanted the number to other stores so that I could call and check inventory for a particular product at another store. The manager, **, explained a policy that made absolutely no sense. They don't give phone numbers to other stores or corporate? It's almost as if they are shielding the stores from the customer base by not providing the phone numbers. I left the store, found what I needed in a similar store and will be returning everything to Garden Ridge for a refund. Yes, I have my receipt! In addition, I have noticed that the Pineville store is run down, dirty, in ill repair, and is seldom busy.
The corporate executives are keeping the money to obviously line their pockets and aren't spending a dime of it to upkeep a store or to provide good customer service to keep a loyal customer base. After I return my items, I won't be visiting Garden Ridge again! Be wary to all those who shop at this store. Something is definitely wrong with the business policy and practices.

I purchased a red rectangular outside table canopy. I got it home and it was broken. I returned it to Garden Ridge, Hilliard, Ohio and picked out another red canopy. I brought it home and learned that it too was broken and had even been used. Whoever returned it to Garden Ridge had stuck it in the dirt, used it, torn the canopy, and then returned it. Garden Ridge re-wrapped the canopy in new plastic. What I did not notice was that they tagged it as a "hunter green" canopy. When I went to return it, they refused to refund my money because the tag on the plastic said "hunter green" and not "red". Nothing but a way of stealing $53.36 from me.

I recently went to Garden Ridge in Pineville, North Carolina. I could not find anyone to help me with a patio set I wanted to purchase. When I asked to speak to a manager, I was told by a girl named Kim that no manager was available to help me. Kim was rude and mean to me. I found out the manager's name which is Steve and I tried on several occasions contacting him about my experience, but he never bothered calling me back. Garden Ridge has lost my business and all my friends and family's business. It seems that they have a big issue at this location because every time I have gone there, they have a huge Now Hiring sign. I have a feeling they treat their employees as bad as they treat their customers.

Garden Ridge does not treat their employees right. They will not accept doctor excuses even when the person has pneumonia. Then, they write the employee up for having pneumonia and not being able to work as fast as they think the employee can. Then, they fire the employee when the employee has pneumonia. No one should be treated the way they treat their employees.
They work them to death 60 hours a week and don't give them sick days or treat them right. Every company takes a doctor's slip, especially if you have to go to the hospital!!! I will never shop at Garden Ridge and neither will all my family. They should go out of business. Please stay away from Garden Ridge!

Received a phone call from a manger that this was brought to their attention and handled at store level.
Original Review
I went to the Garden Ridge in Schertz, TX to return a few items around 9PM this past Saturday. As I drove up, a male associate with long hair was outside talking loud. At first I thought he was singing but when I turned down my radio, I realized he was yelling at customers. I turned my car off and he was staring at me with the rudest look. I could hear him yelling, "Why are you shopping so late," "Don't you have anything better to do?" and "I want to leave already," and other things I won't repeat - all while grabbing carts and checking the parking lot. I knew they didn't close until 10PM so as I got off my car, he was still yelling at me, giving me dirty looks and yelling on and on.
I have been a supervisor for several years now with a company that is all about customer service. This I was not going to take so I went inside and asked a cashier if I could still return items since it was late. Also, as this guy was walking in the other door, I told the cashier he needed to tell that guy as I pointed to him to stop yelling at customers in the parking lot. I was not the only customer who witnessed this, but I didn't hold it in. I could not believe the associate was acting this way. I went back out to grab my stuff and return it inside. The cashier was very polite after what I had said to him about the other associate, but still just seeing that got me shaken up.
My boyfriend was supposed to go with me, but he had to work late so I ended up going by myself. I felt very uncomfortable, but I wanted to just go back in as fast as I could, return my items and be done with that place. After reading things that people have gone through with this company, I realize that probably nothing will be done about what I witnessed. I can understand having your own policies about merchandise and your company, but there should be no excuse for an employee to ever act like this to customers.

As an employee, I completely understand all of your complaints and agree that it must be changed in order for the company to succeed. Unfortunately for all of you and employees alike, Garden Ridge only cares about one thing - money. Once they have yours, you may as well consider the deal concrete. This company works full-time employees 50 hours a week on a skeleton crew (main reason why there is no customer service) and are actually trained to tell customers that "this is a self-service warehouse," a PC way of saying, "do it yourself."
As for the policies, I understand that it's frustrating for all of you, but from the inside looking out, we do understand, we do want to sympathize but if you break policy here, just go ahead and get in the unemployment line now. News doesn't take long to travel to the top and fired is a term that I've heard from other employees 38 times in 11 months of working here. As a manager here, I can say that this was the worst career decision I've ever made. Customer service is bad because we know we're not cared about given the work load everyday and write-ups, terminations, etc. we see daily for doing the job we're told to do. We don't like being yelled at on a daily basis by customers simply for just trying to keep our jobs. Again, I understand your frustrations from the outside, and know this, you are not alone. We're all frustrated on the inside as well.
On a safety side note, check any merchandise you do purchase well for mold. Merchandise comes from overseas distribution centers to local ones. Mold comes with it, inside the shrink wrap, all over the boxes, all over the product. Many of our stores need new roofs but the company won't foot the bill to replace it so even a drizzle outside creates waterfalls inside, leaking all over products. We are not allowed to pull mold/mildew damaged product off the shelves.
Please be cautious of what you buy here. Employees at my store all wear gloves and wash our hands an irregular amount of times throughout the day because of this. Not to mention, we don't shop here. And another side note, don't buy the overpriced food/candy either, we are not allowed to pull out-of-date merchandise because they only send food with "best by" dates and coded dates. Recently (within the past week), I "accidentally" cut open several bags of popcorn and assorted nuts that were "best by" August 2010. It's February 2013. Please take this as a warning to you and not just a ranting by a mad employee.

Christmas lights were faulty and did not work. Garden Ridge would not exchange the lights we had just bought a few days ago because we did not have the receipt. They could not look it up or check by my card like Target. All I wanted was lights that worked. I had proof I purchased $300 worth of stuff from them by my bank statement and could not exchange the lights. I was very disappointed in the manner they handled this. I will not shop here again. My children were very disappointed that we do not have lights for Christmas this year. After spending $300 in lights from them, there is no way I could come up with any more to buy more lights. Plus a lot of stores sold out of the color changing Christmas lights this year. Make sure you don't lose your receipt.

I am amazed at all of the complaints on this page. I went through the exact same experience today (11/29) as John did on 11/27. I came to this site and started reading what everyone had to say. Folks, it's obvious that this is one of the worst companies in America and they could not possibly care less. There is only one way to combat this pathetic excuse for a business. Do not shop there! Think of all the other places to go - Walmart, Target, K-Mart, etc. I look forward to the day when I hear on the news that these losers have closed their doors. Meanwhile, I will never walk into a Garden Ridge again.

Everyone needs to figure out that there just isn't anything at Garden Ridge that comes anywhere near what most of us would consider customer service. They have a no Customer service policy. You cannot call the stores and you cannot call the corporate office. Spend a short time on the internet and you will soon see what kind of company they are. Complaints from customers and employees are rampant. You risk wasting your hard-earned money every time you walk in. Find some where else to shop. They have purposely made it impossible for customers to contact anyone for help. They have insulated themselves from the complaint process because they are cowards.

I purchased a $150, 20ft inflatable snowman decoration for my yard. I put it up a day after I bought it and within 24 hours, and no bad weather, two of the tie down straps had ripped off the body of the snowman causing it to almost blow away. I pulled it down and put in the original box with receipt dated 3 days prior. I was unable to get to the store the day of the damage due to it being Thanksgiving Day. Day after, I returned to the store with the item and original receipt. I was met at the door by the manager of the store who stated that due to the return policy, I was out of luck and he would not be willing to make any effort to exchange for a new and not defective item. He told me I shouldn't have put it up in the wind we had today. I explained that I took it down the day prior, but since it was Thanksgiving Day, that I was unable to make it in but regardless (due to their policy) I wouldn't have been given an exchange that day either. I was directed to use the contact form on Gardenridge.com and hope someone from the corporate gets back to me.

I purchased a candle holder on 09/14/2012 and it was on clearance. I went back to the store because it had broken in the bag and the manager named Fred at the Mesquite Garden Ridge told me that he could not take it back because it wasn't like that when he packed it. I told him that I had never heard of anything like that if you have your receipt and I don't think it is right. I told him that I would be calling corporate on him and he did not give me the corporate number. Something needs to be done about this because this doesn't make sense. I feel like customers should be able to exchange or return items if broken outside the store. That's what taxes are for. It's not like the items in there are his stuff. I understand he is trying to do his job, but what is right is right and what is wrong is wrong and something needs to be done about his **.

I bought a mosaic goblet with other stuff, went home and noticed it's broken. I took it right back and they won't exchange or refund my money. They just took my stuff and didn't bother to assist me in any way. I will not be returning to this store again. They were not nice either. They made me feel like I did something wrong, very bad customer service.

My husband and I went to the Garden Ridge location in Kennesaw today. I wanted to purchase the chase wooden patio. The manager ** stated he only had the display. I asked him if he can sell that. He said yes but at the price it is. I disagree because it was out of the box and I asked him if he know when they will get some new one in. He called one of his employees on the phone and he said he did not know as well - like the manager and the employee do not care to call other store - and said no in a rude way. Can someone get back to me with this info? I am upset. No wonder why you have 55 complaints - poor customer service. My phone is **.
Garden Ridge Company Profile
Company Name:

Garden Ridge

Website:

http://www.athome.com/