Consumer Complaints and Reviews

I thought I would not be stingy and spend some good $$$ for a grill that I thought would last us awhile. NOPE. Do not buy the Char-Broil Performance 3-Burner TRU-IR Gas Grill MODEL 463270914. The grills/grates rusted within 1 year and that's pushing it. I was under warranty and complained about the rust. Keep in mind I treated this thing like my baby. It is great size and quite impressive looking. I kept it covered and under the backyard porch. Note I live in CA in the valley, no humidity or crazy rust weather conditions.
BACK to the complaint, they mailed me out replacement grills. I made sure to research the seasoning method just in case I missed something the first time. The replacements came in 2015, they've been rusted for the past 6 months now. It looks beautiful on the outside until you lift up that hood. Side burner is perfect, even the top little grill grate is perfect because it's what an actual grill/grate should be made of. I have everything documented about this. I wish I had the pics from the first set of grills. I just went outside to take pics of the grills right now. I bought this at Orchard Supply Hardware, and registered the product on Char Broil website. Purchased 05/2014. I have the purchased # and date/time on my OSH account. I have the emails of when they sent me my replacement grills. DO NOT BUY THIS PIECE OF JUNK!!! They should be ashamed and offer the poor suckers that bought this lifetime replacement grills since they're only good for 1 year!

CharBroil, forget customer service. Waste of time. They have you go through steps, but the steps are to disqualify you from any warranty service. Only to guide you to replacing grill and/or parts. Grill was on covered porch, covered, cleaned and still rotted away in less than a three year span. Went to turn on and glad I looked. Burners rotted away and were free floating. NEVER buy a Char-Broil grill.

I bought this Char-Broil infrared commercial grade gas grill about 6 years ago. Was supposed to be stainless steel. Paid 600.00 for it. This grill was keep covered and on a covered patio. First the burns rusted. Now the doors have started rusting. We live on a fixed income but this is a shame since it is made in America. It's a piece of crap. You people should provide the bottom portion of the grill.

Product 463436515 Infrared Char-Broil 3 burner - This is a complete cheap product and the reliability is nil. After 30 days you have to pay 4.95 for a replacement part even though they have a year warranty and 5 years on burners. If a product is so good, why doesn't this company honor a real warranty whereas there is no cost to consumer. I had to replace an igniter switch after 5 months, costs 6.95 (covered warranty), but had to pay 4.95 to have it shipped. Doesn't make much sense. I pray no other issues occur before I buy a real grill that stands behind its warranty. I bought this May 27, 2016. Never a Char-Broil again!

I purchased my Char-Broil gas grill from Lowe's on 9/10/12. Model 463244012 5 burner grill. I keep excellent care of the grill. I keep it covered in the summer on my deck, in my garage in the winter. I average using my grill once a week. It has never been exposed to rain or snow without being covered. I clean my grill once a month per the instructions in the owners manual. Since the purchase I have replaced the firebox, carryover tubes, flame tamers, and burners.
One of my grates is broken, the other cracked. My front doors to the grill have rusted off. My igniter quit after the first 18 months I registered my grill the day I bought it. On reporting the problem to Char-Broil they stated that the life of this stainless grill is 5 years? If this is the case, shame on Char-Broil and Lowe's for carrying such an inferior product. And it was listed as a Commercial Series? Sounds like false advertising?
How do I know I can trust these reviews about Char-Broil?
744,857 reviews on ConsumerAffairs are verified.
We require contact information to ensure our reviewers are real.
We use intelligent software that helps us maintain the integrity of reviews.
Our moderators read all reviews to verify quality and helpfulness.
For more information about reviews on ConsumerAffairs.com please visit our FAQ.

Char Broil Advantage 3 Burner Grill - I purchased this grill 2 months ago. I went to use it and pushed the ignition button, and flames started shooting out the front. I will never purchase this product again!!!

Biggest piece of crap. Tired of buying cheap grills that only last a couple years so I invested in 5 burner Char-Broil. Purchased in 2013 for over 500$ and started noticing rust on the doors and base after the first full season of use. Went to fire it up last night and entire grill collapsed. Lured into the looks and so called function of these fancy grills but bottom line is they are made of the cheapest material. Btw my grill was always covered when not in use and primarily out of the weather. I intend on keeping the top and making a base. But rest assure I'll be back looking for the cheapest grill on the market in lieu of replacing any more components of this Char-Broil junk.

We bought our 4 burner, plus side burner, in 2012. In 2013 we replaced the igniter. We had to do it again in 2015 and now again, for the 4th time. As a senior citizen who is partially disabled, it is almost impossible to do myself. Customer service's "answer" is that the igniter has to be replaced yearly, obviously no one tells you that when you buy it. Despite having to go through 4 in 4 years, the grill is out of warranty and nothing else we can do but send the $4.95 part to you, nothing about having to spend $50 or more to have it done. GO WITH A MORE RELIABLE GRILL WHICH WON'T GIVE YOU PROBLEMS AND HEADACHES YEARLY. Once bought, Char-Broil could care less about your issues.

Worst assembly experience EVER because Char-Broil does not provide written instructions, only diagram instructions, then very confusing diagrams. I am mechanically and craft inclined and have put back together MGB's but twice got this grill assembled wrong, and after the second time figured I could live with the wheels on the wrong side since from what I saw in assembly, this is a product without an anticipate long useful life. Char-Broil said I could call if I ran into difficulty assembling the grill. I did - once, and after being told the wait was from 10 to 20 minutes hung up.
Can you imagine assembling something then every time you encountered a frequent snag having to wait 10-20 minutes for an answer, then probably from someone reading from a script who never assembled one of their own grills. If you purchase one assembled, compare the work to the diagram to ensure everything was done right because the cheap Chinese screws stripped, as did the locking nuts that I had to remove four times to try and get it right...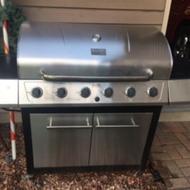 I purchased the 6 Burner Classic Char-Broil Gas Grill in May last year, it been cleaned and covered with a waterproof cover. The spark igniter failed, I replace the battery but to no avail. I called customer support for Char-Broil and they were happy to make me purchase another spark igniter. I explained the burner covers were severely rusted. The customer support rep emailed me a link to attach pictures of the rusted burner covers, which I did.
I called back to Char-Broil customer support within the next 24 hours and I explained my issue. The rep reply that my grill was out of warranty, and it would be $44.00 to replace the 5 rusted burner covers. No real show of concern, no customer goodwill gesture. Very poor customer service along with a poor quality grill. Spark igniter failed, extremely rusted burner covers on a grill protected from the elements. Uneven heat from the burners and overall poor performance. Very unsatisfied with the Char-Broil product and very poor customer service experience.

On June 22, 2012 I purchased from the manufacturer a 4-burner CharBroil infrared 5000 grill at nearly $600. The grill worked fine but rust is an issue. The emitters are rusted through but somewhat expected and the grates are considerably rusted as well. This would not be the case if stainless steel were used. The major issue is that the firebox is rusted through as well, not in the bottom from drippings but on the top edges that support grates and panels. these surfaces are not exposed to anything but heat and air. The grill is always covered after use with a heavyweight grill cover and the grill itself is under a covered porch. It was never exposed to rain or moisture. When I contacted CharBroil for help they said their grills are expected to last 4-6 years. So in average use mine should have lasted at least the 6 years thy consider average due to the care and protection it was given.
To make matters worse, the firebox is not available from them or any parts seller I or they could find. This renders the grill not repairable. Their replies were not helpful and their offer of 10% off and free shipping on a new grill are inadequate in my opinion. I highly recommend either getting a cheaper brand that you would expect to rust out or spend a little more and get something of better quality. I am not a future customer ever again.

Purchased 2 months ago at Ace Hardware, used 12 times. Last night while waiting for our Char-Broil Tru-Infrared Patio Bistro Model: 15601578 to heat up, (which takes forever to do) flames started shooting out. I lifted the top off and flames were 3 feet above grill. Emptied out brand new small extinguisher but fire was still high so I then got the water hose which finally took out the fire. Of course with guests over, barbecue dinner was canceled. Char-Broil needs to make sure their barbecues don't go up in flames, very dangerous.
We have used gas barbecues for over 40 years with no problems. Reason we went electric was we are seniors now and can't handle the large heavy gas tanks anymore. Reported fire to Char-Broil. We'll see what takes place from them. Not enough research was done on this product before company put it out to market for consumers. Nothing should be available that may cause fire and damage. Who knows what this fire could have done if it wasn't for our quick response. Lucky no harm was done to anyone or anything except the barbecue.

We spent almost $300 on what we thought would be a good long lasting grill. Well we were totally wrong!!! First the temperature gauge went out just 2 months after we got it. It gets entirely too hot no matter how low you have it. Cheap feeling material. And we always keep it covered but the lower part of it rusted so bad that the bottom part just fell apart completely! I will never buy another Char-broil grill again! This thing should have sold for $100 not $300!!!

I wanted a simple, no frills grill. Fine until recently. The burner is already shot. This grill did not contain lava rocks. Disappointed as no smoked meals.

Very basic. It does have two side trays. Needed a grill to fix in our car to replace a rusted out grill. Heats a little hot. Does not have a temperature indicator but added one. Started using a grill mat which should help keep it clean. It does have a warming rack and three burners are adequate to cook a good size meal. Easy to clean because the heat tents are held in by a bracket so you just pick them up.

5 burner with side warmer. Not good. Uneven heating from day one. Should have returned it. The back part of the burners on one side are too hot and burn food fast. Turning the heat all of the way to warm still heat the grill up past 600 so it real prohibits the ability to cook like we would like.

Fast warm up, little spatter. Heats up fast. Sears meat keeping juices inside. Best grill I've owned.

Stainless steel. Infrared style cooking surface. No flare-ups. Great all around grill.

Size is right, propane, stainless. Works great. We love this grill! We've cooked all types of meats and vegetables on it. The ability to adjust the heat makes cooking so easy!

Works great. Fires up every time. I grill out quite a bit. Nothing like sitting out on my deck with a thick juicy steak on the grill, glass of iced cold glass of tea. Smelling the awesome smell of. Can't wait to cut into that juicy ass steak. There is nothing like grilling out.

Stainless steel, 2 side shelves, interior burner cover. Husband loves it. I think it cooks ok.

199.99. 2 level, 4 main burners with side burners. This grill is the first gas grill I've ever owned. I used to be a coal kind of guy but this particular grill changed me for good! Easy to use and easy to store. It was assembled for me at the store and I've never had an issue with it. I've grilled anything from salmon steaks to chicken breasts, they all come out well and perfect. I really love the fact that it has 4 burners so I can manage heat zones as well. Great grill for the price!

Stainlesss steel with gray/black cover. 4 years. Excellent, high heat to low heat, perfect amount of cooking space for a couple and easy to keep clean. I really enjoy high heat searing and grilling. This grill does everything from thick steaks to delicate seafood and vegetables. Living in Florida we are able to grill year round. Very happy with the sturdy quality as well.

$240. Infra red grill temp gauges. New type of grill, said it would cook leaving the meat moisture and tender. 3 great years. Cooks without flare ups, does no burn with the flames from the grill. Heats the grill with no flames touching the meats or veg's. This grill made me a better griller. People think it's me. It's the infrared grill. It works so well I bought a second one for Holidays. A friend also purchased one a three burner just as great as the 2 burner. It's the heat at the grill top that cooks so well.

Went to light the grill to use it and the entire thing became engulfed in flames. Gas was leaking out of the valve at the side. The valve was too hot to touch to turn it off. I unscrewed the propane canister and threw it across the lawn while flames were coming out of the top of the canister. I did not get burned, but it was a close one. If this had blown up, I would have been severely burned and would have been dealing with an explosion. Char-Broil is very lucky this did not happen. I urge that this grill permanently be taken off shelves and removed from all stores.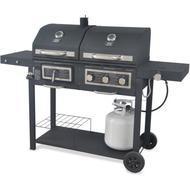 On July 4th, 2016 I was having a cookout with family. The grill was already lit and when I went to open it slowly flames burst everywhere. I have 1st and 2nd burns on my nose, lips, and neck. I have followed everything in their manual book in order to prevent this from happening and now my face is damaged because of it. If I didn't have my glasses on I would have been blind. The grill that I uploaded is from Walmart.com and that is where it was purchased. I don't know where my receipt is.

We purchased a Char-Broil Grill2Go X200 Model 12401734 grill in March 2016 and had some problems with the regulator almost right away. By the end of April, we couldn't turn it off at all and had to stop using the grill. Called CharBroil customer service on May 10 and was told the part was under warranty, but they couldn't give me a new part until I registered the product. Found my receipt, registered the grill and called back.
They gave me a new part for "free", but I had to pay $4.95 for shipping. The part arrived on June 4th, we installed it the next day and three weeks later that one started giving us problems too. Called customer service again on July 1st and was told they would send a new regulator and waive the shipping charge, and we should receive it in 7-10 days. Today, July 3rd, I received an email from CharBroil stating the part is back-ordered and the order will be filled as the part becomes available. So, not only were we without a grill for the Memorial Day weekend, but now the July 4th weekend as well.

I have 2 of the Grill2Go infrared grills. These are very poor grills and customer service is also, very poor. The regulators on both of the grills DO NOT WORK. I have the control knob with the little lock turned to the arrow. I screw the bottle of gas on and it has gas coming out of it. This happened to both grills. For those that have one of these grills know that the lock position on the control knob should be off but as I stated, gas was coming out with the control knob off. It is very evident that customer service doesn't care about this. I sent them an email about this and they wanted my phone number. They contacted my wife while I was at work and she told them to call me after I get home from work, yes she told them what time I got home, but I never heard from them. They wanted to give me a case number, which means they are giving me the runaround with this. CHAR-BROIL is a very poor product.

Reference Case **. I recently ordered parts for this model. Freight was additional. I thought I was dealing with a sophisticated company that would streamline my order process. I paid for the parts and freight and waited several days for the shipment. When the parts arrived, one fit and the other didn't. I tried to resolve this online but was sent a "case", then instructed to call the company! How low tech is that? I had to wait on hold for 15 or so minutes to get a representative on line and to sit through a loop of recorded promotion audio tracks the entire time. Again, what era is that from? When I did explain the problem to the agent, I was given a return authorization # and told to include that in the shipment back. This cost me an additional $20. No offer was made to send me the correct part.
I contacted the company and asked how why I was able to order a incorrect part with the model # of the grill I have supplied with the order. And, how could I have received one part that fit and the other that didn't. I was told I ordered the wrong parts for a model # that didn't exist! Apparently the 'random' parts contained one part that miraculously fit but the other did not? I have no way to confirm that I ordered an incorrect model # and therefore the wrong parts as I have no copy of the complete original order. I pointed this out to the agent who was unswayed by my argument and said they were not responsible for incorrect orders placed online. They apparently have no way to cross check orders with serial #'s provided!
So, Char-Broil in my opinion is in the dark ages in their ordering systems sophistication. In the age of Amazon, I am not accustomed to waiting on hold and have no patience for recorded messages on hold. It might seem nice to talk to representatives personally, but mine was only concerned with following company policy rather than satisfying an unhappy customer. Thus, this review and the promise of myself or a member of my family not buying a Char-Broil product again. This decision was made easier as I found, in locating the serial # on the grill, this product was made in China. Ugh!

This Char-Broil 3 burner Infrared Gas Grill is hazardous! The unit below the trough became totally engulfed in flames when I was simply heating the grill up! It was not a flare up... I'm talking flames came out from all sides! Char-Broil insisted it was a grease fire but I can assure you it wasn't. The grill was clean. Rather than standing behind their product and replacing the grill, they wanted to simply 'replace parts'. Right... I'm going to light a grill knowing the entire inside was on fire, literally. The back, front, sides including the temp. gauge was black. All they could recommend was 'cleaning it with a solution of vinegar and water'. Guess they don't understand what 'engulfed in flames' really means. I would not recommend Char-Broil products to anyone.

ConsumerAffairs Research Team
The ConsumerAffairs Research Team believes everyone deserves to make smart decisions. We aim to provide readers with the most up-to-date information available about today's consumer products and services.
Charbroil has been making and selling grills since 1948 and have been working ever since to make grilling even easier and more affordable. The company began by selling charcoal grills, but today they make a variety of types of grills, including the innovative Wi-Fi enabled smoker. Innovating isn't new to Charbroill; over the last six decades they have introduced several new types of grilling to America, including portable, electric and gas with electric ignition grilling.
Wi-Fi enabled smoker: The first of its kind, Charbroil's Wi-Fi enabled smoker (the SmartChef) sends real-time updates and alerts through the cloud straight to your smart device so you can go about your day without constantly checking on your smoker.
Community: The Charbroil community includes recipes, grilling tips, safety tips and more. The community pages are open to the public, so you don't need to sign up for an email list to gain access to valuable grilling information.
Order online: Charbroil has domestic and international shipping available, so you can order online, sit back and let your grill come to you. Shipping rates are based on the total amount of your order, and express rates are available if you need your grill in a hurry.
Full refund: You can return your Charbroil grill for a full refund within 30 days of purchase. Shipping costs will be refunded if the product arrived in error.
Submit an idea: Charbroil welcomes ideas from customers around the world for new products and accessories. Fill out the "submit an idea" form on Charbroil's website with your patented idea for a chance to contribute to Charbroil's next big thing.
Best for Charbroil grills are versatile, making them great for travelers, large and small families, apartment dwellers and homeowners.
Char-Broil Gas Grills Company Profile
Company Name:

Char-Broil

Year Founded:

1948

City:

Columbus

State/Province:

OH

Website:

http://www.charbroil.com/