Consumer Complaints and Reviews

Very scared after the Char-Broil grill propane hose caught fire... Tried to put out. Then called 911. I called customer Service today. I told them that the protector plate that's above the propane tank is. I believe to be faulty. This is what I think may have happened, it's up to you, to make the decisions for yourself... Look at pic, On one side there is two screws to hold protector plate, then on the opposite side only two L brackets that sit on the ledge of the grill... I believe when you move the grill the L bracket can slip off on one side, which means grease from the grease tray can now hit the protector tray then w L bracket off kilter, bring hot boiling grease directly on hose! The person on the phone said the grease cup could have splashed... All I can say is it was like a marble game this is how: grease drips run along grease tray, which drip on protector tray which is tilted BC of faulty bracket! Which rolls off on to your propane hose.
I never had to use a fire extinguisher but I did and that did not put out the flame on the hose. why? BC you have to reach where the fire is to shut off tank! Propane grills can be plain dangerous, I don't plan on using one again... look up propane grill explosions. It happens when grease catches fire and propane take can explode. And people get burned and homes catch fire. I will only say stick w coals BC propane is like a bomb waiting to go off. The fire department sent 4trucks. They obviously knew how dangerous it could be. Thankfully no one got hurt and nothing exploded. Sadly I was told by Char-Broil that if they find something is wrong they will only replace the part... I told the man to let them know I'm frightened to use it again and if they could please consider a refund BC I will not use propane again. It's up to you. but please be extra cautious w/ these grills.

Contacted Char-Broil 8-1-17. Original purchase 4-16. Replacement parts sent 8-16. Grill (Model #463211516 4 Burner Propane Grill) was defective right out of box with burner issues and wheel issues. Replaced items in August 2016 and they failed again. In addition stationary side table came loose. Char-Broil offered more replacement parts and "assistance". Also a $40.00 credit on an "upgrade". Right After all this they expect me to buy another one! Products are junk. They had no interest in making a refund or totally replacing the unit. They give no credit to your time as a "mechanic" for their products. Interesting to note that cook top with burners comes as a complete assembly new. But they have no problems having a untrained consumer take apart something that obviously is a hazard to service as a "warranty" repair. Again JUNK. Do not buy their products.

A friend gave me a Deluxe Digital Electric Smoker with Smartchef for Christmas. When we finally got the weather to cooperate to try it out, no matter what, the thing runs 50 to 125 degrees hotter than I set it via the app. To get 225, I have to use a much lower number (around 135) and sometimes keep the door opened a bit after checking the meat, as it constantly runs way too hot. I have tested this several times and using a Maverick thermometer hooked above the wire shelves. Regardless of which rack I choose... it shows me that the smoker is running much hotter. I would understand if it dips down and rises to maintain an average. However, this is running consistently much hotter than my desired cooking temp. To me hitting 150 over is ridiculous.
I called CharBroil and they told me that I could not measure temperature correctly with an alternate thermometer nor can it not be empty. Ok... but it ran 150 over temp with food in the thing and dried out all my food once the internal temp was reached. Total failure!! So I put in a ticket and they agreed I needed a new thermostat and probe. However they would not send that unless I could provide the proof of purchase. Char-Broil does not honor gifts. The good news is the parts only cost like $28 with shipping. So I'm not that upset about forking that over on a gift. I just fail to understand why they simply would not send me this. To me it is the principle of honoring their admitted products failure. I just feel a bit cheated. No way am I going to call my friend and ask for a receipt as I would think that pretty rude. I have a valid claim, a serial number, and tried my best to make a brand new item work. It failed every time.
I'm not the first person to have this issue. I have seen this appear on a few smoker forums with the same experience (other than having to pay for the parts), so Charbroil knows this is an issue. My sole complaint is them not honoring their products and weaseling out of some parts that probably cost them all of $5. It may seem cheap of me, but the thing that really bugs me is how many times they said they would honor it and then come back to, "but we need to see proof of purchase." Well obviously SOMEONE purchased it and it is sitting on my back porch. I am about to install the new parts and if it doesn't work, it is going out in the street.

Char-Broil Infrared 2 Burner Grill: After the same grill purchase several years ago konked out and no replacement parts worked, I did the same stupid thing again and bought on May 30 another two burner grill at Lowe's. The first time we used it it heated up okay, but when we turned it off, the left dial was on off, but still did not shut off the propane. That could have be a very dangerous situation! We did not realize this until we began to cook on the grill again and the new propane tank was empty! So after BUYING more propane we discovered that the left dial had to be turned further from the off position in order to shut off the propane tank.
Then last night the left side would not start up at all. The dial is broken and I am in no mood to get under that grill with replacements parts that I know won't work. Send me a new grill. I am looking for the receipt for this purchase but can't find it right now. I want a new assembled grill. Or the refund of 249.00. I am not going to relent on this.

I have had nothing but trouble with product (Char-Broil Grill2Go) and company. First time I used the grill it pinned the gauge at 650 and melted the gauge. Char-Broil sent a replacement. Second time it melted the gas bar and grill grate. Another round of replacement parts they said would solve the problem and sent a new regulator. Again it went straight to 650 and pinned the gauge again. Requests for a refund or replacement of a charcoal type grill fell on deaf ears. I will never buy from this company again and have filed a complaint with the Better Business Bureau. Dangerous product still on the market!!! BEWARE!!!
How do I know I can trust these reviews about Char-Broil?
852,533 reviews on ConsumerAffairs are verified.
We require contact information to ensure our reviewers are real.
We use intelligent software that helps us maintain the integrity of reviews.
Our moderators read all reviews to verify quality and helpfulness.
For more information about reviews on ConsumerAffairs.com please visit our FAQ.

We have been trying to get this Char-Broil Patio Bistro 240 Tru-Infrared to heat up to cooking temperature for over 1 year now. We keep calling Char-Broil. They send you different parts to change. How many times do I have to take the grill apart to change parts before they reimburse us our money for this non-working grill? The first time we used it, in late May 2016 it went up in flames. Char-Broil sent us new parts. All installed by us. Since then we can not get temperature over 400 degrees even after having it on for 1 hour. We keep calling Char-Broil, they send us new parts. We have now exchanged every part of this stupid grill. We keep insisting that Char-Broil give us back our money. WE DO NOT WANT THIS GRILL THAT DOES NOT WORK.
We can't return it now since Ace Hardware only accepts returns before 90 days. We now have no grill that works and we are out of over $200.00. We have tried many times to leave CEO and President Christine M. Robins a message what her company has put us through this past year. STAY AWAY FROM CHAR-BROIL. They do not back their products.

I purchased the Char-Broil table-top grill, "Grill2go" last year for RV camping. I've used the grill numerous times and although the grill shows great potential, I'm having issues with the regulator either not letting enough propane through or just the opposite, too much suddenly without even adjusting the regulator at all. It's actually scary at times when it flares up and I generally don't scare that easily. My wife is terrified of it. Worse yet, when I went online to purchase a replacement regulator from a parts dealer for this unit I discovered the part is not available from the factory, is on back-order, and no date has been determined as to when it will become available. My recommendation is to steer clear of this model. Buy "Made in USA".

In 2004 I purchase a Char-Broil Commercial Series grill with a sticker on it stated it had a lifetime warranty on the brass burners, 99 year warranty on the stainless steel and diecast parts, 10 year warranty on the electronic ignition, and two years on any remaining parts. Now they are telling me none of the parts that I need will be covered because I have reached the manufacturer's maximum liability. What does" lifetime warranty" mean, 13 years. Now they offered me 15% off a new Char-Broil Grill. I will never purchase anything with a Char-Broil emblem on it again. They should not be allowed to put half-truths on display just to sell their product.

I purchased the Char Broil Performance TRU-Infrared 4 Burner Gas Grill thinking it was a quality grill but the stainless steel cooking grates rusted out and split within 3 years. This grill needs 4 grates at $28.99 each plus shipping of $20.00+, total bill being $136.91. Being a former business owner this seems to be a little on the high side. I would not recommend buying this grill if you are looking for quality. This grill now cost $584.91 for less than 3 years of use.

I bought the 4-burner stainless steel gas grill for Mother's Day just over a year ago. At first seemed OK. Then about a month in I noticed rust on the outside of the cover. I figured, "OK not a big problem." Now after a rainstorm my grates and inside of grill are rusted and nothing seems to bring it back to its original glory. I've tried baking soda and vinegar. I cover most of the time with a grill cover. "Did forget that one day" but never did I think I would be contemplating throwing a grill that's just a year old away. I am horrified with the quality. It is a pain in the butt to clean. No removeable tray... I guess that's what I get, my wife bought me a beautiful Kenmore and I returned it to get a PS4. Year later I purchase this piece. This will be the only time I ever buy charbroil products. Bought at Walmart for 169.00. Buyer beware. You can baby the ** out of this grill and it will still rust on you.

Purchased a replacement wheel for grill. Few weeks later my credit card account was hacked and an attempt to change credit card address and passwords was halted by me. Turns out Char-Broil data was breached and my financial info was shared by many. Received a letter from them 2 months after purchase about a long-standing history of high-quality products and support, and then told me to take care of the problem.
After several hours of contact with credit card company, credit agencies, FTC, attorneys general and police departments with very little compassion, it seems to be the general consensus of dealing with these numerous entities that I was responsible for all my problems. I have discovered an address of the supposed perpetrator who wanted to change my address and passwords and given this information to all parties involved but seems to have fallen on deaf ears. I thought it was a crime to steal other people's credit cards etc? The total lack of sincerity and compassion by Char-Broil will result as follows: my Char-Broil grill will be systematically destroyed and recycled. I will continue to spread this story to many.

I've always had Weber products in the past and was foolish enough to let a sale price persuade me into buying this horrible product. My grill is less than 1 year old and has already required to have the burner assembly, gas line hose and regulator, and grates replaced, not once but TWICE!!! I followed their seasoning instructions and day to day care to the letter and my grill is in no condition to cook upon. The 2nd set of grates are rusting, and the burner assembly once again only works on half of the burners. My Weber that I replaced with this piece of crap was 14 years old and the only reason I replaced it was I was looking for a cosmetic update, what a HUGE mistake.
Char Broil should be ashamed of their product and the poor customer service that their people put out. Of course... everything was my fault and they made it appear as if they were doing me a big favor by sending me off the replacement parts. To top it off... they expected me to pay the shipping. For God sake... this is an external product, it should made with exterior compatible parts. NEVER again will I buy Char Broil.

These products are DANGEROUS!! My grill blew up, nearly destroying my house were it not for the Fire Dept. Char-Broil will accept no responsibility. Thank God, no one was seriously injured, someone else may not be so lucky. Oh, they offered me a 15% discount on another grill, what a joke. I had $3000.00 worth of damage as a result of their faulty product.

I thought I would not be stingy and spend some good $$$ for a grill that I thought would last us awhile. NOPE. Do not buy the Char-Broil Performance 3-Burner TRU-IR Gas Grill MODEL 463270914. The grills/grates rusted within 1 year and that's pushing it. I was under warranty and complained about the rust. Keep in mind I treated this thing like my baby. It is great size and quite impressive looking. I kept it covered and under the backyard porch. Note I live in CA in the valley, no humidity or crazy rust weather conditions.
BACK to the complaint, they mailed me out replacement grills. I made sure to research the seasoning method just in case I missed something the first time. The replacements came in 2015, they've been rusted for the past 6 months now. It looks beautiful on the outside until you lift up that hood. Side burner is perfect, even the top little grill grate is perfect because it's what an actual grill/grate should be made of. I have everything documented about this. I wish I had the pics from the first set of grills. I just went outside to take pics of the grills right now. I bought this at Orchard Supply Hardware, and registered the product on Char Broil website. Purchased 05/2014. I have the purchased # and date/time on my OSH account. I have the emails of when they sent me my replacement grills. DO NOT BUY THIS PIECE OF JUNK!!! They should be ashamed and offer the poor suckers that bought this lifetime replacement grills since they're only good for 1 year!

CharBroil, forget customer service. Waste of time. They have you go through steps, but the steps are to disqualify you from any warranty service. Only to guide you to replacing grill and/or parts. Grill was on covered porch, covered, cleaned and still rotted away in less than a three year span. Went to turn on and glad I looked. Burners rotted away and were free floating. NEVER buy a Char-Broil grill.

I bought this Char-Broil infrared commercial grade gas grill about 6 years ago. Was supposed to be stainless steel. Paid 600.00 for it. This grill was keep covered and on a covered patio. First the burns rusted. Now the doors have started rusting. We live on a fixed income but this is a shame since it is made in America. It's a piece of crap. You people should provide the bottom portion of the grill.

Product 463436515 Infrared Char-Broil 3 burner - This is a complete cheap product and the reliability is nil. After 30 days you have to pay 4.95 for a replacement part even though they have a year warranty and 5 years on burners. If a product is so good, why doesn't this company honor a real warranty whereas there is no cost to consumer. I had to replace an igniter switch after 5 months, costs 6.95 (covered warranty), but had to pay 4.95 to have it shipped. Doesn't make much sense. I pray no other issues occur before I buy a real grill that stands behind its warranty. I bought this May 27, 2016. Never a Char-Broil again!

I purchased my Char-Broil gas grill from Lowe's on 9/10/12. Model 463244012 5 burner grill. I keep excellent care of the grill. I keep it covered in the summer on my deck, in my garage in the winter. I average using my grill once a week. It has never been exposed to rain or snow without being covered. I clean my grill once a month per the instructions in the owners manual. Since the purchase I have replaced the firebox, carryover tubes, flame tamers, and burners.
One of my grates is broken, the other cracked. My front doors to the grill have rusted off. My igniter quit after the first 18 months I registered my grill the day I bought it. On reporting the problem to Char-Broil they stated that the life of this stainless grill is 5 years? If this is the case, shame on Char-Broil and Lowe's for carrying such an inferior product. And it was listed as a Commercial Series? Sounds like false advertising?

Char Broil Advantage 3 Burner Grill - I purchased this grill 2 months ago. I went to use it and pushed the ignition button, and flames started shooting out the front. I will never purchase this product again!!!

Biggest piece of crap. Tired of buying cheap grills that only last a couple years so I invested in 5 burner Char-Broil. Purchased in 2013 for over 500$ and started noticing rust on the doors and base after the first full season of use. Went to fire it up last night and entire grill collapsed. Lured into the looks and so called function of these fancy grills but bottom line is they are made of the cheapest material. Btw my grill was always covered when not in use and primarily out of the weather. I intend on keeping the top and making a base. But rest assure I'll be back looking for the cheapest grill on the market in lieu of replacing any more components of this Char-Broil junk.

We bought our 4 burner, plus side burner, in 2012. In 2013 we replaced the igniter. We had to do it again in 2015 and now again, for the 4th time. As a senior citizen who is partially disabled, it is almost impossible to do myself. Customer service's "answer" is that the igniter has to be replaced yearly, obviously no one tells you that when you buy it. Despite having to go through 4 in 4 years, the grill is out of warranty and nothing else we can do but send the $4.95 part to you, nothing about having to spend $50 or more to have it done. GO WITH A MORE RELIABLE GRILL WHICH WON'T GIVE YOU PROBLEMS AND HEADACHES YEARLY. Once bought, Char-Broil could care less about your issues.

Worst assembly experience EVER because Char-Broil does not provide written instructions, only diagram instructions, then very confusing diagrams. I am mechanically and craft inclined and have put back together MGB's but twice got this grill assembled wrong, and after the second time figured I could live with the wheels on the wrong side since from what I saw in assembly, this is a product without an anticipate long useful life. Char-Broil said I could call if I ran into difficulty assembling the grill. I did - once, and after being told the wait was from 10 to 20 minutes hung up.
Can you imagine assembling something then every time you encountered a frequent snag having to wait 10-20 minutes for an answer, then probably from someone reading from a script who never assembled one of their own grills. If you purchase one assembled, compare the work to the diagram to ensure everything was done right because the cheap Chinese screws stripped, as did the locking nuts that I had to remove four times to try and get it right...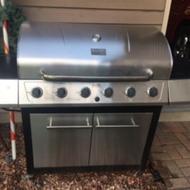 I purchased the 6 Burner Classic Char-Broil Gas Grill in May last year, it been cleaned and covered with a waterproof cover. The spark igniter failed, I replace the battery but to no avail. I called customer support for Char-Broil and they were happy to make me purchase another spark igniter. I explained the burner covers were severely rusted. The customer support rep emailed me a link to attach pictures of the rusted burner covers, which I did.
I called back to Char-Broil customer support within the next 24 hours and I explained my issue. The rep reply that my grill was out of warranty, and it would be $44.00 to replace the 5 rusted burner covers. No real show of concern, no customer goodwill gesture. Very poor customer service along with a poor quality grill. Spark igniter failed, extremely rusted burner covers on a grill protected from the elements. Uneven heat from the burners and overall poor performance. Very unsatisfied with the Char-Broil product and very poor customer service experience.

On June 22, 2012 I purchased from the manufacturer a 4-burner CharBroil infrared 5000 grill at nearly $600. The grill worked fine but rust is an issue. The emitters are rusted through but somewhat expected and the grates are considerably rusted as well. This would not be the case if stainless steel were used. The major issue is that the firebox is rusted through as well, not in the bottom from drippings but on the top edges that support grates and panels. these surfaces are not exposed to anything but heat and air. The grill is always covered after use with a heavyweight grill cover and the grill itself is under a covered porch. It was never exposed to rain or moisture. When I contacted CharBroil for help they said their grills are expected to last 4-6 years. So in average use mine should have lasted at least the 6 years thy consider average due to the care and protection it was given.
To make matters worse, the firebox is not available from them or any parts seller I or they could find. This renders the grill not repairable. Their replies were not helpful and their offer of 10% off and free shipping on a new grill are inadequate in my opinion. I highly recommend either getting a cheaper brand that you would expect to rust out or spend a little more and get something of better quality. I am not a future customer ever again.

Purchased 2 months ago at Ace Hardware, used 12 times. Last night while waiting for our Char-Broil Tru-Infrared Patio Bistro Model: 15601578 to heat up, (which takes forever to do) flames started shooting out. I lifted the top off and flames were 3 feet above grill. Emptied out brand new small extinguisher but fire was still high so I then got the water hose which finally took out the fire. Of course with guests over, barbecue dinner was canceled. Char-Broil needs to make sure their barbecues don't go up in flames, very dangerous.
We have used gas barbecues for over 40 years with no problems. Reason we went electric was we are seniors now and can't handle the large heavy gas tanks anymore. Reported fire to Char-Broil. We'll see what takes place from them. Not enough research was done on this product before company put it out to market for consumers. Nothing should be available that may cause fire and damage. Who knows what this fire could have done if it wasn't for our quick response. Lucky no harm was done to anyone or anything except the barbecue.

We spent almost $300 on what we thought would be a good long lasting grill. Well we were totally wrong!!! First the temperature gauge went out just 2 months after we got it. It gets entirely too hot no matter how low you have it. Cheap feeling material. And we always keep it covered but the lower part of it rusted so bad that the bottom part just fell apart completely! I will never buy another Char-broil grill again! This thing should have sold for $100 not $300!!!

I wanted a simple, no frills grill. Fine until recently. The burner is already shot. This grill did not contain lava rocks. Disappointed as no smoked meals.

Very basic. It does have two side trays. Needed a grill to fix in our car to replace a rusted out grill. Heats a little hot. Does not have a temperature indicator but added one. Started using a grill mat which should help keep it clean. It does have a warming rack and three burners are adequate to cook a good size meal. Easy to clean because the heat tents are held in by a bracket so you just pick them up.

5 burner with side warmer. Not good. Uneven heating from day one. Should have returned it. The back part of the burners on one side are too hot and burn food fast. Turning the heat all of the way to warm still heat the grill up past 600 so it real prohibits the ability to cook like we would like.

Fast warm up, little spatter. Heats up fast. Sears meat keeping juices inside. Best grill I've owned.

ConsumerAffairs Research Team
The ConsumerAffairs Research Team believes everyone deserves to make smart decisions. We aim to provide readers with the most up-to-date information available about today's consumer products and services.
Charbroil has been making and selling grills since 1948 and have been working ever since to make grilling even easier and more affordable. The company began by selling charcoal grills, but today they make a variety of types of grills, including the innovative Wi-Fi enabled smoker. Innovating isn't new to Charbroill; over the last six decades they have introduced several new types of grilling to America, including portable, electric and gas with electric ignition grilling.
Wi-Fi enabled smoker: The first of its kind, Charbroil's Wi-Fi enabled smoker (the SmartChef) sends real-time updates and alerts through the cloud straight to your smart device so you can go about your day without constantly checking on your smoker.
Community: The Charbroil community includes recipes, grilling tips, safety tips and more. The community pages are open to the public, so you don't need to sign up for an email list to gain access to valuable grilling information.
Order online: Charbroil has domestic and international shipping available, so you can order online, sit back and let your grill come to you. Shipping rates are based on the total amount of your order, and express rates are available if you need your grill in a hurry.
Full refund: You can return your Charbroil grill for a full refund within 30 days of purchase. Shipping costs will be refunded if the product arrived in error.
Submit an idea: Charbroil welcomes ideas from customers around the world for new products and accessories. Fill out the "submit an idea" form on Charbroil's website with your patented idea for a chance to contribute to Charbroil's next big thing.
Best for Charbroil grills are versatile, making them great for travelers, large and small families, apartment dwellers and homeowners.
Char-Broil Gas Grills Company Profile
Company Name:

Char-Broil

Year Founded:

1948

City:

Columbus

State/Province:

OH

Website:

http://www.charbroil.com/