Caloric Heritage
Out of Business
Consumer Reviews and Complaints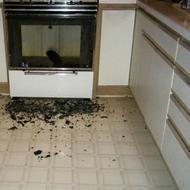 I woke up around 5:30 am this morning to get a glass of water, and found that the outer door of our Caloric Heritage oven door had shattered all over the floor. Some pieces are still clinging to it and slowly falling off. The last time it had been used was around noon yesterday, and I went to bed around midnight, so whenever this happened it had been at least 12 hours since the oven's last use.
The first thing I did was make sure it was turned off, which it was (and wasn't remotely warm either). I'm glad I found it and not my roommate, because she has dogs, one of whom will eat anything and would probably have tried to eat the glass. The oven does seem very old, so that was likely a factor. However, as a renter it's really problematic because when I called the rental company the guy was pretty condescending and said "well, oven doors don't just shatter by themselves." Learn to use Google, rocket scientist. It clearly happens all the time, especially with this brand. I'm thinking I need to start a man rental service where you can have a man call in and report maintenance requests at any time of day, therefore increasing your chances of being believed and taken seriously. (Yeah, he also said the rental company basically will not be in a hurry to fix it and that I should have waited until Monday to report it.)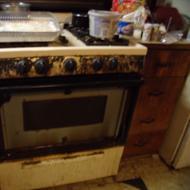 Caloric Stove glass - My husband and I were just coming in from outside and, all of a sudden, we heard crackling and a shatter of glass went all over my kitchen floor. I have a cat and a dog that I had to shoo out of the kitchen. I swept up the glass and while sweeping it, it was still making a crackling noise. If it had been one minute before, I would have been standing in front of it and using the stove top and in sandals so I would have probably had cut up feet.

About half an hour ago, the black oven door on my Caloric stove exploded while I was standing next to it. I had baked a pie earlier in the morning (around 10 am) and had left the door slightly ajar to help the oven cool off. I then ran errands all day and just came home at 7 pm whereupon I reached over to shut the door now that it was all cooled. As my fingers barely touched the handle (not the glass), the door exploded into hundreds of pieces ranging from some the size of a quarter to mostly the size of a split pea. I immediately shooed the dog out of the kitchen and came back to stare in dismay. Absolutely nothing touched the glass when it shattered. I was initially afraid to sweep it up as the shards were making crackling noises like the crinkling of cellophane.
Eventually, that subsided after about 10 minutes. I have retained the pieces and before sweeping it up, I took photos and videos (the crackling can be heard quite clearly) with my phone. I Swiffer-mopped over the area 3 times and could still hear glass dragging across the floor as I moved the mop pad, so then I got on my knees and went over the entire floor with wet paper towels to make sure I got up as much glass as I could before letting the dog back in (he is older and partly blind and I didn't want to risk him stepping in it). I have never seen anything like this, but the minute I googled it I could see this appears to be not all that unusual. I am still somewhat stunned.

June 9, 2012 about 5AM, I woke up hearing sounds that I thought were rain with a little ice falling outside, but it sounded inside so I got up, turn on the light and found black glass nearly all over the kitchen floor. Our apartment's Caloric Heritage door exploded. I woke up my mother and told her to come look. She walked in and saw the glass. She went and got her smartphone, took pictures and recorded it and I also recorded with my camcorder. I called and told the manager that same hour. She told my mom it happened before with other tenants. I was supposed to get a new oven/stove but it haven't arrived yet. I'm hoping it's not the same company. If it is, I'll be asking for another one.

Oven door broke all over my house. Over on at 350. What a mess. Still finding glass. Hurt my son or my family burns. Why are these oven doors breaking?
How do I know I can trust these reviews about Caloric Heritage?
881,173 reviews on ConsumerAffairs are verified.
We require contact information to ensure our reviewers are real.
We use intelligent software that helps us maintain the integrity of reviews.
Our moderators read all reviews to verify quality and helpfulness.
For more information about reviews on ConsumerAffairs.com please visit our FAQ.

We have had our range for about 5 years. As of 5/29/09 we are no longer allowed to use the range. My husband and I have been smelling gas for a few days now, we passed it off as someone had just turned the range top off. Last night I had mentioned something to him, and he confirmed that he thought the same thing. We checked and sure enough we smelled gas. We called Consumer Energy and they sent a worker out. He checked everything and said the LEAK was coming from the OVEN and that he had to shut it off. We now have no range to cook on. Thank goodness for a microwave - somewhat.
The down side of this is one and it's a biggy, my mother in law has cancer and needs to eat regularly, well you can only cook so much in a microwave...and two, we have to go out and buy a new range. We should have realized this stove would be an issue. When we first bought it - we had to wait 60 days for a technician to come out and fix the inignition switch.

We have a Caloric Range Model RSK3700UL. The oven igniter has been replaced four times and now needs to be replaced again. In every instance, when the igniter fails, the gas continues to be released into the oven. Yesterday (4/6/2009), I set the oven temperature for 225 degrees F and cook time for two hours to slow roast pumpkin seeds. An hour later, being busy in an upstairs area of the house, we began to smell gas. We went downstairs where the gas smell was extremely strong. I immediately shut off the oven, which was barely warm, and opened the house doors and windows to let out the gas. Previously, when the igniter failed, we had been close to the kitchen and smelled the gas sooner. Obviously, this could be a very dangerous situation, possibly resulting in an explosion.

The Caloric gas stove in our kitchen was in the house when we purchased the home. The house and everything in it was in tip top condition. We moved into the hosue in September of 2005 and have pretty much used the stove every day. About a two months ago, I was sleeping in the upstairs master bedroom when I heard what sounded like an explosion and I jumped up to find out what it was only to find the kitchen floor COVERED with black shattered glass from the Caloric Oven door. I was lucky not to have stepped onto the glass as I was barefoot at the time! AND I have pets (cats) - thankfully, none of them were harmed. This is NOT acceptable. Physical damage - stove door not in safe usable condition - need to purchase new one.

My daughter in law had not used her Caloric Heritage Series range since yesterday noon. (Sunday) This morning she placed a lightweight cardboard box containing a store bought bakery cake on the stove top. Almost immediately the black glass oven door exploded throwing glass everywhere in the surrounding area. It had not been used in almost 24 hours.... it was not hot. That shouldn't matter anyway as it is allegedly designed to withstand high temps since it is in fact an oven door!
Not only have they lost a stove .... on a limited budget. I have four little grandsons ... two of whom are only 2 and 5 years old. Had they been in the area at the time that flying glass would have been at their EYE LEVEL! Yes, they could have been seriously and permanently blinded.... or worse. I have a picture I am willing to provide of this shattered glass door.

My husband and I were cooking Thanksgiving dinner. My husband was carring a pot of water to the stove and spilled some of the water on the top of the stove.About a minute later we heard a loud pop. We could'nt tell what the sound was. Soon after we heard it again and saw flames coming from our stove! This appeared to be electrical. I can't believe this little bit of water could cause such a hazard on a 5 year old stove!

We are in the market for a new stove.

year old stove.

Need to replace stove. Glass everywhere in kitchen.



I recently bought a home that had a Caloric Prestige Series stove. The oven door glass is cracked on the inside. I opened your web-site to purchase a new door. I read a complaint from Stacie of Nekoosa Wi.regarding a child who severly burnt his hand on the outside of this type oven door. I am now conviced my glass cracked because of the interior oven temperature, perhaps during the self cleaning process. I have decided to purchase a new stove from a different maker.


My stove is 8 or 9 years old My son was cooking a pizza and a few minutes after he took it out the door shattered there is something very dangerous with these stove the public needs to be aware

after using oven for one hour at 350 degrees, oven was then turned off and several minutes later the entire outside glass door shattered.

kitchen floor severly scratched cuts and abrashions occured with cleanup. oven unsafe at present time.


Like Chris in California, our 8 or 9 year old Caloric Prestige electric stove had a fire. The oven was on when the oven element suddenly started glowing in one spot, then started burning there. A fire extinguisher did not stop it. The fire stopped when the power was turned off.

We heard a large bag at 7:00 a.m. - jumped up and found that the glass oven door had exploded all over the kitchen floor. The oven/stove had not been used since 6:00 p.m. the night before. It was cold to the touch.

Luckly my 6 year old and 2 year old were not in the kitchen at the time. They may have been seriously injured. What could have happened.

This oven came with the house we bought less than two years ago. While I was baking some chicken at 350 degrees, the oven door glass exploded, just missing my face. I had just checked the chicken moments before.

For about a week later I had horrible involuntary neurological movements throughout my body and an inability to concentrate or sleep. I am still feeling the effects of the incident and only today, a few weeks later, have I felt I could even deal with this on any practical level. I am always tense now and can't seem to shake off this subtle fear and depression. Since the incident I have been over sleeping and ill at ease. It did indeed sound and feel like a bomb had gone off. The glass shattered into hundreds of pieces - I have saved them all in a box. I am very afraid of the oven and don't know what to do next. I want it out of my house, but not before this is reported and dealt with in some manner that warns and protects other consumers.

My wife just got done cooking garlic toast in our oven and we were sitting a few feet away at the kitchen table eating dinner when the entire door glass broke into a million pieces for no apparent reason.

We all were at the stove getting food for dinner just before the glass door shattered.


We purchased a Coloric gas range about 6 years ago and have had nothing but problems with it. The timer has gone twice. The oven door is warped, also the indicator that controls the gas and air in the oven has been replaced once and now needs replacing again. The drip pans are so cheap,also the heat has made them all black. We have had to pay for all of these repairs and are not pleased with this appliance. We wouldn't recommend anyone ever purchase such an all around cheap appliance.

About 1 1/2 year ago, I had used the oven at about 12:15 pm for approximately 15 minutes at 375 degrees and then turned the oven off. About an hour and half later, the outside glass in the oven (the glass is the siae of the oven door) started popping and cracking and falling out on the floor. (The inside glass did not break.) If someone had been standing in front of the oven door when this happened, injuries could have occurred. The oven repairman had no idea what would have made the glass break as it did. Now, I am having the problem that the top of the range is caving in the center (between the two rows of gas burners.) The problem is getting worse as the stove is used.

The outside glass in the oven door had to be replaced. The top of the stove will have to be replaced (if the parts can be found, which was a major ordeal with the glass in the door) and, even then, the problem is still not solved as to the cause which means that either problem may recur.

I have the double oven with stove top model. I splashed something on the panel with the switches to turn on my stove. It was near the light switch(next to the nob to turn on the stove.

A piece of food dropped on the panel near the light switch. I went to remove it and got a terrible shock.

Glass cover of oven door exploded & shattered to the floor whil on 300 degrees. Cause unknown. Fire Dept. checked but was puzzled. Also, oven valve not working. Oven does not shut off. Unburned Gas leaking from temperature valve. We almost died.

Glass door replaced for $80. Valve - don't know yet.

My husband and I purchased a home from Town and Country builders in 1991. Our home came with a Caloric Heritage Series oven. This morning when my husband came downstairs, he was surprised to find that the oven door glass had exploded all over the kitchen. The oven has not been used since Friday evening (6/1/01). The oven glass exploded during the night between the hours of 12:00AM and 8:30 AM on 6/3/01. I have tried contacting the telephone number listed in the book that came with the stove but it is only a fax number. The glass shards were found as far away as 11 feet from the oven door. I cannot imagine what would have happened if someone had been standing in front of the oven when this occurred. I cannot understand how this could happen. I have taken pictures of the oven door and the glass all over the floor. My husband has swept up the glass shards and we have saved them in case anyone would like to examine them.

I am very upset and emotionally tramatized. I want this oven out of my house because I am afraid of what else could happen. I am afraid to use the range or the oven. I am going to be forced to replace this oven and I will be forced to eat take out food until this is resolved. Can you please tell me who I should contact to get resolution to this problem.

All of the sudden the glass of my oven door exploded and shattered. The oven had not been on for over Nine Hours. Could you please explain this? We have a friend that has had the same problem with the same make of stove. Could you please let us know something very soon?

A large mess in my kitchen, a stove that we can't use right now and missed time at work to take care of the problem.
Caloric Heritage Company Profile
Company Name:

Caloric Heritage