Consumer Complaints and Reviews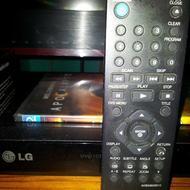 I like our LG DP132 Multiformat DVD PLAYER with USB PORT. It is very small (as compared to the other ones we've owned since time immemorial), so it's barely there. Since it's small, the buttons are lessened, and the remote control that came with it serves as the central controller. ugh... I don't even know how to use these buttons, though of course, a manual came with it (I'm just always in a lazy mode to do it). The best thing about this player is that it came as a free item when we bought an LG TV. I guess nobody really needs a DVD player now, but this one we got is functional, it is cute, you can grab it and go, and once again it was free (googly eyes)...

Blu-ray Player BP730 - 3 months after purchase, the player cannot connect to my wireless system (other wireless equipment is working just fine). Called LG. It took 4 days to get their prepaid return shipping label. I had to pay for a strong box and packing material. The player was returned in about a week with LG paperwork that said "No indication of power and totally inoperative unit" and "service performed: adjustment internal." Supposedly it was inspected, repaired, quality checked and passed -- but it still doesn't work! I asked for a new unit but was refused and was told I must again return the player for repair. It took 4 more days to get another prepaid shipping label. They didn't return my original box from my first shipment, just packed it in the purchase carton with bubble wrap, so I had to buy another box. So far I've invested $30 and endless time and have been a month without an operating player. NEVER BUY LG!!

On September 30, 2014, I purchased an LG Blu-Ray Disc player model BP540. On November 25, 2014, I began to experience problems with the unit. I called LG Support and a technician attempted to work out the problem with me. He was unable fix the problem and told me that I would have to return the unit for repair and that he would send me a shipping label via email within two to three business days. Having not received the shipping label, I called LG Support again and spoke to a female who had me wait on the phone for over 20 minutes while she examined the problem. She came back on line and apologized multiple times and told me I would receive the shipping label via email within 24 hours.
Having not received the label after 24 hours, I called again and spoke to another supervisor who apologized again and said she was calling the section of LG that would be sending the shipping label. After 15 minutes she came back on the line and told me that she was assured that I would receive the label within two business days. I expressed my anger, the bad service I was receiving from LG. She also apologized and assured me that I would receive the label. After not receiving the label within two business days as promised, I called back and was again connected to a supervisor. The supervisor examined the issue, apologized and told me the label was on the way and gave me the telephone number of LG Executive Services if I still had a problem with LG and the shipping label. I was livid at this point and went on to the LG website support and filed an email complaint.
A day later, I received a response thanking me for contacting lg, their sincerest apology, empathizing with me, then offered to turn the table and offer me a $95 rebate (even though I paid $106 for the player), but did not tell me how to go about getting it. I waited a few days and after not receiving a rebate or a shipping label, I again called LG Executive Services and spoke to a female supervisor. She examined the issue, apologized, and then told me that I would have to provide a purchase receipt to get the rebate. I asked her why since I had registered the player with LG when I bought it. She told me that that was the procedure. I asked her why none of the other people including a supervisor had not told me this requirement when I spoke to them earlier. She said she did not know. The supervisor and I contacted SEARS and obtained a copy of the purchase receipt. I emailed it to her at her request and she told me she was sending it to the section that would handle the shipping and that I would receive it in two business days.
Having not received the shipping label after providing the purchase receipt, I again called Executive Services and spoke to another supervisor. She told me that the person who would handle the shipping label issue was out to lunch and she would talk to him and send me the label (this was on a Friday). After not hearing from her, I had to wait until Monday to again contact LG. On Monday Dec 8, I spoke to Wendy and asked her why I was being treated so badly by LG. She also apologized. She told me that I would not be receiving a shipping label to send the unit back, but that I would be receiving a letter explaining that I would have to return the manufacturers labels on the back of the unit to LG and the letter would explain this and also what I would have to do to get the rebate. I asked her why everyone from LG who spoke to me told me I would be receiving a shipping label via email and jerked me around by not sending me anything since November 25 nor apparently did anyone I dealt with from LG Support and Executive Services know what the procedure was. She apologized again and said she did not know.
I told her that she was the only person from LG who told me the truth and appeared to be knowledgeable about return and rebate procedures at LG. She stayed on the phone with me while she contacted the section who dealt with the rebate/return procedures. While she was on the phone with me, I was emailed the letter explaining what I had to do to receive the rebate and that after LG repair services received the letter with the product labels, I would then have to wait 6 to 8 weeks to receive the rebate. So as you can see above I was treated very badly by apparently incompetent or non-knowledgeable employees whose job is to help customers!!!
Finally, what this comes down to is that I purchased an LG Blu-Ray Disc player model BF540 on Sept 30 2014. Within almost 2 months, the unit stopped working properly. I was then forced to go through the maze of incompetence within LG Tech Support and Executive Services with only one employee (Wendy) at Executive Services finally having the knowledge to competently assist me. So after buying a new LG Blu-Ray player and it breaking down within two months, I now have to wait at least TWO more months without Blu-Ray service after buying what I thought was a good LG product. I currently have two LG air conditioners, and LG 55" tv and an LG home theater system. I was a loyal LG customer. After the unacceptable way I've treated by LG during this issue, I would be hard pressed to purchase another LG product nor recommend one.

Their products failed just after warranty on a variety of electronics. I first purchased an LG DVD Recorder which failed to record or play DVDs just after 12 months (I've had a Koss DVD player that still works after 8 years). I bought an LG dual layer light scribe DVD writer that no longer works after 16-18 months. I've recently had problems with LG laptop (DVD writer no longer works and a USB port is no longer working), but the worst is my 42 inch plasma TV that quit working 3 months after the warranty expired and LG refused to help even though it was a common problem and had a recommended upgrade to fix the problem.
$600.00 later, my TV has just quit working again less than 6 months later. Only 3 months warranty on fixes but it is exactly the same problem no video. I will never buy another LG product in my life and will let everyone else in my life know that they sell junk. Please be aware that they don`t know how to make products only market themselves. They don`t back anything except a basic warranty.

I purchased an LG DVD/VCR Combo Recorder. Nine months later, the motor went out. The part was under warranty, but LG insisted on charging me for the labor, even though the cause of the problem was their fault. I told them that if they insisted on charging me, I would never do business with them again. They didn't care, they told me to go ahead, they wanted their money. The Best Buy Geek Squad agreed with me and replaced my defective LG with a Sony for only the difference in price. I will never buy another LG product again. Clearly, they don't care about their customers.
How do I know I can trust these reviews about LG TV?
696,839 reviews on ConsumerAffairs are verified.
We require contact information to ensure our reviewers are real.
We use intelligent software that helps us maintain the integrity of reviews.
Our moderators read all reviews to verify quality and helpfulness.
For more information about reviews on ConsumerAffairs.com please visit our FAQ.

I bought an LG RC897T on 01/09 and I have had trouble with it ever since. I made numerous calls to LG and have been given two case numbers. Over 2009, I was instructed to do factory reset with little success. It would work for a few days and quit. I finally requested for a new unit in 11/09 while still under warranty. The unit was sent in for repair and returned in two days. It worked for a short period and then quit completely. I work during the day so I have been calling in the evening. I have had conversations with several agents and their supervisors. I was told that they would extend the warranty but I would have to pay $69 and I said no.
After some debate, they agreed to replace the unit as I had made so many calls to the company. I had never asked for my money back, just a unit that worked. I was instructed to box the unit, and attach a case number they gave me to five sides of the box. They would send me a shipping label. This didn't happen so I started calling in every week or so. I was promised all was well and to be patient. I then received a phone call asking for my email address. I called them and gave it and asked why.
They said that they would be emailing me the shipping label as it was faster. They said it would be here in three days. Nothing. I called again and was assured it was on the way. I called again this week and Tony told me that I would have to pay the shipping. I asked about what was going on over the past several months and their promises of free replacement. We ended up debating for about 10 seconds and he hung up on me. At present, I don't know what to do and really want to have a working unit.

I have a 2006 VCR/DVD player. LG does not have a manual or remote for my model. They only go back to 2008.

I purchase an LG BD300 Blueray player on Jan 10. It quit working about 2 weeks later. I have been to LG service website and their 800 number approx 20 times. The y have run me around so long that I have passed the 30 day return policy of the store. They have told me they will send a new DB300 several times, bu have yet to do so. If you get Dave on the 800 number, RUN. He hung up on me yesterday. SOME SERVICE!
Paid for a product I don't have use of for over a month.

I bought my H/Theatre LG DVD Player 4 months ago, and I have problems with it reading any discs. I took it in to L.G. and they said to me they would get back to me by Friday the 9th, have not heard a word. I am dissapointed with my purchases as I paid cash, and too get problems after 3 months with a brand new item upsets me. At the time I was there, another customer had also the same problem with his system. I purchased my system at Ster in N1 City an they told me I must take it my self to L.G. which I think is also bad service, I would like to know how long I must now wait for a decision an when I can get my DVD player back
Many thanks for your understanding,

I own 4 ea. of the LRM-519 DVD/DVR recorders - S/N 509KVVR502471 S/N 509KVLZ503488 S/N 509KVTD500561 S/N 509KVAX501096. I have spent over $200 having each of these units service checked at local LG repair centers only to discover the identical problem with each unit. Each unit has an issue with the power supply/main board and LG does not support this repair with replacement parts. This issue appears to be a LG design flaw and I expect LG to repair these units or provide replacements.

I purchase a top of the line DVD/VSH player/recorder. About 2 month after purchase, it started not wanting to read DVD only. It would play CD's and VHS. I belong to Netflix and I would always put the blame on the DVD's, thinking they were scratched or dirty. After several tries, the DVD would then go. As time went, the DVD's took longer to get started. Again, I thought the DVD's even new ones. By this time several months had pass by taking it out of warranty. But in the last couple of months, it got real bad. Coming up with no Disk or Disc Unknown. I went and purchase the best DVD unit cleaner to be sure this wasn't possibly the problem. I had spoken to a Bestbuy rep when I went to purchase a new computer from them. And that's also where I bought the Player. That didn't work so I went on to the Net to see if I could find anything about this unit.
WELL, I DID. On a site called FIXYA, an electronics site that deals with consumers having problems with all types of electronic. I e-mailed them about my DVD. Guess what, this unit Mod.#RC797T has had the same problem with many other consumers. 1 consumer said his started after 6 month. Another said 2 weeks. And on and on. So I called LG, that's who the rep at best buy advised me to call. Well, talk about a runaround.
I Did get a case # so they could keep up with my phone calls. But each rep at LG tells me something different. We can waive the labor and you can take it local. Another you'll have to ship it to Alabama. Another we can sell you the extended warranty. I told them that I am not in a financial position that I have to be concerned about paying for ANYTHING. But I feel I should have to go through all the Ship here, ship there etc. etc. I advised them that I at this time, have 3 flat screen TV, 1 being an LG. 4 LG cell phones. And I just started to research on the net, the best Blu Ray, since I am having problems with My LG DVD. Among Blu Ray shopping up popped LG. That's when I thought maybe I'll give them a try first. No luck, No way. A lots of inconvenience and run-around. I told them I will never purchase another LG product, will be a walking/talking billboard. I work in a vary Casino and I am A Supervisor at that Casino. Meaning I see Thousands of customers and Employees a Month. So guess what I'll be advertising anytime a purchase of electronics comes up.
LG DVD Player Company Profile
Company Name:

LG TV

Year Founded:

1958

Country:

Korea Sout

Website:

http://www.lg.com/