Consumer Complaints and Reviews

This is a very old television that I placed in my bedroom. It is at least 25 years old. It has been great. It comes in very well, the picture is sharp and bright. I have contemplated getting a more up-to-date TV and have waited for this old one to die, however, it keeps going as well as the day I got it. I am thinking about "treating" myself to a new one around Christmas. If I get a new one, I hope it lasts as long as this old one did. I cannot say one bad thing about this TV. I sure got my money's worth when I bought this.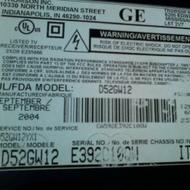 We purchased this unit in 2004. It was used regularly and in 2009 it quit working. It was still under the extended warranty we bought so Best Buy sent someone out to fix it. He figured a lightning strike may have been responsible and installed a new power supply. The TV was not used very much from when it was repaired, through 2012 and in fact only when we had out of town company that stayed in the lower level. From 2012 until last week it was in a spare bedroom, completely unused.
We plugged it in on Monday (8/3/15) to play video games on and it worked fine all week but on Sunday night there was an issue after midnight. Around 3:15 am, while plugged in but NOT TURNED ON, it decided to start burning. I smelled something strange and while standing at the bottom of the steps trying to determine for sure that the smell was coming from the second floor, I heard a loud pop.
I found the room full of smoke and the odor of something burning and I eventually figured out that it was the TV. I was unaware of any issues with this TV until I googled the model number the next day. The room took about 24 hours to air out and if I had been asleep or not home I have no idea how bad it may have been. I have three dogs and the thought of it possibly catching the house on fire makes me sick. I am glad I caught it quickly. The product was obviously registered to us (as we had it serviced) but we never received a warning.

GE D52GW12 - I won this rear projection TV in the Atlanta Auto Auction from a leasing company selling their vehicles. I gave it to my son so he could play his games on it. He played maybe a total of 10 hours of games on the TV. Since my wife and I taught our children early that TV is bad, studying is good, my son only watched maybe 15 hours of TV. The TV worked fine for 7 or so years then I was with the Directv man trying to start the TV and the green light came on but the TV never did. Since the TV is way out of warranty I was on the internet trying to find help and after an hour or so I went and ate dinner and when I returned the computer was in hibernation mode. I was talking on my phone, there was a very bright flash of light which was followed by a boom and a little smoke. The percussion waves from the incident were strong enough to shake my computers mouse and take my computer out of hibernation. This is the Ford Pinto incident all over again.
The internet states the TV needs a flyback transformer. I don't know if I want this fire hazard in my house. I took the back off and found a blown fuse and some sort of something coming out of the transformer. I know every product has problems but does GE stand behind there products like Ford or like Toyota which couldn't care less if people die. I had a Samsung TV that was 2 years past the warranty and it needed a $800 repair. I called Samsung just to find some Samsung repair men and they repaired my TV absolutely free. I doubt if the great GE will do anything but can you at least answer one question- the transformers are online and range in price from $18 to over $200 and they look like they're the same, are they the same? Will you help?

We bought a GE 52" widescreen projection HDTV for the kids on Christmas Eve of 2004 for $888.88. We built a wall unit around it and got a 4-year extended warranty for another $149.99. We then finished our basement, not using the television so much as the kids were in high school and college. Before the warranty was up, we had Best Buy come out on 10/4/2008 and make sure everything was running right. The kids went downstairs to watch the television yesterday and the girls were screaming that the television went black and started smoking. The whole house smelled. My husband had to hurry up and move it to unplug it and we had to air out the house. I am now washing clothes from the smell. It seems, from reading your website, that this has happened to many people with this television.

I have had the same problem with my d52gw12 TV and think GE should have to keep spare parts on hand to fix this problem.
How do I know I can trust these reviews about GE Washing Machines?
607,960 reviews on ConsumerAffairs are verified.
We require contact information to ensure our reviewers are real.
We use intelligent software that helps us maintain the integrity of reviews.
Our moderators read all reviews to verify quality and helpfulness.
For more information about reviews on ConsumerAffairs.com please visit our FAQ.

The GE brand D52GW12 52" TV we bought four (4) years ago seems to have all the same problems as everyone else. Sure, TV's go bad, but is there anyone out there that looks out for the consumer anymore? This TV has the same problems with all the TV's. There should have been a recall.

I bought a 36" flat screen TV in 2008, and I got the black screen of death. It is only 2 years old.

On Nov 5 2004 I purchased a GE 52" TV Model D52GW12 n Nov 5 2004 In Early November 2009 I started to notice that the screen went blank for a few seconds, I thought that it was the DVR, but on the evening of Nov 10 2009, in addition to the screen going blank, I heard a zapping sound and smelled a something burning coming from the rear of the TV. No other electrical disturbance was noticed at this time, the weather was normal, the TV was plugged into a surge protector. I immediately unplugged the TV fearing possible fire, luckily there was no damage. Upon doing some research on the web I found out that this situation is prevalent in this model TV. I AM NOT SURE ON THE EXACT NUMBER, BUT i WILL GET THAT INFORMATION. That many people have experienced that exact same thing. Clearly this would indicate that there is an inherent defect in this model TV that is a known safety hazard. GE should have issued a recall on these TV and should repair or replace these dangerous TV at no cost to the owner.
On Nov 12 I called GE service and spoke to Jed, I explained the situation and asked that GE be responsible for the cost of repair or replace the set due to unsafe nature of the TV, he declined my request. I asked for a supervisor. She was unavailable, but I was told that she would call me back later. She called back the wrong number and I did receive a call at 5:56 PM, she left a voice mail message, from a Sarah Towers who told me that GE would honor the "regular warranty", covering the TV for one year after purchase. and that I was responsible for their mistake. I sent 2 emails to GE asking for them to reevaluate my situation , but I have not had any reply. I did receive another voice mail on my cell phone yesterday from a Ben B After Sales Manager, who again told me that GE honors that "regular warranty" and that this type of thing "happens to all rear projection TV's. He said and I quote, "this is exactly what it was supposed to do in a failure mode."
I suppose that all GE are suppose to catch fire?
What bothers me is not that the TV does not work-TV can have problems, however, when you have many people with the EXACT same problem on the SAME TV and there is the potential for a safety hazard, then I feel that the manufacturer has a obligation to do right by the customer. They should stand by their brand.

The TV started arcking and smoking so I ran behind it and unpluged it.
tryed to turn it back on the next day
and it does nothing.
this is a GEmodel D52GW12
purchased December 2004

I appreciate you taking the time to read my letter. I am a proud owner of several GE and RCA products and have been extremely satisfied with these products. However, I am disappointed with the quality of a large screen TV that my family and I purchased in 2005. I know it is four years later; however I have tried all other options to pass along my concerns to your company. I have been trying to get assistance with my issue for well over nine (9) months.
The situation is this; we own TV model # D52GW12. This past year my wife was set to have major back surgery and was to be couch ridden for several months, I say this to say: luckily our TV caught fire just two days prior to her surgery instead of after her surgery. She could have been trapped in the house. Our TV was used very little for two years and then moved into our family room and used daily. We even had surround sound installed into the walls and based everything around the great GE TV.
I know this issue may seem minor as compared to most issues that you deal with, but your customer care has been very lacking in this area. The GE service center (McCormick) they stated that they had held a committee meeting and determined that there was nothing wrong with our TV. Please make note that they never came to look at our TV. They made their decision based on, what I do not know.
I am not trying to get something for nothing; I am just trying to get a TV that works. This is a big investment for my family, we are not a wealthy family and this purchase was a family project. What I wish would happen is that GE fix or replace our TV.
Thank You for taking the time out of your very busy schedule to read my letter.

I have the 52" GE HDTV for a little over 4 years. Just after the extended warranty ran out, I started having problems. When I try to turn it on, the "on" light comes on and off three times. After more than a dozen or more times it will come on, but it's the same thing day after day. I have to reset the #3 channel every time I turn it on, since I have a DVR box that requires #3. The original price I paid for the TV including the 4 year extended warranty was $1,432.98. I have not had it fixed yet. However, I had to purchase a smaller set to use on the days I can't get it to turn on.

We purchased a GE 52 HDTV Rear Projection Television less than 3 years ago. This television has completely stopped working. The TV power on light turns on, and then turns back off 3 seconds later. It does this 3 times, and then cannot even be powered on for 90 seconds, and then does the same thing, over and over again. GE needs to issue a complete recall for this product, as through some internet investigation, this problem has happened to hundreds of others. $1200 for a TV that lasts 3 years, and costs just as much or more to repair. People have reported internal fires, etc. associated with this television.
Company Name:

GE Washing Machines

Company Type:

Public

Ticker Symbol:

GE

Address:

3135 Easton Turnpike

City:

Fairfield

State/Province:

CT

Postal Code:

06828

Country:

United States

Website:

http://www.ge.com/