Consumer Reviews and Complaints

I placed an order on 7/12 and requested a cancellation on 7/13. Issue #1 - If you have a cash back site that redirects you to Dell, you are out of luck. Cash back doesn't get reflected properly. I requested for a cancellation which was rejected according to Dell. Then I contacted customer care who told me that they would try to cancel it. Next day I got a call asking me to confirm when I would like to have the product delivered. Next day I got an update saying the order is being returned to Dell. I never received the product in the first place. After a week (7/21) I contacted Customer care and they say it is going to be delivered to Dell on 7/21 itself. I again contacted Dell Customer Care on 7/24. They again say it is going to be delivered on 7/21.
I got a call from Dell on 7/26 saying my refund has been initiated. Still no trace of it in my order history. I again contacted them today and they again say refund will start after the product is returned and that it is going to get delivered to Dell on 7/21. Overall it's a horrible experience. I also have to mention that the first TV I ordered on Dell was faulty. I returned it. Then ordered another TV for which I am facing these issues. I am never going back to Dell again. Stay away from them if possible. Otherwise you will have the same experience as me. I wish I could give Zero stars.

So November 30, 2016 I order a $1200 TV with my Dell preferred account. I was told that my tv would arrive in 7-10 business days. It was finally delivered 3 weeks after purchase date. Take it out, set it all up and... It's broken! So of course I tried to start a return which was a hassle. In addition to a return I convinced the person to give me to a supervisor because I wanted something for the inconvenience of waiting 3 weeks and the broken product.
Now I've been offered a 4K 60 inch HD TV for $750, $750!! You can't pass that up. I was told this would arrive between 12/27/16-1/4/17. Of course when I didn't receive my tv by the 4th I called but was told that it would be shipped & delivered in the next 24 hours. Yeah right! Finally when I emailed Dell I got a straight answer saying my TV was on backorder. It's 1/23/17 & my TV is still nowhere to be found.
Oh but wait! The first TV cost still hasn't been credited back to my account. This means I am still getting bills to pay for said TV. This is ridiculous! My credit has went down over 100 points because of this!! Nobody is able to help me, I feel like nobody really even knows what they're doing. While they try to be helpful, they are seriously misinformed & do not know what they're doing. I'm furious and after these things get resolved (if they ever do) I will NEVER have anything to do with Dell again.

If you have a price on your website you should go by that price. If you do not have a time on when your online deals are over but keep the price the same on your website you are trying to trick people into buying your products at a cheaper price than you'll actually charge them for. The website states a discount for TVs and showed the discounted price up until you had to submit your payment at which time the price was adjusted to the regular price. It's extremely lazy and unethical to not update your prices until someone is trying to check out and buy your product. Don't have a price on your website Dell if you're incapable of following through with the price. Having a price of $249 and then changing it at checkout to over $500 is disgusting. I tried contacting your support and was informed it was not because of a lack of stock but just because you decided to end the deal online while keeping the same prices and coupons active on your website.

I bought Tv's and it took them 4+ months to even ship one that did not have have the side ripped off - UPS - Then when I opened 2 of them they have a crack and black area across the whole TV's. Contacted Dell. "Sorry it's after 21 days - we won't return-replace." WE ARE JUST STEALING YOUR MONEY FOR DAMAGED JUNK... Samsung also said "sorry - not our fault." NEVER BUY ANYTHING FROM DELL!!

This is the first time I've purchased consumer electronics outside of computers from Dell. They advertised a lot over the holidays about their expanded electronics catalog and ability to ship anywhere. So I decided to give them a try. Ordered a television on 11/30, good deal, estimated delivery 12/16, check. Delays begin, revised 12/23, then 1/6, then 1/15, and now their customer service says they don't even have stock prognosis. They just keep putting a new date out there.
I've worked five channels to get support at Dell, yes five! Twitter, chat, phone support, email support plus I know many folks in their e-commerce team since I work in the industry. Wow - terrible uncoordinated service. I've asked for alternatives, the phone support person said EVERY TV was out of stock. Really? I'm writing this because Dell is way over their head in electronics retailing. Especially for items like TVs where they don't control the supply chain. They don't have a clue. Strongly recommend others buy from more seasoned retailers or buy at own risk.
How do I know I can trust these reviews about Dell ?
882,235 reviews on ConsumerAffairs are verified.
We require contact information to ensure our reviewers are real.
We use intelligent software that helps us maintain the integrity of reviews.
Our moderators read all reviews to verify quality and helpfulness.
For more information about reviews on ConsumerAffairs.com please visit our FAQ.

We ordered a 55" smart TV on Thanksgiving 2015 Black Friday deal online for a Christmas gift! We got the tv but it was cracked and badly damaged. After a full week of aggravating attempts to even reach someone to get a replacement, we were promised one would come soon! We called daily and nothing! It is now after Christmas and they literally do not even know where that replacement tv is! They said they will send another one?!? So we still don't have the TV we purchased as a Christmas gift! Dealing with the terrible customer service has definitely taken up way too much of our time and we have yet to receive our product! I will NEVER order from them again!

I bought the TV in Aug 2015 and on Dec 17th the audio and video are out of sync. My cable company did everything - replace box and traced cable to the main box. It is the TV I get the runaround when I call Dell and was disconnected twice after over 45 min hold. You cannot speak to Dell in the US only overseas and when I did get through once... they insist it is my cable. I explained I went that route first then Dell told me to call cable again. I now have a 60" coat hanger and will go shopping for another TV and all while fighting with Dell over a credit issue. I returned a small 100.00 item that they received back on a rma on 11/10 (email confirmation) 45 days later they still have yet to credit my account. I am done. I do not feel as if I am dealing with a company that has Dell's reputation. I felt like I am dealing with a no name no care company.

I ordered a 32" TV for my office a few weeks ago. The TV arrived damaged. I've been trying for two days straight to either exchange or return it. Yesterday I pulled my order info from the confirmation email, clicked the links and selected that I had a problem with my order. After waiting 2 hours to chat with a customer service rep this person told me that I contacted the wrong department and told me to call a number (despite that I used the links provided in the confirmation email). I finally had time to call today and I've been on hold for over 1hr and 40 minutes now and transferred several times. I will NEVER buy anything from Dell again or a Dell branded product. It is incredible that a company like this would resort to giving customers the runaround in order the tire them down and avoid returns. F- for Dell.

I bought a T.V. from Dell where they mentioned price match and price guarantee within 30 days, I found amazon and dell both reduced the price for that t.v., so I started trying to connect dell. Believe I spend 15 hours on phone waiting (in multiple call) and chat and once anyone come they will transfer to other department and still it wont work because other guy will transfer other department. And once you will reach to right department (if you are fortunate only) then right department bluntly refused to give any price match and will make you cry. I would say give 100 dollar extra to some other store but never ever try to buy from dell. Very very worst service I have ever experience.

Don't buy anything from Dell.com unless you want to tear your hair out. The customer service is overseas, the response times are horrible, and the paperwork is inconsistent. I'm not going to waste any more time on Dell since it would take an hour to write all the details. Suffice it to say, there are many, many other terrific vendors available with good prices and excellent service. DELL SUCKS!!!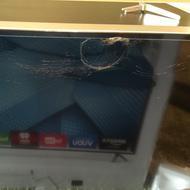 When I ordered the television from Dell, they estimated the shipping wrong and instead of receiving my TV in five, I got it in ten. Then, once I received the tv, it had a huge crack in it, from the top of the screen spidering down. I immediately called customer service and after being on hold for fifteen minutes, the call disconnected. I called back and waited thirty minutes this time. Once I was on the phone with an agent, I was informed that the return processing would take five to seven days and only once they received the product back would they ship out a new one. I was told the new television would arrive within two weeks.
When I asked if I could just please cancel this order and simply return the television, they said that would be fine but that it would take 30 days to issue me a refund. Absurd! Nobody I talked to even cared! There was no way they could expedite anything and even though I'd spent nearly $3,000 with them, they did not care or even apologize for the inconvenience. I will never deal with Dell again!

I placed an order of a TV from Dell website two weeks ago. In the website, when I added the TV into the cart and tried to checkout in the checkout pipeline, it shows clearly that there is a "limited time offer" called "free shipping and easy return." When I click the details about that offer, it says the following: Free Shipping & Easy Returns! Limited Time Offer! Free 3-5 day ground shipping on all orders placed on Dell.com. No minimum purchase required. Easy Returns: Send the product back to Dell within 30-days of the invoice date for a full refund. Includes free return shipping and no restocking fee. Excludes software if opened or downloaded.
That is the total content of that offer. Now when I am trying to return, they told me that there is a 15% restocking fee to TV. And I told them that is conflicting with what they are saying in the order details. The guy named ** who said himself is the CS return process manager and the highest level supervise that I can reach, and he can do nothing but charge me 15% restocking fee even realizing that advertisement is conflicting with their policy. Very disappointed with Dell.

Ordered a 60" television in January of 2015 to be delivered just before the Super Bowl. Received the TV the Friday before and the screen was cracked. Ordered a replacement (showed up two weeks after the Super Bowl) and the screen was smashed. They finally delivered an OK TV on the 23 of February after saying it would be delivered on the 18th. The carrier who delivered the 3rd said they didn't have authorization to pick up the two damaged TV's which still are at my house on March 10. Dell said they would give me a credit of $100.00 for all the issues (after leaving work early 3 times to get a delivery and spending a total of more than 3 hours on the phone with them what good does that do).
After calling today to check on my credit, I was told that they never processed it and they were very sorry. The credit should be processed in 8-10 business day - that only took 45 minutes of being on the phone with them. I will NEVER purchase (and highly recommend that you don't either) anything from DELL again. Good luck trying to talk with someone you can't understand!!!

Not addressing feedback can be a death wish for a company. Saying I was a loyal customer of Dell is an understatement. After buying three laptops, two desktop models, one Dell DJ mp3 player, surround sound system and a 47" flat screen TV. Up to the TV I loved the service and quality of all my Dell product. After about a year and a half, the sound on the TV stop working. I call customer service and they assured me that it was an isolated deal and if I sent the TV back they (DELL) would replace it. Well they did replace it with a refurbish model that lasted sixty days.
When I called customer service again They said there was nothing they could do because the set was out of warranty. This started a lot of back and forth with myself and Dell. That TV hasn't work scenes, and I have not made another purchase from Dell. Then to my surprise I found out that all of Dell's TV's were junk. You can read blog after blog about how so many people are dissatisfied with Dell and their lack of service in this area. In conclusion, as you can see I still have big feeling about my dealing with Dell. Wonder how many people I've told about this situation?

I purchased a LG TV for $479.00 on Dell's website. I was sent a confirmation and was advised my order would arrive by November 6. I was very happy as it was an incredible deal for the TV. I added an extended warranty the next day and was updated the TV would arrive on November 7. I then received an e-mail stating the order was canceled and I would be refunded the $479.00 which they took for the TV. Talk about bait and switch, it is horrible that they just drop you like that. No offer of help or another product. Bad customer service, bad business.

Bought an LG 47 Inch LED TV through Dell.com on 12/7/13. They didn't deliver TV until 12/20/13. About 6 weeks later and the TV doesn't work. Keeps shutting off or won't even turn on. Called Dell and they have a 30 day return policy that takes effect from the day you purchase it. So really the warranty was only good for the first weeks I owned this piece of crap they sold me. Best part is I bought it through their finance option so it's not even paid for! They had me contact LG who sent out a repair man but you can't polish a turd. Even if they 'fix' it I'm sure something else will go wrong with it again because it's a piece of crap.

I purchased the Dell W3000 television in the summer of 2005. It was the first TV I ever bought in my whole entire life and it was supposed to be wonderful. After the warranty expired, I started getting an issue of not getting picture (only sound) on the TV. I called DELL Customer Support and because my warranty had just expired, they said I needed to have it serviced. The cost was $300.00 at the time. I don't remember if it was going to be extra for shipping. After doing some research, I found several other customers reporting the same thing. In my opinion, this is a known issue to them. Their response would be that this is NOT a known issue. I believe that because it doesn't hurt them to deny my claim, they really don't care about doing anything. That is not good customer service and I will not ever buy another DELL product again.
I do still have the TV, but in order to get a picture, I have to turn it on and off several times. Sometimes almost 30 times turning it on/off will still not get a picture. The only thing I can do is let other people know. I just really wish they would have done the right thing and fixed this. Surely, newer and better TVs are one the market now. But this was a big purchase at the time for me and I spent my saved, hard earned money (about $1,400 in the summer of 2005) on this TV.

I had ordered an LG TV from Dell and found another of same quality at a lower price. So, I emailed Dell the same day I ordered. No response. I called them the next day and they gave me numbers and letters and I had assumed this was canceled. When I got a phone call from the carrier, Pilot, I refused delivery and told them to send it back. But I come to find out they never sent it back.
I kept calling Dell only to get someone in India who I could not understand very well. They kept telling me I would get my money back in 3 to 5 days. This never transpired either. So, I called the carrier myself and discovered they never sent it back. Now, I told them to send it back and they agreed to do so. Then, I talked to Sunny ** and I gave him all the information and he said he would make sure that was noted in the system. The next day, I had a confrontation from Dell (Mr. **) who also was very hard to understand and he said he never got any information from anyone. Again, I was lied to for the 5th time.
I still do not have my $799.99 back and am still waiting. I will never buy anything from Dell ever again. They not only lied to my wife and I, but they have sourced their jobs to India when they should have given Americans the jobs instead. I consider them traders and "un-American."

Dell sold us 3D glasses for the Sony TV we purchased with them. We only purchased the glasses from Dell because they sold us the TV and we wanted to be sure we got the correct ones. They were wrong and because we found out after 21 days, they will not return them. They made the mistake and should refund the money or send us the correct ones but they refuse either.

I ordered a TV from dell.com on the 24th of November 2011, approximately 11 pm. I was so happy with my order. I told a friend about it on the 25th, next day. He ordered the product from dell.com as well. He received his order on the 1st of December and me, nada. I called and the keep updating the date of the delivery and keep refusing to answer why my ordered didn't come in and a person that ordered 20 + hours later gets it faster and me I get 11 representatives giving false info. 1 says wait for it, the others say we discontinued it. It's not right to advertise something and not have it for the buyer. I don't understand why my friend gets it first. The bank was same and credit card was the same.
I'm very disappointed with Dell's service and customer care. I feel they shouldn't advertise false items and also the changed my delivery dates from Nov 30/ to Dec/5, now Dec 8. Please take it to consideration.

Did not recieve Hd TV screen, and digital camera after completley paying for the products.

I ordered a 46" TV from Dell during a promotion on Black Friday 2010. They have now slipped the delivery date (in 5 steps) to December 29th. I tried to change the order to another (more expensive) TV at my expense. But I was told I could not do so, because the unit I purchased was in stock. The delivery date has been slipped 5 times now. The tech support in India consists of a bunch of liars. I get hung up on when "put on hold". I ask to talk to a supervisor. And then, they promise you a ship date within 24 hours just to get rid of you (it of course never happens).

We ordered two TVs, received them and one broke in the mail. After calling Dell, they told us that it wasn't their responsibility. Call manufacturer. After four days, they called to say wait about four more days and will come out and fix it! I did not pay for a broken TV and I should not have been given the runaround! Dell should also stand by their product!

I purchased a Sony 55" LCD flat screen TV from Dell in November 2009. It arrived with the frame cracked and various functions were intermittent or did not work at all, i.e. the audio output will cut out and in. Also, the unit will not sense a Sony DVD player and go to the correct input.
I contacted Dell. They said they would trade it for a new unit but I did not have enough open to buy credit to buy another one and since the box was destroyed, they could not help me. I appealed their decision and was told that since it had been 3 weeks since I had purchased it. No "Swap" would be allowed. After contacting Sony, they said they would repair the unit, but wound not replace the cracked frame.

I purchased my Dell W3706MC LCD TV in November 2006. Upon delivery and setting the TV up, I found damage on the frame and I phoned Dell ASAP. They informed me to wait for replacement TV that they were sending out to me and then to return the TV with all the paperwork with it. I did what I was told and returned the first TV and paperwork, but upon installing the second TV, I found another problem on the frame and again I phoned Dell. At this time, I was not very happy but after talking to them, I decided to keep the second one proving that they would give me a extended warranty for two years, which they agreed, counting the 2 years plus the one year that came with the TV. I thought that this made 3 years in total.
But about two years and three-four weeks, I had a problem with the TV. After turning on the TV, you would get a bad picture, kind of looked like a photo negative. After a few minutes, it would clear up and a great picture for the rest of the night. I phoned Dells technical dept. who did proceed to help me as much as possible and finished up by telling me that I would need a replacement TV, but they checked and got back to me and told me that my warranty was up by a few weeks and that nothing could be done. I phoned customer service who told me that I had only a total of two years and not three, this floored me as they had not sent me any replacement paperwork and due to my neglect, I had not followed through with trying to get the paperwork sent to me.
So I had no idea as to what the sales dept. had put down. I tried phone calls for several weeks and then months trying to get some type of help, but all they kept telling me was to try a local repair shop as they did not have any service in Canada anymore for TV and that they had for some time had been out of TV production. This was very bad news as I had spent over $2,000.00 for this TV and was not told of any problems at all with their TV production dept.
The TV just gotten worse and I still unable to get service parts or any help at all from Dell. I have tried to get emails to the Dell head office, but everything gets channeled to customer service and the same story starts all over again. I am 71 years old and $2,000.00 is a lot of money for me to put out on a TV, but over the last few years, I have purchased Dell computers and I have been very happy with the computer sales and service but this TV has been a nightmare. I have finally sent a copy of the invoice and it looks like that they actually charged me $199.00 for warranty. As of this moment, I am very disappointed with the way I have been treated and I can see why Dell is starting to get into trouble.

I bought two 42inch LCD tv's but wanted them to go to two separate addresses and I have been told that this is not possible due to security reasons for which no one tried to give an explanation for but on top of it all i was told that there was no need to file a complaint cause no one responds to them here at dell.
I requested a refund on the items but was told I could not do that at this time. I paid for services that are not to my likeing and I refuse to pay for for such ****** up services. Can any one help. I would buy the items else where.

Dell advertised an LCD TV for $420 after tax. I placed my order online and got my confirmation for the order placed. 7 hrs later, I received an email saying there was a pricing error and my order is cancelled.

We ordered a Sharp AQUOS 32" LC32D47U 720p LCD television from Dell using some Dell dollars (credit from previous purchase) along with the Dell credit, instant savings, etc. We purchased on May 25 with a June 18 estimated delivery date. I received a call at work (voice message) stating there was a delay in the manufacturing and the TV would be delivered on August 18. It is now the 31st of August and I decided to check the status of my order. It was cancelled - not by me, mind you, but it was due to the manufacturer no longer making this model as per the order status notation. I googled the model number and description and had a "hit" at Dell.com for the same TV that is not being manufactured anymore. I lost my $75 Dell dollars and a great deal on a new TV.

I purchased a 26" LCD flatscreen (Model No. W2306C) in February 2006, replaced 2007, 2009 No Power Issue (Warranty expired and they know that this brand has the No Power Issue yet they want me to pay out of pocket to have it repaired after I paid $1,404.00 for it in 2006).

Second complaint being sent today. My refurbished TV was delivered by a service known as "Manna". The truck was a beat up pickup truck with two men who had my TV crammed in this truck. They took it out of the truck and turned the TV on its side, when you are not supposed to turn a plasma TV on its side. Not to mention, the box was destroyed! We refused the delivery! I had to call Dell again to reschedule another TV to be delivered, which I did and they advised they were going to be using the same service for delivery known as "Manna". The technician that was at my house waiting with my husband for the TV mentioned to me that refurbished TVs usually last up to a year and a half.
My supposedly new TV just lasted two years this past September. I am under the assumption that I received a refurbished TV on my original TV! Please help me with this nightmare of service with Dell! The supervisor today is telling me I should receive the refurbished TV within 3-5 business days! All I want is some sort of money back from these people that I paid $4,500.00!
Company Name:

Dell

City:

Round Rock

State/Province:

TX

Country:

United States

Website:

http://www.dell.com/