Yowza Fitness
YOWZA Fitness strives for the highest quality products and the best customer service. All products are designed right here in the United States and we are the only online seller of fitness equipment that is not affiliated with a retail partner. Because of this, we are able to keep our quality high and our prices low, while keeping our customer service and support a head above the rest.
Consumer Reviews and Complaints

I have visited Yowza's office last weekend and was helped by the COO Ashley. He gave me a tour of their operations and also spent a good couple of hours with me allowing me to test several units and thoroughly explaining how each one was different from the next. I ultimately decided to purchase a Naples model and could not be happier with the experience as a whole. From the value I got with my elliptical to the personal interactions I received. I would highly recommend anyone who is interested in buying fitness equipment to consider Yowza.

Bluetooth on my newly purchased Boca didn't work since I first received in Feb 2017. I made a few calls and emails to technical support and left purchase information. After 5 months of diligence, I have not yet received a phone call or email to initiate support. As I decided the purchase based on what I heard about their support, this was a big disappointment. I am left with no means to escalate my problem. No one answers their support line or email. I wonder if Yowza really honor their warranty even!

I had a problem with the machine right out of the box and had to reach out to their "customer service" dept. several times before I received any follow up. First part they sent did not fix the problem and was very difficult to install on my own. Second part fixed the problem and even more difficult to install. Most "non-handy" customers would not be able to replace the defective part on their own. I called for assistance and never received a return call or email. I went to their website to provide a review, which did get verified, but I see they never show it since it was not a 4 or 5 star rating. They only show 4 or 5 star ratings which is misleading. Machine works fine, although one program that tracks calories is definitely inaccurate. Four stars on the machine now that it works and 1 for customer service.

I have had a Yowza Captiva Elliptical for just over 2 years. I use it every day for an hour. When I purchased it for around 2000 dollars I talked with the sales person and asked if it really was durable. He stated it was a commercial grade elliptical and yes it would work with no issues and could handle my hour a day 6 to 7 days a week. I have had to replace the springs in the pedals 6 times already in 2 years as they keep breaking. I am not a large person 5'9 170 lbs so it doesn't have anything to do with weight. Now the machine is out of full warranty and I cannot even get someone on the phone in the service department. I have left several messages never returned and send in several emails. The machine has been down with bad springs for over 2 months and all I am being told when I do get someone on the phone is that they are on back order. This is a horrible company and horrible product, do not buy anything from them.

I bought an elliptical from this company and after about a year had a small problem with a broken spring under one of the foot pads. After calling, and emailing customer service and getting no response, I posted a bad review and somehow the company heard about it and contacted me via email. I told them what the problem was and even told them that all they need to do was to ship me the part and I would take responsibility for repairing the machine myself as it is not a difficult fix. About a month has gone by and no reply and no part. Worst customer service in the business. Not to mention, the elliptical I bought cost me more than my first new car.
How do I know I can trust these reviews about YOWZA Fitness?
855,731 reviews on ConsumerAffairs are verified.
We require contact information to ensure our reviewers are real.
We use intelligent software that helps us maintain the integrity of reviews.
Our moderators read all reviews to verify quality and helpfulness.
For more information about reviews on ConsumerAffairs.com please visit our FAQ.

We bought a elliptical machine in January of 2016. Received it in March 2016. We assembled it ourselves and was no problem. Right off the foot arm was very loose. Had tech come out to confirm so had to order new one and replace. Was still able to use while waiting for new part although it was loose. After that was replaced bolt in the wheel started coming loose and hitting on the sides... this part was preassembled. Then the fan on the control panel started smoking. Stopped working. Needed to replace that.
All this happened in the first couple of months. Now as of February 2017 my machine has been down. Had a tech come out which has only worked on 1 machine before and had no clue what was wrong. He was guessing on a part he supposedly put order in for. The problem now is getting an answer out of anyone in customer service. I have talked to customer service twice. I was suppose to get an answer... but that has not happened yet. So now I am without my machine with no response or answers. Terrible customer service. Very disappointed!!!???

I was on the internet researching for various types of elliptical equipment and I found good reviews of Yowza's equipment. After I discovered they existed, I wanted to learn more about them so I did quite a bit of research. I called the company a lot of times and talked to some of the people down there and I had lots of questions. They seemed pretty responsive. I was able to get some of my questions answered and I like their warranty. It seemed to be the best I could find and that was important. Also, I like the design of their equipment and I read reviews of their various customers several hours one day or as many as I could find.

I was looking on the internet for a good compact treadmill and I saw YOWZA. I've bought two within a week and sent one to my aunt. I love the treadmill because it's quiet. Also, their guaranteed warranty is great.

I bought the Miami Elliptical a little more than two years ago via Amazon. I like the machine. I use it 3-4 months a year while the weather is bad. But in 6-8 months of use, the foot pedal springs have broken twice. That is not an issue for me if the warranty is honored and the customer service is good. The first time the springs broke I had no problem getting them replaced promptly and for free, of course.
This year, however, the springs broke again and my experience with Yowza has been bad. After the springs broke at the end of January I called and the order for replacement was put in Jan. 30th. I never received a shipment notification. Every week I call for an update. Every week the service rep gives the same answer saying, "It should be in the next week." He has said this for three weeks now. Today he hung up on me after saying the same promise without further explanation or assurances. How can I trust my service rep? The machine is currently unusable since January. What kind of business does not have accurate information on when their orders and procurement process? This is a very bad sign in my opinion.

I was looking originally at NordicTrack but I liked YOWZA better. It seemed to be more heavy-duty and I like the suspension on it. YOWZA has really good quality and seems to be made well. It's quiet and I enjoy it. But the thing where you put your hands to grab the sensor seems too low for me. I'm six foot, and my wife is five foot three and she even thinks it's low. I can't stand up and hold them, and have to bend over and I don't want to walk bent over. The way I have walk now is just with my fingers touching them just to steady myself. Other than that, I'm very satisfied with it.

I found YOWZA through the internet and bought the YOWZA Lido treadmill. So far, it's great, and I love the portability of it.

The first six months of ownership of my Jupiter Pilot elliptical were trouble free and enjoyable. Then the nightmare began. It started making a loud noise, and after contacting Yowza, they had an unqualified technician attempt to repair it. He ended up creating other problems. He returned another time, yet could not fix the problem. After contacting Ashley **, there were promises that the machine could be fixed and that they would TRY. They have done nothing to fix the problem. They don't return phone calls or emails. This process began in December, and now, the beginning of March, no results from Yowza. I am left with a rather expensive piece of scrap metal.

I did some research online a month ago, cause I was looking for an elliptical, and I like what I got from YOWZA very much. However, it has a little less features as far as setting up my personalized programs. Also, I don't think I'm using it to its fullest because the explanation manual is very brief, and I'm still playing to try to figure out what it will and will not do. On the other hand, my concern mainly is what happens when something goes wrong, which hasn't happened yet. I've had tremendous difficulty, for instance, with the TreadClimber. So I was concerned about using a Bowflex product when I wanted to move to an elliptical because I couldn't get appropriate responses and the information online for YOWZA was very positive about that and I haven't had a problem yet.

I was looking for a treadmill that would be very compact because I live in an RV. It's also very important to me that it's quiet because I like to watch a TV program while I'm on the treadmill, and many of them are so loud. So I searched online for 'most quiet' and 'most compact', and Yowza came up. But I thought I'll just search for it on Craigslist and buy it from someone. So I searched on Craigslist, and the lady said she wanted $500. I said I'll give her $400. She said, "No. $450." I said I'll think about it. I went online and I saw that Yowza have it on sale and they have the warranty. And there would be no warranty if I bought it from the lady on Craigslist, so I decided it was a better idea to go through Yowza. So, I bought it online and I did end up chatting because they were offering it for $699 for a limited time and I wanted to know how long. I also asked if the warranty will transfer to a third party. And the rep said no.
And then, I also asked if they were offering a Fitbit. I didn't really necessarily want the Fitbit but the rep said we can get it a little bit cheaper with that. The only confusing part was they told me I was gonna get a reduction but the purchase online didn't show that immediately. But they did email the receipt to me and the reduction did show on it.
I got a good value but I would also love to pay less price. But this is the third treadmill that I bought and I don't consider it over-priced compared to anything else I've seen. The only negative thing about it is it's a little bit heavy to put away. Although, I can do it. But my husband gets nervous and ends up doing it for me most of the time. But Yowza's a good product and I'd recommend them.

I ordered online, and the quality of my purchase was good. We like our experience with Yowza Fitness.

We got on the internet looking around, and typed in elliptical machines and YOWZA came up. We watched the video on it and it was good, so we gave it a shot. We've been using the elliptical for a couple of weeks now and it's durable, which was what we were looking for. So far, it's done more than what we bartered for. I'd recommend it to anybody compared to what we've had in the past.

If I could give this 0 stars that would be generous. After 2 months of using this treadmill is started making a high pitch noise, making running/walking on the treadmill impossible. After a tech came out, who applied grease to a bolt and stated he had no clue how to fix, the noise continued and got worse. Yowza then took 3 weeks to order a bolt, with John the service tech assuring me that was the fix. He asked me to fix it myself rather than sending a tech which I did. The noise is still the same and they sent another tech who could not fix it either.
Yowza once again never ordered the parts and now 3 months later the treadmill is still not fixed. Both John's at Yowza have said I should just use it and not worry about the noise. The service tech has said it is faulty parts and craftsmanship. I have not been able to use this for more than 4 months with no resolution, parts or service. BUYER BEWARE!!! This is a sub-par quality machine with even worse service. That is why you see huge discounts, price up to promote down so customers think it is a good deal. DO NOT BUY FROM YOWZA!!!

I'm really happy with my experience with Yowza. The only thing is I can't follow the directions on how to work the computer parts. They seem kind of generic. Both my wife and I were following the directions step by step, but when I start to try the program, I can't get it to work the way it's supposed to. So all I do is use the weight system and then override that to how I want to use it. But overall, we're really pleased. The product is what they said it was going to be.

I've had a nice experience with Yowza Fitness. There was nothing extreme in either way.

I had ordered a ProForm treadmill and then as I was waiting on it, I started researching about it and found out that YOWZA was either number one or two. I went to their website and saw that they had a 15% off sale plus the Fitbit, so I decided to cancel the ProForm and ordered the YOWZA online. The process was very easy and we absolutely love it. My wife and I are using it every other morning, though I wish it had some way of holding a tablet or something.

The unique selection they offered was good. We like the quality of the items we bought. The only thing is that he would've gone with the swinging arm a little bit more because of the comfort of the treadmill. But other than that, it's good. I would recommend YOWZA.

When I purchased my Yowza Miami elliptical machine, I called them as I felt more comfortable doing that and their reps were fantastic. They did a great job. I love my elliptical machine and it's a lot better than the treadmill.

I read a lot of reviews and Yowza was like the best elliptical of 2015. I started looking specifically at Yowza last November and even after a month of setting aside the idea of getting an elliptical, I still went back to them. I went to their website and read all the specs on the machine itself. It seemed like it was really good quality for the price compared to some other ones I was looking at. I ordered the elliptical online from them and it was a very simple process. The equipment is very good and I really like it. So far, it's very quiet and I'm very happy with it.

My wife did a lot of research on treadmills and came across some good reviews of YOWZA devices for the price range we wanted. Then we spoke to a "treadmill doctor" who told us about the company and how it was a well-established device that has been on the market even longer than it seems, and that he likes them. Even though he's in sales and their time needs to be well-guarded, he talked to us for 45 minutes before we made our purchase and he was very good to us. He answered all the questions beautifully and he helped us arrange the financing through the price range that we wanted.
The Sebring treadmill does all the things I want it to do, and we were impressed that the price range included a lifetime motor and frame warranty because a lot of the treadmills didn't have it. When the treadmill arrived, the package of the lubricant that came with it was damaged in transit and the lubricant was all over the inside. I've been waiting for the replacement, but we got an email about it a couple of days back.

I bought a Yowza Captiva four years ago because I liked the design, the great reviews, and I needed to get in shape (still do). I haven't used it that much, partially because it's required so much repair. First was an incredibly loud and annoying knocking noise that required a visit from a tech but was covered by the warranty. I also had to get a new control board, also under warranty. I've only used it 10 hours since then, and now the knocking noise is back. If it wasn't so expensive, I'd junk it and buy something else. But then again, if it just worked as it should, I think I could be happy with it. I was looking for a repair person near my zip code 92028 when I saw this site and decided to see if Yowza is paying attention and can help. Thanks.

Yowza has an unusual mechanism in their product so I thought it was worth a try. I bought my elliptical machine over the phone around the beginning of November and the rep I spoke with was very good. The quality is good, too, but the packaging or shipping was not so good. There was some damage to the item when it came, but it didn't affect the function so I didn't worry about it. They need to step up their game a little on the packaging.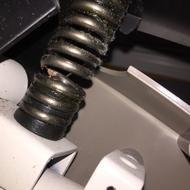 The pedal springs of Yowza Miami elliptical is broken and I have contacted the customer support. It's almost a month now, No Response. Send emails multiple times to the support and also to Ashley **, but no one to respond whatsoever. I am really disappointed with the customer service for my $3000 investment, otherwise Miami is a good and smooth elliptical. Unfortunately, I can't use that anymore due to poor customer service.

One of the fitness trainers told us about YOWZA. And since I'm not much into fitness, I went with whatever the fitness trainer recommended. I purchased a treadmill online and so far, I don't have any issues. Ordering it went well, and the online customer service even answered a few of my questions before my purchase.

I recently bought a Yowza treadmill and the thing has not worked right since day one. Not long after I bought it it would just suddenly stop, which was very dangerous when you are running on it. Yowza sent a board, which I replaced and the problem continued. After several phone calls and emails they sent another board, which I again replaced and the problem continued. Next they sent a switch. Same story. They finally sent a tech out to replace more parts. He replaced them and the treadmill was stuck at a 12 incline. Currently the treadmill does not come on at all and is still stuck at a 12 incline.
I have emailed and called Yowza repeatedly and they simply do not respond. I now have a very expensive treadmill that has not worked at all in 5 months and the company could care less. It is very frustrating to say the least. I had my cheap Walmart treadmill for 15 years with no problem. They have the worst customer service of any company I have ever dealt with. No one returns a call or an email.

YOWZA had a number one rating, so I ordered the Daytona treadmill over the phone just a few weeks ago. Shopping with them provided me with a good value and customer service was stellar. However, the plastic pieces are clam-shelled and then screwed together and could use some refinement as far as putting it together. This was a replacement for my other one that I had bought 10 years ago. It had just died, but putting that one together was so incredibly simple.
I live alone and I've to put this together myself. It was a little more challenging than I thought it should've been. There's a number of steps in there that an extra set of hands would've really helped. But the thing I'm really disappointed about is the LCD because it starts dimming dramatically when I'm standing on it. It's at an angle that it's very dim and I would've gladly paid more for a higher quality LCD display there. LCD and the ease of the put-together could have been better. But other than those two issues, the quality of the machine seems to be excellent and I have no complaints with how it operates. It was packaged and shipped well, too.
Yowza Fitness Company Profile
Company Name:

YOWZA Fitness

Year Founded:

2009

Address:

7916 Drew Circle

City:

Fort Myers

State/Province:

FL

Postal Code:

33967

Country:

United States

Fax:

239-333-1889

Website:

http://www.yowzafitness.com/