Consumer Complaints and Reviews

First delivery driver served me a series of lies and never showed up. Second delivery driver showed up 2 hours late without calling and rolled the crate end-over-end through my yard damaging the machine and my lawn. Numerous emails to the company were ignored. The shipping company refuses to do anything. They want me to disassemble the unit myself, order replacement parts, deal with the same shipping company again, and reassemble the unit myself. But, again, even if I wanted to do this, the company will not respond. I finally gave up.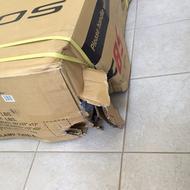 I just can't see how they have a lot of good review. Unless you bought a treadmill for display only this is not a good products. I started with F85. The motor is great and very quiet, squeaking started in first week, but the terrible part, the machine is so shaky. Wife is 105 pounds, when she incline and hold to bars front of units tips like a spring (very Bad). So I trade it to S77 and had to pay the 8%. This one is much stable but the motor is way louder - it's not whisper, it whistle. Came out of the box, belt not centered. When I complained I was told to contact service support. How nice. Have to deal with service with a day old machine. Heck no I'm going to return it and buy me a Precor - smaller motor, smaller belt. No option but I bet it will be quieter and last good 10 years. TRM 211 1999$.

Ordered sole treadmill from sole fitness with 200 dollars extra for assembly and in home placement. Delivery took 3 wks. Assemblers said parts were defective. New part ordered and 10 days later new assemblyman arrived.. He stated treadmill is defective and need new treadmill. Made numerous call and online complaints to sole. Now state they will take back treadmill if we personally pack it and leave at the front door. Also there will be a 8 percent restocking fee and charge for shipment.
The whole experience with sole fitness has been awful. Customer service is poor because there is no communication between sales, support and returns and assembly team. They delivered a defective product and now want me to pay for their mistakes. They should pick up the the defective treadmill and give a full discount. They have a very cavalier and mechanical attitude about support and customer service. They have a lot of propaganda about money back guarantee, customer service and ordering online being a painless process. This is not true.
Deal with sole fitness at your own risk. Don't believe the hype. I can't review the product itself since it is still sitting unassembled in my basement six weeks after I ordered it. Be careful of companies that hype themselves. Many make a sale and then disappear. In my experience sole is one of these companies.

In December of 2007, I purchased a Sole F63 treadmill at Dick's Sporting Goods Store in Smithfield, RI. I cannot remember the exact price. It may have been around $999. After a short time, there were mechanical issues. Only two people were rarely using it. The issues were the treadmill speed is not staying on selections and the treadmill is shutting off randomly during use and eventually the treadmill is not turning on at all.
I contacted the company. They sent out some various parts. They told me who I could call to repair it, but I'd have to pay the repairman. I did and he couldn't fix it. He stated another part seemed to be needed. I think the first part was the motherboard and the second was the control module. I contacted another repairman for a second time. The person spent quite a while on it. He said I needed a new treadmill sent to me. Even with the parts, he couldn't get it fully operational. It worked, but wouldn't adjust up or down, the fan wouldn't work and there was something not right about the controls. The following day, I couldn't get the machine to start at all.
I spoke with Sole for a 3rd time, asking them to please replace this treadmill. However, they refused. They had just about sent me every part. I was recently going to scrap it. My sister told me that you may be able to help me. She suggested I not scrap the product and seek some type of relief. I hope you can help me. I do not have the receipt for the treadmill. I do have the treadmill and parts they sent. The treadmill is useless in its present condition which I attribute to it being a faulty, defective machine when I purchased it. I am out the use of the machine as well as the approximately $999 I paid for it.

I have written numerous emails, waited multiple days and almost three weeks later still do not have a working product. This company has been unprofessional and arrogant at every turn. Even when I accepted a full refund they still could not get this broken unit out of my house.
How do I know I can trust these reviews about SOLE Treadmills?
609,643 reviews on ConsumerAffairs are verified.
We require contact information to ensure our reviewers are real.
We use intelligent software that helps us maintain the integrity of reviews.
Our moderators read all reviews to verify quality and helpfulness.
For more information about reviews on ConsumerAffairs.com please visit our FAQ.

ConsumerAffairs Research Team
The ConsumerAffairs Research Team believes everyone deserves to make smart decisions. We aim to provide readers with the most up-to-date information available about today's consumer products and services.
SOLE Treadmills started out as a hotel vendor, selling treadmills to Hilton and other similar hotel chains. These treadmills were so popular with people who used them at hotels that the company decided to manufacture similar equipment for home use.
Quiet motor: Although their motors are more powerful than many competitors', they are so quiet that most customers can't hear them.
Unique design leads to greater stability: These machines are surprisingly sturdy due to their horseshoe design.
Low price for high-quality features: The least expensive treadmill is $999 and includes Bluetooth capability with syncing to Apple Health and other apps, a USB port and a 3.0 horsepower motor that reaches 12mph. As an added plus, it folds for easy storage.
Extensive warranties: SOLE offers some of the most extensive warranties available, offering lifetime warranties on the frame and motor and three years of service on the deck, electronics and parts.
High quality parts: SOLE uses the same parts in its home equipment that it does in commercial fitness equipment, so parts are built to last.
Best for SOLE treadmills are best for consumers looking for a high-quality treadmill for home use.
Question and Answers - SOLE Treadmills
What sets Sole Treadmills apart from the competition?

We provide a solid warranty and have a reputation for quality. We offer products that compare to units twice the price of ours. We don't sacrifice. As manufacturing costs go up, we keep our prices competitive, and we don't skimp on quality components.

What problem is Sole Treadmills trying to solve?

We are looking at ways to make in home fitness a reality that goes beyond cheap exercise equipment. We want people to have the same level of quality they find at the gym. The problem is building that in a price our customers can afford, but still managing to stay profitable.

What needs do your products fulfill, and how do you fulfill those needs better than your competition?

We provide people with ways to exercise at home. Many of our competitors are focused on bells and whistles. The result is they spend more money in producing a product that has a wide feature set, but when it comes down to it, they aren't built to last. We are the ONLY treadmill company that will guarantee the deck on a treadmill for LIFE.

How does Sole measure success?

We believe there is no reason a customer can't be satisfied. No matter what it takes, we can find a way to make sure every customer is content. No one has a perfect track record. Mistakes will happen. While everyone else talks about policies and procedures, focusing on what they won't do for customers, we throw out the restrictions and make sure our reps feel empowered to help. When a customer congratulates us for winning them over, that translates into success in every part of the business.

What's the most common misconception consumers have about your industry?

People think that buying big ticket items online is too hard. They are afraid to buy something that weighs over 200 lbs and have it shipped to their home. We have perfected this process, and customers are consistently surprised at the ability we have to make getting fitness equipment shipped to your home easy.

How has your industry changed in the last 5 to 10 years?

People are always trying to find new and engaging ways to exercise. We have introduced a number of new products. 10 years ago, the only things we sold were treadmills. We brought ellipticals into our line years ago. Now, we product an excellent line of bikes, including stationary, recumbent, and spin bikes. We also just started selling rowing machines. Customers are looking to truly build home gyms, and not just find something they might use once in a while.

What is something you wish every consumer knew about Sole Treadmills?

We genuinely want to make your experience a good one. We have the manufacturing power of a large multinational company, but we still pride ourselves on having a small business customer service mindset.

Has Sole received any awards or recognition for its products your customers would like to know about?

We have an A+ business rating with the BBB. We have been featured as a best buy in Consumer Reports magazine on many occasions. But our best recognition comes in the form of feedback and positive reviews all over the internet, from real people, who bought our product.

How has Sole grown or evolved?

Each year, we expand our brand name, and move into new product areas. So far, each one has been a huge success. We listen to what the market wants, and don't try to force products that people aren't interested in. Over the years we have made improvements in our manufacturing, including our packaging, quality control, and supply chain process. We have also pioneered new methods of shipping and home delivery that our freight partners have used to sell to other companies like us.
SOLE Treadmills Company Profile
Company Name:

SOLE Treadmills

Year Founded:

2001

Country:

United States

Website:

http://www.soletreadmills.com/