Consumer Complaints and Reviews

The primary reason we made this purchase is for IN HOME PHYSICAL THERAPY for my knee. We placed an order back on 2/25/16 for the ProForm Hybrid Elliptical/Bike combo. I have an ongoing knee issue that we needed the machine for in home physical therapy. We received the order on March 8. When my husband was able to put the bike together a little over a week after we received it, it was brought to our attention that the Pivot Axle was defective. I called & had the part ordered. I was told on the phone that since it was a Saturday (3/19/16) that the part would ship out on Monday, and that I could check the order status online. A couple of days went by & I had not received any notification that it had been shipped. So I looked up the status online. To my surprise nothing was showing as to shipment status. I called Icon Fitness to inquire only then to be told that it was on backorder & it should ship out within the week.
A week goes by & still no email notification & yet still no update on the website. I called back on 4/6/16 and was told it would shipped sometime in the middle of the month. Today 4/12/16 almost a month after originally ordering the part (mind you it is a bar that is about 6 inches long that the handles attach to) almost a full month, and I am told once again it looks like it'll be another couple of weeks before it even ships out. I said "No I want to return the unusable machine. I need this machine for PT & I haven't even been able to use it!" The CSR asked if I wanted to wait for the part. NO. She then told me that since it is out of the 30 days she doesn't think they will take it back. I waited on hold for over 35 minutes. They have put in a request for the machine to be picked up... I hope.
BUYER BEWARE. Educate yourself before making a purchase from ICON Fitness or ProForm. I tried reaching out to the corporate office via email last week with no response from anyone to give them a chance to make this right. This is NOT ok. There are several issues with the order & the level of customer service. Let's start with quality control. The pivot axle is a bar that should've been tested to ensure it would fit right before it was packed in the box. I should never have been told by the customer service rep that it would ship out on Monday when I originally called in to order the defective part. I was told by a rep that was messaging me on Twitter about the problem yesterday. This is from the conversation I apologize for that. "Our policy is to inform customers of all out of stock parts before they are ordered so you are fully informed about the order status." And, then told "It looks like we are waiting on two parts orders."
There is no firm ETA because I do not know where they are in transit. I don't anticipate it will be a long time. You will get an email when the part ships. I can continue to check on this for you. If you want you can check back in with me in about a week if you haven't received a shipment notification. Is that alright? I've not heard anything from icon or ProForm on the status of the part. Not one time did they contact us to let us know the part is on backorder or that it still hasn't shipped.

Pro Form Elliptical Machine - Purchased $1,000 & is Piece of JUNK! :( So I wanted to put this out there in case any of you are looking to purchase an exercise machine manufactured by ProForm. SAVE yourself the headache and in our case the $1,000 and DON'T DO IT!!! My husband and I were very excited to finally have an in-home elliptical machine to use on an almost daily basis (5 days a week). We purchased our machine through Costco.com and it was delivered early December and finally moved into place where we wanted and set up, beginning use of the machine mid December of this past year.
By the end of January we ALREADY began to experience issues with it. February 10th of this year was my first attempt contacting ProForm to resolve our issue so that our machine was not sitting there as a dead weight. After about 30 minutes of troubleshooting with them on that date they figured a specific part needed to be replaced and I was informed it would take up to 10 days to receive the parts. Sure enough it took the full 10 business days to receive. Once received my husband attempted to replace the parts but could not as we did not have the proper tools. I contacted ProForm again. They told us to go buy the tools, WOW.
I went and purchased the tools instructed to use only to still have no luck. My husband determined at time of them putting these parts together that the screws used had been stripped of their threads. Again, contacted ProForm to let them know there is no way we can replace the parts and to let them know how dissatisfied I was. Finally they decide they will send a repair person to fix it but that it would take 3-5 business days for their repair person JUST to call and make an appointment with us. When I expressed my dissatisfaction with this lengthy time JUST to make an appointment I was informed there was nothing they could do about that.
Well 3-5 business days passed and no call from their repair person. Contacted ProForm again, beyond fed up and had to threaten them with filing a complaint to the BBB. This time, despite previously being told their was no way to speed up the time frame in which their repair tech would contact me to make an appointment, I was told a repair tech would contact me within 24-48 hours. Guess what, of course the time they call I was away from my phone. :/ Not more than 10 minutes later I returned their call and had to leave a voicemail. I attempted 4 more times to get a hold of the repair tech over a course of 2.5 days, still no luck.
I contacted ProForm yet AGAIN. I informed them that as we spoke I was beginning to fill out my complaint with the BBB. They told me they would have a repair tech contact me that day. I told them that would be GREAT however I would still be submitting my complaint as this has take far too long already and I had my doubts about them. Late that day a repair tech contacted me to set up an appointment for 3 days later. The repair tech came out, replaced the part ProForm sent us and tested out the machine for no more than 1 minute. This was this past Friday. This evening was the first time back on the machine since the repair, and after just ELEVEN minutes on a simple workout, the same issue presents itself.
Returning this beast is not the easiest thing to do. To return it we have to have it by our front door where they dropped it off upon delivery. We had to pay $60 to have the machine moved upstairs into place where we desired to have it. So that means we would have to pay another fee to get the machine moved to where the delivery people would take it. The last thing I want to do is to return it as this is our main source of exercise. I just want the dang thing to work. :( I wanted to share our headache of an experience with you in case you were considering one of these machines.

I will never order another product directly from your company. Three weeks ago I ordered an elliptical from ProForm. I entered my credit card information - which is standard procedure for online ordering. I also opted for the additional $99 to have the elliptical brought in through the front door as opposed to curbside delivery. On the following day I received an email offering a special deal on an extended warranty for $179.95. I authorized them to add the warranty to my product. About one week after I ordered my elliptical, I checked online to see the status of my order. When it showed that my order had never shipped, I called the company. This was my first experience with ProForm's requisite marathon of elevator music necessary before being afforded the opportunity to speak with a live person.
Once I connected with a representative things seemed fine. He told me there had been a "mix-up" and that my machine which should have already shipped would be shipping tomorrow. He informed me that I would receive a call about 24 hours prior to delivery to assure someone would be home. I continued to check online status of my order on a daily basis. After another week of seeing that my machine had not shipped, I once again called ProForm. This time, my wait for a live person extended for 30 minutes. When I finally got to speak with someone, he looked at my order and said he would need to check with shipping to see why it hadn't shipped. He put me on hold for more elevator music. After about five minutes, someone hung up. I called again, waited another 20 minutes. I finally had to give up and go back to work.
Now after three weeks my product still has not shipped. I spent about one hour on elevator music duty to speak with someone about my order. When I was finally able to ask about my order, I was told that it appeared to be on back order and they were unsure when it would ship. At that point, I told him to cancel my order. He was able to cancel the elliptical. However, he was not able to cancel the warranty and the delivery fee. They had already been charged to my credit card. He told me he would need to transfer me to billing.
Another 20 minutes of elevator music were required before someone from billing could look at my order. She was able to cancel my warranty and the delivery fee. However, she informed me it would be three to four weeks before by credit card would be reimbursed. Thus, it will be a total of six to seven weeks that ProForm has had my money. Funny, they were able to take the money out of my account instantly. This is the most frustrating and poorly run company I have ever worked with. I know they make a quality product. However, if you are going to buy directly from the company - good luck.

I purchased the elliptical on 12/17/15. Was supposed to be delivered Jan 6th - no updates from Proform. When calling in, they told me it was locked and that I needed to call shipping. Shipping calls prepare to be on hold for over an hour. (1/11/16) and I still have yet to hear from the company. I called sales again the following night and they advised no shipping/tracking info was updated. It was best to call the shipping department directly. I have been on hold for an hour trying to get through to the shipping dept. with no answer.
There has been no proactive to me by your company regarding my missing machine. If I wasn't diligent in pursuit, would I ever be contacted regarding my missing machine? I Have no machine, I have been billed and have no expected arrival date. I have no communication from you knowing that my issue is being worked on getting resolved. The only communication I have received is the same email i got when I checked status with the tracking number you provided after purchase. I would like a full refund (I will not accept paying any restocking fees). I expect the full purchase price, taxes and the In-home assembly I purchased refunded to me.

Well, new ProForm elliptical 600 LE came. Upon arrival, the box did not look damaged at all. Upon assembly, after 2 hours, could not proceed because left arm and left leg were damaged. It appears to me as if they shipped the faulty part intentionally because the box did not look damaged. Called the customer service number the next day (now) and have been on hold for 18 minutes, after being on hold for five. Is ProForm even a real company? As far as I'm concerned, they do not have a customer service department if you can't get through at 10:00 am on a Tuesday. Now a total of 25 minutes and still haven't spoken to anyone. Tempted to just call the store I ordered from and return the whole ** thing! If you are thinking about ordering any of their products, first call their "Customer Care" number at 1-888-533-1333 and see if you can get through!
How do I know I can trust these reviews about ProForm Ellipticals?
634,774 reviews on ConsumerAffairs are verified.
We require contact information to ensure our reviewers are real.
We use intelligent software that helps us maintain the integrity of reviews.
Our moderators read all reviews to verify quality and helpfulness.
For more information about reviews on ConsumerAffairs.com please visit our FAQ.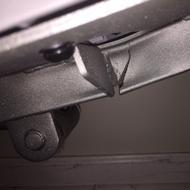 My ProForm elliptical was purchased from Costco. It is rated at 325 pounds. I weigh 225 pounds. After using it 3 times a week for several years the peg holding the leg to the elliptical snapped in 2, causing me to fall off and hurt my back. I contacted Proform and they gave me a discount to purchase the new part. At this time I asked about issues with this elliptical and they assured me nothing was wrong with it. That this was an isolated case. I asked if I should replace the other side and they said "No, you won't have any issues." 4 months later, the metal frame of the other side breaks in 1/2. This is the 2-inch metal frame that supports all of your weight and it simply cracked and broke in 1/2.
Now I am mad. I contacted Proform again and received the typical customer disservice. I explained I was no longer willing to fix this obviously defective unit. A metal frame of an elliptical should not split in 1/2. This is obviously a sub-par construction and they are misleading when they say the weight limit is over 300 pounds. I gave them an opportunity to do what's right but of course, as you can read from all other complaints here that they obviously care absolutely nothing about customer service or whether or not they have made a defective product. I do not accept that a metal frame can simply break. I understand replaceable and serviceable parts. But metal frames? You must be kidding me. Can you believe they never asked to see a picture or what happened? This is an inferior product. If you plan on hanging your dry-cleaning on it, go ahead. But if you plan on using it, expect it to break throwing you off the machine and getting hurt.

I bought a ProForm elliptical and paid the extra $150 for them to bring it up to my apartment and put it together. They told me it would take 45 minutes to set up but it took them over 2 hours. When they were "done", they said the entire front stabilizing piece was missing and they would let them know and have it delivered. A week later, I had to call and ask for it myself. When it arrived, I put it together myself. Finally after weeks, I could finally actually use it. The first time I used it, the pedal completely fell off when I was on it. The people who put it together never put the screws in to hold it together.

I was given a full refund due to the issues and dissatisfaction with my elliptical. Proform customer service handled the refund process promptly and to my satisfaction.
Original Review
Purchased a ProForm 12 elliptical. I noticed the box had damage, and when I opened it, I discovered the plastic covering on the fly wheel was cracked. Given I spent $1200 and purchased an extended warranty, I figured they would send someone out to fix the broken part. Nope. They told me I could order the part (which I would have to figure out the part number) and they would ship it to me so that I could take the machine apart and figure out how to replace it. I couldn't believe it!
I decided to see if the crack affected the machine. It appeared it didn't so I thought I'd live with it. Used it one time, and it worked fine. The next time I went to use it, the console did not work. I now want to return it in my "30-day money back" guarantee period. They tell me I will have to box it, pay for shipping, and pay a 10% re-stocking fee. I'll report how this all turns out, but stay away from this company.

PRO-FORM 15.5 s Model 831.28622.1 Ser. # U05G26535 I tried Sears and that was a joke. I'm done, no more buying from SEARS. This is why Sears is losing sales everyday due to their bad service. I'm done with Sears/K Mart. I have had things like this at Walmart. I get the MRG and they had me bring 2 big things back and replaced them with a like priced product at no Charge to me, they are Super. Wal-Mart Takes care of me and does a very fine JOB. This is why Walmart is my store. I should have got my ELLIPTICAL from them!!!
I sent a e-mail to Pro-Form in Utah 2 weeks ago and have got no response, POOR SERVICE. I called a parts replacement and was told my Pro form is obsolete and can't get console parts and try E bay for a used one for sale. I did and no luck. All I need is a new battery console lid to hold the batteries in the console. Mine cracked and finally fell out of my Elliptical and now fan, and my controls won't work, Poor Lid, plastic that you can't glue. I think this what all of the companies are doing - buy in China and we buy and can't get parts. Should be a law about this type of sell at the box stores.

We attempted to order a ProForm elliptical and 5 days later no update on order status. I have tried for DAYS to reach someone. Have called 3 different 800 numbers and held and held. Never reached anyone. I have contacted our bank and thus far the charge is only preauthorized. I have sent emails to every single email address I can find with instructions to cancel the order. I hope and pray it will be cancelled as I do not want to file a dispute to get my money back. How on earth is a company like this still in business. No customer service and from reading other reviews those of you who actually received something were unhappy. I'm also filing a complaint with the better business bureau in Utah.

I used my Proform elliptical for a couple of years when the left handle bar broke. While looking over the machine, I discovered a sticker which suggested I would be covered by the lifetime frame warranty. Since the break was to a 1 inch steel tube, I thought I'd be covered. Wrong? Next I discovered the replacement parts would cost $170 +shipping. I decided to pursue a local welder for repair. The welder laughed still ProForm's weld quality and fixed it for $20 - better than I expected. My machine was back and working again... For about 6 workouts. This morning the right hand handle broke (other side) in the same location! At least I had the good judgement not to have spent the $170 previously. I guess it's off to the welder again. As an automotive engineer, I'm amazed this piece of junk made its way to market. Doesn't ProForm do any type of durability testing?

I ordered the Proform elliptical 9.0 NE on 12/29/2014. If you check the website now, you will see that the model is advertised as "In Stock." However, after receiving the confirmation email, I hadn't heard anything else - no shipping info, etc. I paid via PayPal and a hold was placed on my funds. I finally got a hold of someone on the phone on Thursday 1/1/2015, and he told me that the model was currently out of stock, but would be in on that Friday or the Monday after the weekend. I asked him why I wasn't informed that this was backordered, and he said because it was such a brief delay that they wouldn't change the website for it. That's fine, I suppose, until Monday came and still no update on my order.
After being on hold for 1.5 hours on the phone, I tried the live webchat. The webchat is also a LENGTHY time to wait (30+ minutes) and the "agent" simply sent me a link to ANOTHER webchat (and it was the wrong one - she sent me to Nordictrack, and I had to remind her that I had ordered a Proform. So, she nearly sent me on another dead-end). When I finally communicated with a Proform agent, "Jesse" informed me that the model was actually backordered BY TWO ADDITIONAL WEEKS, and oops their bad. I was shocked and asked why they didn't bother to update their website and state that the NE was backordered by ALMOST ONE MONTH. No response to that question. I then typed whether or not my order was still in their system and would there be a later billing issue with my bank (PayPal had by then released their authorization hold on the funds).
If you're like me, you don't just have $1000 dollars lying around. Once I make that kind of investment (and yes, it's a hefty investment for me), I want the money out of my account and to receive the mutual benefit of my transaction. What a ridiculous way to mishandle orders and abuse customers' trust. It borders on fraud. Don't market and sell something to a consumer without bothering to tell them that you don't actually have the product in-stock for almost a freaking month.
Take my word for it, order elsewhere. This is SHODDY business practice. I don't even mind the delay, the elliptical was a good deal, and I would have likely ordered it anyway. However, I should have been informed of the delay, and the company needs to advertise that the item is currently backordered for however long.

I have had this elliptical machine for about 3 years. I bought it at Dunham's and put it together myself. It has worked great up until several months ago, when the console started not shutting off. I didn't realize at first that that was the problem. I first thought the batteries were bad, so I replaced them. It worked fine again, until the batteries died. I don't know when I figured out that it wasn't shutting off. I tried removing the batteries when not using the machine, but that is a hassle. I contacted ProForm today, I can't rate their customer service yet, but judging by the other reviews I'm afraid that it won't be a good experience. I was wondering if using an AC power source would solve the problem. I actually like the machine. This is the first problem I've had with it, and don't really want to buy a new machine at this time.

I purchased the elliptical two years ago and due to my profession, I travel a lot. When I first used the elliptical, it kept calibrating after 10 minutes. I just didn't have time to resolve the issue until the last day of my warranty. I called and they ship a $260 card to reset the console. After waiting 2 months, the card finally arrive and I got an extra 5 minutes (15-20 minutes) of workout time. I called the help desk and they offered to sell me a newer model for just over $600 or a new console for $400. I asked why would I purchase anything from them ever again. Now, I have an expensive exercise equipment that I can only use for 10-15 minutes at one time.

Have a ProForm 600 LE elliptical bike. Bought it in February and the console just died. Was told by ProForm that it was no longer under warranty and that a new console would almost the same price of a new bike. ProForm should be ashamed of themselves for selling defective parts. Too many people are having the same issues. The product is actually built by ICON. Will never buy another product by them.

I ordered an elliptical trainer from ProForm at the beginning of March. I do understand that these ship freight and expected a reasonable long delivery time. However, I was informed it shipped much quicker than I had anticipated. Then it all went downhill. It shipped - four weeks later - still nothing. No delivery scheduled and no one seemed to know where it was. I called customer service who explicitly told me that it was delivered to my home address and signed for by someone I had never heard of. Come to find out - it was sitting in a moving storage facility in New Hampshire for well over two weeks.
When it finally arrived another week later, the box was beat up and basically open. The delivery guys told me they'd assemble it for $135. No thanks, I can handle it. So I go to assemble it and there are several MAJOR parts missing. Not screws or caps - 2 foot long metal pieces. So I call customer services and they say they will ship out new parts. I paid extra to have them come UPS Blue so that I could get them faster. I continued as far as I could with assembly then found more major missing pieces - handlebars. I had to call back again. This was an hour after my first call and they wanted me to pay again for expedited shipping.
Finally today, April 14, once of the replacement pieces arrives however, there are no bearings and no way to attached the piece. It is useless to me without the bearings which have to be put on with high pressure in a factory. When I called back to day the customer service representative basically told me this was my fault and that they'll ship the bearings out (God know how I am going to get them on without heavy machinery) and they will be here in 7-10. So, all said and done, if I ever get this thing put together and working, it will likely have been over a two month process since the date it was ordered.
My alternative is disassembling what I have, packing it up and hauling all 400 pounds of it down my stairs and to a UPS store to ship it back. Then wait for them to process that return (given my experience I would anticipate this taking at least 2 weeks) and ship me out a new one. Lose - lose situation for any consumer that orders ProForm equipment. Don't do it - you are better off ordering a Schwinn or LifeFitness product. Their customer service is excellent.

I purchased an Elliptical model 910E in Oct. 2012. Upon assembly, it was apparent that something was out of alignment. The right side assembly arms hit each other when they passed. I called ProForm and they sent the entire right side which I agreed to change. This did not solve the issue, so I had them send over a tech. He was unable to determine what the issue was but said someone would be contacting me soon. This never happened. After many emails and unanswered phone calls (20-30 minutes on hold), they finally sent another tech. He determined that the mainframe was bent due to an improper assembly and weld from the factory.
I have been trying desperately to get some type of resolution from this company and they just don't respond or seem to care. It is now March 2013 and after spending $1000 on a piece of junk, it appears I am running out of options. I have contacted BBB Utah and the Minnesota Attorney General's office so I still have some hope, but this company should not be doing business in this country.

I purchased this ProForm 710 E Front Wheel model Elliptical Exercise machine in early July 2012. It was delivered to my home and was not damaged nor did it have any obvious defects. I assembled it and it was pretty straightforward and it is easy to follow the instructions. Two of the cheap plastic covers provided broke easily but that was only a minor inconvenience. They give you grease in a package which you have to apply by hand to all bearings and it is really messy and inefficient. A spray would be better for initial installation and for performing the ongoing preventive maintenance.
The major problem was actually a significant safety hazard in the design. It was a front wheel model where the steps are only connected only on the front wheel and float on a roller mechanism at the rear end. Well, I got up to about 55 RPM, just getting started really and about 20 seconds into operation, the right pedal roller jumped off the bar and the entire step dropped onto the floor. This actually threw me off the machine on my right leg while going at a good pace. If I had not had a firm grip on the handle or been completely caught off guard, I could have fallen completely off and been seriously injured. As it was, my foot hit the floor at an awkward angle at 55 RPM and I was lucky not to break or sprain it. To make a long story short, I had assembled it properly, it would be about impossible not to and still have it work initially, but apparently, this "Made in China" bar where the step is mounted on was defective and bent causing this to happen. Only the right side had this happen. I verified it three times.
If the roller mechanism was set up like a roller coaster wheel, where the wheels are held onto the bar they ride on with a second wheel or roller on the inside or under the bar, this safety hazard would not exist. As it is, the step floats on a non-secure roller wheel and if the bar where it is mounted on is defective as mine was, you can be thrown off the device. This flaw is impossible on rear wheel elliptical machine models as the step on rear wheel models is connected at both ends and does not float on top of a loose wheel on riding on top of a bar. ProForm did answer my request for help pretty promptly and sent me a new bar that the step is attached to. When the step bar arrived, it was missing the bearing sleeve that must be fabricated into circular connecting end of the step bar for it to be mounted. After waiting two weeks, they had sent a part that was impossible to use.
Also, this repair requires you to disassemble bearings and install a new one - yet, they sent none of the grease required to do that either. So basically, it's a $900 unsafe boat anchor that I can't even use. Thank God I bought it through Walmart online, who immediately offered to refund my money. They offered to replace it but it is obvious that this design is simply dangerous and I no longer want to risk it nor waste any more time with trying to resolve problems with it. They are coming to pick it up and refund my money for this unsafe product that wasted hours of my time and simply did not work. I had a Nordic Track rear wheel elliptical for three years before this that I used often and it performed perfectly. It had none of the design and safety flaws this front wheel ProForm product does.
Once again, a rear wheel elliptical machine cannot even have this type of safety hazard and the one I had worked great for three years. This front wheel model was an unsafe design and was a poorly-designed and fabricated worthless piece of junk that wasted my time and money which could have severely injured me.

I purchased a ProForm cross walk model #P7LW50707.0, serial #WIDG06574 on 9/20/09 via internet and paid by American Express. I received elliptical on 10/2/2009. I used the machine for 1 month and the machine broke, it would not pedal. I called ProForm on 11/13/2009 to say that I was upset. It was brand new and is already broken. They told me they had to order every single part to the machine in order to fix it. The repair company called me back on 12/5/2009 and said they could not get to my home until 2 weeks later. Needless to say, I was extremely upset because it was now over a month later and I still could not get my machine fixed.
My husband called the repair company back which was called We Assemble Everything, Inc located at PO Box 7154 Wantagh, NY 11793. My husband spoke to a Necoy ** about the machine. My husband told him I think it is a belt and Necoy told my husband he could fix it. So my husband pulled the side off and put the belt back on. I was able to use the machine for another month, but the machine was still not right, squeaked a lot and the pedals were not rotating right. I called ProForm again on 1/26/2010 to tell them the machine is still not right. They sent Necoy ** and a man named Kevin to my home on 2/11/10 to fix my machine. They came at 6:45PM until 9PM, they stated on their form that the machine is not fixed to its potential and they stated to me that my machine was recalled.
I called ProForm back on 2/19/10 and ProForm operator Mark stated that the repairmen did not report to ProForm the problem with my machine. They had 48 hours to do so and Mark stated to me that We Assemble Everything was in breech of contract now with ProForm. 2/19/10 and 2/22/10, I spoke to Tawney and Cody. They said We Assemble Everything was in breech of contract with them and they could not use them any longer, which sets my time frame back further and is not my fault. They told me another repair company would call me to come and repair my machine. On 2/23/10, I received a phone call from Bradey from General Assembly - a new repair company to make appointment to come to my home. The appointment was set for 3/17/10 for General Assembly to come to my home.
Anthony from General Assembly came to my home and took the machine apart. He clearly saw something is wrong with the machine, but he does not know what. He also stated to me that my machine is a rebuilt machine and as it stands, the machine is in pieces in the room. Anthony stated that he wants to rebuild the entire machine. I do not want my machine rebuilt! I feel that I was sold a "lemon" and I just want them to take the machine back or send me a new machine. They have refused since my very first phone call to them back in November 2009! I have spent countless hours calling this ICON health and fitness/ProForm and I feel I have gotten nothing but the runaround. They are not helping me in any way.
I want to return this piece of exercise equipment! I feel they should honor my request as my situation is a specific one. I have experienced mental and physical anguish over dealing with this horror! They need to take my machine back and give me a refund or send me a new machine after taking this machine back which they refused to do either.

I purchased one of these Ellipticals through Hsn.com about a week ago. I was using the Elliptical and it was making a knocking sound. That was the first issue I had. Then as I went on with the workout and increased my activity, it was then the equipment tipped over but not completely to a point where it fell, but I think as it tipped over, I must have as a reflex to stop myself from completely falling and in the process, I pulled something in my left side. At first, I thought the pain in my shoulder was no concern but days later, it was still hurting and it's now about a week and I still have a discomfort on my left side between my shoulder and spine.

ConsumerAffairs Research Team
The ConsumerAffairs Research Team believes everyone deserves to make smart decisions. We aim to provide readers with the most up-to-date information available about today's consumer products and services.
Proform has been providing innovative training tools and fitness equipment for over 30 years. They have a variety of ellipticals, including hybrid options that allow for multiple types of workouts using one machine.
Hybrid trainer: Proform's Hybrid trainer is both an elliptical machine and a recumbent bike. It easily transforms between the two machines, so users can benefit from two different types of total body cardio workouts.
Pro 16.9: Proform's most advanced elliptical is the Pro 16.9. This elliptical features a 10" web-enabled full-color touchscreen so you can watch TV or browse the Internet during your workout. It has power incline up to 20 degrees and a 20" adjustable stride.  It arrives fully assembled so you can start your workout as soon as your machine arrives. It is priced at $2,499.
iFit enabled: iFit technology is available on many of Proform's ellipticals, including the Hybrid trainer, giving users access to Google maps, training videos and automatic tracking. Note that iFit requires separate purchase and registration.
30-day money back guarantee: Consumers who are not completely satisfied with their Proform elliptical purchase can return it within 30 days of receiving their product for a full refund.
Free consultation: If you aren't sure which Proform elliptical is best for your needs, fill out a short form on Proform's website. You will be contacted by a representative who can help you choose the best elliptical for your space based on your fitness goals and budget. You can also send away for a free information kit to learn more about any of Proform's ellipticals.
Best for Proform Ellipticals are best for recreational home users.
ProForm Ellipticals Company Profile
Company Name:

ProForm Ellipticals

Website:

https://www.proform.com/ellipticals