Park's Martial Arts Federation
Consumer Complaints and Reviews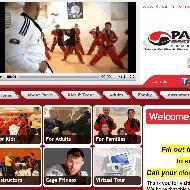 This company misleads. They are very tricky and use a different billing company. Whatever you do DO NOT SIGN UP WITH THEM, you'll regret it. Take a look at this report: **. Beware of this place!!!! This is a very bad place with very abusive business practice. Park's Martial Arts Federation is a total ripoff. You are told there this is a fixed amount of days class program for $257. Then they charge you that amount every month without telling you. Then they seem to remove the sales personnel. By the time you go back to cancel they tell you there is nothing they can do because the person who sold the program is not there anymore.
They bill through a different company, they don't send you any bills nor e-bills. There is no way for you to contact the billing company. They refuse to give any billing company contact info, and the lead that your credit card statement shows (PARKS TKD 954-885-4999) leads you back to Park's Martial Arts Federation. Doing business as: PARK'S TKD 1669 NW 144TH TER STE 205 SUNRISE FL 33323-2880 UNITED STATES Additional Information: 954-885-4999 http://www.kickatparks.com. When you disconnect your credit card from them they send you to collection, but if you have one of those credit cards that covers this type of problems you are protected. If not, you either stay there or they hurt your credit. In any case, do your duty and let others know of this. Their business practice is very abusive.

My little brother wants to learn Tae Kwon Do, and we found this place because is close by. The first 2 classes are free and they let us stay for the full time because we were not a members yet. First two classes were decent, so we told master Park upfront we're interested to sign up but we can only come twice a week, maybe even only once a week, can we pay by class instead of $280 a month. Master Park said, "don't be silly, we love our student, pay by month and we will count you by classes. We promise you no less than 120 classes which means even 12 months end you only did 60 classes, we will still give you up to 120 classes, give us your credit card number."
So we pay $280 a month for 2 students, our first mistake. Our first 3 months, we only did 15 minutes rip off exercise each class and tell us go home, because we're white belt. Our fourth month, yellow belt test - another $100 per test. Got yellow belt, we were thinking now we're ready for some better tae kwon do, guess what? Same thing, 15 minutes exercise then go home.
About 6 months in, master Park call us into his office, tell us we're almost time to renew our membership. I said that's weird, we only came to around 30 classes so far, we should still have 90 classes left. Master Park said, "no, your membership is by month, you're already halfway into your membership". I reminded him about his "120 classes" promise, he said he never said that. I said, "then we'll quit right now", he said he will give us a special deal. "$4,999.99 USD" and this will give us our black belt, and If you pay CASH, they will give us 10% discount. Yes, you're reading it correctly, $4,999.99 USD.
At that point I feel a scam. I said please cancel our membership right now, we're done here. He won't let us, and we told him, we won't be back because we paid over $1,680 USD already for only 30 classes, all rip off exercise classes. Removed our credit card number in your file. He said your contract is for a year, can't removed, "YOU DON'T HAVE TO COME BACK, BUT YOU WILL BE PAYING UNTIL YOUR CONTRACT IS UP."
I hope someone is reading this before signing up for Park Tae Kwon Do. 8 negative reviews so far all target this place? This means something right? I hope the MEDIA can take action into this and do something for us. I called my credit card company and told them "WE CANCEL THIS TRANSACTION ALREADY FEW MONTHS AGO AND THEY ARE STILL BILLING US, PLEASE REMOVED ALL TRANSACTION FROM THAT COMPANY AND SEND ME A NEW CREDIT CARD". Good thing the credit card company understand us and did what I ask, so no more paying for that scam. Hope this help, feel free to ask me questions if I can help. I would rate no star if I have a choice.

I had signed my son up for Karate on Feb of 2013 - I was told I MUST give my CC information for billing purposes at $95.00 per month. I said NO I don't like automatic withdraw - Master Parks said it's their policy to pay by Credit Card each Month but ASSURED me that I could CANCEL at any time. Because I told him that for a 10 year old child, they do not commit to any ONE sport. Two Months Later, April 2013 my son said he was not enjoying it, not learning much. He had lots of homework and was falling behind in math and reading so we decided to end our KARATE after school activity. I called the school, spoke with the office girl. She said, "SURE, just send Email to Master Parks to notify him you want to CANCEL the Program." I said really, I have to send an email to Master Parks to quit Karate. Hummm, okay. So I sent an email.
Then start to notice auto deductions of $95.00 per month on my Credit card from a place called Premier Member Plus that I had never heard of or seen before. I called my bank and they identified as a billing company in Orlando, Florida for Karate. I called this Premier Member Plus. They say WE are the Billing company for Karate and we have your CONTRACT which is one year each month for $95.00. I said I NEVER signed any 12 month contract for my 10 year old child after school sport. I said I had called my local Karate/Master Parks and Emailed him notifying him we are Cancelling the after school activity for our son. Premier Member Plus Manager - ** states NO Cancellations unless your child is sick or you move away... SAY WHAT?? Did you really just say that. You always have the ability to CANCEL contracts (EVEN though I NEVER signed ANY Contract for 12 Months at $95.00 a month). Phone Contracts can be CX with penalties/Apartments Contracts can be CX/Lawn Contracts/Pool Contracts/ETC. WHAT IS THIS??
I then went on to call Karate/Master Parks back and over and over. I am only able to speak with the front desk girl. At this point I have sent numerous Emails and made many calls with no response. I decided to make a visit to Karate in person. The front desk girl tells me he's teaching a class. I notice he's in his office - he hears me and he won't come out. She goes down the hall and comes back and says you can Make an appt. I say FINE, so I have to interrupt and take more time away from my own personal job to make another attempt to see Master Parks in person. I make an appt. I also leave a copy of the BILL I received from their "so-called" Billing company in Orlando, Florida called Premier Member Plus - where they say I OWED $955.00 plus late fees that were accruing at $35.00 per month addition.
When I came back as agreed for my Appt. I finally sat with Master Parks - he did not look at my Copy of Bill that I had left before making the appt. He did not have my Contract on his computer in his office or the computer at the front desk. I asked him where do you keep your contracts?? He said they are all in a bin? What Bin?? He looked like he was confused/stunned/no answers. He said there were two contracts OPEN and Closed - The open was where you could CX at any time and the other was the 12 month program at $95.00 per month. I NEVER Signed or AGREED to paying $95.00 per month for a year for some after school karate event for my 10 year old.
You are WRONG. You are sitting there and lying to me. WHY? What are you doing? WE are your customers? HE got up from his desk and walked out and said for me to LEAVE. He walked away. He never gave me a copy of my contract, answered none of my questions... nothing... and threatened to me as well. Now, what am I to do?? Am I really stuck in today's horrible market for the working American to pay this scam business $955.00 when my son is NOT there anymore. How is this FAIR? Then I read all these complaints online and I feel we need to STOP this Terrible business and make sure he does not do this to any more hard working families. LET'S do something NOW and Today. Let's get on the NEWS. USE our VOICES!!! And SUCCEED.

They practice bait and switch. They don't teach what they don't know. Check their youtube posts and you'll have a good laugh. I am one of those that got scammed, lost 840$. Check Google reviews but pay close attention to negative ones, the rest are Parks relatives, friends or people that don't know why they went there. I would give it a -1 star but Google doesn't have the option. For those reading this beware! This is a fake martial arts enterprise. Parks is not the owner, he's the puppet of his family (cannot make decisions). He doesn't teach at all and even if he would, I doubt he could teach anything but scamming.
They practice bait and switch with a crook's attitude once they get a hold of your card or cash. There is a good reason this company is not part of the Better Business Bureau that has already alerts for them. They have three cases with the Florida Attorney General for fraud against customers. If you don't trust this review, look for others. Make an educated decision. I cannot tell you what to do with your money... Maybe you like paying for non quality and getting conned. **. Regardless what anyone will post in response to this, it is your choice to get scammed or look into some other schools or activities.

I had a very similar experience to Kyle. This place is a scam and if they don't provide what they promised, you are out of luck. They are paid upfront by their billing service Members Solution. Members Solutions is nothing but a collection agency and will just harass you until you pay even if you don't get the services you paid for. Members Solution would not look into my issue and even called me a liar. I finally paid and weeks later, I received a threatening letter from an attorney. When I called Members Solution, they claim they never sent it to an attorney, but I spoke to the attorney who told me they did. Parks is a scam on multiple levels. Please do your homework and check them out with the BBB. Kickatparks.com has an F rating with the BBB.
How do I know I can trust these reviews about Park's Martial Arts Federation?
609,949 reviews on ConsumerAffairs are verified.
We require contact information to ensure our reviewers are real.
We use intelligent software that helps us maintain the integrity of reviews.
Our moderators read all reviews to verify quality and helpfulness.
For more information about reviews on ConsumerAffairs.com please visit our FAQ.
Park's Martial Arts Federation Company Profile
Company Name:

Park's Martial Arts Federation

Website:

http://www.kickatparks.com/