Find the Best Exercise Bike Brands

Compare Reviews for Top Exercise Bike Brands

NordicTrack
Read 1,756 Reviews

NordicTrack has many advanced treadmills that have specific benefits depending on the needs of the consumer. They have an online shop that runs special offers, and the company also offers bikes, rowers and other cardio equipment.

Peloton
Read 136 Reviews

Founded in 2012, Peloton makes indoor cycles that are on par with an actual road bike experience. It brings the benefits of group exercise into the home by fully engaging cyclists through technology and social connection.

ProForm Exercise Bikes
Read 89 Reviews

Headquartered in Roseville, Michigan, ProForm is an internationally recognized fitness brand and has been manufacturing fitness equipment for over 30 years. It boasts hundreds of patents and 20 years of top sales numbers.

Gold's Gym Exercise Bikes
Read 19 Reviews

Gold's Gym exercise bikes offer a comfortable, effective workout with features like a wide seat, entertainment options, workout arms and more. Buy Gold's Gym exercise bikes at Walmart, Kohl's and other retailers starting at $299.

Schwinn Exercise Bikes
Read 57 Reviews

Founded in 1895 and headquartered in Vancouver, Washington, Schwinn designs and manufactures all types of bicycles and fitness equipment. Schwinn's fitness equipment division has opened retail stores across North America.

Sole Fitness Exercise Bikes
Read 18 Reviews

Sole Fitness is located in Taipei, Taiwan and has been providing hotels and small and residential gyms with fitness equipment for decades. The brand has expanded internationally, adding global dealers yearly.

Life Fitness Exercise Bikes
Read 12 Reviews

Headquartered in Chicago, Life Fitness has been developing fitness solutions for over 45 years. It started with the Lifecycle exercise bike and now makes multiple cardio and strength products.

Diamondback Fitness Exercise Bikes
Read Expert Review

Located in Carlsbad, California, Diamondback Fitness is owned and operated by LifeCore Fitness, Inc. It has been developing and manufacturing fitness equipment for residential and light commercial use for over 30 years.

Horizon Fitness Exercise Bikes
Read Expert Review

Owned by Johnson Health Tech, Horizon Fitness is headquartered in Taichung, Taiwan, and has been manufacturing fitness equipment for over 30 years. It distributes its equipment to over 60 countries around the world.

Keiser Exercise Bikes
Read Expert Review

Founded in 1976 and headquartered in Fresno, California, Keiser has been designing and making fitness equipment for over 35 years. Its equipment is used by professional sports teams, fitness and rehab centers and home gyms.
Common questions about exercise bikes
What types of displays are on exercise bikes?
With the exception of professional indoor cycles, most exercise bikes come with a display screen that can make exercising more educational and fun. They can monitor the user's heart rate, play TV shows and even feature pre-programmed routes to follow.
Resolution: The resolution for displays can be either liquid-crystal displays (LCD) or light-emitting diodes (LED). LCD displays are commonly used in computers, TVs and instrument panels. LED lighting is typically found in consumer electronics lighting and automobile lighting. LED displays have a higher screen resolution than LCD displays.
Heart rate monitoring: Many exercise bikes can track and display your heart rate. By gripping the heart rate sensors on the handlebars, the rider can get a reading of their heart rate, allowing them to monitor it and stay within the targeted rate for their age. Some bikes come with wireless chest strap heart rate monitors that transmit real-time data to the display.
Music/TV: Almost all displays come with built-in speakers or MP3 jacks so a rider can watch television or listen to music.
What ergonomic features do exercise bikes have?
Exercise bike design continues to improve by focusing on ergonomics. With recumbent bikes being the most ergonomic bike for a rider's back, upright and indoor cycles come with ergonomic bike seats to help minimize back pain as well. It is important to find the correct riding position based on height and weight.
Seat: When choosing an exercise bike, riders should make sure the seat is adjustable both vertically and horizontally. Riders should adjust the seat according to their height for upright bikes and length for recumbent bikes.
Riding position: Having an ergonomic seat will not help much if a rider's positioning is incorrect. A general rule of thumb for positioning on a recumbent bike is that the legs should be at the same level as, or higher than, the hips. Your legs should never fully extend as the bike is being pedaled. An upright bike riding position should have the seat height as high as the rider's hips with knees slightly bent at a full downstroke. The seat can be adjusted forward or backward to find a comfortable position as well.
Spine health: Exercise bikes are widely recommended for people with spine and back issues. Their low-impact workout and multiple riding positions can support the back in multiple ways depending on the type of back pain the rider is experiencing.
What are the different types of resistance on exercise bikes?
There are a few ways to make an indoor exercise bike feel like an actual road bike, resistance being at the top of the list. Exercise bikes can provide resistance as the rider pedals in many different ways. The most common types of resistance are direct-contact and magnetic braking systems. A less common type of resistance is known as fan-based resistance.
Direct contact resistance: Direct contact resistance works by using brake pads to provide friction to slow the flywheel. This type of resistance is popular because it allows riders to choose multiple resistance levels. Because this type of resistance is more mechanical, it tends to be noisier and requires more maintenance.
Magnetic resistance: Magnetic resistance bikes are becoming very popular because they encounter very few maintenance issues due to their low-friction flywheel. These bikes use electromagnetic induction to provide resistance. They are the quietest exercise bikes on the market.
Fan-based resistance: Using a resistance fan instead of a flywheel, this type of bike works by connecting a fan to the pedals by a belt. For more resistance, the rider must pedal faster.
What are the different ways you can program an exercise bike?
Many exercise bikes come with programmable features on their display. Programmable bikes can record and store ride times, distance and calories burned. They can store multiple rider profiles, so each rider can set their own goals and targets. More advanced programs are compatible with smartphones and devices via Bluetooth or can have actual GPS mapped routes for riders to follow.
Basic information: Riders can set up profiles that will keep track of their personal statistics as they complete a ride. They can set target calories to burn, times, speeds, resistance and distances.
Smartphone capabilities: Many exercise bikes today are smartphone-compatible and allow the rider to sync their phone with the exercise bike display. Riders can listen to music, upload pre-programmed routes or watch videos straight from their phone.
GPS: Some bikes come pre-loaded with GPS routes from around the world. Routes such as ones from the Tour de France will display on the screen and will include the appropriate resistance for where the rider is on the route.
What are some safety features on exercise bikes?
Most exercise bikes come with built-in safety features to make operating the machine as safe as possible. Often, the safety features on stationary bikes will be seen on the pedals and braking systems.
Foot straps: Many exercise bikes come with foot straps over the pedals to mimic clipless bike pedals on an actual road bike. This also prevents the rider's foot from slipping.
Press-down brake system: Some bikes have a press-down brake feature that allows the rider to quickly stop the rotation of the flywheel with the push of a button.
Counterbalanced pedals: Counterbalanced pedals are another safety feature found on exercise bikes. They make sure the pedal doesn't rotate if the rider's foot slips off.
Do exercise bikes come with warranties?
Almost all exercise bikes come with a warranty of some kind. They are usually broken up into a parts warranty, frame warranty and lifetime warranty. Each part of the bike will generally have a specific warranty length.
Parts: Parts warranties are typically shorter in length. They can range anywhere from 90 days to multiple years.
Frame: Frame warranties are common and will generally be in the range of one to 30 years, all the way up to a lifetime warranty.
Lifetime: Rarely will an exercise bike come with a lifetime warranty for all parts. The most common lifetime warranties on exercise bikes are for the frame and brakes.
What are the different types of exercise bikes?
Recumbent bikes
Recumbent bikes place the rider in a laid-back riding position with their legs out in front. Recumbent bikes are popular for ergonomic reasons because they distribute body weight over a larger area than upright bikes.
Upright bikes
Upright exercise bikes mimic the standard bicycle riding position, making them a popular option for younger people. Riders can stay seated or stand and pedal.
Indoor cycles
Indoor cycles, or spinner bikes, are similar to upright bikes, but with different resistance options. They have direct breaking and a weighted front wheel to mimic a real road bike. They are very popular with professional cyclists.
Dual-action bikes
Dual-action bikes involve not only pedaling, but arm movement as well. They can be recumbent or upright with varying degrees of arm motion.
Who uses exercise bikes?
People who want to lose weight
People who want a fast and easy way to get in shape can benefit from the simplicity of an exercise bike. They are a quick way to elevate heart rate and are easy on hip, knee and ankle joints.
People rehabilitating injuries
People needing a gentle way to rehabilitate a leg injury can find recumbent exercise bikes useful. Their ergonomic design minimizes the impact on joints and distributes weight more evenly.
Professional athletes
Professional cyclists can benefit greatly from an indoor cycle during the offseason to maintain their fitness level. Regular athletes can use upright exercise bikes as a way to warm up, cool down and elevate their heart rate.
People with home gyms
Exercise bikes are a great way to get in shape without leaving the house. Their slim design takes up less space than most treadmills, and they can be easily moved.
Thank you, you have successfully subscribed to our newsletter!
We value your privacy. Unsubscribe easily.
Exercise bike expert reviews

Life Fitness designs and manufactures cardio, group training and strength training equipment, as well as accessories and digital exercise devices. It has over 12 models of upright and recumbent exercise bikes geared toward cardio and strength training.
Read More

LifeSpan focuses on creating fitness equipment for every part of life, whether that be at home or work. Along with its various models of treadmills, exercise bikes and ellipticals, it has a line of desk treadmills and desk bikes. LifeSpan exercise bikes are equipped with USB drives and/or Bluetooth and generate their own power so riders can charge mobile devices as they exercise.
Fitness apps: LifeSpan has three mobile apps that fully integrate with its exercise bikes. The LifeSpan Club app lets riders collect fitness data and sync it with a USB port into their personal computer. The Active Trac app is compatible with iPhone and Android and collects and syncs data directly to the rider's Club account. The Train and Trac app turns rider's iPads into a touchscreen console on the bike and can download workout plans to the bike via Bluetooth.
Recumbent bikes: LifeSpan has two models of recumbent bikes: the R3i and the R7000i. Both models come with ergonomic features such as an oversized, molded-foam seat bottom; flexible backrest; and molded armrests. Each recumbent bike has 16 levels of resistance and multiple preloaded exercise programs. Prices start at $999 for the R3i and $1,499 for the R7000i.
Upright bikes: LifeSpan offers three models of upright bikes: the C3i, C7000i and the S2 indoor bike. Each upright bike comes with a height-adjustable seat and multiple, preloaded exercise programs. The S2 indoor bike has a body that matches that of a real road bike. It is engineered to mimic the feeling of riding on asphalt. Prices for the C3i start at $799, the C7000i at $1,299 and the S2 at $499.
Bike desks: LifeSpan has developed the Unity Bike Desk to incorporate the benefits of an exercise bike while still maintaining productivity. It features silent pedaling, power-free operation and a cherry-grain desktop. The Unity Bike Desk is $499.
Warranties: LifeSpan provides multiple warranties on each of its exercise bike models. Warranties include lifetime frame warranties, one- to five-year parts warranties and one- to two-year labor warranties. LifeSpan also offers longer commercial warranties.
Best for: riders with a home gym and offices looking for exercise desks.

Sole Fitness focuses on providing fitness equipment to hotels, homes and small gyms worldwide. It manufactures efficient treadmills, ellipticals, bikes, rowers and striders for any level of user. Sole Fitness has developed a line of eight exercise bikes with comfort in mind.
Read More

Diamondback Fitness is a line of fitness equipment designed and manufactured by LifeCore Fitness, Inc. Its equipment is made for residential and light commercial use and is distributed worldwide. Diamondback Fitness has a line of exercise bikes that includes recumbents, uprights, indoor cycles and reconditioned cycles.
Recumbent bikes: Diamondback has two models of recumbent exercise bikes: the 910Sr and the 510Sr. Both models feature an integrated adjustable media console with LCD display. They have up to 32 levels of resistance and over 35 workout programs that target heart rate and fitness training. Rider heart rate is measured through grip sensors or a wearable chest strap. Prices start at $799 for the 510Sr and $999 for the 910Sr. Each model has multiple add-on features for additional costs.
Upright bikes: Diamondback's line of upright bikes consists of two models: the 510Ub and the 910Ub. Both models feature adjustable consoles that have mp3-integrated speakers and LCD display screens that produce real-time feedback. They have up to 35 preset workouts and up to 32 levels of resistance. Pricing for the 510Ub starts at $699, with pricing for the 910Ub set at $899. Each model has multiple add-on features for additional costs.
Indoor cycles: Diamondback has two models of indoor cycle trainers: the 910Ic and the 510Ic. Designed for professional cyclists to maintain their fitness levels, both models offer pre-programmed riding courses, real-time feedback, wireless heart rate controlled resistance and automatic resistance changes. The 510Ic is priced at $799, while the 910Ic is priced at $999.
Parts and accessories: Riders can go online and order parts for their exercise bikes by typing in model numbers. Diamondback also offers two types of mats for floor protection as well as a wireless heart rate monitor.
Warranties: Diamondback exercise bikes are all covered under warranty. Each bike has a five-year warranty that protects against defects in material and workmanship and a two-year parts and labor warranty. Consumers can purchase other extended warranties for an additional cost.
Best for: consumers wanting an exercise bike for a home gym.

Keiser has been manufacturing fitness equipment for over 35 years. Its line of cardio, strength and functional training machines are used by professional sports teams, fitness centers and rehabilitation centers across the globe. All of their exercise bike models use magnetic resistance technology, offering a quieter, simpler workout.
M3 indoor bike: The M3 is the first model of the M Series of indoor cycles from Keiser. Designed for group cycling classes and road cyclists, the M3 features a quiet, low-maintenance, magnetic-resistance belt-drive system. It also comes with a four-way adjustable seat. Consumers can request a quote for M3 bike online.
M3i indoor bike: The second model in the M Series of indoor cycles is the M3i. It comes with the same quiet, low-maintenance, magnetic-resistant drive system as the M3. In addition, it is smartphone-, tablet- and Bluetooth-compatible. The Bluetooth capability lets riders project real-time performance data on a projection system (sold as an accessory) and view data online after workouts.
M3iX indoor bike: The third model in the M Series of indoor cycles is the M3iX indoor bike. The M3iX is designed to mimic mountain biking and hill climbing with seven levels of handlebar resistance. It also features independent upper and lower body movements, which help work out the rider's core. The M3iX comes with the same Bluetooth capabilities as the M3i. Consumers can request a quote online for the M3iX.
M7i wheelchair accessible trainer: The M7i body trainer is a cross between an exercise bike and an elliptical that is designed to be accessible from a wheelchair or any standard chair. Keiser designed this machine to be used for those in rehabilitation, senior citizens and people with disabilities. It has magnetic resistance for smooth movement, smaller pedal-stroke rotation, low pedal height and back and side pedal walls to prevent the rider's foot from slipping. The M7i also has foot, leg and wrist stabilizer straps that can be purchased at an additional cost. Consumers can request a price quote online for the M7i.
Warranties: All Keiser products come with a 10-year structural warranty; a three-year warranty covering cylinders, displays, processor boxes and thumb buttons; a two-year warranty covering compressors, cables, pulleys and bearings; and a one-year warranty covering chrome.
Best for: serious cyclists looking to maintain their fitness and people rehabilitating an injury.

Horizon Fitness has been manufacturing and distributing fitness equipment worldwide for over 30 years. Its extensive line of treadmills, elliptical trainers, exercise bikes and strength training equipment is sold to health clubs and sporting good stores to cater to all levels of fitness. Its exercise bikes consist of recumbent bikes, upright bikes and indoor cycles.
Elite series: Horizon Fitness developed the Elite series with performance in mind. The Elite series consists of a recumbent bike, an upright bike and an indoor cycle. Both the recumbent model and the upright model offer features like built-in speakers with iPod docks, energy-saver modes and proFILE Performance Tracking, which records riders' data so they can evaluate workouts. Elite models also come with Passport Ready, a media player that plays forward motion footage and syncs with the machine to provide a realistic experience.
Comfort series: Horizon Fitness developed the Comfort series with a focus on comfort and ease of use. Comfort series models embrace ergonomic features like adjustable gel seats and multi-position handlebars. Other comfort features include step-through designs, towel hooks and storage trays. Comfort models feature wireless heart-rate monitoring, LCD displays and built-in speakers with MP3 connectivity.
Paros series: The Paros series by Horizon Fitness includes two models of upright exercise bikes: the Paros Pro and the Paros. This series features adjustable handlebars with heart rate grips, adjustable comfort seats and up to 16 pre-programmed workout programs. Both models include an LCD, backlit display with energy-saver mode.
S3 series: For serious cyclists who want to maintain their fitness for racing or replicate high-intensity spin classes, Horizon Fitness has the S3 series of indoor cycles. The S3 series has two models: the S3 and the S3+. This series features adjustable seating, micro-adjustable tension control knobs and real-time feedback.
Warranties: Consumers interested in a Horizon Fitness bike should ask about warranty specifications for the model of their interest.
Best for: consumers wanting a comfortable exercise bike for their home gym.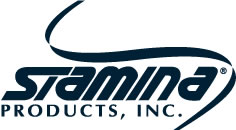 Stamina is known for its wide variety of fitness equipment and its broad distribution channels. It has created numerous infomercial products along with standard fitness equipment. Stamina has a big line of exercise bikes that include magnetic recumbent and upright bikes, bikes with upper-body motion and workstation bikes.
Recumbent bikes: Stamina has over seven models of recumbent bikes, each with varying features. Its Elite Total Body recumbent bike features ergonomic padded seats, heart-rate sensors in the grips, adjustable seats, upper hand pedals and lower foot pedals and eight magnetic resistance levels. Other models in the recumbent line have different rider positions and stationary handlebars. Prices for recumbent bikes range from $249-$1,1999.
Upright bikes: Stamina includes four models of upright bikes with slightly varying features. The Stamina Magnetic Upright 5325 features a padded adjustable seat, a multi-function single-button monitor and pulse sensors in the handlebars. It has six preset fitness programs and multiple magnetic resistance levels. Prices for upright exercise bikes range from $249-$299.
Upper-body exerciser bikes: Stamina developed two models of exercise bikes that work out the rider's upper body simultaneously. These bikes include rotating handles with multiple resistance levels to increase riders' cardiovascular endurance. The Stamina Recumbent Exercise Bike with Upper Body Exerciser is priced at $249.99.
Workstation bikes: Stamina features two models of workstation or standing desk exercise bikes. These models have an adjustable work surface complete with laptop straps, tablet holders and cup holders. The desktop can be pushed away from the seat, allowing it to be used as a standup desk as well. Workstation bikes are listed at $299.99.
Warranties: Stamina offers multiple warranties on its exercise bikes. Warranties include a one- to five-year frame warranty and 90-day to one-year parts warranty.
Best for: consumers on a budget looking for affordable exercise bikes.
Compare Reviews for Top Exercise Bike Brands

LifeSpan Exercise Bikes
Read Expert Review

LifeSpan got its start in 2001 and is headquartered in Salt Lake City. It specializes in fitness solutions created for everyday life, including home and work. LifeSpan makes and distributes their fitness equipment worldwide.

Stamina Exercise Bikes
Read Expert Review

Founded in 1987, Stamina Products Inc. is located in Springfield, Missouri. It makes exercise equipment from treadmills to pilates machines. Stamina distributes its products through many channels, including TV shopping networks.
Disclaimer
Information in this guide is general in nature and is intended for informational purposes only; it is not legal, health, investment or tax advice. ConsumerAffairs.com makes no representation as to the accuracy of the information provided and assumes no liability for any damages or loss arising from its use.