---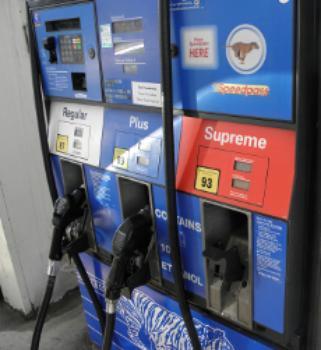 With gasoline prices near record highs for this time of year, the price at the pump leveled off a bit over the last seven days.
The national average price of self-serve regular today is $3.822 per gallon, compared with $3.829 last Friday, according to AAA's Fuel Gauge Survey. The spread between a month ago and today is now less than 18 cents. It was 30 cents a week ago.
The average price of diesel fuel today is $4.113 per gallon, versus $4.090 a week ago.
The mostly static prices provided welcome relief for motorists who were rocked the previous week, which saw rapid upward movement in the cost of gasoline. This week, most states either saw prices rise or fall by just a couple of cents a gallon.
While fuel prices normally start going down after Labor Day, the outlook this year is less certain. The Energy Information Administration reports U.S. stockpiles of crude oil have dropped more than expected.
Oil prices remain high, rising on the expectation that the U.S. Federal Reserve may once again try to stimulate the economy by purchasing more bonds. In the past that has eroded the value of the U.S. dollar, making oil cost more.
Among the states, South Carolina reclaimed its spot as the state with the cheapest gasoline prices after to falling to third last week. Eight states now have gas prices averaging over $4 a gallon with a ninth, Michigan, a fraction of a cent away from that price point.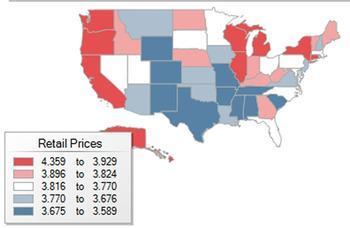 The states with the highest gas prices this week are:
Hawaii ($4.359)
California ($4.170)
Illinois ($4.099)
Washington ($4.061)
Oregon ($4.036)
Connecticut ($4.035)
New York ($4.015)
Alaska ($4.005)
Michigan ($3.997)
Wisconsin ($3.929)
The states with the lowest gas prices this week are:
South Carolina ($3.596)
Colorado ($3.589)
Mississippi ($3.589)
New Mexico ($3.618)
Alabama ($3.628)
Arkansas ($3.650)
Tennessee ($3.653)
Texas ($3.663)
Wyoming ($3.675)
Arizona ($3.704)
---