---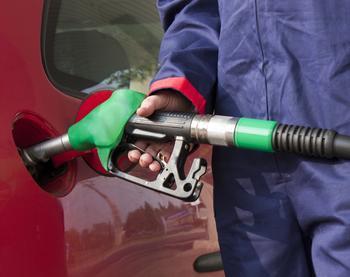 Although there was little movement in gasoline prices during the week, a couple of price thresholds were crossed. For the first time this year the average price of diesel fuel fell below $4 a gallon. And only one state -- Hawaii -- has an average price above the $4 mark.
The national average price of self-serve regular today is $3.430 per gallon, compared with $3.456 last Friday, according to AAA's Fuel Gauge Survey. That's 32 cents lower than a month ago and only three cents higher than the price a year ago.
The average price of diesel fuel today is $3.994 per gallon, versus $4.011 a week ago.
Gasoline prices are returning to their normal levels for this time of year as states switch over to less-expensive winter-grade blends. But other factors are at work that may give consumers an even bigger break in the weeks to come.
The political stand-off in Washington over the so-called "fiscal cliff" means oil markets are extremely nervous. Failure to resolve the issue would mean taxes would rise for everyone at the end of the year and the government would be required to initiate deep spending cuts. Most economists think such a scenario would bring on a recession. Look for oil prices to fall as that end of the year deadline approaches.
However, geopolitical events in the Middle East could counter-balance that effect. Israel's strike against Hamas this week and the growing concern it could get sucked into the Syrian conflict might raise concerns about supply problems in that region of the world.
In the states this week, prices were fairly stable. The average price even fell in New York, still recovering from the effects of Hurricane Sandy.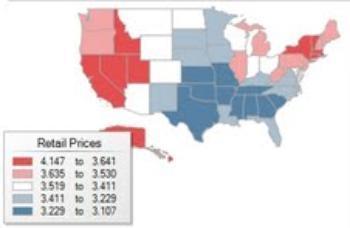 The states with the most expensive gas prices this week are:
Hawaii ($4.147)
Alaska ($3.982)
New York ($3.957)
California ($3.811)
Connecticut ($3.848)
Vermont ($3.697)
Utah ($3.681)
Idaho ($3.677)
Nevada ($3.656)
Massachusetts ($3.641)
The states with the lowest gas prices this week are:
Missouri ($3.107)
South Carolina ($3.112)
Oklahoma ($3.144)
Tennessee ($3.156)
Texas ($3.170)
Arkansas ($3.175)
Mississippi ($3.186)
Alabama ($3.204)
Kansas ($3.211)
Georgia($3.229)
---