Rooms Unlimited
Out of Business
Consumer Complaints and Reviews

I purchased living room furniture in 2012 and also a contract with Montage service center but after calling there for a repair they informed me that they had no record of my contract so I assume they never sent in my money.

Used furniture delivered credit issued new furniture ordered. Never delivered. Went to store, said they would credit my credit card, never did that. Took them to small claims court to get back my 1,400 dollars. They didn't show twice, I won. Paid sheriffs to retrieve money. They couldn't..... Anyone have a suggestion?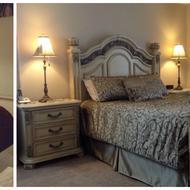 I am very happy with Rooms Unlimited! This is my second time using them. My first time was in 2005 for my formal living room furniture and now in 2014 for my master bedroom furniture! They always have the best selection and very reasonable prices. The sales people are always helpful without pressuring us to make a purchase. My furniture arrived exactly when promised (3 weeks). The only small problem I had was that my wood sample never arrived. No biggie. I'm including a photo of my new set, in my bedroom, with a 'before' and 'after' shot. As you can see, my old furniture was stuck in the 80's. I totally love my new set. The price was great! Thanks for making this purchase a pleasant experience!

After numerous telephone calls to Tracy and also one on 9/4/12 about problems with the recliner and also a tear that they placed on the bottom after pulling out a staple, I have yet to speak with anyone except her and she keeps telling me they will call but that is all they can say and no one ever calls. I feel that they are non-responsive to anything and once the sale is made, even with a 5-year plan added to the expense, they just completely ignore you and there is no help available. They really are beyond disbelief!!!

I purchased a bedroom set through lay away. Final payment made on 10/2012. The furniture was delivered x-mas eve, dresser missing. I was told it would take two weeks to get the dresser to me. It has been over 6 months now and nothing. I was promised a new set at cost, and new set has not been ordered although Fred, their top employee, said he ordered it May 27, 2013. Store refuses to refund my money and take back the set. RUN FROM THIS STORE. THEY DO NOT DELIVER WHAT THEY PROMISE AND WHAT YOU PAY FOR.
How do I know I can trust these reviews about Rooms Unlimited?
608,728 reviews on ConsumerAffairs are verified.
We require contact information to ensure our reviewers are real.
We use intelligent software that helps us maintain the integrity of reviews.
Our moderators read all reviews to verify quality and helpfulness.
For more information about reviews on ConsumerAffairs.com please visit our FAQ.

Horrible thieves! For over a month, I have been waiting for a twelve hundred dollar refund. Each time, I am given another ** story. The accountant is only in on a Friday. Friday comes - no money. I call back. Oh, he is only in every other Friday. We'll process it by then. Friday comes - no money. Do that about 6 times. I've gone to my bank to get help with the dispute and get my money back. This was charged to my debit card, which thankfully, allows me to get the bank to help me. Unless you are paying cash and taking the furniture with you on that day, do not buy something here. Find the model number and purchase it online. These people are pieces of garbage.

I purchased a bedroom set and mattress. After only a month and a half, the mattress is sagging. I contacted the store, who said that it is normal, and told us to call the manufacturer. Well, we called the manufacturer. The guy who answered said that the company is out of business and we had to call the store. This mattress is a health hazard as it is bad for our backs. Where do we turn from here? Please advise. I brought up the mattress manufacturer's website, and there are several reviews regarding sagging mattresses.

I went to Rooms Unlimited to purchase a living room set, as a birthday present for myself/family. We were treated wonderfully from the start and had question after question answered. Long story short, everything was signed, sealed and delivered along with an extra added buyers protection plan - which covered everything, as we were told. Very shortly afterwards, I made calls for the hinge mechanism of the recliner to be repaired. Then reached in to the side of cushions to retrieve something that slipped and my fingers got cut on staples that were exposed and not closed together. Within a year, the leather bonding which was tucked together on areas (which no one sat) were cracking and peeling nonstop.
I proceeded to call the buyer's protection company and was told none of this was covered. I told them that I purchased this 5 year plan to cover the everything clause I was told about, but to no avail. So many calls with no help at all. Now it is 4 years later and my supposed insurance is still in coverage. I look daily at the furniture that I am ashamed of owning and it makes me sad. I pass the store frequently, which stirs me up and I felt this would be my way, to at least vent my disapproval of a company that jumped to attention with your entry into the store and can just as easily ignore and disregard you when the product falls wayside.

We decided to purchase new home furniture (1 seven piece sectional sofa, 1 cocktail table, 2 end tables) on 12/7/12. The furniture was supposed to be delivered on 12/18-12/20 and was definitely promised by Christmas (12/25/12). When I called to see when exactly the delivery was coming, they stated not until after Christmas. We went up to the store and cancelled the sale on 12/17/12. They tried to make a deal and charge us less money or give us a loaner off the floor. We refused when we saw the sectional we chose with water all over it dripping from the ceiling. At that time, the sales manager Fred cancelled the sale altogether, wrote that on the invoice and handed me a refund slip which says on it "Sales Slip." The sales manager stated he would submit the refund the next day.
After waiting 7-10 business days as suggested by my credit card company, there was still no refund. I submitted a dispute with my credit card company and still have not received a refund. I have made phone calls, visits, spoken with my credit card company, and still have not received anything a month later. When I spoke to the secretary Mia on the phone today, she stated that they submit refunds every two weeks on Fridays and that I should definitely receive my refund this week on Friday. She also stated that Fred must have failed to mention that to me when he cancelled the sale. I will follow-up with this. It is almost $1,400 of my hard earned money.
The business is unprofessional and does not do right by its customers - as you can see by the overwhelming amount of complaints. One thing I do not understand is how they can still conduct business with all the complaints submitted to Consumer Affairs? Please do yourself and others a favor by boycotting this business and any other associates of theirs.

I just visited Rooms Unlimited in Medford, NY and had to write a review about how horrible they are. First of all, we went into the store and no one greeted us. No one asked if we needed assistance. We had to look for a sales associate and approach them for help. When we found the sales associates, they were all sitting on their ** talking to each other. Mind you, there were a number of customers in the store at the time. We told the associate we're looking for a dresser, and he said, "Okay. We have some back there. You can look around, and if you see something you like, let me know." Are you kidding me? He didn't even come with us, show us around or anything. Then the dressers didn't have prices on them, so we didn't know how much they cost and what colors they came in. We got so frustrated. We decided to just leave.
As we were walking out, the associates were still sitting in the same spot and talking. They saw us leaving and they didn't even say "Did you see anything you liked?" or "Have a good day." Nothing. They were so unprofessional and lazy it was disturbing. Don't go to Rooms Unlimited unless you want to talk out of there. Pissed off and annoyed.

Rooms Unlimited promised to deliver my dining room set by Thanksgiving, but I was unable to do so and promised guaranteed delivery by Christmas. A week before Christmas, they delivered a completely different set and wanted me to accept it until my original set became available. I declined as I was already frustrated that delivery took so long for it to be the wrong set and demanded a refund as soon as possible. I was given a manual refund, but the credit was never put on my card! My credit card company is now going after them. They are liars! Please do not buy furniture here! Fred and Anthony will "yes" you to death and lie straight to your face. You are better off going literally anywhere else.

No delivery of bedroom furniture for 7 months despite full payment. I called them up weekly after 2 months and was repeatedly told that there were delays in the manufacture/ shipping. I was told recently that the furniture has been delivered to them but it was damaged and would take another week. They also stated that there would be a partial refund for the delay. There was no refund as of yet and I've been trying to get my money back. I called up the manufacturer and they stated that there were no orders shipped to Rooms Unlimited from them, none planned and that Rooms Unlimited had been lying. I am filing complaint with credit card company for the refund.

To all who are thinking of shopping at Rooms Unlimited, please take your business elsewhere. I am only one of many scammed by these people. My story is long but the same as everyone else. I put a deposit on new bedroom furniture back in April. I waited and waited and waited. They told me lies after lies after lies. And still today, I have no furniture and no return of my money. Consumer Affairs is trying to help. I had a court date this month and they didn't show as usual. The cowards they are can't even show up in court. I am to return to court in November. I do not know how this place is able to stay in business.
I am doing everything I can to get my money back. Forget all those who work there. They lie everyday and tell you what you want to hear to delay you a little longer. As far as I am concerned, they are a bunch of lapdogs doing what they are told to do. Stay away from this store. Go buy furniture from some other stores. You will only deal with liars, criminals, and con artists here who prey on buyers for money and use the money on god knows what. They are bottom feeders. Trust me, you don't need the stress. They are not worth it. I'm still waiting, now at seven months and counting. Good luck.

I placed a special order (fully-paid) with them in the beginning of August 2012. However, I was informed in mid-August that they could not fill the order so I would be sent a refund check from their main headquarters. It is now the end of October, and I still have not received my money. I have called numerous times, and have physically gone to the showroom twice, only to get a runaround. They seem so nice when you are shopping, but do not be fooled by them. Stay far away - you do not want to have dealings with this company.

We ordered a couch and some bedroom furniture on Sept 5, 2012 (from Rooms Unlimited). We were told that the bedroom furniture would be delivered by September 20th. The day came and went, and still we have no bedroom furniture as of October 15. Every time we call, they say next week. As for the couch, we got a crappy loaner until ours came in. We finally got it yesterday, but the recliner is already not working after only one use. We called today and they said that it would take 5 days for a return phone call, so we still don't know when this will be fixed. This place is not worth the hassle. I wish I read these reviews before I purchased.

My fiancee and I went to this store to buy furniture for our new crib. The salespeople were so funny and friendly that we didn't want to leave. We bought our first sofa set from here and just had it delivered yesterday. Even the delivery dudes were happy and nice. It must be a fun place to work and definitely a fun place to buy furniture. We love our furniture.

Rooms Unlimited does not pay its bills on time. I had done work for Rooms Unlimited in April of 2012. After having been put off for months and sending in monthly statements, I am now calling daily to just get a runaround. If you have the opportunity, run as fast as you can away from them. They are not an honest place to do business with.

Listen to all these other complaints. I wish I had looked here before going to Rooms Unlimited for furniture. I have bought furniture here many times before since they were Nanrich, which is the same family as Rooms Unlimited. I ordered a 3-piece couch loveseat and chair in March 2012. I was told verbally that it would be 6-8 weeks. Unfortunately again, I didn't read the receipt they gave me as I have done business before here and thought it was the same good place. It's not! They took $1,000 deposit, gave me loaner furniture and told me 6-8 weeks. The loaner furniture was horrendous. After 6 weeks, I couldn't stand it anymore. I was so uncomfortable. That's when I found out my furniture would be 8-12 weeks! I couldn't believe it. They replaced the loaner furniture with a new loaner furniture, which was brand new as I demanded and after being told by Fred and all the other cronies there, it would be delivered on the week of June 18. Then it was July 9 definitely, then it was July 20th, then it was August 12th.
Here we are on August 16th, still with no furniture. Now it's supposed to be August 23rd. We will see. Be warned. Do not do business here. I am up for anyone who wants to gather with all these complaints and picket the store on any weekend. August 16th is the last straw date. If I don't have my furniture, not only am I going to demand my refund, I am also contacting the news stations. All of them. I wish I had gone to Stanley in Patchogue. Very reputable, also a family business for years. I purchased there as well and wish I had this time too.

Furniture was ordered on April 11, 2012. A $1,000.00 deposit was given (a check was requested). Delivery was supposed to be within 6-8 weeks. No one from Rooms Unlimited has called us. We have gone there in person at least 3 times. I have been given three delivery dates (one in June, July, and August) that have never materialized. I am seeking a refund of my deposit and full credit of the balance placed on a Rooms Unlimited credit card through GE Bank.

I have been waiting since June for my living room to come in. I got a call in July that everything was coming in on August 2 so I took a day off from work to wait. At 2pm, I got a call that my couch is in but not my chairs. They said they can drop it off but when my chairs come in, I have to pay for a re-delivery charge, really. I went down to apply for the 5-year interest free finance that it says on my order form, but guess what - I'm told that they will only give me 6 months. This place is a horror show. I would not send any person that I care for to this store. I went to the store's website and the only comments are raves; I guess the people who work there must have written them.

Just to add a little more info. I got my money back thanks to Consumer Affairs. I went shopping on Saturday for furniture, each and every store I went in had the same exact story about Rooms Unlimited. No vendor will ship to them, they are so far into debt with other things they take your money to pay off other things. They are always being fined due to the building being unsafe. They have filed chapter 11 several times in the past year. They will be out of business in a few weeks. If you have money on something, try to get it back asap or else you will be out of whatever you put down on it. This is a horrible thing to do to unsuspecting people.

I purchased a couch and love seat in March; the delivery was delayed several times. Last Tuesday, they called me to tell me that my furniture will be delivered Wednesday, and they told me the remaining balance as well. I ran to the bank and got a certified bank check, and threw out my old furniture to make room for the new. Wednesday, I called at 10am (like advised) to get a delivery window to see if my mom needed to come over; the girl laughed and said, "Oh, you aren't getting them today." Fred, the nasty manager who got on the phone with me, told me "too bad." I asked to speak to Mia or Tracey because they both advised me I would be getting a delivery on Wednesday. I asked to speak to one them; he told me he would have them call me back. Thankfully, I had an open case with consumer affairs; they helped me, and I got a refund. What Rooms Unlimited does is illegal; they sell you stuff that is discontinued and use your money to pay for other stuff. They should all be ashamed of themselves; I would love to know how they live with themselves every day and screw people the way they do. I would love to have a rally in front of the store to let consumers know what pieces of garbage they all are.

Amongst numerous other problems with the furniture I ordered, I have been waiting to have the correct mattress sent to me since March. And every time I call, it is a different delivery date and different excuse under the sun! Do yourself a favor and go somewhere else! The customer service clerk is extremely rude and discourteous to customers. She will argue with you even though they are so wrong!

After more than 5 months of waiting on a couch that was not ever arriving, I contacted my credit card company. They had Rooms Unlimited refund me in full. However, I am very disappointed after wasting time waiting on a furniture that was never to arrive. Also disappointed because the sectional I ordered was exactly what I was looking for. Big letdown! Why would a company want to waste your time? I just don't get it. Now I am on a search again.

Worst people you will ever deal with in your life. Fred is a miserable man who never keeps his word, and their secretary who has a hard time dealing with the phones is one of the rudest people on the planet! The way they do business is a Joke. They are terribly, terribly rude to their customers, and break promise after promise. Take this as a big warning! Stay away from this store. You will deal with nothing but headaches! I paid in full for a full sectional in the beginning of February 2012, and did not receive it until the end of June! I waited four months, and I had to call them a thousand times to be thrown in circles. Now, I am fighting to get a partial refund because of the long wait I had! Do yourself a huge favor and stay away from this place!

Do not buy from them! Where to begin? I ordered a sofa bed on May 8, 2011. After months and months of being given the runaround from their CS people (who are nasty and rude), they finally admitted (in February 2012) that the sofa bed I ordered was discontinued back in August 2011. So, I requested a full refund which they said they couldn't do, but to come in and pick out another sofa bed and they will check their computers to make sure there are no backorder/fabric issues to hold up delivery. I picked out another sofa bed in February 2012, which was less money than the original one I paid in full for back in May 2011. I made sure my receipt stated that I was due a refund of $146.66. Finally after being told the same old story like previously (fabric issues/delivery issues), the sofa bed was delivered on June 14, 2012. I asked if my refund check would be given to me on delivery, they said no, they had to wait to receive my delivery paperwork but would process it that Monday, June 18.
Well here were are, July 2nd and 2 phone calls later to the accounting department and still no refund check. This place is rude, and the most crooked business I have ever dealt with. If I don't receive the refund by week's end, I will be filing a complaint in the small claims court in Patchogue first thing Monday morning. I think 14 months of being pushed around is more than any average person would tolerate.

I, like so many of you, ordered a sectional at the end of February. I was told it would take 8-14 weeks, because it was a special order. Well, after 12 weeks, I called them; and they said that it would take the full 14 weeks. I called again after 14 weeks, and they said it would be on the next delivery truck in about a week. No furniture that week either. I called again and was told one of the warehouses closed and it would be a little longer. My husband and I went there and spoke to someone named Anthony. He was there to "fix things." He told us he would call us Friday to let us know what was going on. He also said that our furniture was made. So what was the problem? Needless to say, he didn't call us.
So we went back there, and now, the new delivery should be the week of July 9. I told him I wanted my downpayment if I don't get my furniture then and made him write it on my bill that a refund will be given. This is the last straw. If I don't get my furniture I am definitely going to dispute it with my credit card company, because I'm sure they will give me just another excuse to wait. Good luck to whoever goes with this miserable company.

First off, the woman that answers the customer service line is the rudest person I have ever dealt with. I work for CS and she would be out of the job. The seams on both couch and love seat ripped and frayed. I paid extra money for 5 year warranty. When I called the store, they said it was a manufacturer issue. The manufacturer said I was 10 days over one year warranty, so much for contract.
I ordered a dining room set and every chair had to be tightened very often. Needless to say, the arms are off the two arm chairs and the four chairs waddle because you cannot tighten anymore because they are stripped, not safe. I ordered two bedroom sets and have no complaints about the quality of the products. But the delivery was promised 4-6 weeks and it took 10, unacceptable since I emptied current furniture. Do yourself a favor, don't believe any promises they sell. They are truly trained salesman.

I am another victim of this horrible company. Just like the rest of you, I never received a couch ordered in early February. I've listened to story after story from the store. First, it was a problem with the material; then the warehouse closed down and there will be a delay. Then, finally it will be on a truck next week. Well, next week turned into another month. They promised me yesterday it was on the truck and any day now it should be coming in. When I called today, they told me there is still a problem with the material they ordered and it hasn't even been made yet. I'm fed up and disappointed because I really fell in love with the sectional after looking for over a year. It's very disappointing that a company can flat out lie each time you call. I've been more than patient, but I'm done now!

Fred finally came through. I ordered a dining room set on 3/31/2011 and left a $3400 deposit. Unfortunately, the set was discontinued last September, but I was unable to have my deposit returned. I spoke weekly with Fred and it appears that his hands were tied when it came to a refund. He did come through recently when he offered us a new dining room set that he had in stock. We agreed and it was delivered as promised. Perseverance paid off. I think Fred tried to do the right thing all along but was unable because of company policy. The company is in transition and ownership is being transferred to the owner's sons. Hopefully, business will turn around. Buyers should be cautious and not leave large deposits on furniture orders.
Rooms Unlimited Company Profile
Company Name:

Rooms Unlimited