Badcock Home Furniture and More
Consumer Complaints and Reviews

I ordered a bed and washer and dryer and was told I could pick them up in Mulberry. I used my rented U-Haul to drive there spending extra money on mileage only to get home and find out the mattress was not there. I called the store and was told the order was closed out and I would need to wait until Monday. I call on Tuesday and find out the order was not closed out but that they didn't have the mattress in stock. Meanwhile I have the box spring and am sleeping on the floor. A week later I'm told they won't have the mattress until 4 days later and I would have to wait another 3 for delivery or I could pick it up which would mean renting another truck. I'm very dissatisfied and after my items are paid for I will never do business with them again. The sales person was very unempathetic and didn't even apologize.

I purchased a bedroom suite for $2,600. The quality is awful! Seems to be made from pressboard and was already damaged with scratches and cuts when delivered. My nightstand had to be exchanged and I was given a marker to color in the other smaller nicks and scratches. They reported inaccurate late payments to the credit bureau. When I called in to have it corrected, they were first very rude, and I was told that they don't report by your due date but by your cycle date. The only date I was provided was the due date, being the 5th of each month. I'm NOT mistaken that late payments are reported only when paid more than 30 days beyond your DUE date. It seemed as though they were already "trained" to say no without looking into the account to find their mistake.
The sad part is that I paid more than the minimum payment when it was reported late. I felt as though I was judged, stereotype. I'd already been discriminated against before I ever called in. I was in process of purchasing a home and it hurt me and my credit score! Needless to say, I was told that they would not be correcting it. By far, this is the absolute worst company I have ever encountered!

I purchased a Jamison 5PC Dinette Set from Badcock on 11/5/16. ON 11/12/16 it was delivered to my home. All seemed perfect. On 11/24/16 (less than 2 weeks later), a warm aluminum pan (the type you buy for 50 cent at any store) was placed on the glass table top and a whole chunk of the glass bevel top fell off. I called Badcock and was told by customer service they wouldn't replace it because it was not a manufacturer's defect so it was not covered by the 1 yr manufacturer's warranty.
Then I was told that the insurance I purchased did not cover it as they did not cover broken glass. They told me they would give me a $14.50 credit (best they could do) so I could purchase a new table top. So not only did I spend hundreds of dollars on a table that I did not get full and proper use of but now I have to spend an extra $60 to buy a new table top and get this, $50 for them to deliver it to me. Unbelievable.
I have never bought anything from Badcock before and I will after this NEVER buy anything from them again. I told this to customer service but it didn't seem to sway them in resolving the situation more favorably for me. I am really disappointed. I have reached out to the manufacturer (Cramco) directly but not sure if that will amount to anything as on their website they say if you need help with warranty or replacement parts contact local dealer. Local dealer (Badcock) is of no help.
Needless to say I am very upset looking at a broken table top that a warm aluminum pan should not have broken and having to pay to replace it because they don't consider it a manufacturer's defect. REALLY? In the spirit of Thanksgiving I am thankful to know now that Badcock is not a store that puts their customers satisfaction first.

I went into the Florence SC store 2522 David McLeod Blvd. I bought a chair that was in the clearance area. First they kept changing the pickup policy. When we got the chair it had two flaws on it, this being the reason it was on clearance. When we came to pick it up it was torn on the arm of the chair. They said it is as is. They said that the manager was on vacation and it was nothing that they could do about it. Well we went to look at around the store. We sat on a chair and it broke. They asked us if we were ok, but no store report was done. I asked then about the other chair that was in the clearance area and she told me that they had to wait for the store manager to come back from vacation before they could do anything.
It took two weeks before they could give me an answer, and why they did the price was higher than the first chair that I bought and this chair had more this wrong with it. We are in the area where we are getting money due to the floods in our area. So they are price things up higher, which in the state of SC they are not suppose to do that. It has been told about price hiking. This store manager is the most rudest person that I have met in a very long time. And do not care about people. I wonder why she is work in cs. Every time I ask for the area manager I get "I cannot give you the information." I still do not have the other chair that I think they the salesperson want it. Now. Because we showed them how they can use it. The salesperson told me that we could get the other chair for a lower price. Now that has changed.

I called after receiving a late notice on payment, put on hold for 29 minutes. So unprofessional. I had my receipt in hand, gave the date payment made. Latsaha says sorry. Nothing she can do but look into it, and hung up. Never again will I use them. I mean never!!!
How do I know I can trust these reviews about Badcock Home Furniture and More?
667,311 reviews on ConsumerAffairs are verified.
We require contact information to ensure our reviewers are real.
We use intelligent software that helps us maintain the integrity of reviews.
Our moderators read all reviews to verify quality and helpfulness.
For more information about reviews on ConsumerAffairs.com please visit our FAQ.

I found the swivel counter chairs I was looking for. I did not need them delivered because I had a truck and I only lived down the block. But if I picked them up myself I had to take them in the box and put them together myself. All the other stores and I repeat ALL the other stores were happy at no cost to put them together; you're talking $200 a chair. No wonder they are always have a looking for help sign in the window.

I went to the location on Fort Lauderdale. I asked the young lady for a application so I can apply for credit. As I was filling out my application the store manager was on the phone with a customer who apparently was having some issues as far as paying for his bill on time. The manager was talking this person very disrespectful. He was questioning the customer about why couldn't his bill on time, why was his payment late every month, if he would have known this about him he would have never agreed to giving him credit, ever since he had the furnish for a year and the late every month etc etc etc. He was very rude and if I was on the other line I would have hung up on him. Some of us have hard time at some point in time in their life but no one should ever have to be spoken to like that. If you have to call customers to collect funds from them that's fine but maybe you should do it in a office with a closed door. Not in front of potential customers.

10/21/2016, I went into Badcock, purchased a TV. The sales associate that help me was amazing. Her co-worker took the TV I purchased off wall, placed on a bed and took off wall mounts. Now before this TV was unplugged, it was working, fine beautiful picture. When I got home, this was punctured. Which how to determine when or how. So I carried the TV back on 10/22, the store Manager replaced TV brand new in box. His workers loaded TV in my car and stated "if something wrong with this TV, bring back, that's on us."
Well, when I got home neighbor downstairs help me move TV in my home. Took TV out box put stand on and notice TV has been damaged. I know I didn't drop but I notice where a strip was on box that could have been too tight which could have cause damage. I contact store immediately and took pictures of box and TV. Where store manager said he wasn't replacing because TV has been drop like I did it. He told his employee to tell me to email pictures he would call warranty department which rule TV has been drop and wasn't replacing. Now they want me to file insurance claim but why when it was damaged when I got. I am so upset, it's not funny. I plan on going to file legal charges about this matter.

My wife and I went to Badcock to use her charge account that she had taken out 8 months ago which we did not purchase anything because we were not financially able to. Now that we are we went into the store to purchase some items. They couldn't be bothered with us because what we were purchasing was only a few hundred dollars and evidently they wouldn't make enough money off of it to bother caring. The woman who was nasty as could be in Chipley Florida told us that "your account is an old account. 7 whole months old and you have to fill out a new credit app because otherwise I can't help you." She was a nasty ass person.
If you live in Chipley Florida or nearby and want to use that store in Chipley avoid it at all costs. She told us that the owner is on site and went and talked to him and he said "no you have to start all over and do another app otherwise we can't help you." Problem being we were only purchasing $200 worth of items which I guess was not worth that nasty ass woman's time. I can guarantee you one thing. No one of my friends or family will ever purchased anything from Badcock again.

I was planning to purchase furniture from this company. Upon further inspection, I noticed this was less quality than Walmart college dorm furniture. Everything seemed to be constructed of plastic, particle board, and other fillers, instead of real wood from actual real trees. The furniture seemed very delicate, especially the dresser drawers. Something needs to be done in the way of state regulations, because this is not furniture, nor should be labeled as such. So glad I hesitated and educated myself on this site before committing to paying for high priced disposable furniture. What a rip off...

I bought a complete room of furniture in the store. When it was delivered a glass shelf was broken... wasn't broken in the store. They told me since it was on sale they didn't replace. Shouldn't a company be responsible if they damage a product! They didn't deliver my complete order and told me I could come by the store to pick it up!! Took weeks to get it. The reclining love seat I bought was broken, a repairman has been to my house twice and even brought parts to fix it... can't be fixed. Badcock doesn't want to replace it even though I carry insurance on it.
Like somebody crazy I went back to store to purchase a laptop... when I got it home it was locked!! Had been previously owned, but they sold it as a new one. This company has been nothing but a pain in the **. DON'T EVER DO BUSINESS WITH THIS LOW RATE COMPANY!!! After months nothing has been resolved. They keep saying they will call us but never do. We have been back several times. This company is a nightmare to do business with.

During delivery, their employees damaged my walls and a drawer in the dresser they delivered. I fixed my own drywall and have been waiting for a replacement drawer. It has been over 2 months and still no drawer despite calls to the Manager. The furniture was purchased in Florida but then shipped to the Rock Hill, SC store for delivery.

My wife and I have shopped at Badcock for over ten years, and it has been, pretty much, a game of roulette the ENTIRE TIME. A sectional outlived its life expectancy, but the matching ottoman didn't make it through HALF the payment term. Dining table still holding up, BUT the bolts that are SUPPOSED to hold the matching chairs together have to be re-tightened every 2-3 days, LITERALLY. Reclining sofa and loveseat... GARBAGE!!! After just a few months of use (and we are RARELY at home), we noticed the springs were about to come up through the outer cover. VERY UNCOMFORTABLE (PAINFUL)!!! We will NOT be making any more major purchases from there.

In a word, horrible. I purchased furniture from Badcock Home Furniture in May. I spent close to 2 grand, and received a bed in a bedroom set that was missing parts and poorly put together. I attempted to return the bed within the first 30 days of purchase, because of the missing parts and the poor structural integrity of the bed. I was given the run around, told a manager would call, etc. I have called repeatedly, and made the trip down to Largo from Holiday two separate times to speak to them in person. After two months of bothering the employees of Badcock on Missouri Ave, Badcock finally sent a repairman to my home.
The bed was missing an important part for the structure, and due to the lack of that, the slats in the center of the bed are sagging and the post that holds the slats up is broken. My SO and I are not heavy people, so there's no reason other than the missing parts and poor construction to have this many issues with the bed. It's now been four months and the bed still isn't fixed. I call, I go in, I argue, I get the run around. I've spoken to Tim, a manager, who refuses to give his full name, and he just tells me there's nothing he can do. When I go in the store, they just sit there behind the counter and argue that there aren't parts missing.
Today was the final straw. I spoke with the repairman, who informed me he knew of no parts, and that he'd be coming out to take a look at the bed...again. I called the store, and they claimed that the parts were in, and that they'd have him come back and get them. At this point, after call after call to customer service, corporate, and store managers, I'm ready to stick the brand new broken bed in the dump and call it an $800 loss.
I was told I couldn't return the bed because it was past 30 days...I tried. I have been put on hold and left hanging, hung up on, and told that there's generally nothing they can do, after four months. The manager literally told me there's nothing he can do, he doesn't make the furniture or stand behind it. The other furniture I bought is fine, but if you have a problem with your furniture and you purchase from Badcock, be prepared for a fight, because they do not stand behind their product.
They've lost a customer that would have been a life long customer, and I will be sure to warn everyone of this experience I've had, because there isn't any higher up to reach to keep these people honest. It's a shame you spend your hard earned money, and get garbage that doesn't work, so beware buying from Badcock. I know myself and my family and friends won't make that mistake again.

My sister bought a sofa and immediately it began to fall apart. She had bought the protection plan and they wouldn't honor it. They are such liars.

We have been doing business with Badcock in Valley AL for 13 years. Never had a problem with the store replacing any thing we had a problem with. And we recommend this store to everyone. I can not understand the bad reviews of other stores. But we are happy With our Badcock in Valley AL.

I usually pay cash for anything I purchase because I had no credit but when I went to Badcock in Lake Park, FL, I decided to purchase furniture on credit so that I can build credit. I purchased approximately $2500 of furniture and paid almost $250.00 per month to pay it off. The method Badcock uses to sell furniture is very confusing because there are two businesses in one, which could be used as a good source of business to pursue, if, the information provided is not misleading, from both of the companies; Badcock and ACCESS NOW.
After nearly a year of making payments and paying late fees to pay off $2500, I learned that I owed over $3000. I became an irate customer and spoke very loudly and told any customer that walked through the door to ACCESS NOW and Badcock, that they will rip you off by charging extremely high interest rates and you will pay 3xs the amount of money owed. I paid it off and was left feeling very dismayed about how unethical it was for Badcock to allow ACCESS NOW to be in their STORE to mislead customer and take customers hard-earned monies. As customers arrived in the store, I told them it would be best to save their monies to purchase the item with cash or go to ROOMS2GO... At least there your purchases would be from a reputable company that cares and treat you better.
The ACCESS NOW representative who I paid off my account with apologize and stated that she understood why I was upset about the amount that I still owed within a year's time, but what she said was worthless. I was mislead and taking advantage of by the company which charged an excessive high interest rate and by Badcock who referred me to them. They were suppose to be there to help customers whose credit was bad or with no credit, but not to over-charge them $2000 to $3000 more for years for furniture that was purchased for $2000+, and is stealing from people who is unable to defend themselves or has no other choice or means of getting what they need for their families.
I did not know the companies were of two different entities and that they did not work together to meet the customer's needs. I was sold a dining room set that the screws could not tighten when put together and when I requested Badcock to change it, they explained that it was bought by ACCESS NOW and that it had to be changed through them. Before purchasing the furniture ACCESS NOW explained, they worked together and that if there were any problems to speak with Badcock. I did that and was told that the dining set could not be changed because ACCESS NOW paid for it and that it had to be changed through them.
It was charge through them but it was a challenge changing the dining set out. It was traded and changed by an ACCESS NOW manager, who was later terminated. He was not in agreement with how the system was operated and neither were other customer service personnels who worked there who also left within the time period I paid the monthly payment.
I know that I am not the only person who has experience this, but I believe that I will be the only person who will speak out about it. I am hoping that this situation is managed more appropriately and accordingly to help the people who will not stand up and speak out about the open thievery system that exist with Badcock and ACCESS NOW. If it is any way possible, I hope the above companies are investigated and I will like the excessive amount of money I paid for the furniture, that I did not owe, refunded.

My husband and I both have an account each with Badcock. We fell behind 3 payments each because my husband got deployed and we remained in contact with the company as to what was going on and when we were going to be able to catch both payments up. We have had nothing but call after call everyday and they leave a automated voicemail all the time. When I call them they never take note of the day I say I'm going to pay. I was once told by one lady that they wouldn't want my furniture back nor would they repo any of it like other buy here pay here companies. I get a letter 2 1/2 weeks before I have made arrangements prior in the same week to make the payments on that date. While I'm opening my letter I had just received in the mail I also get a phone call from them at the same time. This is how much this company harasses their customers and even the ones who aren't avoiding them and making arrangements!
They are also not a very military friendly company. My husband sent them a copy of the Service Member's Relief Act Form to get his account interest lowered while on deployment and he is also the only one who brings home the money to pay the bills due to me being in college full time. So they would not lower the one on my account. It's very odd how we have other accounts with other companies and he isn't on there with me and it's just myself and I give them his orders and a copy of the SMRA and they lower the interest on my accounts but when this is mentioned to them they flat out give a no that they cannot do that because he isn't on the account with me.
So if we would have known this company was like this we would have never went to them. This is the first time we have ever purchased brand new furniture for our home and it has not been an enjoyable experience at all. It's been nothing but a nightmare. I would not recommend them to anyone. We will not ever be doing business with them again!

Not long after Badcock opened in Pell City my wife and I purchased a sofa and loveseat set. After a few weeks my wife called to complain of the loveseat leaning apart. It was so bad. We thought the warranty would replace it. After several attempts and calls a worker I had seen in the store with an ankle brace came to our house took apart the loveseat and beat on it for fifteen minutes.
Several months later and the same problem another guy was sent out and while taking the loveseat apart I asked was he going to use the hammer too, and he replied what did I mean. After I explained what had happened he said he was the only person in this are that did Badcock's work. After talking we figured the store just sent out a worker to hush my wife. This piece of furniture was one of our worst ever investments and it's paid for and still crooked. The management in Badcock won't even let their employees write your balance - they will say, "We can't. We can tell you but you have to write it." Some bad business.

Couch defective - they refused repair and replace. Said wear and tear - highly doubtful since it's 6 months old. Don't go there ever!!! No matter what deal they may have.

I purchased a bed from Badcock for my son. I went in and the guy recommended the bed that would accommodate his 6'3 258 size. I purchased the bed January 2015. 1 year and 1/2 old and the sideboard broke and also the boards underneath the mattress broke and are warped. Now the mattresses are on the floor without the bed frame. I am not very happy because I am still paying for the bed. I love the mattresses that I purchased, but the bed was made from poor quality. Just do not tell me that the bed is going to be sturdy if they are made cheap. Will not be purchasing anything else from this place. Very unhappy mom.

I ran into problems with making my payments on time, long story short, I finally paid off my account over a year ago. While the problems did affect my credit score, Badcock has not done their job in reporting that my account has been paid in full and closed my account. In trying to clear this up at the local store, I have been told to contact the corporate office in Florida.
Dealing with the corporate office is a nightmare. After my initial phone call to report this, it was not corrected on my record. I called back and the person I spoke with stated there was no record of my phone call. I told the rep when I called and who I spoke to and still nothing. I went through everything again with reporting the problem. Longer story short, this problem has not been resolved and it still is on my record. I wish many times over I had not gone with this company, but I needed furniture and at the time, this seemed like a great solution.

I purchased the warranty with my furniture. Getting Badcock to honor it has been impossible. The furniture is inferior. Missing screws, cracked wood, discoloration. I will never use their store again. The manager and reps were rude to us when we brought in the defective products and pictures. I do not suggest anyone buy their product.

This has been the absolute worst experience of dealing with any company anywhere. With any type of purchase ANYWHERE. The manager at the store Percy ** has been the biggest rude and condescending liar of all. It has been 2 weeks since we purchased the furniture, after SEVERAL delivery attempts we still don't have it. I thought I had ran into horrible customer service with other companies before but this is absolutely the worst! WARNING!!! DO NOT DO BUSINESS WITH this STORE!!!

I purchased a Serta Indigo from Badcock for my daughter as a birthday present. Same mattress I have. She received what I believed to be a brand new mattress from Badcock on Saturday! She woke up Sunday morning with bites all over her legs. We thought nothing of it and figured a mosquito got in the house. She woke Monday with more bites in other places. Tuesday we began to get suspicious and did some research and grew weary of the mattress. Today we called Badcock and told them what was going on and to come get the mattress. We got nothing but the runaround and after a goat rope of phone calls we called corporate. I find out not only will they not do anything about the situation but they won't even exchange the infested mattress they delivered! They basically blamed us and said maybe a guest brought the bugs into the house and that they spray their warehouse.
The mattress was delivered late afternoon and my daughter didn't leave her house or have anyone come over. I asked the customer service rep to let me talk to their manager and he told me he would get back with me within the next 48 hours. I can't leave that mattress in her house for another 48 seconds let alone 2 days and still unsure if they will do anything about it. Note: She has no pets. Nor has anyone been in her house in the last 4 days. I paid a thousand dollars for my daughter and 9-mo-old granddaughter to be feasted upon!

I am in commercial appliance repair. After figuring out my home washer barely out of warranty was done I had my wife contact Badcock Brandon to see. She called me after speaking to salesman Jerry. We 3 way conversation that I would pick it up same day. I took my 9 year old daughter in my company van. First words she said, "Where is momma?" I replied, "Momma doesn't pay the bill. Where is washer?"
I decided to take it 900 dollars plus he added esp warranty. I said, "Take it off, don't want it." After 10 min of "don't want it" it was removed then asked for extra ID, social number etc. I am on account. I created it. Asked for manager, then "Oh you're good." Helped me load it. I called several days later thinking about matching dryer because it died. I told girl that sounds like a guy, "I don't like this Jerry. Don't want to deal with him." Her remark, "Sounds like you like him."
Then I went to Lowe's and bought a dryer. Then the nerve this guy Jerry calling my house. Told my wife, "Payments won't increase if you buy warranty." She said no, click. After calling ** "do not call my house" a salesman Rodgers calls. Leaves several messages not returned. On esp warranty I'm looking on my bill they put it in account without permission. I called home office to make payment and they said was added. I called ** and called him out on this. He was quick to credit this back. He said he remembers I don't want this. According to Jerry that conversation is recorded. How many other people has this been done to? Unlawful charge to people not paying attention.

To make a long story short, we were lied to during our first attempted delivery. Three attempts later and too many excuses later, we decided not to go through with the purchase. We received an email from the home office blaming us for not getting our furniture. Two weeks ago we get an invoice charging us for furniture we do not have. My husband called and asked them to fix the problem. Of course they said they fixed it. Today we get a letter in the mail asking us to pay our bill for furniture we never received. The worst customer service I have EVER experienced. Their business practices are sneaky and dishonest. I would caution everyone to stay away from this company!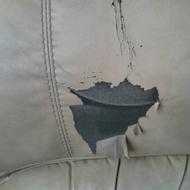 We bought a recliner and a couch that reclines on each side about 2 years ago. In about a years time this is what happened to the chair... See pic. We had taken out an extended warranty out on the furniture. However when we tried to use it the very obnoxious person informed us that the warranty did not cover this kind of damage. When we bought the furniture in the store we was told it covered everything and there wouldn't be a problem ever getting someone to come out fix it anything just to call... Well that's all we have had is a problem and now we are stuck with crappy looking furniture and out of thousands of dollars... Will not ever buy anything from Badcock again and we have bought furniture from them before and have recommended them. Never will we again. We will recommend people to stay away though!!

It's very sad that a company treats loyal customers like this one has. We have furnished 3 houses over the last 11 years from Badcock. Never had a issue and we have dealt with 3 different locations. Well we ordered furniture and had to deal with a different store. The experience was horrible. After a month we still had not got all of our items. But of course got a bill. The manager told us on several occasions they would be there at a certain time but NEVER showed up. No call or anything.
This happened 3 times and as you know you have a few hour window so we had to have someone wait all 3 times. This manager Kevin is so rude, obnoxious, he should not be a manager at all. He lied to corporate about the situation. We are so over this so we told them to come get the furniture that was delivered and will you believe they are trying to charge us a return fee of several hundred dollars. It's very clear they don't care about loyal customers. They are the ones that will lose I bet. We have spent 15000 at least over the years and was getting ready to purchase a bedroom suite. It's sad, we will never ever buy from this company again. Beware everyone, as of 7-5-16 still no response from them!!!

I am writing to complain at the poor service of quality that me and my family received from Badcock Home Furniture located at 160 Hampton St, McDonough, GA 30253. I would advise any customer to NEVER in life purchase anything from this store. My daughter's grandmother ordered a Bedroom Suite for my daughter from the Macon, GA store. Since I reside in the McDonough, GA area, I was advised that the Badcock in McDonough,GA would be delivering the bedroom suite. The store advised me that the only time they could come to my house to deliver the bedroom suite was on a Tuesday because they do not deliver any furniture on any other day if it was not purchased at their store.
The first date of delivery was on May 10, 2016. The delivery guy brought a full size mattress with a queen size box spring and he stated he could not put the dresser and mirror together because the dresser did not have any holes for the wood, and that he forgot the screws. After he left I called the store and advised them about the wrong mattress being delivered as well as my dresser and mirror not being installed. I was advised that they would come out the following week and take care of everything. On the following week May 17, 2016 another delivery guy delivered the correct size box spring. When asked was he going to put my dresser and mirror together, he stated that he knew nothing about it and he did not bring any screws or the wood that holds the mirror in place so he could not put the dresser and mirror together.
I called the store manager ** and advised her that two weeks had went by and my daughter's mirror was still sitting on the floor. Two different delivery guys had been out and neither could put the dresser together because they stated they did not have the screws, wood, and there were no holes on the back of the mirror or dresser. The store manager ** asked me to send a picture mail of the back of the dresser and mirror to her cell phone so she could see why the dresser and mirror did not have any holes in it. Once I sent ** the pictures of the dresser and mirror she called back and stated that she would have a service technician to come out and drill holes in the back of the dresser and mirror.
Another week went by and I still did not hear anything. My daughter's grandmother called back to the Macon store to speak with the manager to see if we could get all of this resolved. The Macon store Manager Bob stated that he was told that they had to order the wood and screws for the dresser and would call us when they came in. We did not hear anything from the store until May 30, 2016 advising that the screws and wood had come in and they could come out the following Tuesday. I advised them that I was not going to be able to take off for at least another two weeks, and I would call them on the next Tuesday that I would be off. I had already taken off twice to accommodate the deliveries.
I called the store on June 09, 2016 and advised them that I would be available for delivery the following week. I was told they could come on Tuesday, June 21, 2016. I took off, stayed home all day waiting on the delivery guys. Around 4:30 p.m. I had not heard anything so I called my daughter's grandmother to advise her that no one had called or showed up. She called the McDonough store and the customer service rep advised her that the delivery guys were still coming. Guess what? NO ONE CAME OR CALLED!!!
The next morning we called the store to inquire why no one had come. We were told that the delivery guy stated he called and no one answered so that was the reason they did not come. This was a complete lie because no one had called and I also asked, If someone called why did they not leave a message? The customer service rep was very rude and stated that it was nothing they could do and I would have to wait until the following week for someone to come out. By now we were just so over this and called the corporate office. The corporate office called us back and advised us that someone would be out today 06/28/16 by 3:30 pm.
A third delivery guy (someone different than the other two) came out today with wood and screws for the dresser. Guess what??? He stated that he could not put the mirror and dresser together because he was not told the dresser did not have a place for the screws to fit and that he did not have a drill to make holes.
I called the store once again and I was advised that they did not know anything about the dresser or mirror not having a place to fit the screws. I was waiting on her to say April fool but I realized it was June. Not only did they know, I still have the text message in my phone that the store manager ** asked me to send.
Once again we made another phone call to the corporate office and was told they would be getting back with us within an hour. We heard back from the corporate office only to find out that the McDonough, GA store told a lie that they came out to drill the holes in the dresser but I would not allow the delivery guy to do it. I could not believe what I had just heard. You mean to tell me that I have been waiting since May 09, 2016 for someone to put my daughter's dresser together and when they finally come out I refuse service???
I will NEVER in life purchase anything from Badcock. The McDonough store advised corporate that they were not coming back out because I refused service which was a lie, so guess what??? My daughter's mirror is still sitting on the floor. I have had to take several days off of work for no reason, and I still do not know how this issue is going to be resolved. All I can say is NEVER AGAIN!!! #pissedcustomer
Badcock Home Furniture and More Company Profile
Company Name:

Badcock Home Furniture and More

Website:

https://www.badcock.com/