Consumer Reviews and Complaints

I am a 65 year old woman who has used Lipton teabags all her life. Since they had their 100 year anniversary, they changed packaging and lowered the amount of tea in the bag. They don't stay fresh, and I must use less water, giving me a very 'small' cup of pleasure! Please go back to individual wrapping and bring back the product you are known for. I might as well drink Tetley, for what I'm getting now!!!

There were tiny, moving, alive insects in tea bag which was opened by chance. I have been having your tea for years.

I had been buying Lipton tea for years mostly for iced tea. My husband drinks a gallon of iced tea every two days. Ever since Lipton changed their 100 tea bag packaging and made it all fancy, they made the tea bags smaller and raised the price. Plus, the tea really does not taste that good anymore. We bought Luzianne tea and made it the same way as we did the Lipton and were very surprised at how much better the Luzianne tea tasted and the price was over $1.00 less.

I buy the family size tea bags and the tea now tastes like mud without the paper wrapping to keep it sealed. Color of the brewed tea is now chalky looking. No longer buying Lipton Ice Tea.

Very bad. Lipton has lost its name. It is not like before. Don't ever dare to buy it anytime.
How do I know I can trust these reviews about Lipton Tea?
885,935 reviews on ConsumerAffairs are verified.
We require contact information to ensure our reviewers are real.
We use intelligent software that helps us maintain the integrity of reviews.
Our moderators read all reviews to verify quality and helpfulness.
For more information about reviews on ConsumerAffairs.com please visit our FAQ.

I have been buying Lipton Tea for 35 years! My last two purchases of 100 tea bag boxes have been a disappointment. What happened to the beautiful aroma filled taste? I decided to start looking for a new tea, sad to say. To the Lipton Tea Company... If you think your customers cannot tell something has changed you're WRONG!!! Maybe I will start buying whatever Starbucks uses because their tea taste way better than Lipton taste!! Saying goodbye to Lipton tea until they go back to their original formula!!

I wasn't a fan of tea as I grew up drinking coffee. That was until I discovered Lipton Milk Tea a few years back when a milk tea frenzy of sorts hit the country. I was surprised at how nice the milk tea tasted. It was sweet but that's wasn't much of a problem. It was a bit pricier than Lipton's regular teas but it was still a good alternative to coffee whenever I felt like lowering my caffeine intake. :)

It's no secret that Nestea is the much more popular brand of iced tea in our country. However, I've always been a bigger fan of Lipton, even to the point where I instantly recognize when a restaurant serves Lipton Iced Tea instead of Nestea. The problem is that Lipton doesn't sell one-liter packets like Nestea, so for someone like me who lives in a dormitory and cannot buy the big cans from supermarkets, there was simply no way for me to get a hold of it.
So imagine my delight when one weekend afternoon in the supermarket a few weeks ago, as I was walking through the powdered drinks aisle, I saw Lipton Lemon Iced Tea in one-liter packets. I was ecstatic! I grabbed about 10 of those packets then hurried back to my dorm to try it out. But I was a bit disappointed... For whatever reason, the taste is not the same. I can't put my finger on it, but it's just... different. And I hate to admit it, but Nestea Lemon Iced Tea actually tasted better than the Lipton one. I was heartbroken... After waiting and hoping for so long for Lipton to finally produce a packet version, it wasn't what I expected at all.
For anyone else here who loves iced tea as much as I do, do you taste anything different with Lipton's lemon iced tea packets? Maybe I just got my hopes up for nothing... But I'm pretty sure it's not just my imagination that the Lipton Lemon Iced Tea packets don't seem up to par with the usual Lipton teas that we've come to love. Maybe I'll try one their more premium flavors one of these days. But for now, looks like it's back to my tried and tested Nestea Iced Tea.

Lipton is probably my go-to brand when it comes to tea. Of course, they won't compare to Coffee Bean and Tea Leaf when it comes to taste and quality, but come on, not everyone would pay at least Php500 for a canister of tea. CBTL teas are for more festive reasons like rewarding yourself after a week of hard work or as a gift to a friend on Christmas Day, but for everyday drinking, Lipton is by far the best. I've tried Gold Leaf and Celestial, but these brands probably will take you one than one teabag to achieve fullness of taste. Twinings also has great-tasting, but also expensive. I also haven't found Twinings teas in smaller packaging. If they did so, they'll probably beat out Lipton in the market. Lipton stays true to the flavors it promises. Their green tea is the best. You can not only taste the authentic matcha goodness, but the warm gush of the tea from your throat to your stomach is oh so powerful.
I bought my mom their Yellow Tea variant and she enjoyed it immensely. It is rare for my mom to like cold tea (she does not even order those fancy milk teas sold everywhere) but upon tasting Lipton's yellow tea, she did her own concoction of evaporated milk, coconut sugar, tea and some ice. She let me have a sip and the child in me sprung out because of how playful the taste was (on considering my mom made it for me :P) We went to a duty-free grocery lately and I found this green tea with lemon and ginseng variation of Lipton. It caught my eye and grabbed one box. I was also surprised that the green tea only flavor was more expensive, but I went ahead and bought. I just had my first mug of that flavor and it is bursting with that zingy lemon flavor and that pungent ginseng note that married well to the herbal aroma of green tea. This is by far the best variant of Lipton I've tried and will definitely buy it again when the chance arrives.
This is just tea, so it's not as a pressing a concern such as car insurance or healthcare. But for the interest of fairness, I'll share my one criticism. I noticed that the 10-tea bag packs of Lipton are disappearing in the market. I've been to numerous grocery stores and all I see are those 15 or more packs of tea. I am wondering what happened to the smaller packs. I hope it's not gone for good. I'm also a fan of their bottled iced teas, my favorite is their Honey Lychee flavor. I am suggesting that they also come up with bottled unsweetened green or black tea. I believe that will be a bestseller, especially in a culture that now gears towards healthy eating (and drinking). I also would suggest them to try out more tea combinations, like creating their own Sleepy Time blend, or other blends that can contribute to certain bodily concerns (weight loss, fatigue, etc.).

Being on a heavy side and with history of heart ailment, diabetes and kidney disease, I decided to have a change of lifestyle. I used to have soda as my daily drink with just a bit of water intake daily. I know it's not healthy thus, would like to change that bad habit. With my latest APE (Annual Physical Exam), I have an elevated cholesterol. A friend of mine said that she used to have high cholesterol too and she took Green tea daily. I asked my doctor about the health benefit of it and if it is true that it lowers down cholesterol in which she responded yes. So, I bought a box of Lipton Clear Green Tea and began to drink that in the morning in the office.
At first I didn't like but I have to because it's beneficial to my health. I realized it's an acquired taste because eventually, I began to love it. From once a day, to twice a day and now I cannot live a day without drinking green tea. Even if we have meetings, planning sessions or simply meet up with friends, green tea is now my choice of drink rather than coffee or soda and even iced tea because iced tea has the same amount of sugar as soda. I had regulated cholesterol since and have been recommending green tea - Lipton in my case since it has been the reason for my lowered cholesterol. Therefore, I'm happy with green tea and I'm happy with Lipton.

Lipton, maybe, I think, is one of the best teas in the Philippines (compared to other "mainstream" brands for tea). Their iced tea tastes one the best. I really like Lipton iced tea to death!! If you want good iced tea, then you should consider Lipton in the teas you are selecting. :)

We try to lay off the carbonated sodas (because of the aspartame) as much as we can, so our alternative is ice tea. We love Lipton's bottled red tea, which is often out of stock in our local grocery. We buy bottles of it during board game night. This is also what we serve when we have visitors at home or when we want to binge watch on our TV series or when watching movies at home or in the theaters.

I recently made my pitchers of tea as normal... I use the gallon size. The tea started tasting sweet... I don't drink sweet tea. What is going on with Lipton? Has anyone else had this problem?

I live in Macau and I was use to have milk tea by Lipton black tea at the morning and somehow I always have some symptom of Meniere's disease from time to time, that really affecting my work. One day I start to having coffee also with milk every morning just for feeling of freshness, then my symptom stop, and I'm not thinking so much, just happy about it. Until I try a cup of that Lipton black tea, I realised maybe that is the reason. So I stop for a month then try again, still dizziness for testing few times. So I decided to say something.

For a number of years I have been buying the Lipton Green Tea with flavoring such as cranberry pomegranate. This comes in a box in individually sealed single serve bags. My wife and I pride ourselves in attempting to create the least amount of landfill waste as possible and we dispose of a considerable amount of waste in our compost bins. I was always happy that I could dispose of the used Lipton tea bags and packaging in compost.
Recently, the packaging has changed and is now a shiny, glossy ink-covered wrapper. In addition, the bag tags that I used to grab to pull my tea out of the pitcher no longer stay on after steeping. They fall off in my fresh pitcher of tea. I'm left with fishing them out with a slotted spatula. I have also suddenly noticed the wrapper says 'contains soy'. How does quality tea contain anything other than tea? When did tea plants and soy plants start cross breeding? I've done some research and am even further disappointed by my findings. I will discontinue buying Lipton tea after this box is finished. It's disappointing in this country, we can't even buy a safe, healthy glass of tea without looking at the ingredients and processing.

Yesterday I opened a new box of my "old standard" Lipton Tea that I have been drinking for over 60 years and seen 2-3 package changes in that time. Only this time all the tea bags are open to the air and stacked in a box that cannot be sealed. I have a small bed and breakfast and long ago quit buying the specialty teas that are package jointly - i.e., several bags in one package. My guests typically refuse to use them. They feel that the bags have been handled when one guests reaches to get out a loose bag.
The pretty gold foil may keep the bags fresh and clean, but it has to opened to be used, and then all the bags are open and exposed and my guests today complained. I suppose Lipton thinks they are saving money and/or the Universe, and I will certainly be saving money because I can't buy a product that guests won't use. I don't even much like knowing that the bags I use even if only for me are constantly open. How disappointing. And indeed, the tea, once brewed, seems much weaker. I remember when I was a teenage drinker many many years ago that I could get two good cups of tea from one bag. I remember the day when that was no longer true. But not be able to get even one really nice cup of tea from one bag adds insult to injury.

I have been drinking Lipton tea for 47 years. Since the packaging change I had noticed that there was nearly no taste nor aroma. I thought I had a box of stale tea so I bought another box and it was the same. Then I thought maybe it was me and I was losing my sense of taste (although I have no problem tasting anything else). I also noticed I got no pick me up from the tea. I complained to my sister who looked it up and found that many people have been complaining about the same exact thing. I cut open a tea bag and the contents consisted of a fine powder NOT cut tea leaves. I do NOT believe that there is even real tea in these bags.
Then I saw video of a consumer cutting open a tea bag that had live worms in it. Lipton responded saying those were NOT live worms but rather flavor crystals. Since when do flavor crystals move and curl??? I feel like Lipton Tea has slapped me in the face. 47 years I had been faithful to Lipton but that does not seem to matter. They have been ripping off the consumers since the package change. I have now switched to another brand. I DIVORCE myself from Lipton. Their brand can no longer be trusted.


Please go back to the old Lipton tea bags. These tea bags now are not as convenient to use, less sanitary and simply not worthy of the Lipton name. I will be switching to another brand immediately.

I have been drinking Lipton Tea for many years and I am going to have to say I am going to switch. My last box of 100 tea bags were all open bags, not sealed correctly. So when I pour the hot water in the tea comes right out of the bag. Most of the tea is actually still in the box.

As a former employee and loyal user for the past 50 years, I was truly disappointed with the packaging change of the 100 ct tea bags. The first thing I noticed, upon opening the box, was the absence of that lovely tea aroma. That aroma was truly part of the experience of opening a box of TJ. Lipton. It was definitely one of life's small pleasures.I found the taste of the product to be weak and not "up to the previous quality". Lipton tried to fix something that wasn't broken in the first place. It's kind of the same thing that Coca-Cola did a few years ago when they changed the formula of their product. Lipton even minimized the image of Sir Thomas J.Lipton. I don't think he would have approved. I hope they see the error of their ways, just like Coca-Cola did.

I've been a tea drinker since childhood, raised by my English grandmother on Lipton tea. It's the only brand I'd ever drink because it was simply the best tasting tea out there. Over the past several months I've noticed that it's not the same tea anymore. It's weak, bland and tastes like a cheap Earl Grey imitation. It's not enjoyable to drink and it's very noticeable. Why in the world would Lipton change their tea and ruin it?! Very disappointing! I'll be searching for a new brand of tea now.

Lipton tea isn't what it used to be. Tea is weaker and there is considerable sediment in bottom of pitcher. Would like to see tea back in its separate bags. Also, I read another review that pesticides are used on the bags. Never knew that. Why is that necessary? Shame on Lipton Tea brand. And Unilever.

I have enjoyed Lipton Tea for 40 years. First thing in the morning and also 1 or 2 times per day additionally. The old English saying is: "I could murder for a cup of tea." However, I have noticed a negative change in the last year regarding the quality and strength. The tea is much weaker lately and lacks taste. The changes in taste coincided with the changes in packaging. This morning I was compelled to do a web search as I am sure of the differences. Yes, here it is - everyone here saying the same thing. I can no longer "murder for a cup of Lipton Tea". Time to change brands.

I have been drinking Lipton cold brew tea for years and I just realized from doing research online that they spray the tea bags with pesticides. This really makes me unhappy. I loved their tea. I have noticed a problem in their tea. I have found that if you leave the tea in the fridge for 3 or 4 days after you made it, it has a weird taste to it and it does not taste like tea anymore. I will not drink their tea anymore. I'm going to go on organic only. It also makes me unhappy that Lipton is not gmo free.

I grew up appreciating a good cold glass or cup of hot Lipton Tea. The smell, the taste, the 'AHHH' sound that you made when you took your first sip or first smell. It's not there anymore. Plus, the loose tea grinds are so small that some leak through the tea strainer. I am so disappointed. I have even doubled up on the amounts I use, whether its loose leaf or tea bags. It doesn't help. Over the years, I have returned to check out Lipton Tea's brand, but it is still not up to its past standards. What happened? Signed, 66 years of tea drinking experience.

46 years of drinking Lipton tea has ended for me. The manufacturers must think their customers would not be able to notice the tea flavor change. They could not be more mistaken. First off, the great scent of a newly opened box of tea is completely gone. Secondly, that is the clue to what you can expect when the tea is brewed, a very weak tea. Third, you use twice as many tea bags and it is still doesn't taste like it used to, so your $4.00 box of 48 count tea real cost to you is $8.00.
Lastly, they camouflage this reality with the "stay fresh tea trays", thinking to distract the consumer from the tea quality change. I dislike this very much, once opened it cannot be resealed, except perhaps with scotch tape, twice a day for me. It becomes stale, it's not sanitary and what do you wrap it in if you take it to work? Really, Lipton, come on. You may have dominated the world market in tea since America's colonial days but with the global marketplace and internet your competition will shut you down.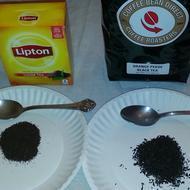 I've been a Lipton loose leaf tea consumer for over 50 years. In recent years the product has been changing and has now become so inferior, I've chosen to buy another brand. The Lipton's product packaging at some point changed from "orange pekoe/black tea", to some generic "loose tea". Now, the tea can be described as only "tea powder" with very few long cut leaves. This results in a very weak with little flavor glass of tea, even when increasing the amount used. Never in my lifetime would I have thought I would be changing tea brands, as Lipton's has been my family's tea for three generations. It's too bad Lipton's had to "fix" what wasn't broken. I've included a photo to show the difference between Lipton's and a quality orange pekoe/black loose leaf tea. Btw... the new tea is wonderful, like the old Lipton's.

I have been using Lipton tea for over 25 years. I brew a mug (mason jar) with two bags of the black tea bags. I have noticed with the change in packaging that there is a great difference in the strength of the tea. Sometimes it will be so dark I cannot see through it, and other times it comes out so light it does not look like tea. Plus the flavor is very weak most of the time. Maybe it is time to change...

I hate the new unwrapped tea bags. It goes stale and is unsanitary. You may think you are saving money but I just bought another brand with wrapped bags. So far, it tastes almost as good and I don't have to worry about dirty hands. Count up how many customers that you lose and soon you will be putting the wrappers back on, spending money advertising, and begging for customers. So what did you really save, nothing? You will lose loyal customers to another brand that they would not have tried otherwise. Put the wrappers back on!
Lipton Tea Company Profile
Company Name:

Lipton Tea

Website:

http://www.liptontea.com/