Consumer Complaints and Reviews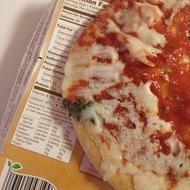 I have eaten Lean Cuisine pizza for a long time now and never had a problem until tonight. When I opened my package tonight there was some mysterious, gross-looking piece of something in my pizza. I was hoping it might have been just meat that had fallen off from another pizza during production or something. So I microwaved it as usual. It still looked gross and unidentifiable after microwaving so I threw the whole thing away and ate something else for dinner. I don't have the receipt I bought this with anymore, but I can add a picture of the pizza. I just want to raise this concern. I will be more skeptical about buying anything from Lean Cuisine from now on and I hope this matter can be resolved through better supervision of your production facilities.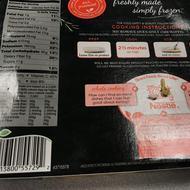 I was highly disappointed to find not just one but two different unknown things in my food. I found this in the sauce after I ate the ravioli??? One piece resembled an old piece of the asparagus end maybe, and the other looked like a baby tooth. I will attach photos as well. It sucks that I caught this after the fact. I am so paranoid now not knowing what I ate. I wonder will I get sick now. I am starting to feel sick??? This was very unfortunate. I also ate one yesterday and have two others that I will now throw away. Warning carefully inspect your microwave dinners.

I had one of these for dinner last night around 7 pm. I woke up around 3 am with very strong stomach cramps. I had to get up several times, between sleep, with an upset stomach. I had some slight nausea, but no vomiting. However, it is a little after 8 am, I am at work and still dealing with the same issue. I told my husband to remind me to never eat one of these things again. I was trying to think back and I have had several other stomach issue experiences with Lean Cuisine in the past, but I brushed it off, thinking it was something else I had eaten. Anyway, I will not be eating them again.

I've always been a pretty health conscious person, so it was somewhat natural that I used Lean Cuisine to help manage my weight early into my adult life. It was great for portion control and calorie intake. Although after learning more about preservatives and sodium I dropped them and switched to healthier all natural alternatives. Much to my delight Lean Cuisine has found a way to continue to market to consumers like me that like to have our cake and eat it too when weighing our options, ourselves and the quality of food we are putting into our bodies. Cheers!

This market place stuff shouldn't even be sold as a meal (there is no meat). I would be better off with a PB&J. I knew I quit the other lean cuisine because the fat chunks and rubber in the meals. I'm striking against frozen dinners now... Bring on the PB & apple, cheese and crackers. At least I will get protein in my meal.
How do I know I can trust these reviews about Lean Cuisine?
791,307 reviews on ConsumerAffairs are verified.
We require contact information to ensure our reviewers are real.
We use intelligent software that helps us maintain the integrity of reviews.
Our moderators read all reviews to verify quality and helpfulness.
For more information about reviews on ConsumerAffairs.com please visit our FAQ.

My mom buys diet meals to help us keep healthy. Today, I was feeling perfectly fine until I ate a broccoli chicken Alfredo meal. Within a minute, I had to run for the bathroom in fear of soiling myself. I had instantaneous diarrhea which was extremely painful, since I just developed an external hemorrhoid. Your meals are terrible and NOT worth the money. 0/10.

I have been eating Lean Cuisine meals for close to 4 years and have found the chicken is pressed chicken that is slimy and fatty. Can't eat. The meals with beef (other than hamburger) is very tough and has little taste. The ground beef has progressed to be very mushy (as if it is pressed hamburger). The meat portion in most of the meals seems to be getting smaller.

Thought I would try the beef korma and it was a case of find the beef. 3 pieces is all I found. The rest was all sauce. Flavour wasn't too bad but as the product says "LEAN" I thought it meant in fat not meat. Very disappointed.

I brought the Peri Peri chicken with couscous, only to find once I cooked it and opened the packet, there was no one piece of chicken in there. So disappointing.

After eating lean cuisine Swedish meatballs I became sick to the stomach and after two days of feeling, I'm still not well but feeling a little better today. The Other meals that I bought I returned to the store. I will not be buying any more.

Lean Cuisine Fiesta Grilled Chicken - This product is the saltiest thing I have ever tasted in my life. I actually coughed. I do like some Lean Cuisine meals, but this was the worst I had ever tasted of any frozen prepared meal ever.

I got a mean the shrimp scampi and I started eating it and I had not a lot of noodles left and I moved them and found a hair in my food. I moved it up thinking maybe it could be my hair. No my hair is not even. My hair it's on the side of the tray and I am beyond pissed. They usually are good but this time I'm done with them. That's nasty and I feel disgusted! I don't know what I should do but it's making me sick just looking at it!

I was eating a Lean Cuisine Basil Chicken Tortellini meal and bit into what I thought was a bit of gristle (gross) and then felt a sharp poke to my inner cheek. On inspection there was a flat sharp piece of bone. Mouth is bleeding. Not enough to seek medical attention, but not what I expected. Would have been livid had I fed to a child. I have no receipt as this was purchased several weeks ago for the freezer. I have included pictures.

I have been eating Lean Cuisine for a long time but today when I heated up my herb Roasted Chicken with Broccoli and potatoes there was no Herb Roasted Chicken in the meal. Very disappointed. These meals are not cheap. Seems like the quantity of meat meals has gotten smaller. Wanted to let you know.

I just prepared the "Lean Cuisine Butter Chicken" dish - it looked great on the packet and smelt good cooking in the microwave. The rice tasted like styrofoam and had the consistency of flakey baby powder once I started chewing it a bit, the "spinach" in the rice tasted like plastic and the conservative quantities of chicken within the pool of watery sauce were so rubbery you could use them as the tyres for your car If you couldn't afford new ones. Not many people could serve me a butter chicken dish I wouldn't eat but this was seriously one of the worst things I have even put in my mouth. That is all. DO NOT EAT THIS. IT WILL KILL YOU.

I purchased your new chicken teriyaki frozen entree which I always bought. The new one was very disappointing, mostly rice, two beans, five carrots, no water chestnuts that I could distinguish. I would not buy it again. It had no taste at all.

I've tried the barbeque chicken pizza before and loved it but the last two time I bought it there was something wrong with it, tasted like some chemical or something. At first I thought it was a fluke but the second time it happened and it tasted the same way. I was very disappointed because I love the lean cuisines meals.

I Ate Lean Cuisine chicken spring rolls and 2 hrs later I was violently throwing up every 20-30 mins for 15 hrs. Went to ER, had IV fluids and lab work done... Diagnosis... FOOD POISONING! Considering all that came up was the spring rolls, yep that's what caused it. 6 days later I'm still not able to eat solid foods without feeling sick. Not to mention the ER Dr. put me on an antibiotic for bacterial infection, which also makes me feel sick. I will NEVER buy that brand again!! They should be made reasonable for making people sick. Who wants FREE meals from them, in return for such pain and suffering? I will be contacting an attorney.

Prepared Roasted Honey Chicken with suspicion because of all the carbohydrates and honey. WAY TOO SWEET. ACTUALLY MADE ME NAUSEOUS. COULDN'T, didn't finish. Still drinking water. Should have a warning for diabetics! Not enough chicken! You can do way better.

Your chile lime chicken is the worst I have ever attempted to eat. Rather gross, tasteless and I won't buy it again.

Same thing happened to me with the rewards program but what happened is the site kept telling me that my password was invalid. Had to change my password 6 times!!!!! It's a load of crap!

I messed up and did not heat to the required temp. Food was warm and I ate it anyway. As soon as that last bite went down - I felt I had been poisoned. 12 hours of total hell... stomach pain, vomit, runs, dehydration. It is not the product - it is because the 165 degree temp is vital. It is the same for all frozen dinners. This is the second time I gotten ill from underheated dinners. The first time it happened, I blamed it on the product. The second time it happened, I did research. Now I cook everything a bit longer. I stir things about half way through and the Most Important thing is that I use a thermometer... I make sure everything is 170+. I do know someone who had the same experience. He got it from not heating a turkey pot pie to a safe temp. The companies need to put in bold letters about that 165 degree requirement.

Today at 3:30 I ate a frozen Parmesan Chicken lean cuisine and by 8:00pm I was vomiting with severe diarrhea along with stomach bloating. I've eaten frozen meals before and I've had slight diarrhea afterwards but wasn't sure it was lean cuisine's meals. Now I'm convinced because it happens too often after I've eaten one of their meals. Maybe I have a sensitivity to some ingredient they have, but for whatever reason sometimes their meals make me real sick. I'll never eat lean cuisine again.

Yesterday I ate a Potato Broccoli and Cheese Lean Cuisine and about an hour later I had extreme abdominal pain only to find out I had diarrhea! I had to go back to the restroom 3 times! Today I don't know if I still have diarrhea b/c I haven't really ate anything!

Rewards program scammed me! I finally got up to over 1000 points. The site crashed about two months ago and when it went back up I had 0 points! They would do nothing for me ... or others this happened to.

I used to eat Lean Cuisines all the time, but stopped for a while to eat fresher foods. Well yesterday I decided to have one, a Chicken Potstickers one, and immediately I was sick. I was vomiting and experienced diarrhea for hours all last night. I couldn't sleep and was sweating all night. I even missed a very important exam I was supposed to take this morning. Thank God, my professor was understanding! I am never eating packaged foods again, this only reconfirmed why I wanted to stop eating them to begin with!

A few hours after eating a Lean Cuisine Mexican enchilada, I had terrible painful stomach cramps, followed by nausea then diarrhea. Later, I started throwing up along with the diarrhea. Long and painful night. I wanted to have something quick to eat on my 1/2 hour lunch that would fit into my diet. Huge mistake, will be throwing out the other 4 meals that I bought.

I have been eating Lean Cuisine for years . I was eating a chicken fettuccine when I saw a plastic strip inside about an inch long. I thought wow, let me look further. I kept picking up more and more of these strips as I turned over the food. I will honestly say I will NEVER eat Lean Cuisine again!

Today while I was at work, I was eating a Sesame Chicken Lean Cuisine. While chewing my food, I felt something very hard and sharp in my mouth and at first thought it may have been a chicken bone when in fact it was the piece of wood. Very poor quality control.
Lean Cuisine Company Profile
Company Name:

Lean Cuisine

Website:

https://www.leancuisine.com/