Consumer Complaints and Reviews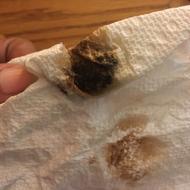 My reason for this review is that I bought a box of cereal which contains large balls of what appears to be burnt cereal and most definitely smells like burnt something. At first I could tell if the material was burnt cereal or rat poop. I'm still not sure of which one it may be. I spit it into a napkin and it's black and charred and most definitely burned. Gross, I typically buy cereal twice a week this experience has changed my choice in brands. Please be aware of this brand especially if your young children are pouring for themselves. This could very well be hazardous. It stuck to my molars.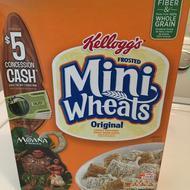 I never thought I would be one of the consumer this would happen to, but I've just found three tiny #insects in my #Kelloggs frosted mini wheats! I always thought videos of finding such things online were fake and I've obviously been proven wrong today! I feel sick to the stomach... YUCK! Please share this status and spread awareness! One really needs to pay attention when consuming any food nowadays, even if they are from a brand like Kellogg's!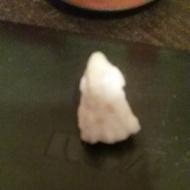 I bought a box of Frosted Flakes. I opened it and poured my son a bowl. Within minutes he was holding his throat turning pale. I then realized he couldn't breathe. I stuck my finger in his mouth and a large molar looking hard white chunk came out his mouth. I called Kellogg's and they offered me 2 coupons... Are you serious?

Made Rice Krispies tonight. It's been about a year since I have made them. Took my first bite and thought my tooth broke. It didn't break but I started looking through the cereal and there are small hard as rocks caramel colored pieces mixed in with the cereal. After reading all the other complaints I must say I will no longer be purchasing anything Kellogg's. Very disappointed and will be posting on social media for everyone to read. Thought about calling Kellogg's but they will probably wanna give free coupons for more of their crap so no thanks!!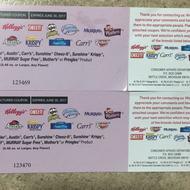 Recently purchased a new box of frosted flakes cereal. A son open the box and pour himself a bowl cereal. He saw a flake he thought was just darker than the others so he moved to the side and continue eating then he took another glance at it and noticed that it was just a very big flake. As he flip it to our surprise it was a huge nasty bug.
Called Kellogg's and complained. Told him it was a brand-new box that was sealed purchased at our local Sam's Club. I still have the receipt. All they asked is for SKU number expiration date and description of the bug then told me they were sorry for the inconvenience that they will be mailing me coupons. They sure did a few days later. I literally only got two coupons in a sealed envelope without even a letter of apology. When I stated my concerns to them when I called they didn't care. I was just concerned that there was no other boxes out there or that the box that I had could happen could have some kind of bacteria in it. I hope one day the CEO eats a bug as nasty as my son Did in his bowl of cereal.
How do I know I can trust these reviews about Kellogg's?
789,262 reviews on ConsumerAffairs are verified.
We require contact information to ensure our reviewers are real.
We use intelligent software that helps us maintain the integrity of reviews.
Our moderators read all reviews to verify quality and helpfulness.
For more information about reviews on ConsumerAffairs.com please visit our FAQ.

I bought Kellogg's muesli fruit and nut on November mid 2016, which has manufacture date as Sep 2016. But now when I tried to open (jan 30 2017) it got entirely spoiled. It has some worms and holes in nuts and all.

I was eating a 2.13 oz Win gold rice Krispy treat expires 2018 and I noticed a black spot in the middle of the treat, half way through eating it! Then I pulled the rest of the treat apart there were multiple black specs in the treat! I'm very disgusted and my kids have already ate the entire box without noticing. Opened the very last one to see if it was the same. Sure enough! I will never purchase Kellogg's again.

We just learned that Kashi Pizza, one of the few nominally not bad for you products in the frozen food aisle has been discontinued. Low sales is the explanation offered by Kashi. The product was excellent by all measures. Products fail for many reasons. Perhaps Kashi (Kellogg's) failed to promote it appropriately. Perhaps it was too 'healthy' for the nutritionally benighted American palate. In any case, Kashi, a self-boasting 'health' enterprise should have kept the pizza on the shelves just the same for thousands of folks who depended on it as a healthy alternative to what's out there in the frozen pizza universe. It's a matter of corporate responsibility. Sometimes $$$ should take a backseat to service and goodwill. For us, the Kashi brand, which already plays fast and loose with ingredients, it's one more reason to skip its products.

I was eating my bowl of cereal. I was chewing the cereal and hit something hard. I thought I broke a tooth. I took the pieces out of my mouth. There were at least 9 small pieces of golden colored rocks. The largest was about 3/8" by 1/4". The others are smaller. The box was bought at CVS in Hampton, Va. on West Mercury Blvd. It is the FAMILY SIZE box, 26.8 oz. The production code is 36USC220506. The "better if used date" is Aug 30, 2017. I am very disappointed in this Company. How do I know where this product was produced?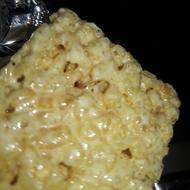 We recently went on a kick of buying a lot of rice krispies treats. I sat down, grabbed two and bit into one. I couldn't get through. I tried biting it with my side teeth and finally decided to check it with my eyes. Inside the treat was a huge glob of something light caramel color in a hard ball. I opened another and there was another one of a smaller size but this time I found bits of black flecks all throughout the treat. We opened the whole box and same thing, little black solid flecks of something hard and I'm disgusted.
I noticed on the packaging it says Product of Mexico. Um no thank you. We are done with Kellogg's. We even went to another store and bought a box and opened all of them to find the exact same thing. We have a pantry full of products we are throwing away. I shudder to think they could be bug parts from the experiences others have had. We possibly may even contact an attorney. I'd like to know what the hell we have been consuming. Kellogg's you are absolutely careless and disgusting!!!

I was ready to have my usual breakfast and opened the box of Kellog's Frosted Mini-Wheats Little Bites. I didn't notice anything unusual yet so I poured on milk and found an insect floating. (Very disgusting!) I just have to remove it since it could be just one-off. But the next morning I did the same thing and more black, dead insects can be seen floating. It can only be noticed when you pour on milk as it is black in color and floating. This time I checked the package and voila, there are other hidden, black insects inside. I lost my appetite. :(.

Decided I'd enjoy some Kellogg's Rice Krispies Treats into the second bite and something hard and sharp cut my gum! I was scared to death to pull it out of my mouth as I had no idea what it would be. Pulled it out of my mouth and there it was a sharp hard blue piece of plastic like substance. I will be contacting Kellogg's, but I also wanted to make this information public as me being a mother I would hate for my child or anyone else's to experience this issue. Box of treats was purchased from Wegmans, packaging did not seem to be tampered with. Possibly issue occurred at factory.

Frosted Flakes WARNING. Bought a new box of Frosted Flakes and almost broke my tooth. Extremely hard, caramel colour bits in the cereal that do not soften in milk. Cannot identify what they are but they vaguely look like a hardened piece of corn. We estimated that there were enough in the box that you would get a few bits per bowl. This particular box is "Best before May 2017." Will not be buying again!

Kellogg's Fruit Snacks - I recently purchased 2 boxes of the mixed fruit snacks for my kids' lunches. While they normally eat almost anything, this specific time they refused, they said they tasted old. Thinking to myself that they are just being boys I tried one. Absolutely disgusting. Both boxes they technically don't expire till March of 2017. Sam's Club has yet to answer the phone after many attempts. I definitely will be getting a refund and will not be buying these tasteless old snacks anymore.

My daughter and I were looking for a chocolate treat and we bought Chocolate Fudge Pop Tarts. They were not good. They certainly did not taste like fudge and barely tasted like chocolate. They were very similar to the "chocolate" part of a frozen chocolate and vanilla ice cream sandwich: same mushy texture, same bland taste, barely a chocolate flavor. They also had tiny bits of ??? (something similar to salty nut bits) on top that was unappealing. I recommend you pass on these.
Bar Code Number: o 380003130 -3. Purchased at Rite Aid in Spokane, WA 99208 on Friday, September 16, 2016.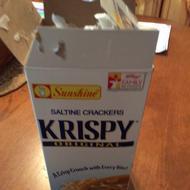 I made my grandfather a cup of soup and he wanted some saltines to go with it. I opened a brand new box for him and immediately noticed a very strong chemical smell. I grabbed out a sleeve of saltines and the package tore right open with zero effort. I grabbed for another and the same happened with every sleeve. I didn't even venture to try one with all of those strikes! Can only imagine the harm I would've been doing to my body or my grandpa's if I had. Absolutely disgusted.

Bought Rice Krispies Treats last week from Costco and opened up to eat and bit into something hard. Almost broke my tooth! It was very hard, round, light tannish in color. I threw it out and tried another one and chewed slowly to be careful and bit into 2 more of those hard things! Opened up another one and pulled it apart and found more in the other packages. So disappointed!

Wife was fixing a bowl of cereal at the end of the box and found a mouse dropping in the box. Now mind you we live in a very clean place. No mice no bugs at all!!! We keep our bags in the box closed with clips and sealed very good. There was no damage to the box at all and it definitively was already in the box. So glad my wife did catch it before she ate it and got sick. Very disappointed.


Found insect parts in my Raisin Bran cereal which is now produced in Mexico. When I called the company they told me that they are allowed so many insect parts in their product by US law. I told them I didn't want insect parts in my cereal and the customer service rep offered me coupons for more cereal! Why would I want more cereal with more insect parts in it? Seems ridiculous to me. They are producing more of their products in Mexico because it is cheaper for them. However there is no oversight on these products - they also put a lot of US workers out of work by shifting to Mexico. BAN Kellogg's!

I'm kind of obsessed with Kellogg's Froot Loops, the ones with the marshmallows. I have 2 kids who I REFUSE to share my cereal with because I'm the only one who cares to make sure the bag and box are closed perfectly and correctly to keep them fresh! I love cereal for breakfast and as a snack so I probably buy at least 2 boxes a week. My issue is that I don't have to wait for my kids to leave the box and bag open and cause the cereal to become stale because sometimes I open a "Fresh Box" of cereal that is already stale.
The Froot Loops have a soft, crunch-less stale taste and the marshmallows are very stale and chewy. It's gross, unappetizing, very disappointing, and happens wayyyy too often i.e If I buy 6 boxes in 1 month... 5 out of 6 of those boxes are already stale when I open them. It's very rare for me to get a fresh crunchy crispy box of Froot Loops w/ Marshmallows. Something has to be done about this. Stale cereal is absolutely on my top 5 list of breakfast fails.

I bought a box of Special K red berries. It read on box with extra red berries, there wasn't one red berry in the whole box. Very disappointed - just wanted to let Kellogg's know this.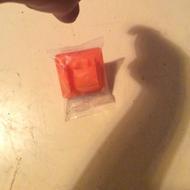 Found a hair sealed mostly inside and partly outside of a Finding Dory cereal chiller promotional item, Nemo character. Purchased at Giant in Hatfield, PA. Exp May 24 2017, 17oz package of Fruit Loops. Was able to pick up the package by the dangling hair inside. Contamination fear made worse due to living with two auto immune disorders including a stomach one.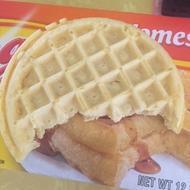 In late May I purchased a 10 pack of Eggo Waffles as I normally do on a weekly basis. When opening the box, I was shocked to find one waffle chewed almost in half. It appeared a rodent or other creature had been gnawing on the waffle prior to shipment. The integrity of the box was genuine, so it was my feeling they left the distribution facility compromised.
The box of waffles were purchased at Stop and Shop Supermarket on Farmington Avenue in West Hartford, CT. I immediately notified Kellogg via customer service website. A few weeks later I received a letter from Kellogg's (somewhat indifferent and insensitive) that all their products are held to the highest quality. A coupon was enclosed for another box which I refuse to ever buy again.

Kellogg's Pop-tarts are sinful because of too much sugar, fat and calories on each pastry but I indulge myself on it every once in a while, especially if I'm feeling troubled with something. I particularly like the Frosted Cherry variety which is available in our local grocery store. It's a little pricey here than most boxed pastries but it's worth it because it tastes heavenly. Brings back childhood memories of playing in the park with friends for me. You also get 16 pieces (I think) in one box so it's something you can consume bit by bit to regulate the supposed unhealthy effects of it.
I haven't seen them sold seperately or in smaller packs so I usually buy by the box. And when you heat it for a while in the toaster, it gives an invigorating aroma that gets you excited to munch on them when they're done. When I was in college, I stocked up on these because I get hungry all the time when I'm studying and they're pretty easy to prepare. They're go very well with a hot cup of black coffee too.

Special K cereal has small pieces of things too hard to chew. I can not crush with fingernails or my teeth. What is in this cereal?

I love the sweetness of Froot Loops! The colors just make it extra interesting to eat, but the flavor of the cereal, itself, is yummy enough! I used to eat Froot Loops when I was a little girl, now I'm a mom and my daughter and I both eat it. :-)

Pampa Frosted Flakes - Cereal does not dissolve and is very hard and I almost choked. This needs to be recalled asap. Don't give this cheap cereal to your kids. I got it from a food pantry and I threw it out. Shouldn't even be sold.

I purchased a pack of Kellogg's fruity snacks on May 9th 2016. As I was eating them, I bit down into one that had a gritty white substance in the middle of one of the red ones. It upset my stomach and gave me diarrhea. It seems to be like plastic... When I called Kellogg's the lady tells me she doesn't see how it could make me sick because it's starch and I told her how can she say what makes me sick... Then she asks me "was the package tampered with?" I told her no. Then she says they will send me some coupons and a package to send the contaminated product back to them... She must think I'm crazy.
I see several complaints about the white stuff in the middle of the Kellogg's fruity snacks... Something needs to be done about this. The quality control department is not doing their job. It doesn't matter whether I got sick or not. It should not be a gritty substance in the middle and Kellogg's should not feel sending out coupons will make it all better. I have put the remaining product in my fridge... too many complaints about the same thing. This is neglect on their part. It's nothing to brush under the rug. People have all kind of allergic reactions to things. I don't take this lightly at all!!

I feel lucky I haven't broken a tooth like some others. I bit down on several very hard bits in my Special K, soldiering on until I guess I reached my limit and had to stop and inspect them and the Web about this. This is now the second box it's happened with, the first having been purchased/eaten several weeks ago. I don't often buy cereal either and when I do, I eat it that day or the next so it's not like it's sitting around. With previous hard bits, I basically tried to chew them a bit more and found them quite hard, not quite like rocks but like uncooked rice, and they did not soften sufficiently with a reasonable amount of chewing.
I took some out of my mouth and put the bits in water this time, to see if they would dissolve or swell, and after they had sat in water for half an hour, they did eventually swell (see picture) and they now look like cooked rice. It's as if the rice had been cooked and then had dried. I've never had this happen with Rice Krispies so I'm hoping there is some way to prevent this. For now I'm avoiding this cereal. I'm again very glad no broken or chipped teeth, because I would very much expect that if I were to eat these again. I'm not interested in eating haltingly, carefully nomming each bite to see if it is soft enough. I call for changing the cooking method or QC.
Kellogg's Company Profile
Company Name:

Kellogg's

Website:

http://www.kelloggs.com/en_US/home.html