Consumer Complaints and Reviews

I was just eating some pretzel sticks from a bag of Rold Gold pretzels I just bought the other day and I came across GREEN pretzel sticks!!! I have no idea what to think??!?!? Ugh it is so gross. My daughter has been sick the last couple of days and I wonder if these pretzels could be the culprit! She would not eat a green one, but if they are mixed in there amongst the others?!?! Ugh so disgusting. I don't keep my receipts, so I don't have it, of course, but I always use my King Soopers card, so I am guessing my purchase could be tracked? Anyway, gross... Disgusting... Upsetting.

I have been buying Doritos nacho cheese flavor for YEARS... The last few months, we have noticed there is less of the flavoring put on the nacho chips! It's almost like we are eating tortilla chips. Even my kids noticed the difference & said they don't like them anymore. Sad since it was my one late night snack for YEARS! Not going to buy them anymore if this is what it's come to. So sad.

My 11-year daughter was eating a bag out of the flavor mix bag bought from Kroger in Humble, Texas. As she was about to finish up on a bag of Sour Cream & Onion she notice what looks to appear to be a cloth. We just don't know.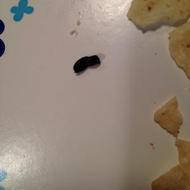 Bought the bag and my family had almost finished it over a few days. I poured the last of the chips onto a plate and spotted what looks like a mouse turd. We keep the bag sealed whenever we are through eating from it. No holes in the bag. I asked a few people and they all said it looks like mouse poop or rodent poop. I just sent an email to their contact page. Complete with pictures. Hope to hear back. It's disgusting and a potential health hazard! Makes me not want to eat any processed food. All the "crap" we eat that way!
How do I know I can trust these reviews about Frito Lay?
851,761 reviews on ConsumerAffairs are verified.
We require contact information to ensure our reviewers are real.
We use intelligent software that helps us maintain the integrity of reviews.
Our moderators read all reviews to verify quality and helpfulness.
For more information about reviews on ConsumerAffairs.com please visit our FAQ.

While sharing a bag of crunchy Cheetos which we had just bought 5 minutes earlier at local gas station on Main Street, my friend Kathy noticed her lower right tooth had completely broken in half. Within a minute I then noticed a hard crunch and just assumed it was just a extra crunchy Cheetos. Sadly it was NOT, a portion of my back lower molar crown had broken off too. We had eaten approx 2/3 of the same bag. Coincidence? I think not!


I am leaving a review for the Lays Stax Sour Cream & Onion chips. I have been a long time Frito-Lay customer and I have to just say I am deeply appalled at the quality of this product. The last 3 times I have purchased these chips, within the same week, I have gotten sick after eating them. I know 100% without a doubt that it is these chips making me sick. The days that I had these chips I had nothing else to eat that day. After eating them each time I ended up with stomach cramping followed by vomiting and diarrhea. One of the times my niece had some of the chips with me and she also got sick. As a long time customer this really makes me not ever want to purchase Frito-Lay products again. I can tell you it will be a long time if ever that I will purchase them. Just the thought of them makes me cringe. But in all honesty who is to say the next batch wouldn't make me sick as well. So NO I don't think I will be purchasing them again.
All 3 that made me sick came from the Dollar Tree in my hometown. Even wanting to buy them elsewhere makes me cringe. It's honestly just the thought of getting sick like that again. What can you do really? At this point whether or not I know the chips are safe still wouldn't get that thought out of my head. So I must leave a bad review and warn others about this problem. Nobody deserves to feel like that. Not to mention the lost wages from missing work due to being sick. And other than leaving a review there's not a whole lot I can do. Even if I called Frito-Lay and made a complaint nothing would happen. You would probably send me a coupon for a free Frito-Lay product which obviously at this point I would not use. So what's the point. You're not gonna care whether I lost wages or missed work. You're not gonna care that I was Sick for no reason and had to just live with it. WHEN IT COULD HAVE BEEN AVOIDED WITH PROPER QUALITY CONTROL.
So why bother saying anything to you guys. At least this way I can warn the public and hopefully prevent it from happening to anyone else. So here's what I got everyone... Frito-Lays Stax Sour Cream & Onion will make you sick. DO NOT EAT THESE!!! Really hope this doesn't happen to anyone else. Being sick and missing ANY work in my house isn't OK. That means there's gonna be late bills. So do yourself a favor and just say NO to Frito-Lays... that's all.

While eating a bag of my ex favorite chips I pulled out one of these Green Chunks from my Frito Lay Sour Cream and Onion Potato chips, needless to say at first I was very disgusted and unsure of what it was. This is not a box of cracker jacks. I don't like surprises in the bag!!! Bought them at Walmart. Probably won't be purchasing any more chips from either of these guys. Very bad quality control!!!

Never buying Cheetos in my life! Just to go in and look at all the reviews on Frito Lay after finding an awful looking chunk of dried cheese in my bag. Makes me get disgusted. Frito Lay is a big company who should be on top of consumer health and packaging inspection before shipping out to customers. This is just awful, makes me wonder how other companies handle their packaging and what us as customers are really eating without knowing. Maybe a worm would be cleaner to eat than this.

I'm contacting you guys in regards to one of your items that I recently purchased from Walmart. I opened my bag of Lay's potato chips to find something inside the bag that wasn't a potato chip!! I've been a long time customer of your products & to find this is very disgusting to say the least!! I'm very deterred in knowing that this could happen. This has made me sick to my stomach after eating out of the bag before noticing something was in it. I've vomited countless times & has been feeling ill ever since this incident. I've attached pictures for you guys to view. If you would please email me back in regards to this matter I would gladly appreciate it.

Cannot create more flavor ideas. Website is faulty, will not accept existing accounts... truly biased. After entering a few flavor ideas, it no longer accepts new ideas, and is therefore biased toward all consumers. When a huge cash prize is at stake, these mistakes absolutely cannot happen! I couldn't even complain to the company because the emails were not received! Very poor customer service!

I bought a bag of the regular Tostitos scoops. Made it to the bottom of the bag to find something I can't even describe. It's either skin of a really big bug/bugs. It's Brown almost like fried chicken but has a rubbery feel to it. I contacted Frito-Lay and their response was it may have been extra dough from when the chips were cut. Extra dough is discarded but made it's way to the bag. They are sending me a prepaid envelope to mail them this nasty things that was in my bag of Tostitos along with the original bag.

I love Doritos, my favorite type are Nacho cheese. On January 30th 2017 at 11:32pm, I was casually eating a large, regular sized bag of nacho cheese Doritos. I reached inside and PULLED OUT a large black nugget.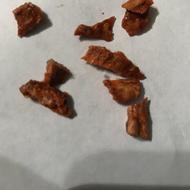 I was eating Cheetos with my husband when he spit out what looks like chicken bones into his hand. I'm almost completely positive they are bones, not sure what kind. I am completely horrified and feel like throwing up. Is there anything I can do? I want to know what the hell it is, and if I should be worried about us getting sick!!! I will never eat Cheetos ever again, or buy ANY Frito Lay products ever again. I ate half of the bag before he spit this out. What did I just eat? I am outraged, and feel physically sick!

I love the taste and everything about the smooth ranch dip, but every single time I eat it, I end up vomiting and being profusely sick. I'm not lactose intolerant and I don't have any food allergies at all, for that matter. I'm incredibly confused and frustrated that it makes me so incredibly sick.

Something is slipping with Lay's Potato Chips. The quality is not what it used to be. Also, recently I have noticed that the amount of the chips has seriously decreased. I just purchased a "Party Size" bag and it was hardly half full. I think there would be more chips with two regular, Classic bags. Very disappointed.

The quality of Lays Regular Chips is no longer a sure thing. Over the last year or more, we have been purchasing 4-5 family size or party size bags each week (often more). It seems that only every 4th or 5th bag is good (if we are lucky). The others are stale? They are tasteless. They taste like paper. I am really not a happy customer. That is a lot of hard earned money spent to not be satisfied. All were purchased at grocery stores in the area (Hudson, Rigaud, Vaudreuil for example). We pay more for quality but do not get it. Should I start buying another brand? Will your quality control pay more attention? I am anxious to read your reply and to be advised of the course of action you will take. What will you do to rectify the problem? Thank you. Note: this is a serious review.

My kids and I consume a lot of snack foods. Even though, to be frugal, I have occasionally purchased "generic" snack foods. Unquestionably, Frito-Lay products are far superior. You get what you pay for. I have a friend who used to work for me who is now a route driver for the company. He told me how they rotate product for maximum freshness and handle their product with extreme care. So, if one wants to enjoy great tasting snack foods, go for Frito-Lay.

Purchased a large bag of Lay's Wavy Chips Original. My hubby ate about 20 of them and when I reached in I felt something soft. Pulled out a chip and on it was a large mass of brown stuff. Disgusting and so nauseating. Will no longer purchase anything made by Frito Lay. Yuck!!

I found a piece of waxed paper in my bag of chips that I usually share with my 3yr old granddaughter. What if she would have choked on this piece of waxed paper? I am really thinking about contacting my attorney because this is ridiculous and dangerous. Thank you.


I've never had a bad bag of Rold Gold Pretzels that I didn't enjoy. The product is always a solid 4/5 stars. I would give 5/5 if the recipe included a little less salt. Tiny Twist Pretzels are great!

I ate a bag of baked Lays today and within 15 minute after eating my stomach started cramping and I had diarrhea and 5 hours later Im still having stomach problems. You shouldnt be allowed to sell these.

While my 10-year-old was at summer camp he opened a sealed bag of Doritos and found tiny black bugs inside. Unfortunately he had already ate a few. Not sure if he actually ate any of the bugs however he is now traumatized from eating anything packaged. Google lead me here and I see that I am not the only person that had experienced this.

My son bought a packet of Lays chips yesterday. I noticed that the packet looked unusually flat, so I took a picture of it while it was still sealed. Upon opening it my suspicions were confirmed, hardly any chips in the packet.

I was hesitant to try it at first since I was expecting a hot spicy aftertaste. But after my first bite into the crunchy, cheesy, peppery snack, I was hooked. It was addicting, so much so that I could finish an entire bag (8.5 oz) in one sitting without even realizing it. The smell could be overpowering, but who cares when it tastes so good!
Whenever, I see a bag of it in the grocery store or wherever, I can't help but grab myself a bag. I find that it's a good companion to watching movies or television shows. However, I'm still trying to find the right drink to go with it. Coke and beer are fine, but there's something that's not quite right with the combination for me. One bag is good for sharing, but I try whenever I can to keep one for myself. :) I just wish the price is at the same level as the local snacks in our country. But since it's an imported product, the price is a lot higher. Nevertheless, I always try to get my Cheetos Jalapeno fix whenever I can. The rainy days are coming so it'd be a good company for the movie nights ahead.

Sour Cream & Onion is the bomb! I attended a company team building and we had team building games where the champion team would win medals, 2nd and 3rd places will win a giant bag full of chips with including several bags of Lay's chips! Our team got 2nd place but when I saw the prizes, I was actually glad we didn't win! Lay's FTW!!!

It might be lot more pricey than other potato chips here in the Philippines but it's also the most satisfying potato chips there is. They taste just right whatever flavor they may be, and the chips' thickness is just right. Moreover, it's not at all greasy. Whenever we have movie night with friends, we would always buy a bag of Frito Lay, and everyone is satisfied. There's always enough to share since they can be bought in big bag sizes suitable for parties... They also have enough flavors to choose from so you never get bored of eating the same flavor over and over again. I have decided to stop eating junk food but every time there's a bag of Frito Lay, it's always hard to resist.

Ruffles Cheddar & Sour Cream. This product is a stroke of genius! Cheese with Sour Cream? Who would've guessed it would be an awesome flavor??? I wouldn't mind having a year's supply of it haha.
Frito Lay Company Profile
Company Name:

Frito Lay

Website:

http://www.fritolay.com/index.htm