Consumer Complaints and Reviews

I am a single guy and I would eat out and/or eat fast food a lot. For my job I travel and buying ahead of time just to see it go bad while I am away is a waste. The company I work for supplied Blue Apron with some equipment and I was able to see the inside of one of their facilities. It was very clean and since I knew how the inside worked I decided to try them. I have been using them for several months now and I find the ingredients to be very good. I have had one delivery that wasn't on time and I had a refund before I knew it was going to be late. I have never had a problem with the portion size and since I am by myself I always get two meals out of every recipe. I don't like every recipe but that's what you get when you start trying new things and I am okay with that. For anyone who doesn't like to shop I would give it a try.

To say my husband and I are enjoying all aspects of the Blue Apron experience is an understatement. Produce and meat is fresh and top quality. Preparation is fun and something we do together here. Love having recipes and ingredients provided and in exact quantities needed. No shopping. Enjoy trying new types of food. Would never try on our own. And, have I mentioned meals are delicious. Highly recommend.

One of our friends got us a gift card for 3 meals. First off, these meals take WAY TOO LONG for working adults to make. Second, their food is NOT FRESH! And that leads me to point three, we didn't even get the meat for two of the three meals! This is not a deal, nor is it "fine" dining. As a front-of-house manager of two separate restaurants, this would get chefs fired at either establishment if they tried passing this off as "fine" dining. This is neither a deal, nor is it even luxury dining. DO NOT WASTE YOUR MONEY!!!!

Had received a few deliveries and found that some items were spoiled or warm (chicken) when I opened the box. As I found that I was throwing out more than I cooked, I have tried to cancel my membership. Tried and tried. Yet, the box keeps coming. Last week I put a hold on any more deliveries for the next month. The company makes it very hard to cancel. Very unethical and unprofessional. Not a reputable way to conduct business.

Ordered their meals and got a discount on the first week. Received food on Thursday August 3. Called to cancel Friday Aug 4 and told me I had to buy one more week of food one day later and already processing my order. No just a way to recover the discounted week. No way to do business.
How do I know I can trust these reviews about Blue Apron?
850,588 reviews on ConsumerAffairs are verified.
We require contact information to ensure our reviewers are real.
We use intelligent software that helps us maintain the integrity of reviews.
Our moderators read all reviews to verify quality and helpfulness.
For more information about reviews on ConsumerAffairs.com please visit our FAQ.

This has been a terrible experience. After joining with them I found it was impossible to cancel my service. They refuse to answer emails and continue to charge my account. The last box that arrived was moldy and I had requested it be delayed until a later date and it was shipped anyway. My complaints are typical of everything I've read here and it seems to be how they do business. Wish I had checked consumer reports first!!

The eggs were cracked and the Sherry vinegar I needed from my recipe was all over my box. I emailed customer service on 7/14 - I was told I would receive a refund of $39.96 as I have canceled my account. It is now 7/27 - still haven't received this credit. Blue Apron is a joke.

I signed up for Blue Apron with a 60% off coupon that I received via email. With the coupon, I thought it was a fair price. I chose my 3 meals for the week, all of which sounded good. I was disappointed upon receiving the food based on the portion sizes. I signed up for a 2 person meal plan and the first meal was 1 steak that was to be cut in half for 2 people. The 2nd meal looked like 2 large chicken breasts when ordering but what they sent was 2 small chicken thighs. Overall, there wasn't enough food for my boyfriend and I. I had to buy additional food at the grocery store to supplement the Blue Apron meals.
Given the 60% off coupon I'm still glad we tried it, but if we were paying full-price this would be way more upsetting. The meals tasted good, so that was a plus at least, just not enough food. The other downside was there was a lot of prep. It said on the recipe it would take 15 minutes to prep and it took way longer than that. I had to wash, peel, de-seed, chop and dice 8 different ingredients - a big to-do for a weeknight meal. Also, the earliest day in the week for delivery in my area was Wednesday, which means I'd be cooking Blue Apron on Friday (or Saturday night) which is when I typically go out. It would be nice to receive the boxes on Monday for easier weeknight cooking.

A friend of mine had a free trial to give out for Blue Apron and my husband and I decided to give it a try since it was free. Yes, I did have to enter our credit card number, but I was fully aware of having to skip weeks or cancel my account entirely so as not to be charged for future meals. Blue Apron made all of this clear when I signed up for my free meals. We were able to choose which day of the week the delivery worked for us (helpful with our busy schedules this summer) and we had a wide range of recipes to choose from. We were incredibly satisfied with the three meals we chose. They arrived packed well and still fresh (even though my husband forgot about our delivery on our front porch in the hot sun) and the ingredients were of quality. The recipes themselves were very easy to complete with step-by-step instructions and photos and every ingredient got used and was pre-portioned out saving time measuring.
All three meals were really delicious, and although the ingredients looked like a small amount, once cooked we had more than enough food for the two of us - sometimes even with leftovers. The flavor combinations are some I wouldn't have thought of, but they all married beautifully and it was fun trying out some different recipes. We live in a rural area and rarely eat out - the grocery store in our town is incredibly affordable which allows me to meal plan for the week and grocery shop on a budget. Blue Apron made our busy weeknights far easier when it came time to cook dinner; I didn't have to think of a recipe in advance, shop for the ingredients (with inevitable leftover ingredients), or measure anything to cook. But for our lifestyle Blue Apron doesn't make sense since we cook every night as is and can do so much more affordably than $10 a portion.
We also usually make extra to take to work the next day so that was another downside to a meal delivery service. I made sure to skip 5 weeks out after receiving my delivery and it was very easy to cancel the subscription completely. All you have to do is send them an email (I had a response within 5 minutes) and then you click a link to cancel. Their customer service was great and they wanted to make sure I wasn't canceling because I was unhappy. Right now Blue Apron doesn't work for our lifestyle, but some day it might! I would absolutely recommend to a friend.

I figured I would try this program out and I regret this decision. Not only was I very unhappy with the service or I guess the way that the concept turned out but they made it impossible to cancel. The website shows you a history of what you did with them but doesn't give the option to cancel. I skipped 5 weeks in a row (as this is all that is visible when you are on the site unless you log in weekly) in hopes that this would take me off of the order. Well, that didn't work and the next thing I know I'm receiving another email that I have an order in transit. When I called to cancel this as I didn't want to go through this process of stressful meal prep once again, they told me that the subscription is weekly.
They don't tell you when or give you the option to opt out of deliveries unless you log in religiously to cancel/skip. After speaking with a supervisor and listening to them apologize for their terms and conditions she was willing to credit me for the next order but not for the one that will be delivered tomorrow. How does that make sense? I haven't even received it yet! If gave me a credit for the next order I would also be enrolled once again. I would then be going through this once again. I want a credit for the order I haven't received nor want. Very unhelpful, unreasonable company. I will be sure to tell my friends.

A friend recommended Blue Apron. The food is first quality, organic. The recipes are absolutely delicious and simple. The serving amount is perfect for two people. I like the no leftovers. The packaging is not overdone as I read someone said. Inside one 11x14x10 box are two ice blocks covered by one piece of cardboard, on top of that an insulated package that contains all the food. Everything arrives fresh and cold, no bad or rotten products. Everything is labeled so there is no question on what everything is. I am learning to cook new things and enjoy something different, exciting and delicious. A nice change from the same ole thing. It is a real time saver and has actually cut down on my food bill. I am a very happy customer.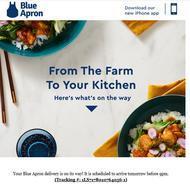 I thought I had cancelled my account with Blue Apron months ago, after using a gift card from my brother-in-law. Fun fact, they make it as difficult as possible to cancel with them! I haven't received a delivery in months, and all of a sudden, out of the blue, I get an email today stating that my delivery is on its way. What delivery?
So I go to their website and get the customer service number. There is no one available on the weekends, and it goes straight to voicemail. I log into the website, and there is nowhere under my account that I can cancel. Turns out, I have to send an email to get directions to cancel it. Seriously? What other online service requires this? Already, there is a pending charge on my card, and since it is pending, I can't dispute it yet, but I fully intend on disputing it. I am not paying for something I did not order, something I did not want, something that I believed was cancelled months ago.

The food prep is very time consuming. Did not like it and cancelled 2 days after receiving the meals. They still charged our credit card and sent another box. Called customer service and management wouldn't do anything about it. Never using them AGAIN.

A gift from a friend when I was under the weather, Blue Apron is hardly better than bird seed. First, to accept your gift you must enroll and give them your credit card information. Then, you have to choose 3 meals from a list of dreadful choices. The order arrives on a Thursday - not great if you don't want to cook over the weekend. Oh, the order must have been on the truck for a while since the ice packs were melted and produce was wilted and bruised. The recipes were convoluted, and servings were small for two adults. One recipe, risotto, was inedible since tomato paste was used as flavoring. By the third day, I had to buy ingredients to supplement what was left for the last meal. Unless you are a sparrow, save your money and order out.

My order from last week. I received the bag asparagus with head very mushy. The order of two people we received. The trout fillet really good taste but, the bad part one of the fish fillet was for a child meal, very small. Today, I received an incomplete package. My fresh pasta sheets are missing. Red Harissa Paste was not close correctly and spilled all over inside of the paper bag. I did not have chance last week to send email about the issues since I was very busy. But, now it seems other issue missing ingredients... Answer for Blue Apron: "...We want each order to be complete, and it seems we've missed the mark this time. The reasons be part of this service... Save time driving, save time doing groceries, eating healthy meals..."
For the money Whole Foods has the quality and cheaper... by the way you have to cook their ingredients. I know it's a big inconvenience to have to run to the store or do without. I wish I could replace it myself! I feel terrible that you don't have the main ingredient for this recipe, so I've added a total of $29.97 credit... They put the credit to their own account not to my bank account. Good luck new consumers... Blue Apron do not refund to your bank account. "Be careful!"

I have received food that is already starting to spoil by the time I get it. Then I went and skipped all of my deliveries and I was unable to skip one because it was too far out, so when I went online to skip it they had already charged my card, this was a week before the food was supposed to be delivered. I know that they do not ship the food a week out, they ship it the day of or before because it is with freezer packs. They refused to cancel the delivery or return money back even though I would not be in town that day so the food would just sit and rot for a week. They had more than enough time to correct the delivery, since I called 6 days before it was going to be sent. Terrible waste of money and food. Most companies, would have cancelled that delivery because at that point they wouldn't have even packed it up.

Canceling from Blue Apron is a consumer nightmare. Despite multiple requests, the company first indicated I was required to complete paperwork to cancel my account, I did this, the orders continued. I called and indicated correspondence with re-sending the paperwork for cancellation, although indicated as received... the orders continued. I called various times and the representative had no record of previous calls or the order cancellation. I have noted various other reviews indicating the same issues with canceling orders from Blue Apron, there appears to be no correction by the company. The issues with canceling the service continue. I have canceled the order again online today... but oh yes, my cancellation is too late. I will receive and be responsible for paying for yet another order that I canceled a service for several months ago.

I friend gifted us a Blue Apron order. I'm sure they thought it was a kind gift, but Blue Apron is terrible. The amount of packaging is obscene. The ingredients are often things that you already have in your kitchen or garden, so it causes food waste. We didn't want to continue and asked not to continue, but they continued shipping anyway. We received a shipment we didn't order and didn't want, on a Saturday, but their customer service line is closed on the weekends, so we couldn't stop, refuse or send back to order because FedEx (another terrible company) dumped it on our front porch without knocking. We will never use Blue Apron again and discourage others from participating is this monumental waste of food and resources. If you care at all for the environment, you will never use this service.

My daughter purchased Blue Apron plan for $59.94/mo and then changed apartments and cancelled the plan. Not very easy - she had to get an email from them and then there was no real confirmation during the online process. It turns out it never cancelled anything. I called them and they said that merely logging into your account again reactivates the deliveries. They have been delivering to her old apartment for months! When I asked to get a refund they would only refund the last single delivery despite another attempt to cancel 3 weeks ago.
When I asked to talk to their management, they said no supervisors were available. I finally had to call them back to cancel everything and then had to dispute the 4 months of charges on my Visa.They just want to keep your money and make cancelling as difficult as possible. According to web searches I did there used to be a way to cancel online through your settings but they've removed that option making it even harder. The food and recipes were OK to good but often items came spoiled or damaged.

So every time I order Blue Apron the delivery was delayed. Food came smashed and didn't look good. Portions were poor (not enough for 2 healthy adults). I tried many times to get my delivery, they said the delivery was delayed but they never said the delivery was cancel. Horrible service, horrible customer service. I do not recommend Blue Apron. Home Chef is 10x better.

This company is awful. I signed up but then realized they will only deliver Thursday through Saturday, and I need the meals for weeknights. I attempted to cancel immediately after signing up but you have to wait for them to email you back and they never did. You can't just cancel on their website, it's very shady. So, they still delivered and I came home after being away for three days to a box of smelly rotten fish by my front door. I have contacted them and they told me I didn't cancel my order within the window they allow for cancellation (even though I signed up 20 minutes before). They won't refund me and still insist on sending another box and charging me. I am out of town during delivery, and will be gone for two weeks. So when I return home once again I will come home to a smelly box of rotten food. This company is a scam. Use HelloFresh instead, they are way better.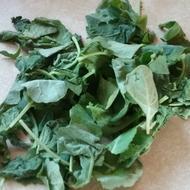 I received bad produce in my fourth delivery. I received it on the Friday before Memorial day weekend. I tried to call Tues. the 30th and they are still closed. I received moldy garlic. Cilantro that was just before molding. I trashed. Old asparagus. I cut off the old and washed the slime off the tips. Baby greens wilted. Upset!

I was a Blue Apron customer for six months and was generally happy. The food was decent, fresh and delivered on time. The major drawbacks were the very limited menu and cost. I completed my subscription after six months. Fast forward a year, my friend decides to try a Groupon for Blue Apron. He is a new account and excited to give it a try. Blue Apron accepted the Groupon, and then said they had to reject it because it wasn't a new account! I recommended Blue Apron to several people and the same thing happened to them. There are far too many high quality competing companies out there doing the same thing. A shame, Blue Apron lost a lot of business.

Today I received my package. My daughter ordered it for Mother's Day for me as a gift. The package was delivered by Federal Express. Left at my door. I was home and couldn't wait to open it. When I did the ice packs were not frozen. As I did a little digging I realized that it was fish, etc package in my box. When I looked at the package slip I noticed the package was shipped out on May 18th. Today's date is the 23rd. Unbelievable. When I called into customer service the gentleman I spoke with told me my daughter's account was credited. He told me to disregard the package. He also told me to contact my daughter and let her know her account was credited.
Sorry it's not my responsibility to contact her to tell her your company made the error. As of this evening no one has contacted her. The gentleman didn't offer to send another package to me or give me any explanation of why this happened. If I hadn't called when I received the package and cooked the meal I'm sure I would have gotten quite sick. No apology or offer to send anything? What terrible customer service. I wouldn't recommend this company to anyone.

I have been a customer for 8 months. Because I was traveling out of the country, I sent an email (per the instructions on their website) that I wanted to cancel. They give NO OPTION to cancel via the website. I completely understand that I would be charged for the week after my email, but they continued to charge me for three subsequent weeks after that.
After 20 minutes on the phone with them they refuse to refund my money. I spoke with the supervisor Owen ** who told me that there was no one but him that I could speak to. He gave me no one to contact at a corporate office, no manager to speak to, no recourse at all. He readily admitted that he did not agree with the procedure for cancelling. Stating that it was unfair, but said repeatedly, "There is nothing I can do."
I am now being charged by my apartment complex for the rotting food outside of my apartment -- all because Blue Apron refused to accept my cancellation. They said that I should have contacted them to let them know they made a mistake sooner! What!? Why wasn't my email to cancellations@blueapron.com enough? Avoid this company at all costs. (By the way, I had no problem cancelling my Green Chef account.) Whatever you do, heed my warning! Do not sign up for this site. They will steal your money.

I have been using Blue Apron for well over a year. My deliveries have consistently been on time, fresh and complete. I have less food waste and grocery bills have decreased. I am very happy with the service. I have been satisfied with the menu choices - all the meat and poultry is very good quality. Once in a while basil is droopy - but overall everything is fresh. I like the whole process from prep to cooking the step by step recipes. Blue Apron is great.

I signed up for this when there was a $30 deal on Groupon and those meals they sent me were fantastic. But then I sent an email to cancel my account and two days later my account was charged $60. I called and they said they had no record of cancelling my account and they had already shipped it out (even though this was Monday and I got it Friday). $60 for 3 meals with tiny portions, and these meals were subpar at best. What a joke. A very overrated service, unless you're willing to pay $20 per meal for two small servings that you can pay half the price for at the store.

We've been using Blue Apron for nearly 3 years now. We have never received a damaged box or any spoiled ingredients. However, for the last FOUR shipments there have been missing ingredients. Seared chicken & creamy couscous missing the 3 stalks of celery, refunded $19.98. Mole-spiced beef chili missing the pinto beans, refunded $5.00. Mushroom and broccoli casserole missing the oyster mushrooms, refunded $19.98. And now this week, the stir fried wonton noodles missing the radishes. The meals are easy to prepare, if a bit overly time consuming, and always tasty. Overall I am satisfied with Blue Apron, I just wish they'd pay more attention to what they're putting in the boxes.

I signed up for the discounted Blue Apron meal plan to be shipped to me on Wednesday May 10th. Upon arriving home I received a door tag from FedEx that the delivery was attempted and they would try to deliver the next day. I contacted FedEx to see if I could have an evening delivery and was advised that the driver was in my area between 12 and 2:15 pm and I could try to schedule for a more exact time during that time frame. Unfortunately it would require me to miss work in order to be home for the delivery of perishable goods.
My other option was to pay an additional fee to have a special delivery after 5 pm, I elected to send the package back to sender. I was not aware that I would not receive a refund of the shipped package upon return until after I had talked to FedEx and elected to have the package sent back instead of paying an additional delivery fee. I am very disappointed that I have to absorb the cost of the product due to a situation beyond my control. I was very easily able to cancel my membership by emailing Blue Apron, however I would strongly encourage anyone thinking of signing up for this service to first check the availability of FedEx delivery at a time convenient for you. This type of service has a long way to come in terms of convenience.

My girlfriend and I signed up for Blue Apron and because it sounded like a neat date night idea. The first shipment was delayed a day because the address was wrong. They were able to contact FedEx and fix it for the next day. The first set of meals were delicious but the servings were somewhat small and we were missing a shallot for our stuffed pork chops that we had to use green onion instead. For two larger adults we were hungry a few hours later. The second shipment included salmon and a roasted baked potato salad. The russet potato was missing from the order. The lemongrass hamburgers include 10 ounces of meat which is fairly small for two adults. In my opinion just not worth $20 a meal. Creative but not worth it.

ConsumerAffairs Research Team
The ConsumerAffairs Research Team believes everyone deserves to make smart decisions. We aim to provide readers with the most up-to-date information available about today's consumer products and services.
Founded in 2012 in New York City, Blue Apron delivers fresh ingredients and recipes to customers who then prepare and cook the food themselves. The company also offers a monthly wine subscription of six wines with pairing notes.
Hormone-free: Their high-quality food is all free of hormones and antibiotics.
Hormone-free: The food portions are all under 1,000 calories for those seeking to limit their caloric intake.
Unique recipes: The recipes they provide are unique and never repeated during the year.
Customizable: Taste preferences and dietary restrictions are taken into account when a customer's menu is planned.
Wine and kitchen utensils: They offer an additional wine service and also sell kitchen utensils for convenience.
Farm-fresh: Their food is purchased from smaller farms to help promote economic growth.
Best for Busy individuals and families, those interested in expanding their cooking skills and wine lovers.
Compare Meal Delivery Service
Blue Apron Company Profile
Company Name:

Blue Apron

Website:

https://www.blueapron.com/?utm_campaign=hp60716