Spare change: Sharing finance knowledge from one generation to the next
Passing the financial baton



Written by

Edited by

Key takeaways
46% of Gen Zers don't follow a monthly budget.
66% of Gen Zers report having more money in cryptocurrency than in their life savings.
Older generations' most critical financial advice is to practice self-control, track spending and start an emergency fund.
A shift in understanding
Millennials, make way: It's Gen Z's turn to take over the market. This maturing generation is poised to be the primary drive in the global market for the next decade or two. The question is: Are they ready to take on the financial responsibility?
To see where Gen Zers' heads are concerning their financial goals and how the lessons learned by older generations might be able to help, we surveyed 1,000 Americans on various financial topics and gathered some advice.
Gen Z would rather conserve their coins for crypto
First, we looked into the financial advice Gen Z wants and compared it with what they're getting. We also homed in on their financial habits, goals and struggles.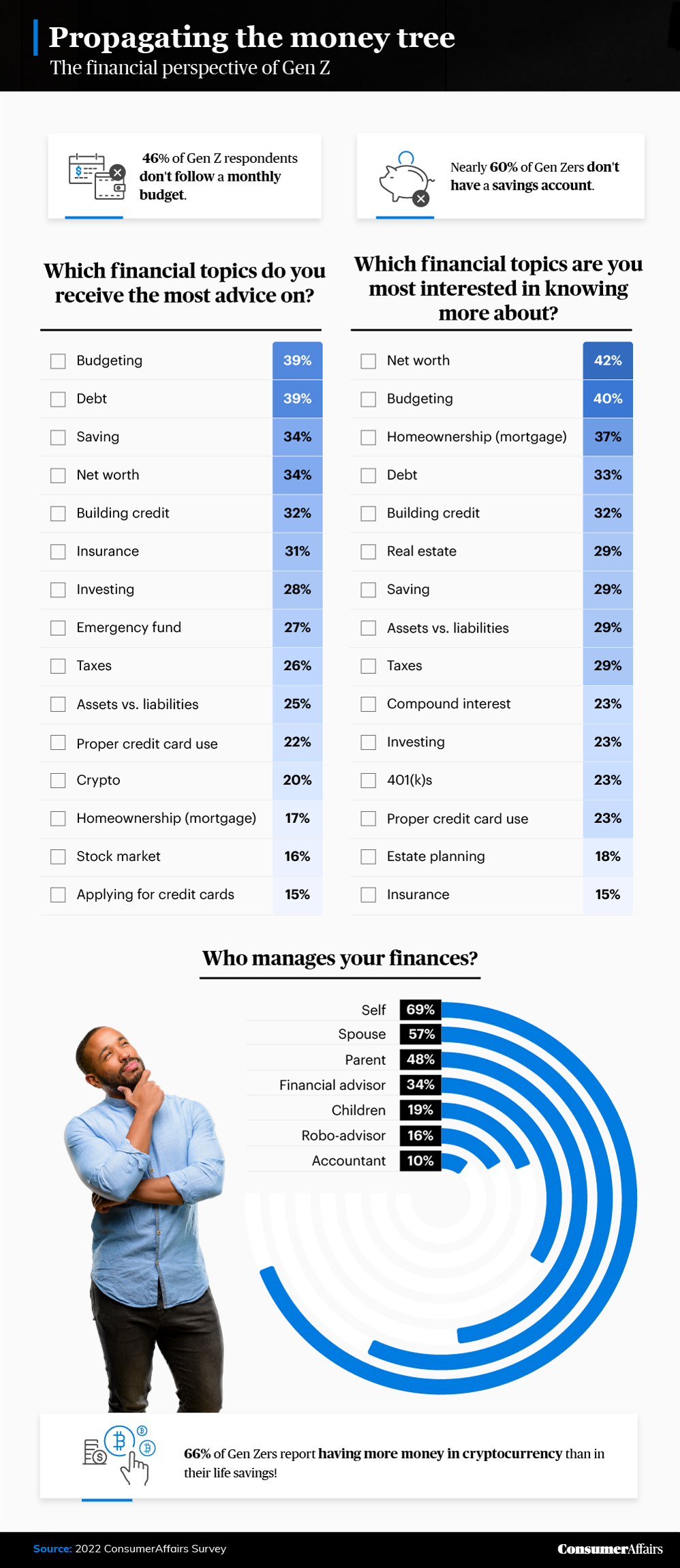 We found that 46% of Gen Z respondents don't follow a monthly budget, which means they may need some guidance in managing their money. Luckily, many apps and systems are available online to make constructing a budget relatively stress-free.
We also discovered that 66% of Gen Zers have more money in cryptocurrency than in their life savings. Investing is wise, but diversifying investments can be even wiser to avoid losing money – and one way to do that is to put some assets into a high-yield savings account.
Setting up automatic monthly transfers can make this easier for those short on time. It might also be helpful to seek advice from a trusty financial advisor who can recommend other ways to save and build wealth over the long term.
The benefits of saving money to prepare for the unexpected are undeniable, so it surprised us that 60% of Gen Zers reported not having a savings account. This could be for various reasons, such as instability in the job market, fluctuating gas prices, increasing rent prices and more economic challenges than previous generations faced.
If at first you don't succeed . . .
Failing is often part of the learning process in building a solid financial foundation. In the next part of our survey, we examine some of the biggest regrets and best financial advice from older generations.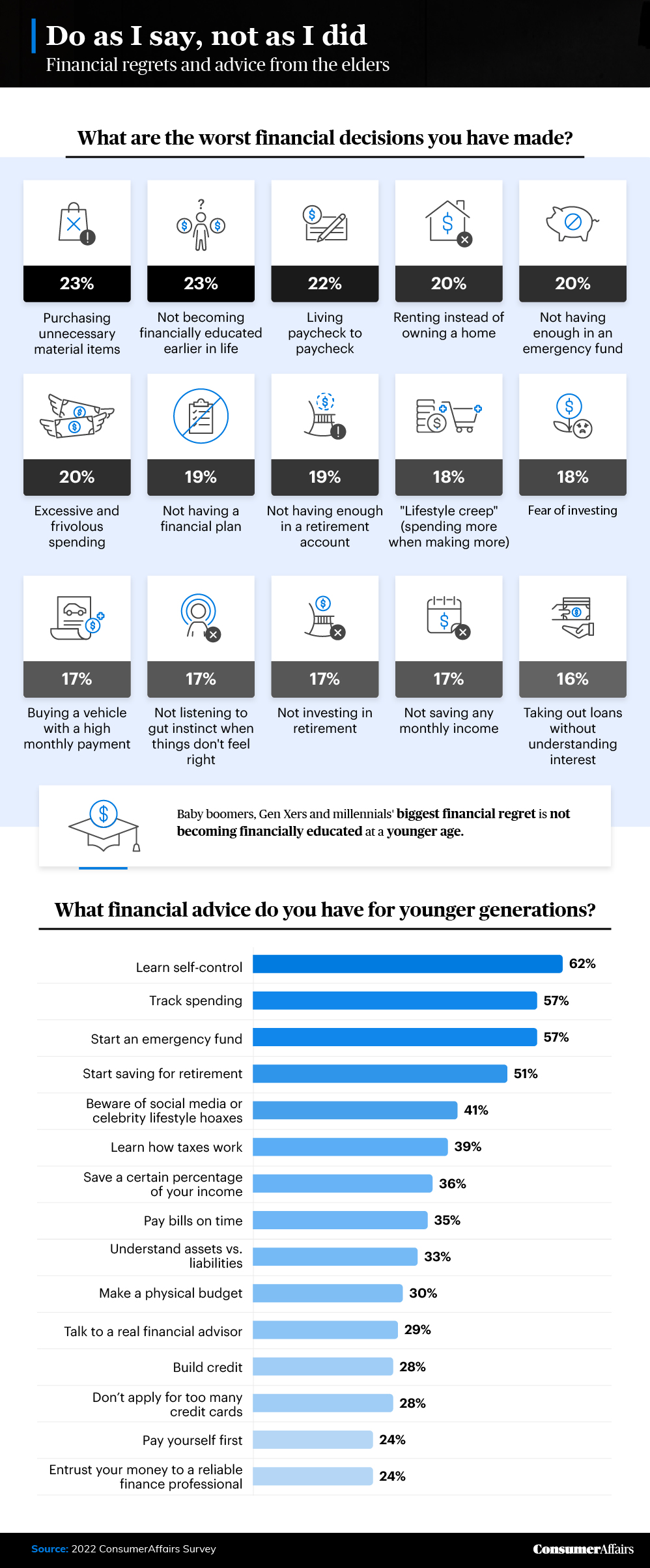 It's often said that the longer you live, the more mistakes you're likely to make. Our study indicates that baby boomers, Gen Xers and millennials' biggest financial regret is not becoming financially educated at a younger age. It makes sense that older Americans might feel this way now that they're approaching or already at retirement age. They've likely learned the necessity of having some extra money available for life's emergencies.
Our older respondents' most critical financial advice for younger generations is to practice self-control, track spending and start an emergency fund. Practicing self-control at a young age can help prevent bad financial decisions as you take on more and more financial responsibility.
While it's helpful to get advice from experienced family members, it turns out that Instagram may be a more enticing resource for Gen Z's financial learning.
Meet the modern financial advisor: Instagram investment influencer
From Warren Buffett to Gary Vee, Instagram and Twitter are teeming with so-called financial experts. Let's determine just how effective these influencers are and how Gen Zers view them.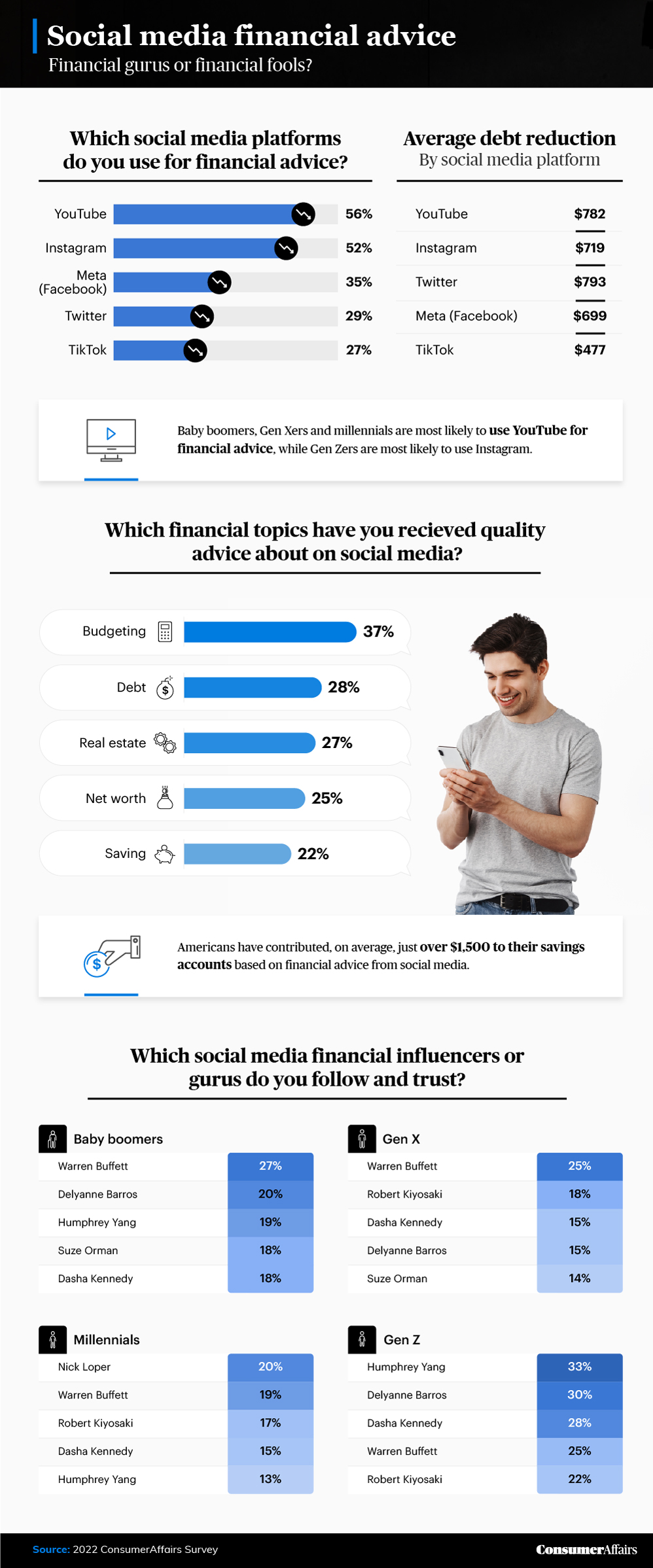 Generations are split on where they get financial advice, but it seems like social media plays a fairly large role for all of them. More than half of Americans cite YouTube as the top social media platform for financial advice. Meanwhile, Gen Zers mainly turn to Instagram for help tackling their money troubles, which makes sense — many of them practically grew up on the app.
It seems like the financial influencers on these platforms have been helpful, though. The Americans we surveyed have contributed, on average, just over $1,500 to their savings, and they were able to reduce their debt by an average of $800, all thanks to financial advice from social media.
Debt, in particular, is a trending topic. Instagram influencer Dasha Kennedy (@thebrokeblackgirl) is a personal finance activist that offers advice based on her experiences so other women can learn to tackle debt.
Meanwhile, side hustles are the main area of expertise for other influencers on the platform, like Nick Loper (@nloper). He stresses the importance of having multiple streams of income. Pro tip: Make sure you know how the taxes work before quitting your day job for your side hustle.
Other influencers focus on saving and investing, like self-made millionaire Delyanne Barros (@delyannethemoneycoach), who teaches about the ins and outs of the stock market on TikTok. Likewise, Humphrey Yang breaks down capital gains tax rates on his TikTok (@humphreytalks) and YouTube channel. But when all is said and done, words of wisdom from the best social media investment gurus may only go so far.
The future of finance lies in Gen Z's hands
From one generation to the next, people will deal with unique financial struggles and develop money habits based on their specific life experiences. But if we've learned one thing, it's that having a savings account and learning how to budget is imperative in avoiding the paycheck-to-paycheck lifestyle.
For Gen Z, there's a lot of solid advice online about saving early for retirement, allocating investment funds and developing sustainable habits to set them up for financial success. We hope that this — and the advice provided by older generations here — will help Gen Zers create a secure financial future.
Methodology
We surveyed 1,000 Americans on an array of financial topics and financial advice. The mean age of respondents was 40 years old. Among them, 55% were male, and 45% were female. Respondents had the following generational breakdown: 30% Gen Z, 24% millennials, 24% Gen X and 22% baby boomers.
To help ensure all respondents took our survey seriously, they were required to identify and correctly answer an attention-check question. Survey data has certain limitations related to self-reporting. These limitations include telescoping, exaggeration and selective memory.
About ConsumerAffairs
ConsumerAffairs provides handy resources and customer testimonials to help you make the best purchasing decisions. We have buying guides, matching tools and explainer articles, and we can pair you with the right companies to meet all your financial needs.
Fair use statement
We understand it can be tough to find quality information online — especially accurate financial advice from real people. If you'd like to send these results to someone of any generation who may find them useful, we encourage you to do so for noncommercial purposes. All we ask is that you include a link to this page so our contributors get credit for their work.
Did you find this article helpful?
|
You're signed up
We'll start sending you the news you need delivered straight to you. We value your privacy. Unsubscribe easily.