H&R Block - Refund Anticipation Loans
Consumer Complaints and Reviews

$388 for a simple tax return: a W-2 from two other jobs plus being an Uber driver. I bought a vehicle in 2016 and had the purchase receipt with me. I had all the Uber numbers (miles driven, income, tips, expenses) calculated and with me. I'm single, don't own a home, and have no dependents. I was at the office approximately 45 minutes. It cost $388.

I had a simple return. Social security, pension, and Lowe's w2. Charged me 277.00. Last year it was more complicated, because my wife passed away during the year. Charge 180.00 Janice **. Manitowoc WI. I had Janice last year and I think she should have advised me to take more taxes out of my ss so I would not have to pay 4000.00 in April.

I already got my Advance Refund Emerald card for a amount of money but I don't want more money to be transferred on this card. I spend $37.50 only fees. Plus 35 they going to take when IRS Send my refund. This happen because ATM give me only $200 (withdrawal) and it cost to you $3.50 every time you try to use the card.
Okay when I made my income tax refund the lady on the desk did not explain to me--If I take advance refund card... my whole refund going to this card--Now I try to fix that. And I called customer service but the reps (Asian Speakers) they don't understood me--neither I don't understood them (I felt like disgrace). I had to go to the H&R Block office and let them know I got bank account and I want direct deposit. Unfortunately I cannot reverse it. H&R BLOCK... This is last year as your client!! My opinion--Emerald Card is a fraud!

For the past 2 years I've had trouble with H&R Block - not the tax preparer, but the Emerald Advance Bank and associates. First off, you don't get to speak to someone that speaks fluent English so it's hard to understand them and they don't understand me either. Last year I made a payment to my Emerald Advance, they took it out twice, putting my bank account into the negative which resulted in a couple of weeks worth of overdraft fees. Had to wait for them to "investigate" the issue. That was a big mess that took weeks to clear up.
This year, the due date to pay off the Emerald Advance is before the IRS will allow refund to be released due to new law. After speaking to them this a.m., I find out I'll be charged an interest fee, since it will be after due date! It's nice to get the advance, but NOT WORTH all the trouble I've had in dealing with them. I won't be doing this again.

I want H&R Block to do my tax return and I got the emerald card cause I was told that I would not get my federal tax return until after the 15th of feb and I need the H&R Block advance refund. I just was now told that if your refund is not over a $1000.00 so you do get the h&r block advance refund. I was not told this at the time I got the card. Now it puts me in a hard time. I need that 500.00 from that h&r block advance refund to help pay for bills and other things. Something needs to be done about h&r block taking advantage of people with the emerald card. I will not ever go to h&r block again. I just hope I can get my tax return back ok.
How do I know I can trust these reviews about H&R Block?
761,264 reviews on ConsumerAffairs are verified.
We require contact information to ensure our reviewers are real.
We use intelligent software that helps us maintain the integrity of reviews.
Our moderators read all reviews to verify quality and helpfulness.
For more information about reviews on ConsumerAffairs.com please visit our FAQ.

I went to Liberty Tax then decided to go H&R Block. Been loyal since 2005. Because they had this year advance refund we make sure the rep had the checkbox. Click on advance refund and I was waiting for 24 hr for email. Never got it. 8 days wasting my time calling H&R Block number and to tell I was not checked for it or they had lost my application. So guess what? I not getting an advance refund because there was a glitch. When I could have done this for free or went elsewhere. Now it's too late because it was submitted into the system. No, they can't fix it.

I went last night at 8pm, yesss 8PM to try and get the refund advance & I got approved! I really didn't think I'd get approved because they check your credit & honestly my credit is HORRIBLE. I mean seriously VERY low 500's but I got $500 advance 20min after leaving the building & it was loaded to the card and available to use! The only downside is my taxes are super easy to file that's why I usually do them myself... like only one W2, claiming 2 kids, one donation, and uniform cost & they charged me $300 for doing my taxes which I wasn't too happy about but I'm homeless with 2 kids and just started a new job so I really needed the money for bus fare, new uniforms, and food etc. So I agreed... I think your credit only determine the amount you get approved.

I was really disappointed at the fact I had NO contact info for a rep for the bank approving these loans. I went into the H&R Block office to apply for the Emerald Advance and at the completion of the application a pop up stated that they will contact me within 3 business days to confirm further information. I only have a home phone number. I was contacted twice during my work hours so of course I was not home. I tried calling the phone number but the phone number does not receive incoming calls. I called H&R Block and the rep was not familiar with this and told me to wait for another phone call.
I found a phone number to the Emerald Advance and the rep did not speak English very well and same repeated to me that he can schedule me an appointment to apply for the Advance when I already applied I was to be contacted. I went back to my local H&R Block office and the woman was able to chat live with a rep and was told that since I was unable to answer my phone my application was denied and I was not able to re-apply. There is no customer service number I could call, there was no specific time I was to receive a call. For the fact that I only have a home phone and work an 8 to 5 job disqualified me. Then to top it off the reps that I did come in contact with had no idea of what I was talking about. Staff is not well informed. I got nowhere...very disappointed and all right before the holidays.

They will not approve. One of the workers at H&R Block stated that 80% of Emerald Advance loans are denied. They use Bofl bank now and since they started using them, everything has gone downhill. I have gone to H&R Block for about 15 years. I will no longer use them for anything. Trying to get approved for that Emerald Advance is a waste of time and you will only be taking a hard inquiry on your credit for nothing.

After have our taxes completed we chose the prepaid Advantage Visa for our refund. The very next day the card was blocked and on calling they went over my purchases. Yes, I told them, 1 purchase of over $1900 was not done by us. I requested that they send the charge back. They put the charge thru anyway and after 7 months I am still fighting for my refund. When you call the number on the back of the card for assistance, you hear that it is H R Block, but it's Direct Cash Bank. H R Block hasn't been any help and we believe they should have been. Direct Cash Bank is very unprofessional and disappointing. I wish I had taken all the cash off that card the day I got it. Please be aware of the potential for problems with these cards.

I tried to pay one of my bills by setting up auto payment with the routing and account numbers associated with the card and was declined causing a late payment fee and a returned payment fee so I did not try this again until recently. I called the customer service line before trying it again and was assured 100% by the woman on the phone that it would go thru and if not they would be responsible for any fees for late or returned payment fees. Well as you can guess the payment was returned and when I called of course they gave me some line of crap why they were unable to process the payment and they were not responsible for any fees as the transaction never went thru on their end and it was the other bank that made the mistake. To anybody reading this I would not attempt to use this card or even H&R Block for that matter as they are all crooks.

If I could give less than one star I would. I HATE this card and have finally deactivated it. Not only do they claim NOT to charge an annual fee... they do btw, they also charge you to pay off your card! I used my tax refund as is what you are supposed to use and then another 35$ was charged to me! On top of all of this their customer service is AWFUL. No one speaks hardly any understandable English, and I have had two people literally hang up on me when I asked questions. It's sketchy. They cannot answer one simple question without asking you SSN instead of the card number. The online, and phone, vs. when you call them; your balance is different on each option!!! Not to mention when you call them about this they have absolutely no idea and hang up on you. This has been the worst decision ever to have this card and I cannot wait to go home and slice it into pieces.

I am highly pissed. I recently did my taxes with HR Block and I was due to get back 2,878 in refund from my taxes. So I received my taxes last Tuesday and I only received 2141.20. So I was between 600 and 700 dollars short. So I contacted HR Block to ask them, "Where is the rest of my money?" And they claimed that they took out 600 to pay back a emerald advanced that I took out in November which I didn't. I only received an HR block to use to put my paycheck on and I just activated the card two days ago and it only has 45 cents on it and the only thing I paid for them to do was my taxes and that was 24.99 and the refund deposit fee was 34.95 altogether. That was 61.29 and I want to know where's the rest of my funds.

Went in to Apply for emerald advance assuming it was based upon my income tax refund and was denied due to too many credit inquiries in past 6 months. What the heck? I was happy when they advertised it on the Tv. I thought it was an answer to my prayers. My family has been struggling for the past 4 months and finances are getting tight and I thought this would help. I have received this in the past and have been a satisfied customer for many years. Whatever happened to the RAL's that they use to do in the past? I trust their service. Their advertisement makes it seem like you are guaranteed a loan and it is not so. I only want 500 to pay an electric bill. They can have it back when the taxes come in.

My husband and I received a holiday tax advance on Nov 24, 2015 which was loaded on an Emerald Card that very same day. With in 24 hours the money was stolen off the card and used in Ohio. This was a new card given to us that day at the H&R Block office in Branson, Mo. This is our 2nd time with this issue and they refuse to say there is a problem in their systems. The first time, we received a phone call and got our funds back in a short amount of time, this time I have had 2 operators from the Emerald Card hang up on me and refuse to release any information about when we will get our money back at all. My advice to all who receive an Emerald Card in office to remove all fund at time of receiving it and do not load personal funds on them, they have a glitch in the system and easily hacked!

Figured I would go with a well-known company and knew I was filing my well underemployed taxes with them. First few months were OK, added direct deposit, but if ya link another acct it takes 5 biz days even after it goes through, just too long. My main complaint is it's now been canceled twice in 2 weeks for fraud protection. I've called to let them know they have me on the phone and I'll answer me anything to lift the block. Both times they say up to 48 hours till manager will call and they can't tell me why.
Meanwhile every direct deposit, transfer and PayPal goes directly into this card. I can't get gas, go to work, eat, anything and these jerkoffs can't explain why. One time I can let it go but 2 weeks later and the order I made that may have set it off cause it was online and I hit pay twice because the tablet is so sensitive is canceled and I can't even see my balance or info. It's like I was wiped off the grid. You suck Block and hire some Americans at least during daytime hrs, geez.

Me and my husband went and filed our taxes with H&R Block at the Federal Way location by KFC. We also asked them to do a second look on our past taxes. We gave them all our past tax information to have a second look done. Well the lady that helped us didn't give us any indication that she was going to be going on vacation and that the second look wasn't going to be done for awhile. We filed on 3/29/2015 and I emailed the lady at H&R Block on 5/7/2015 to see if we could get our records back. I received a response from the manager and she stated that she would get back to me and let me know when I could pick up our records. I never received an email letting me know when I could retrieved our records. I called on 5/21/15 and she basically stated that they have misplaced our records and that she has to try and locate them. I will never go to H&R Block again.

I have used H&R Block in the past with no problems but this year it has been awful! I still haven't gotten my refund and I filed 2/9/15. I have called and stopped by but they can't tell me anything but "The IRS is slow this year." But no, can't get anyone on the phone or in the office to find anything out! I will never use this company again.

I spent 2 hours on the phone explaining my issues, to be put on hold and directed to 8 different customer services, to be told that they couldn't give my refund on my Emerald card. I wouldn't have paid 32$ for the card to have just 52$ of my refund put on the Emerald card. When my refund was 1017$ and the 945$ was put on the eGift card when I didn't want the eGift card. Like I said before, 7 years going through H&R Block and I can't even use my refund the way I want to when I worked for my taxes. I should be able to get them of how I want them. It's my money, they should be able to give my refund the way I want to. I'll never go through H&R Block ever again. Be a pitiful thing if it happened to you and all the answers you got is "yeah we can't help you there". Poor business towards valid customers.

Very disappointed!!! I would like to first of all say, my tax specialist was very nice. I did receive my refund promptly. It was a check from H&R Block, not the Federal Government. I also knew the fee for my tax preparation would be coming out of my refund check. I was not aware, however that H&R Block would be taking out an additional 35.00. Upon receiving my check, there was a 4 digit code at the top of the check. I called the 800 number and got that authorization code. Apparently, the bank was suppose to get the authorization code, not me. This resulted in me having to go to H&R Block to have them void out the original check, request a direct deposit. I was told initially this would take 3-5 business days. Not so!
** who originally faxed in the voided check, and told me it would be direct deposited within these 3-5 business days recanted. She spoke to the main office in Kansas City, and was told they need the physical check before they could do a direct deposit into my account. With all of that being said, it took 3 phone calls to **, 3-31-2015. She initially said she would call the Kansas City office when they opened up. No response by mid-afternoon, so I called again, she was in a meeting, and would return my call. By 4:30, I called a third time, and was connected to her. That is when she gave me all of the information. A returned phone call would have been nice.

I file at H&R BLOCK on February 2.... it's way over 21 days when they told me I would receive my money. I went with the Emerald Card. Please. I'm homeless because of this delay, car is broken.... and I'm very upset with this situation.

I filed my taxes Jan 28th. It was rejected three times and I was never contacted. I had to contact them. Then I was expected my refund cheque Feb 17th. My taxes was mailed off Feb 20 and until this day I'm still waiting my refund.

I went to get to H& R Block to get my taxes done. All my paperwork was in order. It took 45 minutes to an hour and they charged me $349.35 for the filing fee, Federal Refund Anticipation Check of $34.95, Federal RAC Check Fee $25.00 for a total of $409.20. This is ridiculous, the anticipation check fee should not be charged since they wait for the IRS to approve the refund, there is no anticipation. Also, I went on the IRS website my refund was done on February 19th, it is March 9th and I still do not have my check. They are a total rip off. The lady told me that we were paying for the commercial and their paycheck. When they told me the fee at the end, I told them to cancel it and I would do myself. She said that it had been sent through.

I had my taxes done with H&R BLOCK for the 7th year in a row. I have never had a problem until now. I was "accidentally" sent a RAC check, issued in my previously married name. I was expecting a Emerald Card to be issued in my name and mailed to me, because I wasn't asking for an immediate $1000.00 loan. The tax advisor told me it was a $35.00 fee for a Emerald Card. I electronically signed my refund away.
This was 8 weeks ago. I was issued the check, and no bank would cash it because I no longer hold ID's in my name. I went back to H&R BLOCK...my tax rep had no idea what to do, and he reached out to someone else in H&R BLOCK via an Messaging System. They told me to mail back the physical check, with a check replacement form, and a letter of instruction telling them to load the funds on to the card. The tax rep then issued me a card, but failed to put my info on it. When I mailed everything out, I included a copy of the messaging conversation. I mailed it priority mail, guaranteed with a tracking number. It was delivered successfully.
Three weeks later, I have had to have 2 more cards reissued, because this rep had no idea how to issue them. I had to go to another office 45 minutes away. I STILL do not have the funds on the card, despite my calling daily. NOW they are telling me they never received the check/letter/form that was delivered 2 weeks ago. I BEGGED for them to just stop payment on the check (THEY ARE A BANK) and transfer the funds to the card -- WHATEVER THE FEE MAY BE. I cannot get a supervisor to call back. I had a representative hang up on me after waiting 45 minutes on hold. I have cried, begged, bargained with these people. There is NO customer-centricity, no follow through. I will never come back to H&R BLOCK again. I am STILL waiting for over $8000.00 to be returned to me. OF MY MONEY. Who do I call? What do I do??

I went to H&R for help with an audit letter (6000.00), this lady "Stella **" said she would help me and had me fill out a power of attorney and said she would deal with them for me. After one week I called and she said she was working on it. Two weeks later I got a letter and called Stella and she said don't accept those letters, they're only supposed to go to her. Ok, I called 3 months later and she said she was still working on it. So I went in there to do this year's taxes and I asked Stella about the audit (because I got a letter telling me I owe 7036.00). Now, she said "Yeah, I have to find it in storage." I then asked, "I thought this was an on going case." She then said "Yeah... I will call you when I find it."
I called her 3 times and she said "I'm busy." This lady cost me 1300.00 in interest. So I called support and they sent me somewhere else and I also told support that Stella has all my personal paperwork from 3 years and they should hold her accountable for this. After all this they won't call me or hold Stella accountable nor give me back my paperwork. You guys cost me 1300.00 in fines and won't even do this year's taxes, and now my wages are garnished.... ** H&R I guess it's time for small claims and BBB reports. This is outright Fraud.

I have dealt with H&R Block for over 16 yrs and I went to get loan. I file married and joint every year. She told me I couldn't get anticipation loan with husband, but I could without him. So I got it, but she did not tell me that I was paying in and would have to pay back loan. And I am going somewhere else next year.

I filed my taxes on January 28, 2015. I was told it would be 21 days. I have called every number to the IRS and constantly checked the IRS.gov website for an update. All I ever got was, "Your return is still being processed." I paid H&R Block $334 to prepare my return. It seems that for the past couple of years my return is taking longer and longer. I am not using them anymore.

Had my taxes done there on the 27 of January and was given a refund expected date of February 17 and now they're telling me it's in H&R Block bank. What to do.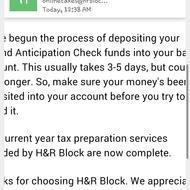 I filed on February 1st. IRS send check, would be deposited February 9th. IRS said check was sent. 12:34 this morning I get a email from h&r block that said "we're working on your deposit and this will take 3 to 5 days....or longer so PLEASE check your balance before going shopping!!!" This is the first and the last time I'll use h&r block. Don't ever have this problem with turbotax. Oh but send me a gift card for 110.00 for target ... lol.

I went to H&R Block to file my taxes. Taxes. The lady lied to me and said the e-file was no longer open through the IRS and we would have to file it on paper and mail it in. She said the only way they would do the taxes was if I paid out of pocket $650.00. I have never had to pay that much money to file a basic tax return. Then she said if I found another tax preparation center that charged less, they would beat their price. When I went back and said I found a place that would do my taxes for $100 the lady was furious and called me a liar and held my tax paper work hostage and still will not return it to me.
I then went online to find the corporate number and called them. They said they could do nothing and I had to contact the manager/supervisor of that office. Sadly that was the lady that is holding my tax papers hostage and I can't file my taxes because she has them and will not return them to me. When I told corporate that they said they can't do anything, I have to go and talk to the manager. They wouldn't even listen to what I had to say. I've went to H&R Block for years, I told the individual at the corporate office. They said if unhappy, then to take my business elsewhere. How can I when my paperwork is being held hostage? They have papers I cannot just go and get duplicate copies made of. Some can be requested, which will take time, but others I cannot and if I get audited, I will not have the proper paperwork to support my business and medical deductions.
Everyone should boycott this company and go elsewhere before something horrible happens to you there. I believe the lady wanted to charge me the out-of-pocket cash, instead of getting the money out of refund anticipation check, to keep it herself because she is the office manager and who would ever know. Corporate obviously doesn't care what she does. I wonder how many other people she has scammed out of hundreds of dollars? All it takes is few and the tally adds up to thousands of dollars tax-free in her pocket. It's sick and this should be stopped A.S.A.P.
H&R Block - Refund Anticipation Loans Company Profile
Company Name:

H&R Block

Website:

http://www.hrblock.com/