Consumer Complaints and Reviews

Every year H&R Block has a new surprise fee buried in their system that you don't find until after you've paid their return preparation fee. This year the surprise was a third-party charge for using a credit card to pay your tax liability. You discover this only after you've paid for tax preparation, in anticipation of being able to file electronically. The result is that to avoid the fee, I chose to print my returns and mail a paper check to the IRS. So, the total value I got from H&R Block for $77 is the privilege of typing my return information into their website instead of a free-fillable form provided by the IRS. And this is not the first time -- so when will I learn? This year! No more H&R Block!

Very unsatisfied with the H&R Block tax pro. I filed my taxes at a H&R Block office. I filed on the 20th of January. My Colorado return still has not been transmitted and have been lied to by not only the tax pro that did them, I was also lied to by the receptionist and the office manager. I just got off the phone with customer support and they confirmed that 3 weeks after the day I filed that my Colorado still has not been transmitted. I paid 442 dollars to get screwed over and lied to. What a waste of money. Tax pro, huh? I could have done the taxes myself more accurately. This is ridiculous.

First thing to think about is why was I asked to pay for "peace of mind" for an additional $40 so they'd stand behind their work? They sell a service, tax prep, and wouldn't you think that accuracy and doing it correctly would be something that is a given? So being asked to purchase this $40 peace of mind should have been a forewarning. Then I read online that most people who did purchase that, it didn't matter as H&R didn't stand behind anything because half the time the errors aren't found for a year or more later and H&R won't take responsibility anyway. So what's the point.
So backing up - I thought my taxes would be semi-easy to do as nothing had changed for years so giving them my 2014/2015 taxes should have made it pretty easy to compare and see what my old tax guy had done in the past. When I made my appointment, I asked if I could bring in a flash drive with the last two years' taxes and was told I could. I arrive for my appointment and I'm told due to security, no, I cannot give them a flash drive. Great. I had been completely misinformed. So I'm sitting there with nothing really to give them as far as my back taxes. She tells me no problem, just email them when I get home. So we go over the basics and the figures I brought in and I go home and email the back taxes. And I wait an entire day with no response.
Finally I follow up - she never got them. I try again. And again. And again. And each time I'm being told no matter how I try to send them, zipped or PDF or whatever, she isn't getting them. It's pretty obvious that once again security measures that they have don't allow anyone to email anything to them that is an attachment. And yet no one told me that. She never one time said sorry, I guess I can't get email attachments from you. I'm sure I wasn't the first person to ever try to email something to H&R. So she says bring back the flash drive, I'll put it in my personal laptop. Nice of her to offer that but again, why on earth could I not have used the H&R system? Or why was I told that I could? So back I go to the office to drop the flash drive. My frustration is mounting.
So then I get a notice that my taxes are done, they are attached. I open them and there is nothing more than a summary - you paid this, you owed this, you have this coming back. No actual forms, schedules, nothing. But yet I'm asked to approve the taxes - and by approve I'm sure that meant pay for them. I called and was told yes, I have to approve them in order to see them. What? How can I approve something I can't see? Am I supposed to be satisfied with this summary? How do I even know she got all the deductions right? So I tell her I don't get it - what am I approving?? And flat out say I'm not approving anything until I can see the forms. So again she is kind enough to apparently scan in the main forms, not the schedules, not the estimated quarterly taxes for 2017 but just the main forms and only for the federal taxes.
I'm again baffled - I still have state taxes, I still want to see my quarterly estimates and how they were arrived at. I'm not approving anything until I see a complete copy. Once again she scans in everything and emails them to me. FINALLY I get the entire set of documents. I once again have to ask, am I the only person out there that demanded to see the actual tax forms before approving or paying for them?
So I know nothing about taxes - if I did I'd do my own. My bill was going to be $500, $540 if I paid for the peace of mind. That's no small amount but I have no choice as I'm completely ignorant when it comes to taxes. But I'm looking over my forms and the first thing I see is that there is an obvious error for one of my incomes - a $10,000 error. Something that should have said $26,000 was posted as $16,000. So right there I was under-reporting my income by $10,000. Had I just signed off on the tax forms, that would have been caught eventually by the IRS and I'd have owed penalties and interest... and I guarantee you H&R wouldn't have stood behind me as they would have said I approved them, it's my fault.
And then I see yet another blunder - in my quarterly estimated payments for 2017. I had a small refund coming of $500 and I always choose to roll that over into my first quarter payment rather than get a refund. So looking at the estimated tax worksheet, I see that she transposed two numbers. In round numbers just for the sake of example - it should have said that I owed $2000 for first quarter taxes, less the $500 refund so my first quarter payment should be $1500. What it said was that $1500 was rolled over, I owed $500 for my first quarter taxes. And even in adding up the year total, it was blatant - you owe $8000 for the year, and your quarterly totals are $500, $2000, $2000 and $2000, totaling $6500. But I really do owe $8000. So on top of under-reporting $10,000 in income, had I blindly signed off on these taxes and believed what H&R told me, I would have underpaid my federal taxes by $1500 on top of everything else!
I immediately emailed my tax prep person and said that's it, my confidence level is gone, I'm going elsewhere. I was so grateful that I hadn't paid a dime as I'm sure getting my money back would have been impossible at this point since they'd have said I already had my forms. I said I'm going to a CPA as I need to feel some element of trust and obviously with errors like this, there is no trust left with H&R.
In all fairness - leaving out all the errors that would have been costly in the long run, H&R did come within $85 of the same adjusted gross income that my CPA got me. So the bottom line there is she knew what she was doing, but her attention to detail was beyond bad. My CPA has an office staff that automatically checks and double checks each and every return for errors, and you don't have to pay $40 more to get that guarantee. They stand behind their work. The cost at the CPA was exactly what H&R charged - $500, less the $40 extra peace of mind which came automatically with the CPA's product.
So why on earth would I ever return to H&R? They don't even double check their work! No one looks over the returns, they expect you to sign off and pay without ever seeing what you are approving. And the misinformation - saying I could use a flash drive, saying I could email my returns in - all completely false. And not one time did anyone apologize for these annoyances.
My tax prep lady did finally apologize that I had such a rough time with them but didn't take any responsibility for any of the hassle. So in my opinion, I have no idea why anyone would use these people. There was no cost savings using H&R. I ended up with a full-on CPA who actually does accurate work for the same price and the peace of mind was built in, and the hassles H&R put me through were just so unprofessional. Buyer beware - go to a real tax professional, not these fools.

This is the second year I have used hired H&R Block to assist me with my taxes. I have no problem with the customer service - I have a problem with the price. I am unemployed and it cost me 1/2 of my refund for the services which only took 1 1/2 hours to complete at a price of $436.00 - horribly expensive! Last year it cost me $513.00. Lesson learned - next year I will be buying my own tax program and figuring it out myself which, I think a lot of people should be doing. This is absolutely ridiculous to be paying these fees when you are trying to stretch the refund as long as possible until you are employed again. H&R Block is not about the customer's best interest as they are about padding their own pockets. I appreciate the assistance but don't appreciate being ripped off!

I have gone to H&R Block for 14 years. I have problem small ones in the past. I overlook them can't do it any more. I got taxes done. Did Emerald card. Said in two days return would be on card. Almost two weeks later nothing. Called H&R Block and they said "oh it will go to your bank card in 3 weeks." I'm done with H&R Block and their lack of knowledge. Anyone reading this look at their ratings. I'm here to say this co. needs a factory lift and new people who know a little of what they're doing.
How do I know I can trust these reviews about H&R Block?
696,839 reviews on ConsumerAffairs are verified.
We require contact information to ensure our reviewers are real.
We use intelligent software that helps us maintain the integrity of reviews.
Our moderators read all reviews to verify quality and helpfulness.
For more information about reviews on ConsumerAffairs.com please visit our FAQ.

H&R Block are scammers. They charged me 309.00. That crazy. Lots of people complain. They should be shut down for stealing my hard earn money. Next year I have a family member do it for me and can get extra credit which they could not get. They want to charge you 35.00 for depositing the money in your account. What a rip off and the lady Carrol in Emmaus PA took forever doing the taxes. They should fire her.

We had a relatively simple itemized return, and H&R Block wanted to charge $605.00 to do our taxes. That's SIX HUNDRED... The only reason I'm giving them an extra star is the lady was kind enough to tell us how much is was going to be BEFORE she filed, which gave me the time to get up and walk out. I have read others did not have such luck. I went home and did my taxes myself on TAXACT. Sixty bucks, and I got the same figures H&R did. I even e-filed... Keep your money people.

I went to H&R Block because I bought a home last year and it was the first time I've had to itemize for decades. We talked and laughed while she did my taxes (which was just a fill-in-the-blank form) and it only took maybe an hour. It wasn't as complicated as I first though which made me happy. The customer service is stellar, and now I know why. Now I have seen ads for them that state the cost is about $150 to $200 which I think is pretty outrageous, but for the effort that might have been involved (I thought) it might be worth it.
We were done and there was a few receipts needed to bring down my tax debt (I ended up owing $600) so she assured me she would keep my file safe until I returned a few days later. I glanced over at the screen because the invoice for the H&R Block service was there (we hadn't discussed how much they would charge) and it was $300! Just for filling out a form! I asked if that is what I owed and she gleefully told me that that amount did not include the "Peace of mind" garbage. Are you kidding me? I have done my taxes with TurboTax for years for about $30. This year I did them just to get a ballpark figure before I went in and it was the same! I could have done my own taxes for $30, but I went to these CROOKS because I thought they might find something I missed. My recommendation is NEVER, EVER USE H&R BLOCK. EVER.

H&R Block claims you can use their more zero to do your taxes for free but after I had everything entered my "situation" (HSA) meant I would have to upgrade to deluxe. They won't tell you before you start what situations are not covered under the more zero edition. Disappointing and most likely a scam to get people to use their software and then bait and switch to get them to pay after everything was entered. I give H & R Block a ZERO!

I will not be filing my taxes with H&R Block again. I went to them last year and they were great. This year I had a Mr. ** in Alexander City who was horrible. I only worked part of the year when my husband wasn't working. So therefore I only made a couple thousand dollars. All Mr. ** did was look at this and say he couldn't help me because I would only get a 100 dollars back and that wouldn't even cover his fee. He didn't look at my dependents or anything. I took my business to Jackson Hewitt and made 1500 dollars. I will continue to use Jackson Hewitt. H&R Block has lost my business. They should get better employees not lazy ones.

This year I ran into financial hardship due to unemployment. I saw the highly advertised H&R Block Interest Free Tax Refund Advance as a way to get money faster to pay bills until you get the remainder of your refund. I usually do my taxes myself for little or no money online. I decided to go to H&R Block because I wanted one of the Interest Free Tax Refund Advances. My first shock was when the tax advisor was finished with my taxes and told me that will be $400.00. I wasn't happy that I was going to give up $400 dollars for something I usually do for free by myself, but at this point I had no choice as I needed that Tax Refund Advance to pay the bills.
Later that evening I get a text message that said, "Congratulations your tax return has been accepted by the IRS." I waited in anticipation of the next text message telling me that my Tax Refund Advance was ready. Instead I received a message that said "Thank you for applying for the Refund Advance with MetaBank during your recent visit to H&R Block. We have received your application and unfortunately, your request has been denied." At this point I was very angry, I just got ripped off by H&R Block in the amount of $400.00 and I have no Interest Free Tax Advance and I have no way to pay my bills until I get my full refund which might take up to 4 weeks. Thank you H&R Block for your deceptive business practices and preying on people who need financial help the most.

Confused, clueless & rude tax preparer. My son and I have been using the Palm Beach Gardens, FL Block office for a couple years. This is the last time. The so-called "Senior Tax Analyst" struggled to read my tax forms during my report preparation, so I assisted. Getting the right numbers in the right field tends to be important. During my session, she shared a totally inappropriate joke about Medicare Part "G". I dropped off my son's tax forms last week. When we spoke on the phone, this so-called Senior Analyst claimed he had made a 401K withdrawal, when he hadn't. We were missing 2 forms, which I mailed to her.
Today she claimed I had emailed her a form when I hadn't, said she never received the other in the mail. She asked me if my son was taking an education credit, which should be her job as a "Senior Analyst" to tell us. When I contradicted her, she became flustered, raised her voice, complained about working long hours, and not having time to complete his tax form. I told her I wanted another tax preparer and she informed me she'd like that, too! She said she'd leave his tax forms at the front desk. I walked over to office with the missing form. Overwhelmed, rude, and bad for business.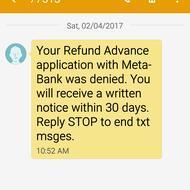 I always have filed my income tax for the last five years with H&R Block. I have always been satisfied each year until now. I applied for the Refund Advance and was denied. They did a hard inquiry on my credit when they told me it was soft. I also did the referral program and sent two friends their way who were denied for the loan as well. People on my job also used this place of business and applied for the loan and that was about 20 people who were all denied. I will not be filing with them again when the next tax season comes around because I could easily got a refund advance from another place of business that doesn't deny everyone. It's like they just put the Refund Advance sign up there to draw you in. H&R Block it's been nice but I'm moving on.

My son is 22, but since he was 18 we have filed our taxes together at H&R Block. I have used their services since 1981 and had in the past felt them trustworthy. However this year my opinion of them has changed. They have rolled out this new Program with an Emerald Advance card and are misrepresenting this as an "Early Advance" card. This year he went alone to file his taxes and came back with this card and confused about what he had done exactly because 30 minutes later he received a notice on his phone saying his "LOAN" was denied. He was confused because he was not aware he had applied for a loan. When I tried to talk to the H&R Block office about what this was and what was the recourse they refused to discuss this with me. I went in with my son to try and discuss this with them they were rude and denied 4 times it was a loan.
My son finally said you have lied and scammed me because the text on my phone says it is in fact a LOAN. They said they were feeling threatened by his anger and we needed to leave before they called the police and refused to do anything whatsoever to help him. They have destroyed a near 40 year relationship over trying to force this program on unsuspecting people. There are 5 returns that come out of my household. None of which any longer shall be handled by H&R Block. I am so disappointed in them. The way they are misrepresenting this program is unconscionable.
I hope this results in a class action lawsuit by those of us who have been scammed. I hope that if that does not happen something does happen to make them realize how offensive this way of doing business is to former clients. Maybe fines or sanctions by the government will occur due to the heinous nature of what they are doing which makes consumers no longer feel safe trusting them to handle their accounts. I am also writing my Congressman over this and I hope some of you who have been equally scammed will consider taking the same actions. SHAME ON YOU H&R BLOCK I hope someone puts you in your place.

Misleading advertisement to get you in the door... I can do my own Taxes but with my son going back to college and needed books I decided to go to H&R Block and get the advance. Big Mistake! They make it seems like a sure thing to get your commitment, 2 hours later I get an email saying I was denied for the advance even though my return was 5G. So now I just waste $341 when I am on a tight budget. SMH. Once the taxes are done and send to IRS and is accepted, there's no backing out and you pay an arm and a leg for nothing. Very expensive lesson. Don't go to H&R BLOCK.

I'm normally a regular user of TurboTax, but this year with things being super tight financially, I jumped at the idea of using H&R Block for a refund advance. I'm one of the many people affected by the new law which holds Federal returns with certain credits until after Feb 15th. I visited an H&R Block on Greenmount Ave in Baltimore first and was helped by a woman who couldn't understand or speak English clearly, so as nice as she was it didn't make for a positive experience. I eventually was so unnerved by her obvious misunderstanding of not only me, but the tax preparation software itself that I left feeling that it was best she not file my return.
On January 23rd I went to the H&R Block in Owings Mills and was greeted by a nice man named Joseph who after I explained my last experience to, assured me he would get everything straightened out and processed. We sat down, along with my boyfriend, who is a witness to all I was told that day, and began my return. All said and done I applied for my refund advance and was told because it was going on the Emerald Card that I had to have both my federal and state refunds put on there too, which I later found to be untrue. I was also assured that no fees or the refund advance would be deducted from my state taxes, only my federal when it came back from the IRS approx Feb 15-27th. That obviously wasn't true either because they took my MD State taxes as soon as they came in for repayment of those very things.
I was told to look forward to my $812 return from MD in about two weeks but why would I do that if I was notified that they could take it all because I applied for at least a $500 refund advance and my prep fees were already over $300?! That's because I wasn't notified! I was told and led to believe that this refund advance was an advance on my federal taxes and that my State WOULDN'T be touched. My so called refund "advance" of $500 came through on January 24th and my state was taken from me after being released only a few days later on the 27th! What the hell kind of advance is that?!
What made it worse was that when I returned to the branch (after calling the Emerald Card number and being left on hold to a never ending ringing after demanding a manager) all my concerns were validated when the manager agreed with all the things the tax preparer had said to me and said they were unaware that State taxes were being taken! Other people came over and told me how sorry they were this happened and it didn't make any sense. If your managers are ill informed as to how this refund advance crap works then that speaks to why everyone else is too!
They aren't making it clear that whichever of your refunds HITS THE ACCOUNT FIRST can be used to repay for services and advances which is a big problem seeing as how people are expecting an advance on their federal, not the state. I later seen the fine print where it says your state can be taken but I can assure you that was not what I was told and I think that is absolutely ridiculous. I would have never put myself through all of this for an advance of 3 days... this has made my life miserable and caused me an immense amount of stress because I'm out of work due to pregnancy complications and need every dime until I return to work February 13th.
I was offered a refund of $150 toward the tax prep fees by the district manager (to be mailed within 2 weeks!) when I went back to the branch but I still don't feel that's adequate. You guys recognize that you're misinforming people and admit that y'all weren't aware that the bank being used for the advances would be taking any state funds from the customer so why should that appease me? This is so wrong... there's no reason that I'm being acknowledged for changing how management speaks to their clients because even they realize they are guilty of delivering information incorrectly.

We had our taxes done in 2014 at H&R Block one year because they had a 'pay half price' deal going on. That was the biggest mistake of our lives!! We thought everything was great until this year, 2017!!! We received a letter telling us we owed over $1200 that included over $200 in penalties and interest for 2014. We were told that, in that year, there were some software issues that caused a lot of people to have issues with their taxes. She positively assured us that because it was due to software issues, their fault, that it would be taken care of. WRONG!!!!!
So, the letter has a deadline of Feb 12, 2017 on it. My husband called the number on the letter, from the state of Kansas, and tried to find out what he could. He didn't understand much, but we knew we had very little time to get to the bottom of it. I went the next day to see someone at the office on Antioch in Kansas City MO. I ended up having to leave it there since no one capable was in! I called the next day and the next day to find out what was going on. Finally after at least the 3rd day, I got an answer. The woman said she's seen the letter we got before, and she knew exactly what to do. By the time I went back to pick up our paperwork, it was faxed to the right people at the state of Kansas. I picked up our taxes and thought it was over. A few days later my husband got a call saying that the matter wasn't taken care of and that we still owed over $1200. She was very rude!
So, I called the office on Antioch again and told them what we were told. After they looked at it again, they determined that it was actually their mistake and that we did owe the tax. It was eventually escalated to someone named Jessica. She was an office manager at the Independence office. She told me they would pay the interest and penalties, but that it would take 2 weeks to get that check sent to us. She also said she would amend our taxes and we would get over $600 back. That would leave $200+ for us to pay. It all sounded ok until she never sent the amended return. Said it was sent out last week on Tuesday and we never got it. I don't think it was sent. I also found out today that she never put in for the claim on the penalty and interest. She outright lied about that!
So, I've been trying to call her every day for the last 5-6 weeks, sometimes 2 or 3 times a day, and she is either gone or with a client EVERY SECOND OF THE DAY! I have left message upon message, urgent or not, and she still won't return my calls. It wasn't even till I started asking for someone 'higher up' that she all of a sudden had time to call me back. I started asking for Roger, who is higher than her in the office. They wouldn't let me talk to him. Instead they went back to her. Customer service sucks!!!!
Then I finally called their corporate office and talked to someone there. They looked it up and found out that Jessica lied about putting in a claim for us. Nothing had been filed yet! She said she put it in last week and we would have it in 2 weeks! Liar! I told the woman that due to all the hassles and crap we've dealt with because of Jessica, she should have to pay the bill! So, after all this hassle and stress around this, we still aren't any closer to getting anything resolved and they royally screwed us over!! That's the truth! Jessica ** is THE most dishonest and non-caring person and no one should have to deal with her at this awful place they call a company! JACKSON HEWITT NEVER TREATED US THIS BAD!!

Today, February 2, 2017, I called H&R Block and was transferred to the product support department. The lady that answered said her name was, "Tatiana." I told her that I was having a problem logging in to H&R Block online service. I told her that for security purposes, the software asked for "account key" which I received, which contained eight alphabets and that the system only allowed me to type in seven alphabets.
She never answered or explained why that may have happened. She asked for the taxpayer's SSN. I told her I don't give that information out like that and asked if there was some other way to pull up the record. Instead of telling me some other way, she accused me of not cooperating with her. I said to her, "Please do not accuse me of not cooperating when I'm just trying to understand." I asked her again to help me and the next time she said something like I was not allowing her to help me. She also had poor listening skills. I had to repeat myself a few time when giving personal information.
Because of her nasty tone, I asked her to give me her name again, and to speak to someone else. Instead of her getting someone else for me, she transferred me to take the survey. Perhaps this was her way of getting back at me. After the survey, I called back and had to listen to all those recordings before reaching another person. But, this time I spoke with a guy named, "Charles." He was very nice and kind and he explained my problem. I thanked him and told him I would take the survey again and would give a very good rating.

Emerald Advance is a scam. I file my own taxes via TurboTax every year for free and this year I am in need of a tax advance desperately because they are delaying tax refunds this year. So I went to H&R Block to find out about the tax advance up to $1250, I met with a lady and she told me that I would have to file my taxes through them in order to even apply for the tax advance that I may not get approved for. So with my desperate situation I weighed my options and the cost for them to file my taxes was $387.00 dollars but I thought it would be worth the loss because of the tax advance. With that being said, I prayed that I would get the advance so I didn't waste my money and I was approved for a measly $500.00 that wasn't even enough to cover the expense I desperately needed to pay. To break it down... you are way overcharged for a "possibility" of an advance. I will never make that mistake again!

Upon preparation tasking in order to do business I checked my Emerald Card Balance and was surprised to become notified by some unidentified, foreign, broken English speaking representative individual of the notion that my Emerald Card "had been closed". How this action on my card occurred is a mystery. The rep only cared about expressing a want to open a new one for me ever after I informed twice that I am declining and will do my business at my known H&R block office, however the rep just could not seem to understand this information once I relayed it twice and then a third time before ending the phone call.
This unfortunate, surprising, shocking, ill-willed situation makes me really think about the notion that if something of this nature can occur accurately without my knowledge or approval of it at all, then what else could occur??? Perhaps one day I find one day any funds allocated to this card mysteriously disappeared and we're taken by this or another foreign, broken English speaking representative who has no understanding of the information I relay during a phone call to wherever I get transferred to upon placing a phone call to the phone number posted on the back of the card.
Perhaps the card has funds allocated to it but is declined for an amount during a routine transaction well within the fund's balance, and I place a phone call again but the reason for my call is not understood. Exactly what could I do. I have no idea at this time however I am currently working on an investigation along with other interested parties to get to the bottom of everything. It is a real shame that I have to allocate such time and resources on such a situation however I did nothing to create it but instead only found myself very, very, very surprised by it.

If you have a 1040 EZ, file the return yourself. If you don't have itemized deductions, file the return yourself. A Refund Advance IS A LOAN against your refund. Don't believe otherwise. I use their software after using TT for decades. It's "okay". I did notice I had some issues from 2014 that started rearing its head in late 2016. Nothing is perfect or foolproof.

I usually file my taxes online using H&R Block software. I am self employed and my husband has a W-2. We have 3 children and our adjusted income is pretty low (under $35000). This year I decided to go in to the store and file so that we could take advantage of the refund advance. We have some unusual expenses this year and I wanted to get ahead of them. I could not find any information online about the "other underwriting criteria" required for approval of the advance. We asked about this inside and were told that they didn't have any info. We asked about fees and were told it would be about $400. The fees were $639 and we were denied the advance (1.5 hours after leaving). We'd spend almost 2 hours there before the fees came up. So I basically just paid an extra $575 for nothing. I strongly recommend NOT going into the store in the hopes of getting the refund advance. Save your time and money.

The price is way too high. $400 for a simple file form with a representative that couldn't type for one and was far from a professional. The Emerald Card is also a scam as they do not disclose it is based on your credit.

H&R Block lost my prior tax filings. I was told they would be there. I've used them for 4 yrs. Now they claim I have no account and now I cannot file my 2016 taxes because I need the info on 2015's form. Thanks.

I am writing a review regarding H&R Block. My complaint is simply, you go there in good faith to have their so-called professionals help you, and when you ask them the cost at the beginning of the transaction, For example how much is this going to cost. They say around 175.00. They have all or your information for as long as 2 weeks they say. Well I want to tell you the return is $475.00. In my case the taxes were promised by a certain date because I am going to be out of town for the next two months, and they tell you this 3 days before picking up your tax return. Is not right. Very disappointed in their treatment, and the way they do business.

I have filed my own taxes for years but figured the rapid advance loan was worth the cost of going to H&R Block. I signed the documents consenting to routing my refund through the emerald card so $270 worth of fees and the free loan would come off the top. The bank was going to be paid before I ever saw my refund. By the time I got home I got an email that I was denied. I feel like this is another scam by H&R Block to get high fees. If I had known before I signed the documents that I would not get the loan, I would have on TurboTax myself. Is there a lawsuit in here somewhere? On top of that my refund is still going on the emerald card and I will have fees to use that!!

I normally do my own tax returns with Turbotax. This year I need cash asap, so H&R Block was advertising a cash advance, my husband and I decided to go ahead and let them file for us. We was not told that the advance was based on credit, we was told that we had to put the advance on a emerald card. About an hour later we got an email stating that we was denied, and not only that it took a hard hit to our credit score. H&R need to educate the customer on this advance. Also we paid over 300 dollars for them to file our taxes when we could have did them ourselves for free. I will never use H&R Block again. Back to turbotax next year.

H&R Emerald advance. Due to a new law in 2017, all tax refunds would be delayed for those filing for the EIC. Like, myself and many other low income families. I live paycheck to paycheck. Which, led me to the regrettable decision to file my taxes with H&R Block. Despite, preparing my own taxes for the last 5 years. Allowing, these snakes was a requirement to qualify for their Emerald card advancement or loan. My tax preparer was witty and nice as he slyly danced around my questions about this advancement and their fees. His vague and inability to elaborate on my questions were red flags. He informed me that my tax refund would be on my card, within a day or two and 80% of their clients receive a loan approval.
Your loan refund would depend on the amount of your tax refund. These people are disgusting frauds. After being hung up on by the Emerald card reps and numerous, unreturned calls from my tax preparer, I contacted the IRS who informed me that... I would receive my refund the same time as everyone else. I paid close to $400.00 for something I could have completed in 30 minutes for FREE. This is appalling to take advantage of the poor. DO NOT get the Emerald advance loan from H&R Block. You will not receive any money until the IRS releases your tax refund. This company uses false advertisement and deception to get your money!!!

Office on Blue Lake Twin Falls ID H&R Block - the worker discriminated me racial profile me and did not want to help me with nothing. One of the worker said my son was not my son and that she couldn't help me. Hurt me bad. People don't file your taxes at H&R Block. No Good. No stars thumbs down.

2 weeks ago I noticed a fee from HR Block taken from my bank acct. No notice given or service provided. Used their service last year (2016) and paid in full at the time of service 11/23/16. In Jan. 2017 of they took out a fee for no reason or services not used, and with no warning. Contacted them the same day at corp. hdqtrs. who passed the case on to the unit involved. Went in personally after 1 week with bank statements to prove their mistake. Now 2 week later I still don't have my money back even though the local office admitted their mistake and said I would have my money back in 7 days or less. Still nothing. Can they keep my bank info and use it anytime they want and is this fraud or I.D. Theft?
Compare Tax Software and Services
H&R Block Company Profile
Company Name:

H&R Block

Website:

http://www.hrblock.com/