Consumer Complaints and Reviews

I did a walk in to file my taxes 04/13/17... I was seen by a tax agent who reluctantly saw me claiming she had a appt in 15 minutes. We Sat down for about 10 minutes for a simple tax return that was almost finished when she told me to come back the next day to finish because she had her appt, she got up to check to see if they were there and they weren't so we wrapped it up in about 10 more minutes in which she told me it will be 405 dollars with a 50 dollar rebate. I have 2 family members that had a lot more to file than me and were only charged 225 dollars. I feel I was scammed since the price wasn't told to me until it was done, keep in mind it was around or less than 20 minutes.

I filled my every year tax online on H&R Block's electronic service. I never had any problem before but for tax return 2016, it completely went wrong. Either it is fraud or freak. After all I have done filing my return, I am still waiting for the return but when I checked out the status after two weeks, it wasn't filed through IRS. It totally failed and cause me to let filling fee. And I am worrying about the fraud that whether my confidentiality was exposed by H&R Block's website. It's so terrible!!!

Dealt with the owner of the Main Street Tillamook H&R Block on behalf of an elderly friend. An error was made in 2014 where this branch forgot to electronically submit her taxes. While a $50 discount was eventually promised off her 2016 tax filing, the owner acted like it wasn't a big deal to forget to file and I was the one with the problem making a big deal out of the situation. Having decided I was a "contentious" influence in my role as Power of Attorney (in place to protect my friend financially), he would take data from me on behalf of the tax return, but refused to communicate with me and went directly to my friend's home. He asked for a check for the 2016 taxes, but failed to give my neighbor that promised discount.
I complained via 1-800-HRBlock customer service, but they were unable to do anything to protect this elderly woman in this situation and said she needed to handle it on her own directly with the owner. So instead of her feeling safe with a person in place to help her financially, she now has to handle a stressful situation on her own to get fair treatment. She sent a letter to the owner of the office and H&R Block and has asked for her $50 discount, but will not be working with H&R Block in the future.

Recently ordered this online software to prepare my personal taxes. There was an option to create a joint filing for myself and my spouse. But once this option was chosen, you could not disable it without having to re-purchase it again for a separate filing. It's a scam to get the customer to repurchase the software again. Further, the software had a confusing, difficult interface to use. I had to go elsewhere to buy another tax software. I used TurboTax - far better, and easier to understand.

Worst service ever!! I will never do my taxes again with H&R Block. They are overpriced and can't even do taxes properly. They had me do my taxes and forgot to get me to sign the proper papers before I left 2 days later. I get an email stating that I must have been in a hurry to cash my cheque because I didn't sign the papers and I need to go back there. I wasn't exactly running out of there. Then to email me. I had to drive from Toronto back to Windsor where I did my taxes to sign the papers. Then after I sign them tell me I can't claim my medical expenses because they are dated for this year. Which they were not.
Then I have just recently found out that they messed up my taxes last year and caused me a penalty of 320 because they forgot to enter my savings bonds correctly. So because they had to adjust it revenue Canada charged me 350 for them to adjust my assessment in a penalty fee. I have used H&R Block for 9 years and I found they just get sloppier and sloppier and it's overpriced at that. Never again will I do taxes with them. There is plenty of tax companies who do cash back, don't charge as much and don't heard you in like cattle just to make a quick buck even though it's done wrong. I'm done with them!!
How do I know I can trust these reviews about H&R Block?
762,878 reviews on ConsumerAffairs are verified.
We require contact information to ensure our reviewers are real.
We use intelligent software that helps us maintain the integrity of reviews.
Our moderators read all reviews to verify quality and helpfulness.
For more information about reviews on ConsumerAffairs.com please visit our FAQ.

H&R Block messed up my 2015 tax returns so badly that now even my ex husband is getting audited bc of their careless errors. The tax preparers put the wrong social in the wrong box, so it seemed as if I was paying alimony, although it was the other way around. I had bought the Peace of Mind Warranty so thought they'd help with the penalties, interests, taxes, etc, BUT they refused to pay anything w/out a valid excuse as to why. These criminals will screw you over then leave you paying thousands for their mistakes, which they fully admitted to making. HORRIBLE!

I sent my 2016 tax refund in on February 16 2017 and I still havent received it. It's april 26, I called the irs and they cannot find my tax return. I called H&R Block and the person who answered the phone said they would contact me at 6:45pm, but didnt. When I trie d calling backno one answered the phones.

I've always used H&R Block. This year they are holding 691.00 of my money saying I owe them from 8 years ago for a prepaid emerald card. I told them that they took it out of my refund that I got back that year! It's a prepaid card! I was on hold for an hour waiting for the man to get back on phone. Now he says I have to wait for them to call me back! I'm getting robbed and they're getting away with it. This is not fair. I will never use H&R Block ever again considering I've used them since 1998. What can be done? This is so wrong.

I had information for the preparation of an estate tax return sent to the H&R Block office in Pinehurst, NC by my estate attorney in June, 2016. I was moving from the area in a month, but left the estate return to be done by this office since my attorney who had all the estate information was near by. That was a very serious mistake. After I moved to another part of the state on July 1, 2016, I called numerous times to see when the return would be done. I kept being told it would be done "that week." I was also told that the return was not due until Spring, 2017. Finally, in January, 2017, I called my attorney about the problem I was having concerning the return and she found out that the return had been due in Sept. 2016. She informed the tax person at H&R Block of this. The return was still not being done.
Finally, in February, 2017, I talked to the manager of the office and she promised me that she would see that the return was done "that week." NOTHING. I started calling again and then finally got the e-mail address and started e-mailing. I kept being promised that the return would be done and if there were any penalties from the IRS, that the H&R Block office would pay them. The preparer told me that she was going to my attorney's office and picking up papers she needed and that was holding things up. When April came and still no return, I called my attorney to find out that the preparer HAD NOT been in contact nor visited my attorney's office. She had outright lied.
In mid-April, I finally contacted the headquarters for H&R Block to try and get some assistance. They opened a case, but just contacted the Pinehurst, NC office and were told that the office was going to do the return. H&R Block headquarters closed the file. I got a call from the Pinehurst office telling me they had done the return, and that I owed them over $500.00. I had told them previously that I thought I should not have to pay too much after what they had put me through. The owner also had said something about a discount. NO DISCOUNT and they had NO apologies and just told me that "that is what the computer says you owe."
I again contacted the headquarters of H&R Block and was called back today telling me that they couldn't do anything about it. They could say something to the owner about not treating me well, but that was all. I have never experienced such unprofessional conduct. They have put me through extreme stress and it has been a terrible experience. My family has used H&R Block for years and I did for this year's tax return. However, after this, I will never use them again.

There is nothing wrong with the H&R Block on-line interface, but I felt like I was held hostage. After spending two hours entering my information, I was told that I had to. But the premium service for access to a form that should have been a basic form. Then I had to buy a tax pro review - this was not optional. All in all, I had to spend $160 to submit my taxes. Never again!! It felt like a victim of pathetic up-selling. "Very" overpriced when compared to other on-line services! And I was a long-time H&R Block customer. Not anymore.

I filed my taxes on H&R Block website and it wouldn't let me go any further until I paid for the Deluxe package that includes a tax professional. I couldn't print out my information that I had entered and it forced me to file an extension which I didn't want to do... as Taxes weren't due for a few days. I received an email after I filed the extension from the H&R tax professional stating that they were reviewing my taxes and would get back to me. The next day I received another email stating they needed better copies of my forms so I resent the information. For the next several days I emailed and called the tax professional that was supposedly working on my taxes and never received any response.
Days later I'm still late on my taxes, have not filed my taxes and spent two hours in a local H&R facility only to get a phone number to call, to try to get reimbursed my cost for the deluxe package. They should be held responsible for not finishing my paperwork, not getting back to me and NOT filing my taxes! I've since made an appointment with a professional CPA that will help me. In the meantime my tax penalties for state and fed keep climbing because of their lack of professionalism and poor customer service! THEY SHOULD BE SHUT DOWN!

This does nothing if the IRS does not think you are a risk. All this company does is fill out the form that you can fill out at the IRS. You are paying $30 for someone to fill out a form that you can do yourself. They claim to help you get a pin number from the IRS. They can't. Only the IRS determines this and they send you a letter in November or December. Tax Identity Shield is a sub-contractor and H&R Block cannot help you with your problem. You only have 7 days to get your money back.

I had my 2016 taxes prepared in the Shawnee Kansas H&R Block location in March 2016. We were almost finished and the tax adviser was ready to submit my return when I asked if I would be eligible for a deduction due to the high out of pocket cost of my health insurance. She hadn't even thought of that and then told me that I would. I also had other expenses that I had incurred that I was able to increase that figure. Since I thought to ask this question, I was able to increase my refund by over $1000. Also, I had a 1095 form but it was missing a health insurance payment for the month of March.
The tax adviser told me she would take my word for it that I had health insurance. She didn't ask me to double check my paperwork to make sure I wasn't missing another form and it didn't appear to matter. My taxes were filed and three weeks later I received a letter from the IRS that I did indeed need to account for the month of March 2016. It turns out when I logged into the healthcare.gov, I had two 1095 forms instead of just one. When I took this letter to my tax adviser along with both forms, I was told she didn't have time to work on it and I needed to find help at another office. I paid $441.50 for a service which should have included expertise and knowledge in preparing tax returns. I won't go back to H&R Block.

I had gone to H&R Block, which I have used continually. But now will never use them again. My experience at the location in Collierville, Tn was horrible. I feel like my taxes are incorrect. When I asked the tax person a question about my health ins. deductions along with medicines, as well as a couple of bills I need to include that I had paid, she quickly let me know..."oh that's not going to help you". Their fees are a rip off. In the past when I went to a location, the person always said "I have a coupon would you like to use it towards the fee", quite generous I might add. But going to them for the past 2 years, I have had my taxes prepared wrong. When you confront them about this they act as if you had shot them.
I now call H&R Block, H&R Rob-ya. The only time they find money is for IRS, not the client. I will never use them again. I would also like to say maybe us people that are not 100 years old, I mean it's a shame that the elderly have to work, but good grief, there comes a time when you have to say to yourself as a company is this a good step. I mean this lady couldn't figure out where to put my IRS information, and she asked a younger guy to help her. And he said..."I don't know".

If I knew that I would get charged $478.00 to file my taxes with H&R Block, I would have chosen a different route. I've been claiming a tax loss with a large federal and state returns, and feel like I have been taken an advantage of. I was filing taxes for a full time job for part of the year and for two self-employment venues for the rest of the year (Uber/Lyft + real estate). I was satisfied with the level of service by a senior accountant who worked with me. Yet, in my opinion, this does not justify the cost.

I paid H&R Block to look over my tax return before submitting to the IRS. The 8962 form was not filled in completely and the IRS held my return till this was corrected. I corrected this, not the tax professional that I was assigned to. After this was completed the IRS released a small amount of my return that H&R Block was sure to take their fees from and I was mailed a letter that I was being audited in the 8962. So, now I have to wait on the rest of my refund as I have to submit more paperwork to the IRS on the 8962. Why charge for the service of a tax professional to double check your refund if they do not see that their online system did not completely fill out a paper and me have to do the legwork! I emailed the tax professional all of the paperwork as requested to file the return and I still had to correct the form!

According to "support" the software will allow you to enter anything, no matter how unlikely or even impossible, without raising any flags. It will allow information that is self contradictory. Whatever gets entered is your fault. In this case it allowed dollars to be input associated with dependents when I listed the number of dependents as "zero". The state caught this error immediately. H&R Block didn't even pop an "are you sure?" window. According to the floor supervisor, once you submit your return, in other words once they have your money, they "can't" issue a refund. You cannot escalate above a floor supervisor.

Last year H&R block tax software worked great, but this year it wasted more than 10 hours of my time. The worst problem was that it kept auto filling my wage info into my schedule c for my other part time business. I could not delete it either. I will never use it again and have warned friends.

I do my taxes every year, never happened anything like what happened this year to file my 2016 taxes in H&R Block, Eastchase, Fort Worth, TX, office # 42073. They charged $233 fee for filing Taxes. I said "that's too much. I never paid that much." (The person who work on my documents was Mary **.) I tried to discuss with them. They said, "you can talk to the manager when he comes." I asked the front desk person to wait him in the waiting area. She pointed at the door, and told me "out that door," and I waited out. Then she came out with smile, and said, "we know that you won't use H&R again. Here's the manager's phone number **." I contacted him to discuss the over charge, he said, "we are done with that." And I tried to talk to him about the front desk person, he said "I'm glad the way they respond you (he rebated it 2 times), we can't do anything for you." They screw up the customers.

I've used H&R Block for several years. I went in to do my taxes for 2016. It took 30 minutes tops, and that was because the rep made mistakes. The charge was just under $500.00. I don't have a problem paying for a service, but that was excessive charge. I had my letter of exemption from the affordable care act. They still were charging me because I had an exemption. My taxes were the simplest you can have. No deduction, or any complicated accounting. I will not be returning for any business, my 2017 taxes will be very complicated. I expect them to charge me a couple of thousand just to file. Not good business. I have been telling everyone I can.

Emerald card is a rip off! They keep taking money off the card for a "debt relief" that nobody knows of! We called for a reason and nobody knows why they are taking it! They gave us a ticket number the first time for the refund and needless to say they never refunded it or called but took more money! We have not been negative and we deposit paycheck every payday! We will never use them again after all these years we been with them with our taxes!

I was at H&R Block for 29 minutes and was charged $362.00, that comes out to $13.00 a minute. I work for $12.32 an hour. I can't imagine charging $13.00 a minute. I will never go back to H&R Block. I have never been taken advantage of in such a big way. Even doctors do not charge fees like this. I will never go back to H&R Block. I will tell everyone I can to save them the stress of being overpriced.

I have been using H&R Block for years, and I usually get my refunds sent to me via check. However, this year I decided to use their Emerald Card, and that was a major mistake. First, they never gave me a copy of the full cardholder agreement. If they had done so, I would have opted to get my refund in a different manner. Secondly, after leaving their office, I went home and created an H&R Block account, so I could track the deposit of my refund into the Emerald Card. When I setup the account, and changed the PIN on my card, I downloaded the Cardholder Agreement and read it. That is when I had an issue. The fees for transactions are high if you do not use their two ATM providers, or use it in a POS transaction. To get my full amount of funds, it states in Section 5-C, last sentence that I can request a check or a one-time ACH transfer.
I called the phone number in the agreement to discuss this with them, and that is when it went from disappoint to rage. After calling them 3 times, I was transferred to a Supervisor, which was to take my call within 5 minutes, but the sum of wait time was almost 3 hours for three calls! I never got to speak with a Supervisor, and I finally gave up. All I wanted to know was why would it take 3 business days for an ACH transfer, and I still don't have their reason because I gave up waiting. Bottom line, the tier 1 folks I spoke with were decent, respectful, and patient, but the transfer to a Supervisor is a complete business process failure.
My recommendation is take your refunds using other means, but do not under any circumstances use their Emerald Card option. You will pay a $35 if you take this card to your bank, and get the cash out. Like I said, in the office, they don't fully disclose everything, so I was enraged to find out I was going to have to pay another FEE! They had already tapped me good with fees, and this was just too much to bear after all the fees I had to pay. Beware of the Emerald Card! There are many fees you will need to discover, but it is after you have walked out of the office!

I have truly never been as disgusted with a company as I am with H&R Block. I had to explain to the incompetent tax preparer what form to use to write-off my solar (she said she had never heard of someone being able to write-off their solar). This started my unfortunate 2nd year in a row with H&R Block. I always try to give folks a second chance therefore starting my downward spiral of BS and fees and charges all hidden behind the only 39.95 fee. Did anyone know that all those normal forms that we child care expenses things like that well they are all charged for. Anywhere from 25$-45$ for each click of their mouse that auto fills in the form with all your info from the last one. However you're still charged for every form. Even the ones they don't know how properly submit and have to keep going back to.
The lady assisting me (I won't say doing my taxes considering I was the one doing all the work looking up the forms because she didn't know anything (no BS) about what to include other than the basic W2) had to keep asking other co-workers for assistance… and she was there for 4 years already… 4 years of tax prepping. Hmm how many people have money out there they don't know about cuz this lady did their taxes.
I had held off on completing my taxes until just today, however my tax lady had been in contact and told me to come in and complete them. I told her I would, but she never told me the fees go up after a certain day. Shocker more money… I finally went today. Completed them and after all is said and done it costs me 450$ to do my taxes. The original fee was about 160$ but all the forms that had to be individually charged was 185$ then there's the peace of mind charge which covers you for 3 years. I asked, "Well can the IRS come after you after the 3 years" and she said yes. I said, "Well why does it only cover 3 years" then she said, "If you ask they might cover you". I said, "Why did you say might it's a yes or no". And she switched the subject. She then went over the fees again.
This is the 2nd and last time I will ever use this joke of a tax preparation place. I don't believe they even have to have more than a few weeks of school. They charge way too much. Just one more company that takes advantage of good hardworking Americans. You can't get ahead with these people because they don't feel bad ripping people off with their mediocre service. If I'm gonna pay that amount I'm gonna go to an actual certified professional. They will be worth the money. H&R Block fees get bigger and bigger every year and the quality of service and their customer service gets worse and worse. Use them at your own risk. They will screw you too, and all while mocking you and talking about you while you're not there. Yes this happened while I sat in the waiting area. They talked about another customer. Good luck to you. I will not be seeing H&R Block again. I wish I could shoot this review to every review site available.

Was attempting to prepare my taxes myself and ran into an issue trying to determine which form to file concerning real estate that I owned for 1.5 years. Could not figure out what form to use on the IRS website so made an appointment at a commercial tax preparer since there were only 8 days left before filing deadline. The preparer was pleasant but at the end I was asked whether I wanted a protection plan for additional fees (why would you need a protection plan, company and its preparers should stand by their work product without the additional fee gimmick). Then we got to the end and the fee for preparation was $300.
Had I known in advance I certainly would have gone to someone else (an independent, non-commercial firm like I usually do). Previously, I have paid various preparers between $75-125 which I find reasonable for preparation of my taxes that are not complex. When asked about how the fee was calculated, I was told it was because of the forms used. Not to mention, I received no refund from overpayment. Ridiculous waste of money.

I've used H&R Block for over 10 years online without incidence. This year due to 3 1095-a I had to upload documents and have an actual tax professional look at the forms to make sure I did it right. This was an added charge they told me off right away in the system. My total bill was about $70 which is reasonable. I asked her flat out if there were any more charges after reading reviews here. The answer was no and she was truthful. She did a very good job checking things over and trying to find me additional credits (there weren't any). My only problem was with the IT department trying to help me upload documents on my phone. They speak a whole other language they claim is English. I should've had my daughter do it and save myself the aggravation! They need to go to cultural competency training for us computer illiterate!

So much for H&R Block's "One Hundred Percent Customer Satisfaction Guarantee". It is not worth the paper it is written on. After a year of wrangling with them, they still refuse to reimburse me for the $2650.00. I had to pay Federal Tax Resolutions to fix their mistakes. After two visits to different offices, one in California and the other in Arizona our tax return went from the original showing of $13,325.00 due to the IRS. And after the errors were corrected, we are getting back a substantial tax return. No thanks to H&R Block. I will never set foot in any of their offices ever again. EVER!!!

Question Agent Jackie about total cost with filing Fed & state taxes forms. Verbal cost under 150 dollars. When forms completed the computer generated a 255 dollar fee. Jackie very patient and great. But the Fee for document too high. If Jackie stated cost over 150 dollars I would walk out of business. Had to pay because H&R had my document under hostage until PAID.

I went into H&R Block to file my taxes, I also had to file my previous years as well. I knew going in I would be having to pay a bit more as I was filing for 2 years' worth but never in a million yrs would I have thought I would have to pay $335 just for them to do my taxes. As it turns out I paid $167 for each year I only had 1 T4 and my RRSP to claim and 1 T4, RRSP and an EI T4 for 2016. This is absolutely outrageous to charge people that amount. I also learned there is a required amount you have to get for your refund to qualify for the cash back which meant I had to come up with the money right then and there. Why is there a minimum amount? I would get it if I was only getting $30 or something but I didn't quite make the $600 minimum you have to be getting back. I will never step foot in a H&R Block again if that's the kind of prices you charge people to complete taxes that didn't take more than 30 minutes to complete!!!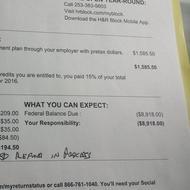 I brought in my tax return. It was a fairly straightforward return except for a Social Security lump sum payment. She completed my return, we signed and paid and PURCHASED Piece of Mind. We left with Good news as we were told we would receive 2400$ back. We immediately purchased a ticket for my husband to see family. Thus, begins the nightmare! We were called about 8 hours later and told there was a small mistake on our tax return and could we bring in the return right away. We did so. They assured us they would get right back to us. I called a few hours later and given no information and told we would be contacted.
The next morning my husband went in at opening. We were told manager is out and someone was working on our taxes. My husband stated he has purchased an airline ticket based on our signing off on our refund. They appeared very nervous and said they would reimburse us for the airline ticket. This was the beginning of a month of no information, refusing to return phone calls and being conveniently out of the office! I was physically ill during this whole ordeal.
Finally, not receiving in information, I went to the IRS. They looked through my taxes and told me some of what they had tried to do. I took some information to H&R Block on a Monday (3 weeks after initial tax preparation). I was PROMISED a phone call by the end of the day or the next day... NOTHING for another week. Finally, another 8 days later we went in. The MISTAKE was NOT 2400$ back but we owe 9000$!!! To make matters worse, they are refusing to refund our original amount we paid them and the airline ticket. This needs to be resolved. I will go to court. At the VERY LEAST, I should be refunded 600$ for preparation fee and airline ticket. They continue to evade and not hold themselves accountable.
Compare Tax Software and Services
H&R Block Company Profile
Company Name:

H&R Block

Website:

http://www.hrblock.com/