Consumer Complaints and Reviews

Last year H&R block tax software worked great, but this year it wasted more than 10 hours of my time. The worst problem was that it kept auto filling my wage info into my schedule c for my other part time business. I could not delete it either. I will never use it again and have warned friends.

I do my taxes every year, never happened anything like what happened this year to file my 2016 taxes in H&R Block, Eastchase, Fort Worth, TX, office # 42073. They charged $233 fee for filing Taxes. I said "that's too much. I never paid that much." (The person who work on my documents was Mary **.) I tried to discuss with them. They said, "you can talk to the manager when he comes." I asked the front desk person to wait him in the waiting area. She pointed at the door, and told me "out that door," and I waited out. Then she came out with smile, and said, "we know that you won't use H&R again. Here's the manager's phone number **." I contacted him to discuss the over charge, he said, "we are done with that." And I tried to talk to him about the front desk person, he said "I'm glad the way they respond you (he rebated it 2 times), we can't do anything for you." They screw up the customers.

I've used H&R Block for several years. I went in to do my taxes for 2016. It took 30 minutes tops, and that was because the rep made mistakes. The charge was just under $500.00. I don't have a problem paying for a service, but that was excessive charge. I had my letter of exemption from the affordable care act. They still were charging me because I had an exemption. My taxes were the simplest you can have. No deduction, or any complicated accounting. I will not be returning for any business, my 2017 taxes will be very complicated. I expect them to charge me a couple of thousand just to file. Not good business. I have been telling everyone I can.

Emerald card is a rip off! They keep taking money off the card for a "debt relief" that nobody knows of! We called for a reason and nobody knows why they are taking it! They gave us a ticket number the first time for the refund and needless to say they never refunded it or called but took more money! We have not been negative and we deposit paycheck every payday! We will never use them again after all these years we been with them with our taxes!

I was at H&R Block for 29 minutes and was charged $362.00, that comes out to $13.00 a minute. I work for $12.32 an hour. I can't imagine charging $13.00 a minute. I will never go back to H&R Block. I have never been taken advantage of in such a big way. Even doctors do not charge fees like this. I will never go back to H&R Block. I will tell everyone I can to save them the stress of being overpriced.
How do I know I can trust these reviews about H&R Block?
741,284 reviews on ConsumerAffairs are verified.
We require contact information to ensure our reviewers are real.
We use intelligent software that helps us maintain the integrity of reviews.
Our moderators read all reviews to verify quality and helpfulness.
For more information about reviews on ConsumerAffairs.com please visit our FAQ.

I have been using H&R Block for years, and I usually get my refunds sent to me via check. However, this year I decided to use their Emerald Card, and that was a major mistake. First, they never gave me a copy of the full cardholder agreement. If they had done so, I would have opted to get my refund in a different manner. Secondly, after leaving their office, I went home and created an H&R Block account, so I could track the deposit of my refund into the Emerald Card. When I setup the account, and changed the PIN on my card, I downloaded the Cardholder Agreement and read it. That is when I had an issue. The fees for transactions are high if you do not use their two ATM providers, or use it in a POS transaction. To get my full amount of funds, it states in Section 5-C, last sentence that I can request a check or a one-time ACH transfer.
I called the phone number in the agreement to discuss this with them, and that is when it went from disappoint to rage. After calling them 3 times, I was transferred to a Supervisor, which was to take my call within 5 minutes, but the sum of wait time was almost 3 hours for three calls! I never got to speak with a Supervisor, and I finally gave up. All I wanted to know was why would it take 3 business days for an ACH transfer, and I still don't have their reason because I gave up waiting. Bottom line, the tier 1 folks I spoke with were decent, respectful, and patient, but the transfer to a Supervisor is a complete business process failure.
My recommendation is take your refunds using other means, but do not under any circumstances use their Emerald Card option. You will pay a $35 if you take this card to your bank, and get the cash out. Like I said, in the office, they don't fully disclose everything, so I was enraged to find out I was going to have to pay another FEE! They had already tapped me good with fees, and this was just too much to bear after all the fees I had to pay. Beware of the Emerald Card! There are many fees you will need to discover, but it is after you have walked out of the office!

I have truly never been as disgusted with a company as I am with H&R Block. I had to explain to the incompetent tax preparer what form to use to write-off my solar (she said she had never heard of someone being able to write-off their solar). This started my unfortunate 2nd year in a row with H&R Block. I always try to give folks a second chance therefore starting my downward spiral of BS and fees and charges all hidden behind the only 39.95 fee. Did anyone know that all those normal forms that we child care expenses things like that well they are all charged for. Anywhere from 25$-45$ for each click of their mouse that auto fills in the form with all your info from the last one. However you're still charged for every form. Even the ones they don't know how properly submit and have to keep going back to.
The lady assisting me (I won't say doing my taxes considering I was the one doing all the work looking up the forms because she didn't know anything (no BS) about what to include other than the basic W2) had to keep asking other co-workers for assistance… and she was there for 4 years already… 4 years of tax prepping. Hmm how many people have money out there they don't know about cuz this lady did their taxes.
I had held off on completing my taxes until just today, however my tax lady had been in contact and told me to come in and complete them. I told her I would, but she never told me the fees go up after a certain day. Shocker more money… I finally went today. Completed them and after all is said and done it costs me 450$ to do my taxes. The original fee was about 160$ but all the forms that had to be individually charged was 185$ then there's the peace of mind charge which covers you for 3 years. I asked, "Well can the IRS come after you after the 3 years" and she said yes. I said, "Well why does it only cover 3 years" then she said, "If you ask they might cover you". I said, "Why did you say might it's a yes or no". And she switched the subject. She then went over the fees again.
This is the 2nd and last time I will ever use this joke of a tax preparation place. I don't believe they even have to have more than a few weeks of school. They charge way too much. Just one more company that takes advantage of good hardworking Americans. You can't get ahead with these people because they don't feel bad ripping people off with their mediocre service. If I'm gonna pay that amount I'm gonna go to an actual certified professional. They will be worth the money. H&R Block fees get bigger and bigger every year and the quality of service and their customer service gets worse and worse. Use them at your own risk. They will screw you too, and all while mocking you and talking about you while you're not there. Yes this happened while I sat in the waiting area. They talked about another customer. Good luck to you. I will not be seeing H&R Block again. I wish I could shoot this review to every review site available.

Was attempting to prepare my taxes myself and ran into an issue trying to determine which form to file concerning real estate that I owned for 1.5 years. Could not figure out what form to use on the IRS website so made an appointment at a commercial tax preparer since there were only 8 days left before filing deadline. The preparer was pleasant but at the end I was asked whether I wanted a protection plan for additional fees (why would you need a protection plan, company and its preparers should stand by their work product without the additional fee gimmick). Then we got to the end and the fee for preparation was $300.
Had I known in advance I certainly would have gone to someone else (an independent, non-commercial firm like I usually do). Previously, I have paid various preparers between $75-125 which I find reasonable for preparation of my taxes that are not complex. When asked about how the fee was calculated, I was told it was because of the forms used. Not to mention, I received no refund from overpayment. Ridiculous waste of money.

I've used H&R Block for over 10 years online without incidence. This year due to 3 1095-a I had to upload documents and have an actual tax professional look at the forms to make sure I did it right. This was an added charge they told me off right away in the system. My total bill was about $70 which is reasonable. I asked her flat out if there were any more charges after reading reviews here. The answer was no and she was truthful. She did a very good job checking things over and trying to find me additional credits (there weren't any). My only problem was with the IT department trying to help me upload documents on my phone. They speak a whole other language they claim is English. I should've had my daughter do it and save myself the aggravation! They need to go to cultural competency training for us computer illiterate!

So much for H&R Block's "One Hundred Percent Customer Satisfaction Guarantee". It is not worth the paper it is written on. After a year of wrangling with them, they still refuse to reimburse me for the $2650.00. I had to pay Federal Tax Resolutions to fix their mistakes. After two visits to different offices, one in California and the other in Arizona our tax return went from the original showing of $13,325.00 due to the IRS. And after the errors were corrected, we are getting back a substantial tax return. No thanks to H&R Block. I will never set foot in any of their offices ever again. EVER!!!

Question Agent Jackie about total cost with filing Fed & state taxes forms. Verbal cost under 150 dollars. When forms completed the computer generated a 255 dollar fee. Jackie very patient and great. But the Fee for document too high. If Jackie stated cost over 150 dollars I would walk out of business. Had to pay because H&R had my document under hostage until PAID.

I went into H&R Block to file my taxes, I also had to file my previous years as well. I knew going in I would be having to pay a bit more as I was filing for 2 years' worth but never in a million yrs would I have thought I would have to pay $335 just for them to do my taxes. As it turns out I paid $167 for each year I only had 1 T4 and my RRSP to claim and 1 T4, RRSP and an EI T4 for 2016. This is absolutely outrageous to charge people that amount. I also learned there is a required amount you have to get for your refund to qualify for the cash back which meant I had to come up with the money right then and there. Why is there a minimum amount? I would get it if I was only getting $30 or something but I didn't quite make the $600 minimum you have to be getting back. I will never step foot in a H&R Block again if that's the kind of prices you charge people to complete taxes that didn't take more than 30 minutes to complete!!!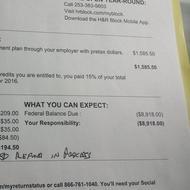 I brought in my tax return. It was a fairly straightforward return except for a Social Security lump sum payment. She completed my return, we signed and paid and PURCHASED Piece of Mind. We left with Good news as we were told we would receive 2400$ back. We immediately purchased a ticket for my husband to see family. Thus, begins the nightmare! We were called about 8 hours later and told there was a small mistake on our tax return and could we bring in the return right away. We did so. They assured us they would get right back to us. I called a few hours later and given no information and told we would be contacted.
The next morning my husband went in at opening. We were told manager is out and someone was working on our taxes. My husband stated he has purchased an airline ticket based on our signing off on our refund. They appeared very nervous and said they would reimburse us for the airline ticket. This was the beginning of a month of no information, refusing to return phone calls and being conveniently out of the office! I was physically ill during this whole ordeal.
Finally, not receiving in information, I went to the IRS. They looked through my taxes and told me some of what they had tried to do. I took some information to H&R Block on a Monday (3 weeks after initial tax preparation). I was PROMISED a phone call by the end of the day or the next day... NOTHING for another week. Finally, another 8 days later we went in. The MISTAKE was NOT 2400$ back but we owe 9000$!!! To make matters worse, they are refusing to refund our original amount we paid them and the airline ticket. This needs to be resolved. I will go to court. At the VERY LEAST, I should be refunded 600$ for preparation fee and airline ticket. They continue to evade and not hold themselves accountable.

We had taxes done last year by H&R for the first time. I had screwed up and ended up having to file an amended return as well. This I knew would cost a bit more, but did not know it was going to total $350 for it. Yes, I am self-employed (by 2 companies only) so not too difficult? I supply a computer printout (4 pages) subtotaled in all categories for ease. And yes my wife's W-2 as well. But still an outrage amount!
So I went back this year thinking without the amended it would be fine and not as bad for the cost? I was really wrong! This year the cost was $444.00 for not much more than a simple return form. Did I ask why the increase and so much? I was told by the Manager that it was "not " based on any set fee schedule of what they do! And after all, I was using their best employee for taxes! Which I took up less than 1/2 hour of their time. He said that no matter what the services, self-employed forms start at $300. I thought he had said there are no set fees??? I have talked to many friends with their own business and they are paying $250-$300 for a much more involved service than I used. H&R are crooks that will keep taking more if you let them!

H&R Block prepared our Federal and State tax returns for 2015 in February 2016. They made an error by not bringing forward depreciation amounts from Form 4562. This error amounted to $1500.00 in a refund. They also left out the depreciation schedule from our tax return copy. We had to request the missing depreciation schedule and notified H&R Block of their error. They agreed to prepare an amended return but refused to refund $700.00 which we had paid for tax preparation. They claimed the error had to be discovered within the same year of preparation.
I explained the error couldn't have been found because they had left out the entire depreciation schedule. I inquired if the error was in their system then how many other people had suffered from this same mistake and if H&R Block was planning to do an audit to correct all their mistakes. All they would say was that the problem had been corrected. I just want to warn people that H&R Block does not prepare accurate returns and does not stand behind their guarantee.

My mother, who is 80, went to see a "senior tax analyst" at H&R Block for a simple return. Her income is from social security and she also has some small stocks and bonds. A financial person manages her bonds, which she did not take money from in 2016 and her stock makes about $38 per quarter. She is on a very tight budget - her living expenses exceed what she brings in. The analyst told her the finance guy was cheating her and that she was going to call the police to report him - the man is on the up and up and she had no grounds for making such a statement. During mom's visit the analyst and another person at H&R Block kept talking behind her back - The one employee saying to the analyst "I don't think you can do that." The analyst told the other employee that "it says I can". She treated my mother like she was an idiot. MY MOM WILL NOT BE GETTING A DIME BACK.
The analyst then proceeded to charge her $300 for the return. Last year (2015) the same H&R Block office charged her $100 for a joint return with my father. This year she filed a single return and also had a loss in income since my father has passed away. My mom almost broke down in tears. She does not have that kind of money. The woman even pulled the check right out of my mother's hand before she could finish filling it out. I think it's deplorable to charge seniors such outrageous fees, especially when they aren't getting anything back. I just had my return done and it cost me $150.00 for an itemized return - mortgage, college credit, stocks, donations, etc. My son's return was also included in that fee. How does H&R Block get away with charging so much, especially when they have no clue what they are doing. Employees are poorly trained and don't carry the skills necessary to guarantee the maximum refund due their clients. SHAME ON YOU!

My wife and I had our income taxes done in Knoxville, TN at H&R Block in 2015 for our 2014 income taxes. We bought the "Peace of Mind" item from them that they pay any interest or penalty for any mistakes that they make. Good thing we paid $40 for the "Peace of Mind" because we got a letter from the IRS saying we owed the the IRS around $700. We contacted H&R Block and they made good on the Peace of Mind, where they paid interest and penalties and we paid what we owed.
Today we just had our 2016 income taxes done at H&R Block. We took in all of our paperwork in with our deductions. We asked the tax preparer if she thought we could itemize. She said, "I don't know. We will take a look." When she was done with her computations she told us that we did not have enough deductions to itemize, but she still filled out a 1040 form which is the LONG FORM. I thought she would go ahead and fill out a 1040EZ short form but she used the long form to file and we took the standard deduction. The tax preparer asked if we wanted to buy the "Peace of Mind" program again for $40 and we said yes, because they had made a mistake on our 2014 taxes, and made good on it with the Peace of Mind when the IRS contacted us and told us we owed them more money.
The total bill was $314.00, minus the $40 for the "Peace of Mind" plan. So minus the $40 for that, our total for just the 1040 form was $274. I about crapped my pants when I heard that figure. I said, "I thought you said that we couldn't file the long form. Why are we being charged $274 when you could have filled out a 1040EZ form (the short form)?" She said, "Prices have increased since last year." We will not be going back to H&R Block again to do future taxes. $274 is way too much to pay for tax preparation when we couldn't itemize. She should have filled out a 1040EZ form for us and not charged us for the 1040 filing. I am going to call and file a complaint tomorrow but I doubt I will get anywhere. I will not be using them in the future. I am going to look for a CPA next year to do my income tax filing.

When I tried to E-File my federal return, H&R Block claims filing blocked due to incorrect PAYER's federal ID # for National Financial Services, the arm of Fidelity Investments that sends out its disbursements - by the millions. The number was NOT incorrect per the 1099-R and per Fidelity, and Fidelity says if it were wrong, millions of E-file attempts would also have failed. If the IRS, on its part, had the wrong number, the same millions or returns would have been rejected. Fidelity has heard of no such phenomenon taking place. That leaves HRB and its totally clueless "customer support," whose advise was, since their software didn't work to file electronically, that I should not file electronically - what I paid them to achieve.
And the software is clumsy slow and does not, in fact, allow preparation of the state return without paying $19.95 more. How so? E-filing of the state return calls for an added $19.95 fee. If you decide not to pay the extra to E-file state return, the software wipes out the state return so you have to do it from scratch outside the software. So HRB is incompetent and a pack of liars.

First of all, there should be a consultation, explaining the EXACT amount of fees. Second, some of your consultants should be taught simple manners. I was TOLD by the agent I had that I should ALWAYS file by computer and NEVER by using the Postal Service. I believe the United States is not run by a dictator and if I choose to file by paper, I can and in the future, I will. NOT ONLY do I have to pay for the first time ever, I had to pay OVER $200 just to get the "help" from H&R Block. I will NEVER go to a tax service EVER AGAIN! I WILL NEVER RECOMMEND this service to others. I always make bad decisions and choosing H&R Block was Definitely another one.

I will never use H&R Block again. All because they double charge me. They tell me because last year wasn't pay so they take my whole tax return with no one contact me. I had to find out two months later because no one in the office want to tell me. H&R Block are some bank robbers. DON'T​ GO TO THEM.

This is the 4th year using H&R Block cd tax return. My complaint is the customer support is not user friendly! When you finally get through to a "real" person to ask a question you get put into a chat format where you have to type everything instead of talking to someone to help solve the problem. WASTE OF TIME!

I used H&R Block for the first and last time to process my 2016 taxes. I always enter my husbands information first, then mine. I am a student and the program would not allow me to input several of my deductions. I was not able to go to another company because of my student discount would show already used and H&R Block was the one it was claimed on. Since 2010 my husband and I pay $500 back for the first time home buyers program. H&R block charged us an extra $33. But no explanation of why! And charged $34 for bump up just for one paper. I have had to call the IRS because my taxes are being researched and only thing I can see is that when submitted the information of my husband and I was flipped!
H&R rep said probably glitch in system and I just have to wait on the IRS. He did ask me how I submitted taxes on 2/23/17 but was received by IRS on 2/22/17! I want my money back for the processing because they are not helping me at all to find out what is going on with my taxes. I am told that once submitted they have no control. IRS told me there was 4 other people in one day with similar issues. H&R Block is as bad as the scammers and thieves that got my husbands debit card number yesterday and completely stole ALL of our money. They need to be shut down. I want my tax money so I can pay for my schooling and I want refunded for the fee to file!!!

I paid H&R Block $280 to do a simple tax return, and it wasn't even done correctly! I ended up getting a letter from the IRS and had to finish doing it myself! I would have been better off taking my tax return to the zoo and letting a chimp do it! They advertise 100% satisfaction, but that is just a lie. I went back with the letter and told them that instead of the $750 refund I was expecting, I was now going to have to pay in. I wanted a reduction in their fee at least, but the manager said there was nothing she would do for me. I think their employees have no real tax experience.

I have been getting my taxes done from H&R Block for years, I never felt this way towards them until I went to someone I never had before. Her customer service was alright but the questions she was asking really piss me off, and she started talking about fraud and how she would be scare to scam the government??? What do that have to do with me? I really wanted to get up and leave, but like a fool I stayed there. Now I purchase the peace of mind and was told if anything happen H&R Block will do all my paperwork and I won't have to worried about anything. Well lies. I have to pay $25.00 dollars to them just to release a form that the IRS need to have in 20 days. IRS send me a letter to get a form fill out and h&r block did fill it out and because I did not have a copy of my daughter insurance at the time my taxes were being prepared I have to pay $25.00, when I paid 39.95 for the peace of mind.
Next year I will not go to H&R Block never again. I feel like the people who work there now really have no understanding on how to deal with people and it's about we as customer come to this place of business we rely on honesty. When one person from a large company mess up big time it affects the whole company. Sorry I will not go back next year.

I see on here a lot of negative reviews about H and R Block and their advance and emerald card. I've been using h and r since the year 2000 so its been 16 years now. I will agree they are a little pricey however all the benefits I receive are worth it. I see everyone is having nothing but problems, since 2000 I have always qualified for the advance. For a matter of fact up until like 2008 I would go in file my taxes at say 5 pm and leave and by 530pm I'd have my whole return of say $7000-$8000 on my card that fast. Then there was a change where they couldn't do same day.
Anyway the other benefit is every November they would give me $1000 advance that I could use for Xmas that I've been getting since my 2nd year from 2001 all the way through this year 2016. Now this year anyone with dependents had to wait longer so not only did they give me my $1000 in November but also offered me another $1800.00 advance when I filed my taxes which went in my emerald card so fast it was on before I even got out of the office. So simply put I feel h and r block and the emerald card is 100% perfect and have never had an issue.
The only thing I can think that would cause people to be denied is any red flag that makes them feel you could have a problem with your taxes, maybe a possible student loan balance, child support or just maybe it was your first time. They use a very weird way of determining who they offer them to. Any possible chance of someone garnishing your taxes at all even if you're certain of they're not they will deny it and credit doesn't mean anything cause there were several years my credit was bad before it was good. And never once did I have to make one payment. They took their money when my return came in and that was that. As a matter of fact I can pull an advance in July if I want to. It doesn't matter cause they know every year I will get $8500 back so they always get paid. So I'm sorry for those that had issues but trust me when I say this - they wanna help everyone so if they denied you then you somewhere along the way had a red flag pop up.

I wouldn't even give them 1 star but I had to put some rating in. Do NOT use H&R Block. They completely rip off customers, especially if you make a decent income. The man working there quoted me a price and it was $200 more than he said!!!! This is the second time I have used them and both times they charged me A LOT more than a private CPA or accountant. I will never ever use them again!!!

I was Robbed by H&R Block. I file short form which is very simple and nothing to it. I was expecting to be charged between $50 and $80 dollars. No I was charged $208.00 dollars which is subtracted from the $780.00 dollars of my refund. This is Robbery. I will never use H&R Block again and I tell everyone I see to not use H&R Block because they are robbing people. Shame on you H&R Block for screwing the people who are using you to prepare their taxes.

Two years ago I went for my very simple taxes which cost me $400!!! To add insult to injury they screwed up my SS and I have been having problems ever since. BEWARE! I am not the only one, I have heard many many disaster stories with this company.

I attempted to create an account, just to see how it compares to TurboTax Online. However when I went to paste in my password from my password safe nothing happened. They actually paid engineers to disable paste on passwords, it works for user, but not password. Now my password safe will type it for me. So I can create an account, but for some reason H&R Block thinks the bulk of security recommendations online to use a password safe is wrong, and that you should instead use a small, simple password, that is not complex, easy to remember, and more importantly easy for bad hackers to break and steal things like your social security number. That is not all, the site disables the back button, and provides no links out of the signup page as if they are trying to hold you hostage and make you sign up for the product.

Seems like I didn't learn my lesson from last year. When they got me a letter from the IRS, they forgot all about my proof of insurance letter and didn't send it in. So that cost me all of my tax refund then they charged me $25 for fixing their mistake. It gets better, this year, even though I had the same W2's and, insurance info, the fee went up $100 dollars more, I have been using H&R Block for years. But, after 2 years of mistakes and increase fee's I can no longer trust them to do my taxes and I do not recommend them. They have cost me around $2500.00 for not sending in a paper and typing on a keyboard.

Melissa Hincha-OwnbyTax Software Contributing Editor
Melissa Hincha-Ownby is a freelance writer who finds joy in doing her taxes, testing new tax software programs and sharing her experiences with others. More about Melissa→

H&R Block has prepared and filed more than 600 million tax returns since 1955 and although the online version is a more modern incarnation of this service, taxpayers can have peace of mind knowing that they are working with one of the most experienced tax service providers in the nation. In 2012, the company processed more than 25.6 million tax returns including 20 percent of the returns filed by low-income taxpayers that claimed the Earned Income Tax Credit.
Variety: H&R Block offers several different packages that meet the needs of a wide variety of taxpayers - from a basic free file to a more complex return for a sole proprietor. H&R Block At Home customers can also grant access to a local H&R Block professional, which allows for more personalized support and assistance.
Audit support: All packages, including the Free File option, come with free audit support and representation from an enrolled agent.
Multiple refund options: Multiple refund options are available including direct deposit, refund anticipation checks and a prepaid MasterCard.
Upsells: H&R Block uses refund anticipation checks. Refund anticipation checks come with higher fees and there are only certain instances in which this option is used.
Basic package: The basic package is priced at $34.95.
Best for Individual and Basic Filers, Families and High Income Individuals, Sole Proprietors, Taxpayers with
Compare Tax Software and Services
H&R Block Company Profile
Company Name:

H&R Block

Website:

http://www.hrblock.com/