How the pandemic changed — and didn't change — holiday spending
Shoppers say they plan to spend less, but retailers expect huge numbers

In the lead-up to the 2019 winter holidays, shoppers said they planned to spend an average of $1,047.83 each during the holiday season. That was a record for the holiday season and up 4% from the previous year, according to the National Retail Federation, which published the data in its annual survey. Consumers then went out and spent over $718 billion in November and December of that year.
It was toward the end of this spending spree that cases of a mysterious respiratory illness started appearing thousands of miles away in China. In January 2020, the first case of the novel coronavirus was reported in the U.S., and in February, the World Health Organization announced a name for the disease it causes: COVID-19. On March 11, 2020, the WHO declared a pandemic.
Almost two years later, the ConsumerAffairs Research Team set out to understand how COVID-19 has changed the holiday shopping season, the two-month period covering Black Friday, Christmas, Hanukkah and Kwanzaa that accounts for about 19% of annual store sales.
What happened during the 2020 season, when cases were rising from around 75,000 per day to more than 200,000 and when the first vaccines were being administered? What are the projections as the 2021 season is underway amid a supply chain crisis, labor shortage and 30-year high in inflation? And how does it all compare with the pre-pandemic habits of shoppers?
We used data from the National Retail Federation, Federal Reserve Economic Data and the U.S. Census Bureau in our analysis. Where indicated, we adjusted for inflation using the consumer price index.
Holiday spending takeaways
Some of the key findings of our data analysis include:
People have planned on less holiday spending during the pandemic. The 2019 shopping season was a high-water mark, with shoppers saying they planned to spend $658.55 total on gifts for family, friends and co-workers and other gifts. Shoppers planned to spend an average of $1,047.83 total, which includes nongift holiday items and other purchases.

In 2020, seven months into the pandemic, consumers told the NRF they planned to spend about $50 less during the holiday season, mostly because they forecast spending $45 less on nongift purchases for themselves and their families. The total planned amount of spending was $997.79 per person, about 4.8% less than in 2019.

Shoppers said they planned to spend an average of $997.74 during the 2021 holiday season.

In 2021, shoppers said they planned to spend almost the identical amount as in 2020: $997.74. Adjusted for inflation, this amount is the lowest since 2009, when the U.S. was emerging from the 18-month Great Recession.

On the other hand, retail sales are up, and the 2021 season is expected to be the biggest on record. In 2019, holiday sales (excluding auto dealers, gas stations and restaurants) were $718.64 billion, according to the NRF. In 2020, despite people saying they planned on spending about 5% less, sales shot up 7.5% to $777.35 billion. This was more than double the average increase over the previous five years.

Fast-forward to the 2021 season — after the highly contagious Delta variant has taken hold, the global supply chain is in flux, retailers are dealing with a shortage of labor, people are expressing the lowest level of consumer confidence in a decade and the NRF is still predicting record-breaking spending, up as high as 10.5% to $859 billion. (The projection came before the discovery of the Omicron variant in November.)

More shoppers are starting before November. Nearly half (49%) said they planned to start shopping before the official start of the holiday season, the NRF found. That's the highest number it has ever recorded, up from 42% in 2020 and 39% in 2019. This is likely caused by concerns about supply — nearly the same number (47%) say they're worried about finding what they want this year amid supply chain problems, particularly electronics and clothes.
The percentage of online shoppers hasn't changed much. In 2019, 56% said they planned to shop online. The number rose to 60% in 2020, then dropped to 57% this year. The NRF called this "in line with pre-pandemic norms." Nearly half (47%) say they plan to shop at department stores in 2021, up from 45% in 2020 but down from the majority (53%) who said they would visit department stores in 2019. Overall, according to census data, department store sales as a percentage of total sales have been falling over the years and were at 12.88% in 2020. In June, July and August of this year, however, department store sales (adjusted for inflation) exceeded numbers from the same months in 2019.
Credit card delinquency rates are down. In the third quarter of 2021, the credit card delinquency rate was 1.57%, the lowest rate in at least 30 years, according to FRED. The rate has been on the downswing since the start of the pandemic (2.66% in the first quarter of 2020). During the last recession, from 2007 to 2009, the delinquency rate rose from about 4.6% to 6.77%, the highest in three decades of recorded data. The low delinquency rate is likely in part due to multiple rounds of economic impact payments and credit card company forbearance programs.
Holiday spending statistics at a glance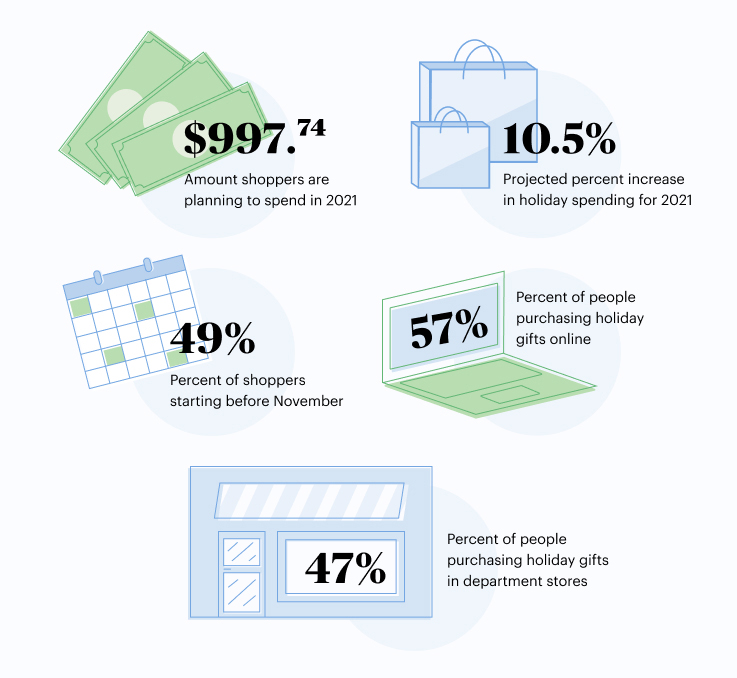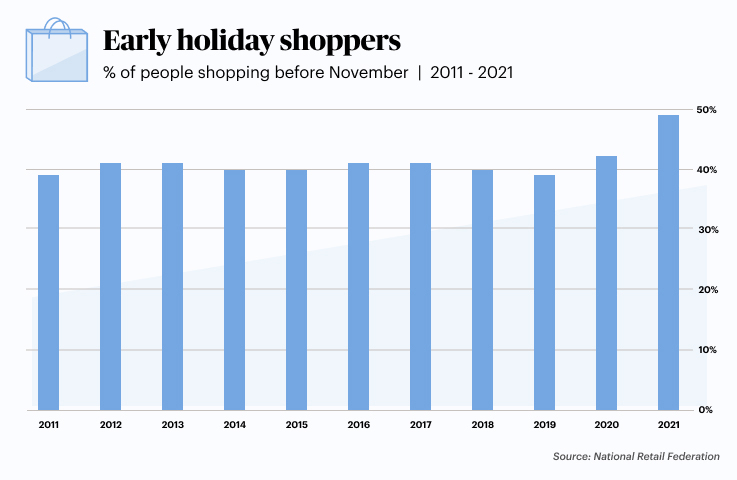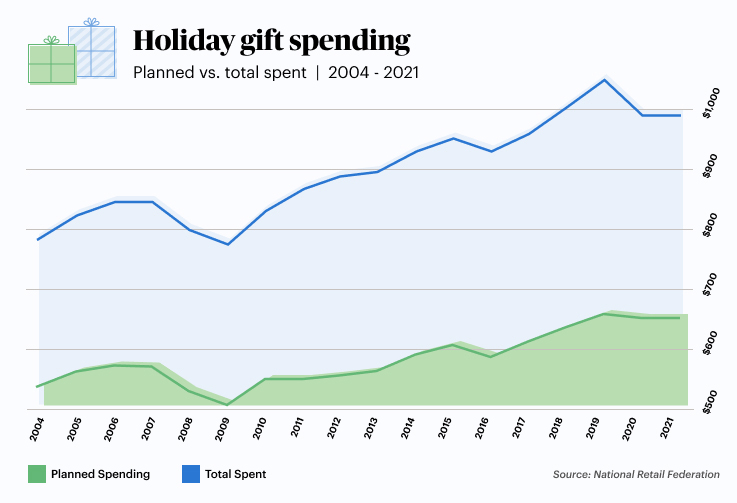 Methodology
The ConsumerAffairs Research Team used data from multiple sources in this analysis:
Data on the percentage of holiday shoppers who start shopping before November and consumer gift and nongift purchasing figures is from the National Retail Federation, a trade association that represents the retail industry and has approximately 16,000 member companies.
Data on credit card delinquency rates and consumer debt as a percentage of disposable income is from Federal Reserve Economic Data (FRED), an online database created and maintained by the Federal Reserve Bank of St. Louis that collects economic data from public, private, national and international sources.
Data on sales at general merchandise stores and department stores is from the U.S. Census Bureau, which has statistics on almost 27 million American businesses.
Inflation-adjusted figures were calculated using the consumer price index, a measure of price change over time for a marketbasket of consumer goods and services. For the NRF data, we used the index for October of each year. Census data is inflation-adjusted to the appropriate month.
Bottom line
The 2021 holiday shopping season is expected to be the biggest ever, with the NRF predicting spending between $843.4 billion and $859 billion. This would indicate that, like in 2020, consumers aren't afraid to spend during all the uncertainty of a pandemic — even if they say they're planning to spend about $50 less than they did in 2019.
Shoppers are also returning to stores: Almost 105 million visited retailers in person from Thanksgiving Day through Cyber Monday this year, up from 92 million in 2020 but still below the 124 million who visited retailers in person in 2019. The total number of online shoppers this year during Thanksgiving was lower than in both 2019 and 2020, although the number of people who shop online during the holiday season remains fairly steady.
The most important change in consumer spending during the holiday season seems to be when it's occurring: More people than ever are buying gifts and taking advantage of deals before November, when the season traditionally starts. That suggests concerns about product availability and shipping times. If you haven't finished your purchases yet and are looking for advice, check out our buyers guides for helpful information.
Sources

ConsumerAffairs writers primarily rely on government data, industry experts and original research from other reputable publications to inform their work. To learn more about the content on our site, visit our FAQ page.
Did you find this article helpful?
|
You're signed up
We'll start sending you the news you need delivered straight to you. We value your privacy. Unsubscribe easily.