Consumer Complaints and Reviews

I figured I should finally write a review since my daughter just turned one. I've been wanting to write a review since she was just a couple of months old, but I wanted to wait and see if I might change my mind. Lol. First off, I'm giving two stars instead of one *only* because my baby was able to fall asleep and stay asleep in the car seat. Everything else was terrible. It was always hard to click the sides down to release the handle (for getting baby out). It would just get stuck. The stroller looks like it would be amazing but NO! Do not let the cool features trick you! Although it was convenient to snap the car seat into the stroller, there were other problems. The front wheel wobbles if you go just a little bit fast. I found myself locking the front wheel and it helped a little but still annoying when turning.
Don't think you can jog with this stroller, otherwise you will probably hurt your baby and yourself. Once my daughter was big enough to just use the stroller without the car seat, I ran into more issues. The seat looks like you can adjust it but it doesn't adjust even with the adjustable straps. It leans back no matter how much you try to get it to stay put. I even tried to tie it with my hair tie, I was that desperate. My daughter would slide down in the seat and I could not do anything about it. Overall, it's just been a pain in the butt. I ask myself every day why I didn't just return it and get another. First time mom here???

I purchased the Zoe stroller to go with my car seat. The stroller would not lock properly and kept folding up on me when I was walking with my daughter then the front wheel started to come apart causing the stroller to not push correctly or at all. My daughter is only 2 months old so the stroller is still very new. I called baby trend and after 3 weeks and hours of holding was able to talk to somebody and then spent another week and half emailing pictures and questions back and forth along with sending my stroller back to them to find out they can't send me a new one but will refund the 129.00 for the stroller. I have been without a stroller pretty much since she was born and now I'm out my tax and shipping from the original purchase due to their default. Poor quality and very poor customer service.

I bought the Baby Trend expedition and I am very disappointed. The back wheels are warped (wobbly) making the stroller almost tip over, I can't jog with it as it starts going crazy and wanna tip over even when I'm walking sometimes. The tray in front of baby got damaged due to car seat sitting on top. Well if that's where the car seat goes then they should have some kind of protection on the tray so that doesn't happen. The undercarriage ripped in no time.
I've called Baby Trend numerous of times and they asked me to submit receipt and pictures and so I did and their response was that they can't do anything for me as it's wear and tear of me using the stroller. I would never buy from Baby Trend again after knowing that all this has happened to me and the stroller doesn't seem safe for my baby. All I wanted was for them to replace it for a new one but instead they wanna charge me for parts for the stroller. I think I paid enough for their product and they should stand behind their product and make their customers happy. They charge a lot of money for their strollers but they are built so cheap.

Purchased a Baby Trend jogging stroller travel system. On several occasions my son has been in the car seat inside the stroller. When I tried to take the seat (and my baby) out of the stroller to put him back in car the latch got stuck. Several days ago I could not get it unstuck no matter how hard I tried. Usually after a few minutes I am able to get it unstuck, but this time I couldn't. Finally my Dad was able to get it unstuck. This was after about 15 minutes in a parking lot in the hot Sun. Not long after we began using the seat the shade kept coming off. It came off so often we just leave it off now. I am afraid it will scratch my baby if we leave it on the seat.
I contacted Baby Trend and told them I am concerned we won't be able to get the seat unstuck and then what? I received a call from a rep that told me I just needed to connect these white bands. I asked her to call me back the next day to ensure that worked and she promised she would. It has been 3 days and I haven't heard from her. There was only one white band present and if you try to use it, it bunches up. That is not an appropriate fix for this! I began reading the reviews on this product and this brand is very scary! I am scared for my child's safety.

After a week with no response to my emails providing the pictures and video requested I called the car seat company and according to "customer service" at Baby Trend a car seat that is missing a small piece and leans to one side is NOT a safety issue. They are willing to replace the missing piece but not the whole car seat. My issue with that is how do I know that's the only piece missing? The small piece that is missing doesn't even touch the ground when it's sitting on a flat surface and it still leans. I was told it's not a safety concern and they won't allow me to return the whole travel system to buy a completely different one.
Instead I am supposed to mail them the stroller, base, and car seat so they can evaluate it and add the missing piece if necessary, But if they don't think anything is wrong with it they are going to send it all back to me. As a company that makes car seats I would think safety would be a top priority. I am not putting my baby in a questionable piece of "safety" equipment.
How do I know I can trust these reviews about Baby Trend Car Seats?
849,102 reviews on ConsumerAffairs are verified.
We require contact information to ensure our reviewers are real.
We use intelligent software that helps us maintain the integrity of reviews.
Our moderators read all reviews to verify quality and helpfulness.
For more information about reviews on ConsumerAffairs.com please visit our FAQ.

This car seat is a nightmare! No matter how many times you try and watch YouTube clips you can NOT get the straps even. One is always too tight and the other is loose. I have sat down numerous times and tried. It's extremely unsafe and not practical. If you have an appointment be sure and give yourself a good hour to just get the car seat straps somewhat even.

I absolutely hate this car seat! I have 3 different car seats and this one by far is the **!! You can't tighten the baby's seat restraint while they are in it. It tightens uneven so one side is wayyyyyy tighter than the other and no matter how much I mess with it the only way of fixing it is taking the baby out and eyeing how tight I think it should be. It's frustrating and unsafe.

This was the worst purchase ever - Baby trend expedition. The car seat handle is extremely hard to move positions because of the two red push levers on the side. You have to really press hard the two red levers on them to get them to move forward, the levers are incredibly hard to squeeze. The stroller is a junk. If I move at anything faster than the front wheel wobbles. I had to spend more money on getting a new gear for my baby. I don't think is fair that I had to spend more money on a new gear. Stroller and car seat is a junk. Please don't buy this items.

This is the absolute worst purchase I have ever made! The moment I started using this product, it was clear it's nothing more than junk! The handle to fold it in gets stuck all the time. My hands have blisters on them, just from closing it. The handle on the car seat won't fold down when needed unless I use an unusual amount of force. It's the most inconvenient piece of baby equipment I own. I loathe going anywhere with it, but I don't have a choice. I even called to ask if this is normal on this model and of course, the Baby Trend rep said no. I have to violently shake the stroller in order for it to fold. Once in a while, I can put the brakes on and pull the handle up while pushing the wheels down and I don't look like such a fool in public. The product looks pretty, but that's all. The rep offered to fix the folding issue, but I would've had to send the product back to the company. Who has time to do that, especially when I have a newborn on my hands.
They only wanted to "fix" my unit, they were not interested in replacing it at all. Now I'm seven months into using it, GENTLE USE ONLY (not jogging with it as its intended use) and I had to repair a wheel bearing!!!! Seriously! I had to spend an additional amount of money ($30.00 plus my time) to fix a bearing on an expensive product that I don't like! I feel like Baby Trend has not stood behind its own product. Unfortunately, on my registry, I also ordered a Baby Trend high chair, and it's junk, too. The baby strap on the high chair is ridiculously long, and the table isn't easily removed. There's no one handing it with the high chair. Baby Trend is the worst product ever! I am so mad that I even gave the company a chance. I plan to have another baby and I will NOT spend my money or anyone else's money on this product! I wouldn't even want to GIVE this stroller and high chair away.
I have talked to other moms with the same model of stroller that I have and they feel the same way. So with that being said, I know I'm not the only one that thinks the stroller is horrible. I have to buy a whole new stroller and car seat, just so grandma and grandpa can take baby anywhere. I receive compliments regularly on this product because of the way it looks. I'm sure to tell them the story of me calling the company to complain and the blatant disregard for my concerns that the company has. The initial complaint was regarding "The Death Roll" that Baby Trend didn't disclose. I had to look it up online to figure out what it was because in the very beginning, my baby would be violently shaken while riding in the stroller. I was afraid she would get shaken baby syndrome. I mentioned all of this while talking to a Baby Trend rep. The only suggestion they had was to lock the front wheel. Locking the wheel didn't change a thing.
I don't dare jog with this "jogging stroller" for fear my baby will bounce out and end up in the ER. Don't waste your money on this product or company. They don't care because there are people willing to just deal with the issues at hand. I felt at a loss when I got off the phone with the company, but now my anger has taken over and I'm doing everything in my power to get the word out on this stroller and the lack of help from the company.

We received the "jogging stroller" and car seat combo as a baby shower gift. Everything was great for about 2 weeks, and then everything started to go downhill. The car seat handle is extremely hard to move positions because of the two red push levers on the side. Now you have to really crank on them to get them to move forward, the levers are incredibly hard to squeeze. Same with the lever on the front to get it to disengage from the car seat base/stroller. The stroller is basically junk. If I move at anything faster than a snail's pace the front wheel wobbles uncontrollably. Have not felt safe enough to wheel my baby anywhere because being 3 wheeled it makes it almost tip over when the front wheel goes sideways. The tires refuse to stay fully inflated. I can fill them with air and within 2 days they are soft again.
When you try to use the stroller without the car seat attached, the seat facing forward is very flimsy. The back feels like cardboard covered with a minimal amount of padding. The way to get the seat to sit more upright is also very flimsy, just an elastic cord and plastic loop. My baby is never actually sitting upright mind you, the best you can get is about a 70% angle. When we received it, there were no instructions in the box just a warranty card. Luckily it did not take a rocket scientist to put the pieces together. The only positive review I have is the fact that it is incredibly easy to break down. Pull two levers and it folds right in half. Based on the reviews I have seen here, I will not bother calling the company to complain based on the fact that I do not have the receipt.

We bought the car seat/stroller combo and let me tell you, since we put it together it's been nothing but trouble. The tires are so cheap and poorly designed. They go flat everyday!! We patched them, checked them under water and despite no holes they keep getting flat. Jogging with this stroller is out of the question, does not serve its purpose. We will be buying another stroller, not safe at all! All you parents that are considering this stroller, do yourself a favor and do your research and buy a better stroller.

I bought a stroller and car seat combo. The wheels on the stroller were all messed up. The main issue was the stroller didn't lock in place after using it a few times. They refuse to ship it free of charge. Never and I mean never ever will I buy any products from Baby Trend again. They have horrible reviews. Wish I would have looked into this company before buying anything from them. That is how little they think of their customers and their little ones. Shame on them! I will be sure to warn all my friends who are currently pregnant to never step near this company. Hope you enjoy my money. You obviously need it more than I do. Hope you choke on it!

Car seat turned over with 4 month old baby in it while driving. Car seat was secured to base.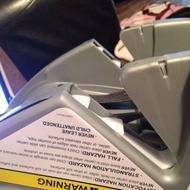 I bought a car seat, base, stroller combo for my soon to be here daughter due in two weeks! We installed the base in our car, no issues but we wanted to make sure it was level for the seat. Well guess what, it won't even connect to the base because the back grip doesn't come all the way out so it won't connect. I called Baby Trend, told them I don't have my receipt but that I did fill out all the paperwork that stated my purchase date and sent all that paperwork in. Well guess what! That doesn't matter. They want me to ship them my seat which will take two days for them to receive my seat, another 24-48 hours to fix it and then another two days to return it! How is that even okay when I'm due in two weeks and next week is thanksgiving? They told me to find another seat as back up in case she comes! Seriously I bought a new car seat, date of manufacturing is 09-11-14! So it's only been put together a short time. How can the warranty be up in just that short of time? All because of a piece of a paper.

This car seat is safe - yes, but it is very heavy. And I'm very angry with this brand. My child spits up all the time and so I have to wash the car seat cover, the buckles and straps. So that means I have to put it back together. Everything is easy putting back together except getting the straps connected from the front to the back. The only way I can get it through the hole is tweezers. Why doesn't people have more common sense in production. Everyone knows babies spit up. My daughter is 7 months old and still spits up. So tonight I tried washing the car seat and putting back together and took over an hour just for the straps.

Baby trend stroller/car seat EZ Ride5 Travel System #TS40723 - For starters, this was also a baby shower gift so we also did not have a receipt. The car seat base is way too large to fit a standard seat in most vehicles so it is useless. The car seat has a very nice triangular handle so you can pick it up several different ways but good luck - it is one of the heaviest car seats I have ever picked up. And the stroller we actually really do love it except the parts to buckle the baby in are made so cheap that the third or fourth time we used it, a piece broke off the buckle. So we are now out of a stroller but Baby Trend will be more than happy to sell us the entire insert for the stroller since it comes all in one piece. No receipt, no warranty although we did send our warranty cards in as soon as we opened package but that doesn't matter. I also highly recommend not buying from Baby Trend. Find a better company that stands behind their products.

We put the jogging stroller together right out of the box and immediately the front started shaking uncontrollably. Also, when putting the car seat inside of stroller the position where it locks makes my baby sit straight up to where his neck bends over, unsafe for breathing. This should be a definite safety recall.

I bought this stroller combo (Baby Trend Ride Travel System Tango) 4 months ago, and loved the look of it, and thought it was easy to manage. It turns out it's a nightmare! The day I brought my baby home from the hospital, I had to hold his head up all the way home because the car seat sat so upright that his head flopped over. The car seat was installed properly, as I had many people take a look to double check if I was missing something. I thought because he was so small at birth that he just had to grow to fit the seat better. Well, that's not the case. He is 3 months and weighs 13 lbs. now, and I still have the same problem! The stroller is awful also. I still can't lock the car seat into the tray because he, again, is so upright, his little head flops downward. I just lay the seat on top of the stroller loosely, and hold it while riding over bumps which is not safe at all, but at least it is reclined. I do not like having the feeling that my child is not "safe" in a $350 stroller and car seat. I am very disappointed in this purchase, and will think twice on buying any more product Baby Trend has for sale.
I have tried to find out more information about this brand, and it seems to nowhere to be found on the internet, so it makes me wonder if it is discontinued, or recalled. Does anyone else have this problem? The stroller is red and black, with 3 wheels. It is not the purple or green jogger, but the red one that does not have the mp3 speakers in it.

Baby Trend Jogging Stroller should be recalled. My baby is now able to sit and use the stroller without the car seat. We find that the front wheel shakes so much even when we walk and I have tightened it numerous times. My wife and I can't use it for its intended purpose of jogging much less walking.

As we were expecting our fifth child in July of this year, we bought $200 double stroller made by Baby Trend. I was very excited to use it with my current, used car seat. But I realized no other car seat was compatible unless made by Baby Trend. I did not have a budget for their car seats, but I saved up and bought it for $100. I have never spent that much on a car seat. But I figured it would be worth the money and probably the easiest to use since I assumed so much extra thought, testing, and quality would go into such an expensive item. I was wrong.
This car seat has become our family nightmare. It is too heavy to carry around. No one in my family, including my husband, can get the baby in and out of the seat. It takes me more than five minutes to get her buckled in. It's because you have to line up the plastic buckles and then slide them into the buckle being careful to not let them become unaligned, as they will almost every time. No one (even parents who have had several children) can get this car seat off the base. The release is at the child's feet. It is not a convenient or easy place to squeeze your hands in when it's against a car seat or when it's locked into the stroller.
This is a huge safety issue! If there was an emergency, I fear I would not be able to remove my child quick enough to avoid injury, as it is a daily battle using this car seat. Just today, I attempted to loosen the straps since she is growing. It is impossible! There are 10 steps listed in the manual! How is this car seat in any way worth the price if it is such a hassle to use, adjust, carry, or remove? This is the worst situation for us because we cannot afford another car seat. Even if we could, it wouldn't be compatible with the $200 double stroller we bought from Baby Trend as well!
Plain and simple, I feel cheated and taken advantage of. We are going to have to utilize one of our old cheaper car seats that will at least make us feel confident that if there is a fire or other emergency, we can rescue our child quickly. This also means we will have to spend even more money and buy a new stroller that is compatible. I just wanted to inform you of how unhappy we are with Baby Trend products.

We registered for a Baby Trend car seat. However, the particular unit we received had a malfunction. The button that one depresses to move straps on the seat came off. When we called Baby Trend, my wife was sent a "button" with instructions to basically, fix it ourselves.
When the button we installed back into the car seat came off again, we called and were instructed to send the seat to Baby Trend; only to have the same unit shipped back to us with the button replaced again. In predictable development, the button came off again. Once more, we called and were asked to ship the seat back to Baby Trend. I have asked Baby Trend to just replace the unit, but they insist that nothing is wrong with it and keep doing shoddy "patch" jobs on it.
Now, we have gone more than a month without a car seat for my child. If this persists, we will effectively be looking for the next seat for my child, making this purchase (which although was not made by us, was still paid handsomely) in vain. I strongly warn against buying from Baby Trend.

I am writing to express my concern with a product that is JPMA certified. The Baby Trend Velocity Jogger is dangerous and the company is not responding to the many complaints regarding the Jogger. I received my stroller as a shower gift in December 2010 but did not begin using it until June 2011. After the first week, the front swivel tire began to shake violently. I tightened the wheel housing nut as instructed in the manual, which seemed to correct the issue. The next day, while out jogging with my infant, the front tire completely came off. The wheel housing on the top of the tire was totally crushed. I was shocked, upset and luckily, my baby wasn't hurt.
I called Babies R Us and Baby Trend but I was told nothing could be done since it was past 180 days. I decided to go to my local hardware store and purchase two new wheel housings since I did not trust the one remaining on the stroller due to the condition of the other one. Unfortunately, this is not working either, the wheel has begun to shake violently again. As a new mom, I tried to read all safety reviews for all the products my newborn has recieved but unfortunately I didnt read the compliants about this stroller. After all the problems with my stroller I decided to see if there were any complaints on the Consumer Affairs website. Of course, the exact same issues I am experiencing, others are as well. What a waste of money. I will never buy another baby trend product! I have already replaced the car seat in fear of it having issues as well.

We purchased a Baby Trend Expedition jogging stroller from Babies R Us about two years ago. It was the most expensive model, and was not compatible with a car seat like similar models. I don't recall it having screws to hold the footrest in place. Needless to say, the footrest blew off of the stroller and out of our truck one day. So I got the model number, manufacture date, etc. off of the sticker and called the parts hotline. It seems they don't offer that particular replacement part for this particular model.
The sales representative said there are other parts that may look like they would work, but they wouldn't fit well enough to screw in because the frame is slightly different than those of the other models. So even if I chose to purchase the part in hopes it would suffice, and it happened not to, they don't accept returns or exchanges on their items. Shame on me for not making sure the footrest was secure in the first place. Now, my son is almost big enough that his feet dangle, and there's a nice metal bar and a giant screw sticking up (where the front wheel is attached) to put his little feet on. I'm so incredibly disgusted that we spent $180 on a stroller that now has the potential to injure my child. Completely ridiculous!

My mom purchased the Ranger EZ-Flex infant car seat model# 6577F as a baby shower present in December. My biggest complaint about this is that the handle gets locked and I have to struggle to unlock it. I have hurt my wrist trying to do this. I am so frustrated because when I am trying to get my crying 4-month old baby out of the darn thing, I can't! My poor baby has bumped her little head on the handle and I have been calling the company since last week and no answer. I was on the phone today for an hour and no answer. I tried option 1, 4 and 0 for operator and no one would answer. What kind of customer service is that? I really want to sue them because this is an infant's little life and what if there was a major accident and I could not get my child out? I want to talk to the person who made this car seat or the president of this company because while they are sipping on pina coladas and swimming in their consumers' money, many mothers out there are extremely worried of their child's well being.

I bought the orange oak travel system and after using it maybe twice, the rear wheel fell off. They said they would send a replacement and I still have not received it. That was about a month ago. Every time I call, I cannot get anybody. I don't have the money to go out and buy a whole new travel system. I've read reviews from other customers of Baby Trend and they all say their rear wheels fall off and the company will never refund them. I think these products should be recalled. They are endangering the lives of our children and I don't feel safe even using the car seat anymore. I have to borrow money just to buy a whole new system when it's the company's fault and I should be able to get a full refund on my product.

We thought we could get a great product at an affordable rate and bypassed the higher-end lines and we decided on the Baby Trend Expedition Jogger/Infant seat travel system. At first pass it worked fine and we were pleased overall. Several weeks into owning the stroller we noticed that the front wheel became excessively shaky when not in the locked position. It was very difficult to maneuver with the wheel locked all the time, as we use the stroller for every day use.
We called and were told to check and adjust the tire pressure. This didnt fix the problem and were told to try another fix, which also didnt work. When we called a third time it was suggested we ship the stroller back.
After we finally found a box large enough to ship this stroller back, we shipped it in tact to Baby Trend to be repaired. Several weeks later I called and followed up and was told it would be returned within 10 days. We got home and opened the box to our surprise, our stroller had been shipped back unassembled! The issue we had was the unstable front wheel, and the wheels had been removed, negating the correction! Worse still, the screws and hardware we shipped in tact with our stroller had been removed AND NOT REPLACED! Baby Trend took apart our stroller and sent it back without the parts or means to put it back together!
The footrest on the front of the stroller has no hardware for us to put it back on, and the tray that the car seat rests on has no screws and pulls out when touched, meaning the car seat CANNOT be placed in the stroller! If I hadnt pulled it out first, I could have put my child in the stroller and he would have fallen immediately out of it. How could this happen, how could they send a stroller back with no parts and with a blatant safety hazard, as though it hadnt been checked at all?

WHAT I SENT TO BABY TREND...
This travel system was purchased 5/14/2007; the baby was born 6/14/2007. The manufacturing date is 7/25/2006. The model # from the back of the car seat is 6325.
The stroller has been used lightly for the past 3 months. 3 weeks ago we noticed the screw partway out, we screwed it back in. We figured we would just watch it. Within a week the screw was actually gone, fell out. We have only used the stroller a handful of times since we have got it. The screw is just above the fabric in the plastic next to where the child would be sitting. Had we put the baby in the stroller directly and not been using the car seat attached that could be a horrible choking hazard.
Screws should not fall out where the child sits. It is small enough to swallow.
Other complaints would be that the wheels wobble. This shouldnt happen 3 months into use. Ad the child gets bigger I am worried they might just fall off. Also the handle to the car seat sticks when you push the buttons to fold it back. It takes at least 4 tries each time to get the handle to go back. It also is loose.
I took pictures of the stroller where the screw is but there is really no way to take pictures of something that is loose or wobbles.
I called Toys R Us and they said over 90 days they cannot help me. They are also ignoring this safety issue. I sent your company, Baby Trend, an email and never heard anything of it. I tried calling several times over the last week and it just rings and rings, never going to a voice mail. I finally get a hold of a person today and was told to send pictures and fax my receipt.
I felt like the safety issue was blown off. I was told they wouldnt replace or refund the system. Sending me a new screw will not be acceptable. Why? Because I won't risk it falling out again so my child can die from it. I couldn't even resell this in good conscience to someone else. What if the screw on the other side falls out? Screws should not be visible where the child sits. This product should be recalled immediately.


The identification and directional stickers on my baby trend infant carrier car seat (model 6373, manufactored 5/18/05) have all come off. The seat has never been washed or cleaned and it has only been in use 6 months. As a car seat technician I know that the stickers on the car seat are of utmost importance for identification and warnings. I emailed the company for replacement stickers and they have not been able to locate any.
The stickers do not peel off, they come off completely and actually just simply fall off. This is a major problem for identification and proper usage of the car seat.

Currently there have not been any consequences other than inconvience, however my concern is for other people who are not as knowledgeable about car seats and if their stickers are falling off and they are not aware of the weight and height limits or the make and model of their seat. Jeff at baby trend was very nice and he tried to find replacement stickers, but he had no luck. I simply feel like the stickers are too important to the safety of the seat to leave it at that.


I received a baby trend stroller as a baby shower gift. Well of course the baby isn't big enough to fit into the stoller part. So when he was about six months old, I placed him in the stoller and the thing collapsed. It was a good thing that my sister was standing by, and my baby was not hurt. For months I could not find the 800 number no code or anything for the stoller finally i contacted them. Since it has been more than a year they have refused to pay to fix this item.
I don't want any one else to have to go through this. What if my son had been serverly injured in the stoller. No one ever gets a stoller and places there small infant child in the bottom of it. I always assumed that was the purpose for the car seat, and stoller combo.

ConsumerAffairs Research Team
The ConsumerAffairs Research Team believes everyone deserves to make smart decisions. We aim to provide readers with the most up-to-date information available about today's consumer products and services.
Baby Trend is an Ontario-based manufacturer best known for its car seats, strollers, high chairs and other juvenile products. It sells several types of car seats including infant seats, convertible seats and boosters, along with travel systems.
Top rated infant seats: Baby Trend's infant seats are highly rated for safety and include head impact protection. You can choose from the Flex-Loc, EZ Flex-Loc, EZ Loc, Inertia or Secure models for around $100-$160.
Travel systems: Baby Trend invented the popular Snap-N-Go system that allows you to quickly snap an infant car seat onto a stroller base. You can purchase a Snap-N-Go frame for around $70, or buy the stroller and car seat as a set for around $200.
PROtect convertible car seats: Baby Trend's convertible car seat, PROtect, has a five-point harness, washable cover, four position shoulder belt adjustment and a patented quick-install LATCH system. They range from around $130 to $180.
Hybrid LX booster: Baby Trend's booster seats range from around $70 to $100. They convert from a high-back seat for kids from 30-100 pounds to a backless booster for 40-100 pounds.
Retailers: Baby Trend car seats are available for purchase at Target, Walmart, buybuy BABY, Bed Bath & Beyond and online marketplaces like Amazon and Jet.com.
Best for families with babies, toddlers or preschoolers and people concerned with safety.
Baby Trend Car Seats Company Profile
Company Name:

Baby Trend Car Seats

Website:

http://www.babytrend.com/car_seats/