Consumer Complaints and Reviews

We are new to Netflix. Every movie I've attempted to search for could not be found and other proposed movies that were returned from my search seem lame or are in fact extremely lame and corny. I've gone through the list of offered movies and the majority of the listings are rated with ONE star. Also, I was less than pleased to find a movie advertised in English but the content of the movie was in a different language with subtitles.
I feel this is a money pit for the Netflix consumers that are not into watching any type of series or used as a source of entertainment for their youngsters. I will say that I have enjoyed a few of the movies I've never heard of before but I have no desire to watch them again. From what I've read from other reviews, I imagine these movies won't be updated anytime soon. I'll give it three months.

I used to be an avid Netflix user, but it's lost some of its touch (and selection) since its heyday. I did some searching elsewhere and discovered SelectTV as a good cable alternative. Much more cost effective, and they've been good at staying up to date with some solid programming.

Movie and Streaming Service going the way of Blockbuster. I am not the first person to complain about this, been a member since 2005, their DVD service had gone downhill. If the movie has a wait, don't expect to get it for at least 4-6 weeks. This was not the case even a year ago. Arrival has a Short Wait period and that currently means about 6 weeks. I have called twice, same response as the last complaint. Reminds me of Blockbuster, they always thought they were too big to go down. It's gotten to the point where I often get the movie on HBO or Star before I get the DVD then I cancel it. Also, whatever service they use for streaming is horrible. 50% of the time it's not in HD. My GF has Amazon, thankfully, we can generally get HD all of the time, and of course Comcast streaming which is always HD.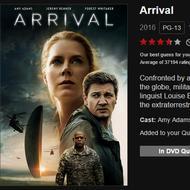 I had been very happy with Netflix, but am not as of the last couple of months. I signed up for "Arrival" - ironic titled since it hasn't yet - on 4 Feb 2017; its release date was 14 Feb; the Academy Awards were on 26 Feb. It's 1 month after the release date and I'm still on a "short wait". My hypotheses are 1) They didn't buy very many copies of the DVD to rent out; or 2) They didn't apply any sort of first signed up, first sent to system which leads to 3) They didn't plan for all the Academy Award watchers basing all of their movie selections on what's nominated and did not have the forethought to apply #s 1 or 2 above.
I called; they placated saying they would send it out from any distribution center as soon as possible regardless of whether I have a DVD at home or not. Any similar experience? I really want to dump them on principle - I think they are headed downhill in the service department; they haven't quite reached the tipping point for me. But, honestly, who is as good, or better?

We are Netflix customers for 7 years. My sons are addicted to this Netflix and they are not doing well in their exams. We want to get rid of this Netflix so I have cancelled this service online. The membership cancellation won't be immediate. You need to wait till the end of the billing cycle. I gave a call to the customer service and customer service guy told the same. I have requested them to cancel the service immediately and told them that I don't need any refund. The customer service is so arrogant and not even listened to me. When customer does not want your service you should be able to stop the service. Since you have to refund you are asking customer to wait till the end of the billing cycle. What a horrible service. I will not use Netflix in my lifetime.
How do I know I can trust these reviews about Netflix?
721,363 reviews on ConsumerAffairs are verified.
We require contact information to ensure our reviewers are real.
We use intelligent software that helps us maintain the integrity of reviews.
Our moderators read all reviews to verify quality and helpfulness.
For more information about reviews on ConsumerAffairs.com please visit our FAQ.

Netflix has a habit of cancelling shows w/ no notice. We had 2 shows on our playlist, & the next day they were gone. We were well into another show, & 5 days later, it was gone. We had 1 episode left to watch of another, & it was shut off as we were watching it. When I called to find out what was going on, I was told to download a form, & tell what show I'd like to add, & it would be reviewed. How do you just turn off shows w/no warning? Very disappointing.

I joined Netflix a few years ago and at that time was hardly satisfied. When I went in to choose something I want to see now I realize there are no new movies. So I can't discourage over the fact I'm not going to see the same movies. I don't need to watch anything on TV that they offer. I already watched all the TV programs. Unfortunately maybe the new customers like it. It's no advantage to me. I joined Amazon Prime. Much to my surprise it takes so long to upload a movie. They're more expensive than Netflix. They have the same movies. Some of the movies that Amazon has I don't know where they came from the horrible. They have movies that I already saw. So my outcome is neither one are good.

Netflix is stressful and don't play anything decent. As a Netflix user since the day they started, I am very disappointed in the direction they have gone with the new CEO. Netflix used to be a fun place to go to run from your problems and everyday life like most of us like to do. Today it is turning into a political game just to earn them more money. I canceled Netflix. Price increases bad shows most of us are going Prime now oh.

I had Netflix bout 8 months ago. I canceled because it's the same old movies they don't put up new movies. I reorder because I seen finding Dory. Now every time I try to watch something it stop into every 5 minutes into the show or movie. I will be canceling again. Customer service just wants to blame your Internet plan you have. Very rude people.

Netflix by far has gone downhill. I hardly use it anymore due to lack of movie production. Every time I go to look up a movie I want to watch. It doesn't provide it, I mean it has the title of the movie but not the actual movie. It just refers similar topics about the movie. I am very disappointed in Netflix. Therefore I am considering leaving Netflix and joining Amazon or Hulu. I've heard they do provide the actual movies someone is looking for. No wonder Netflix has spiraled downhill. They're the worst!

I typically enjoy using Netflix, but I always have a hard time looking for movies to watch. It seems there is a very limited selection and I've seen movies that I used to be able to watch are no longer provided. I have never had any issues with Netflix other than spending so much time on looking for a movie to watch with limited selections.

I live in a remote area with limited internet, so I cannot livestream movies or watch instantly. I rely on DVDs. If I mail a DVD by Thursday, the replacement doesn't ship until the next week Wednesday, and usually arrive Thursday or Friday the following week. If I mail the DVD by Wednesday I get the replacement by Saturday. So it looks like nobody is working at Netflix from Friday until Tuesday. I wish I had other options as the service is not very good.

I have been a customer for several years and have been so happy with this service, until the past 4 months. Every movie in my queue has a "short wait" and the selection of new releases has deteriorated. Whenever I call, they tell me it is "temporary" and they will forward my concerns to someone who supposedly will remedy the situation. I can wait up to 2 months for a "new release" - heck, my public library is more timely. I have the streaming service but the buffering is so annoying, I cannot enjoy it. The DVD service is certainly not what it used to be.

Netflix dvd service is best for new releases... but they do everything in their power to discourage users choosing to receive new releases on their release date. The latest of their ever-evolving strategies is to feature a DVD COMING SOON category, sorted by release date... but purposely omit the most popular ones, hoping viewers won't notice the movie and request it. Their objective, I suspect, is to avoid spending money acquiring DVDs. You can often wait weeks for a newly released dvd, because their inventory is so low! Other strategies include reducing their work week from 6 to 5 days, closing Saturdays. They also slow acknowledgement of dvd receipt. If they receive your dvd on Friday... they may wait till Monday tell you it arrived. Pretty nasty.

I signed up for a free trial month and was charged immediately. When I went to cancel, the next day, I was told that they don't do partial months and so I wouldn't be credited. Fine, so that mean that I should have a month of the service then, right? Wrong. They told me that I couldn't get my DVDs unless I uncanceled my subscription. BUT I ALREADY PAID FOR IT FOR THE MONTH!!! What a scummy company. Definitely going back to Hulu.

Renting DVDs (for those of us who like old, foreign, independent movies) from Netflix used to be easy and satisfying. Now, not only has Netflix ceased Saturday operations (which means if a movie was sent back Friday, a new one doesn't even go out till Tuesday morning), but agents are actually promising action and then not following through! When the mailman -- yet again! -- neglected to pick up my outgoing movie, Netflix promised to send out a new one the next morning, but I found this never happened. Am calling Netflix almost twice a week now, in an effort to get an agent to do what they say they will do. What an excuse for "service" from a once responsible company with an (unfortunate) corner on a particular movie market!

I have had Netflix for as long as I can remember, and they have always gone above and beyond for the few times I've called them with question. I think prices are very fair. I get streaming and 2 DVDs/month for $15 with only a $2 increase over all these yrs. Highly recommend!

I have been a Netflix customer almost from their inception and not once did I ever have a problem with any of the complaints herein about this company. When a movie got lost somehow they did not charge me. When I canceled DVDs for a time there was no problem with them still charging me. In fact, I have canceled the streaming one day and set it back on the next, again, no problem. I have called customer service twice without a negative incident. They are limited by licensing as to what they can add to their viewing lists. I guess my only complaint is the post office taking too much time getting DVDs back and forth. I truly do not know what these complaints are about!

I have had Netflix for a couple of years and the service is going downhill. They are lagging behind their competitors. Whenever they add so called new shows they are a few seasons behind. They are good for saying something is a new release but they have only changed the cover picture for certain TV shows. It's the same old stuff available to watch. Recently they have been good about adding new shows that are very interesting and good Netflix originals but everything is in another language. I live and ordered my service in the U.S., I don't speak French, Spanish or Arabic and it is a task to watch a movie or a season of a show in subtitles. I already had to learn to understand British and Ireland accents to watch the shows I do watch, what more do they want.

This is amazing to see the customers looking for options to broadcast mobile content on TV's, the fact that EZCast and AnyCast have millions of customers worldwide and Netflix still not licensing them for the content to be broadcasted. I have an iPhone and iPad and several complaints on the internet about incompatibility between Airplay when using Netflix. They should do something about it. This is not possible. The ONLY option and partner they have is Google Chromecast, forcing customers into a single direction. This is not a fair competition approach, not acceptable to me.

The constant buffering is annoying. I have done everything to try and change it. I cannot even access Netflix during prime time hours even though I am connected to three Netflix servers and my wifi connection is stable I still get an error message telling me they can't connect me. Consequently I am relegated to watching very late at night or in the morning. If I do happen to catch a connection in the afternoon it immediately kicks me off around 5 pm even in the middle of watching something.

When alerting Netflix to their systemic problem of dropping previously listed movies, was greeted by obstruction, dissembling and insinuations of fabrication. No call whatsoever on Netflix to behave so horribly to a simple informational phone call intended to assist their operations. As a 30 plus year executive in customer service for major corporations, I have never dealt with anything close to Netflix' pervasive incompetence and latent hostility.

VPN Blocked Out!! We have been a Netflix customer since their beginning. We recently purchased an internet router and VPN service for security. Went the router way so we had whole home (all computers, TVs, etc, everything that uses the internet). Went to watch Netflix and they blocked us out, said we had to turn VPN off to watch anything on Netflix. So if dad wants to manage his investments securely no one in the house can watch Netflix at the same time? That is crazy so we are looking at Amazon, Hulu, and other alternatives. Be AWARE -- If you want whole home security you can't have it and Netflix at the same time!!!!

First of all, I believe the median age of the "customer service" people ranges from 10-27. Extremely unprofessional, lacking in their ability to listen to the customer because they are regurgitating the script to which they are told to adhere. Simple problems seem to befuddle them. I had a DVD plan which I wanted to switch to the streaming plan. I tried doing this 4+ times and it did not work. I called to get help. A kid named Dylan took the call. I explained the situation to him. He didn't listen to the fact that I had gone through all the steps necessary to change plans. He took me through them again, twice. As I was switching my phone to speaker so that I could type, he said "Hey, If you're not going to ** talk to me I'm going to ** hand up on your **." I said, "Excuse me?" Then he started denying that he had spoken to me in that way. I always record customer service calls so that in case a call is dropped, I can call back and ask for the same person.
When I told him the call was being recorded, he claimed to have Turrets! Lol I know better than this because I've worked with special needs children and adults for over 25 years and can identify the syndrome almost immediately. He was unable to fix the problem so transferred me to the DVD department where the young woman was able to identify that the CC on file had expired last month. There was no indication on the site that there was an expired card. THIS should be an automated response on any site that does the auto pay. All of them that I know of do. NETFLIX needs to update their software and fix this to avoid such frustrations.
I then asked to speak to the supervisor in Dylan's department (streaming). As I shared with him the experience with Dylan, he said that Dylan had come to him to tell him of the incident. He then told me that Dylan has every right to earn a living as the next person. I told him that I agree with that but that Dylan should not be in a job where he has contact with people if he cannot control his language and behave professionally. Of course, this supervisor was in the same age bracket. Clearly, NETFLIX has no process in their hiring which weeds out those people who have no social skills or life experience. CHEAP LABOR I presume. Thank goodness for AMAZON PRIME!

What's happening to Netflix. There's not 2 good interesting movies new releases or recently added that I care to watch. There's really nothing to choose from. Where are the good movies? Where are the movies from 2 or 3 years ago. There are more movies from the 2000s than anything. What happened to the comedy stuff. Netflix needs to do better and catch up with the times.

After canceling Netflix and my fault and various life circumstances not watching my account, they have been billing my bank card for 2 accounts. After stopping the DVD shipping 3 years ago and never getting 1 DVD as of 2013 I believe they continued to charge me. Then they tried to say I never returned DVDs back in 2013. I do realize I should be micro managing my account. I would listen to my transactions over the phone and would hear Netflix as a charge yet never figured out that they had been overcharging me for 4 years and after canceling the DVD part and an old account... of course they have no record and want me to go find the proof of cancellation 3 to 4 years ago.
After charging me $26. 00 a month for what I should have been charged $9.00 for the past approx. 4 years which is approximately $700 to over $1000.00 they so kindly reimbursed me $24.00 and took care of the DVDs I returned but they say I didn't. I will agree I should watch my account however when you cancel online... DON'T. THAT'S WHAT SHE SAID... "YOU SHOULD HAVE CALLED US TO CANCEL." Once again a multi-million dollar company wins against the little person. They are a complete fault for this and I am at fault for not watching my account. I just didn't.

I cancelled my DVD plan with Netflix and a few days later they sent me another DVD in the mail. I put it in the desk and forgot about it, I just moved, it's the holidays and I'm busy. Today I get an email from them that says Transaction-Successful... Open it find out they've charged me $27 for the dvd I didn't ask for and haven't even watched. Then I spent an hour on the phone with them telling me when I cancelled the acct there was a page telling me I had 21 days to return materials or I would be charged for them. So not true! So I asked for a link to see that page, "Oh well you can't see it now..." Then I'm told, "Send back the dvd and the charge will be reversed..." Really? The email doesn't say that... "Oh well, just take my word for it." Omg really? Will someone please give this company some competition? They are outright thieves.

Netflix streaming servers will not maintain a connection. Streamed content constantly freezes or reloads. Contrary to what Netflix wants customers to believe, this has nothing to do with my network connection. The minimum recommended bandwidth is 0.5 Mbps. I am maintaining an average of 3.4 Mbps sustained download speed. My network's worst day still maintains an average of 1.8 Mbps sustained download speed.
When I am having trouble I always check my network performance with: Task manager, Fast.com (Netflix's own speed test site.), OOKLA's speedtest.net, Streaming from other sources such as Vudu, Amazon video and YouTube. I never have trouble streaming from the other sites. The problems noted only occur with Netflix. This problem occurs across all platforms. I use the web client, Windows app and the Android app. It is most prevalent in the Windows app and the web client. One final note. I constantly check to make sure all my apps are up to date.

Netflix continued charging my credit card even after cancellation. They said that somebody reinstated my membership but no emails or notifications were sent that the membership was re-activated. I just found out because they sent me an email that my credit card has expired.

Customer service see that hangs up the phone on me or because they don't want to help me they actually told me to watch Hulu Plus. They swear at me. They treat me like garbage and this is a product that we all watch that was supposed to be happy about Netflix treat their customers like ** hundred percent legit like I'm treated. They hang up the phone with me or they tell me they're going to work on it and intends to move stuff from my wishlist on my list wish.
I had a show last night on my list. Now it's gone but they still off of the show but it got canceled off my list. Don't ask me how but it got cancelled off my list. They tell me they can't remove stuff but obviously they can because it got removed from my list as they can say ** you. You're a ** or you're **. Don't have to tolerate you. That is Netflix for you. They can say whatever the ** they want to somebody and it's okay like one representing a wooden Netflix. "If you don't like it go to somebody else." "Oh but we are good shows." "So you want to see him pay us shut the ** up **", and that's what they literally told me. That's Netflix for you.
Company Name:

Netflix

Website:

https://www.netflix.com/