Consumer Complaints and Reviews

I have been with Netflix since 2008. Over the first 6 years I would give them 5 out of 5 stars. But after that their service has been going down. I currently have both DVD and streaming services. My biggest complaint is with their DVD service. In the early days when they just had DVD rentals, I would have a long list of DVDs that I wanted and the order I wanted them sent. In that list there were always some that were indicated to be either having a short wait, long wait or extremely long wait. In the early days of my subscription when these wait items made it to the top of my list they would just go down to the next items and then send them. Now when that happens (When the next wait item comes up) they go way down on my list sometimes even to the last item on my list and send it.
My next complaint is for the number of DVDs I have sent at a time. I used to have only 2 DVDs sent at a time. Then about 3 years ago I upped that to 4. That was basically what they were sending. Now about 2 months ago they started sending 2 one day and 2 more the next day or the day after that, even though they indicated they had all 4 of my previous rentals returned. I almost always return all 4 at one time directly to the Post Office. In the last 2 months I have never received the 4 at a time that I am currently paying for. I wonder if it is a coincidence that their quality of service started going down when their competition started going away.

I think I will be stopping my streaming for a couple of months and upping my DVD again. Nothing worth watching. Too many foreign films. They should have their own spots. Will turn streaming back on when something worth seeing comes back. I don't like the thumbs up thing either.

They continue to reduce what was once a fairly decent service. No longer can you rate a movie with numbers or even sort movies by rating. Now you have to wade through tons of awful movies before you find anything worthwhile. The first chance we get to jump ship we are gone. And we will tell everyone we know how terrible the service is. I don't know how they can get away with continuing to remove options in their service!

I've been a customer for years now. Never really had an issue or needed to call Netflix Customer Service. I think I'm a pretty understanding person. Things happen. Had an outage the past couple days now (Netflix Not Working for Days) and when I called, 3 times, spoke twice to a rep and once to a manager, all they told me was, "Yeah it's down, deal with it." Are you kidding me? It's been days and first they tell me they're working on it. Should be back on in a couple days, then they said it's not them at all, it's my network. So watch it on my phone on my internet which costs money PER GB today and it'll work in 24 hours.
Then the manager says, "Look if it's a widespread issue we may contact you for a possible compensation, but in the meantime either don't watch it or watch it on your phone using your internet." Are you ** kidding me? What horrible customer service. What a ** way to treat your customers. Extremely disappointed in this company but hey, when you're monopolizing the industry guess that means you don't have to treat customers well.

I had a Netflix subscription from 2010 through 2017. On no less than three occasions Netflix prompted me to change my e-mail address, telling me that e-mail address did not work even though the e-mail account always WAS and IS STILL valid. Twice, I complied with this unreasonable request by chatting with Netflix customer service through the tech support feature, which took a lot of my time and was not at all a good customer service experience. As I said earlier, my e-mail address has remained valid throughout the entire time I was a Netflix customer.
The third time this same issue occurred - this week, Netflix cut off my access to my account, AFTER taking payment through April 29, 2017. My log-in simply failed. When I called Netflix customer service, I was told that, once again, Netflix had somehow once again tagged my e-mail address as spam (remember I was a 7 year customer) even though my payment was always timely and even though I have addressed this very same issue no less than twice before. During the call to customer service (last night) I terminated my account. That really was the last straw. I have no idea why Netflix had such trouble recognizing my valid e-mail account, but the fact that my service was cut off even though I had paid through the end of this month was just the last straw. BAD Netflix. Bad.
How do I know I can trust these reviews about Netflix?
762,011 reviews on ConsumerAffairs are verified.
We require contact information to ensure our reviewers are real.
We use intelligent software that helps us maintain the integrity of reviews.
Our moderators read all reviews to verify quality and helpfulness.
For more information about reviews on ConsumerAffairs.com please visit our FAQ.

When I had Netflix, it would never work and it would never load on my TV. I hate this service and highly recommend not getting them and getting Hulu or some other company instead. In other words, DON'T GET NETFLIX!!! It's a terrible service and you will regret getting it.

I have had Netflix for quite a few years. I am unhappy that they can't put on any quality films for someone of an older age to watch. The quality is good as previously mentioned. Sadly the films are mediocre and occasionally they come up with a good old film with quality actors and superb acting. But usually the films are not up to standard for, they are few and far between Ltd and basically I've run out of things to watch. Where is Skyfall, some films I would love to review, they only hired for a short period of time. As previously I have seen by other reviewers. If you're looking for a film company, this one is not it. Keep looking??? I wish I had another company with a better collection of films that would be great to me. Any suggestions.

I use to be able to sort by rating but they changed it without my consent. Now I have to check tons of garbage to find something to watch. Popcorn time is one option. Netflix sucks and I'm telling everyone.

The selection isn't terrible but it doesn't matter because the message of Netflix experiencing problems playing that title comes up for every title regardless. Takes forever to load and always runs into buffering no matter where I'm watching from. Very disappointing.

Netflix is a problem about taking off tv programs that I like and keeps a lot of junk programs. Soon I will be leaving Netflix and tell a lot of my friends to leave to turning really bad they just care.

I can watch more movies and tv without paying 100.00 dollars a month to pay for channels I do not want to watch. The price is great.

Netflix has a wide variety of shows and so many original Netflix series that are fantastic, you could get lost in it all day. I love how A-list actors are in so many of their series. It's interesting to see movie stars on a television series. The only problem I have with it is I keep having to unplug my dvr for 30 seconds and plug it back in because my picture freezes. I have to do this nearly once in every show. But I don't know if that's Netflix's fault, maybe my tv's too old or something. But I don't have that problem with regular cable tv. Anyway, Netflix is such a great value. You get a lot of quality entertainment for a small price.

I have nothing negative to say about Netflix. Customer service and product are exceptional. The programming is new and refreshing. They care about the consumer and not just their ceo or stockholders.

It's a company where I can always find a show with many different choices and new ones coming in everyday. It is easy to sign up and also economical. The picture is always good and no delays in fixing anything. I love it.

Customer service rep. Was very polite and explained why I couldn't get Netflix. But then when I didn't get it and asked her again, she wasn't too happy.

I love the many choices of movies, tv shows and short series that they offer and at a great price. Watch this more than I do with my cable company and they charge triple.

I love to be able to flip on Netflix and find something that fits my mood. With the current political climate, I'm not always in the mood to watch mysteries, especially the dark ones. I want to watch something cheerful, funny, lighthearted. I like to watch movies sometimes and perhaps a series. I like some of the Netflix originals, but not the dark ones. I don't really mind that a lot of shows are old. I also like to have shows available for my grandchildren.

We are new to Netflix. Every movie I've attempted to search for could not be found and other proposed movies that were returned from my search seem lame or are in fact extremely lame and corny. I've gone through the list of offered movies and the majority of the listings are rated with ONE star. Also, I was less than pleased to find a movie advertised in English but the content of the movie was in a different language with subtitles.
I feel this is a money pit for the Netflix consumers that are not into watching any type of series or used as a source of entertainment for their youngsters. I will say that I have enjoyed a few of the movies I've never heard of before but I have no desire to watch them again. From what I've read from other reviews, I imagine these movies won't be updated anytime soon. I'll give it three months.

Love movies a lot. Love to watch cable and Netflix a lot. Great shows and movies. Lots to choose from. Great selections on both. Love the great updates.

I used to be an avid Netflix user, but it's lost some of its touch (and selection) since its heyday. I did some searching elsewhere and discovered SelectTV as a good cable alternative. Much more cost effective, and they've been good at staying up to date with some solid programming.

Movie and Streaming Service going the way of Blockbuster. I am not the first person to complain about this, been a member since 2005, their DVD service had gone downhill. If the movie has a wait, don't expect to get it for at least 4-6 weeks. This was not the case even a year ago. Arrival has a Short Wait period and that currently means about 6 weeks. I have called twice, same response as the last complaint. Reminds me of Blockbuster, they always thought they were too big to go down. It's gotten to the point where I often get the movie on HBO or Star before I get the DVD then I cancel it. Also, whatever service they use for streaming is horrible. 50% of the time it's not in HD. My GF has Amazon, thankfully, we can generally get HD all of the time, and of course Comcast streaming which is always HD.

For the time that I have been a subscriber of Netflix, I have nothing but praise for them. I have experienced 100% satisfaction each time that I have contacted them and spoke to a supervisor or an exceptional employee who I felt that was genuinely concerned about resolving my problem.

My experience with Netflix has been a wonderful eye opening experience. I watched (and fell in love with) shows I would have never known were available if I had not been able to go on Netflix and view them. Also I was able to discover new (to me) directors of movies I instantly loved as well as regular series of tv shows I (not having cable or an antenna) (my laptop was in the pawnshop also) didn't even know I was missing out on.

Netflix is a flawless streaming service. Picture quality is always good. There is a wide selection of movies and tv series to choose from. The best part is the full season of most series are provided for binge watching. Excellent value for money.

This is a great service for someone like me who watches limited television. I can watch at my own pace and return to shows from several days prior. The selection however is average. The better movies do not remain on the general selection for a long enough period.

Navigation is still an issue for me as I am a senior and could use a simple way to list movies or a way to see their whole inventory in each genre; sometimes I forget the names until I see them in front of me.

Netflix used to have a lot of interesting content, but lately it's hard to find something I want to watch. Netflix original programs for the most part have content that I find offensive. Exceptions are The Crown and Gilmore Girls.

When I have a problem I am not required to select one option among six that are offered. I talk to a sure enough English speaking American who understands my problem.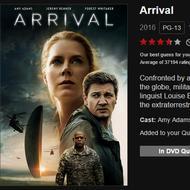 I had been very happy with Netflix, but am not as of the last couple of months. I signed up for "Arrival" - ironic titled since it hasn't yet - on 4 Feb 2017; its release date was 14 Feb; the Academy Awards were on 26 Feb. It's 1 month after the release date and I'm still on a "short wait". My hypotheses are 1) They didn't buy very many copies of the DVD to rent out; or 2) They didn't apply any sort of first signed up, first sent to system which leads to 3) They didn't plan for all the Academy Award watchers basing all of their movie selections on what's nominated and did not have the forethought to apply #s 1 or 2 above.
I called; they placated saying they would send it out from any distribution center as soon as possible regardless of whether I have a DVD at home or not. Any similar experience? I really want to dump them on principle - I think they are headed downhill in the service department; they haven't quite reached the tipping point for me. But, honestly, who is as good, or better?

Netflix is a pretty ample form of entertainment. There are quite a few browsing selections for different ages. They almost never have service repairs that conflict with availability. It is a fair price of streaming. On the down side, I feel Netflix could add some more movies/TV shows pertaining to the family entertainment and the classics. There needs to be a more scrutiny when categories matching entertainment especially in the children's categories (example: movies that are inappropriate for children). It would be nice if there were more Catholic/Christian based selections.
Company Name:

Netflix

Website:

https://www.netflix.com/