Consumer Complaints and Reviews

Several times I tried to rent a video to watch on my home computer or tablet. There was a continual message, week after week, that the service was unavailable. I thought at first that there was a problem with how it had been installed on my computer, so I uninstalled, then installed it again. Same problem. I uninstalled it again and now use Amazon video!

Poor streaming quality, clunky interface, sound did not work with standard settings on my Roku. Blockbuster has obviously not improved since their stores all folded. Still a horrible company. Cheaper than Amazon...not worth the difference in cost.

I had ordered a movie that they did say it was shipped that I never received. Then they said they were gonna ship me another one since I never got the movie with no cost. The date on the shipping stayed the same. They said they don't make changes. Wouldn't that cause confusion is what I later thought. But when they claim they would ship another in its place, I didn't get a email until several days later the only thing that showed another was shipped. So far I haven't gotten any movie. I've already paid them.

We just cancelled this with Dish. It is the worst thing we have ever had. First all of your movie descriptions are in English, at no point do you say in the description that this movie is in another language. So we download the movie and find out it isn't in English, big waste of time. Then some of the movies come up with a price attached, and you are subscribing to dish, very confusing. You can keep it. We are done wasting our time. When we can find the time to sit down and watch a movie, that is what we want to do. We don't expect to get frustrated and have Blockbuster tell us to log in on our computer to see if a movie is included in the monthly price.

Blockbuster online stopped sending me movies by mail last fall. I was told they were stopping services by mail in which I was a member at the time and paid monthly by credit card. I received my last bill from them last Oct of 2013. It was charged to my credit card so I paid the amount due and thought I was all set, that is until this month of April 2014. Months later out of the blue I received a charge on my credit card after not getting any movies.
I had already been done with receiving movies by mail so I tried calling them but there is no one available to talk to regarding this matter so I called my credit card company to dispute it. I'm in the process of doing so now. I'm disappointed in Blockbuster to have to be dealing with this aggravation. I've always enjoyed being a customer of theirs and hope to have this matter resolved quickly with a credit to my account for this unauthorized charge. I've done business both online and in store with them for many years.
How do I know I can trust these reviews about Blockbuster?
609,643 reviews on ConsumerAffairs are verified.
We require contact information to ensure our reviewers are real.
We use intelligent software that helps us maintain the integrity of reviews.
Our moderators read all reviews to verify quality and helpfulness.
For more information about reviews on ConsumerAffairs.com please visit our FAQ.

Blockbuster is charging for DVDs that have already been returned to them. My advice to all is to close or change the account number of any card that you used with Blockbuster. They charged me $19.59 without explanation even though they are out of business. No human being can be reached by phone. I can only assume that this charge is for DVDs that were returned to them months ago. If they don't refund my money, I'm going to small claims court.

All stores are closing without a notice. Losing my job because dish can't do ** with a damn... so this freaking sucks like dog **. It's not the employee's fault that corporate has bunch of ** working for them.

Do not bother wasting your time subscribing to Blockbuster by mail for video game rentals. They have terrible stock for their video games, meaning you WILL be waiting weeks or months before they can even ship out any games in your queue. Do yourself a favor and pay a little more for Gamefly. They actually know how to run an online video game rental service, unlike Blockbuster who is literally running a borderline scam service. Unless you want to pay for a subscription only to find out your entire month's subscription is absolutely useless because you won't be getting any games you actually want to play for a long time, then it's best to stay away from Blockbuster.

I'm with you in the class action suit. I've been dealing with this company for a long time and in the past year, it's gone straight in the toilet. Takes me at least a week to get a movie sent out to me. Their CS is terrible. Be nice to speak to someone that understood English. Always the same story, add more movies to my queue. Funny, I have over 60 plus that date to the 60's on up. More than 70% are not new but they still can't get out a damn movie. Also get the story that the distribution center is being revamped... for what, 8 months. I can go on & on as this is just the tip of the iceberg for this TITANIC of a company, sinking fast.

Blockbuster by mail, in my opinion, has a great deal to learn from Netflix. A one- to two-day turnaround for a DVD or Blu-ray to ship is outrageous. Not only that but I had issue where I sent two movies back and neither had been listed as received so I reported a problem that I had sent them back more than three days previous. One of my movies that they had shipped right away was broken in half so I reported the problem online and was informed that there were too many issues with my account for a replacement to be sent. So I called customer service and upon explaining my dissatisfaction with their customer service and turnaround time, I was hung up on and had to call back. This is outrageous.

I purchased with cash an iPod wall charger for a Father's Day gift. Two hours later, I returned to the same store, spoke with the same manager who checked us out, and explained the item did not fit the device. I was told, "No, we cannot return or exchange this item. You will have to contact the manufacturer. There is no other option."

I've been with Blockbuster for four months now, and I've had the same title on the top of my list for all that time. On average, I have 30+ DVDs and the odd Xbox game on my list, but it's been well over a month since I received anything from my top 10 (and some of those movies are nearly a decade old).
So this past week, I decided I'd had enough, and I reduced my list to just 10 DVDs so that they'd be forced to send something from it. On the contrary, however, they haven't sent me anything at all for several days, saying that they are still allocating their stock. Hey Blockbuster, have you ever heard of supply and demand?! If a fairly-old release is so popular that it's virtually never in stock, get more copies!!!

This is ridiculous. I have not received any new releases in months now. I have been with them for several years and this started happening about 7 months ago. Not 1 movie at all. The only thing I have managed to get are television series. I called last month and they stated that they are working on it, yet they take my money every month. I called today 5/30/2013, same excuse.
They say to add more movies to the queue. I have already seen old movies and don't care to see them again. I have had to rent them from Brighthouse on demand for $5 a movie then having to remove them from Blockbuster's queue. So what's the point in having Blockbuster? I have had to switch all the movies to DVD instead of Blu-ray, and out of 25, 3 are now available, and I still haven't received them! Something's going on. They are slowly phasing out before going out of business. Watch.

This has been ongoing for months now. It takes over 2-3 weeks to get one movie from your queue. Last time I called, they told me they moved their warehouse and that's why it took so long. The most recent time I called, they told me their system was in the middle of an upgrade and they couldn't see my account to send me movies (and the upgrade was already taking 3-4 days to complete). HOG WASH! They told me I didn't have enough movies in my queue... I told them I had 18 movies in my queue and that was plenty. Then they told me they were all new releases and I explained there are some from 2012 & 2011 in my queue that they still aren't sending to me. Bottom line... they don't have enough movies in their stores or online. They must have about 5 copies of each movie in the entire company. I have now been waiting over 3 weeks for a movie in the mail. I have none right now and I have a subscription for 2 movies at a time. When I visit the actual stores, they barely have any copies too. Netflix is looking pretty good right about now.

I joined Blockbuster by mail over a year ago. I signed up for one DVD at a time, which would always arrive to me on a Friday or Saturday. I would always mail the DVD back on a Monday and then receive the next movie in my queue on Friday or Saturday; everything was running smoothly, until February. It is now mid-May. I have had the same 10 titles in my queue since February; they have not moved. All of these movies, Argo, Zero Dark Thirty, among them, have been readily available for the last two and half months at Redbox, but I haven't rented any of these from Redbox because I was already paying Blockbuster $9.99/month for a membership.
All of these movies are marked as High Demand and Medium Demand. Even a movie from 1998, The Horse Whisperer, in my queue, is marked as High Demand. Seriously?! I don't even have the option of renting from a local Blockbuster, as all of them have closed in my area. The closest one is 12 miles away, and I am not driving that far to rent a movie. I have called Blockbuster previously regarding their serious issue with availability, and have been told that they are aware of the problem and are taking steps to fix it. That was a month ago.
I called them up yesterday, 3 days prior to monthly billing, and told them to cancel my membership. She asked why, and I told her that 2 and half month ago, I could go have gone to any Redbox and rented 8 of the 10 movies in my queue, all new releases. This rep told me the same thing that the other rep told me a month ago, that they are aware of the problem, and are taking steps to fix it. She tried to offer me 50% off for the next month; I said no. She tried to offer me 50% for the next 2 months, and then 3 months. I told her to just cancel my membership, that if the company was aware of this serious supply/demand issue, they were not working hard enough or fast enough, and they have now lost my business to Netflix and Redbox.
I too, believe, as others have stated, that they give brand new customers priority in shipping new titles, because, I didn't have any issues receiving new titles in my queue until just 3 months ago. I also never got my free month. I got charged for 12 months of membership. Blockbuster indeed has run their business into the ground.

I returned my last store rentals three weeks ago, but they are still showing in my account as not returned. When I returned these movies, I had gone inside the store and placed them in the drop box. Two days after returning the movies, I was notified they had not been removed from my account and I returned to the store. I spoke with a manager and they said they could not locate the discs. I had only found out this because I went to cancel my mail subscription. I had been using them for about a month with no issues but could not find anything else I wanted to rent, so naturally I cancelled the subscription. It's nice to see they are still up to their same antics after all these years. It's stuff like this that my parents switched to Hollywood Video back when we used to rent VHS on Friday nights.

I am very interested in starting a class action lawsuit against BB. Just for the amount of time calling and emailing, asking when they were going to send one of my 3 available movies that I had in my queue with another 26 movies that of course read high demand, medium demand, etc. You get the runaround when you call in and then they put you on hold for, well, currently it's been 24 minutes with 2 check-ins saying they are trying to get a supervisor. So that just adds flame to the fire. They lie about available movies and do not ship out titles.

I received Blockbuster@Home through Dish. BlockBuster's DVD turnaround is is 6 to 8 days! Now we have no delivery date and have waited for over a week for a DVD to ship. We called Blockbuster and all the titles in our queue are in "high demand". They cannot provide a ship date and said it could be a day, a week, or much longer before movies can be sent. I do not understand why they would list a DVD as available and then mark everything "high demand". Blockbuster has been very disappointing and customer service offers no solutions or help. They cannot get the movies out! How can a company commit to provide a service and then not provide the service? Netflix is looking good again.

Service was very good until the last couple of months. We are on the 3-DVD subscription but for the past few months, we are lucky if we have one at any one time. We generally only watch one movie per week and keep 20+ titles in our queue. We have now had a couple of weekends where we did not have even one movie to watch. If things don't improve soon, we will switch to NetFlix. I would gladly even pay more to get the service I want. Way to run the business into the ground, Blockbuster. Is anyone paying attention? Does anyone there even care?

I was with Netflix and switched to try out BB because they offer movies 28 days faster. I've been with them for two months now. I've received 11, yes only 11 in 8 weeks. First complaint is their answer: "It's the mail." Second complaint was their offer of 30 days free or I'm filing a complaint with the BBB and State Attorney General for their false advertising and will file for a charge back to them for a full refund for the two months of service I'm not receiving. Do not even think about signing up with Block-crack-buster! Just stay with Netflix!

Poor and irritating customer service. I've waited for three weeks with no movie. I was told by customer service that a high number of customers are not returning the movies and they don't have the stock. They are very rude, repeat themselves and don't provide any resolution. I agree on a class action lawsuit. If you call and have the capability, audio record the conversation with customer service. They fight you on letting you talk to a supervisor as well.

Well, it seems I'm not alone with Blockbuster problems. It seems Dish (owners of BB) do not make any efforts to comply with their advertized services. I have been on the three at a time plan for a number of years and prior to Dish takeover of the company, I was very satisfied but it's not the case any longer. Now I keep 60 to 70 movies in my queue and if I am lucky, I will receive 1 movie and never any of the new releases. I call or email weekly and am told to keep more available titles. How am I to do this when all titles are high or very high demand and never available?
Even when it's available nationally, I still don't receive titles because I am told they may be available nationally but not in my area. So after weeks of this runaround, I will be another of the unsatisfied ex-customer of Blockbuster at the end of my billing cycle. There really should be a class action suit brought against this company. Isn't false advertizing illegal? It seems to me TV ad is saying "We'll ship your next titles in 1 to 2 business days" would qualify as grounds for a suit since they don't ship anything with any degree of that timeframe.

It is absolutely horrible! I wish I had the time to start a class action lawsuit! I was paying for 3 DVDs at a time. After they closed the last store within 30 miles of me (and I don't live in the middle of nowhere, 5 min. from Philly) about 3-4 months ago, I have received a total of 4 DVDs. I called Customer Service numerous times. All they would tell me is to add more available titles to my queue but that's the catch. Unless a movie is at least 3 years old, it has a "very long wait".
Finally, after not receiving a single DVD for 3 weeks and I had almost 30 DVDs in my queue, I called wanting a refund for the past month. They said they could only give me 50% off for the next two months. I said, "You've got to be kidding me!" 50% off of getting no service is still 50% too much. So even though I want to use their service, I had to cancel. I don't know how they can advertise and have people pay for 3 DVDs at a time when they know they can't deliver. They need to be stopped.

I called over the phone to inquire on a movie. They confirmed that it was present. I asked if they can hold it for me. They said no, they cannot due to first-come first-served basis. I drove from San Pedro to Carson assuming the movie would be there. When I arrived, one employee helped me look for the movie for about 15 minutes and then gave up. Another employee came and tried looking for the movie for about another 15 minutes. Soon to look that they are at the front counter assisting other customers for about 5 minutes. Then the two employees and another employee were engaging in personal conversation, just laughing and enjoying themselves. They have simply forgotten about me and have definitely have forgotten what customer service is all about.
As I approached them and asked them what was going on, they replied, "Oh, the movie must have been misplaced or stolen." "We're not going to do an inventory until 3 months. Sorry." Great experience that I just went through. That's why Blockbuster will soon be out of business, due to lack of customer service.

They start by closing down all the stores. We have 30 movies waiting to view, waiting weeks to get new movies mailed out (all unavailable). I can get them on Netflix faster.

I have been with Blockbuster two at a time rental via mail for over 2 years and due to high demand and/or very high demand, I receive new releases at only 1 and if I am lucky, two a month. I add my new releases when the movies are at the theater and I know I will not visit the theater or I will purchase the DVD when it is released. However, and regardless of time my selection is in my queue, I wait from 30 days to over 60 days or greater for a DVD to arrive in the mail. I do not know how Blockbuster chooses to whom they will send their new releases, but I imagine the new trial customers are first on the list. Therefore, if you are a new customer, do not be fooled as you too may soon become a customer Blockbuster places on a long or very long wait list. As soon as my next billing cycle is due, on April 20th, 2013, I will cancel my account.

After three weeks, I'm still waiting for Blockbuster@Home to send me a DVD in my queue. The last DVD was returned on 03/04/2013. I complained twice via their support only to be told you should have at least ten titles in your queue at all times in order to have movies available to be shipped to you. Well, I've always had ten movies in my queue and it still doesn't seem to matter. If this service didn't come free for six months with my new Dish Network service, I would demand my money back. Blockbuster apparently doesn't want to spend the money to obtain DVD's to send out.

We recently switched from Netflix to Blockbuster DVD mail service. Netflix was very slow to new releases and after browsing Blockbuster, we found several new titles Netflix did not have. However, we've found a new problem with Blockbuster. We wanted to try viewing a new TV series. Blockbuster sent the first disk immediately. The second disk was listed as very high demand. So, Blockbuster sent disks 3 and 4. We watched disk 1 and sent it back, thus receiving disk 5 of the series. We waited several weeks for disk 2 to drop demand. It didn't, so we had to return unwatched disks 3-5 to continue our rental service. That was three months ago. Disc 2 is still on very high demand. This seems to be the case for not only the series we wanted to watch, but any series with multiple disks. We've contacted customer support, but the reply told how to change the wait times in our queue and did not solve the series disc 2 problem. We replied that their solution wasn't fixing the problem and we've heard nothing back. Based on this poor customer service, we do not recommend Blockbuster for mail order DVD!

I went to the Blockbuster on 76th and Coldspring in Milwaukee, WI. Very unpleasant and explains why these stores are tanking. Loud and rude staff. The conversation was so loud the whole store could hear it. It was yelling, basically. I haven't been to BB in a while, so either my membership is expired or my card will not scan. I don't know because the young man who could barely drag himself away from leaning on the counter to assist me continued to carry on a loud conversation with another counter leaner, who appeared to be the source of the yelling volume I heard while browsing. After not greeting me or anything, the cashier said he can use my ID. I asked if my membership had expired and he said, "ID."
I asked if I could give him a name to look up because the membership last name is different and I know it's a complicated name, so I started to spell it to him. After saying it, to which he said, "Yeah. I'm going to need you to spell that." Okay, I told him that was what I was doing and started over (he continued to talk to his co-worker throughout, so obviously he would have no idea what was going on). So then he said, "Yeah. I've got nothing." I assume he entered the name, but I don't know if this means no membership or wrong name. Doesn't matter anyway because he then did not offer to help me sign up again or whatever and just looked at me like? So I said okay, never mind and left as he continued his conversation with the loud man.
I promptly went to Redbox and will never go to Blockbuster again. I threw the, I guess, useless card away. They mustn't care about keeping customers, which is odd since they seem to be struggling so. I have a Netflix membership, but liked BB to get things ASAP. No more. I'd rather buy a movie outright, honestly.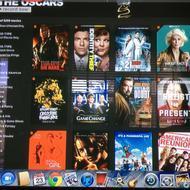 With Blockbuster online, you get a lot of promises, but they don't deliver. They show you lots of movie titles, but about 90% of them you won't have access to because you must also be subscribed to the pay channels that offer those movies. There is a little red lock icon at the top left of nearly every choice displayed (see picture) that means you cannot view it. We are subscribers of Showtime so we can get a few of their streaming movies, but of the three times I've tried to watch the online streaming, there has been just one movie displayed that I could get access to. It is nothing like Netflix, which we absolutely love, and for just $8 or so a month, you can get thousands of streaming movies so easily. The price for Blockbuster is $10 (that would be more than Netflix) and we have access to less than 50 movies. Honestly, the Blockbuster folks should pack their bags and get out of the online streaming movie biz, because it isn't performing, and people get really pissed off and write nasty reviews like this when they feel that they've been ripped off.
Blockbuster Company Profile
Company Name:

Blockbuster

Website:

http://www.blockbuster.com/