Consumer Complaints and Reviews

I started taking classes through DeVry back in October of 2016, and finished October 2017 with the Medical Billing and Coding certificate program. I finished with a 4.0 GPA, but feel I would have been able to learn the material in my own. The price is outrageous. It is a for profit school, so you expect higher costs. You also expect to graduate feeling like you can find a job and that you have successfully learned a skill. I had at least three different "advisors" throughout the year. How can they guide me if I am being "tossed around" from one to another? I do not recommend this route to anyone for education. Find a better school.

Devry University is the perfect school for you if you work all the time and you do not have any time to sit around in a classroom. You want to get back to school because you want to earn a higher education. It has helped me to stay in school and manage a newborn baby while still working. The professors are extremely understanding and they really try to work with you if you work with them.

Being a parent to a two year old while working full-time, I really appreciated the flexibility that came into the online program. It allows my work to not be disrupted while I am able to do homework and study around my son's sleep schedule. I really appreciate the ease of the online library as well as the easy and constant communication with my professors.

So you know it is expected that immediately after high school, graduates should go straight to college, secure a profession, get married, and then have children. Well, I created my own order and did some college after high school, had two kids, got a career, got married, went back for my associate's degree, had another kids, and now working on my bachelor's and DeVry made it possible for me to get a Bachelor's Degree from the comfort of my own home while having a full time family and full time job. Having 8 week courses and the ability to be online, it is easier for me to complete classes and get my degree.

I started with Devry July 2016 and in September I withdrew from a class due and made a D in the other which brought my GPA lower. In July I was given or "awarded" a Devry Scholarship based on my GPA. Based on the Devry Guidelines your qualifications is based on an ANNUAL REVIEW. Not per session review or semester. No worries, RIGHT??? Wrong! I contacted Student Finance and it was confirmed it was annual just as I had read it...by 3 different student finance reps. However my account on their end stated my grant was being removed so they escalated my concern of the misrepresentation of the wording on their web page to their "scholarship committee".
A day later I receive a phone call from the rep who assisted me who stated that the "scholarship committee" said that in their "guidelines" that only they have privy to it states at "any time" if the student's GPA falls then the grant has to be removed and reviewed for qualification again at the annual review. WHAT?? SERIOUSLY?? I will be looking to transfer after this class!! What a bunch of con artists!!! I was lied to and apparently even their own financial advisers read the same I read! I applied and attended Devry despite the bad reviews because I believe everyone's experience is different. Clearly I have joined the "beware" poll!
How do I know I can trust these reviews about Devry University?
639,780 reviews on ConsumerAffairs are verified.
We require contact information to ensure our reviewers are real.
We use intelligent software that helps us maintain the integrity of reviews.
Our moderators read all reviews to verify quality and helpfulness.
For more information about reviews on ConsumerAffairs.com please visit our FAQ.

Devry is going to end up just like ITT Tech that recently just lost its funding. It is only a matter of time. I was deceived by Devry University's deceptive advertising that aired on TV. I wanted to get a degree and I should have just went to an in-state college. I feel like I haven't learned anything from the college that I didn't already know.
I was originally enrolled in a Bachelors degree program for computer science. They wouldn't tell me how much the program would actually cost. They informed me that the program would be covered by grants due to my EFC amount, however this was not the case. After about six months I figured out on my own that they were taking out multiple loans on my account. I had to switch to an associates degree program with a major in Network Systems Administration in order to finish my schooling.
The level of teaching is more than subpar. The professors do not care about the students. I had to complain multiple times to the administration and the professors that they were not answering questions for reports and labs. I had students emailing me complaining with the professor, multiple email chains that we were unhappy. I actually ended up getting a credit because we complained so much that we forced them into the decision where they ended up only charging us for half the class. Then they had the nerve to say that I could take it again but I would have to pay!
I strongly encourage anyone that is thinking of enrolling to Devry University to not do so. You have been warned!!! You may get lucky and finish your degree, but the bottom line is they are a for profit college and all they care about is money. They are currently facing an FTC lawsuit and the CEO stepped down after receiving $5 million in 2015. Imagine that! I am filing a complaint for a borrower defense to repayment. I highly encourage any student that has been wrong by Devry University to do the same. Make this school pay for what they did to their students.

Devry complaint. In 2009 I had been out of high school for a year and wanted to start school. In high school I had done a few web development classes and was pretty good at it. Since I wanted to do something with computers I figured that would be the route to go. I called devry because I saw the commercial and spoke to one of the councilors aka salesman which I didn't know at the time. After talking with him he sold me on doing a computer networking degree. Said they have job placement after I graduate and median income was 90k a year starting.
I was ready to go, I spoke to them about financial aid and they said I was approved for 100% of the amount because of my father's income, never was told in depth what I was being billed nor was I explained that 100% financial aid didn't mean that covered 100% of their prices. To add insult to injury they even said there was money left over and sent me checks not realizing that they were dispersing loans first then the financial aid so I was adding to what I owed even though I didn't know I was getting into debt in the first place.
After 6 months I was working at Hilton and they had network and communication employees and I spoke to a few of them, told them I was told 90k a year and they laughed and said back in the day that was true but I would be lucky to make 40k and that the job demand was on a huge decline. I was furious and went home to do research and find out that it was true the jobs weren't there and neither was the money. I stopped my classes because I felt scammed and mislead. The person who was a counselor was a salesman. I was told inaccurate information so they can drain government and bank loans on my behalf.
Somehow 6 months of school racked me up a 9k bill. I was 18, just had a kid and didn't even know that these checks were leftover because they pushed through the bank money first. Maybe they did this to sell the point that I was having leftover money not realizing I would owe it all back. These for profit schools need to be regulated and make sure these kids fresh out of high school are not deceived like I was. Now it has accumulated interest and I owe 18k for 6 months of school for a degree to job that didn't exist. Crazy world we live in where these companies can get away with this.

On August 22, 2016, I made an online request through Parchment to have my transcript sent from DeVry University to Capella University. I had not attended DeVry in over a year. After receiving no response, I finally called DeVry to find out why my transcript had not been released. The gal I spoke with could not figure out why. My account showed a $0 Balance, $0 Payment Due and $0 Past Due. Eventually, after being on the phone for approximately 25 minutes, she told me she would call me back. She called me a couple days later and told me the fees were associated with book fees from July 2015!
I explained that I only attended online and all of my books/materials were electronic. She said there are still fees for accessing the books through their portal. I told her I would not pay for "phantom fees" that I had not been made aware, known were being charged to my account nor ever billed for! I explained that according to my account, I had $0 past due payments and $0 balance. I told her that DeVry was "creating false charges" in an effort to prevent from my transferring to another college and coercing me into either completing my degree only with DeVry or to not complete my degree at all. I told her she needed to have the fees waived, and she stated she did not have the authority to do so. She stated she would have her supervisor, Josh, call me. That was weeks ago and I have not heard anything since. I sense a class action lawsuit may be in the future!

In May of 2009, DeVry did a presentation at my high school. They claimed I could earn a Bachelor's degree in half the time and for half the price. I originally wanted to get into medical or nursing school, but their admissions counselor talked me into a bachelor's in health services management, stating that if I ever wanted to run my own medical practice, I would need it. So I enrolled. They said my degree would cost about $25,000 and take 2 and a half years going part time. I signed up for federal loans and had a $1,000 scholarship through them. I was told I wouldn't have to pay anything, that my loans and scholarship would cover everything. They also had me try to apply for a Parent Plus loan, which was denied, so I had all unsubsidized and subsidized Stafford loans. I started with 2 classes in September of 2009. I did fine, attended 1 class in the winter (I worked 2 jobs). I received 2 Title V refunds while attending.
Every semester, I would get a statement and my account always showed a $0.00 balance. I attended 2 Spring classes. I failed one, along with my winter class. In June of 2010, right before the end of my Summer classes, I got a phone call stating I had a $1,500 balance that would have to be paid before I could register for my next class, and that I lost my scholarship because I was not attending full time. I was never made aware that my scholarship required me to go full time. I was out of state at the time of the call, so I told them I would call them when I returned. A week later, I called them back. I now owed them a balance of just over $3,000! When asked why, they said my loans didn't cover my cost and that I received a refund that I was suppose to use to pay my balance. When I asked why I even received a refund when there was an account balance, they said it must have been a mistake, but it was my responsibility.
Now, the refund they are talking about, I received in January of that year. It was now June. I had received 2 statements by June, all showing a $0.00 balance. They refused to work with me, so I was forced to withdraw. They called to start collection on the debt and refused to take less than $175 a month. I was now down to working one part time job, making $8.50 an hour, I had a car payment, auto and health insurance payments and helped pay the other bills at the time. I had no spare money to give! One person had the nerve to tell me, "You should have thought about all these bills you pay when you knew you owed us. If you can pay them, why can't you pay us?"
They began harassing me, calling constantly (in Florida, it is illegal to call so many times a day or to harass a customer). I eventually stopped answering. They sent it to collections twice, but each time, they take it back out of collections. They won't leave it there long enough to be written off. Every time I call to work something out, it's always, "You just have to pay it." It's been 7 years, I'm a stay at home mother and have been trying to go back to school, which I now can't because they refuse to release my transcripts. I was an impressionable 18 year old, looking to get an education fast and get a career. Now, I've got over $14,000 in student loan debt for 5 classes, in which only 2 of the credits transfer to the local community college. This place is terrible.

DeVry University is a for-profit university. They put profits first, then second the shareholders, third the government, fourth the employees of their fake schools, and finally the fifth/sixth taxpayers and students are last on the list in many cases are just ignored/abandoned. Now back to my review I majored in Computer Information Systems. I attended from 2013-2016. This was the most expensive school I ever attended. The classes were too fast paced, outdated e-textbooks, outdated class curriculum, and outdated software. The instructors were too lenient and have no to little knowledge what they were teaching, they passed students who have no business of passing.
In my second year I realized I don't want to work in the IT field so I wanted to change to business degree. The advisors denied me the opportunity to change my major and so I went through the major I had. All of the advisors from financial, academic, and career advisors were random each time you call them and were disinterested in the student's questions and inquires and concerns. They only cared if you miss a payment, then you can get in trouble with the school. They would deny you registering next sessions or semester of classes till you catch up on your payments and place you on academic hold.
I am not happy I finished my education here and now it prevent me from attending another legit school and other opportunities in the future. Many employers hiring did not require a degree in the IT field. They value work experiences and certifications over a degree. DeVry University already knew this before signing me up with them. They care about profits even though it ruins people lives. Almost whatever I was taught at DeVry could have been learned on YouTube or other teaching sites for many thousands cheaper price or even FREE. I learned more from general Google search than at 4-5 years at DeVry. DeVry is a SCAM and is worst decision in my life. Do not attend here... YOU BEEN WARNED.

They have completely robbed me of my degree. Every semester that I have taken I never had a balance. My balances were always paid in full then in 10/2015 out of nowhere I had almost a $6000 balance on my account for some error that they did from about 3 semesters prior to my October 2015 classes. When I asked them what the balance was from they said they issued funds that should not have been issued so now they want it back. Now in present day 09/2016, I have been scrambling trying to find funding to get them paid because I desperately want to finish my degree. They would not allow me to sign up for classes until the balance was paid. Finally my bank approved me for $3800. My account was sent to collections and I paid a settlement.
Now to add more insult to injury I tried to request a copy of my official transcripts and they will not allow me to get them or sign up for classes because there is still a little over $1000 balance on the account which I told them "if you all agreed to a settlement and you all got the money why are you all still holding my transcripts hostage." I was told the settlement will only satisfy getting them off my credit in order to get my transcripts and continue class I will have to pay the full balance.
How are they able to get away with this. This is not fair and I don't know what to do. I can barely afford to make the payments on the loan I took out to pay them and now they are still asking for money even though they agreed on a settlement. Stuff like this is why people have huge student loans and no degrees because they get completely screwed over by these schools. I just want a copy of my transcripts so that I can continue my degree at another institution. Is that too much to ask for.

Devry University has blocked me from registering for the remaining classes that will give me the 19 credits needed to complete my BA in CIS. I am very disappointed at them since they encouraged me to not change my major a few years ago when I learned that I did not get the full amount of financial aid being an online student. Even when I began struggling to make payment into my account, they advised me that I was not expected to pay the balance in full, but later changed their mind when it became more difficult for me to do so. I believe their behavior warrants an investigation for possible act of consumer deception.

DeVry has helped me take old knowledge and recycle it for applications in today's brand-oriented design market. My online class in design fundamentals, which instructs students in Adobe Illustrator, has exposed me to the current trends in the design world. It's not only important to gain a technical understanding of the Adobe app, but to combine these technical skills with art and design fundamentals into an integrated understanding of how the information in class can be applied in different scenarios for diverse future clients. Further insights can be absorbed and added into the mix from internet sources and interesting viewpoints obtained from DeVry's online library databases. I would recommend DeVry University to anyone, but especially the non-traditional student, who may be older (anywhere between 35 and 50), working full-time, and committed to a serious career change.

My experience at DeVry University has been phenomenal. The programs are set up in a clear and concise manner. The staff and advisors are always available to help and the curriculum is always on the pulse of industry trends. I received a Masters degree 20 years ago but this has been the best educational experience ever! I find technology used and the learning format to be conducive to my busy lifestyle and the professors have great passion for their field of instruction.

I would recommend this University to any working parent, or someone looking to get a quality education working around their busy schedule. If you have a hiccup or a bump in the road they give you the proper resources to make you successful. All you have to do is ask, and they are very helpful. It is more pricier than other online courses, but I feel it's worth it. I have no income, I am just a full time student, and mother. Just make sure you speak with your financial advisor and understand how many units your funding covers. I have read other people's reviews where they discredit this University, just understand what your funding allows you and you will be fine.

I have enjoyed going to college through the on-line experience with DeVry. The Professors have been great, very helpful in helping you understand the information of the class. I have been in the medical field for 16 years and studying at DeVry has helped me overcome some of the obstacles that I have faced in my life to be able to find a career that will make me better at what I do. The counselors and professors are always there to assist you in whatever you need. This experiences has been better than high school.

If you are in search of a team of professors and staff that are diligent in inspiring their students to seek all measures in learning Devry is definitely the school for you. I once had a fear of online classes due to not knowing what to expect. Upon completion of my first class online with Devry I was certain that this was the place for me. The professors are continuously posting information that you may reach out with questions and concerns about any assignment. One is never left confused on the other end of the terminal unless the desire is not present within self to elevate to the next level. There are also live webinars that professors provide if you are more of a visual learner. In life we all need a challenge to remind self that there are always more than one route to a solution. If you are that one who stare challenge head on and in search of a team that encourage your potential to the fullest I recommend that you inquire.

I was enrolled and I was told the financial aid was all set by DeVry. I enrolled for that semester doing the work and I found out when it was time for the final exam that I was not allowed to take the final. The reason after many phone calls to DeVry - I had a balance owed for that semester. DeVry sent the financial aid back that was supposed to pay for my classes. Then I got a bill from DeVry for around $3400 which I had to pay larger monthly payments than a regular student loan. No apologies and no way to take the final. All I got for the $3400 bill from them was an incomplete for the semester. I didn't take any other classes from them. Buyer beware!!!

Word of warning... Don't go to DeVry. Costs to attend DeVry are very high. One would think DeVry would provide adequate training for job hunting and help their students prepare and find work. I couldn't even get my resume posted on their web site even after asking them for help because their web site would not update my resume. Career services only offered to help with creating a resume after I completed a survey after I finished final classes. By then I already figured out, after a lot of research and time, how to write a 2016 resume. Still no offers to help me get connected with employers who will interview me and possibly hire me. Has been 4 months since I finished final class. I have student loans building up with added fees and interest from a loan servicer (Nelnet) that I didn't even want because they are the worst ones around, and still no job. I may be financially ruined soon.

Please do not attend this school unless you want to be overcharged, uncared for, and taken advantage of. Not to mention they break laws about pertaining to your loan services and do not care to fix mistakes on their part. I have been waiting to have Keller refund my money for months and no one seems to care even call me back when asked. They keep telling me they are working diligently on my issue, but yet it has been a month. Legal a university has to disburse any remaining funds to a student within 10 business days by law. No wonder why the school is getting sued. Beware.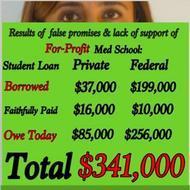 In 2004, I was accepted to Ross School of Medicine and my love and passion blinded me from their fraud and lack of support. Through the 4 years no one ever talk about residency, all they wanted to finish with MD so they have earned enough of their money. I contacted many time to get help, guidance and they had nothing to say than do not give up. Last time Dr. ** said your case is as terminal cancer patient that even chemotherapy does not help. Insult and lies one after other. My attach picture give you a glimpse of their fraudulent activity.

I am a single mother of 4 kids and decided to go back to school to get my career started. I didn't do much review of DeVry and that may have been the biggest and first mistake ever! DeVry is not only one of the most expensive universities I've ever heard of but their administration is very rude and seem unqualified. After dropping a course the first week due to personal issues I was told by a financial tech that I would not be charged for the course because luckily I didn't go into the second week or else I would be still charged for the class. So week or two went by and I see I was still being charged for the class. I called financial dept again and was then told the first lady told me wrong and I was going to get charged the approx $2,000 for the class! So I asked to speak to a supervisor. The supervisor said yes employee told me wrong. She was sorry and maybe she could get management to refund that amount.
2 weeks went by and still no response and I was still getting charged for the course. I keep getting the runaround. I put in a change of address and new phone # with them year ago and yet they still have not updated system. It seems to be one problem after another with this school. I see the huge bill already and have only been in school 1 year. I'm a single mom with no income yet financial aid and the loans I'm getting still barely pay for my schooling. Very unprofessional, unorganized, expensive and not worth it school. Thinking about changing schools since I've had nothing but bad experiences there. Would NOT recommend to anyone!!

I graduated from DeVry in 2012. Today, June 1, 2016, I called to request my transcript and was told that I had a balance of over $4,000. When I graduated, I had fulfilled my obligation to Devry and had a $0.00 balance. I was told that I owe a balance for Keller School of Management which I did not know about because I was receiving student loans. I had to withdraw from Keller to take care of my mom. I earned my diploma and transcript from DeVry and should not be denied to have what is mine!

I attended Devry University during 2009-2010. I was enrolled for 9 credit hours for summer, fall and spring semesters. That's 27 credit hours. I was sent a budget summary of 18,000. I received $5,600 from Pell grants. Leaving me with roughly 13,000 to pay. I now owe $48,000!!! According to my credit report they took 2 loans out on my behalf from Great Lakes one for 15,000 and another for 17,000. They transferred them to the department of education and then tack on another $9,000 plus interest fees of 6,000!!! I have been fighting this for years!!! I tried to set up a payment plan for the original amount owed but every time I tried to send in my documentation the emails would bounce back via domain error! Do not waste your time or money on this university! You will end up with a ton of debt and no education!

I have returned to DeVry May 2016 to finish my BS degree. I had attended in the past and had only 38 credits left to finish. I had to jump through hoop after hoop to get re registered and get simple information that should have been very easily attained and attainable. In the previous 2 months of this May 2016 semester I had worked towards getting all the paperwork needed. I had it all together, financial aid and tuition monies lined up. I got my schedule and all was inline to start.
The first day of class I went online to get started and there was no access to my courses. I called and waited hours of phone calls and a few days later I got the problem fixed. I started class and have been attending, doing all my required work and meeting my 3 discussions per topic per class each week. Today I logged into the portal and it was telling me the server was busy for a few hours and also the Hub was not allowing me access to my course list. I decided to call only to be told once again my classes were dropped and that they were sorry, they are not sure how or what had happened.
I was told the problem would be resolved and they would get a hold of the registrar and get back with me in a short time. This was this morning and it is now after hours and not a phone call, an email or any contact from anyone to even let me know they were working on the issue or where they were with the status of my situation.
Considering this is twice I have been put off in the past 2 weeks and the fact we deal with very condensed course time I find it rather appalling and disrespectful to be treated as if this is not a major issue. It is a very serious issue when there is numerous situations always occurring and it takes most times multiple hours and days to correct things. I feel as though this institution could really care less about the high standards they profess to have. I have no desire to continue but at the same time I am almost finished with my degree and do not want to have the hassle to transfer and go through all the time and cost to get into another college. BUT, At $609.00 A CREDIT HOUR and the hassle that seemingly non stop issues that come about regularly with DeVry it is almost worth the hassle to transfer.
DeVry, You are one of the, if not the highest charging educational institution. Your staff is friendly and polite, I will it that but for the accumulation of issues and cost you take the top rank. I have been reading numerous complaints regarding similar issues and the options for some are low so getting charged with the costs of financial responsibilities become a even higher burden for a lot of students. I can't even finish my degree because of the cost you charge. It is ridiculous that people are stuck with this cost. I know I chose DeVry but only because the situation I was in at the time I started. You have the cost per credit fixed so you can't catch a break because most can not take more than 8 credits in one session. The credit break before was if you took more than 7 credits in one session??? They it would lower the cost some but still unbelievably high.
I am less than 38 credits to finish and I am struggling financially to make this work so I can get my degree finished up. Then I have to call at least once a week to get things repaired and fixed because of issues or glitched in your system. Deleting my classes and bumping my classes. This is so disruptive, and not very professional at all. I can not remember a time when attending any other college that I had this many problems with classes and online education.
I am wondering what I am suppose to do while I wait again for your institution to fix yet another problem. I have to wait around and then play catch up because of your mistake. What happens now they have dropped my classes. I have 2 weeks of work completed in these courses I was registered for. What happens to the work when this is fixed and I am put back into the classes??? Then again I have now lost another work day to complete my work and this is two weeks in this session this has happened. I get the apologies from your staff. How sweet. It does not help my motivation and drive to keep getting pounded with these irritating issues.
I am so thoroughly disappointed and I am losing a lot of respect for Devry. You pride yourself in being a professional school of Management. But it appears that the school could care less about the education of their students. I see no hurry or concern in my case. I have been a dedicated student and I have taken my education very seriously. I wish I felt that I was of the same importance in relations to your Institution.

I work full-time for my employer, and work for myself, in addition to being a husband and father. DeVry Online courses are flexible enough to allow me to work through the program on my time, and are challenging enough to provide a sense of satisfaction. The staff and faculty are seasoned professionals who really care about the subject and the students. I would recommend DeVry to anyone looking to pursue an online degree.

I took classes at Devry online. I agree with the rest of the reviews, this has to be the worst decision ever. I was dismissed from my associates program with only 3 classes left to take. I was told it would be a $30k fixed loan, no interest for a certain amount of time. I signed up and then I accumulated more than 30k. I asked Financial aid team, HOW??? They said my application went through after promotion expired. I was pissed off. I didn't do so well due to personal issues but now, no matter what I provide to them they will not accept it to admit me back into Devry.
I recently keep getting emails, calls, and letters about my 75k loan being late. I have a family of 8 and I don't have a good job because I don't have a degree. Devry messed up my life and I cry every night. I am stressed out. I don't have a penny to my name and they threaten me with levying my bank account. My husband still has no clue that it's past 40k. I am scared to death that he will leave me and win custody of my children if he finds out. I talked it out with a therapist and she said Devry definitely put me into depression. I don't know what to do. Someone please help me.

I attended the Phoenix campus from 2008 - 2012 for my Bachelor's in Network and Communications Management and then again in 2013-2014 for my Master's. At first, things were going well despite a few setbacks that I had with my courses. My first program cost roughly $54,000 which was paid for through Federal loans (Parent-Plus). The scholarships that they gave out were only $1,000 per semester plus my PELL grants at $1,720 per year. At the end of the program, I had about $44,000 to pay back.
After graduation, I moved to CA to pursue my career. Found a couple of jobs but was ultimately let go from both. After being let go from the first job, I decided to go back for my Master's. This is where things went wrong. The girl I talked to at the Sherman Oaks campus told me in a calm and clear manner that the program would cost only $21,000 and it would be added onto my current loan account. So the math in my head told me 'Okay, that brings the total amount I owe to about $65,000' and with interest added should be about $74,000.' After graduation, lo and behold I find that they made another loan account to Sallie-Mae (now Navient) and the amount did not match up to the original agreed loan amount to take out. So according to them, I now owe $64,000+ for a program that only cost me $21,000. How does this make any sense?!
I have been back and forth between them and Navient about this. On Navient's side, the undergrad loans are correct (even though the interest rates are absurd). So 5 years of school and 4 job changes later, this school has me slated to pay back close to $130,000 when the total amount of the loans only equal to be between $64,000 - $68,000 (this is including interest added recently to the Parent-Plus loans). Because of these loans, I am afraid that I won't be able to start to have an actual life with a family and a house until I am in my 40's!
The only good thing that has come out of this is the training and degrees I earned. As far as job placement, they only assisted for 2 months. After I told the Phoenix Campus career department that I landed a job in my field, they said "OK" and asked me what I was doing now. They hung up shortly after and never bothered to contact me ever again... and that was close to 4 years ago. By the way, it should be noted that I went out, hit the ground and landed the jobs ON MY OWN! Granted, I am now employed in my field still but the fact that they never went the extra mile to ask for my resume to send out to recruiters for possible interviews was a slap in the face. All they care about is how much money are you going to shell out? I'm still battling this school about the overage of my second account which should not have been created at all!
In hindsight, I never thought it would be as excruciating an experience. They made it sound so easy that a caveman could do it (no pun intended). I go in, do the work, graduate, land a job and pay back the loans. Sounded so easy at first. Never thought that I might have to take a school to court over the fact that they made a second loan account behind my back. Frankly, I was elated to see that they are being investigated by the FTC. I hate to say this because I made some friends with my professors at the Phoenix campus but I hope that they shut them down. No one should ever have to go through what me and many other former and current students at this institution are going through now.

I'm attending Devry Online at the moment. I'm just taking a 10 month certification program that I was told I could afford with my Fin Aid. Now I'm in the WARNING Zone of exhausting my funds and only halfway through the program. When I call the Fin Aid dept they just give me the runaround and different answer from whoever I get on the phone. I'm pretty sure they are taking more money than is needed. I keep running the numbers to what they told me in the beginning of the cost to where we are now and nothing makes sense. Be very cautious about taking out loans with this for-profit school... They will make it sound easy; then when you're halfway through will exhaust all your funds with no job prospects...

I want to put out a warning to all students, especially those who are looking for an accredited online education and wanting to use their GI Bill benefits. My experience with DeVry was academically good, but they forced me to sign promissory notes 'just in case'. I informed the financial aid department on several occasions that I was 100% covered the GI Bill and there was no need for loans. They assured me this would be for last resort funding. I went about my education and was, in fact, learning a lot when I started receiving refund checks. I made several calls to inquire about my account but every time I was assured I had no balance and to go ahead and use the money.
Towards the end of my program I started receiving notices from Federal Loan entities showing I was in debt to them for loans taken out in my name. I called about it and told them I knew nothing of these loans and would not be held liable. They were sympathetic but they couldn't help me out. I contacted the VA and the gentleman went through the system and informed me that since they had indeed sent in payments their side was clean. I agreed. He recommended I file a formal complaint through the VA system, which I did. Within days I received word from DeVry parent group asking for a teleconference with the Ombudsman. I attended the teleconference which only lasted about 5 minutes and gave them all my information and my story.
Unfortunately I hadn't written down names during the past two years, didn't think it would come to this. Within weeks the Ombudsman sent me an email giving their decision along with all the evidence against me. Funny thing is: when I inquired about the telephone conversations I knew had been recorded all those times I called, I was told they do not keep the recordings more than 6 months. And yet two years later the Ombudsman was able to obtain transcript copies of those recordings! They agreed to pay back only a portion of the loans taken out and in turn sent me to collections for the other half. I told her that I was not responsible for any of the loans in the first place. It has been a very stressful situation and I do not recommend this school under any circumstances. All this occurred between Jan 2013-Jan 2016.

ConsumerAffairs Research Team
The ConsumerAffairs Research Team believes everyone deserves to make smart decisions. We aim to provide readers with the most up-to-date information available about today's consumer products and services.
Since its founding in 1931, DeVry University has helped hundreds of thousands of students reach their educational goals.
Regionally Accredited Programs: DeVry University has long held regional accreditation for their on-campus programs, and in 1998, they added online programs to their accreditation.
Incredible Program Variety: Where other online colleges offer a few online options, DeVry University has a wide range of programs ranging from the hard sciences to the liberal arts.
High Value Scholarships: DeVry University offers $75 million in scholarship and grant funding based on need or merit.
Blended Programs Available: Although they offer entirely online degrees, they also offer the option to take some classes online and others on campus.
Financial Aid Assistance: Getting the most out of a financial aid package can be challenging, so DeVry University has a fully staffed financial aid office to help.
Best for New grads, promotion/job seekers, lifetime learners and full-time workers.
Devry University Company Profile
Company Name:

Devry University

Year Founded:

1931

Address:

3005 Highland Parkway

City:

Downers Grove

State/Province:

IL

Postal Code:

60515-5683

Country:

United States

Website:

http://www.devry.edu/