Consumer Complaints & Reviews

I have constant pimples, I'm covered in blackheads, and my face gets red extremely often. I've been trying to find a face care regimen for about 10 years and nothing has worked, until I tried Proactiv. When I first tried Proactiv it was really bad. The products dried my face and it seemed to make my acne worst. But I kept using it. I was using the Proactiv+ 3-step system. After a few days I stopped using the Pore Targeting Treatment because that product seemed to dry out my face the most. After I stopped using it my face stopped drying out, it progressively got better. Over the weeks my face wasn't as oily, the breakouts became smaller and less frequent. It was working!
But after a month I received another shipment. What? I did not order more. My card was just charged. What happened? I looked online and I found out that they automatically charge you and ship you more product. I was so livid when I found that out. I was about to cancel my subscription but... Proactiv actually works for me. So I did nothing, I waited until the shipment arrived, I got it in a timely manner. My face improved more after using it for 3 months. I was happy.
My happiness was interrupted though. I tried to log into my Proactiv account to change the products I was using. Every time I tried to log in I would get a message along the lines of "this account does not exist." That confused me very much and this went on for about 3 weeks, so I created a new Proactiv account and I ordered more product. Big mistake. My previous account was still active and it was still automatically billing and shipping product to me. I believe I was not able to log into my account because of some website revisions and improvements they were making.
Anyways, with 2 active accounts I was getting 2 shipments every 3 months and I was getting billed twice a month. I didn't notice anything when the two accounts shipped their product the first time because both arrived at my house on the same day. I actually noticed when I was billed twice. So I called customer support, got my second account deleted. Done, it was easy and simple. Now I am still happy with their service and products, my face looks so good right now. I hardly break out anymore and my acne scars are fading. I still have a lot of blackheads but I'm okay thing that.

I was surprised when I came across all these negative reviews for the product and company. Several years ago I used the original Proactiv and it did clear my skin up, but it was somewhat strong and irritating to my skin, so I discontinued service. I had no problems doing so. Later in life I heard that they had a more moisturizing formulation with added skin care benefits. I love it! If you use the product regularly your skin will thank you for it. I now seldom break out, but when I do it's manageable. Plus if you use the wonderful sulfur mask you will see the blemish just about disappear overnight! No more burning my skin with those zit creams! It can be pricey but the price is broken down into 3 payments which are monthly and detailed exactly when they will be billed on the invoice in your shipment. You can adjust your products, how often you would like to receive your shipments and read reviews on products.
As far as I know I believe you can buy items without being on an installment plan... but you won't get the members pricing. You basically do a 3 product shipment and can add items to your shipment for only 15 each (products are based on a 3-month supply). Having confidence to go without makeup has been really great! (I've been a member of Proactiv Plus for around 3 years now and share shipments with my teenage daughter. WISH THEY HAD THIS WHEN I WAS A TEENAGER!)

As the other reviews have indicated this company only lets you purchase if you commit to a recurring order. And then you have to phone to cancel the recurring aspect, and although this is clearly stated it is still deceitful.

After reading through a good deal of the Proactiv reviews, I am struck by how many of the negative reviews would NOT have been an issue had the consumer simply READ THE DETAILS. 1) Company CLEARLY states that your payments will be spaced out, and that you will receive future products unless you cancel. All you have to do is READ THE DETAILS before purchasing any product online. I love that I can have regular deliveries (which I can adjust or cancel at any time).
2) Acne is not a problem that is cured after a few months of treatment. Acne needs continual medicated treatment. Some of these customers were expecting a miracle outside of capabilities of current dermatology science. Again, you must continue, indefinitely, with any acne treatment if you want continued results. Proactiv beats anything that I have purchased over the counter. I suspect that the 'whitening' ingredients help with that.

Despite cancelling shipments months ago, I received two more. After speaking with several reps to explain the problem, they finally sent me a return label and I returned their products by USPO. However, I am still getting notices about their good faith efforts to collect that threaten further action. They pay no attention to cancellations, continue to bill me, and don't recognize me as an existing customer when I've called to correct this. I recommend paying as you go or dealing with a legitimate third party that understands the word: CANCEL.
How do I know I can trust these reviews about Proactiv?
554,940 reviews on ConsumerAffairs are verified.
We require contact information to ensure our reviewers are real.
We use intelligent software that helps us maintain the integrity of reviews.
Our moderators read all reviews to verify quality and helpfulness.
For more information about reviews on ConsumerAffairs.com please visit our FAQ.

I thought I was only getting one shipment and one charge. Then I received a second shipment and is very hard for me to go to the post office because I am disabled. They charge 3 times for the second shipment so I cancelled the third shipment before they had a chance to ship it. The acne improved but I could of had the same results from over the counter medications which are much cheaper. Not worth the money.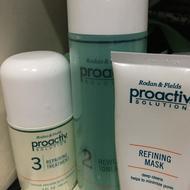 My husband and I used the Proactiv - good for 30 days/1 month set and we were very satisfied. It really vanished our acne and definitely made our skin smoother. We had to buy a second set in order to see a big difference but I guess it's worth it. The only thing is, it's more expensive buying it here in the Philippines than in the US. But I guess it's okay because after 2 sets you won't be needing Proactiv anymore.

I happen to like the product, but sadly had a horrible experience with it... I ordered it couple years or so ago. And wanted one set. And was mislead and kept receiving multiple packages and being charged... so it would be nice if this would be fixed. I've read another person had the same problem... scam!!! So if you want this product to sell... you should stop scamming people. That's exactly what is being done.

I really disappointed with the service the company offers. First of all it on automatic subscription basis, which is difficult to know as they don't give too much information regarding this mechanic. But this is not the major issue with them. It is that when you cancel the service, they still send you the product and continue charging you. I blocked my credit card to stop them, they send me legal notifications so I paid them with another card. But that is not all. Now after almost one year they start sending me again their products and suddenly they said I owe them +US$300. Really??? This is dishonest business!! This has a name and it is SCAM!!! The cancellation service very laborious, they even ask to send a FAX (who uses FAX?) and you cannot cancel through phone or email.

Proactiv... when you buy and have issue with them they won't contact you. They did steal 175 from my account. They send an empty box, and they refuse to send you the money or even talk to you. Smart way to steal.

My son ordered a 30-day trial of Proactiv. Next thing he knows, he sees in his bank account that they took the first installment out of 3 for a 90-day supply. He called to cancel shipment that said was still in warehouse. They refused to reverse charge in his account. They said they canceled his order and when he gets the return label he can return the product. My son went to print where it said order was still in warehouse after they said they already shipped it, they locked him out of his online account with them. This company needs to be shut down! He had to change his card number to prevent future charges.

Have a "Thank you for your order" paper I printed out and a items ordered with a order number with the shipping amount and the total amount. They are saying they need to bill my card again for shipping and I have this paper I printed saying "thank you for your order" and that was 10 days ago. I've been waiting on my order. What's going on.

My daughter has not used this product in 6 months - we have called multiple times; were assured that the shipments are canceled. And then they auto draft the payment for 6 months totaling $189. I called again today and asked to receive a personal email confirmation. We will see what happens. They (Rodan and Fields) have now developed products for maturing skin (aka - us moms who are being lied to by Proactiv). I predict a very short business plan - predatory business practices, lying and non-existent customer service will not survive.

I will never buy this product again. They are scammers and need to be shut down from doing business. I sent my pkg back after receiving it because I didn't need it and didn't know I was billed under autopay. They are the worst!!!

I called to cancel my account back in AUGUST!!! It is now MARCH. I received more shipments and charges on my credit card. I called to cancel again. I received a bill saying I owed money. I called again. The man told me it would be all cleared up. I received ANOTHER bill and a letter saying it will be sent to a collections agency. I CALLED AGAIN. I was told it would now be cleared up, no need to worry. Two months go by... I get a shipment?! I call AGAIN. The lady doesn't know why it wasn't cancelled. OH, and I still am "in collections" because shipping and handling was not canceled from the last time they sent me a shipment after I canceled and I sent it back. She said she cleared it up but I really don't believe it. I am absolutely disgusted.

I have never wrote a review on anything but Proactiv has really made me mad. I like the product, I just hate that I have to go through the website to get it. I miss the kiosk in the mall. Anyways, I cancelled my Proactiv back in December and received the confirmation email. Well, I look on my statement today a month later and they've billed me $33. I called and the lady on the phone said that yes, my account was cancelled but I will still be billed until all three installments of $33 have been paid. Well, that would've been nice to know when I called back in January. As soon as I get home, I am sending that back to them and I want my $60 back. The product they sent is bigger than the one I signed up for. They are so misleading and don't recommend doing business with them. Like I said, I like Proactiv. It's just the billing part that sucks.

After paying for two Proactiv products I received, we cancelled any further shipments. We were automatically charged on our credit card for a third shipment we never received. We disputed the payment on the credit card. Then we started receiving bills in our mail for two more shipments and after that, threatening letters from a collection agency. We contacted the Better Business Bureau where they are located and filed an online complaint. About two weeks later, we received a letter from Guthy/Renker stating that as a gesture of good will our account has been cleared. My suggestion to all is to go through the BBB.

Please shut this website down www.getproactiv.ca. Ever since I placed an order for 29.99 I did not get an order confirmation, no email confirmation. I called customer service which was in Iowa, not Canada. I immediately cancelled any auto ships, and since then I have getting suspicious charges from various Iowa companies. The fees don't add up, and I don't recognize the pseudo companies they are using. The charges are up to 300.00 CAD for the one small order I placed online.

I placed an order 2 years ago and canceled within 30 days. I never had problems with them charging my account or shipping more. Until today... I got 2 boxes of products with a bill for $197.00. I was never charged since the CC they had on file I don' have anymore. The invoice says to call to make payment. I can't even imagine how crazy their system is to send products after 2 years and not even charge me.

I keep getting bills from Proactiv, when in fact I've NEVER signed up for it. I have no idea if the bills are real or not but I NEVER SIGNED UP FOR THEIR PRODUCTS (if that doesn't make it clear enough). I don't even have acne (no offense to those who do) but I don't understand how they've obtained my information. I wrote to them stating this and I still keep getting billed. I am not paying for something I've never applied for. Just spoke to a debt collector this morning and told them the same, let's see if they can resolve this issue. I feel like I'm getting harassed by this company. They call, they write, but still don't fix the problem. I will definitely make my friends and family aware of this so they never go through the same as me.

My son wanted to try Proactiv so I decided to buy a 1-month supply. After we received it, he changed his mind about using it but I decided to keep it in case he wanted to later. Next thing I know, a bigger supply arrives on my doorstep for no reason along with credit card charges. I called & was told I'm signed up for auto renewal. This was in some incredibly fine print that I found later. I told them I'll keep the additional box I received but cancel the renewal. All was fine for a couple months until another pending charge showed up on my credit card. I called again and was told that the service rep I spoke to said she cancelled my order but didn't actually cancel it. She said she can't stop the next box from arriving but I would receive a return label to send it back and would not be charged anything. Never got the label. Had to call & request it again.
Finally received the label and returned the box immediately. Then I got an invoice in the mail indicating I owe them $106.97. I returned the invoice with a note that the box was already returned to them. Then I got an invoice stating I owe the shipping cost for the box they sent me in error. Had to call yet again to explain that I don't owe that money because they shipped me the box in error. The woman told me that shipping cost isn't part of their money-back guarantee. I told her she better remove it because this has nothing to do with their product guarantee but rather a mistake on their part. She claimed she will reverse the charges but it will take a week because their system is being updated. Who knows what I'll get next. This has been a total nightmare. I will never order anything from Guthy-Renker again in my life.

I want to first make clear that I and not one to just get angry and 'complain' about a company because I didn't get what I wanted or whatever. I am a genuinely forgiving person towards companies. I get how they work. However I just had to make this account and say something to hopefully save somebody from this hassle in the future. Another thing I want to point out is that while this product is "okay", it's not some miracle that it is made out to be, most of the time it works for people because they form a routine of cleansing their face twice a day that they may not have once had. You will easily find over the counter salicylic acid creams that will perform just as well, as I have.
In the beginning I just wanted to figure out why they were charging me once every month (sometimes twice), in seemingly random amounts from $50-$80. I had signed up for the 90-day kit and their terms specify that they will only charge on each shipment. It was making no sense to me and the cost was piling up. Fast forward months later and MANY attempts at contacting them with NO response and now having paid well over $300 from the cryptic random monthly payments, I had to resort to reporting them to my bank and having my credit card cancelled.
They won't give you any receipt, breakdown of payments, record of past payments, not even a simple notification. They will set up automatic renewal whether you want it or not, then just charge and charge. They don't even make it clear what it is your are paying for, they give some cryptic product code on their site and that's it. Please stay away. I don't want anyone to have to deal with the stress and seeing this and other reviews on this site (and others), I hope you will be smart enough to make the right decision.

I ordered Proactiv for my daughter. We were sent a box of Proactiv product, she used it and before we knew it, there was a box and I was get charged in 3 payments for this one box of product. When I called to question it was stated the payment was in the small print. I found the box of product in my daughter's room and mailed it back. I was then billed from the collection department. I called once again and was told yes they received the product and I would get a refund. However, over the next 3 months I never seen a refund and kept receiving a collection bill. When I called the 3rd time, they finally cleared all charges. Stay away form this company, they are very deceiving.

I ordered Proactiv for my daughter in June 2015. It didn't work for her skin. I returned the partially used product for my refund. A couple weeks later I see another charge for a membership I had cancelled and received ANOTHER box of products shortly there after. Again, I called and notified them for the 2nd time that I had cancelled the membership and was still waiting for my FIRST refund. They advised me to return the UNOPENED box for a full refund. I did just that in early July.
I received a partial refund for my first initial order but have not received my 2nd charge refund in over 2 months. I called today and they conveniently weren't able to pull up my account so therefore, had no record of the transactions. I was given a fax # to show PROOF that they indeed charged me twice. This product is not worth the headache this company gives me and I consider them thieves at this point. I'll update in 2016 because I'm guessing customer resolution is not this company's priority.

When I ordered their product the ad promises loudly "Money back guaranteed, if not completely satisfied." WHAT A LIE. The stuff didn't work and they continue to bill me. I called and after being on hold forever was told that the tiny print says "you have 60 days to cancel". Their stupid little brush with $2.00 worth of some Clearasil knockoff has cost me 200 dollars. How is this legal? CROOKS!!!!

This company is such a scam. I purchased a package from them from their website. I paid in full never knowing that they bill you later in 3 installments for the shipping. Why would I want to pay the shipping in installments? Then I never knew that by purchasing a package that automatically signs me up for monthly purchases. I received the same package and called to tell them I never ordered it and didn't want it and they said it is in their terms and conditions. I wanted to cancel and get a refund but after arguing with the person about why I'm canceling she finally did cancelled but they would not return my money. Now I'm not receiving any orders but I am still having to pay for shipping from my first order. IT'S SO STUPID AND CONNIVING!

Please, PLEASE do not buy product from this company. I have ordered a product and I did not get my product delivered even after 2 weeks, considering I even paid 4.95 for the delivery (utterly disgusting). And guess what, I did a complain to the Customer Service and guess what they replied back to my email? That my product was signed and delivered to my neighbor at number 15?? And I don't even have no neighbor at number 15, not even close. And I don't even know the reason why they would consider to deliver MY STUFF to my neighbor whom I don't know or trust, even though I don't have no neighbor at number 15.
They are not even considering to refund my money and that keep on insisting to check my parcel with this number "15" which I don't even know what road it's located at; they could probably also delivered it to another country and city, I don't even know. So I'm literally angry and annoyed because I paid £4.95 just for delivery for this ** service. However, the good thing is that I purchased it through PayPal, so I did my dispute there as they are not trying to resolve my problem.

The worst company. Recently ordered a lot of products and I did it by mistake, by ordering 4 of them. I went ahead and called them to cancel the 3 other items. After they returned the item back to them, after I have to call them to ask them about my refund, after 3 good month, I was calling them to get my refund back. The only thing they were doing is refunding my money back, half of the item price which was $32.94. After three good month, they had to refund me back my money to cancel the whole account. It was a while ago, I didn't expect to receive anything from Proactiv because I already cancelled my item and my account right.
On this August I saw another charge again, which is $32.94. Again I called them to find out what was going on, why am I seeing another charge on my credit card. There was their response, "WE SENT YOU ANOTHER PRODUCT AND IT WILL BE ARRIVING ON 7 BUSINESS DAYS." For God sake, I was crying. What is wrong with this company? Fake ** company. My advice is, to all the customer who want to purchase products from this company, they will continue stealing from you EVEN IF YOU CANCEL YOUR ACCOUNT.

I called a week ago and asked "If I write a check and date it for Aug 1 can yall cash it on that date?" The guy told me "No problem. Matter of fact it takes up to two weeks to process a check." Thinking cool I wrote the check last Friday. Now the rest of my check I wrote to Proactiv cleared around two weeks so I believe this guy when he said it would not clear for about two weeks. Now this time not only did my check not take nowhere near two weeks but it was cashed before Aug 1. Therefore my bank account over withdrawal because Proactiv couldn't wait till the dated time. I will no longer be a member to this company and I will make sure everyone knows what liars Proactiv employees are.

This product made my son's whole face swell up. I've been trying to cancel for 3 months now. Haven't received a shipment in 3 months but have been charged each one of those months. Canceled my debit card & got a new one… Didn't work, still charged. Called the bank and put a stop payment on this crap & what do you know… still charged this month!!! This is the worst trap I've ever fallen into!

ConsumerAffairs Research Team
The ConsumerAffairs Research Team believes everyone deserves to make smart decisions. We aim to provide readers with the most up-to-date information available about today's consumer products and services.
Proactiv is a household name when it comes to acne treatment. Launched in 1995, the company's popular products are the result of 10 years of research.
Hydrating ingredient: The best kind of acne treatments can dry out your skin, which is why good skin hydration is important during treatment. Proactiv uses hyaluronic acid to put moisture back into your cleansed and treated skin.
Money-back guarantee: The company promises to return your money if the product doesn't work for you. Just send the bottles back if you are not satisfied.
Free products: Proactiv's introductory kit comes with free gifts to help support your clean, healthy skin regime.
Smart target: Patented technology helps to direct more of the medication into your pores. This means better overall coverage and faster treatment.
Full range of products: Products can be purchased individually or as part of a kit. Extra products like the exfoliating brush can be added to any order.
Anti-microbial: In addition to anti-bacterial ingredients, Proactiv has added an anti-microbial ingredient to better treat localized infections within and outside of the pores.
Best for Teenagers, young people, pregnant women, those receiving hormone treatment and adults.
Basic Information
Company Name:

Proactiv

Year Founded:

1995

Website:

http://www.proactiv.com/