Consumer Complaints and Reviews

Caution, proceed and purchase at your own risk!!!! I purchased a Neutrogena facial cleansing bar, with the assurity that this product was a gentle, chemical-free and sensitive facial cleanser behind the counter product you can find (with all of the Neutrogena ads and commercials claiming this to be true). However, within two uses of this product my skin began to become inflamed with a burning sting, red patches, itchiness, and flaky peeling skin.. It was only after I realized what had caused this issue that I came across so many articles and complaints against Neutrogena due to the same cause. DO YOURSELF THE FAVOR AND SAVE YOURSELF THE ANTIHISTAMINE, DO NOT BUY THIS PRODUCT.

I ran out of my usual face wash, so I borrowed some of the Neutrogena Oil Free face wash (clear bottle, orange liquid, with a pump), thinking it would be ok because it is even more mild than my usual face wash. The first night I used it, my face felt kind of hot, but nothing really happened other than tightness and the hot feeling. Second night I used it, still felt hot and tight, add in some itching. When I woke up the next morning, my face was broken out in a rash of redness, tiny bumps, burning, and itching. It was only flared up in the places the face wash touched, but then began to spread. The bumps have spread to my left ear (inside, outside, and behind). It doesn't burn today, but it is very itchy, red and bumpy. Hopefully this goes away soon, I have been using antihistamine gel and pills to ease the flare and itching. Will not be using Neutrogena products again.

I used this product (Hydro boost exfoliation scrub) and 2 days later my face and eyes swelled up and was extremely sore. The doctor said I'd had an allergic reaction and prescribed steroid tablets. My face is so dry now and no cream will improve it so it's back to the docs! Do not use this product too many harsh chemicals in it.

Beach Defense water + sun barrier lotion SPF 70 - I used this product on my granddaughters ages 7 and 5. Both broke out in a real bad rash on their face. Product states "children under 6 months of age Ask a doctor." Please do not use this product. Both broke out the same day and it was worst the next day. I followed directions as stated but it should state "Do not use on FACE."

I've used Neutrogena makeup wipes on and off before (over the last decade) and never recall having an issue. A few months ago, I started using them again daily, now they are part of my everyday routine, and I noticed my eyes got puffy and itchy after several days of use. I continued the use just thinking it was old/ bad makeup. After a couple more days (and with new makeup) my eyes were still irritated. The puffiness went away but my eyelids were left very red, watery, and scaly.
Over the next 5 days, they peeled and flaked and my under eyes had circles/sags. By this time, I seized all cosmetics except for the basic makeup and tried and true face wash/ moisturizer that I knew was safe. My eyes went back to normal. After a couple of weeks I started reintroducing cosmetics one at a time to see who was the culprit. Got to the makeup removers again (and after a couple of days) my eyes got very irritated again. My eyelids got itchy, puffy, wrinkly, and watery. I'm positive that the makeup wipes are the cause. *I will say this though, I use other Neutrogena products and don't have an issue. The body scrub is my favorite soap of all time. I think my eyes are sensitive and that daily use of this product (the makeup remover wipes) is just too harsh. Probably just not for sensitive skin/eyes.
How do I know I can trust these reviews about Neutrogena?
850,588 reviews on ConsumerAffairs are verified.
We require contact information to ensure our reviewers are real.
We use intelligent software that helps us maintain the integrity of reviews.
Our moderators read all reviews to verify quality and helpfulness.
For more information about reviews on ConsumerAffairs.com please visit our FAQ.

I had a severe allergic reaction to this face sunscreen. My eye nearly swollen shut, blisters, red, itchy rash. My doctor prescribed oral steroids and a steroid cream. Too harsh ingredients. Don't use.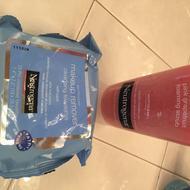 I recently started using two products from Neutrogena; the makeup remover towelettes and the Pink Grapefruit facial (acne) wash. Within a day, my eyelids began to droop and were quite itchy and the flesh under my eyes near the bottom of the orbitals drooped. I even took ** to ease the itching - something I never have had to use. Both upper and lower lid flesh turned red and got dried-out and flaky.
Although I am 56 years old, my skin has always been fairly wrinkle-free, soft and smooth. (I have been told I look much younger than my years.) My eyelids drooped so much that I looked like I am 90. In fact, it was so bad that my left eyelid covered a portion of my eye. I assumed because Neutrogena claims to be hypoallergenic and because I don't have any known allergies at all, that these were good products. To be fair, I am not sure which of the two caused the problem, or both, but I am not going to try to find out by experimenting on my face to eliminate one of the variables.


I purchased blackhead eliminating daily scrub for my daughter to use after going to the dermatologist. She used it one time and woke up with swollen puffy itchy skin on her face and the front of her neck where she applied it. I took her to her doctor again and they gave her a steroid ** to take however don't feel that has done anything. Now realizing it's not an allergic reaction to anything else except for what she put on her face because that is the only area affected. Now that I have narrowed it down to the blackhead laminating daily scrub. I cleansed her face with Vanicream soap to try to remove any residue of the Neutrogena product. Third day she woke up with itching still around her lips only. At this point we are just applying ** to help with the itching. Never again will I ever use any Neutrogena products especially after reading all these reviews. I should've checked reviews in the beginning. I will be taking this product back to Walmart for a full refund.

My daughter woke up this morning with her eyes swollen shut and her skin bright red from this Pink Grapefruit Face Wash. She said she forgot that the last time she used this product the same thing happened. She is 15 and was worried about her acne- and now her acne is the least of her worries. She has no other allergies so this took us by surprise.

I have been using Neutrogena Men Age Fighter Face Moisturizer with sunscreen for about 6-8 months. About 6 weeks ago I developed a bright red rash that was itching like crazy on my both sides of my neck. I thought it was a food allergy. I continued to use the product and this week again I have an even worse red burning and itching skin. I have been using a Walgreens Calahist to stop the itching and burning that I used on my recurring shingles outbreaks. Additionally I use Udderly Smooth to help heal the area. It has been 3 days and my skin looks the same. I will never again use a Neutrogena product. It even says on the back of the tube "Stop use and ask a doctor if rash occurs". Well that should have told me this product is not GOOD.

I used Neutrogena Rapid Wrinkle Repair for 2 days. On the 3rd day I woke up with a burning rash on my face (around my eye) and my neck. My eye continues to swell and the burn is itching and fluid is coming from the burn. Went to Little Clinic and received ** and an antibiotic along with some cream. The swelling is getting worse. I can barely see out of my right eye. If it doesn't get better by tomorrow, I will be going to the ER. I will not be using this product again.

I washed with Neutrogena face wash and was excited to see if I could get my skin clear. It is supposed to be hypoallergenic, so I was surprised when my face started itching and BURNING (I had burn marks on my face like I was sunburned), and then peeling like crazy. It has been about 5 days now and I am only just beginning to see a little bit of an improvement. There were also lots of bumps on my face and dark spots. I can't wait for my face to heal, but am surprised that there are this many people with the same issues. I used to use this same product years ago, and didn't have any reactions. Did they change their ingredients? I will never buy any of their products again.

I started using the Neutrogena Visibly Clear Pink Grapefruit Wash around 3 days ago & noticed that my skin was extremely dry and flaky. Not realising it was the product I used it again. Today on the third day of use my neck is very red and sore almost like a chemical burn. (Thank goodness I tested it only on my neck rather than my whole face!)

I bought Neutrogena SPF 60 Ultra Sheer sunscreen with helioplex. Put some on Friday morning. By Friday evening my face began swelling with huge water bags under my eyes. I had blotches and hives only over the neck and face where I used it. I went to hospital next morning, got hydrocortisone cream and now have to get an emergency dermatologist appt. I'm suppose to be going on vacation in 5 days and feel like crying. I look like a monster. Even if the eye and facial swelling goes down it'll be a long while for the burned skin to heal. It's like a chemical burn. I don't know if my skin will ever recover. Never buy Neutrogena. If only I'd looked at reviews it would have been plain and obvious this stuff is not consumer worthy.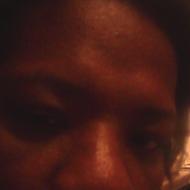 I purchased Neutrogena foaming cleaner and it broke my face out. I have had burning and itching on my face. My face peeled and it was a horrible experience. I no longer use the product but my face feels horrible. I have never in my adult life had such horrible skin and on my face! This really angers me and is very upsetting why is this still in the stores. I wish I could give no stars... One star is too many.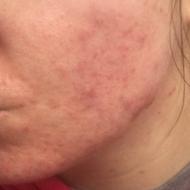 DONT USE Neutrogena face wash!!! Holy heck!!! Yesterday I woke up with this horrible, red, sandpaper like rash. Like Little, tiny bumps all over my face and neck!!! Incredibly painful. No makeup on the planet could cover it! Ok, ok example: take your face and stick it in acid and pull it out. Wallah!!! You have the fresh face melt look!!! I had no idea what it was. So me being the Researcher I am... or am obviously not, took symptoms to google... first thing that popped up was 367 complaints on Neutrogena face wash from chemical burns!!! WTH!! I told my husband, "you know I'm sick of spending a fortune on facial cleanser. I'm going to buy the inexpensive stuff. It has great reviews. I bet it will work fine!!?"
Rant, rant, rant!!! I'm never buying the cheap stuff again and I will be leaving reviews everywhere I can to save the next poor soul from this incredibly painful experience. I can literally say I'm melting??? I couldn't find these bad reviews until I typed in the issues. Great reviews were coming up when typing in the product. That's ridiculous. People need to know the severity of using these cleansers. I'm literally stuck at home with my face burning, itching and flaking off.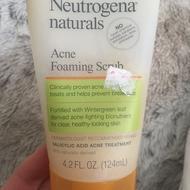 I decided to try this scrub that I found at the drugstore and since I have sensitive skin I figured this scrub would be good because it's "natural". It says it has no harsh chemicals or anything like that. I started using it about 2 days ago and I realized today when I was washing it, my face seemed like it was burning a little bit so I didn't think anything of it. I thought maybe it was just burning a little because it's cleaning? I don't know. Now I come to realize my face is worse now, burning SO BAD it feels and looks like a sunburn. My face is swollen and I can't touch it at all. It feels horrible. I can't even apply makeup because it feels so tender. I applied apple cider vinegar because it helps sunburns and I figured it would also help this burn. And then I applied Coconut oil. It feels much better now but after seeing all these reviews I hope I don't wake up tomorrow with my eyes shut! I will never buy their products again!!!

Neutrogena makeup liquid - Well I bought this product thinking it would be great. Much to my surprise it was horrible. It will not spread evenly on my face at all. It made my face blotchy. Makeup here and there. I tried everything a sponge, my finger, and even the dry pad. Then I'm thinking maybe a soft tissue nothing work. One day I was getting in the car driving with a friend. She said to me, "What's wrong with your face. It's all blotchy." I looked in the mirror. Oh my God. I had to get a tissue out of my bag to get it off my face. It was a mess. At one point it had got on my sink. I couldn't get it off my sink. It's spread. I had to use bleach and go over them few times.

I chose to buy Neutrogena's oil free grapefruit facial cleanser and facial cream because I have occasional adult acne flare ups. Neutrogena products have good reviews online so that was the deciding factor in my purchases. However, after 3 wks of believing I am having an allergic reaction to either some food or environmental factor I stumbled upon these Consumer Affairs reviews. I am shocked to see so many reviews from people who have used these same products and describe the exact same symptoms that I am experiencing. I am wondering if Neutrogena will refund the money I spent?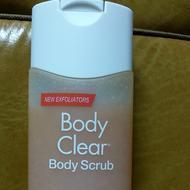 After recently buying Neutrogena Body Clear Body Scrub I started feeling very itchy after only 2 uses. After day 3 my itchy skin turned into a rash all over my body. This product states it prevents breakouts but that couldn't be any further than the truth! I've used their products in the past but never had this type of reaction. I ruled everything else out, since this was the only new product I started using in quite a while. Obviously it doesn't affect everyone this way but I would recommend trying a small section on your body before using this product on your entire body. I'm glad however that I didn't use it in my face.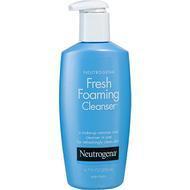 I'm very angry. When you buy a product that is hypoallergenic, is for that reason. The allergic reaction was redness all over my face, burning, itchiness, swollen cheeks and the eyelids, that was the worse. I can barely open my eyes from the swollen eyelids. This is not hypoallergenic and reading all the horror histories I doubt this is dermatological tested. People use this on their faces Neutrogena! The most delicate skin in the body. I no longer trust you or your dermatologists.

My face looks exactly like Julia from Durham, NH's. I used Neutrogena Deep Clean facial cleanser a few days after Christmas and within days both eyes were puffy and water blisters appeared on my cheeks and now my face is raw, red and flaking. I had to go to my PCP and she provided me with a prescription for **. How is it these products are still on the market and that there isn't a class action lawsuit with all of these people experiencing the same results?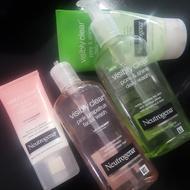 I had the most awful, terrible experience with Neutrogena visibly clear Pore and shine daily scrub, the Pink grapefruit oil free moisturizer and the facial wash. I bought these products a month ago from a local store... and I regret it. My entire life I have never had any skin problems up until I started using these garbage products. I noticed a week after using the scrub and the pink grapefruit facial wash, my skin suddenly became flaky and dry. I then bought the Pink grapefruit moisturizer, it actually made it worse. I have black bumps all over the sides of my face and on the chin too. It's not going away. Neutrogena products should just be removed from the market. Considering my personal experience and other reviews I saw here, I will just throw all this poisonous stuff into the bin. Otherwise handing it down to someone would be tantamount to witchcraft on the highest level.

I've used this product Pore cleansing scrub before and loved it but recently I tried it again. When I first put it on, my skin burned and I rinsed it off. My skin is covered in red bumps but it's starting to get worse after I used ** cream. That made my skin worse and so I put cold water on it and it started to go down. Thanks Neutrogena...appreciate that allergic reaction.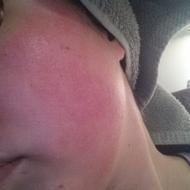 I don't have acne, but I do have tiny little bumps, so I thought I'd give Neutrogena's Oil-Free (this is why...) Pink Grapefruit Scrub. Within minutes after washing it off of my face I began to feel burning, my cheeks felt hot to the touch. I got into the shower, and after getting out I looked in the mirror to see every area I used it on bright red and swollen and then began to feel like I was being stabbed by tiny little needles all over my face. The pain is terrible. It wasn't until after trying to find out why it was happening that I found so many reviews similar to my experience on this product. I don't understand how this is still on the market! I wish I had looked it up prior to using it! But Neutrogena boasts about its dermatologist recommended garbage that I thought I could trust it. I don't think I'll ever try another product from them again after this. I fear for my skin.

Christmas order made almost 4 weeks before Christmas. It never came. When I called Customer Service (twice) received HORRIBLE customer service. No explanation except possibly a "glitch" in the system and "It could have been anything." No effort to rectify the situation... just extremely snarky attitudes. I've used these products for years and years. NO MORE!!! I'm telling all of my friends and relatives, too.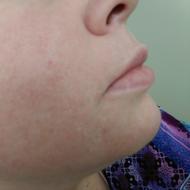 I have never had any problems with Neutrogena products until now. I recently purchased this face wash and after using it this morning my face started peeling... burning... itching... flaking... My cheeks are red and swollen, my eyes are burning and beginning to swell. I really wish I would have checked the reviews on this product before buying it because my face is literally in hell right now. I honestly thought it was my makeup or something I had touched at work but after doing some research I quickly discovered the culprit. Please please PLEASE test this Cleanser before you use it just in case you have a reaction as well. This is horrible and I'm disappointed in Neutrogena for the first time in years. Why are they still selling this product when there are so many people having the same reaction? You have broken my trust in your products. Congrats.

I bought the product Neutrogena oil-free acne wash on Sunday and used it because my sister had HIGHLY praised it so I decided to give it a try. The first night was fine. On Monday it was great too. Tuesday I noticed my skin getting bright red, and itchy. I didn't itch it of course, and didn't know the cause, so I put moisturizer on. Moisturizer did not cure the dryness. I should've read reviews before purchasing the product. Now I have been having to go to school with somewhat of a burn all over my face. It is almost like a sunburn, but I never went in the sun. My face feels tight, itchy, and uncomfortable, and I absolutely hate it. I don't know how to make it go away.

I am BEYOND pissed about my recent experience with Neutrogena's rain bath body wash. I have been using neutrogena for years so I'm confused as to what the problem is with this product. I have chemical burn all over my face which on day one and two burned so bad that I cried. By day 3 and 4 my skin was bumpy, red, sore, dry and peeling. Day 5 the peeling along with bumps spread. By day 6 my face is a mess and now itches and burns. It's so bad that I am going to see a dermatologist then a lawyer!

ConsumerAffairs Research Team
The ConsumerAffairs Research Team believes everyone deserves to make smart decisions. We aim to provide readers with the most up-to-date information available about today's consumer products and services.
Founded in 1930 as the cosmetics company Natone, Neutrogena is today part of the Johnson & Johnson Conglomerate, which bought the independent company Neutrogena in 1994. The company is known for being dermatologist recommended, and their product line includes skin care, cosmetics and sun care.
Great for acne-prone skin: Neutrogena is best known for solving acne problems for men and women. They have moisturizers, cleansers, kits and cosmetics for facial and body acne.
Widely available: Consumers can buy Neutrogena products online or in most major drugstores and pharmacies. Price conscious consumers can enjoy an extra discount and coupons when they sign up for Neutrogena's email newsletter.
Anti-aging: Women who are concerned with the appearance of their skin as they age can shop for a wide range of anti-aging products on Neutrogena's website. Choose the product that works best for your anti-aging concern, whether it's wrinkles, defense, pore refining, toning or microdermabrasion.
Free shipping and returns: Consumers can enjoy free shipping on all Neutrogena orders placed directly from the company's website that are $25 or more. Enjoy a full refund (minus shipping costs) for items returned within 30 days of the shipping date.
Active Facebook community: Neutrogena's Facebook page is very active, and the company posts information about skin-related topics, such as skin cancer and acne. They respond publicly and privately to consumer questions and complaints.
Best for Neutrogena is best for women with acne and women seeking anti-aging skincare and cosmetic products.
Neutrogena Company Profile
Company Name:

Neutrogena

Website:

http://www.neutrogena.com/home.do