Consumer Complaints and Reviews

Neutrogena Pink Grapefruit Acne wash - my 14 yr old daughter starting using this item. 3rd day she woke up in extreme pain. She had suffered what appeared to be a chemical burn. It took a week and actually spread over her cheeks. The images are the day I called the company before it had spread. It peeled and everything like a sunburn except we didn't go on vacation. Someone is more than welcomed to contact me. This is an obvious problem that is more than an allergic reaction. I will be forwarding to the state AG office. They sent us a $1 off and $3 dollar off coupon for the trouble with a refund check for the product of $9.

I purchased this product (NEUTROGENA Oil Free Acne Wash) earlier this past week. I used it on Thanksgiving and later that night and Friday morning my face was red and itchy and had bumps on it. I didn't even think about using the product. Then Friday night I took a shower from my face being so itchy. I used the product again and it made my face even worse. I will never recommend this product to any nor ever use it again. I will definitely read reviews from now on before I try something.

I purchased this face wash on Friday and used it that night. I used it again Saturday and Sunday. Sunday night I started seeing some bumps all over my face. My face is dry, tight and itchy. I wish I would of read the reviews before purchasing this product. Neutrogena should be ashamed of themselves as a big company. There are several and if not maybe a hundred or so bad complaints about this product. Everyone is complaining about the same problem. So why is this product still on the market? Stay away from this. Its garbage!!! And will have your skin looking Worst THAN BEFORE USING THIS PRODUCT!!

I first used Neutrogena oil-free acne wash yesterday, Friday Nov. 11, 2016 at around 6pm and it's Saturday Nov 12, 2016 10pm and my face is dry!! It burns so bad and it's really red! My face looks like it's breaking out worse than it was before I used it and it's really noticeable! I read the low star comments of people's experience and now I'm scared because I don't want my face to look even worse tomorrow and the day after because I go to school!!! My neck also feels really dry and I never used Neutrogena on my neck! I just want to crawl up in a corner and cry. :(

In 39 yrs, I have never had acne or skin blemishes in my face and I do not wear make up. Recently I noticed I have pimples under my eyes and a friend recommended that I use this face scrub. It was the worst decision of my life. I used this product for a week and under my eyes and cheek areas on both sides of my face are full of painful, large pimples for almost a month. There are also several large dark spots. I am afraid to put anything on my face but water. My husband says I look sick and can't believe my beautiful dark skin looks so bad now. Well for the past week I have been wearing cover up on my face just to go to work and not be stared at and that barely works.
How do I know I can trust these reviews about Neutrogena?
633,474 reviews on ConsumerAffairs are verified.
We require contact information to ensure our reviewers are real.
We use intelligent software that helps us maintain the integrity of reviews.
Our moderators read all reviews to verify quality and helpfulness.
For more information about reviews on ConsumerAffairs.com please visit our FAQ.

I used this facial cleanser for two nights before going to bed. After the first night, my acne seemed to be gone but in its place I had some itchy redness and my skin felt strangely dry. Nevertheless, encouraged by the acne's disappearance, I applied the cleanser again the next night. BIG mistake. My whole face looks as though it is badly sunburnt and my skin feels scaly like nothing I have ever experienced before. Sure, the original acne is gone, but now I have tiny red bumps all over my face.
Nothing I have tried using to soothe the skin has worked so far, and it feels like the worst kind of sunburn - actually very painful. After reading these reviews, I think I am going to try aloe vera. However, it is incredible to me that such a well-known company like Neutrogena is apparently selling *multiple* products which cause people to have unsightly and painful reactions like mine and the reactions others have described. I will never again use a Neutrogena product and don't recommend that others do, either.

Decided to try a new face wash and chose Neutrogena for a change, which I will regret for a long time. I woke up with a patchy, red, swollen eye... followed by the rest of my face being covered in tiny itchy bumps. The texture of my skin is scaly, like chapped lips. My eyes burn every time I blink. Horrifying! I even don't feel well physically... lethargic, sleepy. This is only the first day, and I pray it doesn't get worse. I'm also horrified now finding so many reviews like mine across this site and the Web. This needs to stop! This is unacceptable! Neutrogena needs to take ownership of the damage they are causing to so many consumers! Stay away from this brand!

I buy the Ultra Gentle Face Cleanser and I love it. Been using it for about 1 year. I went to buy the pore refining toner and the face cream with spf in it. I used these products for my daily face routine so I used it 3 times. This is not including the cleanser because like I said it works well for my face. I woke up this morning and my face was red, itchy, burning. Little white and red dry pimples all over my forehead and a patches all over my face. These products hurt my skin and I can't seem to make it go away. I tried everything - is rinsing my face with cold water, aloe Vera, calamine lotion and it's still there. It feels like a dry sunburn. I'm frustrated and my face looks like crap. I'm going to get my money back and hopefully my skin heals fast. :( Very sad. Please the people from this company take the time to read and RECALL these products. They are not safe.

Neutrogena Oil-Free Acne Wash Scrub, Pink Grapefruit - Bought this to try to clear up a breakout before a big event in a couple weeks. Used before going to bed 3 nights ago. Woke up with one eye completely swollen shut and the rest of my face was so swollen I was hardly recognizable. Have taken ** and that has not yet touched it. Dr. is prescribing **. I'm hoping the swelling and redness go down soon. I look like I've been beaten. My poor BF is getting glares when we go out.

I had the worst experience with a facial cleanser ever. I used Neutrogena deep clean facial cleanser. My face turned red immediately. It looked like a sunburn and looked haggard. My skin is on fire. It itches and it hurts. Today is the 3rd and my face still feels the same. I returned the product to the store I purchased it from. But the damage is done to my skin. Note to self: stay away from Neutrogena. I will not take a change again.

About two weeks ago I decided to try Neutrogena Pore Refining toner & their "healthy skin" face lotion. When I first put it on it stung a little but I didn't pay much mind to it thinking that's how the toner worked. After the toner I put on the face lotion because it had spf & I was going out. At first it was fine but then throughout the day I started noticing tiny bumps on my face. When I got home & washed my face & I looked in in the mirror I was horrified! My face was swollen, red & had a ton of tiny, white, zit looking bumps.
I tried some home remedies but nothing helped. I went to the dermatologist which told me it was an allergic reaction. He gave me some hydrocortisone cream to see if it will help - it didn't. It caused me to break out more. A few days later my skin started getting extremely dry & scaly. I couldn't wear makeup or put anything on my face. Everything stung!!! It was so painful & extremely itchy! I have been miserable to say the least. Here I am 10 days later & STILL have this terrible allergy. Seems like I'm not the only one who's had this kind of reaction. These products should be banned!!! Neutrogena is by far the worst product line in the market.

I too have experienced a major Breakout from Neutrogena Grapefruit acne wash. I'm currently treating my skin with natural home remedies to get my skin back to its normal state. Never will I ever recommend anything by Neutrogena. This company should definitely be sued for false advertisement.

I tried the grapefruit Neutrogena face wash a while ago and ended up with what I guess is an allergic reaction but really it felt like a chemical burn on my face. My face turned red and puffy and anything I put on to soothe... stung. Eventually it did subside and flake like sunburn. Fast forward about a year later, I forget about the experience and while staying at a friend's house, I used the green Neutrogena face wash they had. Ended up with the same chemical burn like with the grapefruit wash. Same burning sensation, same red puffiness and now the same dry flaking of skin like sunburn.

With the urging of her big sister (15), my 11 year old decided to try the acne wash with her. The 15 year old ended up with dry skin from it and the 11 year old broke out in a terrible rash after the 3rd use with patchy burn spots everywhere. Water makes it worse. Seemed better this morning but got worse again through the day. Allergy meds and hydrocortisone aren't working. Rodan + Fields Soothe gave the greatest relief so we will stick to that. Hoping we don't have to take her to the dermatologist! Ridiculous! How can so many people be having these reactions and it still be on the shelf?

My daughter used the Pink Grapefruit Foaming scrub 1 time. The next morning she woke up with slight redness. After I picked her up from school she had more profound redness that itched. I gave her Benadryl when we got home and she soon went to sleep. The next morning she woke up with full blown hives on her forehead, hairline, below the right eye and above her lip, swelling in her T-Zone, a low grade fever and flaking around the hives. Needless to say this product did not work for her.

I hate companies that test on animals. I buy my makeup from The Body Shop and whatever else I need as I then know for a fact that it is all 100% animal cruelty and tested free. However, in a gift bag I was given I had a free sample pack of wipes and I decided that since I hadn't gotten around to picking up some more makeup remover from The Body Shop I would use these as a one off but I will NEVER, EVER use that brand again no matter what it is.
The animal testing I loathe anyway but I don't have sensitive skin yet these wipes left my face feeling terrible. It felt like some sort of chemical was tipped on my face and left it all sore and tingling from the wipes for a good half hour or so afterwards. It is a good thing I didn't buy these as they just purchased me off any and all items from this company. I'm one product alone and if I could of voted no stars I would of given it.

Neutrogena facial cleansing towelettes - After using this product, I woke up to swollen, itchy eyes. By next day much more swollen. Had to take ** and stay home. WHAT IS WRONG WITH THEIR PRODUCTS LATELY?

Bought a bottle of Neutrogena CC Cream for the first time. A few days after using it, I got a stye in one eye. It was minor. I continued using the cream as sometimes before this product I got a stye now and then (maybe once a year). A week later, I got a major stye in the opposite eye that swelled my eye shut! Very painful on the upper lid. I stopped using all make up for a week while it healed, including the CC Cream. After the 2nd stye healed I used the CC Cream again, and a few days later, another stye on my bottom lid this time! I have never had consecutive styes at all. I didn't rub the full cream around my eyes, only what was left after rubbing it on the rest of my face. No more CC Cream from Neutrogena for me.

I used Neutrogena for 2 nights on my face. The 3rd day my face looks like I have been chemically burnt. My face is killing me. Something is going on with their products. They better find it fast because I'm about to file a lawsuit. I am in misery.

I used the cleanser 2 times before my face broke out in large red, itchy hives that lasted for 5 days. They are still present after one week although now my face is dry and scaly. Will never purchase again.

I was in the sun by a pool for 30 minutes so I decided to put some Neutrogena UltraSheer Liquid SPF 70 on to keep my feet from burning... We were there at the pool for 1 hour more... 2 days later I started to see a bubble on one foot. It grew all day then another bubble... In 2 days one of them was 3 inches x 2 inches about 1/2" thick. It's been 18 days and the new skin has grown back but one foot still looks bruised and my toes has scaly old skin still.

I started using the orange pump facial wash and after the 4th day of using the product my face was burnt to say the least. My eyes were swollen and my face broke out in small red bumps that itched bad! I contacted the company to find out that they will only return my money for the bottle that I purchased. They should have warnings on the bottle itself. I will never purchase another one of their products!!!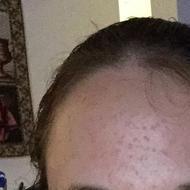 I used Neutrogena face wipes for 2 days and I broke out in a huge red rash of small painful white pimple like things all over my face. I had no idea what was going on and left work today to go to the doctors and got prescribed ** medication because it's an allergic reaction. And after I realize the only thing it could possibly be and read the reviews on here with photos it's the EXACT same thing. It's so painful not to mention $100 on a doctor visit and medication... What the hell is going on with all their reviews and why can they still sell this product. I never write reviews but I made an account just for this. It's just disgusting!

I purchased Neutrogena's pink grapefruit foaming scrub and used it for 2 days, on the 3rd day I woke up with extremely dry, red, and itchy face and neck. As the day has gone on my face feels even worse. It feels so tight and I have broken out into these little white looking zits on my chin and upper lip. I have never had a reaction like this to any product! After reading other reviews that I am not the only one experiencing these issues, this product needs to be taken off the shelf, it's a nightmare!!

I started using Neutrogena day and night cream about 5 days ago. Was tingling, but I thought it was just working. Every time I used it, it got worse. I quit using on the 5th day because my face broke in red welts and seriously stinging.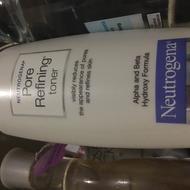 I've been using the pore refining toner of Neutrogena for quite some time now and I must say, it works well on my skin. It is gentle - doesn't irritate my skin and it leaves my skin feeling fresh and not dry. I've tried different products before but most of them gave me redness or breakouts. The only thing is this kind is not available in Manila. I get my supply from Amazon in the US and let my relatives bring it to me when they visit here. I hope it becomes available here soon.

I have used Neutrogena facial bar a few years back, and I miss using it now. It's not a local brand, so it's a hard-to-find item, at least to where I usually shop. What I liked about it is how I walk out of the shower smelling good and feeling clean after using it, but the best thing is how it feels good on my skin. I'll buy one if I see one. :)

I had a horrible reaction after using Neutrogena's Grapefruit face wash. I woke up the next morning with a swollen face, VERY eyes swollen, the skin around my eyes felt like it was on fire and turned dark red and flaky. The rest of my face was covered in a bad rash (I've never seen anything like it... I DID take pictures, but I'm not ready to make them public since they look so bad). I ended up going to my regular doctor, then a dermatologist AND then an eye doctor. The whole ordeal cost me hundreds of dollars, a ton of my time, and it took weeks to clear up. It was so bad that I didn't want to leave my house. Please do NOT buy this product. And, important - if you experienced a similar reaction, write a post. People need to know! Also - be sure to take a photo... even if you never share it with anyone. I suspect a Class Action will happen at some point. And, if so, add me to the list!

Neutrogena Oil-Free Acne Wash Redness Soothing Facial Cleanser, has given me a severe itchy red rash on my face, neck and chest and puffy eyes. This stuff should be taken off the market. Redness soothing, more like redness making. I am in pain from scratching like mad, not getting much sleep from scratching. Please people do not buy this. How many complaints does it take.

A cousin gave me a bottle of Neutrogena Oil-Free Acne Wash saying I should try it and that it was better than the local product I'm using. I tried it for a few days and my skin became extremely dry and rubbery. Maybe it doesn't work well with Asian skin or our tropical weather. But I won't be using it again.
Neutrogena Company Profile
Company Name:

Neutrogena

Website:

http://www.neutrogena.com/home.do