Nad's Hair Removal
N. Hollywood, CA
Consumer Complaints and Reviews

I do not recommend buying any of these products. I bought, and returned a hair removal kit. I NEVER GOT MY REFUND!!! They said they never received the product. Of course I had my return address on it, even sent it certified. Never trust this site, or the postal service. Granted, this was quite a while ago, but it left a bad taste in my mouth. I'LL NEVER SHOP HERE AGAIN!

Let me start with the eyebrow pen. It is a decent product. That is not why I decided to write this. It is why I had decided to try the ready to use strips, which led to me writing this. I decided to use it on the sides of my face, my side burn area. It was very good at grabbing all the hair, however it gave me instant angry welts. These welts doubled in the hour to angry ant-like stinging. They were painfully itchy and a few hours later my face was still the same red. Calming creams did not work. The next day the welts were still there, itchy and such. By the end of the week, scabs and scaling, flaky skin was the newest development. It was not a flattering look. I will not use the ready to use strips again.

Unfortunately, I jumped on the Nad's bandwagon when it first came out. I ordered two jars - one was dried up and crystallized (how could this occur if jar was sealed) and the other appeared as described. Except it did not remove hair, no matter how hard I tried. I called customer service and was told I would get a refund. Instead I was charged again. Another phone call - another promise of refund. Two months later I was still double charged without usable or effective product. And the phone number now did not even receive calls; just rang. I did try to register a complaint, however, the product was so new I must have been in the minority. I'm glad to see something is finally being done.

I've been using Nad's for 10 years now. I have very sensitive skin just as an FYI. I had no problems and it even stopped some areas from my legs hairs from growing. My arm/legs hair are thinner in the areas I used to wax. I can go for 6 months without waxing and you wouldn't be able to tell. I am satisfied with this product.

It hurt horribly when I pulled the strips off. Left a rash of sores on my upper lip that hurt for hours. The sores have not healed yet and it's been a few weeks now. Terrible product. They should not be allowed to sell it. Hope my skin heals and does not leave scars.
How do I know I can trust these reviews about Nad's Hair Removal?
698,549 reviews on ConsumerAffairs are verified.
We require contact information to ensure our reviewers are real.
We use intelligent software that helps us maintain the integrity of reviews.
Our moderators read all reviews to verify quality and helpfulness.
For more information about reviews on ConsumerAffairs.com please visit our FAQ.

Just tried it. Followed directions to the T. It didn't do a thing. At the price they are asking for it I expected it to work, so don't waste your money. You might as well use a razor.

10 years ago I used Nad's waxing for my upper lip. It ripped my skin off and left wounds that scabbed and was very hard to conceal. Ten years later I still have scars on my upper lip which causes me a great deal of pain and suffering when leaving the house. I wake up depressed and I dread going anywhere in public now. I have tried everything to cover the scars, I have tried everything to remove the scars. I am angry and upset and very, very depressed. I wish I never tried Nad's. I do not recommend it to anyone.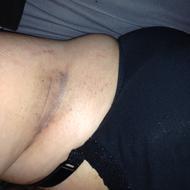 I tried using the body hair wax strips a little over a month ago. I followed the directions to a "T" & not a single hair was removed by the wax strip. I wiped my underarm down with the wipes in the box, decided to shave instead & went about my day. The area was red/irritated, but I thought it would go away quickly. Now, over a month later, my underarm still has a blotchy scar (was red but now turning purple) similar to a chemical burn & still feels a bit raw sometimes. I chose Nad's over other brands because I felt that beeswax would be natural & the safest option, but apparently the box is misleading.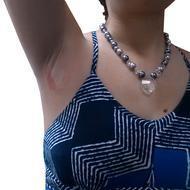 I tried these three days ago on my underarms. I followed all of the directions for using the wax. I even went on YouTube to view the detailed instructions for underarm waxing. It seemed simple enough. My hair was 3/8". Before I knew it, I was more than halfway through the box and my underarms were getting increasingly irritated and still hairy. In the end I had my sibling pluck the hairs one by one with tweezers. I used the calming wipes, with no relief.
I immediately cleaned the area and applied Neosporin generously because my underarms were bright red and raw. I have been applying the Neosporin every 3-4 hours and it has been three days. My condition has not improved. I can't wear anything that isn't sleeveless, for fear of the pain that will result in actually touching my underarms. I will try aloe later tonight after work. I am very disappointed and distressed. If not for the raw underarms, but the fact that the strips did not actually remove the unwanted hair.

I want everyone to be informed that these strips are very dangerous. I went to go use these strips that is stated on the box hypoallergenic but apparently that is false advertising. As I used the waxing strips and let me remind you I wax my lip every 3 weeks and never experienced this. When I went to use this product my upper lip started burning and was bright red. About 20 minutes later my upper lip broke out in blisters. Not only did this product burn my whole upper lip but left me with a huge scar. Now months later this scar has not gone away. The product burnt me, ripped off skin, and now I am left with a scar that I have to cover up for the rest of my life.
I used vitamin E capsules, aquaphor, anything to try to reduce the pain and burn. My dermatologist had to give me a prescription but that still did not help and he advised me that how is this product hypoallergenic if it contains sunflower oil and beeswax? This product should be banned and off the shelves. After using this product I researched how many other people went through the same thing I did and how the consumer should be aware of this product 100%. All customers should be aware and this product needs to be banned. My face is everything to me and now I am left with a scar forever.

I tried using Nad's for my underarms and immediately after using it, my my skin started to burn and get red. I looked at the strip and there was ripped skin left on there. It also left a big glob of the wax under my arms and when I tried to wipe it off, it wouldn't come off and it hurt when I tried. So I read the box and it said use baby oil to remove any excess wax. Since I was out of baby oil, I decided to be smart for a sec and said, "it must be oil based". So I tried using olive oil to get it off and it worked. The problem was, my under arm was still hurting and I didn't have time to go pick up any antibiotics because I was going to a very fancy event and I could not be late. So what I did was wash my underarms with soap and water then put an ice pack under it for a while. Then I put some hazels on my underarms to help heal it. I will NEVER EVER use Nad's again and II would NOT recommend it to anybody!

I used Nad's about 10 year ago. After using it for a few years, my shins developed red spots that would come and go. When I finally went to a dermatologist, they did a biopsy to rule out skin cancer. I was told the biopsy indicated my hair follicles had a fungus and this is what causes the red spots. They prescribed all sorts of creams and ointments, none of which helped. They finally gave me some samples of a steroid that did help some. They gave me no indication that this can be cured; more like it is something you have to manage.
I found heat makes it worse. The sun makes it much worse. Summertime is hard because I like to wear shorts but my legs don't look so nice with the spots. My husband and my kids say they don't notice it, but I have had people ask "what is wrong with your legs?" so I know it is noticeable. The cold in winter is better for it. I keep my legs moisturized with petroleum jelly. The dermatologist said keeping them moist is important. I think it is sad that so many people have had such a bad experience with a product. I never thought using something like this could cause a permanent condition.
I am very upset that I did this to myself. I thought it would be great to not have to shave again. Their ads made it look so easy to use. I hope people read this and think twice before using this product and ruining their skin.

I have been waxing my upper lip for around 16 years now with multiple brands and types of wax and have never, ever had a problem. I ran out of my usual wax strips and bought Nad's Facial Wax Strips from Target. I followed the instructions. They aren't difficult, and was shocked by what happened. When I did the first side, I noticed my skin was immediately bright pink and had clean lines from where the wax strip sat on my face. I thought that was odd but went ahead and did the other side, too. That's when I saw a tiny piece of my skin hanging from the strip after I ripped it off! My skin was not pink from the usual irritation; my skin was pink because the top layer had been ripped off completely.
I immediately coated it in antibiotic ointment and had to go into work the next day and explain to my co-workers what happened. It was so embarrassing! By the end of the next day, I saw no improvement and had to go to my doctor to get an Rx for Silvadene burn cream to help it heal and perhaps prevent scarring (having to pay my doctor co-pay plus the Rx cost). I now have a giant scab running the entire course of my upper lip from corner to corner. I am so upset that this has happened and I fear my face is permanently mangled.
If you are considering these strips, even if you are a veteran waxer as I am, please do not use these.

I discovered Nad's at a Walgreens type store in NYC while on vacation. I love it! Seriously, folks, when you use this and you rip out your hair, you will get some irritation. I always take a shower immediately after and I have put a sheer layer of antibiotic cream on for a couple of times. I have also used the Nad's small dispenser for my younger daughter's eyebrows. It's much easier than the wretched salon experiences we have had! I have been using it for almost five years and only have to wax once every 6-8 weeks.

I have used the Sally Hansen wax strips with no problem. The only thing that would happen was it would be a little red and tender for a day. Nad's wax strips is a horrible product that had very bad side effects. The wax strip worked great, except the following day, I had grown itchy bumps. At the beginning they were the same color as your skin, and you couldn't see them, only feel them. It got worse. After 3 days, the spot got swollen, red, and extremely itchy. It was under my chin and neck area. I started having trouble breathing. It felt like someone was sitting on my chest. I went to the ER, since it was a Sunday. They gave me a topical steroid cream and steroid pills.
After 5 days, it was almost cleared up. I took my prednisone every day, and was so thankful it was gone. Then 3 days later, I had another flare up. This time it was red in the circle surrounding the irritated part a week earlier. It was a Sunday again. The pain was worse than before, and to make it worse, I was at a wedding. I left the ceremony and went to the hospital again. I needed to take more prednisone, only with a higher dose, and kept putting the topical steroid on it. To make it short, I ended up gaining 15 pounds in less than 3 weeks, due to the steroid. Thanks a lot, Nad's! I will never buy another product, and will tell others about my experience.

It did not remove hair and left me with burns on my face. I used it as directed and there are bumps where I used the product. I have used professional waxing at a salon, electrolysis and cream hair removal and never had this ever happened, and worst of all it removed no hair at all. I have been treated with steroid products to relieve the burn and cannot wear makeup for weeks.

About three weeks ago, I purchased Nad's hypoallergenic fragrance-free facial wax strips from a Walmart Store in North Fort Myers, FL.
I had a few hair on my face below my eyes. Immediately after using this product, my face would not stop burning. I used the product that came with Nad's to wash my face off and I also tried soap and water but it did not stop the burning. The next day when I woke up, I looked awful. I had huge red marks below both my eyes. It looked like I got beat up bad.
I talked with a doctor who recommended that I use cortaid on it and aloe gel. I have been using these products as well as Neosporin and Vitamin E oil on them for over three weeks now. It is finally starting to clear up a little but still looks awful on my face. The marks that were left by Nad's are black. I am half Spanish and half white but these black marks are so dark that they stand out on me like a sore thumb. I pray to God this goes away.
I hope I do not have permanent scarring for the rest of my life. To think that this product did this that quick, is crazy. I hope I do not have permanent scarring for the rest of my life. To think that this product did this that quick, is crazy. Do not use Nad's that comes in a green and white box. It is really dangerous and could hurt you bad, like it did me.

I have used the Nads Body Hair Removal Strips in the past with no problem. But today, when I tried to wax my legs with them, all the strips did was deposit gobs of wax on my legs which I almost couldn't get off. Strip after strip did the same thing, until I finally gave up and threw the remainder of the box away. When I finally did get all the wax gobs off my legs, I was left with ugly bruising --four days before I go to the beach. Great.

Do not use this product! I followed the directions exactly. It is simple to use and appeared to work for me. Two weeks later, I started feeling bumps under my skin, and the hair was growing back, but this stuff pulls your hair follicle out! The doctor told me 2 weeks later (a month after using it) that I had folicularitis. The hair follicle is trying to grow back in, the hair does not grow in straight but did sideways and erupted into about 150 hard bumps that hurt badly! When they do finally erupt, that damaged hair follicle comes out, and ends up leaving your skin with pea-sized places without any skin pigment whatsoever. I have white circles all over the place that look like a disease!
The doctor says only Lazor treatment may help, and that is only a maybe. It could be a permanent thing! Well, 10 years later, it is a permanent thing and looks horrible!

I have used Nad's hair removal strips for a while, but I am starting to question their safety and effectiveness. On a few occasions now, the Nad's strips have ripped my skin off during use, leaving it raw, tender and eventually scabbed over for days. I also often feel burning after using the product.

Green Nads don't work. Target stores, CVS, and others are being pushed to sell the Green Nads but it don't work. Red does, but the stores are not being offered, and are selling the material that just leaves you sticky and pulls no hair out. It left a sticky mess which is hard to clean and it did not take the hair away as promised.

I bought Nads last week to use on my arms. After I used it, the day after my skin started hurting. It hurt so bad I couldn't put my shirt on. It swells and felt hard as a rock and looks like alligator skin. It still looks the same today and that happened on September 25, 2009.

I bought Nad's Hair Removal System for the first (and last) time without worries because they said there was a money back guarantee. The product didn't do what it said it would. I used it only once and sent it back. I'm sure it was sent back correctly because I called to make certain I included everything. I never got my money back. I called several times but they said they didn't receive it. Also, my return address was on the package. This was a long time ago, and I'm sure I lost the money ($80). But of course, I'd like someone to know about this company. Thank you for your time.

I love Nads, I have been using it for years and it is wonderful. At first you have to be patient but then it is so easy and my hair on my face and legs are not as thick as before using Nads. I love this product.

I purchased the Nads 24 facial hair removal strips and they are terrible. I used them above my upper lip and on the sides of my face. They left me with what looked to be burns above my lip that have sinced scabbed over and peeled. As well as an awful breakout of acne on the sides of my face. You would think I was using hot wax instead of a room temperature facial strip. Their company should be shut down for creating and selling products that strip off skin.

Nads, that I bought- gel is as hard rock, I just know how to melt, so I can use.

I purchased Nads Hair Removal Product from the local drug store. I assumed it to be wax strips since it does not indicate it to be a chemical; I read the directions carefully. The product did not remove any hair from my face and it said to re use the strips until they do not work. I use it on my chin, upper lip and under my chin. I had to apply it several times to the same area to see any hair removed. My face was very red and hot. I figured it would take a little time to calm down.
In one hour my face was on fire and it was raw! It was swelling and irritated and so hot. By the end of the evening my face was disfigured and the skin was thick and welted and it felt like aligator skin. I went to the urgent care in the morning. I look like a monster!!! The doctor told me I had a very bad chemical burn, I was perscribed burn cream for 3rd degree burn patients, antibiotics, and ibprophen. It has been 4 days, I am in lots of pain, I look like a monster and now my skin in those areas is black. I hace raw skin and the doctor sais he can nbot promise my skin to be the same in those areas ever again.
I am waiting to see what is to happen since this was done to me on monday and this is only thursday. So far it doesn't look like it is going to heal 100%. This is much more than I can imagine from a hair remover. It looks as if i've been burned by battery acid.

The product only works on long hair for eg: men's legs.Also,you have to use so much of it and 1/4 is wasted as it just goes like suger..The product sucks big time.

Just a waste of money for women!


I purchased the Nads Hair Removal Kit at a local Eckerds Drug Store. I read the directions very carefully before I used it. I applied it just as it said on my leg and when I pulled the strip off it was so painful, I nearly cried. Within 5 minutes of taking the strip off it not only did not remove the hair but it caused severe bruising to my leg. My doctor said it basically ruptured the tiny blood vessels in my leg. I have tried to contact the company to complain but have not had any success. I would not recommend this product to anyone!


Do products being maligned get equal time for supporters? I bought Nads at a local store, so I can't refute difficulies in ordering/receiving/billing for the product when ordered online.
Many complaints talk about the product being painful. Well, yes, pulling hair out by its roots is painful. If you believe an ad that tells you it is not, well, I'll leave it at that. Nads is an alternative to heated wax, which is also painful. But the more it is used, the less painful it becomes.
Many complaints claim that it does not remove much hair. I am a veteran waxer, doing it both at home and in salons. Nads gives wax a real run for its money with its effectiveness for removing hair. It is important to follow the instructions. A thin layer means a thin layer and if hair removal is not accomplished, the user should try a thinner layer. Also, if the cloth strip is stroked more than a couple of times, the gel becomes too warm and runny to effectively remove hair. It doesn't take long to get the nuances right. Just a little trial and error.
There is a complaint about pussy sores that required professional medical intervention. I suppose anyone can be allergic to the Nads ingredients. I have fewer red spots for a shorter time than with a wax depilatory.
Nads is the best thing since sliced bread, and I've saved a lot of money by doing more of my own hair removal at home. Waxing at home is difficult and time consuming, so I usually take the convenient and more expensive way of salon waxing. Nads has simplified the home process so much that I always depilitate at home now.
I hope this great product gets a little good press, because there are a lot of women who will miss out on a wonderful thing if they are led to believe that Nads is a substandard product


I save money and get smoother legs/underarms/bikini line.
Nad's Hair Removal Company Profile
Company Name:

Nad's Hair Removal

Website:

http://www.nads.com/