Maybelline Cosmetics
L'Oreal
Consumer Complaints and Reviews

If you're obsessed with makeup videos on YouTube then you are aware of the amount of women on there who advocate and praise this product. Claiming it to be the best concealer they've ever purchased. I decided after many months to finally make my purchase. After my first application I noticed the next morning that my under eye area had a dry red rash like my skin had been burned, as well as some eyelid swelling. I have NEVER had an allergic reaction from drugstore makeup before. So, I thought maybe it was just a fluke and maybe I had gotten too much sun that day.
Well, after my second application a couple months later my eyes swole up again!!! I'm so disappointed in this company and women everywhere need to be notified. I don't consider myself to have sensitive skin because I've NEVER had a problem purchasing drugstore makeup. Maybelline has changed their formula or has done something to their product and has not alerted their consumers. SHAME oN YOU Maybelline. I will never purchase another product from them.

Whatever new formula they are using in the Ultra Liner waterproof eyeliner is definitely causing eyelid problems. I have used Maybelline for over 10 years and have never had a problem. Along with many of the other reviews in reference to this particular reaction, my eyes swell as well a couple hours after applying it. Never using any of their products again.



Bought the Maybelline New York Eye Studio Master Precise liquid eyeliner. I applied it and everything was fine. Wore it through the whole day. At night I started feeling my eyes real heavy. I thought I was just tired. The next morning when I woke up I could not open my eyes. I went to the restroom and noticed my eyes were super swollen and red. Had to go to work like that and now throughout the day my eyes are still a bit swollen and that's that I took an allergy medicine. My eyes feel super itchy. Never again.
How do I know I can trust these reviews about Maybelline?
766,190 reviews on ConsumerAffairs are verified.
We require contact information to ensure our reviewers are real.
We use intelligent software that helps us maintain the integrity of reviews.
Our moderators read all reviews to verify quality and helpfulness.
For more information about reviews on ConsumerAffairs.com please visit our FAQ.

I do like the Mousse foundation. The Maybelline product is widely available. All makeup brands use the same type of model. A young woman to advertise the products. However I am in my mid 40s. Makeup companies need to do more to enhance products for different age groups. Imagine if Maybelline etc. did a category for over 40s with makeup that really targeted the problems of 40 year olds and above. Loss of moisture and elasticity means some of these mousse foundations are not suitable for this skin. Makeup companies need to realize that women are all ages, shapes and colors. Makeup needs to be more personal.

I've used the same brand of Maybelline eyeliner for going on 5 years. However, recently I bought a brand new tub of eyeliner and within 5 minutes of applying my eyes were swelling shut. I had to go to the doctor as a result plus miss work, which I have the doctor's note proving. It is now two weeks later and I'm still on medication waiting for the swelling to be completely gone. I've also been trying to contact the company repeatedly however they keep sending me a number to call which always happens to be conveniently busy or out of service. I am very displeased and am not going to stop until someone acknowledges this. Obviously they either changed their product without alerting the consumer or they are packaging expired/bad products. This is unacceptable and after experiencing what I did I should not be playing cat and mouse with this company.

Li here, I have heard that Maybelline Baby Skin Instant pore eraser is one of the best in the market, so I after a few months from not using any I decided not to go back to the one I used before and bought myself Maybelline Instant pore eraser. Immediately after using it, I noticed that my vision went blurry especially on my left eye. I thought it might be nothing so when I got to work I wiped it off and my left eye was left with a haze. I skipped 3 days, though vision on my left eye had remained blurry. I then tried it again this morning and the same thing happened and I wiped it off immediately and my vision became poorer.

I have never had a problem with drugstore makeup brands but one week ago I started using Maybelline's FIT concealer. After a few days I started noticing bumps all over my face. They became itchy and red and I cannot seem to get rid It. I started doing my research and I have found people have had the same problem as me! I will never use Maybelline again. Awful experience!


I usually do not write reviews of this nature – however, I'm hoping it will help someone else. I purchased Maybelline Master Kajal about six month ago. I used it while on vacation in a developing country. When I suddenly got an eye infection, I thought it was a result of SOMETHING from the country I was visiting. However, two days ago I used the eyeliner again because it went with my outfit and all of a sudden I got a very nasty eye infection again – mirroring what happened when I was on vacation. My eyes became very red and yellowish mucus formed. There was so much mucus the morning after use that my eyes were actually sealed closed. I had to use water to closely open my eyes. Once I got them opened, they were swollen and looked like I have pinkeye. I did a Google search and realized other people were having similar problems. As a result, I decided to share my experience.

So like 5 years ago I started using Define a Brow to fill in my very sparse brows. About a year ago I finally switched to an organic one and wow! What a difference. Now whenever I am forced to use the Maybelline my head hurts so bad, my face feels tingly and my eyes hurt too. So apparently I had just gotten used to it over the years. I never liked using it because of the chemicals and parabens they use. That's why I finally switched to an organic one. I feel like they should switch out their harmful chemicals. My hair hasn't grown back at all. I worry that it's because of all of the chemicals from the Define a Brow. Use organic if you can. I like the Tarte brand personally (amazonian clay). Doesn't give me a headache.

I've never had a reaction to any product before. The instant I put this on, it burned. I immediately took it off with makeup remover. I have red burns under my eyes! I'm so upset. I will never buy anything from Maybelline again.

I have been using Maybelline eyeliner since I was 12 (my mom went to work before I left for school...hehe) and I am 66 now. I have never developed a rash, I have never had any problems with it and I will continue till I meet my mom again in heaven. I just started using 24 hour super stay lipstick and while I agree with most I read here, it no way lasts 24 hour. I really feel they should change the name to 12 hour because that is about it but either that or lower the price 50%. I pay about $10 a shot for a container that doesn't last that long but it beats the frustration of having to apply and reapply others over and over during the day... Better than most I can honest say.

I recently buy the Maybelline 24 hour staying lipstick and used it for the first time and it destroyed my lips. I have cuts and blisters on my lips and it is extremely painful. They're also very swollen so when speaking it is very mumbled now.

I have been using Maybelline Mascara for at least 30 years. Recently I bought a replacement. The shape and size of the brush is different. "Oh well," I thought. I have been using it for two weeks and noticed immediately that my eyes became red and looked like I had pink eye. Very irritating like I had something in my eye. Didn't make the connection at first. Have stopped using the mascara and my eyes are better. I wonder if I have done permanent damage. Will be going to an eye doctor shortly.

I bought this product because I heard so many good reviews about it. I started using this as soon as I purchased it. A couple of days later I started getting itchy around my eye area and around my cheeks. A week passed and I started getting little blotches around my temples. They were very itchy. I just thought it was the sun and me sweating. Until I realized the only new product I was using for my face was the foundation. The foundation gave me a weird reaction. I have never gotten any kind of allergic reaction to any facial product. I know now that I am never using Maybelline's products ever again.

I have been buying Maybelline 24hr stay for 4 years now, wearing it daily. Never had any issues, always got compliments which was awesome... Till recently I have gone to buy my foundation and noticed it's in a new bottle stating new formula :$ not happy. Since I have been buying the new and improved 24 hr stay I find... I am now buying twice the amount I was with the old formula. HATE the pump lid rather than just pouring it out. By the end of the day it's worn off in sections on my face (never had that problem before). I find it extremely hard to blend it as it always looks blotchy and different colored, rubs on to clothes badly....? WHY CHANGE SOMETHING FANTASTIC for CRAP!!!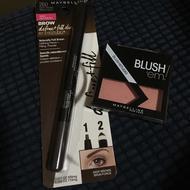 I've bought Maybelline cosmetics lately and was surprised. It's very affordable and can be used for everyday wear. I got their blush 'em and I like the shade of the one that I chose - it just gives me the right amount of glow on my cheeks and can be worn on the day to work and even at night when you're out on dates. I also bought their brow define + fill duo. I like the color of the deep brown. It's not that strong when used but can give you much needed definition on your brows. It's also very easy to use and glide over your brows. If you are looking for makeup that won't hurt your pocket, buy Maybelline. It's not that bad at all.

I bought Maybelline Eyeliner last month on 11 May 2016 from a Department Store - Kamdhenu in Andheri West. I have not used/applied the product once and it has dried up and not working. IS this kind of products being sold/supplied by the Maybelline Brand???

I bought Maybelline black eyeliner of the Maybelline midnight series. I do not use eyeliner on an everyday basis but occasionally. I have used other eyeliners in the past that has not had any such adverse effect. I found it very harmful. After wearing the eyeliner, I started developing pain around the eyelids and head gradually. Led to migraines. Did not realize that the pain was due to the eyeliner the very first time I used it. But after a month when I used again, I realized the only reason I could get eye pain was due to this eyeliner. Have never had this problem ever before.
Even after having medicines, the pain seemed to subdue very slowly. Pain persists on the eyelid area. It takes very long to overcome it. It has been a very horrible experience for me. I researched about the product and I believe that some of the chemicals being used are causing this problem. I am surprised that such a leading brand could sell a product that is not well tested. Please do not buy this product for your own good health.

About a week after using my new tube of Maybelline Lash Sensational Mascara, the area around my eyes became swollen and painful. My eyes were burning and red. I was away from home, staying in a motel for a family get-together. I thought at first I ate something I was allergic to (although I am only allergic to 2 medications and one kind of soap). I kept using the mascara for 2 more days and I kept getting worse, despite washing my face often and using cold compresses. It never occurred to me that it could be my mascara as I have used Maybelline products forever. The puffiness continued down my face, and I was extremely embarrassed. I didn't use any makeup the third day, because we were just driving home. It took about 3 more days for my eyes to look better.
I decided to use my other new tube of Maybelline mascara, the Falsies Push Up Drama, because I started wondering if it could be my Lash Sensational Mascara that was causing the problems. Within a few hours, my eyes were red and painful, and the area around my eyes was puffy. I knew then what was the cause. It took a few days and I am back to normal, but I'll never trust Maybelline again. I shouldn't have used it anyway because I found out they test on animals. I will find a cruelty-free, safe product to use instead.

Dream fresh BB cream - After using this product my face became covered in hives, my eyes became swollen and my jaw and upper lip became severely chemically burned. I needed to visit a doctor or urgent care 3 times, was put on 2 rounds of steroids, 2 different antibiotics, and 2 different creams. It was horribly painful and embarrassing. I had to miss several days of work and school - I work as a maitre d in fine dining and wasn't able to due to looking terrible and scary and not being able to wear any makeup during healing. I suffered horribly for over a MONTH. It cost me hundreds of dollars.
I am in the process of contacting a class action lawyer to begin a case and am looking to connect with others interested in joining suit. It doesn't need to be the exact product I used, as this chemical reaction seems to be very common across products. It is disgusting and unethical to be selling these harsh products to consumers. Email me **.

I purchased the Instant Age Rewind concealer about three weeks ago and after a week of use I started to develop what I took to be a skin rash right below my lower lash line. This is the 3rd to 4th week and I finally put two and two together and realized that this product was the one causing it. My eyes swell up and are extremely itchy. I start feeling an intense burning sensation on my skin. The rash has spread on the upper half of my eyes and is moving down on the cheek area. Please beware of Maybelline products!

Two weeks ago, I bought Maybelline Falsies Mascara. I have used Maybelline for years and have used this specific brand for several years. My eyes felt like there was sand under my contact lenses. I bought my stepdaughter the same brand on the same day and her eyes swelled to the point where her right eye was shut. We both went to the eye doctor and are both being treated for bacterial infections in our eyes. Coincidence? I think not. First of all, my stepdaughter does not live with us and we only see her every other weekend. We bought the new Maybelline mascara on Sunday before she went home with her mother (therefore we did not have any contact with each other in the 2 weeks between). Two weeks after starting to use the new mascaras, we both experienced eye infections. I will never wear Maybelline mascara again. I have not worn my contacts for over a week and still have another week to go before I can wear them.

Terrible horrific allergic reaction in eyes. My eyes swelled up (and swelled shut), became red and itchy for three or more days. The puffiness would come back at night and I had to put ice packs and tea bags on my eyes for days for hours at a time! Terrible, don't use!!! I have never had an allergic reaction in my life (so I am not very sensitive but this was very bad)!!

I have tried using Maybelline baby lips and after 1 week of use my lips started to sore and I'm having chapped lips since then. Even after I stop using it my lips still looks the same. I feel itching & reddening around the lips.

I have used Maybelline foundation for a few years. I recently bought a new bottle of this last weekend. I had to see an emergency Dr as my eyelids were swollen. Both cheeks and eyelids itched and burned. I was given steroids and anti-histamine treatment and very gradually it improved. I did not connect this with the foundation until after applying it last night I was awake all night with itching and burning. I can only describe my face today as looking like I have acid burns. Maybelline must be aware of this problem and admit responsibility.

I have used Maybelline Great Lash since I was a teenager (more than 40 years ago) but over the years, the quality of the product seemed to greatly diminish. The tubes also had less product inside. I tried other brands over the years but they usually weren't any better. Recently I bought Great Lash Real Impact! The very first time I tried to use it, it was so incredibly dry that I threw it in the trash. Without a doubt, it was the worst mascara I've ever tried to use.

I have recently stopped using Maybelline eye makeup remover as I was getting dry, itchy skin around my eyes but 2 weeks on I still have dry, itchy skin and redness and puffiness under my eyes, and when I wake in the morning my eyes are crusty in the corners and under the eyes! I see others have the same issue and it can take some weeks for it to disappear and heal. Can anyone recommend ANYTHING that can help speed up the healing? I am so self-conscious of this as someone who takes pride in looking after my skin, :-( I will NEVER use Maybelline products again.

ConsumerAffairs Research Team
The ConsumerAffairs Research Team believes everyone deserves to make smart decisions. We aim to provide readers with the most up-to-date information available about today's consumer products and services.
Maybelline revolutionized eyelashes when Mabel Williams first started experimenting with extending her eyelashes in 1915. They are still known for their mascara, and they also produce and sell face creams, foundation, powder, blush, primer, lip products, nail polish and other cosmetic products and tools. Consumers can find Maybelline products online and at popular retailers globally.
Makeup Explorer: Use Maybelline's Makeup Explorer tool on their website to find your perfect makeup match. Narrow your results based on the type of product you are looking for, your trouble areas and your desired finish.
Video lessons: Learn top tips and tricks for applying makeup by watching videos on Maybelline's website. Their video library has over 50 lessons, which are all available for free.
Makeup trends: Stay up-to-date on all the latest makeup trends by visiting Maybelline's website or by subscribing to their email newsletter. Email subscribers receive frequent updates on the latest news and trends in the makeup industry.
Get featured on Instagram: Use #mnyitlook on Instagram for your chance to be featured on Maybelline's Instagram feed. See how real women wear Maybelline's products.
Budget friendly: Maybelline products are affordable, and they are available in drugstores and super stores nationwide.
Best for Maybelline cosmetics are best for budget-savvy women looking for a great mascara.
Maybelline Cosmetics Company Profile
Company Name:

Maybelline

Website:

https://www.maybelline.com/