Consumer Complaints and Reviews

I purchased Clinique foundation and loved the natural look and feel of the makeup. However, though this product is listed as hypo-allergenic, it is the ONLY makeup that has ever dried out my skin and given me a rash. I do not have sensitive skin at all and I never have dry, flaky, or rashly skin. There must be something in this product which is unhealthy and even toxic to the skin. I came on here looking to find out what that could be... Apparently there are many other bad reactions in the customer base too. I don't know how a company could hope to remain in business like this. I did notice that there were no Clinique counters in most department stores anymore, and in the one who did sell it, the Clinique counter was all the way in the back and poorly attended.

I am currently really suffering from a severe reaction to the Clinique Custom Repair Serum. My face and under my eyes is puffy and sore and I've had to go to the doctor to get some strong antihistamine. This has been going on for two days and I'm still in agony. I can't believe I've reacted to a very expensive cream in such a way. There should be a clear warning on this product. I am going to write to the company and explain what's happened. Beware anyone else using Clinique!!!

I bought this product a week ago. I used to use Youth Surge SPF 15 with no comments. It was perfect. Then the lady who is responsible to sell this product convince me to go for this product. I put it on my face every day. On the third day I start having irritation on my chin. Then later on fourth day my chin looks very dry (It looks I did not use my cream. Very dry). I keep use it then I suddenly on the sixth day I have a swelling around my eyes and the skin dry. I do not know what to do. Help.

When I was in college, I tried out Clinique's 3-step system for acne treatment/daily skin care. It involved using a facial cleanser, an exfoliating lotion, and a moisturizing lotion. Even though it said to apply these three items twice daily, I only did it once a day, when I took my evening shower, and it cleared up 95% of my acne within a week. I did not like the sunscreen they offered as the day-time moisturizer to use with this system, it often irritated my eyes. But the regular moisturizer was fine. Clinique is also very customer service oriented. Once I ordered more facial cleanser and when it arrived it had leaked all over the box. They sent me another bottle free of charge and there was no hassle. All in all, I would definitely recommend this product to other people!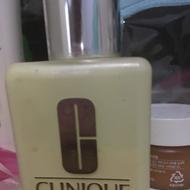 A friend gave me this Clinique moisturizer as a gift last Christmas. I started using it right away. I used it every morning and after 3 days or so started noticing some breakouts on my skin. I didn't blame the moisturizer yet and continued using it still. But the breakouts did not fade. After weeks of using, I decided to stop using it. After a few days, there were no more breakouts on my face. Maybe it's just coincidence or what but after some time I tried to use it again - lo and behold 2 days after breakouts started to appear on my face again. I guess this moisturizer is not for me.
How do I know I can trust these reviews about Clinique?
633,951 reviews on ConsumerAffairs are verified.
We require contact information to ensure our reviewers are real.
We use intelligent software that helps us maintain the integrity of reviews.
Our moderators read all reviews to verify quality and helpfulness.
For more information about reviews on ConsumerAffairs.com please visit our FAQ.

I received a sample for this Smart Repair serum and loved it. I purchased the 1.7 oz, serum and on first use I broke out in red bumps and skin irritation. I only used it now for 4 days, I am still using it as I am hoping this might stop to break me out. If it does not stop to break me out I will have to take it back. I would think that when spending $89 it would be a good tested serum. I have used other serums that did not break me out, and might have to make a change from Clinique.

My boyfriend gave me a Clinique Happy Perfume as an anniversary gift. It was my first time to use this brand and I was really Clinique Happy! It smells soooooooooo good! It is not too strong. It is really pleasant to the nose. I think it's better than my current perfume. I receive compliments from my friends and officemates. They say my perfume really smells so good. I wish I have known about Clinique Happy before. I'm gonna change to Clinique now. I'm gonna give this as a gift also to my mother. Hope she likes it as well!!! This is really a great product! Love it soooo much! I'm happy with Clinique Happy!

I wanted to improve the face products I used on a daily basis. I don't frequently get breakouts but when I do, they are pretty bad. I decided to try out Clinique's 3-step products. After the first day, my cheeks, chin and upper lip dried out and started peeling very badly. My face began to itch horribly and it was painful to stretch any part of the skin of my face. Days 2 and 3, I followed up on the dryness with some argan oil (different product -- not Clinique) and my face calmed down a bit, but the dryness kept coming back.
I started thinking that maybe my face is reacting because it is a different product and my skin isn't used to it -- however, after searching online, it seems as though this is a common reaction from many people to Clinique's products. It's the end of Day 3 and my skin still feels and looks as though it suffered a chemical burn on my cheeks, chin and upper lip. My forehead is now beginning to itch and one side of my face along the jawline is starting to breakout. I do not recommend these products at all. They seem to be too harsh.

I bought your Redness Solutions Makeup a month ago, and had Mia, at the Walden Galleria Mall help me. I was so happy with my results, that that night, I wrote an email to you regarding how it made my rosacea skin look and feel fantastic, and how I literally cried at the counter because I couldn't believe the results... well, I was dead wrong.
The next day, and for SEVERAL weeks after, my eyes swelled up, my skin around my eyes PEELED, my eyelids were swollen almost shut, my eyebrows were flaking because of the dryness and irritation. I work 16 hr shifts and was difficult to go to the doctors (that is how bad my face was) I was put on 2 allergy medications, all due to the makeup!!! My face was on fire!!! I looked like I aged 20 yrs with the bags under my eyes, let alone the puffiness. I felt wheezy in the chest. I couldn't believe that this product could do so much damage. I did return it, but literally... it took over 3 WEEKS for the symptoms to even start to disappear! My face was a mess! It was on fire for weeks! This is the worst makeup ever.

I bought Lash Doubling Mascara because it was from Clinique and my eyes are sensitive to some mascaras. This mascara would irritate my eyes so badly, they would burn and start watering. When watering, the mascara would streak my face with black running down my cheeks. Very disappointed in this product.

I'm sure Clinique works well for some people, but I strongly advise people who have sensitive skin to avoid. I usually use Avene skin recovery cream ever since I had a minor acne problem a short time ago. I had ran out of Avene so for about 3 days I used some Clinique superdefense that I've had for a short while. My skin has come out in a horrible, itchy rash, looks awful and I feel terrible. What is worse is that the lady in Clinique had talked me into buying it and it was expensive! I bought it along with the Clinique 3 step acne blemish solution (which also made my acne worse). Be really careful with Clinique products.

Bought Clinique foundation because I've heard such good things. Purchased on a Friday, began using on Saturday and by Tuesday started getting a rash. By Wednesday had to start Benadryl for the red, itchy rash that started on my jaw line and went to neck.

I used a sample of Clinique Superprimer Face Primer for about a week. At first it was excellent. It done its job. But I began to break out. My skin does not tend to react to products such as this. But this gave my skin a bad rash, it looks like heat rash. It is very itchy and my skin is very sensitive right now. I wouldn't recommend this to people with very, very sensitive skin. It doesn't say what on the label and it is not for all skin types.

The 3-step cleansing products put large deep embarrassing holes in my face that will never go away! They are still here 20 years later and after seeking help from dermatologists who say that it's so bad nothing can be done about it! Clinique ruined my beautiful skin by turning me into a monster in just ONE WEEK!! One dermatologist said she was treating another person at the same time who also had the same holes from using Clinique. I can't believe they are even in business!! I will never recommend Clinique to anyone!! Clinique didn't just ruin my skin, it ruined my life!! Do not ever even try their products just because SOMEONE ELSE HAD A BETTER EXPERIENCE -- IT ISN'T WORTH THE RISK!!!

I had ran out of my foundation I have been using for years, Covergirl the cheap brand. I heard Clinique was pretty good. I tried the foundation, I tried the makeup remover, and the facial wash. They don't really smell too clean. They smell bland. I feel like it dried my face out, both soaps burned my eyes. The foundation was a little heavy and sticky. It was ok but will not be using it again. I can't use something that will burn my eyes, make my face feel nasty, AKA Clinique.

I used Clinique as a teenager and loved it. My skin very seldom even had a zit. As I have become older, I have adult acne and hate my skin. I recently had some money coming in and so I treated myself to the 3 step and other products. After two days, my peeling skin and pimples started to look almost 100% better. Here it is two weeks later and my skin is amazing, and it gives me something to feel better with my health issues. I use the 3 step every morning and every night. My kids can't believe how my skin is. Thank you for giving me something that makes me want to take pictures with my grandson. All of these bad reviews shock me. Those that say it burned or made their skin red probably needed to go to a clarifying lotion 1 if they used two, or two if they used the 3. You don't have to use the same number on all of them.

I bought a Youth Surge SPF 15 Age Decelerating, my skin start getting red. After that, I decide to return it and the employee in Mesquite, TX Town East Mall at Macy's refuse to return it because I don't have the receipt or the box. I gave it to her and told her "You can have it. I am not gonna use it..." She was so rude and angry!!

So dissatisfied with my experience with Clinique! I bought the 3 step acne control kit for $34 and 2 days after using the acne solutions product I started getting cystic acne all over my face and jaw line. I returned my purchase through UPS and cost me $13 to return it!!! What a waste of money. I would never recommend Clinique to anyone. The least they could do was make returns free.

I wanted to remove the discoloration and dark spots on my face and neck. Tried this product but it made my face and neck red and itchy. Suffice to say I think I am allergic to this. Hence stopped using it. This is supposed to be hypoallergenic but it seems not.

I had never tried Clinique 3 step before. I just recently tried it and it broke my face out like I was a teenager. I am a 63 yr old woman. I have never had break outs before. I hate this 3 step. I quit using it 3 days ago and am trying to get my face back in shape. I will stick to my previous cleansing regime. Very disappointed.

When opening the cellophane and box of the 25ml found the box to be wet and the bottle completely empty! It had been lying on its side. I already had two 45 ml bottles, both lying on their side, and these are full but one looks considerably darker than the other and I suspect it has gone off.

I used Clinique liquid facial wash and Clinique Dramatically Different moisturizing lotion. My face started burning very bad like it was on fire, then it turned red and itched. Now it is red and swollen and still hurts. I have washed off the lotion with my Mary Kay facial wash 3 times and now it is only burning a little bit. NEVER will I use Clinique again. Thank god this was just a sample and I didn't waste my money on this.

I just wanted to send a short email to you with regard to my most pleasant experience I had on Sat 25th July last with make up artist Donna at your Clinique counter in HoF Dundrum, I was absolutely delighted with my makeup she did for a wedding later that day. A lovely lady and very talented artist. I will certainly be recommending her to friends, and will definitely be back to her myself.

I have used Clinique eyeliner for years (pencil). Tried a new type (quick liner). Within hours my eyes started itching and burning. By bedtime my eyelids were swollen, the whites of my eyes were red, eyes hurt and kept tearing up. Had to take an antihistamine to get swelling down. One eye was almost swollen shut! Won't use this product again.

I recently started using Clinique Superbalanced Makeup base after using Estee Lauder powder foundation for years because it cost a little less. Like several other of the people who used it I also broke out in little bumps in the oily areas of my face. But what I really don't understand is why it smells so bad. It was hard to remove the makeup and the smell. It claims to be 100% fragrance free. That isn't true. Rub some on the inside of your wrist and smell it before you buy because it isn't cheap and it does stink. If you have sensitive skin you may also have breakouts of bumps like I did. Can't recommend it.

I made a major discovery regarding Clinique's serum. I have spots of generational skin cancer. On impulse I applied serum on a daily basis to one spot. Within a week it was gone. Then I tried it on a bleeding spot and within three days the wound showed signs of healing and the bleeding stopped. Since then I have discovered several other spots on my face had disappeared. May this be life giving to someone. Please give this through to your dermatologists for further development and if partnering with the medical industry you may have major breakthroughs. I do not know what ingredients the product contain. This may just work for other types of cancer too.

I've been using a very expensive eye serum for over 7 months. Meanwhile, I purchased the Clinique repairwear for a hefty price, having used Clinique products for at least 25 years, including eye products. About 1 month ago, I developed a sty on the inside edge of my eyelid. Since then, I've been to the ophthalmologist 3X and spent a fortune on medicine. It won't completely clear up. Stopped the eye serum. Sty still there, plus another on the other eye! I am going to lay off the repairwear. I stopped eye make-up immediately. Having read all these reviews, I feel it is the repairwear. We'll see how long before my eyes clear up. All I want to say is, BEWARE!

I purchased the make up and also the cover up for dark spots under the eyes. I uses it twice and woke to a very swollen face and eyes too. I will never purchase this product again.

Clinique dark spot correcter - I used it in 2012, no prob. Found myself with dark spots again, I repurchased. As I applied I found myself with new acne growth. I wasn't sure so I stopped using it just in case. 2 days ago I reapplied FACE BECAME ITCHY. Woke up with swollen face. Then FACE FILLED WITH TINY LIL WHITE BUMPS.

I have very sensitive skin and needed a product that wouldn't break me out on my face. I thought I had found it when I purchased the Intense Chubby Stick in Roomiest Rose. I used it the 2nd week of April and wore it throughout the work day and on a date. I suppose it is not for extended wear because my lips started tingling. The next morning I awoke with a rash on 4 different spots of my lips. The worst part is that it takes about 3 weeks for me to heal from a break out this extreme. I was hoping that I found a new brand to keep using, but unfortunately it's going in the garbage with the other brands that promised to be hypoallergenic and caused a rash. Please be careful when you market products to people with sensitive skin. My lips are still trying to heal from the effect of this product and it's been almost 3 weeks.

ConsumerAffairs Research Team
The ConsumerAffairs Research Team believes everyone deserves to make smart decisions. We aim to provide readers with the most up-to-date information available about today's consumer products and services.
Clinique revolutionized skincare with their 1968 debut of their now iconic three-step skincare system, which was the first marketed skincare regiment to be created by a dermatologist, allergy-tested and 100 percent fragrance-free beauty product collection. Today, the company sells their products worldwide and online.
Clinique for men: Clinique's special line of men's skincare includes shave cream, aloe shave gel, post-shave soother, cleansing and toning products. These are specifically designed for men's skin. Buy them separately or as a set.
The Wink: Read up on the latest in wellness, makeup and lifestyle news on The Wink, available on Clinique's website. Learn makeup tips and tricks from the experts, and discover the answers to all your makeup related questions in The Wink's index.
Online foundation finder: Use Clinique's handy wizard to determine which foundation is best for your skin tone. You'll quickly receive recommendations on which foundation works best for your skin along with additional products that can complete your skincare routine.
Power couples: Clinique's online "power couples" section gives consumers the best skin care and makeup combinations to match their skin needs. Choose from acne, hydration, lifting/firming, redness or uneven skin tone.
Allergy tested: Clinique is dedicated to creating allergen-free makeup and skincare products. They formulate their products without any known allergens, and then test each product 12 times on 600 people. They start over if one or more tests results in an allergic reaction.
Best for Clinique is best for men and women who want allergen-free makeup and skincare solutions.
Company Name:

Clinique

Website:

http://www.clinique.com/