Consumer's Guide to Small Claims Court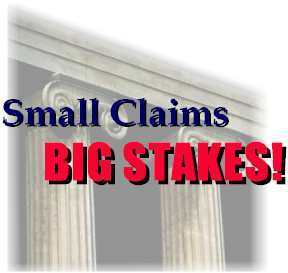 It's happened again. The silk blouse you bought at the 50%-off sale and dropped at Speed Clean last Thursday came back resembling a surrender flag from the Spanish American War.
You're fuming. Should you sigh and absorb another hit to pocketbook and pride? No. It's time to fight back ... in Small Claims Court.
Next: What it is
---
Ms. Lisante is a Fairfax County, Va., attorney who writes frequently about legal and consumer issues.
At ConsumerAffairs we love to hear from both consumers and brands; please never hesitate to Contact Us.
At ConsumerAffairs we take privacy seriously, please refer to our Privacy Policy to learn more about how we keep you protected.
You're responsible for yourself and please remember that your use of this site constitutes acceptance of our Terms of Use.
Advertisements on this site are placed and controlled by outside advertising networks. ConsumerAffairs.com does not evaluate or endorse the products and services advertised. See the FAQ for more information.
The information on our website is general in nature and is not intended as a substitute for competent legal advice. ConsumerAffairs.com makes no representation as to the accuracy of the information herein provided and assumes no liability for any damages or loss arising from the use thereof.
Copyright © 2018 Consumers Unified LLC. All Rights Reserved. The contents of this site may not be republished, reprinted, rewritten or recirculated without written permission.