Consumer Complaints and Reviews

I purchased a PS surge protector ("Office Workstation Surge Protector 100373") from Walmart that, with a quick loss of electricity (1 seconds maybe) did not protect my 60" Samsung LED TV. In an attempt to contact, I searched for their website. I found that the Power Sentry website (http://www.powersentry.com/) was seemingly last updated in 2006 with a note that they are owned by Fiskars Brand (please note all of the contact info, including email and telephone numbers, on the PS website are out of date and do not work). I contacted Fiskars who said they are now owned by Philips (warranty claim - 888-381-0749). Philips said that all claims must include a copy of the receipt. Of course I don't have it.

We used a Power Sentry strip to connect a small wine fridge. The plug overheated and caught on fire. Luckily, my wife & I were in the next room and caught the fire almost immediately. The outlet was already on fire, melted the plug and the plastic casing was melting and burning. Luckily, only two small pieces of molten plastic fell onto our carpet. We were lucky. A few minutes later and our entire house would have burned down! Although rated at 15 Amps, there did not appear to be any protection for overheating. Avoid this product. And avoid plugging in any appliance that draws more than a very small amount into a power strip!

Re: Power Sentry 04-018-14MS-FFCCC 10-plug surge protector -- had to replace a $600 Yamaha receiver (2 years old) and my Amazon Fire TV box, both of which were plugged into this unit, when a piece of power equipment plugged into another outlet on the circuit created some voltage variation for a few minutes. The breaker was not tripped and the surge protector's lights all indicate "normal." I have replaced the unit with a Panamax after doing some research and talking to audio specialists. I strongly recommend anyone who wants to protect their electronics to look seriously into Panamax. A cheap surge protector -- this one at least -- is apparently not even worth what it costs.

I just lost my new LG smart TV and the DirecTV Genie box when some kind of power surge happened. I just know sparks came out. I yelled at my husband for not having a surge protector, since he was a broadcast/electronics Engineer until retirement last spring. He produced the Power Sentry from behind the TV. The really awful thing is, he worked for Philips for many years in their now defunct broadcast division. I'm just happy our house didn't burn down. What a horrible product!! Of course I have no receipt. Just the surge protector that still has a red light that lights up that means it's good. JUNK!!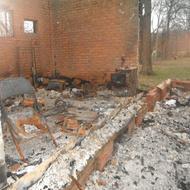 Jan 23 2015, the surge protector attached to my computer caused a fire. This fire destroyed my house - completely. I am currently trying to find anyone with pics of the surge protector in question. I bought it a few years back in Florida but moved to MS. All receipts, etc. were destroyed in the fire along with the surge protector.
How do I know I can trust these reviews about Power Sentry?
693,837 reviews on ConsumerAffairs are verified.
We require contact information to ensure our reviewers are real.
We use intelligent software that helps us maintain the integrity of reviews.
Our moderators read all reviews to verify quality and helpfulness.
For more information about reviews on ConsumerAffairs.com please visit our FAQ.

I'm commenting because it's my understanding that Philips owns Power Sentry. A recently purchased Philips home/office surge protector failed recently and did not protect any connected equipment. The surge protector is badly singed at the outlet sights. Some connected equipment died at that moment and some can be turned on but are clearly damaged internally. 3-month-new laptop, a second 1-year old laptop, 2 mobile phones, a printer, etc.
I have requested contact from Philips Product Safety dept. to no avail. I've supplied the details to at least 10 of Philips customer care personnel over the last weeks, assured that intricate notes were taken, the case escalated to the next level-- I was to hear from Philips HQ Consumer Relations team re: submitting the claim for the irreparably damaged connected equipment they claim to cover.
This issue has become a full-time job and each day is more frustrating than the last. I've searched online for others who have filed a connected equipment claim re: a failed Philips surge protector and the truth is.. I don't believe that anyone has had their losses covered. The stories above re: the smoking/ burning/ flaming Power Sentry surge protector(s) are shocking. As is this situation I'm currently going through with Philips. Outrageous claims to cover any losses if/ when their surge protector fails to protect (.."..up to $250k worth of connected equipment warranty"..) Literally everything connected to that failed surge protector is a loss. Assurances I will hear back from a claims adjuster and/or consumer relations are as false as their grandiose claims of coverage.
This is criminal. Seriously. The popping/ burning surge protector complaints above could have resulted in those homes burning down and loss of life. The singed Philips surge protector that didn't protect my electronics could have just as easily caught fire. I just happened to be there but I could have just as easily not been.. what then?
I don't get it. How is it possible that a company can continue to advertise that they will cover loss when/ if their surge protector fails when they opt to simply avoid all contact and not respond to consumer complaints/requests for assistance..? Pleading for them to provide tech support re: the safety of using a burnt surge protector is the very least they could do and even that is apparently too much.
I needed clarification. During/ after the 'Occurrence", the singed/ burnt surge protector failed = won't continue to protect equipment connected to it is what I thought. However the box, product insert, Philips.com and similar all states:
"..This warranty extends through the lifetime of the sure protector, which means until the surge protector has exceeded its capacity to protect against surges and spikes. The "Protection Working" indicator light will no longer be lit when it's capacity is exceeded. The capacity of the surge protector will be exceeded after an Occurrence".. (Occurrence = impulses from lightning, other power transients, or by momentary voltage surges or spikes)
So.. surge protector blows and connected equipment is irreparably damaged.. burnt/singed at outlets. Doesn't that translate to this thing having reached its maximum capacity..? Not according to the product information.
The failed/ burnt surge protector could be 'reset' and those "Protection Working" lights lit.. according to Philips, my proof that my equipment is protected. But it wasn't. Philips refused to answer the question. Going by what the product information states, that surge protector hadn't reach its capacity. I connected newly purchased replacement electronics into it and they stopped working. The brand-new mobile phone revealed a white screen and never turned on as a result of being plugged into that failed surge protector. It wasn't just not protecting.. it was continuing to damage. No electronics manufacturer covers equipment that has been damaged due to a surge. That leaves Philips connected equipment warranty.. and they don't return phone calls.

Power Sentry five outlet 100226 - Found burn marks at one plug in, so back for refund at Wallyworld. This is the second sentry as the first automatically tripped the 20 amp house breaker with a dead short and sparks. I insert the same equipment in other plug ins and they work fine. My home is worth more than this junk that can burn it down. This is another Chinese product that has cut corners and saved a few cents and let the customer suffer the grief.

I had a Power Sentry surge protector hooked up and I woke up to the surge protector burning. It had a fire coming out of one of the outlets. I ended up losing a couple of electronics. Someone needs to do something about this company. If this is a matter for an attorney, please have them contact me.

Power Sentry S10063100206/17 General Power Multilier (black) - On 8/11/2012, I woke up to a popping noise (sounded like someone popping popcorn). As I was getting out of bed, the noise was getting louder and by the time I got downstairs in the corner of our room where we had our surveillance system and a floor lamp, the power strip and all plugged in was on fire. I yelled to all sleeping, got the fire extinguisher and put it out. My husband grabbed the unit and put it outside as the heavy smell of smoke and rubber. We took pics and the same day, I started to contact the company and manufacturer of this.
As of today, we still haven't heard what they plan on doing to compensate us for our loss. Both companies are ignoring me and this. I did put a claim against them to saferproducts.gov and the BBB. If I don't get anywhere in the next few weeks here, I am contacting the Attorney General on both. They don't want to take responsibility for their defective product. They did try to blame us for this, but there was no misuse on our part. We did as we should have and while sleeping, this fire broke out! I can't believe that they can get away with this and not take responsibility.

Saturday morning, 8/18/2012, a thunderstorm came through. Later that day, my son said his brand new TV and computer was fried. Also, it got my computer and the internet modem. I have tried and tired to call and no one will answer. It was model 100177 and model 100184. I am a widow and cannot afford to replace these items. This makes me so mad that a company will not stand up to their product. I also heard that they sold out. So what are we supposed to do? I have lost over $2,500 in things I cannot replace. So what are we supposed to do? I am very, very upset about this.

While cleaning behind a bed, I noticed some charring on an electrical outlet where the Fiskars/Power Sentry surge protector model 603 was plugged in. I removed the surge protector and found that the plastic backing had melted. I then called an electrician who came out and removed the outlet. He said he had never seen anything like it. The plastic on the side of the outlet within the wall had melted completely away. The electrician could not understand why the unit had malfunctioned and continued to work or why a major fire had not occurred. Needless to say, I will never buy this product again. The product was manufactured prior to the sale of the company to Phillips from Fiskars, so I'm not sure who to contact.

A storm came through on 3/20/12 and this surge protector (model # 100177) did nothing but allow surge to go through the unit and into the TV, DVR and receiver, costing me $700.00. It is a total product failure which this company has received multiple complaints. This will soon cost lives.

Last night, 3/20/12, a storm came through and my Power Sentry surge protector model #100177 completely failed. I lost my new 40" TV, new DVD and satellite receiver due to the inability of this product to do what it advertises - to protect against power surges. The protector still showed proper grounding and protection, but this unit did nothing to protect. The unit still has power. How is this? This faulty product cost me over 700.00 dollars and my next call will be to the BBB.

I had bad storm and lost power. It fried over $4000 worth of electronics and appliances. I can't reach them on the phone; there's just a recording saying it's not taking calls due to high call volume.

I bought two of these power strips model #PPP3368. The first one blew out my $300.00 printer, and now the second one has just quit working. I tried to contact Philips, and they gave me the excuse, "where is your sales slip?" Who keeps all their sales slips for months? So, all in all, they won't do anything. I would like something done with this bogus company.

We purchased a set of two surge protectors from Power Sentry at Walmart. The one I used in my room started to melt and smell. The power button, which I turn off every day before I leave for work, completely melted. I was concerned about the danger of this product to others, and contacted the company immediately, but they said the model # 373 formed in the back panel plastic (not a sticker on the product) does not exist. I said I would send them the product, but they did not want to see it and said that without a trackable number, they can't do anything. We are going to head off to Walmart and see if anything can be done to remove an unsafe product from their shelves.

This older temp power tap/surge suppressor began smoking and had flames shooting out of where a small fan was plugged in for about an hour. This fan was the only thing plugged in to a properly grounded outlet with no open hot or reversed polarity. If I wasn't sitting right next to it, I would have lost my home and 2 wonderful cats. Lots of smoke. Amazing how plastic can cause flames! E11 its model starts with.

I purchased a power sentry surge protector Model 537 for my computer and thought I was getting the best on the market. We had a storm last night and lost power. When I arrived home, I found out that the computer I have had for two years is fried. I plan on contacting the BBB as I see many complains from this company are on file.

I also am having the same experience I read everyone else had. I just had a storm and one of my computers did not recover afterwards. It is fried. I bought the most expensive power sentry surge protector and now all the phone numbers on the box, nobody answers and all I'm finding online is everyone else having the same problem. If you are going to guarantee it works, it really should work. I find it hard to believe we all had power failures and our surge protectors didn't protect us. I lost a computer!

On 3/20/10 around 11:00 p.m,. I went to turn on the lamp on my nightstand and it would not come on. I tried the other lamp on the other side and same thing - no light. I got down on floor (outlet is behind my bed) and could smell something burning and the wall around the outlet was all charred. I called the fire department and they checked everything out and told me to call an electrician.
At 1:30 a.m. an electrician came out and check the outlet and said the electrical was fine. He suspected it was the power sentry outlet transformer, so he took it apart. It was all charred. I am horrified to think had I not went to turn on the light and just gone to bed, myself, my elderly mother and pets would be the victims of a horrible house fire. How many other people have these in their homes that will have this problem. Why these have not come off the market is beyond comprehension. I intend to contact as many people about these power sentry outlet transformers as I can as if I can prevent one person from dying in a house fire due to this product defect. It will be worth it.

This is the Power Sentry model #100177 Home computer surge protector. I bought this surge protector with the thought that it was the best one out there at the time. I am shaken at the thought of what could have happened to my family and I. My husband arrived home from work in the early am to find our surge protector had caught fire and the fire was making it's way up the wall. It had just begun and the smoke detectors had not yet been activated. Had my husband not come home when he did, I would hate to think of what would have happened.
I am not sure how or why this happened, but the protector seemed to have burned from the inside out. The protector is melted and it burned our kitchen floor and the wall. Somehow the computer was not damaged. I am concerned about the product and the damage it might cause to someone else. We were lucky but someone else may not be. Please look into this and maybe together we can prevent this from happening to someone else. I have kept the power surge and will keep it if there is ever a need for it for research. My wall is still burnt at the molding point. We have since painted over the wall that had some damage. Thank you for your consideration in this matter.

We purchased the most expensive surge protector Walmart had which was this Power Sentry. We had a power outage and when power was restored it blew the entire protector. It caught fire and luckily, we discovered it in the nick of time before the curtains caught fire. Our new carpet now has a large hole burned in it and we are out a large screen TV.

When our electricity was restored after an outage, our Power Sentry Surge Protector caught fire. Fortunately, we were close and had a fire extinguisher. It was under our entertainment center (which thank goodness is on legs) and scorched it and our wall. Had we not been in the room, our house would have caught on fire. It melted the cords to our DVD, VCR and the television. Evidently, these cords were close to the flames.

Surge protector failed and connected equipment was damaged. Filed claim for replacement surge protect and damaged equipment in Sep 2009 with no response to this date.
Contacted Power Sentry/Phillips 5 times since claim filed with "issue has been escalated and there's nothing we can do further until you hear from corporate."
This is a concern since there are no phone or addresses to file complaints with management etc. Continued phone calls to the claims department yield the same response "They should have contact you within 2 weeks" which is now almost 12 weeks.

I purchased several Power Sentry surge protectors from Wal-Mart to protect household electronics. During a recent lightning storm, the surge protector that I had plugged into a grounded (according to electrician) and perfectly electrically wired outlet didn't work. I had a very nice TV and VCR plugged into this protector, both were burned out and no longer even turn on. So, I tried calling the number on the Power Sentry box to tell them because the Office Workstation Box says this device has 300,000 equipment warranties. So, I've dialed the number over 900 times and all I ever get is a busy signal. At this point, finally, I think something is very fishy here.
So, I looked up Power Sentry online and found lots of horror stories and complaints. I have now called Wal-Mart where I purchased the Power Sentry and alerted them to the possibility that these devices are defective and maybe the cause of house fires and destroying electronic equipment. I'm out $500 at least for the cost of my TV and VCR and the cost of the surge protectors unless I can get some satisfaction from Wal-Mart or Power Sentry. But I can't even get them on the phone. I have an electrician coming to see if any electrical damage was done as a result of the surge protector not working. If there is a class action suite against this company, I would like to be contacted so that I would get my losses replaced.

In December of 2008, my wife and I purchased a surge protector/power strip for our new computer. About 4 and a half months later on Easter Sunday, our home caught fire and was a total loss. The insurance company's electrical engineer found that the 4 and a half month old power strip had started the fire. My wife, my 7-year old son and I were able to get out of the house but we have lost everything we owned. The insurance company has indicated they will be speaking with Wal-Mart and Power Sentry about the fire. They have also advised me to go after them myself for product liability.

the surge protector data is as follows:model 177 suppressed voltage rating:330 volts made in china id:c 15A 120 voltsAC 60HZ 1800w a silver sticker attached contains the following data:09/2M E128811 ul listed POWER TAP 31F8 also listed as TVSS while staying the night at a campground in byron ga, i plugged in my 50 amp power cord into the outside receptcle, and my wife yelled franticlly to come inside asap

i cut the outside breaker and ran inside the camper to see her stamping out the mattress pad heater which caught on fire under the covers. the pad was plugged into the surge protector as well as our tv set, which she said was buzzing.
the outcome was that it ruined our bed spread, our mattress heater $95.00, and a new surge protector $18.00. no circuit breaker or fuse ever blew, but it did fry the matress pad heater control and the surge protctor. i have kept both items as evidence with hopes of recieving some compensation.

Twice, within the past two years, I have lost expensive equipment that was plugged into a Power Sentry Surge Protector, Model number RS6, inspection 01/99 E128811. Less than two years ago lightening struck and the protector did not kick off, frying my expensive PA system. Thursday, Nov. 22nd, lightening struck again, frying my new laptop and new fax/copier/printer and again the protector did not kick off. My homeowners pays very little on such items. I firmly believe this company should be held completely responsible and reimburse people like myself for the equipment lost.

Surge Protector caught fire, cause damage to home and eqipment

computer equipment, smoke damage, carpet, sub floor.

JUNE 24TH 2007 POWER SENTRY CAUGHT ON FIRE LUCKLY WE WERE HOME TO UNPLUG IT. I WANT TO KNOW WHAT CAUSED IT TO SUDDENLY CATCH ON FIRE.
Power Sentry Company Profile
Company Name:

Power Sentry

Website:

http://www.philips.nl/