HP Printers
Printer/Copier/Scanner/Fax
Consumer Complaints and Reviews

I had a Office Jet Pro 6830 printer for 6 months and it failed. HP said they would replace the printer. Well, the second printer has now also failed 2 months later! I had some important documents that I needed to print today, so now it's off to a copy shop... Hewlett Packard no longer makes decent printers as far as I am concerned. I'm gonna throw this one in the recycle bin and go buy a different brand. Shame on you Hewlett Packard...

March 7, 2017 my HP Envy 7640 printer was not printing. I called customer service, who happened to be Broadway Network. A man with a heavy Indian accent and an American name "David" assisted. He remotely accessed my computer and identified it was a bug on my driver and noted that my printer is printing well. He transferred even to a 2nd tech, who began to clean and delete files. Suddenly, my printer displayed an error message "Cartridge cannot print, enroll in instant ink." After several attempts calling and finally connecting, the 5th tech tried and just hung up. When I called back, I was told they had a fire drill and they will call me back. That was three days ago. HP is forcing me to enroll in a program I have no interest. I need my printer to print my plane tickets, my son's homework, etc., and still HP has not resolved what they ruined.

Well HP 5663 printer, 90 days old as of March 1, 2017, well had worked ok till today, and started jumping pages on the scanner and copying, not copying full pages just about 50% of pages. Anyway called HP customer service and went through all the tests of cleaning, etc, and also on maintenance settings it showed return for being defective and so I told it to customer service and he said I needed just black ink, but I got multiple pages that show messed up in black and tricolor. Anyway waiting for supervisors to call back, and still not received any calls, so I see where it goes from here, only had 34 pages scanned, and he saying bad ink, but machine said defective on maintenance settings. Should be returned, it's a defective product.

Hewlett and Packard must be turning in their grave. I bought and registered this HP 5740 printer in September 2016 yet for some reason HP seems to think it is registered since Dec 2015 and I cannot get anyone to fix it let alone contact me. I can't keep count of how many emails, calls, and resending proof of purchase with an email saying I will get a confirmation within 24 hours. Worse, the printer keeps failing! I don't like throwing money away like this. Very disappointed in HP. The old 3100 I had for 14+ years worked just fine. I already donated it to a local charity.

Support Call Center was completely inept. I have purchased the OfficeJet 8720 which is an all-in-one printer. Overall I am happy with how it prints etc. I went to use the Scan to Email feature and needed to set up the Emails online. With somewhat sketchy instructions it took me about 45 minutes to navigate through their scant instructions and entered the emails I wanted to use in our household. Went back to scan and it did not recognize any emails that had been entered. Turned it on and off to reboot. Nothing. Went to the HP website again to see if it had correctly saved the emails. It did.
Now... tried to contact HP Support. Entered all the personal data. Entered Serial Number. Then it asked for Product code (should be under the Serial number as shown on the example). Nope. Nothing on the back resembled anything like the Product code they were asking for. Thankfully, I was able to bypass the product code info. Once through, they were not open. :( Tried again this morning. Received a telephone # 1-888-747-7948.
Was asked early on if I was on a Mac Computer - Yes, transferred appropriately. After transferring me to the laptop division, they transferred me to the printer division, then transferred me to the Windows division, then transferred me to the printer division and then subsequently DROPPED THE CALL! 45 minutes of waiting and repeating the issue and being transferred was unacceptable. Likely my problem would be fixed in 10 minutes with some help and now will need to set aside another hour to deal with the HP NON-Support people again. We are actually also looking into purchasing a HP laptop for our business and will stay far away if their Support Division is so ridiculous.
How do I know I can trust these reviews about Hewlett Packard?
717,175 reviews on ConsumerAffairs are verified.
We require contact information to ensure our reviewers are real.
We use intelligent software that helps us maintain the integrity of reviews.
Our moderators read all reviews to verify quality and helpfulness.
For more information about reviews on ConsumerAffairs.com please visit our FAQ.

Purchased an HP PhotoSmart 6510 All-in-One a few years ago. Always thought HP was a good brand for some reason. One selling point was the quality of the photos which was indeed great - for a while. Then like many others who have commented on other HP Printers, disaster struck. Changed cartridges, couldn't get printer to stop printing in red, cleaned print heads multiple times wasting many cartridges. Searched internet over and over again for a solution. Just cleaned print heads again and changed 3 out of 4 cartridges hoping by dumb luck, it would print perfect again. Got the same errors as other commenters mentioned; i.e.: not using a genuine cartridge, not installed correctly, etc. Loaded first 2 cartridges fine, then on 3rd one which was yellow message came up with the symbol of the "pink" color saying it wasn't properly installed - which it was when I installed it a few seconds ago, aaagghh!
I'm done playing with this printer; still prints in red, now mixed with some black on 1st page, 2nd page is red, next page fades out, etc. We're not hard on a printer, we don't use it every day but still need, and expect the printer to be reliable. When we need something printed it should always print a clean copy. This printer, unfortunately appears to be totally unreliable and since there's no cure for its illness, it's going to be replaced. Like others, will never buy an HP Printer again.
Someone commented previously about a class action suit, something to think about since this has been going on for years with HP who has done nothing to address the many concerns. Meanwhile, the consumer keeps trying to believe in this company and gets caught up in the vicious cycle of constantly cleaning printheads sucking up all the ink, leading to buying more cartridges or perhaps buying a different HP model, while this company, in the meantime, is making jerks out of all of us and laughing all the way to the bank. Too many consumers with the same problems on different HP Models for me to stay with this company. It's a crying shame, not everyone can afford to keep going out to buy a new printer nor should we have to be forced to do it because a company blatantly refuses to address the problems.

This thing has been nothing but trouble since I purchased it. First thing it had a recall, ok wasn't worried by that, it happens. They sent a new one, great. Then it goes downhill. Every time I need to print or copy something I have to get hold of support. Have to say support staff is always professional and helpful. But it takes two hours to troubleshoot the issue and I use a lot of ink printing test pages. I don't have two hours every time I need a page copied or something printed. This thing goes through ink fast too. And yes I'm using the recommended HP brand. I'd give it negative stars if possible.

I have an electronic ink with HP for HP Envy 5530. But these days ink seems to finish quickly than my normal usage and start getting emails notifying me bills are coming. I have a feeling that once they have me they are taking advantage and billing excessively. I like HP products and used HP products for a long time. I think it is time to look for another brand. HP is ripping off people on this electronic ink scheme.

You cannot use instant ink cartridges in a printer not enrolled in instant ink. Quite a scam. We have way too many cartridges in our house because 1 printer is enrolled in instant ink and they come way too often so when I tried to use the ink in another printer it would not work unless I enrolled. Just another way to throw your money out the window.

NEVER BUY AN HP PRODUCT!!! I was warned by so many people to stay away from HP and now I'm learning my lesson. I bought an Hp Photosmart 7520 All in One Printer awhile back and well... Besides the fact that you print 3 pieces of paper then have to replace the ink cartridges, the stupid thing never stays connected to my computer. I have spent the last hour and a half trying to get it to connect. I have uninstalled and reinstalled the program 3 times. I went onto the "online setup" which doesn't work! It just asks you what printer you have and when you click ok it just sends you back to the same screen! I have run every single "fix" I could find online and still nothing. Unless you hardline it directly to your computer you're just ** out of luck. Please take my advice! STAY AWAY FROM HP! You won't regret it!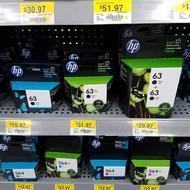 How much ink is inside cartridge? Now they offer over 2x amount, in same size nontransparent cartridge. Two times how much. All these years we were purchasing less than half full cartridges. Are the 2x plus totally full? We have no way of knowing. They have a monopoly and could be selling cartridges only 25% full of ink. I think the amount should be printed and regulated. The products should be spot checked occasionally for compliance. We should be informed of how much ink we are getting.

I bought this malfunctioning HP OfficeJet 6835 at Costco in 2016 and did not use much because I have another one. I suddenly got error message about the printer head, so I contacted Hp customer service through chatting. According to Ginny from the customer service, HP was going to replace it with the refurbished one that is 6830, so I checked the customer review about that product and the review was as bad as 6835.
I asked her to send the new one because I did not want to get another junk product, and without my consent, she said she would create the order for replacement to the refurbished one. According to Hp, this product has warranty until Dec. 2017. I am going to contact Costco and complain why they carry such a bad product. I regret I was lured by Costco's additional discount offer for HP printer at that time. This was not the first time I was so disappointed about HP printers. I hated their products and their customer service. I will never buy HP products again.

I have owned 2 HP printers and refuse to purchase any HP products again. The first printer I had purchased around 2005. I believe the first printer was a 5150 all-in-one. I was overall satisfied with this model. This model allowed you to use non-HP ink. Then about 2 years ago I purchased another one when the first one quit working. So a good 10 yrs of use.
This new printer is an INK hog... model 7525. The price of the printer was quite reasonable. But what I have realized is they make up for the low cost by forcing you to purchase their expensive ink. The ink runs out extremely fast and is very expensive. Buying the necessary ink 2 times cost as much as the printer itself. Furthermore, the printer is designed only to use their ink. If you trying it use other brands of less expensive ink the programming deters you every step of the way. I have purchased so-called compatible ink on 2 occasions and it doesn't work in the machine. And lastly, this is a 4-in-1 and when the ink is out you are unable to use any options such as faxing and scanning which do not require ink. This is a further attempt to make you go purchase their expensive ink.
Conclusion, HP printers are not a good value for your hard-earned money. It seems the first HP printer I had was built for the consumer's long-term use. Seems HP has realized they could make much more money with selling printers at low cost and while making the bulk of their profits off the high-priced ink they force their customers to use. Corporate greed is bad.

Purchased HP 6830 printer on May 2, 2016 - use is for home business. Used every day for copying, printing, sending/receiving faxes. In December 2016, start having "printhead" issues - one day no color ink is printing. Run the required cleaning (a couple of times) and it works, for a day or two! Then the black ink doesn't print. Run the required cleaning (a couple of times) again, and it works for a day or two. Come home on a Friday night, check incoming fax (work) that cannot be read because the black ink wasn't working (this was all within a one week time frame, and $72.00 worth of all new ink, black and three colors).
I went through all that ink in one week because of having to run cleanings constantly, but still not knowing if it was going to work the next time. Had to go to Staples to replace immediately because of work. Purchased a Brother Printer (fingers crossed) - I called HP to ask about the one year warranty, and was told they could troubleshoot my problem and send me replacement parts - I already had to buy a new printer, I already wasted $72.00 in one week on ink. I'm not doing it again, EVER. I will never buy another HP product again. Learned my lesson - Wish I could share this review everywhere so people could be warned to save their money!

HP Photosmart C4790 Printer - I've had this printer for several years and I find it unbelievably difficult to install ink cartridges. Customer Support is zero help. Save yourself grief and purchase from another company that makes product customer-friendly.

HP Officejet Pro 6830 collapsed while still under warranty, and was replaced by HP with a refurbished unit but only after much foot stomping. I was given free ink as "hush money". Are you serious? I missed a work deadline messing around with the thing, between watching tutorials, downloading drivers, and rushing out to buy new printer cables. I don't want a bunch of toxic ink for a printer that I no longer want. Now the replacement printer works sometimes and not other times. I'm through with troubleshooting and tech blogs. I won't have peace until this doorstop is completely out of my life.

I purchased a Hewlett-Packard 7640 a little over a year ago. The setup was far from 1 2 3 as they stated. I was on the phone with a couple of reps some of which were useless for almost 2 hours. Finally got it to work, until now. I needed a new phone. I called customer service. They want $99 for someone to help me set it backup, and the printer was only $65 if I get a new one. I can have free help. What the heck?

I have had two HP printers that lasted 2 years or less where the black ink stopped printing. I spoke to customer support and they recommended to replace the printer which cost $150 or more. Do the math, that's $75 per year. I would not recommend HP printers to anyone other than enemies.

I bought this printer at Sam's Club and extended warranty. 2015, hardly used it, packed away to move. I got it out, start getting code, printer head problem. This is not the cartridge of colors that has problems. I called warranty, thank God I got extended one, because HP would do nothing. Appears they knew of printer head problems. Now, warranty place will send me money. BUT, I don't really want an HP printer again, I have all this ink I bought and opened. So buy extended warranty with a HP.... YOU WILL NEED IT.

I am writing to let you know I had a bad experience shopping online www.walmart.com because as a shopper I experienced bad customer service and bad and faulty products. The product I am referring to is my HP Officejet 4630eAll-In-One Wireless Printer, I need to get my printer replaced due to the fact the printer does not work at all and the drivers of the printer are old and not updated, the carriage of the printer is not working and the cartridges that came with the printer do not work. My printer cost $78.00 plus the care pack for $7.00 for warranty issues, for replacement issues, for repairing a printer which is not being done by HP which manufactures my printer. Also, I telephoned Angel at SDG Distributor and told him I need a shipping label to send my old printer back where my old printer belongs the number at the SDG Distributor is **. My PO number for my printer is **.
I also sent emails to ACE Electronix for three weeks straight without a response. Also I telephoned www.walmart.com and spoke to the customer service and they told me that I would get my problem escalated due to the ongoing issues involving a bad printer and used printer that needed to be replaced with a brand new printer. Also the customer service person told me today that I could not take my receipt to Walmart to get my brand new printer, even though I have been calling there for the last three weeks and going back and forth to Walmart trying to get my old printer replaced with a brand new printer.
I would appreciate it if you could help me to get this problem resolved. It is not right to get bad products, bad service, a bad printer with carriage, old and dirty printer with cartridges that do not work. The phone number to www.walmart.com is 1-800-925-6278. I would appreciate if you work as a liaison to help me get my new printer and send my old printer back to the warehouse in Atlanta. I should not have to drive or even take a plane all the way down there just to get a brand new printer. The address to SDG Distributor is Walmart PO Box 530927 Atlanta GA 30353-0927.

I purchased an HP 7520 Photosmart printer a few years ago and had $200 worth of 564 XL ink cartridges (eleven in total) when my print head became defective. I called HP attempting to find a printer that would use the cartridges but was advised that production was discontinued and that a replacement print head was not available. I attempted to return the extra ink and found that HP Returns would only allow two cartridges since they had been purchased within thirty days. I didn't think it fair but attempted to arrange to return the two.
After about 30 minutes talking with an agent I was afforded the opportunity to print out a FedEx return form but was unable to do so. The agent said she would arrange for FedEx to come by with the label and pick up my package but would need manager approval. After a substantial wait the manager came on the phone and knew nothing at all about the situation so we started over. After giving him the same customer information again I pointed out that the prior agent offered me the opportunity for FedEx to come by my home with the label.
At this point the manager said I would have to click on some link somewhere to perform the activity. I spent over an hour of my time attempting to recoup $40 of $200 investment. I did not appreciate the dismal, inept, and apathetic responses from HP... and will not buy HP products, which are usually good, from a company whose customer service is so bad. And I will relate my experience to as many folks as possible.

Have had the 7520 less than 2 years and don't do all that much printing. Suddenly, when I attempt to copy from the flat bed I get an error message saying no preview available when using the automated document feeder even though I'm not using the ADF. When I try to use the ADF I get a mis-feed message although there is no mis-feed. Went to HP and tried all the "fixes" but none work. Apparently this not an isolated problem since it has been reported by others. Bottom line is it's too costly to have the printer serviced so if I want to copy anything I'll need to buy another printer. Clearly there is something wrong with the ADF mechanisms but HP doesn't care. Reminds me of the planned obsolescence of the American automakers that resulted in cars rusting out faster. My first choice for printers has always been HP, but that ends now.

I have owned three HP scanner/fax/printer models Officejets 4500 types. All three have failed. First the rubber wheel that feed the paper to the printer stops picking paper up. Cleaning it many times, then the paper starts to jam. I'm off to find another brand. Sorry HP, I have used your stuff for years.

I purchased an HP Envy printer model # 5530 in August of 2016. This purchase was thru Amazon. The printer is for home use and has been used very little to this point. The original set of ink cartridges were just replaced this week. The scan & copy functions both stopped working. I made an inquiry online and found that my warranty had expired in 2014. As I said I bought the printer new in Aug. of 2016. With that information I contacted HP customer service and that is when the real waste of my time started. I spent approximately 1 1/2 hours on the phone troubleshooting this printer. Keep in mind this printer is worth $99.
After wasting an hour and a half I was then put on hold for the shipping supervisor who I was told would ship me another printer. I was on hold for another 35 minutes before he picked up the call and had such a bad connection he had to call me back. When he did I asked where he was located and he said India, hence the bad connection. We confirmed all my information at which time he wanted my credit card number. This when I finally lost it. I told him there was no way he was getting a cc number from me and told him I expected him to ship me A REPLACEMENT. He tried to explain that they would only charge me a $1. At that point I said some choice words to him and requested his supervisor. He threatened to hang up on me for my language and so I settled down and waited for another 15 minutes for the supervisor to answer.
When the music finally stopped I said hello a couple of times with no answer and then I heard a dial tone. They cut me off. About 10 -15 minutes later there was a message on my phone from the supervisor stating that we were cut off and she would contact me again on Monday. It is only 1:30 CST right now but who knows what time it is in India. Please do not expect any customer service if you purchase an HP product and expect to waste a half of day if you. I am 60 years old and this is the WORST CUSTOMER SERVICE I have ever experienced so far in my life!!!

We purchased an HP Envy 7640 this year; still under warranty. The paper tray that also has a photo tray is not working. I chatted with tech support 3 different times. They want a credit card for security purposes. They said they would send me a refurbished printer. Why would I want to refurbish printer when my new one is only several months old. All I need is a new paper tray to see if it works. They went through all the Diagnostics to make sure it was the paper tray and it is. No resolution. I'm not comfortable sending them credit card number to them for security purposes and I don't want to refurbished machine. I got no resolution.

My HP Officejet Pro X476dw printer stopped printing intermittently with the Error message coming on, then stopped printing completely. We then found out that "HP chief operating officer, Jon Flaxman, said that it was down to a dynamic security feature in selected printers intended to combat counterfeit and third-party ink cartridges that do not contain an original HP security chip and that infringe on our IP" and "However, he confirmed that the company would release an optional firmware update within the next two weeks that will remove the dynamic security feature from HP printers."
Well this never happened with our printer, and we had only used a non HP cartridge in ours for one day, as the quality was poor, and that was 18 months prior to this happening. So HP lost communication twice I had with them, they sent me a quote to fix my printer, then I called to find out what was happening, and after spending 3 hours on the phone was told a new printer was being sent to me. Well it WAS NOT A NEW PRINTER.
IT WAS SOMEONE ELSE'S RECONDITIONED PRINTER, AND THEY TOOK MY PRINTER AWAY, WITH BRAND NEW HP PRINTER CARTRIDGES IN IT. No one said I would have to pay for this until I received a bill for £198.24 yesterday, calling it onsite HP technical support. Seeing that my cartridges cost me £232, I figure they owe me money. I am disgusted with HP over this, it was their fault, they caused it and want to charge us the public for their mistake.

HP 8610 Wireless Printer - Printhead Missing. Have experienced the same "printhead appears to be missing" error that so many on this site, as well as many others, have posted and complained about. We began experiencing this problem a little over a year after purchasing the printer, so the warranty had expired. Tried all the "work-arounds" online and from HP support and nothing worked. Basically, HP support said "these printers are only supposed to last about a year", with the remedy being to replace the printhead at a cost of about the same as the printer itself. And then, of course, they also tried to direct us towards buying a new HP printer. As others have said, we would never consider buying another HP printer again. We have owned much cheaper Dell and Epson printers that lasted years, so we'll lean towards those instead of the one year and done models.

I have an HP Office Jet Pro 8610. From the day I got it I have experienced 2 problems routinely: When I use the sheet feeder to feed documents as I scan or copy, 40%-50% of the time the original "mis-feeds" and is torn/damaged. This causes a great inconvenience for me as I must now manually load critical documents page by page, very inefficient. Frequently when printing the 8610 "errors out" so I must stop what I'm doing, reboot the printer, reload the document I am printing, and proceed... Again, inconvenient and a waste of my time. This product needs to do several things routinely without fail, including loading documents via the sheet feeder and print when asked to. It does neither reliably.

I am cured. I will never, ever, ever own a HP printer again. As with previous HP products, I can count on the product not performing. With the HP Officejet 5746, the printer was set-up and software and wifi links checked and all seemed OK. It never worked right again. Maddeningly, it says there is a problem but does not give you the slightest clue as to what to do or where to do it. HP service is slow and like I said... I am cured, I am a member of the ABHP (Anybody But HP) club.

I bought two printers: HP Officejet pro 8710. The first one had to be set up with a usb cable and it was impossible. I had to spend an hour on the phone with support. Now my husband needs his set up. What a waste of time and money. The printer fails on every other print job. I even just reloaded all the software and it wouldn't even let me set it up with a usb cable. I can't use wireless because of security issues with our home. Beware.

ConsumerAffairs Research Team
The ConsumerAffairs Research Team believes everyone deserves to make smart decisions. We aim to provide readers with the most up-to-date information available about today's consumer products and services.
HP Printers are created by Hewlett-Packard, a large technology company founded in 1929 and headquartered in Palo Alto. The company manufactures and sells a wide range of printers in addition to laptops, desktops, tablets and more.
Ink types: HP Printers come in a wide variety of ink choices, including laser printers, ink jets and more. This means the company is a good choice for people who are looking for a printer that uses nearly any type of ink.
Community-focused: HP is focused on doing good in the world, and they are committed to environmental initiatives that can help strengthen the environment and improve the earth's future.
Varying capacity printers available: The company has created a wide range of printers, from those that can handle a very high capacity, to small individual job printers. This makes it a good choice for anyone from large businesses to individual PC owners.
Reputation: HP is one of the oldest technology companies that still creates and sells products, and their years of success have proven that they are a forward-thinking company that makes high-quality and well-regarded products.
Accessories: The company sells a wide variety of accessories that can accompany printers and computers, so it is a convenient one-stop shop for those in the market for a printer.
Best for Large offices, homeowners with computers, photographers, students and schools.
HP Printers Company Profile
Company Name:

Hewlett Packard

Year Founded:

1939

Address:

3000 Hanover Street

City:

Palo Alto

State/Province:

CA

Postal Code:

94304

Country:

United States

Website:

http://www.hp.com/