HP Printers
Printer/Copier/Scanner/Fax
Consumer Complaints and Reviews

Do not buy HP's instant ink program. Paid for ink that never came. Refused to refund credit card recurring fees. Customer service is an oxymoron. Big brother is on your printer. My mistake. Don't say you weren't warned.

Don't get suckered into this monthly subscription program! If you decide to cancel, HP disables your current cartridges, even if you have not opened them. I've paid into the program for a year and a half and just now opening my first tri-color cartridge. But since I am cancelling the service, HP is disabling the brand new cartridge even though I've been paying about $4 per month for 1 months! What a rip-off!

Had problems within the warranty period. Called. Got a case number. They tried to resolve the issue and couldn't. Called back, no information related to my case. Tried again to resolve prob. Didn't work. Were going to send info to return printer to be fixed. Never received it. Tried calling again. Still no info on my case number and after 2 hrs got disconnected. Called back, no record of who I was dealing with and to my amazement no info on my case no. Tried again to be told I am out of the warranty period. Nothing could be done and yes you guessed it no info in my case file. Thanks HP for nothing but aggravation and wasting many hours of my time. Will never buy anything ever again from HP. Pathetic customer service and I bought extra warranty!!!

I'm on my 2nd HP printer (HP OfficeJet Printer). Gave them the benefit of the doubt. Same issues. Goes offline every time it's not printing. I've followed all the instructions, I've reinstalled printer drivers, etc. Same thing happened with first one. Their quality stinks. They are in the business of disposable printers. I detest this company!

Just dropped 70$ on new ink for a printer that is defective. When I called customer service after going through all the troubleshooting on their site, they told me I need to buy a new printer. They would not even refund me the 70$ I spent on the ink for the HP printer I have had for only a year. Terrible product. I will never waste my hard earned $$ on an HP product ever again - I suggest going with anything other than HP if you are in the market for a computer, printer, tablet, or TV.
How do I know I can trust these reviews about Hewlett Packard?
794,387 reviews on ConsumerAffairs are verified.
We require contact information to ensure our reviewers are real.
We use intelligent software that helps us maintain the integrity of reviews.
Our moderators read all reviews to verify quality and helpfulness.
For more information about reviews on ConsumerAffairs.com please visit our FAQ.

I ordered a replacement charger online through HP. The charger came in incomplete with a piece missing. I spoke with a sales rep who said they would send the missing piece. Days later (after receiving no new part) I called to check on the order. The replacement order was never processed and the part was currently out of stock. I spoke with 6 different sales reps who kept transferring me elsewhere to "get rid of the problem". After all of this, I still did not receive a replacement part, and I had to return the whole product for a refund. I could not even get the part exchanged. This was a business purchase, and my boss had to pay me for 4 hours wasted on the phone with this company. The customer service was one of the most terrible business experiences I have ever encountered. I will never buy an HP again.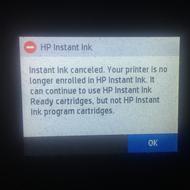 When I bought my latest printer I bought HP because I always "used to" buy HP for all of my desktop, laptops and printers. I joined the Instant Ink Program because my youngest son is still in school and I wanted to always have the printer ready for him. When I received my first monthly ink replacement in the mail, I realized that we had not printed very much. I decided to cancel the Instant Ink Program so that I would not continue to receive cartridges that would most likely dry up before they were used.
So I try to use my printer today and get a message that my Instant Ink Program cartridges won't work. Not only is it ridiculous that the cartridges I received while I was still a paying Instant Ink customer don't work. The cartridges still in the printer are the originals that came with the printer, and they are not even close to empty but they don't work because I'm not in the Instant Ink Program. How's that for HP giving me the middle finger! I will no longer buy HP products! What a terrible way to treat a long-time customer or any customer for that matter!

Purchased an HP LaserJet printer and an extended warranty from hp.com. Scanner stopped functioning correctly. Tech department determined it could not repaired after I turned it off, disconnected it from the network, reloaded driver and software, unplugged and blew on the plug... you get it. The replacement did not use the same cartridges I purchased. HP representative said they would send the link to return the cartridges for replacement. No link. Now they have no record of my purchase. Funny, always thought HP had a database since they send promotional information. My recommendation, purchase from a reputable retailer who has knowledge regarding the best manufacturer. Oh, and I purchased the extended warranty due to the fact that initially I had to return the tower twice for replacement. Neither tower would work with dual monitors-upgrade was required.

The last 2 HP printers I've purchased haven't been worth a flip. The last one I had (An 8600 I believe) broke down after only 6 or 7 months. I called HP and they said they would replace it. It was replaced and it broke down in less than a year. I replaced it with an HP8710 and from day one it would feed through multiple pages at a time and jam the machine up. I've tried every kind of paper known to man and it all does the same. The fact that you can't print B&W if one of the color cartridges is empty is a scam too. You should be able to set your printer to print only B&W and not have any color cartridges, but it will NOT work without color cartridges. The quality for HP printers the worst of the worst. Every time I buy a new HP printer the quality continues to deteriorate. I will NOT be buying another HP printer. I will be looking at Consumer Reports before I buy my next printer.

Defective ink cartridge - Attempted to print tax return, ran out of ink. Purchased new cartridge. Return was approx 68 pages. Next print was less than 10 pages, got cartridge empty window before completion. THIS WAS IN FEBRUARY! Still no support!

The last two HP printers I have purchased have a very annoying printing error. No error is noted on the screen but they are not printing correctly. There are random voids on my documents. Not in the same place or on the same page – very random. I have spent in excess of 10 hours trying to correct both printers. The last one was returned and the new one has the same problem. The last one was a 8600 series and this one is a 8700 series.

HP has placed unreasonable (if not illegal) controls on my printer ink usage. A year or so ago, I suddenly received a message that I was not using genuine OEM HP ink and the printer would not work. After numerous tries, I got a message asking if I was sure I wanted to use non-HP ink. I responded, "Yes" and the printer worked until the ink was gone about three months later.
After that, I was never able to get back to the message that allowed me to use non-HP ink. Shortly after that, my "original HP ink cartridge" ran out of ink in a very short time. Assuming this was a manufacturing problem, I bought more "original HP ink" and experienced the same problem. The "genuine HP ink cartridge" lasted only about 25 days whereas a refilled cartridge would last about 3.5 months. I researched the problem and learned that HP had developed new tactics to advance their profits. HP had cut the ink in the cartridge way down. At that point, I pried open my own black cartridge and found that this was true. I estimate that I had about 1/4 to 1/3 of the amount of ink that the cartridge would hold. I tried another depleted HP cartridge and found the same thing. Further research revealed a comment that HP maintains that "improvements had been made in the print head that would essentially make up for this". HELLO!
NOW, I have just discovered a third way HP advances their ink sales. I just installed a new "genuine" HP black ink cartridge" and when I reviewed the resultant test page, I thought the ink looked way too dark, particularly, the black. So I copied a full page document to get a better look at the ink usage. It was also very, very dark so I checked the ink usage setting and found it was set on "Normal". I changed it to "Lighter" and re-ran the document in copy mode and found it very satisfactory. Unfortunately, I soon found that the "Light" setting automatically reverts back to "Normal" a couple minutes after you have stopped copying. Is it legal to lessen the capabilities of a product after a person has purchased it? I will get rid of the HP printer, BUT I WILL BUY HP STOCK and be prepared to SELL the stock on short notice when all this becomes public knowledge.

I'm going to join this Greek chorus of complaints about HP. A few years ago I bought an HP5740 All-in-One. It was adequate to the task, relatively inexpensive, and generally satisfactory. July 2016 the 5740 packed up. It was out of warranty, and I figured not worth repairing, so I bought a new one same model, except this one was an HP5741 (HP's website doesn't seem to recognize the 5741; everything even the machine's literature refers to 5740). Strange, but true.
First problem is their horrid ink subscription service. When the new machine arrived (ordered directly from HP with the extended 3-year tech support) I couldn't use the ink cartridges that had been sent with it unless I enrolled in the "Instant Ink" HP subscription service. I didn't want to do that: I don't print as much stuff as I scan, PDF, fax, email, whatever. I knew I was never going to use ink fast enough to make that service worthwhile for me or for HP. The alternative was to drive 40 miles to a store to buy ink cartridges. It's 2 in the morning, all right, all right, I sign up for the service just to have cartridges that work. But it feels like I'm being blackmailed.
Second problem is the HP5741 doesn't want to talk to my computer. No matter what I did it would not link up. I called tech support. He tried to give me the "Your computer is outdated" line. "No, buddy, it's not - I bought it in June, the month before I bought this printer." Then he tried to tell me my router was outdated. "No, buddy, it's not. I just got this in April, and it's a top-of-the-line highspeed. I've got 50mbps, slick, clean, no lags, perfect." Too far from the router? Nope, sitting right next to it, with computer and printer both. Got the 5741 plugged into a surge protector? Nope, directly to the wall, I fear no electrical surges. Too many devices on the network? Nope, just one. And on it went. Finally he allows as there might be a glitch somewhere. He does the control thing and two-and-a-half hours later has it linked. Finally.
Two weeks go by. During this time every ten minutes, half hour, whatever, a black bar comes up in the lower right-hand corner of my monitor "Scan to computer no longer activated!" Annoying as all get out. I check the self-help forums (Notice how every company has glommed onto that? They don't have to do anything or pay anyone to help the poor saps struggling with their inferior products. Blind leading the blind.) and apparently a lot of people have the same problem. Seems to be something in the software. HP hasn't been able to find/fix it. Real confidence-inspiring there. Fifteen days the link from the printer to the computer disappears.
I try everything because I do not want to call those tech people again, but it's no use. I call. I really should just copy and paste here, because this conversation went just like the first, and finally the tech guy allowed as how there was a problem, and he took control of the computer for two-and-a-half hours and got it working. Two weeks of black bar in the corner and the link dropped again. Meanwhile, I start getting notices from HP saying "Doncha need ink? Huh? Doncha doncha doncha? Is your printer hooked up? Is it on? Is it plugged in? How are you cheating our system?" No amount of explaining "No, I haven't used more than 10% of the ink from these cartridges because the printer doesn't work half the time!" gets through to them.
Over the next few months here were a couple more repeats of the tech calls... They get it going after two-and-a-half hours... it disconnects again... etc. By April I've had enough. The fix didn't last two days this time. I called and demanded either a new machine or a refund. They finally sent a replacement ("reconditioned" bet they have quite a few of those) machine, a true 5740, not a 5741. They probably realized the "updated" model was useless. I carefully unpack it, taking photos so I can pack up the duff one and return it. I go through all this, getting the new one set up, the old one packed up, only to find the cartridges won't work in the new one.
Why? Because they're used. I call Instant Ink. "Oh yes, we must send you new ones. But we will not charge you." And they couldn't have sent those with the replacement. "When will I have them?" "Two-to-five business days." "WHAT?!? You ship those suckers to me express. Don't give me this one-week stuff." They would not budge. I emailed the CEO's office a blistering letter. They turned my complaint over to a "dedicated case manager." He said they couldn't do it. They're in Arizona, not Timbuktu! I finally suck it up "Yes, yes, all right, just send 'em already." Of course, the machine won't do anything without cartridges even if all I want to do is scan. So I wait.
Meanwhile, I'm thinking (fool that I am) that maybe I can set it up with FedEx to pick up the old printer when they deliver the cartridges. There was a big orange envelope with a large print message "Pre-Paid Label Inside." And on the instructions for unpacking/repacking in itty-bitty print it says "Customer is responsible for shipping fees on returned products." I've had it. I called and told my dedicated case manager not to bother sending ink cartridges. "But I've already ordered them." "Tough. I'm going to refuse the delivery. I'm going to send this old printer back, all right. I'll eat the cost. I'm going to send HP the replacement machine, too. I'll eat that cost, and the three years of tech support. You can take both machines and --." Yes, I did, I said it. And I've sent them back.
Now, I'm leaving sour reviews everywhere I find. The inferior quality of their products at least, these all-in-one machines is surpassed only by the inferior customer non-service they provide. The moral of my story? Don't - buy - HP. Anything. Ever. You will be left holding the bag.

I paid over 1500.00 for this HP Pagewide Pro MFP 577dw printer and it doesn't work right. Stalls, won't scan and won't print. Have logged (by cell phone) 545 minutes with HP customer support since April 12, 2017 and today is May 2, 2017. After all this, they said they would give me a new printer refund the original $1500.00 but they would charge 4 or 500 more for the replacement printer. Told them to take their printer back, no replacement and refund the full amount. After I told them I was disputing the charges on my Discover card they said okay. I don't recommend HP to anyone and will never own another of their products.

I bought this printer (HP workforce printer 7640) last week and have gone through 2 print cartridges, printing only 75 black text pages. HP is likely not filling their ink cartridges appropriately. Save your money and dump HP. They are scammers. The printer does work fine however.

I bought this ENVY HP printer in March 2017 and set it up at home with no problem. However, there is one paper jam after another even though the paper's been loaded correctly. The worthless machine doesn't print squat and it wastes my time. Removing the jam means trying to pull out a ruined sheet of paper for awhile. Then the stupid machine goes into sleep mode. I will buy another brand of printer since the ENVY one is WORTHLESS. It doesn't print or do squat.

Had an Envy printer Series 5660 which the printer head became defective. I used the website troubleshooting methods but nothing seemed to change. Called repair and explained what was going on with the printer. The agent said since it was still under warranty they would just replace it. I was never told that I have to be without a printer until the defective printer was received at their facility. I found this out when I received email with the return label.
I waited until FedEx had the printer in their possession to call and ask for the to go ahead and mail me my replacement. The young lady I talked to was was so condescending and treated me like I was a child. I talked to her supervisor and all he did was make excuses for her and there was no way they would release the printer to be mailed to me. It seems to me I am being punished for their defective product. I will no longer buy another HP product. They do not care about their customers. Buyer beware.

I went to this site to complain, only finding out I logged in a few years ago to complain, for HP PRINTERS!!! We got this from Costco. It worked for about less than a year, then ink is all scattered. I put it through clean, then mega clean about 8 times already. The ink levels are still 70%+. I wiped the cartridges with alcohol, and did it again. EIGHT MORE TIMES!!! This is an ultimate scam, in 2017, humanity can't make a decent ink jet printer??? HP, I spent 4 hours trying to get a clean print, at my rate of wages, I could've bought two of your printers. HP, please stop making printers.

I bought new hp computer - it wasn't compatible with old HP printer so bought new hard drive for old computer to use old operating software to run my printer because I had $100 worth of refilled ink cartridges. Yesterday while printing, ran out of ink and installed new refilled ink cartridge. Printer wouldn't print, said I had to use "official hp cartridge only." Apparently a HP update that installed made me unable to use third party ink any longer! When I called company they said they'd have a printer tech call me to fix it so I could use my printer.
I asked for number he'd be calling me from because I want to ID number before answering. Number wasn't the same but I answered anyway. This tech said my computer had been infected thru my IP and he had to fix all of my computer files otherwise he couldn't fix my printer! HP thinks we are all STUPID! When I told him only want printer fixed to use 3rd party ink he then finally said he could not do that! Again tried to get me to let him into my computer! THIS IS SUCH FRAUD BY HP! I WILL NEVER, EVER BUY AN HP PRODUCT AGAIN! WHAT GREED!

HP7640 - After about a year printer has lots of problems. I HARDLY USE IT BUT it goes into wonderland and has to be shut down. Seems to need ink very often. If you're part way through a long print job and it needs more ink, it won't let you resume where you were. It has to start over again and use up the new ink. If you cancel it goes into wonderland and has to be unplugged. Corruption!

I used Chat to guide me in installing Printer driver; spoke to two different agents as I was installing on two different laptops. In each case, I got an error message, and in each case the agent said that the problem was in my computer and that their second-level technician could fix it for $200. I declined, and plowed ahead anyway, and found that both drivers were installed and functioning properly. I will never buy an HP product again.

HP printers have a shelf life and they are not worth buying anymore and I will tell you why. HP is a smart company and they know what they are building and selling and recycling. I purchased a HP PHOTO SMART 6520, worked well out the starting gate the first year, well the second year I noticed, it was a second generation ink with no difference with the package. You will not know this until you opened the ink and put in the printer and you can't use it, and you can't return it to the store. Wow!
Now you stuck to throw it away and buy more INK. Now the print issue is the paper is streaked, so now you align the printer, and clean the ink jets, over and over again wasting more INK. Now you have to buy more INK and start the process again... RIP OFF / SCAM... Whatever you choose to call it. Why all this to print? Another situation. My daughter bought a printer with warranty, GUESS WHAT don't cover INK issue. Her printer will print but won't print black ink. You can't repair these printers. The company says so. Wow! RIP OFF/SCAM.
HP printers can't be repaired, and my current printer have to retire to the TRASH. But I refuse to mess with HP again. HP have a lot of issues going on, and I don't want my money tied up in it. You want to research your printer purchase, But do stay FAR from HP. HP are not too expensive, ink is expensive, but underlying problems in the long run that you can do without. Don't consider warranty. You won't last too long to use it and if so it probably won't cover what's wrong. So Good luck to people that want to Buy HP and long time HP'RS. I have been a HP'R and no longer a FAN.

HP Officejet. If a printer is out of warranty that was purchased from HP, the suggestion from HP support is to have it sent in to be repaired by a certified technician. If a printer is within the warranty period that was purchased from HP, and it malfunctions, then the suggestion from HP support is to have the consumer self install the parts that they send to you. How convenient for HP to pick and choose what option saves them the most money. POOR WARRANTY SERVICE. From what I've experienced, HP cares nothing about taking care of the customer and won't even acknowledge that their product, at times, can be faulty. HP does not stand behind the customer that purchases their product. Buyer Beware.

I am a professional: I am not a computer expert. 10 years ago I purchased an HP Office Jet 8600 and I loved it. The screen went out of it recently, so I went back to HP to purchase another printer like the 8600. I purchased an HP Office Jet 8740. I bought it from a Staples store: they were great. They had it delivered to my home since they didn't have it in stock.
I went to set it up and had problems so I called the 888-540-0720 number listed online with the instructions for help in setting the printer up. The first person I got, Shane, told me that my computer (Mac Pro) was too old so I'd need to purchase a new one. But then he told me that he would call me back himself to help me set it up. He wanted my name and phone number. I thought that was odd, but I gave it to him.
I went out and purchased a new Mac Pro and then again called the Help Support number. This time I got a Ken (sounded a lot like Shane). He told me he had to shadow me on my computer to see what was wrong. He then told me that I had a problem with my wifi and new computer that would require him to "wipe out" and put new drivers in. This would cost me, though. He never gave me a dollar amount. He wanted my name, email and phone number. I told him I wanted to get a second opinion first. I called the wifi company because he told me that I had 28 other people on my wifi (I live out in the country). They denied any problem with my wifi that they could see.
I then called the 888 number again: this time I got Eddie. He checked the "log" and told me I would never be able to get this printer hooked up to my computer because it was "infected" with my bad wifi. He wanted me to let him shadow me and again "wipe out" the bad stuff and redirect my drivers. He said it would cost money, but he wouldn't know how much until he got in there and started it. I declined.
I then called a local computer man and he just made a visit to my home and installed this printer for 50 dollars. He told me this had to be a sham: he found no problems with my wifi, my new computer, or the printer. So far, my printer is doing great. I just wanted to report that I think I got shammed. I will never call the HP support desk again. This is very sad since I had a good experience before with my previous HP printer. I'm worried now about my identity: they do have my name, phone number, and email. Please feel free to call me if you need any further information.

I was unable to connect my laptop to my HP network printer. In fact, even plugging in the USB cable from my laptop didn't work. My Officejet Pro 8610 wouldn't print anything except documents from my phone via the e-print. I finally bit the bullet in January and called HP service. It took a technician more than 2 hours to get the printer to connect to my wireless network. Here we are two months later and I changed ISP's from TW to Google Fiber and the connection problem has re-appeared. The technician I worked with in January assured me that he was extending coverage for this issue since it was a problem with their driver being able to communicate correctly with my computer/network.
Today I called HP Customer Support and they REFUSED to provide service unless I paid. COME ON HP... stand behind your products, especially when you have KNOWN ISSUES. No more HP printers for me. This is the third one I have owned and all had issues. Luckily, printers are cheap... Better to throw mine away and buy a different brand than to pay for HP service now. And again the next time I make any changes... And then again... etc, etc.

I had a Office Jet Pro 6830 printer for 6 months and it failed. HP said they would replace the printer. Well, the second printer has now also failed 2 months later! I had some important documents that I needed to print today, so now it's off to a copy shop... Hewlett Packard no longer makes decent printers as far as I am concerned. I'm gonna throw this one in the recycle bin and go buy a different brand. Shame on you Hewlett Packard...

March 7, 2017 my HP Envy 7640 printer was not printing. I called customer service, who happened to be Broadway Network. A man with a heavy Indian accent and an American name "David" assisted. He remotely accessed my computer and identified it was a bug on my driver and noted that my printer is printing well. He transferred even to a 2nd tech, who began to clean and delete files. Suddenly, my printer displayed an error message "Cartridge cannot print, enroll in instant ink." After several attempts calling and finally connecting, the 5th tech tried and just hung up. When I called back, I was told they had a fire drill and they will call me back. That was three days ago. HP is forcing me to enroll in a program I have no interest. I need my printer to print my plane tickets, my son's homework, etc., and still HP has not resolved what they ruined.

Well HP 5663 printer, 90 days old as of March 1, 2017, well had worked ok till today, and started jumping pages on the scanner and copying, not copying full pages just about 50% of pages. Anyway called HP customer service and went through all the tests of cleaning, etc, and also on maintenance settings it showed return for being defective and so I told it to customer service and he said I needed just black ink, but I got multiple pages that show messed up in black and tricolor. Anyway waiting for supervisors to call back, and still not received any calls, so I see where it goes from here, only had 34 pages scanned, and he saying bad ink, but machine said defective on maintenance settings. Should be returned, it's a defective product.

Hewlett and Packard must be turning in their grave. I bought and registered this HP 5740 printer in September 2016 yet for some reason HP seems to think it is registered since Dec 2015 and I cannot get anyone to fix it let alone contact me. I can't keep count of how many emails, calls, and resending proof of purchase with an email saying I will get a confirmation within 24 hours. Worse, the printer keeps failing! I don't like throwing money away like this. Very disappointed in HP. The old 3100 I had for 14+ years worked just fine. I already donated it to a local charity.

Support Call Center was completely inept. I have purchased the OfficeJet 8720 which is an all-in-one printer. Overall I am happy with how it prints etc. I went to use the Scan to Email feature and needed to set up the Emails online. With somewhat sketchy instructions it took me about 45 minutes to navigate through their scant instructions and entered the emails I wanted to use in our household. Went back to scan and it did not recognize any emails that had been entered. Turned it on and off to reboot. Nothing. Went to the HP website again to see if it had correctly saved the emails. It did.
Now... tried to contact HP Support. Entered all the personal data. Entered Serial Number. Then it asked for Product code (should be under the Serial number as shown on the example). Nope. Nothing on the back resembled anything like the Product code they were asking for. Thankfully, I was able to bypass the product code info. Once through, they were not open. :( Tried again this morning. Received a telephone # 1-888-747-7948.
Was asked early on if I was on a Mac Computer - Yes, transferred appropriately. After transferring me to the laptop division, they transferred me to the printer division, then transferred me to the Windows division, then transferred me to the printer division and then subsequently DROPPED THE CALL! 45 minutes of waiting and repeating the issue and being transferred was unacceptable. Likely my problem would be fixed in 10 minutes with some help and now will need to set aside another hour to deal with the HP NON-Support people again. We are actually also looking into purchasing a HP laptop for our business and will stay far away if their Support Division is so ridiculous.

ConsumerAffairs Research Team
The ConsumerAffairs Research Team believes everyone deserves to make smart decisions. We aim to provide readers with the most up-to-date information available about today's consumer products and services.
HP Printers are created by Hewlett-Packard, a large technology company founded in 1929 and headquartered in Palo Alto. The company manufactures and sells a wide range of printers in addition to laptops, desktops, tablets and more.
Ink types: HP Printers come in a wide variety of ink choices, including laser printers, ink jets and more. This means the company is a good choice for people who are looking for a printer that uses nearly any type of ink.
Community-focused: HP is focused on doing good in the world, and they are committed to environmental initiatives that can help strengthen the environment and improve the earth's future.
Varying capacity printers available: The company has created a wide range of printers, from those that can handle a very high capacity, to small individual job printers. This makes it a good choice for anyone from large businesses to individual PC owners.
Reputation: HP is one of the oldest technology companies that still creates and sells products, and their years of success have proven that they are a forward-thinking company that makes high-quality and well-regarded products.
Accessories: The company sells a wide variety of accessories that can accompany printers and computers, so it is a convenient one-stop shop for those in the market for a printer.
Best for Large offices, homeowners with computers, photographers, students and schools.
HP Printers Company Profile
Company Name:

Hewlett Packard

Year Founded:

1939

Address:

3000 Hanover Street

City:

Palo Alto

State/Province:

CA

Postal Code:

94304

Country:

United States

Website:

http://www.hp.com/