HP Printers
Printer/Copier/Scanner/Fax
Consumer Complaints and Reviews

I purchased an HP Officejet printer in 2014... it had to be replaced by HP because it was defective. I had problem again a few months later and they replaced it again. I started having more problems after about a year and they replaced it again with an Officejet 5740. Now the printer will not allow me to replace the ink cartridges. It says they are installed incorrectly. They are NOT installed incorrectly and when I call HP they are tell me the HP printer may be defective. This is MY 4TH PRINTER IN A ROW THAT HAS BEEN DEFECTIVE! HP makes substandard products and I WILL NEVER BUY ANYTHING FROM THEM AGAIN! GARBAGE!

HP Officejet Pro 6830 - I was given this printer/fax/copier as a gift. After approx. 8 months, I had an issue arise. An error appeared that stated "There is a problem with the print head." The HP customer support had me install four new ink cartridges (very expensive) only to have them tell me a new printer is on the way. I received a new printer without ink cartridges as promised. The person who promised me these is in India. "I installed the new printer only to have the same issue arise again" after only ten months and one (1) ream of paper. HP did not reset the warranty date. They claim this new printer is not under warranty anymore. Trying to find a support number is impossible as once they have the serial number, you are looped around on the internet and telephone support refers you right back to the HP Website. I am extremely disappointed in HP, in their product as well as support. I do not recommend this product.

HP printer Photosmart 6510. We bought this printer four years ago and now it doesn't accept all new cartridges anymore. We only buy these ridiculously expensive official HP cartridges so the cartridges can't be the problem. We just put two new ones after it said it didn't like the ones we had put in last week, which were therefore still as good as new (another 20 pounds wasted on this nonsense!). Now it works again but who knows for how long. We suspect that it is deliberate policy of HP to make their printers go haywire after a couple of years to force customers to buy a new printer. I totally agree with the other review I read on this website: HP is a nasty company and deserve to go down. I sincerely hope they will be fined by the European Commission in the same way that Apple has. That will teach them a lesson!!! We in any case will never buy an HP product again.

HP 8625 Ink Scam - HP has set the printer so that you cannot print in black or draft. They have done this to sell you more ink. DON'T buy this printer or it will cost you a fortune in ink.

Retired HP employee... Ordered HP ink online (have done it numerous times). HP sent me the wrong ink!! And not even close to what I ordered!!! Spend 45 minutes with online chat support agent, AND THEN she tells me she can't help me and to call a 1-800 for support!!! Really!?! So I called and got a supervisor on the line. He fixed the issue, BUT THEN told me HP wouldn't ship MY INK (that I had paid for) UNTIL they received back the incorrect ink!!! REALLY!?! HP has gone SO FAR DOWNHILL as a company, it's really sad... I will not, repeat NOT, even buy an HP product again... Ever.
How do I know I can trust these reviews about Hewlett Packard?
608,728 reviews on ConsumerAffairs are verified.
We require contact information to ensure our reviewers are real.
We use intelligent software that helps us maintain the integrity of reviews.
Our moderators read all reviews to verify quality and helpfulness.
For more information about reviews on ConsumerAffairs.com please visit our FAQ.

My Office Jet Pro 8600 has stopped working because of the changes you made and my non HP ink cartridge. You should be ashamed of yourself for changing the printer in my home so that it no longer works. I think your ethics and business sense are deplorable. The price of your ink is way too high and obviously you are ripping off your customers to make a buck. Guess what? My Office Jet Pro 8600 will be the last HP I buy so you don't have to worry about me using the wrong ink cartridges in future. Sad to see a good company go bad!!!

My wireless printer is printing all right but for the life of me I cannot connect my printer to Web Services and I am now on the verge of getting a printer of another brand. I have tried everything but NOTHING has worked so far. They are asking for a "claim code" but the instructions for getting the claim code are disgustingly inadequate and I cannot understand them. In the meantime I have a printer and cannot fax and cannot scan. I would not recommend HP printers to anyone unless you are willing to spend big bucks to have a computer person come to your home to set it up correctly. HP's instructions are not clear.

On September 7, 2016, an HP representative contacted me in regards to me connecting my HP Chromebook to my HP F4580 Printer. At which time I was informed that my operating system does not work with connecting this printer. I was then told that I would have to pay forty nine dollars to remove other operating system slots in order to include google chrome as my printers operating system. I immediately informed the representative that I refused to pay the forty nine dollars at which time he hung up in my face. The customer service was extremely poor due to the rep not being able to explain in great detail the need for me to pay the forty nine dollar fee plus hanging up on a customer. I purchased this wireless printer approximately two years ago, so I have no clue on why it won't print from a Chromebook computer. If a printer is wireless you should be able to printer from any laptop.

The print option goes directly to the printer via WiFi, but when you need to scan, when it goes from Printer to computer, it all goes through the HP printer main server - meaning, when THEIR server is down, you cannot scan to email, you cannot scan to computer. And there is no option to hard-wire connect the printer to your computer so that you can skip funneling all your documents through the HP Server system.
And why is that??? When your printer communicates with your computer (scan to email OR scan to your personal computer) it goes through the HP Server, from your printer to your computer, it goes through HP - and they can then monitor how much ink you have in your printer - and then they try to sell you their automatic replacement system. This is where they make $$$$. After over an hour on their 'support line' (only open during business hours) I was FINALLY told that the reason why my scans were NOT emailing or coming to my computer was because their server was down. That I should wait a few hours for their server to reboot.
Seems their server is down much of the time, especially on weekends. (This is the second weekend in a row!) They NEVER responded to my emails - - they could have posted on their support website that their own server was down and that was why you can't scan to email or scan to computer. (My printer is 2 feet from my computer, WTF!!!) Until they offer an option where you can hard-wire connect to your personal computer AND also stop monitoring my ink use by forcing me through the HP server, I will NOT invest in this company.

HP, gives a whopping 90 days on software issues on computers. I have HP computer and HP laser printer. THESE WILL BE THE LAST ONES I BUY FROM THIS FRAUD OF A COMPANY! The HP support assistant which provides updates and drivers, will not recognize my HP printer. When I call tech support, the printer people tell me it is a computer issue. So when I call for computer tech support, they tell me the computer is out of warranty and I must pay to have help for so that the HP assistant can recognize my HP printer, from my HP computer.
I just spent another 55 mins being sent in circles. I asked for management, but got sent in another circle. NOT acceptable to keep someone on hold, transfer them around as if you are helping, only for the customer to end back in the queue for the next representative. I will NEVER buy their products again. This company does not value their customer or the customer's time. Again do not buy this garbage. None of their support staff is in the USA! Unless you want a crappy product, with a crappy warranty, with crappy customer service, STAY AWAY FROM HP JUNK!

I have owned a number of HP printers through the years and I feel like they have each been on a slow decline. My latest machine was purchased brand new and has only had problems. Print quality has been poor, the ink ran out incredibly fast even though I barely used it and there was a printing error almost every time I used it. The touch screen seems like a nice feature but has had issues with working and I've had to resort to printing important and urgent documents outside my house because mine either goes on the fritz or the print job doesn't look good at all. I thought HP was supposed to be top of the line but they've really disappointed me, especially as of late.

I have a HP Envy 7640 all-in-one-printer. I went to scan some pages to my computer and I kept getting from the printer that it could not scan to my PC. I brought up their fix it scan, and everything said that it was fine. I still had problems so I uninstalled it then reinstalled it only to my horror, they are telling me that I will have to pay $29.78 to fix it!!!! What a scam!!! I then brought up their tech support online, and asked what goes, and they said that I had to pay this or I couldn't get my 12 drives that I needed to fix my problem!!! I was so D** mad!!! I told them that I was going to tell everyone on the web, not to buy their products, because they will screw you for their services, to use the product!!! Why in the world would these people do this, unless people stopped buying their products!!!

I had an old HP. It still worked! However, they made sure you had to get a new one because you could no longer download the program or its updates. So, I bought a new one. Had to replace the black cartridge pretty fast which I was warned about (they don't even come with good ink cartridges). My replacement cartridge was completely used up on 40 typed pages. These are pages of a Brochure I made, so the font is really large and there just wasn't much information there. Unbelievable! They used to last forever and I mean 100s of pages. I used to teach so I used the printer a lot back in 2003-2014. You also used to be able to shake them and get one more page. No more. HP you should be ashamed of yourselves.

HP has been determined to undermine the generic ink being sold at a fraction of the cost. They initially allow printers to send an error message stating that non genuine cartridges are being used which could result in damages to the printer. This mostly is not true and is a scare tactic! Recently my 8600 Plus has been noted to send a (hp now is sending messages that one or more of your cartridges is damaged) error message claiming it's causing the printer to malfunction? The printer will no longer print and there is NOTHING wrong with the new generic cartridge beside H/P not liking that they aren't purchased from them.
It's amazing how any company can sell you a product and be allowed to control its use as if it is being leased for their purpose. This is illegal and we as a collective have to contact the Attorney General's and BBB locally to have this travesty investigated. In closing I maintain that the printers are great but the company is practicing questionable ethics.

Bought 22 days ago from Office Depot. Unit locks up about 5-6 times a day and I have to use the HP Print and Scan Doctor to clear items I was trying to print (God only knows what they were by the time I get the printer clear and can use it again!). Took me a full day to find a telephone number to call because the online "forums" provided by HP were useless. The Indian guy I got on the phone that took up 30 minutes of my day linked in and told me my computer was "infected" and that they'd have to sell me a protection program... read $$$! IF this printer has a problem with Windows 10 someone tell me. IF IT'S JUST A PIECE OF JUNK it's going back!
Update Aug 2, 2016: HP politely sent me an email with a very long sign in process to establish a Support Case Number. The email stated they would contact me... NOT. It's been 4 days. There is no one on the line at the telephone number given. It only refers you to online solutions (which are not solutions). How in the ** can they run a company like this? My printer locks up after every print job (simple print... 1 page word document). I spend a minimum of 2 hours a day going through the scan/print doctor to clear a print job so I can continue. Who in the gosh darn heck can I TALK to?

The quality of HP printers have been poor lately. I had good results from HP printers 7 years ago (I owned that printer for many years) so I purchased another HP 3 years ago to update to a better system but the ink dried in the jet tubes when not using it in just one month. After getting burned on that sale I still stayed with HP for the next printer & purchased the Officejet Pro 6830. Again a HP printer stopped working. On this printer I was connected through the internet to HP to remind me of changing print cartridges when needed so the issue with ink drying in the printing mechanisms would not be a problem again. I changed all the ink cartridges as told by HP but the old cartridges I removed were still full of ink!
A month later, again I was directed to replace all the cartridges (should be only the ones that are being used more), I could not print due to an print head error code. I looked inside when the print heads moved over and the inside of (what I still considered still a new printer!) was a flood of ink all over the inside of the guts of the printer, no wonder it could not function. I installed the cartridges correctly too! I WILL NEVER BUY A HP PRINTER AGAIN! I guess HP printers are only built to be useful for one year.

These things are super sensitive. I bet all the happy people are because they haven't changed a cartridge yet. We bought this at Costco, it ran great... until the black ink cartridge was empty... Was told I waited too long to refill the cartridge, as it is too dry and sealed to refill. Didn't realize these things have blood platelets. Ok, I guess we're over a barrel, let's buy some more!
We buy some more, $60 for 3 black cartridges!!! I was mad for a week because this took food from our baby's mouth. $60 can buy a lot of food, diapers, etc. They should be $6 each, we all know it costs about 60 cents to make one of these things... The packaging needs a waterjet, industrial shear press, or a gas welder to open. I guess they worry about people stuffing these down their pants and leaving the store but I bet more worried about them returning for store credit to get something that actually works!!!
I put the new cartridge in, and of course it doesn't print black at all. I check online and people mention wipe/soak the loading tray screen down with a warm water and paper towel and it should be good. It doesn't work. I try again, it doesn't work. Move the printer head over damp warm water paper towel. Doesn't work. Tried four times. It doesn't work.
I decide to pull another cartridge from the package, in case the first NEW cartridge was somehow bad. I instantly get a message "Thanks for having genuine HP cartridge". You're welcome, and thanks for marking up this cartridge so high I have to work more to buy my baby diapers. The printer then spouts off all kinds of warnings: "cartridge not functioning, printer head not functioning, can't identify cartridge, cyan not working, yellow not working, does not compute, does not compute..." Done with HP and from their stock it appears a lot of people are done...

I purchased a printer/scanner/fax last month and I am renovating a house I just moved into so I do not have internet connection. Right now, I just need to print documents. The CD that came with the printer would not read. I called and the person I spoke with was so rude. She continued to say, "what do you want me to do?" I asked for a new CD to be sent to me because this one is bad. She again said, "it's isolated." I said, "I don't understand, if I'm the only one then send me a new CD so I can set up my $220 printer I purchased from you." Her response, "I don't understand what you want." I hung up. I'm recently divorced trying to get a second job to get back on my feet. All I want to do is print my resume & I have to deal with this after what I spent. I'm sorry but she spoke broken English. This is sad.

Error: there is a problem with the print head. Bought at Sam's Club 2015, BIG MISTAKE! As reported ad infinitum by others and a friend who has returned THREE (3) of this model HP printer, my printer died today with an error reported: "There is a problem with the print head." NOTHING I have done to solve the problem, and it is considerable, allows print head cleaning, alignment, or any other maintenance activity. I'm through with HP printers permanently. No wonder HP's stock is in the tank. Avoid this HP printer like the plague. I'm through with HP printers.

I called for HP printer technical support. As I was trying to get help, she had to login to my computer from her workplace to see what was the technical difficulty was. Talking to for several minutes, she told me I had to pay just for me speaking to her and asking for help. She got frustrated with me since I told her I did not know the reason for paying her since that's their job in the first place. Our conversation ended because I was upset and hung up the phone but she was still logged into my computer. When I was trying to log her out, she would keep moving around things so I wouldn't log her out. She knew exactly what I was trying to do and thought it was funny. She opened up notepads on my computer and put "HAHAHAH", "**".
I called the technician number again and asked for the manager and "Ashley" which she claim was the manager, insisted it was not one of their people. Then she told me she spoke to the technician and the technician claimed she did not do any of the things I said. Ashley, the "manager" then told me she guarantee it wasn't their people just because I didn't get the technician's name. But just because I didn't get the name doesn't mean it wasn't one of their people. She was covering for the technician and wouldn't give me the technician's name. HP printer technical assistance needs to check their technicians with their unprofessional behavior to their customers.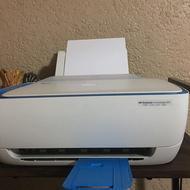 I bought our HP DeskJet 3635 - wireless all-in-one printer a few months ago and I can totally say that it is worth your money. For one, it is a good printer with a very affordable price. It definitely would fit anybody's budget. It is everything that you need - you can use it as a printer, scanner, and copier. You can also easily connect to it - it has WiFi so you can wirelessly print your pics or documents. It also has a mobile app that could make printing from your mobile phones very easy. I also tried to print a manual that contains 150 pages and it finished the job in less than 10 minutes. That's how fast it is. It is very easy to use and it is really compact - you can place it anywhere. The ink cartridge is also very cheap. And most of all, the printing quality is awesome.

HP Officejet 8500 does not work with Windows 10. Since installing Windows 10, the scan and fax features only work with Windows Fax and Scan. After creating a request online to HP and filling in all fields the system reports that the device is no longer supported. Hey HP, it ain't that old. I have hundreds of dollars of cartridges in stock. Hey Carly is gone why the "corporate straight-arm" mentality to your customers, HP?

HP Officejet 150 Mobile L511 - This is the king portable printers. It's relatively light, it can print files with colors, and is very efficient about ink usage. It can also scan and email documents--also photocopy them. I use one for my work for almost 2 years now and it still works like new. I never have to worry about printing files for my boss whenever we're on the go. It's because of this very nifty gadget that my "mobile office" is complete. The only downside to it is its battery takes a long time to charge. I wish they could do something about it. It could also be a bit lighter or smaller so it would be a lot easier to carry.

Bought a Pro 8620 All-in-1 printer for office use in late March this year. Officially start using the printer in late April and less than 2 months of usage, the printer had died on me already due to hardware issues. I called the customer service support and had to do all the troubleshooting all over again when I feedback that I had already done so before I called in and what are the error codes I've got then. After an exhaustive time trying to understand the CSO with her peculiar accent while trying to get my message across, she finally got me the CSO#. But what is really disappointing is the over-sell promise by Courts on the on-site replacement unit the next day which HP cannot fulfill at all. This is on top of having to get a replacement unit of a different model and with different ink cartridges requirements. No doubt, the replacement unit will come with ink cartridge [new or old set I'm not informed also].
What am I going to do with the spare cartridges I bought with the printer since it cannot be used on the replacement unit? I also have to spend time to reset my settings etc. And what are we going to do without any printer to use now? We are a new set-up and time is already not on our side. Further, with this type of services and quality by HP, then HP should not target any new company set-ups as most of the time, the new set-ups will probably just depend on 1 printer and not multiple units and how can HP compensate us for this inconvenience and loss of use? This is my first and going be my last HP printer for sure!

This printer has used huge amounts of ink and then when I changed the black ink cartridge my printer would only print blank pages after that. I did all the troubleshooting HP recommends several times and still get blank pages. Looked up online and see that this has been a issue with several of their printers for years. There are even class action suits. I will NEVER buy a HP product again, I feel completely ripped off by them. I now have to buy a new printer and I have hardly used the 6510. Makes me sick.

The worse program that HP ever created. If you tried to install any ink while you are for the replacement from them, you will not be able to install anything but that replacement ink even if you purchase new ink from reputable company like Staples. The reason is prior to making the call to enroll, I have told them that I could not wait for the replacement. Don't ask me what they did to my printer, it would not work after they had their finger in it. I lost the printer, I had to purchase a new one. I called them a few days later to connect the new printer. Their representative in India would not give me a Case Number and keep dropping all my calls. The worse customer service that I ever had to deal with. They leave you on the line, cannot connect a printer and a scanner and still have an attitude.
If it continue, I may have to return the printer and call it off with HP. I lost a printer 8610 and just purchased a new one. The attitude of their employees are horrible. Why do they take those jobs overseas? Please explain it to the consumers because the services are the worst. No one is willing to help. They just leave you on the line and practically don't give a damn about you because no one will come back to talk to you. It happen the last few days, and now the same thing again. Lord have Mercy on me. I really need to bring this printer back and call it a day. Good luck HP with your crappy services.

Completely dissatisfied with this printer. The salesperson specifically explained that it was a business printer and could print on a variety of cardstock paper. However, it malfunctioned after the first printing on cardstock and HP will not honor the warranty. After hours and hours of talking to customer support they have denied the warranty and I am left with a printer that is malfunctioning. I will not buy another HP Printer.

HP Officejet Pro 6230 eprinter - I bought a printer for printing at home to save me from having to go somewhere for my printing needs. I had to replace the cartridges that came with it very quickly (which I hear is normal). Since I replaced the cartridges 1 is coming up as a counterfeit cartridge and all three colors are empty again even though I have only printed a handful of times and mostly in black and white draft. Customer Support used the date of install to try to tell me that I did not have a case though I had printed about 5 individual pages and on larger job of about 30 pages black and white. All three color cartridges were brand new, bought in a store and factory sealed.
I am now also have trouble with the black ink though it is not low. It prints in strips with white stripes between. I have had to also uninstall and reinstall my printer about 15 times since I purchased it because it constantly says it is offline. After spending from 10:06 am to 12:36pm online trying to get a resolution with a customer support person, I finally got a phone number. I called spent another hour talking to someone. This is in addition to the amount of time I have spent troubleshooting every time I go to print something. Such a waste of time and money.

I bought a printer to print a few things, and I was actually going to return it, because I had decided years ago that inkjet was just not worth it, and it was better to just print stuff at Walgreens (it was actually cheaper comparing say an 8 x 12 to 8 x 12). Of course the little ink cartridge that came with the printers ran out pretty soon too.
I was getting ready to pack it up, when I saw that you can do a pay monthly ink account, and you will get a min. number of pages for a surprisingly reasonable amount of $. Then you can send back the ink, and they supply you with 2 cartridges, and everything you need to mail back and forth and not ever run out of ink. I have to say it totally changed the game for me, and I am happy to have an HP office suit printer with scanner, and not have to worry about paying some obscene amount of $ every time it runs out (before with the Canon I had it seemed to run out every 8 prints), and have to drive to the store wasting gas.

We have an HP printer both at home and in the office. Both I can say are very reliable. We've been using the printer at home for some years now at it hasn't failed us even once. The one in the office is very durable as well considering the number of people using it 24 hours a day for 5 days every week. It's one hell of a printer. Can't remember if we had any issues with it.

ConsumerAffairs Research Team
The ConsumerAffairs Research Team believes everyone deserves to make smart decisions. We aim to provide readers with the most up-to-date information available about today's consumer products and services.
HP Printers are created by Hewlett-Packard, a large technology company founded in 1929 and headquartered in Palo Alto. The company manufactures and sells a wide range of printers in addition to laptops, desktops, tablets and more.
Ink types: HP Printers come in a wide variety of ink choices, including laser printers, ink jets and more. This means the company is a good choice for people who are looking for a printer that uses nearly any type of ink.
Community-focused: HP is focused on doing good in the world, and they are committed to environmental initiatives that can help strengthen the environment and improve the earth's future.
Varying capacity printers available: The company has created a wide range of printers, from those that can handle a very high capacity, to small individual job printers. This makes it a good choice for anyone from large businesses to individual PC owners.
Reputation: HP is one of the oldest technology companies that still creates and sells products, and their years of success have proven that they are a forward-thinking company that makes high-quality and well-regarded products.
Accessories: The company sells a wide variety of accessories that can accompany printers and computers, so it is a convenient one-stop shop for those in the market for a printer.
Best for Large offices, homeowners with computers, photographers, students and schools.
HP Printers Company Profile
Company Name:

Hewlett Packard

Year Founded:

1939

Address:

3000 Hanover Street

City:

Palo Alto

State/Province:

CA

Postal Code:

94304

Country:

United States

Website:

http://www.hp.com/