Consumer Complaints and Reviews

HP Stream Notebook - This is a $220 laptop, so I wasn't expecting much. What I wasn't expecting is to spend countless hours trying to get HP to fix the broken keyboard keys that were broken within 6 months, and would not work. Their warranty is a measly 1 year, and it's limited, and they fight you tooth and nail to get support. The mouse pad also didn't function/click properly after about 6 weeks. We noticed if you click anywhere to the right of the middle, it initiates a right-click instead of a standard mouse click. Overall, horrible quality and a waste of money. We ended up just buying an external keyboard and mouse, which work much better. The computer still is slow, lags, and barely usable with more than 3 browser tabs open. DO NOT BUY.

Never ever buy a computer/laptop from HP. They will use any excuse to not fix their junk. I bought and paid five hundred dollars and something for a laptop new from the college where I attend. I've had it less than a year. The computer was fine and all of a sudden it shut completely off. I couldn't get it to turn back on. After contacting them and taking many steps they provided on the phone, I was told it was internal issue. I had to pay close to 16.00 out of my pocket to ship it back to them. Only to receive a phone call stating they couldn't fix my computer and their tech said it had liquid stains on it. Wrong. It didn't. They went as far to say as it could have happened while it was being shipped back. Wrong.
This is nothing but pure out lies. All he can do is say "Sorry, we can't fix it." I know beyond a shadow of doubt that laptop had no liquid damage to it while in my possession. To me it appears they are making excuses to keep from repairing their junk. Terrible customer service and terrible gm service. I will never buy another laptop from them ever. I know this isn't what happened and I have no doubt it's because they don't want to stand behind their product. Terrible.

I saw the Envy/Beats logo and thought it would be awesome. But it wasn't. Laptop overheats, crashes, shuts down, goes into a black screen, won't update BIOS (not even with USB troubleshooting), battery is internal (unremovable) and has clearly overheated within the laptop. I checked the recall and was told my battery is fine, even though my model is in the recall. I knew upgrading to Windows 10 was iffy, but never did I imagine all these issues! I should've never upgraded it! Worst 1st notebook/laptop experience. And it's past warranty so I can't get any serious help. Taking this junk to the Geek Squad and unless repair is affordable, NEVER AGAIN HP!
I'm not computer illiterate either. I tried ALL the troubleshooting advice. If my product melted inside through no fault of my own, it should be replaced by HP or credit towards a new laptop. I do not have receipts as I bought this a couple years ago. I've been having all my issues right after the 1yr warranty expired. Go figure!!!

I got HP laptop for Christmas (4 month ago). So far I have been very unhappy with it. The battery lasts about 1/2 hour on a good day, the wifi keep cutting out and the touch pad dosent always work. I do not recommend this brand to anyone.

My screen was damaged. I called customer service to find the closest service rep. They told me that in spite of the fact that my laptop was 8 mo. old and still under warranty, they no longer made or carried parts for it and therefore, it could not be fixed. I would have to purchase a new laptop. They would have a sales rep call me the next day after 5 p.m. Never called - all night. Next night, I spoke to a new rep who finally admitted that I had purchased this laptop. I purchased a new one without frills - warranty was not available at the same price it was on my screen, so I declined. Cure to transfer files cost me another $50 and when it came to paying for the old laptop (under warranty) they gave me $50 credit - $50! I argued them up to $65. For a $550 laptop that was silly and not acceptable.
How do I know I can trust these reviews about Hewlett Packard?
762,011 reviews on ConsumerAffairs are verified.
We require contact information to ensure our reviewers are real.
We use intelligent software that helps us maintain the integrity of reviews.
Our moderators read all reviews to verify quality and helpfulness.
For more information about reviews on ConsumerAffairs.com please visit our FAQ.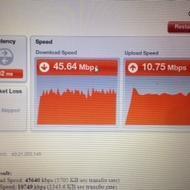 2017 HP Premium High Performance 17.3 inch HD+ (1600 x 900) Laptop PC | 7th Intel Core i7-7500U Processor| 2.7 GHz | 8GB DDR4 RAM | 1TB HDD | HDMI | DVDRW | WIFI | Windows 10 (Black) (Personal Computers). Horrible, slower than my old I3, and support has been worse. I have always been a fan of HP but absolutely disgusted with this purchase. Countless hours trying to get this machine to perform. Machine should be a rocket on the internet. I have 100MB service and the best this has performed is 50MB. Image below.
Update: 4/18/17. Just got off the phone with John at HP for the last time (I think this was the 6th and final; case **). This was 2 levels of customer service management that said solution would be identified after I paid for the service and be diagnosed over the phone. They would not allow me to ship to them to diagnose and repair. Even with me paying for the shipping so I wouldn't have to waste any more of my time. I also had this machine with 3 different computer techs, the last providing documentation the machine does not perform. Also spent time on their website users group blog with all suggestions implemented. I have wasted countless hours now and will end up never placing the machine into service. I'm done with this machine, and done with HP. Their warranty is worthless and HP has no integrity. Never again.

We bought an HP Pavilion laptop from Best Buy in Sept. 2016, and right from day 1 there was an issue with the device. In November - almost exactly two months later - the laptop completely crashed. We suspect that the issue is the RAM which apparently, would be about a $100 repair. We phoned Best Buy; they would not do anything more to resolve the situation than to inform us that the device had a 1-year manufacturer's warranty.
We contacted HP Support immediately and spent nearly 90 minutes on the phone with HP Support; the first person we spoke with repeatedly told us to restart the computer while pressing various buttons, which we tried to no avail. The person on the phone did not seem to believe that we were following her instructions (which we were) and began to grow very impatient with us. After being put on hold, we were transferred to a supervisor and it was determined that we would have to send in the laptop to HP for repair. This process would take several weeks (far from ideal though it seemed we had little choice if we wanted it repaired under the warranty) and apparently they would send a box for us to put the laptop in and mail it.
Well, it's mid-April, and no box has come yet! Since phoning HP support, we have tried contacting them through their website, as well as messaging them through Facebook. Each time someone from HP Support responds, asks for the same information, informs us that they will look into it and get back to us, but then they never do get back to us, and no box shows up either. We have been at this for months and no box has been sent and the device is still entirely useless. Trying to get the laptop fixed under its warranty has been a horrific experience that has wasted hours of our time. It is becoming increasingly clear that HP's approach to fixing faulty devices under warranty involves dragging the process out for months so that the warranty either expires, or the customer gives up- which ever happens first.
And now to top it off, we inadvertently learned over the weekend that HP Support was hacked and customers' data was stolen and that the company hushed this up - this is interesting because in the past month, we have been bombarded with a ridiculous number of fraudulent text messages and emails. We were wondering what was going on, but upon learning of the security breach, we suspect that this might have something to do with it, since we had given HP Support our phone number and email address.
So while our device has not been fixed yet under the warranty, we do suspect that our personal data was stolen during this ordeal. We are somewhat concerned and of course nobody at HP Support will respond to questions about this either. After this experience, we would never buy an HP product again. Based on the company's horrific customer service, it is clear that they do not value those who support their business by buying their products, so we will be taking our business elsewhere.

My experience was terrible. I sent my HP Pavilion 17" screen Notebook to HP to have it repaired for a faulty keyboard in which my shift key stuck (did not physically stick, systematically stuck). After receiving my product, and it being in their care for 5 days, I received a phone call the day after Easter, stating that my computer was irreversibly damaged. They told me that the motherboard was fried, the fan was fried, the battery was fried, and I was required to pay $640 to fix it. Keep in mind, the only problem I had when I sent it to HP was my shift key not properly functioning. They had told me, "the only way this damage could have occurred was for somebody to have opened up the computer and spilled something inside of it."
So you would think that HP would take fault. No, instead they offered me a $250 coupon and Accidental Damage Coverage for a computer I could purchase through HP. I spent $1100 on my laptop. It was not even one year old. They noted the damage as "accidental" that it was something I did to cause the malfunctions. The computer was in working fashion when I shipped it to them. Now apparently, it is not functioning at all. I am waiting for the delivery of my "destroyed" product so I can assess the damage myself. I declined their offer for the $250 coupon and warranty and chose to go through the American Consumer Association to try and settle this claim. Keep you posted. Don't buy HP.

I purchased laptop. Forgot password, called number and got service. Lady said could fix password and was doing special on fee. I purchased the fee and then was on hold for over hour and half just to be told that could not reset password to take repair shop which would cost more money. Tech said could call billing office on Monday and stop payment. I called billing office and was told there was a early fee charge of 75 dollars. Billing lady said tech had no authority to tell me that. I called place I purchased the laptop and the man said just to hit f10 to get back to factory reset. Not happy with HP and will not purchase anything else from them and wished I had read these reviews since most are not favorable.

Had laptop 2months or less screen messed up. I called customer service and was told out of warranty which was crazy. Talk to supervisor all representatives with broken English but I'm not one to judge that. Got the run around until I was just fed up and gave up. Now I have a laptop that's sitting up collect dust. Such a waste of money. Sigh.

I am extremely frustrated by HP's service and refusal to help customers even when it is HP's own mistake. I used to have a lot of faith in HP's laptops due to their good specifications and moderate prices but I had really bad experiences recently... I ordered an Envy laptop that arrived after almost a month which was understandable since they gave me that estimated time to begin with. But the laptop had a problem with hard disk and after an HP tech representative couldn't solve it, I was advised to exchange the product...
I placed an order for a new laptop which arrived after 1 and a half week but that new laptop also has a problem with touchpad now. Upon chatting with a representative, they said I would have to send the laptop back for about a week to get it fixed. I told them I have a lot of college work that I can't do without my laptop but They refused to provide on-site service without charging me for it... Extremely frustrating experience... For almost 2 months I have been experiencing issues now and they are not helpful enough to expedite the process to get my product fixed. I don't trust HP products anymore and would likely not buy one in future.

I bought a HP Envy 2 years ago in May 2015. Had it for one mo. when had trouble. Called HP and they fixed it. A few mos. later had more trouble. I could not shut my computer down. It kept saying it was going to crash. Well called HP again. This time they said it's not covered I would have to pay 300.00 for a 3-year contract. Which I bought because I did not even have this a year and paid over 1000.00 for it. They fixed it and said now it would be covered even if I drop it. Well it was good for about 6 mos. same thing happens again. This time they told me it was not covered and it was a virus and I would have to pay another 300.00 for them to fix it. I called them 3 times. They got real nasty yelled at me. Said that they could not do anything unless I paid them 300.00.
I was not giving them another dime as this computer not 2 years old yet and it was to be covered 3 years. So I took it today and it cost me 137.00 to get it fixed there. HP told me my virus was no good today. The man said nothing wrong with the virus plan I have. I think once they get in your computer to fix it they keep doing things to it that you have to call them to fix it. And they just want more money every time, they are a big rip-off. I will never buy another HP. Had a desktop and now laptop and had nothing but trouble.

I bought this computer Pavilion Desktop 510 - A010 in October 2016 and it has given me problems ever since. I have contacted HP support twice and have allowed them to remotely fix my computer and still it's a piece of crap. I have minimal things that I have downloaded. I know other people who have HP computers and they don't have any issues, but this one is the worst computer I have ever owned.

This printer (HP X476 All In One Printer) cost a great deal of money and requires very expensive ink. It is relatively new, my warranty just ran out about two months ago. I downloaded the repair manual and followed several steps to fix my printer issues. Only about a quarter of black ink is visible on each side of the page, the rest is just an empty block. I called HP support and they wanted to charge me $39 to walk me through the repair manual. How ridiculous! They have so many complaints. A problems with their products that they have to charge to have people repair them themselves? I am truly appalled.

Purchased a HP Pavilion laptop on April 18, 2015. Has not been used much. Checking e-mails a couple times a month. Hard drive died. I had HP run diagnostics and proved it (initially wanted $59.95 to do so). Said they could fix it for $400.00. They won't send software either (unless it's paid for). Will be pursuing Maine's Implied Warranty Law thru the Attorney General. Will never purchase HP products again... ever.

My son bought me the HP laptop for Christmas 2015 From Best Buy. Took it in almost a year later because the letters i, k & 8 don't work, have to add pressure sometimes over a minute. They told me to just reset the computer to factory setting. Have done that now multiple times, Doesn't work. What can I do to get this fixed. Any recalls on this product? Ready to trade this in now!

Hello HP. 1 month ago, I ask to repair my boys laptop as the power socket was broken. I never asked for any replacement screws, only to fix broken power. I had 2 phone calls from Hp telling me that the repair is ongoing. Not one time did anyone inform me that you are replacing screws of which there was 2 screws missing from the outside of the case.
Finally I got a call that I can collect the laptop. When I got there I was given a bill that included over 2,000 THB for replacement screw set!!! Again, I never asked for this to be replaced. The tech guy in your Phuket town office says they order screws from Singapore and I must pay!!! I told him to look at the repair request and show me where I ask for any screws and that 2,000 THB for screws is ridiculous.
I spent almost 1 hour in this shop trying to contact your English speaking support. Every number I dial says press 1 for English yet never anyone speak English, only put me on hold for almost one hour then put the phone down on me. Is this how you treat your customers??? In all HP Thailand, you have not one English speaking person even though you offer English in your phone menu, unbelievable!!!
The Tech says "ok, I send laptop back to Bangkok and take out screws"!!! I says "no, I don't waste my time and need the laptop for my boys school. It is HP mistake to replace screws and not once inform me of this additional work and price that again, I did not ask for". I could see that I am not getting any sense from anyone at HP no matter what office or number I called, no English speakers so I paid 3,000 THB and left the shop as my boy was waiting for me to collect him from school. HP technician threaten me to call the police and I told him he should because this is a fraud case so let them contact me. I truly cannot believe that HP Thailand has the audacity to charge over 2,000 THB for a few screws that I never asked for. I can fly to Singapore for 2,300 THB and you charge me this for screws!!! Checking on Ebay, I can buy a set of OEM replacement screw set for less than $10 instead of HP's cost of $58.00 (2,000 THB).

My husband bought me an HP laptop as a gift (We have warranty). My screen ended up having a crack! Well wouldn't you know that's not COVERED!! I have to pay $498 for repairs on a $596 laptop. So let's break this down... In 33 days (because of course it's been a process until today) I have to spend $1,000 on a laptop that I bought insurance for! With no remorse with no actual help but oh so willing to take my money?!? Yeah, no! I would never recommend HP to any buyer! I was very disappointed in the way this was handled, Shame on HP! You are basically stealing our hard working money!

I never get the extended warranty since problems usually arise within the limits of the one year warranty. I'm sorry now. I bought an HP Pavilion laptop 17' a little over 2 years ago from QVC who gave me lifetime fix on the computer. A little after the warranty expired the problems started. First the paint on the keyboard came off and I couldn't see what the letters were (had to buy stickers). Then, the battery only lasts about 20 minutes, then the port on the one side won't work. But, my biggest problem is that there is a green or red film on the screen whenever you wake it up from sleep that takes a few minutes before it clears enough to see the screen.
Called my 'lifetime' fix, was on hold for an hour only to be told it is a hardware problem and the fix is only for software. Called HP and they said I had to send it back and it would be about $159 to fix. Filed a complaint with the BBB and HP just called and said they quoted me the wrong price. It would be over $350 to fix but they would give me a 30% discount. When I said that was too much they said they would give me $75 off a new HP computer. Can't stop laughing that they think I would ever buy HP again. This is my fourth computer (the others lasted at least 6 years) but first and last HP.

I contacted HP. My laptop was purchased 8/15/16, it is only 7 months old and should still be under warranty. I got transferred 5-6 times and they state that it is a software issue and I needed to pay $50 upfront and then $15/month. I was told it is a software issue. I don't know how they can say that when they have not even looked at the computer at all. Now I have a worthless metal box that cost me over $500 and it should be under warranty. HP does not stand behind its products or warranties. I will never ever purchase another HP product in my life. Very poor customer service provided. This computer was purchased for college now what am I to do.

I used to think very highly of HP but that changed when I bought an hp notebook 15. It had problems updating the bios menu and caused it to be useless unless I installed Windows 10 from a flash drive which I did. I talked to customer service about it. But they were rude and argued a lot. My laptop now randomly crashes and I had to reset it for the 6th time since the start of 2017. Hp doesn't care about their paying customers. They just want your money.

I bought the HP Pavilion all-in-one desktop computer about a year and half ago at Costco. The computer itself is a piece of **. The first time when I encountered the issue, called HP, sent it back for repair. Got the computer back. Still didn't work. Called the HP. Sent it back for repair. Got the computer back again, then still have the problem. I called HP and asked them if they can either return my money or just simple to send me a new computer for the same model, I'll be just fine with that. But the case manager said that it's not an option. My option at this point is now sending it back for repair. If after this 3rd time, the computer still does not work, they will refund me the money but will prorate the refund. REALLY? FOR REAL? THIS PIECE OF ** was defect from the day one. I couldn't use it for my business and he said prorate my refund? NEVER any HP PRODUCTS.

My HP Envy that is 15 months old and 3 months out of warranty hard drive just died. After calling tech support and paying $60, they confirmed it was dead. They refunded the service call cost and informed me that the new hard drive will cost $450!!! It's only 15 months old!!! I say, "Sorry sir, out of warranty and no extended warranty. Do you want to purchase a new hard drive?" Uh, no. Thanks for nothing HP, what a piece of garbage. First and last HP product I ever buy. Should've headed online warnings about poor hard drives, but assumed that quality had improved. Nope.

I was trying to download printer software from their site for my model and version of Linux. I could not find my model number so I decided to call HP support to see if they could help. The first time the call was misdirected. The second time, the agent claimed he couldn't hear me. The third time, I was told that they couldn't answer my question because my printer was no longer under warranty and I'd have to pay $20 for help or buy another printer over the phone.

3 years ago I updated from my Dell computer to HP because MS would no longer support XP. I updated a month later to a different HP printer so I could print from any device. (And there wasn't anything wrong with printer that I replaced). I have had nothing but trouble from the computer since day 1. The 2 devices would not recognize each other in printing, esp e-printing. I called HP tech support; of course their so-called customer service answered and opened a repair ticket. Then she connected me to a tech (at least he was supposed to be). He worked on the problem remotely little more than an hour. Finally got printer to e-print 1 time. Closed conversation. I tried it, didn't work. I called back, was connected to same tech. Then he could not get it to work. He said I must have an alternating IP address and closed.
I called Cust Serv, she had closed the ticket. That was the beginning of a terrible relationship. Now another new problem has arisen (one of many in past 3 years). I am literally going to destroy this not-so-cheap computer and buy a new one tomorrow. I will NEVER have another HP product in my home! Their cust service is a joke and I stupidly knew that when the store salesman talked me into buying this excuse of a computer. Never had problems with my Mac, my Gateway, or my Dell that was not resolved by tech and cust serv of any of those companies (and those were very few). I loved XP because it was problem free. Windows 10 has been another joke. Thanks MS for nothing. I would advise ANYONE who cannot afford to buy a computer from a reputable company, to save their money until they can. DO NOT BUY HP FOR ANY REASON.

I bought HP LED last week on Wednesday 22nd Feb 2017. It's very bad resolution. I called in HP TOLLFREE number. Your representative said, "Sir it's a default setting of this HP LED. We can't do anything." If you can't do anything so why are you selling bad products. Now I realized I just wasted my money on HP MONITOR 19KA serial no is CNC6420R16? Just get back your product and give me my money back I will look for another company LED. Very very bad service of this company.

Purchased a new 510 desktop today. After Windows 10 update computer would not recognize the log-in password. Apparently a common problem but not, according to HP Support, a set-up problem. To fix it must buy the $14.99 per month technical support. Thanks but no thanks, back to the store tomorrow and that's it for HP.

I bought an HP notebook brand new because I had a Dell that looked very outdated but worked fantastic, which I sold to upgrade! Bought my HP notebook, worst purchase of my life! Slowest thing ever. I have only used it about 10 times because it is so slow I want to rip my hair out & throw it against a wall by the time I'm done! I have antivirus protection & have reset. It still sucks! Absolute garbage. Total waste of money. I will never purchase HP again.

I have had this HP computer for 2 years and have had issues with it for most of the years. I paid 999.00 for it and it has been nothing but problems. I had to reset it 3 times to factory settings. I just purchased an APPLE and will never go back to HP again.

I bought a new HP Envy laptop. It is hardly 90 days old. It ended up with an unmountable boot volume error. My laptop is under warranty and it is very new. When I called first, a representative named Vivek told me it would cost $120 for them to immediately help me out. Let me remind you that I paid close to $800 for this laptop and I am now being asked to pay a hundred more. I might as well have gotten a Mac instead. So I am refused any help and then hanged up. In my second call I speak with Arthur. He tried helping me by remotely accessing this other laptop of mine to get hold of the new one that is not working. But again he ends up telling me that the service to get my laptop up and running will cost $100. I am just furious. I am a student and spent all my saving getting a new laptop only to be met with even more expenditure! This does not make sense. I am almost in tears now.
Then I call one last time hoping to get some help, but this guys was outright rude and was very unprofessional. He did not introduce himself, neither did he ask for the problem. He just put me on wait and in spite of asking persistently he had a machine like response asking me to wait. I was just frustrated and hung up. I called again and then as soon as I opened my mouth about needing help with my HP Envy, the guy on the other side hung up on me. What sort of customer service is this?! Who does that! Extremely disappointed with HP.
One last call before I lose my mind. One lady greets me on the other side and she does what Arthur did and I had some hope that she would help me out. But no, unless I pay $150 for the service! This is daylight robbery that these IT companies are involved in. As long as I am in the warranty period why can't you help me? Extremely disappointed with you HP, you left me teary eyed and I feel hopeless right now. I will definitely never ever recommend HP to anyone.

ConsumerAffairs Research Team
The ConsumerAffairs Research Team believes everyone deserves to make smart decisions. We aim to provide readers with the most up-to-date information available about today's consumer products and services.
Formerly known as the Hewlett-Packard Company, Hewlett Packard Enterprise, or HP, is a multinational technology company headquartered in Palo Alto, Calif. Their line of desktop, tablet and laptop computers offer consumers a wide selection of devices to fit any computer need.
HP Pavilion: The HP Pavilion is the basic model of desktop and laptop PCs for home use. The Pavilion line of laptops offers the same type of performance in a portable computer.
HP Envy: The HP Envy, a more powerful computer than the Pavilion, is designed to run programs that require more powerful hardware. The Envy is also available as an all-in-one computer and a laptop.
HP Omen: The HP Omen is the company's performance line of PCs. The Omen tower desktop is built for power while the Omen X gaming machine is a cube-shaped high-performance PC. HP's Omen laptop is the company's portable gaming computer.
HP Z2 mini: The HP Z is a workstation PC designed to run business applications and maximize productivity. The Z2 Mini is a small workstation in a compact case. HP also offers Z model laptops for businesses.
HP Sprout Pro: The HP Sprout Pro is a 3-D scanning PC designed for educational and creative purposes. It is an all-in-one PC built to be easy to use, combining 3-D capture and editing tools to keep manageability and workflow accessible.
Best for HP computers are best for casual users, businesses, gamers and anyone else looking for a PC.
HP Computers Company Profile
Company Name:

Hewlett Packard

Year Founded:

1939

Address:

3000 Hanover Street

City:

Palo Alto

State/Province:

CA

Postal Code:

94304

Country:

United States

Website:

http://www.hp.com/