Consumer Complaints and Reviews

I have never wrote a complaint to any company before. I just replaced a set of Epson ink cartridges 20 minutes ago. Printed maybe 23 sheets out and now it's asking me to replace the ink cartridge again and won't let me carry on printing anything. This is from your Epson XP-605. Really unimpressed with this company. That's just €45 I've spent on nothing!

Epson Workforce 2630 - I've had nothing but problems with this printer. From trying to print with ease and not all this complicated steps to go through to replacing of ink cartridges. In order for it to work you have to replace all 4 cartridges. I've done that numerous times and now after buying all the cartridges it prints fuzzy light black copies. Technical support said heads are clogged. More $$$ to fix or just buy a new one. I had bought Epson products before with problems. I should've known better with this purchase.

After checking several websites for reviews on printers decided the WF-3620 was perfect for me. Bought at Staples 4/26/17 and in setting up 5/2/17 (knew set up would not go as easy as expected so ensured I had time to get this done). Got a printer error message immediately so retried several times with same and different error message (0x54 and 0x69). Got online chat going with Jasmine via iPad. Had to click on link which did not work so she advised that I needed to get PC ready and call the toll free #. Do not know why I need a PC to set up a printer when instructions state not to hook to your PC. Called 888-304-8988 and got referred to 562-276-4322 by a very crabby operator and it took 3 times to get the referral number communicated. Called the number and with the foreign rep had difficulty understanding along with a very poor connection. Called back, same thing. Called again, poor connection and poor communication.
I am pretty sure the location was not Long Beach, CA or Salt Lake City, UT as indicated on my phone! Finally got a better connection and after much research with error message of 0x69 and being put on hold for over 10 minutes, was advised that I need a new printer! Questioned several times that it could not be fixed as rep indicated a hardware failure. All was good to have a new (refurbed? Not sure!) printer after I finally was able to get my address through to the representative who had difficulty with it all, until he wanted my credit card number to put a hold on for $101 until they got the defective printer back. I understand the issue, but do not want to give it out.
But secondly, the last reviewer said he got a re-furbished unit anyway. I bought a new unit (I think!!) and want a new replacement unit. Will just box this up and return to Staples and look at other brands of printers to purchase. Cannot add a receipt to this to be a "verified buyer" as I have no scanner thanks to Epson! What an ordeal!

OK. I never would have believed this cluster if I had not just gone through it myself. Over this past weekend, when I had tons of work and copies to get out, I received the DREADED 0x97 ERROR MESSAGE on my WF-7610. Today, I just spent over one hour talking to Josh & Felix in the Philippines and finally a supervisor by the name of Milton in California and found out that the computer is DEAD and of no further use to me. Sure; Epson stands behind their product if you agree to have a "refurbished replacement sent to your home" and as long as you allow them to put a hold for $150.00 on your credit card until they receive your old unit back to them.
BUT CUSTOMERS BEWARE. When you return your printer back to them, you are sending all of the stored information that you have used in copying, scanning, and creating your personal stuff from that printer on its hard drive. I have used this WF-7610 for very sensitive documents involving veteran's personal information (i.e. SS#s, Claim Numbers, Medical Information, etc) and that information is all stored inside of my printer. By returning it with the hard drive intact, would be like giving EPSON (or whoever they sell our old printers to) permission to steal my personal identity, and also every other person's identity that I have worked with in the past.
When I explained that returning it back to them was unacceptable to me; they said that there is some kind of process that they have whereby a tech would walk me through a clearing process on the phone to "erase" the data off of the hard drive before I return it back to them. How consoling is that to a person when you are dealing with people over the phone that you do not know and you cannot personally smash the hard drive yourself???
I guess I am returning back to HP as their customer. I'll eat this poor business choice. HP ink is cheaper, lasts longer, and you can buy HP printer ink on sale. You are not constantly "updating" hardware, software, and firmware only to find out that your product has been "downgraded" without your knowledge. And why would I allow Epson to place a $150.00 hold to send me a re-furbished product when that is what the new WF-7610 costs IF THEY HAD THEM IN STOCK. And this problem all happened after I replaced the ink cartridges with Epson products all purchased at Office Depot. Never again and buyers beware!

Our 2014 Epson Workforce Pro4630 Printer keeps showing an error 097 code after it prints one page. Frustrating. Also, the print cartridges are emptying their ink too quickly, e.g., the black ink cartridge is 3/4 gone and I've only printed maybe 200 pages or less!! I'm throwing this piece of crap out. If anyone has suggestions for a better printer that doesn't use tons of ink, please let me know!
How do I know I can trust these reviews about Epson?
765,036 reviews on ConsumerAffairs are verified.
We require contact information to ensure our reviewers are real.
We use intelligent software that helps us maintain the integrity of reviews.
Our moderators read all reviews to verify quality and helpfulness.
For more information about reviews on ConsumerAffairs.com please visit our FAQ.

I have had nothing but problems with my Epson printer. Every time it is not used for any length of time, the printer says it needs new ink cartridges. I change them and it still does not work. They make you buy ink cartridges even when they still have ink in them when you shake them. It's the worst printer I have ever had. I am throwing it out with the new ink cartridges and all. I will return to HP and never buy an Epson printer again. It's a total rip off. Forcing people to buy ink when they haven't used their printer enough!

The Epson ET-4550 printer stopped working less than a month after I bought it. Customer Service (in the Philippines) will only replace it with a refurbished printer. Customer Service in Long Beach will replace with a new printer. However, if the new one fails as well all I can get is a refurbished printer. As though this is my fault. Unfortunately I bought the printer at Best Buy and cannot find the receipt. Also the nearest Best Buy is 100's of miles away.

I purchased an Epson Workforce 100 portable printer in November of 2016. It stopped working in March 2017. Epson sent a replacement printer. As I was standing in FedEx Office, returning my printer, I realized that they sent me a refurbished unit. I didn't feel that I should have a "refurbished" unit at the "new" unit price, so I called Epson. The representative told me that Epson only send refurbished units to replace warranted ones. She also told me that the warranty was on the new item, not the refurbished one so I decided to send the refurbished one back and keep the new one that may stop working again later.
When Epson inquired about the printer return, I discovered that they provide 2 return labels - one for Canada and one for the US. I inadvertently used the Canadian label. Epson Canada returned the item to me and I had to ship it to the US location. The same group that took my money provided these instructions. Trudy ** also told me that I was misinformed by the other representative.
US location received it and processed it in but 1 day later, Epson still charged me the price of a "new" printer. When I inquired about it, I reached their customer support expert Trudy ** who informed me that once it was processed, my money would be returned in 7-10 business days. This is unacceptable to me. I asked to be transferred to another representative but she declined. Told me that she was in the highest department, yet she scheduled a return call from a manager. Epson has their printer and my money and they can't talk to me about it. 24 - 48 more hours. Buyers beware! They will sell you a junk printer and then take your money too.

Well another Epson Printer hits the landfill pile. Do not buy an Epson XP-424. I bought it for our winter home. Used it very infrequently. In 13 months, it bit the dust. I got a scanner error 0 x 10. Called consumer help desk. Of no help, basically said it could be sent back, was out of warranty and I said, "No thanks." Instead of UPS picking it up next week, the trash service will get it.

I have been trying to return a faulty printer still under warranty and receive a new one. Dealing with DpD (Epson's carrier) has been a disaster and I have now given up. The printer itself broke down while still under warranty and before that it devoured ink. Epson's complaints website does not work. Between Epson and DpD this is the worst customer experience I have ever had. Completely unforgivable.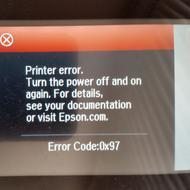 BE WARNED! This so-called MF "printer" is nothing more but an inglorious piece of garbage! It serves best in your garden as a planter base! A TRULY WORTHLESS TROUBLESOME AND AGGRAVATING RIP OFF JUNK! They must have hordes of incompetent and inept engineers specializing in designing useless printers for your garbage bin! I'd like to stack them up at their corporate HQ entrance! Read this story and tell me how long you would put up with this nonsense! I hope they never get the idea to start building cars! OMG!
TAKE 1 - Bought the Epson WF7620 printer for our small office in late December 2014 at a special "trade-in-your-old-printer-get-$50" discount deal at OfficeMax. TAKE 2 - 5 months later fatal error code 09xD. Epson support shipped a new one in June 2015, told me to dump the old one. Several months ago again developed printing problems, nozzle clogging. Now not even 1 year is up and it does not print. Too many lines drop out. Head cleaning doesn't fix it. Wasted a full XL ink cartridge ($ 35.-) on head cleaning!!! No go.
Epson ink is such a double ripoff considering quantity and price that it will cost you within a couple of months average small office use quickly more than the printer purchase price! You 'll end up spending a multiple on ink vs. the actual printer purchase in a year! I calculated that by the end of the year and our printing needs will spend roughly $1000 in ink cartridges! That is insane! Might as well buy a new printer every couple months is about the same.
TAKE 3 - Today April 9, 2016 the replacement printer stopped after printing 1/3 of a page. Error code 0x97. NOT EVEN LISTED ON THE EPSON SUPPORT SITE!!! No go again. Dead again. Called support again. They will again (for the 2nd time) ship a new one again, told me once more to dump the old one. TAKE 4 - Today APRIL 4th 2017 this glorious inane piece of a garbage of a printer failed again: Error code 0x97. This is un effing believable! I'm in the middle of doing my taxes and now this!!! This is the 4th printer that craps out! 2 warranty replacements and 2 purchases! The original purchase in late 2014 and one in Sept 2016 because I was out of warranty. Can I print with this piece of garbage or is it a "let's play defect" junk toy? What piece of crap! What about product liability?
This is clearly a defective poorly engineered product! In my opinion this is borderline criminal to dump such defective product on the market ripping people off with selling overpriced ink cartridges to the defective product. Your print head needs cleaning just after about every 20 pages consuming one third of the ink in the cartridge!! After while not even the cleaning will resolve printing issues and the print quality will get worse and worse. Perhaps you should buy the ink by the gallon so you can use 90% for print head cleaning and 10% for printing! If Epson tells you to just dump the old one, then you can imagine what worthless piece of low cost junk this is to them, main thing they can sell you overpriced ink cartridges, making a killing!
If that is not enough, alternately the printer fails again! This is completely ridiculous and TOTALLY UNACCEPTABLE! My advice: Get another brand! Stay away from Epson, their products are crap and unreliable. A class-action lawsuit in my opinion is warranted as this is clearly a defective product that has been dumped on the market.

This XP 820 printer ALWAYS has some kind of issue, it uses way more ink than it should, I barely print anything and usually use the draft setting (to use less ink), and it always is missing print, has lines or the copy quality just plain sucks. I will never purchase another Epson product again. I've only had this a year and had to re-install it a bazillion times, and cleaned the head/nozzle every time I want to use it and it still comes out like I never cleaned it. I am highly disappointed in this product. I never in all my years had such a high maintenance piece of junk.

Epson printers are garbage. The ink runs out very fast and when you try to replace it, your printer will not work for at least 24-48 hours, if it even works at all! Mine is still printing with streaks a day later and after 9 times cleaning the nozzle heads and giving the printer 2 "rests". It is absolutely ridiculous! The customer service couldn't be worse. After 45 minutes and speaking to 4 different people who couldn't help me, I filed a "formal complaint", which is seen by no one and means nothing. DO NOT BUY EPSON PRINTERS!

I purchased a Epson Workforce 500 four years and it has always gone through ink way faster than it should. In the time I have owned it I have replaced ink (4 cartridge set) at least 7 times at $70 each time and in 4 years have not put more than 100 sheets of paper through it (black print only although I am aware it uses color each startup). This week I replaced them again and have ran 5 sheets through and $70 of ink empty again!!! Needless to say I am done with it and will not purchase another Epson product after the negative reviews I have seen on several of their models. I am onto a Canon wireless for half the price and cheaper ink.

WORKFORCE WF-2630 - Do not buy an Epson printer the support is rubbish, all I want to do is print from my phone and they are as much use as a chocolate teapot. Life is too short to put up with idiots who can't have a simple website or give correct information on the sheet of instructions you get with the printer. The website does not recognize the model I bought 12 months ago!!!

I purchased this Epson WF-4630 printer for my home business and within 3 months it quit working. When I tried to print, I would get an error code. Epson Technical Support advised it would have to be shipped back and a new one shipped to me. This transaction cost me 2 days of work. I was very happy with the replacement until the exact same thing happened within 3 months. I am now on my 3rd replacement in less than a year. My warranty has now run out and the third one is no longer working. I will have to purchase a new printer. I have lost multiple days work time from being unable to print and staying on the phone with Epson Tech Support. I am very frustrated. I am hoping to save someone else the headache that I have had with this printer - which is very tempting because it is a convenient, all-in-one machine. It works great for approximately 3 months.

After agreeing to FedEx my replacement printer to me for tomorrow delivery, and over an hour (took long because they input my card 3 times incorrectly, saying it was declined - it wasn't). They said, "OOPS, sorry, we missed FedEx. You will have your printer on TUESDAY!" As I explained, I am a meeting planner and have an event on Saturday. I need my printer now. Asked them to come up with some other way - Can I return it to Best Buy? Can I buy one myself now and then return it? (I suppose I can do that with Best Buy, but what a hassle.) They sound like robots and can not relate to what I'm experiencing - frustration and fear, and major inconvenience. It's two days before an event. I need a printer to pull this off. My reference number is **.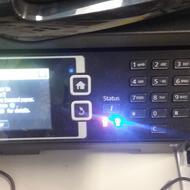 I switched from HP to Epson thinking the quality would be better... NO. When I put in the new print cartridges (Epson brand) it kept giving errors. After about 6 times taking the cartridges out and back in, it finally must have read it correctly. Now it keeps asking me to load into cartridge 2 even though I always print from #1. It would to do page anymore without a "jammed paper" error. Have to clear by powering off and rebooting. The little door in the back keeps falling so it may be triggering the error. I have taped it to see...

I bought the Epson XP-410 Series all-in-one printer about 2 years ago and it keeps running out of color (hardly uses any black), printing black and white only. I just attempted a firmware update hoping they fixed this issue, but the firmware update fails even when plugged into USB. This is the worst printer I have owned. A $70 paper weight pretty much. I bought it from Fry's Electronics near Indianapolis, Indiana (there is only one Fry's here).

Epson XP-410 is worst printer I've ever used. The inks just stop working. One year old. Just search "Epson XP-410 not printing" and you will see that there are hundreds of reports of this. It's a completely defective printer. It only cycled through one set of inks before it quit working. I've replaced all ink cartridges with new which was a waste of money. None of them work and they are all full. Epson is aware that they sold everyone a piece of junk and they do nothing to support the customer. I will never buy another product from Epson again as a result of this.

It worked one year. All of a sudden stop printing all the page just parts of the page. I end it with an almost brand new ink cartridges that I cannot return them anymore. Don't waste your money. Get an Hp, they are better.

Epson WF-2540- Started printing with bands (streaking), replaced ink cartridges to no avail. Ran cleaning cycles to no avail. Cleaned print head then "Paper Jam" message appeared! There is NOTHING causing a paper jam message! Is it possible the software is programmed to send this message just to get me to buy another printer? Just asking!! I am now shopping for a more reliable printer which may be impossible. No more Epson!!

This is our first (and last) Epson printer (Epsom xp-830). The 1st time I ran low on ink, Epson requested I buy a replacement cartridge online. I did so. The printer would 'not recognize the replacement cartridge.' I looked up my order number but Epsom online could not find the order. I called customer service, they could find the number. Jessie said she would send a new cartridge but when I told her I needed to print right away & asked if she have any suggestions to get the cartridge working, she said I needed to talk to a tech; I was on hold for at least 10 minutes when Level 2 Tech Rica told me Epson would send a new cartridge. I said I knew that but was there something I could try now? She said I needed to speak with her supervisor and after another 10 minutes Supervisor Mey came on to tell me I had already been told a replacement was or order. I said I knew that, was there anything I could try now? She said I had been told my options. I asked to make a complaint. She assured me I would not be on hold more than 3 minutes.
Much time passed & I called on a second line & spoke with John who said no one had asked for a replacement cartridge for me. Later I spoke with Anna in Customer Relations who would not let me finish even making my complaint. My husband was listening in, he also thought she was very unhelpful. It was a truly miserable experience.

Epson Printer xp-310 and xp320 - Don't Waste Your Money: Long story short, I bought an xp-310. It worked for about a month. Bought new "Epson" ink set to refill and printer never worked again. For the life of me, I still don't understand why I bought another Epson because the same thing happened once again. Epson is the worst printer I have ever owned in my life. DON'T WASTE YOUR MONEY!!! I REPEAT, DON'T WASTE YOUR MONEY!! And customer service is a joke... Like talking to a computer because they just read thru their troubleshooting procedures I'm sure.

I bought an Epson XP-300 a few years ago. It was very inexpensive and the ink was cheaper than the other brands. It did well until one day after installing all new ink cartridges it just quit working. So I went to Walmart to get a new one. The Epson XP-300 was no longer available but they had an identical model, the Epson XP-320. I took the inks (Epson 200) I had just purchased and put them in the new identical printer I just purchased and big surprise, they didn't work so I had to throw them away. The new identical printer uses different identical inks (Epson 220).
Now the printer has been working well for a year. Today I started to print 20 photos and by an amazing coincidence all 4 cartridges ran out before I could print 10. When each cartridge is deemed empty by the printer it won't print at all. I purchased a 4 pack and installed them and you would think I'd be good to go but noooo! The printer says "The new magenta cartridge needs to be replaced." I am going to exchange all the old cartridges for new ones as a small payback for Epson ripping me off. In the future I will buy a new printer whenever the inks need replacing because it costs about the same, you get new inks with a new printer, and you never know when the printer is programmed to stop working.

My experience is identical to the other complainants with the WF 4630 0x97 error. I followed the advice of Epson tech support and contacted the authorized Epson repair service. I was told to throw the printer away - it is defective junk. Apparently when I inquired about the cost of repair from the tech people they feigned ignorance - really! Epson compounded their defective printers with a cruel charade. I am stuck with a doorstop and expensive ink. Fortunately the repair service recommended a Canon product that likely more durable. Coincidentally my previous printer was a Canon which I had very many years. My Epson lasted 14 months.

I purchased the above noted printer in 2008. I printed copies of my paintings in several different sizes and had excellent results. I had not printed anything in more than a year and attempted to print - no luck. Evidently without usage the ink cartridges had become dried out. I put a drum of acetone in each nozzle tube and out came the same beautiful prints as before. I would highly recommend this particular printer but they are no longer available. I am looking at a comparable Epson unit as this one had a problem with the black cartridge and no replacement parts were available - after 8 years. I think I got my money's worth out of this particular model!

I purchased the Epson Workforce 435 printer because I was told that it came with full ink cartridges. The Canon only had a starter cartridge that printed maybe a dozen pages, before needing replacing. I really only needed B&W, so I set it up for B&W only in the settings. This worked fine until I ran out of Black ink. No problem, I went out and bought the XL larger size ink cartridge.
About 2 weeks after replacing the Black, I got a message saying that my colour cartridges now needed replacing. This surprised me because almost from the beginning, I had set it to only B&W. After researching it, I found out that even in the Black & White setting, the Epson printer uses up coloured ink. So basically Epson is lying to the consumer, and the colour ink keeps getting used. Now I have a new large B&W cartridge in a printer, that will not print until I replace the 3 colour cartridges. Boy do I feel cheated. I guess I will go back to the HP. Also I will try to find just a B&W printer and not have to deal with this **.

My big question to all companies who produce crap (in this case EPSON!) is: why waste valuable natural resources on products that don't work, drive people crazy, and generally make the world a more difficult place? If you're going to make a printer, make one that works well. If you can't make one that works well, don't make anything at all. The WorkForce Pro WP-4630 is a massive waste of time, money, and natural resources. The print heads are constantly getting clogged up and out of alignment and it sucks ink like a black hole. Worst of all, it won't print black if the magenta is low... Which means buying another set of cyan, magenta, yellow, and black, because magenta isn't sold on its own. If we need magenta to print black, Epson should sell the two together. Shame on you, Epson, for making our lives harder... While you bask in unearned profits.

I am now on my 3rd Epson WF 3640, all have encountered the same problem, the black print is "patchy" or what they define as "horizontal banding." I have followed all internet advice to the point where I purchased a print head cleaning kit and carefully followed the instructions to the letter, now I cannot print with black at all. This printer will be going to the tip. As a business owner I need a reliable printer and Epson certainly is not reliable, add to this that the printer is not even 12 months old... and yes I can probably go through warranty, but I don't want to go through this again in another 9 months so will wear the loss. I will never buy Epson again.

ConsumerAffairs Research Team
The ConsumerAffairs Research Team believes everyone deserves to make smart decisions. We aim to provide readers with the most up-to-date information available about today's consumer products and services.
Epson, formally known as Seiko Epson Corporation, is a Japanese technology company known for producing high-quality printers. The company, which is headquartered in Shinjuku, was founded in 1942.
Professional and amateur grade: Epson sells both professional imaging devices and amateur-grade printers, so it's a good option for a wide range of consumers.
Award winning: Epson printers have won a slew of awards from places like PCMag.com, Computer Shopper, CRN and more.
One-stop shop: Epson sells its own ink, paper and other accessories, so it's a convenient place for a shopper to buy all the necessary printing supplies at once.
Specialized printers: Since Epson is a printing focused company, they offer more specialized printers than many other companies. One of the most popular specialized printers sold by Epson is its suite of label printers.
Excellent all-in-one printers: The company is known for creating a line of high-quality all-in-one devices, and many of their devices can print, scan, fax and more.
Best for Large offices, homeowners with computers, photographers, students and schools.
Company Name:

Epson

Year Founded:

1942

Address:

3840 Kilroy Airport Way

City:

Long Beach

State/Province:

CA

Postal Code:

90806

Country:

United States

Website:

http://www.epson.com/