Consumer Complaints and Reviews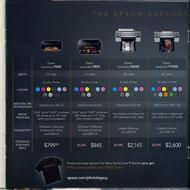 A little over a week ago, I received in the mail Epson's new catalogue "Introducing the Epson Surecolor P-Series." The advertised price of the P800 printer is $845 after rebates. I called to order and the sales rep quoted me a price of $995 after rebates. When I referred to the catalogue, she said she knew nothing about the catalogue but could sell me the printer at $895 in conjunction with my buying a service plan. She also said there was no one higher up I could speak with; then told me the P800 was out of stock.
I contacted Customer Service at a slightly different number and was told that the rep knew nothing about the catalogue and that I would have to email images of the catalogue, which I did. A rep called back and told me that that price was available only through authorized dealers, even though the catalogue doesn't state that and actually says that buying through an authorized dealer could result in additional charges. When I mentioned this, the rep said she would have to get back to me. No one has contacted me yet. I wonder if anyone has had the same experience -- frankly I am thinking of starting a class action against Epson.

I am on my third Epson printer. My last printer, a WF 2650, worked great out of the box despite a few Wi-Fi connection issues. It printed well until about a month ago when it started not printing out yellow. I replaced the cartridge, which did not help. It continued to print my labels, but the colors were off. Yesterday I was doing some printing in black only, and it ran out of magenta, creating poor quality prints. I replaced the cartridge and then it would not print at all. After several head cleanings, the only color that shows up on test prints is cyan.
I called the company and they said the technician, whom I could barely understand due to his poor English, was quite rude and unhelpful, and said that my printer's problem was not fixable, and offered to send me a new printer, at an increased cost. I have only had this printer a year, and it is the third Epson printer I've had and experienced the same issue with. My other two printers lasted for longer than a year though before they stopped printing certain colors or at all. I am very dissatisfied with Epson's poor quality products and service. I did fill out the warranty papers but was told that my printer was already out of warranty. I am now wondering if all printers eventually clog up and quit printing after a year or so.

This printer is absolutely the most unreliable unit ever owned. Can't imagine how much ink is wasted by all the dirty printing. I've never used anything but Epson Ink Cartridges but am constantly disappointed having to run cleaning and maintenance so often, nothing like the dependability of my previous HP printers. Staples, from whom I purchased the printer, never has Epson Cartridges discounted as they do with HP ink. Just FYI.

Workforce 3640 Printer - All of the Office Max Reps hemmed and hawed about this machine and it was great for about 7 months then ** printing, ran all of the cleaning and maintenance utilities, still lousy printing. This really makes me mad. Especially running a small business on a budget this is the last thing you need.

Epson XP-410 - As with countless others, DO NOT BUY THIS PRINTER! Nothing but problems. Yes there are solutions online but who has an hour to devote to trying to fix something that should just simply work? No use reiterating all that has been said already. Suffice to say I have most of the same issues described in this forum. Piece of junk. Terrible waste of money!!
How do I know I can trust these reviews about Epson?
608,728 reviews on ConsumerAffairs are verified.
We require contact information to ensure our reviewers are real.
We use intelligent software that helps us maintain the integrity of reviews.
Our moderators read all reviews to verify quality and helpfulness.
For more information about reviews on ConsumerAffairs.com please visit our FAQ.

Epson 610 - I'm a photographer and needed a printer that would give me quality photos. I heard this was a good printer for photos but I quickly found out this product leaves a lot to be desired. The scanner was used maybe 5 times and no longer works. It leaves an entire side of any document I scan in completely black. I also noticed my photo colors are now very off. My biggest complaint is the price of the ink and the fact that you can't just replace ONE cartridge when it runs out. It makes me replace all of them. If I only want to print black but the yellow is out, I have to replace the yellow before using the printer. This is just a way to get customers to buy more ink and waste money. I absolutely hate this printer and will definitely be buying a new one soon.

I used the Epson WF-4630 for the first time 4/15/2015 and since then I have printed less than 4000 pages. My printer then started to print extremely poorly. I tried cleaning the heads and re-aligning to no avail. I called customer service and they had me put new ink cartridges in (that cost me over $100). They tried cleaning the heads four times, each time the problem was as bad if not worse than it was before. They then told me that it was a hardware issue and that because the printer was out of warranty there was nothing they could do. They would not reimburse me for the ink nor replace or fix their printer.
I spoke with a supervisor and he apologized for the "inconvenience". It is not an inconvenience when their product doesn't work and I waste money on new ink cartridges. It is poor product design, that may be designed intentionally to break down after a year, and poor customer service. I will never buy or recommend buying an Epson printer ever again. They have lost a customer for life.

This thing prints like it's almost out of ink even though it has 1 and 1/4 cartridges of black ink. Never has printed reliably. I will never ever buy an Epson again. No wonder the Best Buy people were trying so hard to push them off on customers. They knew they sucked. I should have gotten a Brother like I planned. Our office Brother is 10 years older than this POS and has used half as much ink, easy. If you're thinking of buying one, please save yourself the agony and DO NOT BUY!! Repeat: DO NOT BUY AN EPSON!

I am totally disgusted with having to buy ink all the time! Bought a new printer last week and it is demanding ink already. My last printer did the same and I was told it was because it was an old printer. Both are Epson. Bought my cartridges from epson too.

The printer holds 6 colors. When one runs out you can not printer... Until new one arrives. I only need to print in black. Crazy. I will not buy another Epson printer.

I have had this printer sent to your technical services twice and they can't seem to solve the problem. I asked them to give me a new one because I don't trust that they will be able to fix the problem. I think that it's a factory defect situation and am certainly an extremely dissatisfied customer with all the problems I'm having with it. The store I bought it at has sent them several e-mails but they haven't reacted to any of them. If you have any kind of influence with them here I would appreciate it if you would tell me that they will give me a new one since it is one of YOUR products.
Please let me know how you can fix the problems I've had with it because right now I'm not happy about it at all. I returned it to be fixed on July 16th and still haven't heard a thing from them. I'm actually losing my patience and starting to feel quite angry about the lousy service here. All I want is a new one that works without having all these problems. Right now I'm sure not going refer to buying this problem until it's solved like I expect a company like yours normally does in cases like this. Please send me a reply on what you plan to do with my problem.

I had a horrible customer service experience with Epson today. It was supposed to be something easy which was to set up my wireless Artisan 430 to my computer. This was my second attempt since my first Artisan 1430 turned out to be defective. The first person I talked to was a woman in the Philippines. She barely seemed to know what she was doing because the initial steps took over a half hour. Then she told me I needed a WPS button on the BACK of the modem to connect the printer. I never found it because the WPS button was on the FRONT of my modem. This was just the start of my problems.
The next rep from the Philippines also gave me misinformation that wasted a lot of my time. At this point I talked to a supervisor who supposedly gave me the customer service number. No... I got reconnected to tech again... and again.. and again and again. Finally I reached customer service in Long Beach CA and talked to an extremely rude and arrogant person. What she kept doing was asking me questions and then cutting me off every time I tried to answer. It became obvious after awhile that this behavior was intentional. I asked for her name and supervisor. She refused to give me her name and put me on hold. (forget) After 45 minutes I realized nobody was ever going to answer. I called back again and again and kept receiving wrong numbers from their reps.
Altogether nearly 5 hours of my time was wasted... for absolutely nothing!!! Because of the arrogance of every rep I spoke to, I feel like spending 24/7 for a long time spreading the word on the internet against this terrible company who think they're too big to fail.

My EPSON 410 has been nothing but trouble since I purchased it a year ago. Paper jams are common and like the other comments listed here the ink replacement scam has cost me over $200. Like the other owners of these terrible machines they are designed and programmed to use up your ink (whether you use the printer or not) and not operate unless all four cartridges are full. The cartridges are designed to dry out and the printer is designed to clog. Unless you are extremely handy and have lots of time you will be forced to throw this machine out as repairs done at a shop will surpass the cost of the printer itself. EPSON knows this and bets that you will go out and buy it again and again. I guarantee you that they make much more money selling those time little ink cartridges than they do selling printers! Could anyone suggest a GOOD printer??

This hunk of junk was a waste of money... and my valuable time, trying to fix the faulty printer. I hope someone files a class action suit against this company for ripping off customers. I purchased this all in one product from Amazon and, initially, it worked fine. I didn't use it a lot. When the ink ran out and I replaced the cartridges, all of them, which were Epson ink products, the printer no longer worked!
I know enough to trouble shoot... test pages, nozzle check, cleaning, etc. When I called customer service/help desk, the rep., who of course was an outsourced foreigner who barely spoke English, attempted to walk me through everything I had already done. Then suggested I go to a service center. I don't think so. When I checked back on Amazon I see that that this printer has been discontinued. When I sought help online, I see all of the NEGATIVE reviews about this, and several other Epson products - most related to printing! I will NEVER, EVER purchase another Epson product, and will steer everyone I know away from these frauds. I want my money back!

I have an Epson XP 320 printer for 6 months and everything was fine up until recently a software update with the word firmware update on my computer came up when I tried to print a document last week. And when I tried to print that document it kept showing low ink on my magenta color. I tried several times to print but it would print the 1st line on the document and that was it. The black ink was very light also. However, today I tried to print another document in black and white; now it keeps saying same thing - low ink on magenta color. I am just needing to print in black ink. So I tried to call support. No help at all. The rep said this will cost you because Windows now after update does not recognize. I have Windows 8 and as soon as I heard she said this will cost me I just hung up.
It is false advertisement to say printer ALL IN ONE. But, yet you have no choice to use color or black ink as an option for printing just because you are low on ink on one of the cartridge. Also, online when you type your problem in brief it will route you to the screen to buy more cartridge. This is a trick to get you to buy more ink and stops your printer from printing. I have emailed the company and have ask for a refund on this printer. Consumers should be told honestly why an update is needed not to deceive the consumer and force them to buy more ink so that their printer will work properly. With all these complaints of the same nature a class action suit is needed. Big companies should not get away with tricking consumers. Disgusting business.

The printer/scanner is a decent quality. What is the rip is the ink cartridges. I mainly use the scanner, but when I needed to print a black only document, it won't let me because it says the Cyan cartridge is out. I talk to tech support, and they confirm that the printer won't print unless it recognizes all cartridges are not empty. What a bunch of crap. The black cartridge is full. Spent an hour on the phone with tech support from overseas and nothing. I will never buy another Epson product. Epson NX410 All in One. This unit is going to the curb, so trash pickers be aware if you want it. I wouldn't try to sell this piece of junk to my worst enemy.

Have had an Epson WorkForce 610 for a number of years. Have easily used re-manufactured ink cartridges for a great savings. Unit has clogged up one or more head at various times. Have usually unclogged them but uses up a lot of ink of all colors to do so. Here are issues:
1) To clean heads, ALL cartridges must be in the machine and have ink. Cleaning uses up A LOT of ink and you can't just clean a selected color! Attempt by Epson to have one use up ink!
2) New problem occurred of "not recognizing" a cartridge. Tried two Cyan cartridges, no result - but recognizes the one with low ink to be replaced. Cannot print due to low Cyan ink. Epson even disables scanning if an ink is missing or not recognized! What the hell does ink status have to do with scanning? NOTHING - but another Epson way to make you replace and buy cartridges! I now have a color printer all-in-one that is not usable for any function! Common problem I see on internet.
3) Even with a missing color, you cannot tell printer to print ONLY in B/W! Unless all cartridges are there, it prevents printing! Also is the info that Epson Seiko sneaks in printer "updates" which are really disguised updates to FIRMWARE to increase their rejection of 3rd party remanufactured cartridges! You cannot undo firmware once automatically updated! In summary, Epson does everything possible to assure owners always have all inks and buy inks from them.

Do not buy this printer. I bought the R3000 in 2014 believing I was making a good investment. I had used it only a handful of times – for about perhaps 15 prints – before it stopped working. On this occasion the optics were faulty. It was under warranty and it was Christmas Eve when the repairman arrived to fix it. Instead of repairing the brand new machine he replaced it with a reconditioned machine assuring me the problem had been solved. I used it only a few times before it started not being able to load paper properly. I was using artist quality archival paper.
Each time I have used it – and that is only occasionally – I have to load and reload the paper about twenty times before it finally recognizes that it is loaded and pulls the paper through to print. Sometimes it jams once it's inside the machine. I have given up and no longer want to waste time with this printer. It's still almost new as I avoid using it as much as possible. Also, the ink cartridges have a very short lifespan.

Re: A Fix for Epson XP-410 Printing Issues. I just purchased this printer about a year ago and had issues with missing sentences, blurriness, gaps, etc. With my old Windows program, I could select 'Raster Printing' as an option which made everything print beautifully! After my update to Windows 10, I finally figured out that I had to copy everything into 'MS Word' from the Edge menu to print. Also, there is no 'Raster' option, but instead, in the Advanced Printing Options, under Print you must select 'Use Draft Quality'. All my frustrations gone! I hope this helps both the consumers and Epson.

This printer is horrible! With much experience with printers over the years this one is just junk. The printer stops printing when ink is still left. Even when the ink is changed a message displays it is not able to recognize it. This is for official Epson 220 ink replacement from Staples. The printer will print Magenta only and then require replacement. This is just after replacement with a new black cartridge. After replacement the message display will continue to display replace ink or align. You can turn the printer off and on, replace cartridge again and continue to receive these messages. You will run through multiple cartridges and wasted paper and may get lucky to print 20 or so pages and the printer stops and goes through the same bs. How can they sell this kind of c...? Never buy Epson again!

I've had good luck with Epson Printers in past years with excellent print quality. I purchased a new Epson printer expecting the same print quality. I'm a photographer so print quality is important to me. The 220 has terrible print quality and the ink goes way too fast. The Ink is expensive and does not last long. I doubt I will ever buy another Epson printer again.

I bought my Epson XP-310 printer 9 months ago and it is not working anymore. I printed about a 1000 pages and it stopped working. The printer keeps telling me to replace the color ink (just to print black & white btw). After spending $50 on new ink and replacing it (few times), it is still not working. The printer was kept in good condition and was never dropped. I feel this product is purposely poorly designed in order to push consumers to fall in the trap of buying new ink. Once again because it is not worth fixing it, that junk will finish in the trash. Waste of my money, not to mention one more anti ecological waste and hardly recyclable. EPSON, when will you stop making cheap stuff and instead start making durable product that are worth the money spent?

PRINTER was on sale for $99 at Staples. I bought it not knowing that: 1) It requires FOUR ink cartridges. 2) The color and black packs range $50 - $65. 3)They RUN out so quickly - I print approx. 100 sheets monthly BUT replace every 4-6 weeks! (Even if you have the lowest ink settings on the computer - the printer itself doesn't allow for low ink settings - to ENSURE that you are buying as often as possible.) 4) When even ONE INK is out, it ceases to function - including scanning option that doesn't require INK. 5) The drivers are updated so often, so you have to uninstall/reinstall and get MORE cookies and JUNK you don't want - SPYWARE. 6) The Fax function has NEVER worked. 7) SCANNER worked twice before having nonstop communication errors, but not wireless - requires a cable.
You are better off: A) Paying more up front for better printer/fax/scan that ACTUALLY works. B) Save money on cheaper INK overall. C) Not being forced to buy INK as often. D) Enjoying less STRESS, HEADACHES and TIME/ENERGY. E) Buying ANYTHING else. F) Smiling and thanking God.

I have purchased EPSON printers the last couple of times I needed a printer. The problem with all of them it seems is the ink usage. Although a message from EPSON pops up if you are out of a certain color indicating that you can set your printer to use black ink temporarily, it just isn't true. I guides you to system preferences then to your driver, then finally to the page settings, all indicating when you change those settings you will be able to use your black ink. It is a money-making scam. I tried three times before I called EPSON's customer service.
When I spoke to the rep, she told me you have to have all the colors to print, even in black. So, if you run out of even 1 color, you are out of luck and have to go buy more ink. As I was searching for a way to get in touch with someone higher in management I found a civil case in CA on CNET that EPSON was settling for consumers because of the black ink only issue. Can something not be done? Most people do not use the color, therefore truly need only B&W most of the time. Can something not be done to halt this gouging of our wallets, and these companies that lack integrity? It is a shame.

When a color cartridge on my Epson XP-810 becomes empty, the printer will not even print B&W, which is very frustrating, since printers were able to print B&W with just a black cartridge DECADES ago. Epson's illogical rationalization for this behavior is that even when printing B&W, a small amount of color ink is used to avoid clogging up. The reason I consider this illogical is that printer owners do go on vacation, business trips, etc., so printers often go unused for two weeks or more, and are clearly designed to handle this, as I have had no problems on return from absences as long as five weeks.
In the situation where a user runs out of ink in one color cartridge, it will almost always be possible to obtain a replacement cartridge within a few days, so the other color cartridges do not need to be lightly used during this period to prevent them clogging up; the user should be allowed to continue to perform B&W printing. I would have no objection to being required to confirm that if I continue B&W printing with no new color cartridge for too long (six weeks+?) I run the risk of my color cartridges clogging up.
I can think of only two explanations for Epson's design: (a) Their engineers are incompetent and/or unable to see the user's perspective; (b) This is a ploy to make users rush out to a nearby store where they are forced to buy a four-pack of STANDARD (i.e., almost empty) C, Y, M, PBK cartridges for the exorbitant price of about $50. If the explanation is not (b), then why do Epson not allow retail stores (in my experience) to stock the more economical "Extra-Large" sized cartridges? My XP-810's serial number is SNQY081430. The order number below refers to its purchase in April 2014.

Purchased the WF2540 and although it printed it would continuously clean the print heads when idle. Got replacement which had blocked print nozzles and required a minimum of 5 cleaning cycles, up to 15+, to just print out a single page while still having some of the nozzles blocked. Tried calling tech support many times and never got through to a tech.
By the time I actually got through to a tech they told me I was out of warranty and basically told me I was lying about the super long wait times every time I had called prior to this. Spoke to a supervisor who again told me that he doesn't believe I called a bunch of times waiting 20-30 min each time without getting a technician. Spoke with corporate who again basically told me I was making it up. Recap: Broken printer, replaced with another broken printer. Tried calling but couldn't stay on the line too long as I only have 300 min on my phone per month. Agent+supervisor+corporate treated me as a liar saying there's no way I waited that long on the phone if I actually called.

This copier/printer/scanner is a poorly performing product. Difficult to navigate, poor copies, and within 6 months the ink cost more that the unit. Used ink like it is water. Requested a refund but was told unless it is a manufacturer's defect that they would do nothing. Maybe customer satisfaction no longer exists. But other potential customers should be aware. Now own an HP. Amazing the difference.

I purchased this scanner to be able to scan my old photos and slides to computer. I purchased this in 2014 and used and has worked fine. I bought a new computer that is Windows 10 operating system. I downloaded the current drivers off the website for W10 but scanner would not communicate. I tried all the troubleshooting tips still could not get it to work. Called for technical support spend 2 hours on the phone where they made me go through all the same troubleshooting tips. They could not get this scanner to communicate. I kept getting the message that the scan settings that support this scanner were not downloaded. They had me download these probably 5 different times. I asked if there could be a problem with the drivers we were downloading and told no they were the most up to date.
Their solution was for me to drive 2 hours away to a service place or buy something new. I told them that I would never buy Epson product again if just because they could not manage to update their products I had to buy new. I told them I have had an HP Scanner Printer that has been upgraded from Windows 7 to 8 to 10 with no problems and I will go back to purchasing HP. I would not recommend Epson products to anyone.

I bought a Workforce Pro WF 5620 for £411 a year ago and it has just packed up completely, after 13 months of very mild/low usage. I had taken out 2 years warranty but now Epson have reneged on this as they conveniently can't find the details and want £122 to start to fix this. They acknowledge that this is 13 months old, but they themselves have no faith in their printers (from their own staff) so DO NOT BUY Epson... I moved to them from HP to save money on ink, but this has proved very false as Epson printers are very poor quality, not robust. This one did not connect to a wireless pc 4 feet away until we plugged an RJ45 cable in... wireless... I don't think so! Customer service is there to take money not to help people... so buy, buy Epson!

XP-310 Printer - I have been unable to get any tech support to solve the scanner error E-02. It seems to me that this whole thing is a scam. The printer works until the ink runs out and then when you replace the ink you get different error reports. Now they want me to take it somewhere out of my way to have it repaired at my own expense. I have had this printer for 5 months and they tell me it is not covered under the warranty anymore. It seems like they just want you go and buy another printer. I will have to do just that, but I am a teacher and I have a lot of work that I have to print. I will NEVER waste my money on Epson again. Poor quality, poor customer service. They don't deserve any stars!!!

ConsumerAffairs Research Team
The ConsumerAffairs Research Team believes everyone deserves to make smart decisions. We aim to provide readers with the most up-to-date information available about today's consumer products and services.
Epson, formally known as Seiko Epson Corporation, is a Japanese technology company known for producing high-quality printers. The company, which is headquartered in Shinjuku, was founded in 1942.
Professional and amateur grade: Epson sells both professional imaging devices and amateur-grade printers, so it's a good option for a wide range of consumers.
Award winning: Epson printers have won a slew of awards from places like PCMag.com, Computer Shopper, CRN and more.
One-stop shop: Epson sells its own ink, paper and other accessories, so it's a convenient place for a shopper to buy all the necessary printing supplies at once.
Specialized printers: Since Epson is a printing focused company, they offer more specialized printers than many other companies. One of the most popular specialized printers sold by Epson is its suite of label printers.
Excellent all-in-one printers: The company is known for creating a line of high-quality all-in-one devices, and many of their devices can print, scan, fax and more.
Best for Large offices, homeowners with computers, photographers, students and schools.
Company Name:

Epson

Year Founded:

1942

Address:

3840 Kilroy Airport Way

City:

Long Beach

State/Province:

CA

Postal Code:

90806

Country:

United States

Website:

http://www.epson.com/