Consumer Complaints and Reviews

WORKFORCE WF-2630 - Do not buy an Epson printer the support is rubbish, all I want to do is print from my phone and they are as much use as a chocolate teapot. Life is too short to put up with idiots who can't have a simple website or give correct information on the sheet of instructions you get with the printer. The website does not recognize the model I bought 12 months ago!!!

I purchased this Epson WF-4630 printer for my home business and within 3 months it quit working. When I tried to print, I would get an error code. Epson Technical Support advised it would have to be shipped back and a new one shipped to me. This transaction cost me 2 days of work. I was very happy with the replacement until the exact same thing happened within 3 months. I am now on my 3rd replacement in less than a year. My warranty has now run out and the third one is no longer working. I will have to purchase a new printer. I have lost multiple days work time from being unable to print and staying on the phone with Epson Tech Support. I am very frustrated. I am hoping to save someone else the headache that I have had with this printer - which is very tempting because it is a convenient, all-in-one machine. It works great for approximately 3 months.

After agreeing to FedEx my replacement printer to me for tomorrow delivery, and over an hour (took long because they input my card 3 times incorrectly, saying it was declined - it wasn't). They said, "OOPS, sorry, we missed FedEx. You will have your printer on TUESDAY!" As I explained, I am a meeting planner and have an event on Saturday. I need my printer now. Asked them to come up with some other way - Can I return it to Best Buy? Can I buy one myself now and then return it? (I suppose I can do that with Best Buy, but what a hassle.) They sound like robots and can not relate to what I'm experiencing - frustration and fear, and major inconvenience. It's two days before an event. I need a printer to pull this off. My reference number is **.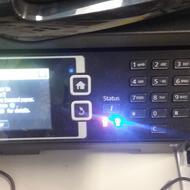 I switched from HP to Epson thinking the quality would be better... NO. When I put in the new print cartridges (Epson brand) it kept giving errors. After about 6 times taking the cartridges out and back in, it finally must have read it correctly. Now it keeps asking me to load into cartridge 2 even though I always print from #1. It would to do page anymore without a "jammed paper" error. Have to clear by powering off and rebooting. The little door in the back keeps falling so it may be triggering the error. I have taped it to see...

I bought the Epson XP-410 Series all-in-one printer about 2 years ago and it keeps running out of color (hardly uses any black), printing black and white only. I just attempted a firmware update hoping they fixed this issue, but the firmware update fails even when plugged into USB. This is the worst printer I have owned. A $70 paper weight pretty much. I bought it from Fry's Electronics near Indianapolis, Indiana (there is only one Fry's here).
How do I know I can trust these reviews about Epson?
718,469 reviews on ConsumerAffairs are verified.
We require contact information to ensure our reviewers are real.
We use intelligent software that helps us maintain the integrity of reviews.
Our moderators read all reviews to verify quality and helpfulness.
For more information about reviews on ConsumerAffairs.com please visit our FAQ.

Epson XP-410 is worst printer I've ever used. The inks just stop working. One year old. Just search "Epson XP-410 not printing" and you will see that there are hundreds of reports of this. It's a completely defective printer. It only cycled through one set of inks before it quit working. I've replaced all ink cartridges with new which was a waste of money. None of them work and they are all full. Epson is aware that they sold everyone a piece of junk and they do nothing to support the customer. I will never buy another product from Epson again as a result of this.

It worked one year. All of a sudden stop printing all the page just parts of the page. I end it with an almost brand new ink cartridges that I cannot return them anymore. Don't waste your money. Get an Hp, they are better.

Epson WF-2540- Started printing with bands (streaking), replaced ink cartridges to no avail. Ran cleaning cycles to no avail. Cleaned print head then "Paper Jam" message appeared! There is NOTHING causing a paper jam message! Is it possible the software is programmed to send this message just to get me to buy another printer? Just asking!! I am now shopping for a more reliable printer which may be impossible. No more Epson!!

This is our first (and last) Epson printer (Epsom xp-830). The 1st time I ran low on ink, Epson requested I buy a replacement cartridge online. I did so. The printer would 'not recognize the replacement cartridge.' I looked up my order number but Epsom online could not find the order. I called customer service, they could find the number. Jessie said she would send a new cartridge but when I told her I needed to print right away & asked if she have any suggestions to get the cartridge working, she said I needed to talk to a tech; I was on hold for at least 10 minutes when Level 2 Tech Rica told me Epson would send a new cartridge. I said I knew that but was there something I could try now? She said I needed to speak with her supervisor and after another 10 minutes Supervisor Mey came on to tell me I had already been told a replacement was or order. I said I knew that, was there anything I could try now? She said I had been told my options. I asked to make a complaint. She assured me I would not be on hold more than 3 minutes.
Much time passed & I called on a second line & spoke with John who said no one had asked for a replacement cartridge for me. Later I spoke with Anna in Customer Relations who would not let me finish even making my complaint. My husband was listening in, he also thought she was very unhelpful. It was a truly miserable experience.

Epson Printer xp-310 and xp320 - Don't Waste Your Money: Long story short, I bought an xp-310. It worked for about a month. Bought new "Epson" ink set to refill and printer never worked again. For the life of me, I still don't understand why I bought another Epson because the same thing happened once again. Epson is the worst printer I have ever owned in my life. DON'T WASTE YOUR MONEY!!! I REPEAT, DON'T WASTE YOUR MONEY!! And customer service is a joke... Like talking to a computer because they just read thru their troubleshooting procedures I'm sure.

I bought an Epson XP-300 a few years ago. It was very inexpensive and the ink was cheaper than the other brands. It did well until one day after installing all new ink cartridges it just quit working. So I went to Walmart to get a new one. The Epson XP-300 was no longer available but they had an identical model, the Epson XP-320. I took the inks (Epson 200) I had just purchased and put them in the new identical printer I just purchased and big surprise, they didn't work so I had to throw them away. The new identical printer uses different identical inks (Epson 220).
Now the printer has been working well for a year. Today I started to print 20 photos and by an amazing coincidence all 4 cartridges ran out before I could print 10. When each cartridge is deemed empty by the printer it won't print at all. I purchased a 4 pack and installed them and you would think I'd be good to go but noooo! The printer says "The new magenta cartridge needs to be replaced." I am going to exchange all the old cartridges for new ones as a small payback for Epson ripping me off. In the future I will buy a new printer whenever the inks need replacing because it costs about the same, you get new inks with a new printer, and you never know when the printer is programmed to stop working.

My experience is identical to the other complainants with the WF 4630 0x97 error. I followed the advice of Epson tech support and contacted the authorized Epson repair service. I was told to throw the printer away - it is defective junk. Apparently when I inquired about the cost of repair from the tech people they feigned ignorance - really! Epson compounded their defective printers with a cruel charade. I am stuck with a doorstop and expensive ink. Fortunately the repair service recommended a Canon product that likely more durable. Coincidentally my previous printer was a Canon which I had very many years. My Epson lasted 14 months.

I purchased the above noted printer in 2008. I printed copies of my paintings in several different sizes and had excellent results. I had not printed anything in more than a year and attempted to print - no luck. Evidently without usage the ink cartridges had become dried out. I put a drum of acetone in each nozzle tube and out came the same beautiful prints as before. I would highly recommend this particular printer but they are no longer available. I am looking at a comparable Epson unit as this one had a problem with the black cartridge and no replacement parts were available - after 8 years. I think I got my money's worth out of this particular model!

I purchased the Epson Workforce 435 printer because I was told that it came with full ink cartridges. The Canon only had a starter cartridge that printed maybe a dozen pages, before needing replacing. I really only needed B&W, so I set it up for B&W only in the settings. This worked fine until I ran out of Black ink. No problem, I went out and bought the XL larger size ink cartridge.
About 2 weeks after replacing the Black, I got a message saying that my colour cartridges now needed replacing. This surprised me because almost from the beginning, I had set it to only B&W. After researching it, I found out that even in the Black & White setting, the Epson printer uses up coloured ink. So basically Epson is lying to the consumer, and the colour ink keeps getting used. Now I have a new large B&W cartridge in a printer, that will not print until I replace the 3 colour cartridges. Boy do I feel cheated. I guess I will go back to the HP. Also I will try to find just a B&W printer and not have to deal with this **.

My big question to all companies who produce crap (in this case EPSON!) is: why waste valuable natural resources on products that don't work, drive people crazy, and generally make the world a more difficult place? If you're going to make a printer, make one that works well. If you can't make one that works well, don't make anything at all. The WorkForce Pro WP-4630 is a massive waste of time, money, and natural resources. The print heads are constantly getting clogged up and out of alignment and it sucks ink like a black hole. Worst of all, it won't print black if the magenta is low... Which means buying another set of cyan, magenta, yellow, and black, because magenta isn't sold on its own. If we need magenta to print black, Epson should sell the two together. Shame on you, Epson, for making our lives harder... While you bask in unearned profits.

I am now on my 3rd Epson WF 3640, all have encountered the same problem, the black print is "patchy" or what they define as "horizontal banding." I have followed all internet advice to the point where I purchased a print head cleaning kit and carefully followed the instructions to the letter, now I cannot print with black at all. This printer will be going to the tip. As a business owner I need a reliable printer and Epson certainly is not reliable, add to this that the printer is not even 12 months old... and yes I can probably go through warranty, but I don't want to go through this again in another 9 months so will wear the loss. I will never buy Epson again.

I have an Epson WF-2660 printer that I have owned for 18 months or so. I bought it to replace an HP Deskjet which was reliable but slow. The WF-2660 has been the worst printer I have ever come across. The wifi connection works sporadically. Even printing with an RJ45 cable connection is iffy, the printer is often not found by my laptop. Printing is very slow. The print heads need cleaning almost every time if it is not used for a few days. Every time I go to use it I seem to have to sort some problem out before it will print. I have come so close to throwing it out of the window that I am now going to bite the bullet and replace it. Anyone thinking of buying a similar Epson product should beware!!

This is the worse printer I have ever owned (Epson XP 410 printer copier scanner). I will never buy another one. It sucks for so many reasons. Very expensive ink, won't print unless all inks are full, uses ink like crazy, zero customer service, almost impossible to download software from website, now will not print at all because something is clogged up. I Hate this printer. Trash. I bought it 3 yrs ago but barely used it. Sorry I did not keep my receipt. Piece of junk!!!

EPSON WORKFORCE WF-3640 - WARNING - BREAKS after 6 months!! Very disappointed. As a business owner I need my printer working at all times. After My last printer went bad which was an Inkjet HP all in one (Lasted me 6 years with no issues) I decided to try Epson. What a mistake. The ink runs out quicker and The colors stops working after 6 months. It stops using the cyan and green comes out yellow and colors that do come out are very faded. It breaks down with some kind of software issue. I called and I had to pay $119 until they sent me another printer which I'm not sure if it was new or refurbished and then I had to ship the broken one back. Very inconvenient but even more inconvenient is calling back after 6 months and missing my warranty deadline by a couple of weeks. They cannot do anything so I have to trash it along with the expensive Ink because I will never use Epson again!
Lady on the phone said there was nothing she can do except offer me a 15% discount if I decide to purchase another Printer. Why would I do this??? I told her to take this junk off the shelves. By the way the HP all in one was about the same price $119. Save yourself a headache and money. Please note I only use original Epson Ink purchase locally not online.

Their site was awful! No way to contact CS except by writing a letter, really? If I don't use my printer frequently, it will not print and you have to clean the printer heads which means you have to spend the money on cartridges, which are so costly you might as well buy a new printer.

Epson XP 630 scanner printer - Black ink tanks shut down when there is around 25% left. Ridiculous. Not wanting to pay their extorted prices for everyday print chores I get some aftermarket tank replacements. That's what I make the discovery that no matter what you do none of the little tricks work anymore to make it recognize the printer cartridges. Their self destructing microchip makes using any other brand impossible and I could see no reason workaround and I did hours of searching. So you are stuck. Either buy their insanely priced cartridges or just throwing this trash away which is what I'm gonna do because I refuse to be robbed by these criminals. NEVER, EVER AGAIN EPSON.

XP 410 All in one - I've owned my printer for about a year and suddenly the black doesn't print. This began after an Epson software update. I called Epson Tech Support, followed their instructions, and it still doesn't work. I asked the woman at Epson if she was aware that this is a common problem and she said she was aware. I have new Epson ink cartridges as some were empty. The black was about half full but I replaced it anyway to see if it would help. It had no effect.

I am Karthik. Past two days I was try to installed the Epson label printer. Some label problem. So many time I try to customer help line. Take one person... give another number... that person give another number... continuously repeated. Not solve my problem. Worst worst performance.

Epson printer workforce 2630 - Don't buy this printer. Worked on it for hours to set up. Just bought for my son as a Christmas present. Quality of print is very poor. Ran out of black ink after 40 or so pages. Replaced that cartridge. Kept getting message that the printer did not recognize the new cartridge. When I finally got it to print, the quality remained poor.

Workforce XP-610 Printer - I have spent so much money on ink for this printer. I bought ink about 2 months and have probably printed 10 photos since then. It is now out of ink again and will not print. This printer is becoming the most expensive item in our house. It may be time to pitch it.

The printer will not allow you to print in black and white if a color cartridge runs out. They are running a big game forcing people to buy ink they don't need. I spoke to two different people at Epson, was told that MAGENTA is needed to print in black, and was then put on hold for over half an hour waiting to speak to a Supervisor who (surprise surprise) never came to the phone. I will never buy an Epson printer again, nor will I ever recommend them to anyone else.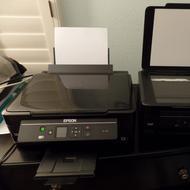 I purchased my first Epson XP-320 for a low clearance price and was bragging to everyone that I barely had to pay for it and I got the deal of deals however within a few days it was not working correctly so I called Epson and they walked me thru an endless amount of different tests to fix it over the phone but the majority of the time was spent just trying to understand the tech guy because he barely could speak English well. The end result was it was not repairable. Customer Service to their credit was easy to deal with and they would send me another printer. I was happy another one was being shipped right away even though I needed the printer for copying resumes for a job search. They did not want the broken one back so I saved it for parts I may need later and the left over ink that I had not used yet.
The new one arrived and I was back in business excited to print my own resumes again saving money from paying someone else to print them. I had probably copied less than 100 resumes and was getting low ink warnings for the black ink and then the printer started copying in super slow motion and I thought this replacement printer was broken also. It wasn't broken it was empty of black ink already! I thought it was just a fluke so instead of using the other broken printer's ink my landlady offered to buy me some more ink because she needed a few copies made so we went to the store, found the ink which was not as expensive as I thought it would be so I was feeling good again about Epson and that it was just bad luck that these issues happened to me. Got home, replaced the black ink cartridge, no problem with that and I was back in business again YIPPEE!!!
I am happy even confident the worst is behind me. My resumes now printed from my almost free Epson printer that would save me money from having to pay someone else for copies. I could print endless copies of important documents so off I went to copying once again. Well funny thing happened during my moment of elation, I copied less than 100 sheets of paper and the black ink started warning me AGAIN that it was almost empty! I started to panic because I was on a limited budget and wondered if I got ripped off and was caught in a money pit for buying replacement ink. If I needed more resumes could I even afford printing them but some good luck happened.
Finally I found a new job and forgot about the printer putting it in my closet along with the broken one until today when I once again needed to make resume copies for yes finding another job, no I am not a loser but I am the Born Loser because I have the worst luck of anyone on this planet especially with printers! So I once again got the printer out of the box and took the remaining ink from the broken one, got about 100 copies done when the black ink starts to warn me it's almost empty but this time I was already expecting that and at least I know what the real problem is...Epson and their ink racket they have. I do like the printer and the features but not the hassle and high ink cost to replace the cartridges so I am going to figure out a way to refill the ink myself with the empty cartridges.
Wait I have a better idea. I am in need of a good job so I am going to be a mobile ink refill truck and take away Epson's profits with a more reasonable price for ink refills with home and business service. I think I will call my new business "Rinkadinky" my first name being Ray with ink in the name twice and the subliminal message of how this experience describes the Epson overall product "rinkadink" or cheap.

To start with the good part, unlike other reviews I've read, I have not had any problems with hooking this printer up with our WiFi. It disconnects sometimes and I've had to reconnect it, but it usually goes pretty smoothly. I have never had to call customer support either so I have nothing negative to say about that either. The bad part is of course the ink usage. I have to constantly replace the ink so this printer, as inexpensive it may have seemed when I purchased it, is very expensive because of all the ink cartridges I've had to replace.
And if it's turned off for a day, the print heads gets clogged and it has to be cleaned several times before it prints correctly again. Today I had to do the print head cleaning 4 times before it started to print the yellow again. Another part that I don't like is that when I have to reconnect it to WiFi and type in my password, I have to push each button 7 times before it comes to the number. For example if I need to press 2 it goes through A, a, B, b, C, c before it finally reaches the number 2. Maybe there is a way to change it that I'm not aware of.

We bought the 2630 about six months ago. Initially it worked well. But for the past two months or so the printer is always demanding ink. This week we installed black and magenta cartridges. When I sat down today to print Christmas cards, the printer told me both M and B are low! This has occurred with all colors. I get a msg that colors can be combined to print - but I do not want to send out black Christmas cards. I can't afford to keep spoon-feeding this printer. Maintenance option to clean the print head does not fix the problem. I also get a msg that I am not using Epson cartridges when I certainly am and yet another msg that says the cartridge is empty when it is newly installed. Someone please suggest a reliable printer for a home office. Thank you!

I purchased an Epson for supposedly better photo quality. First, it took about two weeks to connect it wirelessly... marginal customer service. Second, it worked well a few months, maybe 100 sheets of paper. Then it said I needed magenta ink. So I ordered, directly from Epson, a Multipack Plus, two additional black cartridges. After installation, it still said I needed to replace the magenta. Several hours of wasted time with their "service reps" was aggravating and unfruitful, not to mention language barriers. So they offered to send me a new magenta cartridge. Mind you I had already purchased a new one that failed. So today I replaced ALL the cartridges and the machines says I need to replace ALL THE CARTRIDGES STILL! I agree. This thing is temperamental junk and I will toss it like so many others have. HP has always been reliable and I will purchase a new one today.
Company Name:

Epson

Year Founded:

1942

Address:

3840 Kilroy Airport Way

City:

Long Beach

State/Province:

CA

Postal Code:

90806

Country:

United States

Website:

http://www.epson.com/