Consumer Reviews and Complaints

I have lost several precious days of my life due to Dell. Worst customer service ever: they do not speak English, they do not understand what you want, they do not help you, they send you thousands of surveys and harass you by phone to fill those stupids questionnaires. I have ordered a TV and it came broken to my place. The delivery company was terrible too ("Pilot"). The delivery guy was totally useless. I tried to reorder another TV and placed 4 extra orders. I send many emails, chat with many people, they were all useless and incompetent. Stay away from their "appealing" deals with gift cards. NEVER AGAIN WITH DELL!!!

Simply put, do not purchase a Dell computer. My first and last Dell was the worst computer I have ever purchased, and at age 57, I have owned many. My problems started with day one when I purchased a refurbished computer from an authorized dealer. The battery was defective immediately, as well as it seemed the entire computer. During the six months it was under warranty, I had at least 20 open tickets or complaints. I still have to take the battery out and unplug the power source to reset the drivers or whatever the problem seems to be. I only wished I would have read the poor reviews before I ever purchase such an inferior product. Dell will continue to produce VERY POOR quality components and will remain at the bottom of the list of rated computer products. I have zero respect for Michael Dell and his company, the same respect he has shown me as a consumer of his product.

I was extremely disappointed in my numerous experiences with Dell repairs. After purchasing my laptop, I purchased the most expensive warranty coverage. Within only one year, my screen went completely black. I was supposed to have 24/7 home repair; however, Dell tried to force me to mail the computer in to be repaired. While getting my laptop repaired, the repairman from Dell broke the DVD player. Dell never sent another repairman to fix this. My screen broke again within a year and Dell refused to fix the screen the second time, saying it was not covered under my warranty. This is the last time I will purchase a Dell computer. Poor, slow customer service combined with a lack of following through on their promises caused me to become extremely dissuaded with Dell in general.

My name is Aleksey **, Dell Preferred Account # **. I have been loyal customer with Dell since February of 2005. I have been ordering products from Dell on regular basis, and most of the times paid my bills on time, unless I have not received a bill or an unexpected circumstances have occurred. On August 31st of 2017 I had the most unpleasant experience with several representatives, and the last person I had chance to speak with was supervisor Billy **, ID # **. I wanted to order a laptop when it was stated to me that because I have a past due amount of $27 the representatives are unable to proceed with the request. The past due amount happened for the reason that I have not received last statement, and I have called Dell to request another statement and make a payment. All of the information was recorded by a representative I have communicated with, I have specifically asked him to record the information.
Let me state once again what have just been said; 'A customer who have been loyal to the company for over 12 years is being rejected of service because of the past due amount of $27.00.' I do not believe that a supervisor was not able to make a courtesy call, override the system and let the order come through, especially when I have clearly stated that I really need to make the purchase ASAP. It is because of this incident I will purchase the laptop I wanted to acquire from another company, as well as I am closing my Dell account and can not say as to when and if will be ordering from Dell again.
The purpose of this message is to bring attention to the top management of type of employees placed at different positions even in the company as great as Dell. I don't remember having problems with Dell before and I truly hope that there are more employees who do care about Dell's well-being and this message will be given a proper attention. Otherwise I believe Dell will eventually have a hard time competing in today's market.

Hi, just some facts: I ordered my computer on August 19th, payment is done on August 21st, according to their website the delivery time is about 7 days (the expected date of expedition would be on the 21st). I check it yesterday and I ask them today: Where is my computer as we are on September 1st. The answer: the estimated delivery day is about September 19th. So, if God helps, I'll get my computer 1 month after my order rather than 1 week! Conclusion: If like me you need your computer for a day in particular (such as class, birthday...) don't choose DELL CANADA. PD1: You can't cancel your order once "production" is launched. PD2: I have never been informed by DELL about this delay!
How do I know I can trust these reviews about Dell ?
880,156 reviews on ConsumerAffairs are verified.
We require contact information to ensure our reviewers are real.
We use intelligent software that helps us maintain the integrity of reviews.
Our moderators read all reviews to verify quality and helpfulness.
For more information about reviews on ConsumerAffairs.com please visit our FAQ.

I was trying to make a purchase of a computer. Dell's Customer Service in sales is by far the worst in the US. They didn't care to assist me and make a sale. I wasted hours of getting a hold of someone who could help me. Called them before writing this review, tried to get to a supervisor, unfortunately what they do best is transfer calls between incompetent people from other countries and don't know how our system works. I am running a business myself and have never experienced such poor quality service and ignorance of customers. There is no account for the actions of the employees in this company.

I wrote you a few weeks ago regarding a defective laptop I purchased at Walmart. I was contacted by Shawn ** of your organization who sent me a prepaid postage box for FedEx and the laptop was picked up on August 12th, 2017 and returned back to me August 21st, 2017. On August 24th the laptop started freezing up and the screen went solid green and would not boot up. I emailed Mr. ** last Thursday and told him of my problems and I have not heard from him. I bought the laptop on October 4th, 2016, Mr. ** called me on Monday, August 21st and told me I only had several more days until the warranty would no longer be in effect.
Whenever I have purchased computers from Dell in the past I have received high quality merchandise and had no problems with them. This time however, I am appalled at the quality and wonder how Dell could allow such a product to hit the shelves at all. It seems as though many companies are offering substandard products and expecting to get away with it. I will not stand for spending my hard earned cash ($500.00) on an item and it is defective. Unfortunately, the quality of this product is nowhere near what I would expect from a company like Dell and I believe that this should be dealt with as soon as possible.

After being on phone calls with your Tech Support Line in India 5 to 6 times for approximately 10 to 12 hours my Dell Computer covered by extended warranty was still not working. Dell recommended that the next step for me was to uninstall and reinstall the operating system. In frustration and the need for a working computer (PC was not booting up) I hired a local computer expert who got my PC up and running within 2 hours. None of what Dell Tech Support had me do or was going to have me do fixed or would have fixed the problem of my PC not booting up.
My time, energy and patience is important although Dell Tech Support thinks otherwise. I requested that Dell reimburse me for the cost of the local computer expert's cost to me. Dell refused even after I contacted the VP of Customer Service. It adds insult to injury to have a problem with a Dell PC (Inspiron 3650) that's not even one year old and then to be lead on a futile problem solving journey with inept tech support people! Hell, this will be the last Dell that I buy!

I bought a Dell Inspiron laptop that I only used to type at home and it was never transported anywhere, least of all, dropped. Due to bad design and construction, the top of the Dell's case cracked around both hinges on top so the screen was about to fall off during my 1 yr factory warranty. Dell put me through a *nightmare* that went on hour after hour. Dell routed me to *SEVEN* different Dell reps that left me on hold for HOURS. They lied that there is no warranty on my laptop's case. A Dell rep lied that any cracking on the case was "damage" not covered by the Dell 1 yr. warranty. Dell's circular "logic" is if the case breaks, that has to mean it was dropped - even when it wasn't.
When I finally got my Dell laptop repaired, the tech said I didn't do anything wrong. The repair tech said it's obvious the steel hinges break through the thin plastic on the back side of the screen. Dell hires foreign boiler rooms to lie to customers with defective Dell products to avoid making factory repairs. I had TWO warranties - the 1 yr and an extended Dell warranty while they kept lying for hours as they routed me to SEVEN different Dell (foreign) reps. Don't believe them when they say "damage" and leave off the word "accidental" to try to avoid repairing a cracked Dell case. Too bad that Dell makes junk laptops and then evades honoring the factory warranty.

I purchased a monitor and desktop. New desktop was not working properly, the process to request an exchange was lengthy and very frustrated talking with different people every time I called to resolved the issue. I decided to return because of the frustrating experience. Then again, the process of getting the return label was the same...x!X! It took 2 months after I called many times, speaking with many different people, waiting 1 to 2 hours to get resolve and get credit back to my account. I had purchased Dell in the past without any problem. Nowadays the customer service is not good at all, it takes forever. My experience was extremely frustrating and long. I would not purchase anything again.

Ordered a Dell laptop, estimated delivery date was 8/18/17 - 8/23/17. Three days after the order, it was placed in "confirmed" status. Today is the 23rd--it is still in "confirmed" status. Called Dell support. Got a man who spoke such heavily accented English that two different people in our office tried to understand him--without success. What we did get from him is that there was some sort of manufacturing problem at the plant, and that he was unable to say when it would ship (much less, be delivered). Dell wants "24-72 hours" to try to tell me when it will ship--if they really want to get that information, they could simply get on the phone to their mfg facility, and that does not take three days!
Unfortunately, their response is not acceptable. Dell won't allow the order to be canceled at this point, basically holding me hostage. I'm going to call my credit card company and tell them I'll refuse to pay. As the (former) IT director for an educational institution, I've ordered hundreds of Dells since 1995. Their customer service used to be top-notch, which is why we were a Dell-only shop. Unfortunately it has gone steadily downhill--my guess is that it will eventually relegate the company to an also-ran tech company. Sad.

I stopped by Dell computers because of really bad overseas customer support. So fast forward a few years and I buy a new Dell laptop and guess what? Problems. So I call customer support and can not even understand this person broken English and had to keep asking him to repeat what he was saying and the jerk started yelling at me. I am returning the computer first thing Monday. Dell SUCKS!!! Their customer support has not improved and they use all overseas agents. I spent $900.00 to be yelled at by someone who I could not understand because of poor training on Dell's side. Do not waste one penny on Dell because they will not be there to help you if you need it.

So I had purchased an Alienware 17 R4 with top-notch hardware for $2,500 after discounts. I was eager and called off work to wait for the packet the day it was going to be delivered, I await and by 1:34PM I get a notification on my phone saying it was delivered and signed! I hadn't received it and it turns out someone had intercepted my package, the FedEx driver gave my package to someone outside my house claiming they lived there! To keep things short I was furious and sad about my loss. I quickly called FedEx and pretty much told me to scram as they would only deal with the sender which was Dell, even more upset I called Dell and the rep reassured me that they were going to send me a replacement unit!!! All I needed to do was file a police report, I picked up my keys and flew to the police station.
After getting that done I took a picture of it and sent it to the email address I was told to. I got on the phone with them again a while after and to keep things even more short the guy processed my replacement and BAM it was shipped out only with FedEx once again. I was thankful that the delivery date coincided with my day off as I could not afford to call off again so soon. I waited for the FedEx driver for 5 hours outside my house as I was not going to risk another loss and the trust Dell put on me to send me a FREE replacement unit. I received the package at around 12:30PM and jumped of excitement, I now enjoy perfect VR on my Alienware 17 with Oculus Rift and plenty of power to last for a good 4 years of gaming. Rock on Dell. You gained a customer for life!

I have a Vostro 1220 Dell Laptop that I purchased from Dell about 6 to 7 years ago. Ever since I updated to windows 10, it has been running slower so I took it to Best Buy's Geek Squad and was advised either to buy more memory, or reinstall windows 7, or do both. I chose to buy the 8gb of memory that was recommended to me by a Dell salesperson based on information that they already had on me from my past purchase profile with them. I provided them with the necessary information needed on my laptop to purchase the right compatible part (memory) for my laptop. I chose to get the memory because reinstalling windows 7 would require me to have to back everything up so that I don't lose anything important and it's a tedious process.
First, I want to start by saying that to get through to someone took some time in the 1st place, second after speaking with someone who barely speaks English clearly places me on hold, then hangs up on me and I have to start all over again. I placed my order with them after being asked questions on my laptop. I was suppose to receive the memory in a couple of days and never received it. I called again and informed them that I never received the memory and they sent a replacement.
I finally received it and was excited to finally fix the laptop except that I received devastating news that my 1 month grandson passed away. This unexpected tragedy held me back from the desire of wanting to do anything at the time, so this laptop project was placed on the back burner for the time being. He was my first and only grandson and this tragedy depressed me deeply to the point that I forgot to get the laptop fixed. It took some time, but I managed to bounce back up somewhat enough (not entirely) to try to get back to getting my laptop fixed.
I went back to Best Buy only to find out that Dell sent me the wrong memory. Instead of sending me memory for a laptop, they sent me memory for a desktop and for a different model computer than what I had given them. I called Dell and again I was placed on hold and they hung up on me & I had to start all over again. I explained the situation to them and they told me that they could not issue me a credit, refund, or replacement for the right one because of their 30 day policy. I had no idea that almost a year had gone by even though it was their mistake. There was nothing that they could do and I asked to speak to a supervisor and they told me that the supervisor was not going to be able to do anything either. They never honored my request to speak to a supervisor and even after telling them of my devastating news about the death of my grandson they didn't even have the compassion to show some kind of sympathy.
They were cold, unclear of speech due to language barrier, rude, and unwilling to help resolve my problem. I am so surprised and deeply disappointed on how a well-known and respected Company fell apart in the customer service aspect of it. I was a loyal customer of Dell and I referred many friends and family to them when I thought very highly of them, but now I will NEVER EVER buy any more products from them and will never recommend them to anyone again. I loved your products but, you lost a good customer for good.

I have had a Dell computer for the last 7 years. The motherboard is going so I wanted to purchase a newer model. I purchased a gaming 17. When I received it I set it up and the touch pad kept on sticking and does not move. I called sales and customer service and said, "Oh too bad." You will have to buy another one because I had to go to Best Buy to find out the touch pad on the gaming computers are all the same. The sales agent assured me that the Inspiron would be different. I received that one and same thing. I called sales and customer service again and asked, "Please sell me a computer that the touch pad is different from the last two and the same as my 7 year old Studio computer." The agent said it was a fluke and please, please try it again. I did and the same happened.
Now this time when I called wanting to buy one that works, I was told then that all the touch pads on EVERY computer is the same. As they called it new and improved. So why can't I use them and they are defective?? When I went to put the annual warranty back on my old computer, they would not charge me the same amount $140.00. The new charge was $271.00. I was on the phone 4 hours being transferred from customer service. Warranty department and sales. No one would have any compassion for the hassle they caused and all the lies for three months. I spoke to a customer service manager, Suvum, who would not give me his full name. He also hung up on me. Why aren't Canadians servicing us??? These people have no concept of helping their clients. They should not be allowed to scam seniors! So beware these crooks.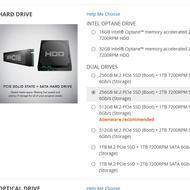 Long story short, I ordered this Alienware Aurora R6 desktop, souped up, and paid over $1800 for it. There were 8 hard drive options, two were Intel Optane type drives (ugh), and six were dual drive options (SSD boot + HDD storage configurations). The default option included in the base price was the 256 GB SSD + 1 TB Storage. I selected the +$50 option to bump this up to 256 GB SSD + 2 TB Storage.
The computer is a gift to my son for having 4 straight 4.0 quarters in high school. It arrives, and I give it to him, he's all happy. Then 4 weeks later issues start cropping up - the computer starts blue screening more and more often until it gets to the point where it blue screens within 10 seconds of booting up. I call Dell. Dell has me open up the computer and go through their troubleshooting steps. Turns out the RAM and Hard drive both failed. But this is where things get interesting. In the BIOS screen I noticed that it said "M.2 PCIe SSD = None". Wait, what? This system is supposed to come with an SSD boot drive. So I call Dell (again). I spend the entire day on the phone and am passed between no less than 7 departments (sales, customer care, technical support, order modification, etc.) and also engage in multiple on-line chat sessions with them as well. I speak to upwards of 10 people in total.
This is the summary of all this effort: 1) The online ordering system screwed up somewhere, and I was supposed to get an SSD drive as well... but: 2) They don't care one iota because it's now 39 days. They stop caring at 30 days. It was somehow my responsibility to check and make sure I got all the internal components I was supposed to get. In other words, if you bought and paid for an upgrade to 2667MHZ memory and on day 31 you realize you got the stock 2400MHZ memory instead, it's too ** bad. 3) They will not do anything. They will not give me what I paid for. One person at one point literally said "We are going to give you a $180 refund on your credit card... oh wait... it's past 30 days, I can't do anything".
I have bought 3 Dell laptops, and 5 Dell desktops for personal use in the past, as well as directing the company I work for (I am Director of Technology) to buy Dell products. Never again. Because of how I was treated by Dell, I am going to buy from Dell's competitor (perhaps Lenovo) and direct my company to never to buy from Dell again. Because of Dell's mistake, and their so called "customer care", I am going to deny them approximately 6 figures in total sales over the next 10 years. A drop in the bucket compared to their total revenue, but still. Do not buy a Dell. They used to be a company that cares. Not anymore.

My laptop fails twice in less than one year for no boot. The first & 2nd repair is almost immediate but, the repair guy for the 2nd repair is totally screwed - he is new, not familiar with the repair and my laptop get into blue screens, reboot & hangs after that 2nd repair. It appears that every time before the problems occur, my hard drives looks like "missing". I will not able to save anything or any new program with error about missing paths. There is one time I am still having the pen drive on and I could save to the pen drive but nothing to HDD, so I am sure something is wrong with the HDD. But, there is no hardware fault could be catch by the DELL hardware diagnostic and they refused to do anything about it.

I had the absolute worst experience with Dell that I have ever had with any company. I spent all morning trying to order a laptop online only to get to the final page and have them send me an error message pointing me to another computer, add that one and same thing but they point me to the first one. Wanted to go through the website because Ebates was offering 10% back on Dell.com. Called to find out what was going on, put on hold, someone picked up and immediately hung up.
I called back 2 more times with the same result before I actually got to speak to someone who it turned out was one of the rudest individuals I have ever encountered! (mind you by this point I wasn't the most pleasant of customers either) When I asked to speak to the customer service manager the SAME man came back on the phone posing as the manager!!! What the heck Dell??? I have owned Dell computers for as long as I have been using computers and never ever had such a poor experience. Think I'll be switching brands at this point.

Dell has gone so downhill. After many years of not buying a computer from Dell, I decided to buy a high end gaming computer for my grandson for going to university. As he was going into computers, he needed a computer for day 1 of class. I found a computer that was suitable but discovered that the delivery date was a bit too late, for some reason it was going to take up 25 days to be delivered. In the past all my Dell computers came with a week of ordering. So I called Dell computers customer service to see if it could be rushed in any way. The rep had a strong accent which made it difficult to understand and I constantly had to ask him to repeat what he was saying. He said he could expedite the order but could not give me a delivery date so I refused to make an order.
I received a number of emails from this gentleman trying to get me to order although I repeatedly said that I needed a computer for a certain date and without a guarantee of a timely delivery, my answer was no. Then someone suggested to me that I call back and ask to speak to a supervisor or ask if a store near where I live carries this computer. I called back, the rep again had a strong, difficult to understand accent. He could not tell me anything about stores carrying Dell products or even knew anything about Canada. He promised to rush the computer to me and guaranteed that it would be shipped by the end of the week. I agreed to purchase the computer and gave my credit card info.
After finishing the call I wondered why there was such a change and looked online for reviews and information on Dell. And my bill arrived by email with a very late expected delivery date. I discovered that Dell operators frequently falsely promise delivery quickly and that even when there is a set delivery date, that computers frequently don't arrive on time. Since this was unacceptable I checked into Dell's cancellation policy and apparently you cannot cancel an order once production starts so that by the time your computer doesn't show up, it is too late. I tried to find the cancellation form Dell says it has on its website but it kept taking me in loops but never to the form so I went to customer chat.
The chat line rep tried to get me to just not accept the computer at the door if it showed up late. Really? I've already paid for it, what good would that do. I insisted on a cancellation but was told apparently that it would take 3-5 days to be approved??? The next day I received a call from a third Dell rep that I could hardly understand, and who called at almost 9 pm on a Friday night. He said my order was canceled and that the rep should not have promised to deliver it early, staff is not suppose to do that. Then he sent me a survey about whether my interaction with him was good or not and I was suppose to put my comments about unsatisfactory service in the comment box. Their survey had a picture of a smiling man who says he likes to play Xbox, weird, and starts to check off but no comment box. No email verification that my order was canceled. I will never recommend Dell to anyone. I'd give them no stars if I could.

I bought a Dell Alienware computer from Rent A Center. No problems until now. I get this call from Dell. I asked for a service tag and they provided it. I also called the number back and it was indeed Dell. So anyway they tell me they were alerted to some problems on my computer and he showed me services that were stopped that should be running.
They also showed me there was a virus on my computer from Walmart.com. Then they showed me an IP address that was traced to Nigeria who used my IP for use of pornography. Now my computer is still under warranty so I should have to pay nothing to get it fixed. They demanded I pay them 350.00 then 250.00 dollars today or they would turn me over to cybercrimes. They locked my computer and blocked any online transactions from going through. They are about to find out the hard way they are making a big mistake. It is called exploitation of a disabled person.

I have received three quotes from Dell for a laptop and each time I have tried to purchase using the quote in the defined time frame for it being valid, Dell comes back that Finance dept rejected and they need to issue a new quote that is higher cost. It's amazing that Finance Dept can authorize a quote for a specific timeframe but not honor.

I bought a new XPS 15 for school and work purposes. Within 2 months of my purchase the HDD failed, and had to contact Dell customer support to replace the hardware. Dell took 2 weeks for the whole process and when my laptop was returned to me the HDD was removed and never replaced. They literally took out the faulty hard drive and shipped it back. Dell has wasted 3 weeks of my time on this issue (having to resend it for them to fix their screw-up) that I could have been using productively. Not only that, the issue itself is something I could fix given a half hour and $100 - if I didn't want to keep the warranty intact I would be doing just this.
Their incompetence is astounding, I cannot believe that they overlooked something so obvious before shipping the product back to me. Dell sucks, and as far as I'm concerned their entire Customer Service staff are idiots. If I had the option to opt for purchasing without their warranty I would almost consider it, except my experience of a 2 month life on an HDD makes me wary of the quality of the products they ship out in the first place. Extremely dissatisfied with them overall.

I don't even know where to begin with my complaint about my latest experience with Dell. This Dell Inspiron 20 All in One 3000 series is the most horrible computer I have ever used, even worse than the old dial-up days. It takes five minutes just to load Word! Then if I want an envelope within Word, another five minutes. When it sleeps and I come back to it another five minutes for it to reset. I have spent DAYS on the phone with INDIA, trying to understand what they're saying while trying to figure out what's wrong with this excuse for a computer. They even had me convinced that the Windows program was bad - had me download everything onto a flash drive then reloaded Windows again. I actually was gullible enough to think it would help. If anything, it's worse than ever and getting worse every day. My keyboard wouldn't type half the time and they were too uneducated with the product to know that the keyboard was faulty.
With my help we finally figured it out. They sent me a new one. That hasn't fixed my extremely frustrating and maddening problem! It's killing my work load and I can never do anything quickly. For months and months I was on the phone with them and they blamed it on my internet provider. That wasn't the case and by the time I came to grips with it, the warranty was out for replacement. If you're reading this, take HEED! Don't do it! It's as bad if not worse than what we all have described here.

This was the worst experience ever. I make an order online yesterday and they sent me an email asking to call them to confirm account information or my order would be cancelled. I call them this morning and the rep says all I have to do is reply to the email saying I authorize the order. I thought everything was done and a few hours later I miss a call from Dell. So I call back and got transferred to 4 different reps(departments) giving all my information and story each time. The last time I was transferred the rep didn't even tell me they were transferring me and none of the reps were empathetic or apologized. So I speak with the last rep and give him the whole story and I ask to cancel my order because the whole experience ruined it for me.
So he confirms some information with me that I tell him shouldn't be on my account because I changed it yesterday when I was online. He confirms the order and I say no I wanted to cancel it. He than gets snippy with me saying I should have told him that I wanted to cancel it or he wouldn't have bothered with the confirmation. I remind him I did say in the beginning of our conversation that I did want to cancel and he got extremely rude and when I tried to ask to speak with a supervisor, he advises me he is the supervisor. He cuts me off and says I can find it all online and hung up on me. I have always purchased Dell laptops and have never had any issues and this whole matter has me in tears. I was trying to get a laptop before I went back to school in September and thought this was a good choice. Never again!!!

I bought Inspiron 13 7000 series in January 2017. The screen, at the top near the camera, is cracked where you open the computer. I believe the crack is from a defect in the screen. The computer was not dropped and there was no "accidental damage." Dell refuses to fix under the warranty and when I questioned the customer service rep, she hung up on me. Never again...

I placed an order for an expensive top-of-the-line laptop and when I didn't receive notice it had shipped, I decided to check on the status and found my order was "on hold due to an internal error," which I was never notified about. I called customer service and was told the issue had been resolved and that it wouldn't impact the delivery time, which I had also paid extra to expedite because I'm moving soon. Although the first of a series of customer service representatives I could barely understand assured me I would receive it on time, he wrapped up the phone call by saying my order should be processed within 48 hours, which would definitely impact the delivery as scheduled.
So I called back to speak to someone else and was told that particular issue can't be corrected and that I would need to cancel my order and place it again. This was so far from what the first person told me that I tried a third time in the chat tool, only to have the internal error and hold status fed to me one fragmented line of broken English at a time. Finally, I tried to email customer service and kept getting an error message from Dell's website. I've cancelled my order and I will never do business with Dell again. I wouldn't tolerate this level of service anywhere, but least of all when you're spending a significant amount of money and paying extra to get your product faster.

I have a Dell Inspiron notebook on which, after 8 months of use, both screws holding the hinges tight that connect the screen to the base had fallen out and were lost. (I only noticed when the screen came seriously loose.) I contacted Dell for replacement screws. It was annoying enough to be made to pay for screws and shipping (a couple of dollars) -- the computer was about a month out of warranty because I only started using it several months after I'd bought it. You'd think that Dell would have taken the view that, if its machines were well-made, screws shouldn't just fall out after a few months of use. Nevertheless, I ordered and paid for the screws. The first time around, what Dell sent were not screws at all; certainly not what I'd ordered. When I phoned to advise them of the mistake, they made me return what they'd sent (wrongly) first before they'd try again to send out the screws.
Admittedly, they emailed me a post-paid label, but the tiny chrome disks they'd sent me in error couldn't have been worth the cost of return postage, let alone the extra delay that I faced, working with a computer that was virtually falling apart. (Perhaps Dell were worried that I was lying and trying to rip them off for two extra screws.) The second time around they sent me 1 screw, though I'd ordered, paid for (and needed) 2 screws. When I called again to advise them of their second mistake, they essentially gave up -- told me they'd refund my payment, but that I should get the screws I needed elsewhere. That ain't customer service, guys. It's not even entertainment!

I ordered a mouse that was advertised on sale. After one full week of the order just sitting in "processing" mode but not shipping, I contacted them to ask what the hell was taking so long. That's when they decided to tell me that the product was out of stock, and I should just order something else instead. When I told them that I was not impressed that they'd just left my order in limbo for so long without telling me and that I wanted them to just cancel it, they again told me just to order a different mouse instead of cancelling. Like I wasn't entitled to make my own decision on whether or not to buy from them, trying to force me to shop from them by holding my order ransom and not cancelling it.
The customer service clerk lectured me not speaking to her politely enough and refused to honor my cancellation request. I have never been treated so cavalierly and disgracefully by any company before, and I will never buy anything from them ever again.

I have had my laptop 2 months. Have used it maybe 2-3 times total, supposed to be brand new but I wonder. Very slow!! I tried to initiate a return even if I had to pay a restocking fee but read the fine print. They do not mention you have only 30 days to return. It looks like you can return at any point early on but no and no one will help or budge even if I pay their restocking fees like it says. I will never buy from Dell again, should have known when they were so eager to throw out a large credit line. Stupid me. Live and Learn I guess. This computer is as good as a paperweight.

If you're thinking about buying a Dell computer, please take a few minutes and read through the reviews on this site before making your final decision. I have been a Dell customer since 2008 and currently am using my third Dell laptop, an Inspiron 15 5567, purchased in December 2016. It will be my last Dell computer.
On March 22, 2017, my laptop's battery failed, something that more than an hour on the phone with Dell's Technical Support in India was determined to be my fault because I likely "overcharged" the battery. Dell's own Laptop Battery FAQs state that the battery can't be overcharged because "...the battery is designed to stop using the charger when it reaches full charge," but apparently facts don't apply here because Dell wasn't going to admit that I was sold a laptop with a bad battery. The fault was place squarely on me, the customer.
When I purchased the laptop, I had chosen the mail-in service option, primarily because my previous Dells had been reliable and I'd only had to call on Technical Support and subsequent repair after extended periods of use. So, I had to ship my laptop to Houston to have the battery replaced, a repair I was told would 7-12 days to complete. When you include the 10-day round-trip shipping, I would be without my laptop, on which I rely to make my living, for 17-22 days, which was, to say the least, panic-inducing.
After I shipped my laptop off to Dell, I tried desperately to find someone at Dell to help me expedite the repair and return process, first emailing Customer Care who then kicked me back to Technical Support in India. When I finally was able to speak to a supervisor in India, I was spoken to in a manner that was beyond rude. For more than an hour, this supervisor argued with me, frequently interrupting me to talk over me and tell me how wrong I was to have shipped my laptop off to Houston so quickly and telling me that he could have helped me if only I had waited to send my laptop off for repairs. I wish I were kidding about this. I know it sounds unbelievable and perhaps I wouldn't believe it if it hadn't happened to me, but it did.
At the end of the call, I was in tears of frustration and anger. All I wanted was for someone at Dell to treat me as well after they had my money as they had before they had my money. But Dell is no longer that company. To the Houston facility's credit, the battery replacement was done quickly and my laptop returned quickly. I'm praying that it holds out. And, of course, Dell has never and will never admit that I was sold a laptop with a faulty battery in the first place.
Because I have been a longtime customer who had seen the steady decline of Dell's product and especially its service, I recently wrote a letter about my displeasure to CEO Michael Dell and mailed it to the Corporate Office in Round Round, Texas. In response, I received a phone call from a member of Dell's Advanced Resolution Group in (surprise!) India. He was rude, condescending, frequently talked over me, and did nothing to try to retain me as a Dell customer. I guess I shouldn't have been shocked, but I was still shocked. I am well and truly done with Dell. And I'll do my level best to steer everyone I know away from doing business with Dell as well.
Dell Customer Service Company Profile
Company Name:

Dell

City:

Round Rock

State/Province:

TX

Country:

United States

Website:

http://www.dell.com/