Consumer Complaints and Reviews

I bought the Dell M18 Alienware laptop in 2009. 6 months later, I began to use it frequently. One month later it blue screened and crashed at 7 months old. I paid 3200.00 for this laptop. Customer service said they would fix it if I paid them 350.00. Geez! I told them I have a 1 Years warranty. They said yes I do but it did not cover software but for 6 months. that's a lot of money to spend on a laptop for hardly any warranty. I took it to Best Buy Geek Squad and they really installed windows saying it would be like new.
Well windows worked but most of my drivers they did not Install? Man! Nothing but agony here. I have worked on this thing for years on and off. It's running now but can't connect to hardwire ethernet. Tried dell drivers, still don't work. I will never buy another dell product. My son bought one too at the same time. His was trash too, it was worse than mine. He finally give up repairing on it when he had spent over 1200.00 more. Thanks, I thought all of you out there should know this, my HP computer is now 10 years old, still running, no problems.

I purchased a new laptop from Dell yesterday model Latitude E5470 10/05/16, paid for next day delivery. When the laptop arrived today 10/06/16 it would not work without being plugged in. After being on hold for hours, I was told it would take 7 to 10 days for a replacement. The customer service person that handled my call was not interested in trying to help me.

Purchased a new Dell Inspiron 15 in April 2016 from my employer discount preferred membership plan. The computer needed to be re-set to factory settings within 4 weeks due to a software I could not delete that caused a radio to come on and not turn off. Then in late July the computer would not turn on at all. Dell put a new mother board in and the computer ran fine for exactly 4 weeks and the thing would not turn on again suddenly. Dell wanted me to go through the whole process again of being on the phone with a tech removing the battery etc like the time before.
I refused and had to argue for an hour with the customer service lady (who barely spoke English). They refused to issue me a new laptop (they only do that within the first 30 days after purchase). So back it went again. Another mother board was put in. No one would tell me why. I have an obvious lemon in this laptop and Dell only stands behind their product for 30 days. What kind of warranty is that? I am a Quality Engineer in the user interface industry. We guarantee product for at least a year and give new parts out after that if it is clearly our fault for the quality defect. I will never buy a Dell again and I will advertise that fact all over the place.

After only 2 months from purchase online through Dell I had issues of system being slow. Called in about 4 times over the next 6 months. First of all severe issues with communication since support is from India. Also after 2-3 hours on the phone with tech I was told that things were resolved. However no better. 8 year old desktop I have is faster and more user friendly. Also hate the Windows 10 but told that nothing could be done for that either.

After having my laptop hacked I contacted dell. I was told that for another few hundred dollars they could fix it. My computer is less than a month old. I purchased the anti virus when I bought the computer. I was just told that isn't good enough and doesn't really work. So why are you selling it? What a rip off. Last dell ever. Horrible customer service and horrible product. Time to call Better Business Bureau on these people and the product they don't stand behind after you pay for it.
How do I know I can trust these reviews about Dell ?
609,643 reviews on ConsumerAffairs are verified.
We require contact information to ensure our reviewers are real.
We use intelligent software that helps us maintain the integrity of reviews.
Our moderators read all reviews to verify quality and helpfulness.
For more information about reviews on ConsumerAffairs.com please visit our FAQ.

I decided to buy a Dell XPS 13 with upgraded memory. The idea was to have a computer that would last for years as I had a few Dell's before that worked very well. Well after paying over 1,800 dollars I've received a lemon that worked for 2 weeks and the hard drive has still failed. In addition they sent a tech over to replace the hard drive... the laptop still doesn't work. I use this laptop primarily for work and it has now been over 40 days since I have not been able to use my laptop. They are sending over another technician after spending 40 minutes on the phone confirming that it still doesn't work. NOT WORTH YOUR TIME OR THE MONEY. Don't buy a Dell, if they sell you a lemon they have no commitment to quality or integrity for that matter.

I purchased Dell laptop on 25/8/16 from a Dell outlet. After working on it for 4-5 days I noted one of the key was not working. I went to the dealer, he told me to register my complaint with customer care, executive will come and will change the keypad and when I called the customer care to register my complaint I was told that hard to press keys are not covered in warranty. I told them I hardly bought it a week back and I was replied, "Whether you bought it an hour back but it won't be covered". Friends never go for a Dell product.

Honestly have been a Dell hardware user in a corporate environment for over 16 years. The Dell machines are fantastic machines, work horses, and are nearly indestructible as long as you purchase business class machines. The key is, if you buy their home-based machines, which are the Inspiron laptops for instance, you are buying a cheap headache that will never last, and this is to be said about all laptops, not just Dell. The complaints listed on here all seem to point to the same thing, if you buy a 300.00 Dell from Best Buy, that was on some rack for three years, and is a home grade machine, (you can generally tell from the color, if it is anything outside of cheap-looking black or grey it is a home machine) and you will absolutely have issues, between the commercial bloatware installed, and the issues with the cheap hardware running a heavy Windows OS, you will undoubtedly have issues, no matter what you buy. You get what you pay for.
If you want to have a machine that will last 10-15 years with only the battery requiring replacement every 5 years, you want a Latitude grade laptop, or OptiPlex, or Precision grade desktop. Anything outside of those mentioned will be "Home" grade machines and not last. Currently I still have a Latitude C500 running a P2 that works fine, no issues, and the original battery still lasts an hour. The only reason I give them 4 over the 5 stars is because recently their customer support for business-grade repairs has turned into a worse experience than just buying the parts and fixing it myself. Outside of that though, for every 120 machines I buy, I will have an issue with 1-2 machines over 5 years of service. That in itself is the reason I buy Dell.

I purchased a laptop on 7/26/16. Today's date is 9/17/2016. After the time it took to get it shipped to me, I've had it for 49 days. I use it for homework. I was typing a paper today and the "s" button fell off. I called customer service, but apparently that is considered normal wear and tear, and they will not fix it under warranty. They will, however, charge you $229 to fix it. The laptop costs $500, so they charge almost fifty percent of the price to fix a key falling off. When on the phone, they argued with me about how long I've had the computer even though I have receipts, hung up on me twice, and they told me multiple time the key fell off because I mishandled the computer. I did no such thing. I typed. If typing on a keyboard is now considered mishandling, Dell has some bad fabrication issues. This is a poorly made product, and keys falling off after 7 weeks of use should be replaced under warranty.

My entire family has been loyal Dell customers for approximately 15 years. The laptops we've purchased in the past have more than withstood the test of time. In the last two years, we've purchased 4 more laptops. One of these laptops, however has had issues since just a couple months after we received it. Within the span of roughly 6 months, the laptop has been returned to Dell for service on 2 different occasions. Each time the computer was returned to us, something else went wrong shortly thereafter. When the laptop needed service for the third time, I spent hours on the phone listening to technical support try to get it to work, but to no avail. This time Dell sent a (3rd party) technician to my home to repair the laptop. The computer worked for a day, and then crashed again.
Needless to say, at this point I was livid, and I was done with this computer. I was willing to accept nothing short of Dell admitting that it was a lemon and refunding my money. After numerous phone calls and emails, they were unwilling to admit that the laptop was a lemon, and would not issue a refund to me. They did, however offer me two choices: have me send the laptop back to Dell (Yet again!) and the executive service manager would overlook the repair himself this time; or they would send us a refurbished laptop, comparable to what we already have. In a phone conversation with this same manager, I told him that I would be contacting my credit card company, the Better Business Bureau, Consumer Affairs, and would let everyone know about my experience. He did not appreciate my threats as he called them; I assured him that they were not threats, and I promised him that I would follow through.
Yesterday, I contacted my credit card company, issued a complaint, and filed a dispute on the charge. Even though my credit card company typically offers protection up to 75 days after purchase, they were open to filing this dispute because of the circumstances that were explained. I've filed a complaint with the Better Business Bureau, and now Consumer Affairs. I've posted to everyone I know on Facebook, Twitter and Instagram. I work too hard for the money I earn, and in the end, Dell has lost a loyal customer.

Currently you can't transfer anything to SD card on Dell tablets, so wondering why there's a slot to begin with. This is totally fraudulent advertising, since it states expandable memory with SD card.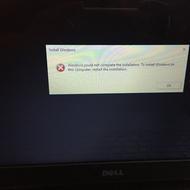 I purchased a dell computer in March of 2016 only for it to be only 5 months later my computer not working. Purchased a extra $100 warranty only for Dell to send me 2 hard drives that didn't work. Also had the nerve to offer me to pay for a image cd for recovery when I already have the image cd that came with my computer... This have been the worst experience of my life. I can't work or let my kids do their homework because of this computer. I hate dell. I will never purchase a desktop from them again in my life. Very poor customer service. Now I'm stuck with a high dollar computer that keep having issues that they can not fix then every time I speak with someone they barely speak English. I will never purchase a laptop computer, printer, etc ever in life from DELL... I HATE Dell. I warn anybody stick to APPLE. They're the best in customer service.

I purchased a laptop last year in September for my daughter's birthday. I also purchased a extended warranty. Within the first months the hard drive had to be replaced. Couple of months later another problem occurred. I had to send it in for repair. They kept it about a month. I called several times for a update finally they told me that the part they are working on is on back order and they could not tell me when it would come in. Finally after several more calls they decided to give me another computer that was refurbished. I now have another problem with the computer that they state I have to send in after they had me do several things. It's been a couple of weeks and I still have my broken laptop. Today was the 6th call. First I was told they would send a box for me to send the computer back.
After a couple of days I called I was told that, "We don't send boxes. We will send you a label. Pack the computer and cord in a box when the label comes. Take it to FedEx. Still never received label. I called again I was told, "We sent the label to your email you have to print it." I stated, "Laptop is broke. I can't print it." I was told it would be mailed. I was told again it was going to be mailed. Never received it. Called again last Wednesday. Was told, "We're going to send FedEx. When you be available?" I said, "Friday between 5 and 7 pm." Again being reassured that it would be taken care of.
I asked to speak to a supervisor. I was on for long periods of time to be told that the supervisor is aware and is busy. I was shocked that I wasn't important enough to be spoken to. No one ever came yesterday. I called again today and again was told they will pick it up Monday. Needless to say I have no faith in the process. I've spent a lot if money with Dell and I feel like product and service is poor. No customer especially loyal customers should be treated like this. I regret my purchase and I will never purchase anything else from Dell. I have received no satisfaction. I'm truly dissatisfied.

I have a Dell laptop. It worked great the first nine months. Then the computer died and I had to send it to them for repair. It cost me $150 to have my computer backed up and reinstalled when the computer was returned. Soon the computer started shutting down and showing blue screens. I contacted Dell and they had me send it back to them. They returned it saying they could find nothing wrong even though I sent them copies of the history of shutdowns and blue screens.
I again had to pay $100 to have my data reinstalled on the computer. The business/tech that I bought it from told me that Dell had returned the computer with the wrong window operating system. I have tried many times to call and email Dell. The seller/tech has also done the same thing. The tech said it is a lemon and should be replaced because he is afraid it will crash completely and it will be a total loss along with my data. He has tried to talk to a supervisor without any success. Dell has done nothing but dodge the real issue.

Words cannot describe the terrible customer service I've received from Dell. Actually... yes they can. Here it goes: In January 2016 I purchased a brand new, just built in China, XPS 13 (9350). I loved it. It was beautiful: the thin bezel, powerful processor, touchscreen, excellent key-feel. When it worked, it was amazing. Then, after 3 brief months, my 1,150 machine got the dreaded blue screen of death. I tried to restore it and save my files: no. I tried to clean reset and lose my files: no. I contacted Dell. I contacted them again and again. Eventually I spoke with a human. "We'll get back to you in 24-48 hours" they told me. If only I knew then how often I'd hear that phrase over the months that followed.
Time rolls on and after a couple of weeks, Dell picks up my laptop to take it away for repair. I get it back three weeks later. Again, it's beautiful, it's gorgeous, I love it. And then black screen. It's dead. Again I try the obvious things but the troubleshooting options never work. It won't boot up to Windows. I email the person I dealt with at Dell previously. I wait, but of course, no response. I call (that is an epic journey in itself, having to explain the situation again and again). I am told the person no longer works for Dell. Who can blame him?! "We'll get back to you in 24-48 hours" says another Dell customer service representative.
In the meantime, the battery fully drains and I decide that I'll try plugging it in and turning it on again and lo and behold - it worked! It was a miracle! Again, I loved it, it was fabulous, so sleek, great trackpad (it seems, unlike many others, I was actually lucky with this). And then a month later... black screen. I call again and am told the person I was dealing with the second time has left (shock). Another few rounds of back and forth and waiting the requisite 24-48 hours (several times) and they say they will pick it up and take it away for repair. No. I insist that they do a repair onsite. A kindly supervisor takes pity on me and gets their 'higher management' to agree to this.
Another week later - by this time I've had to buy a back-up laptop, a 200 Lenovo that has worked better and more consistently - and the Dell technician comes to repair my dud Dell. He's a great guy and he replaces pretty much all the major parts (screen/digitizer, motherboard and hard drive). Ah. I sigh with relief, this saga is finally over. Yet a week later, the speakers fail. I run diagnostics, I uninstall and reinstall audio stuff, nothing works, it's a hardware issue. Here I go again. On 24th August I email the last person I dealt with (he's actually still working there, amazing) and he asks me to wait 24-48 hours. Well it's been around 54 hours now and instead of happily agreeing a date for the technician to arrive, I'm writing this review.
Over the last 9 months, my laptop has been out of action for around 3 months. This is completely the fault of Dell customer service and their higher management as well as the shoddy dud of a laptop I was sold. I asked them to extend my warranty by 6 months because I just find it crazy that this brand new, state of the art, extremely expensive machine needs so much repair in the first year and I worry that the existing warranty will run out soon and then I will have to spend even more money than I have already (after having to buy the 2nd laptop). This entire experience has been awful and stressful but at least I can share it online and advise: Do. Not. Buy. Dell. If I could go back in time to when I was deciding between a MacBook Air and a Dell XPS... well I think you know what I would've decided.

We bought a Dell laptop Inspiron 55 on 25/01/2015 from reliance digital store, city centre, Mangalore in my husband's name Dr. Sharan ** and within 2 months have started experiencing problems with the functioning of my laptop, it just doesn't start without the charger and once I shut it down it doesn't switch on for so many hours nor does it charge, went to the store I bought from. They denied me of help and said it's not their concern any more.
I have to visit the service center of Dell, bloody the centre has been making a fool out of me since then, I leave my laptop there and wait for a min of 2 weeks for them to solve it, finally I get my laptop home and it's still the same with no change or improvement, also spoke to the customer care service on call so many times - some manager also spoke but no results, everything is just a show off, I was dumb enough maybe to expect something out of Dell, the company seems to be a fraud from manufacturing products to delivering customer service and helping them, looks like they don't care for the customers and are done with just snatching money from customers.
A laptop worth of 67k and this kind of attitude from the company is just so shameful. I demand a replacement with a new laptop for not being able to use my laptop since the day I bought... And a suggestion to check your manufacturing before you get it to the market... So many bad reviews for you and you still don't seem to improve at all such a shame. Lenovo is so much more better have been using it since past 7 yrs And for Dell you're a massive disappointment - never expected this from Dell.

25 feet from wireless - I have to constantly reset the network adapter. Paid a tech to update driver et al. Still no good. My other laptop Dell Studio XPS has no issue or my other apple products. Had to turn off touchscreen - tech could not solve the flashing circles. A disappointing product.

I received a Dell-purchased XPS3 in the mail today. I started it, spent hours loading all my information and new programs. Finally ready to take it to work tomorrow. However, it would not charge. After 1.5 hours on the phone with Dell, they told me it would have to be replaced because I would not accept just getting it fixed. I am frustrated that it would not work, is brand new, and cost over $1,400 USD. While I am glad they'll replace it, it really should work as stated. Too bad. I'll accept the replacement. If it is bad, I'm switching to Apple, though I really don't want to.

I placed a order with salesman Raj on 8/10/2016. He went out of his way to help me with my purchase. He sold me the Inspiron 17 7000 I7778 with the i7 processor for $881. I called on 8/14 to question the delivery date, with the possibility of cancellation because I was in need of a system ASAP. The female rep told me that she could take $90 off of the invoice and I would get that as a credit. I was in agreement and she said it would be some time until I saw a email reflecting this correspondence. I was doubtful because once they build/ship (which is it), cancellations will now be handled as returns.
I called on 8/16 because this entire transaction didn't feel right. WAS I surprised when I called and found out that my order was cancelled. I asked why I didn't receive a email stating such, and the refund of $900 plus to my card. The 3 times I called I was talking to individual with a foreign tongue. I found myself repeating, slowing the conversation to help my purchase. I will never buy a Dell product again. I will go out of my way to deliver a thorn. I actually thanked the woman (foreigner) for what Dell was doing for me. I have the order/confirmation # that will back my resentment.

The Computer is not worth the money. Paid for it Three years ago. I bought it from Dell online and now that the video card has stopped working I called Dell to find out what can be done and they said, "We don't have the parts to fix your computer," and would do nothing to help me out. The worst problem is that it was financed thru them and I am still paying for it and now it sits on my desk as a paper weight. I will never buy or recommend anyone buy from them. The whole customer service on this problem has been a nightmare and nothing would be done with this.

I had purchased Dell laptop on Feb 2016 and I was facing problem with LCD within three months and they repaired 4 times and replaced 2 times. As I am fed up this I asked for refund. The technical team and replacement team are making me fool and telling there is no refund is done which is not true. A courier person himself has told me he himself have handed over refund checks for so many customers. Dell is worst company. Will play with customer's time and money and also make them fool.

I purchased my Dell Vostro laptop 3000 series before 10 months. After purchasing the laptop within 1 month a light spot was occurred at the middle of the LCD screen. I have complained several times and after an true effort it was replaced but new screen was not properly set up by the technician. Also the screen resolution was not as good as it was expected. The technician was not more proficient and was not careful in his service. The battery backup of my system is also in very poor condition as it was told to me when I purchased my laptop. The price was high and it was 41,000. Within warranty period I have complained many times by direct calling the customer care and by writing through email but no serious steps and course of action was not taken and it makes me worried.
My laptop's warranty period was extended and it will expire in the next month of September. This laptop is not as good as compared with its price level. It is very poor laptop and also the service within warranty is very bad. I am facing now a serious problem with the Dell laptop. I have also send my image of the laptop screen panel where the screen was not properly set and also mentioned my problems via my email. I cannot understand what is the solution and how I get it. I am completely disappointed with the Dell laptop.

I purchased a Dell Inspiron 7737 in December of 2014 and I've had to have a new hard drive and 2 new LED screens. I've also had to buy a battery. The first screen that went bad approximately 2 weeks later - it had dead pixels in the screen so they came to my home and replaced the screen with a new one. Now on July 29 the next screen goes bad with a big yellow line and more dead pixels.
Dell sends a tech to replace the screen with, I thought, a new screen. Well the screen does not get a sharp picture and is hazy looking especially when light hits it. So they call me to find out if everything was okay. I tell them "No the tech scratched up my laptop, the disk drive tray is loose and the screen is horrible." They tell me "It's a refurbished screen. You only get new replacement parts the first 30 days." Now they tell me I have to send my laptop to Texas for a week if I want it looked at. Needless to say I am extremely upset. I want my computer the way it was before the screen went bad. Then you talk to these guys from India who you can hardly understand and they just give you the runaround.
UPDATED ON 09/01/2016: I have been trying to get Dell to replace my screen with one that gets a good picture not a horrible refurbished screen. That is what they have been putting on my laptop. I have had the hard drive replaced and 3 screens and an ac adapter replaced. The people in India who Dell outsources to haven't a clue of what they are doing. They lie to you. This last time when the adapter went bad they would not fix it unless I sent it to the depot in Texas. It came back worse. First off the adapter cord they replaced is fine. I guess they couldn't find why the pc wouldn't recognize the adapter. Second they decided to take out Windows 10 and install windows 8.1. Third my screen is worse than the other refurbished screen that was on here. I suspect the battery charger issue will pop up again because that was an intermittent problem.
The customer concierge dept. in India is even worse. Those guys can't understand English. So I guess I am stuck with a laptop one and a half years old that has a terrible screen and is slow. Now they sent me a ripped up box to send my laptop to Texas in so I used the box that the laptop came with. When they sent my pc back they discarded the good box and sent my pc back in a ripped up box. I wish I could receive some kind of help because Dell isn't going to do anything else even though I have a four year extended warranty. I've filed a complaint with the BBB but I don't know if that will help. I will never buy Dell and I encourage other people to not buy Dell.

I purchased a Dell Inspiron 17 Laptop so that my Mother-in-Law could use it as her laptop is old and troublesome. A few weeks after the purchase, we took it out of the box, and it said it could not find any media to boot from. I got the laptop back from her, tried what I could to figure it out, and then called Dell support. Over the past 2 months, they have gone back/forth having me try different things, have sent me two replacement drives, and even dispatched a field technician who said this was a software issue and he couldn't do anything about it.
I have asked multiple times for Dell just to replace the laptop. They seem to want me to be a field technician and try swapping out parts for them with weeks in between shipments. Prior to this, I have owned multiple Lenovo and Toshiba laptops. My last Lenovo had an issue which the field technician made worse. I contacted Lenovo and they didn't hesitate with my request for a brand new unit. Two days later, I was back in action. Evidently Dell doesn't value the time of their customers and feel it is OK to just string me along. I HIGHLY recommend buying Lenovo and stay away from DELL!!!

I purchased my Dell Inspiron desktop computer with premium tech support and McAfee January 15 2016 and have had nothing but trouble with it. About two months after having it, it started freezing up on me and became unresponsive when going to different sites. I called Dell support team about the issues I was having and they put in a fresh copy of Windows in the computer thinking that might take care of the problem, but it didn't, so I called again, and then when it was still doing the same thing I called Dell to see if I could return the computer for a replacement and they told me that I could not, that I had held it too long to return and it was up to Dell tech support to deal with the issues, which I had called them several times, and each time they have failed to resolve the problems. This has been a large disappointment to me, and I'll never again buy a Dell product.

Purchased laptop Nov 2014, minimum use, wouldn't power on. Sent for repair barely before warranty expired. Replaced motherboard and daughter board. Same issue again, no warranty, they want $299 for motherboard, figure it will crash again. Pissed off, paid a lot of money for a piece of crap. Will someone do something. They don't consider this a manufacturing flaw. Plenty of people are happy with theirs. Those with issues have a right to write blogs, that was the response I got today. Won't buy another Dell, beware.

I purchased a Dell all in one computer 1 and 1/2 years ago. I paid $800 dollars for it. Now two and a half years later the motherboard needs repair. Dell support wants $290 to fix it. Shouldn't this computer have last longer. I will never buy from Dell again!

I purchased a new 27" XPS 2720 in February 2016. Within 2 or 3 weeks the computer started freezing. I call technical support and was on the phone for about 45 minutes. A couple of days later, same problem. I technical support 3 times and I still have the problem. I spoke with a so-called manager that told me I had only 2 options which was to reinstall Windows 10 or he would send out a technician to replace my hard drive. With all of his mumbo jumbo tech terms and GREAT ATTITUDE, I'm not a computer technician to choose wisely between the options given.
I am so upset that I spent so much money for something that doesn't work with freezing. I previously had a desktop from Dell and I've never had a freezing problem. DELL absolutely suck and I will never purchase another anything from them again. I've only had this computer for 5 months and have had the freezing problem for 5 months. I feel like they've sold me a defective product. The manager told me that if they open the computer, it will never be the same again. Well I don't want something worse I want something new and that works without freezing. I know all computers have problems but the same problem from the time of purchase is a bit much for anyone.

It's been a month since I bought a Dell Inspiron laptop ** costing Rupees 97500/- (~1500$) for my son. It was purchased for his graduation first year, but now it's not working. Their technician says the motherboard has to be replaced, the touchpad and battery compartment are gone. I called dell to sort the issue but they give a damn and blatantly informed me that they will not replace the laptop even though it is only a month since I purchased it.
Each time I call the customer care I am redirected to a series of dell personnel, to whom you will have to repeat the entire episode; all for nothing. Presently, I have lost my money, my mental peace and I am wondering how easily Dell pulled off this cheating business and still continue to cheat innocent customers. I have experience with six brands of laptops, but this is the first time I preferred Dell (and they took me to hell). The service personnel say that they will replace the motherboard and other parts... but they do not understand that it is a brand new laptop and the entire unit should be replaced.
Now I am set wondering what I should do... remain cheated... keep mum or forget this issue. But I do not wish to see even one individual suffer by procuring a DELL product. Hence, it is with very good intent that I am writing this review. In fact, it's been a period of torture and mental agony since I bought this DELL (HELL) product. To all those reading this review... my sincere advise is that please keep away from Dell. Be afraid. Be very afraid of any DELL product. DELL is HELL.

Nothing but problems from day one and dell can't find a problem with it. Worst misstate I have ever made buying from dell. Their support sucks. Hours and hours on phone and still same problem and after asking to speak to someone who can help me (10 people later he hung up on me!). His question to me was "Sir if you're sick what do you do?" So I asked him, "Sir if you go back to same doctor over and over and they tell you that you're not sick what would you do?" Click. Almost July 13,2016 on phone call ends like that. Best thing to do is file small claim court to get any help I believe. Dell Support is a Joke.
Dell Laptops Company Profile
Company Name:

Dell

City:

Round Rock

State/Province:

TX

Country:

United States

Website:

http://www.dell.com/