Consumer Complaints and Reviews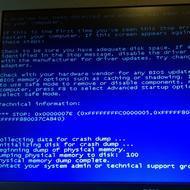 Bought Dell Inspiron 17 5000 Series on February '17. I got "memory dump" randomly and have to restart the laptop. Have to spend time running "test" at home for tech dept. then ship for repair at mid of March. Took more than a week get it back. "Error msg" pop up first time turn on laptop. Then I have to do "recover O.S." for them to get rid off "error msg". But after a few days, the "Memory dump" crashing problem occurs AGAIN. Spent more than 2.5 hours talking to Sales & Return Dept trying to return this "not fixable defective laptop" but be rejected because it is over 30 days return period. I have to go through repair dept. until it even passed 1st year warranty period?? Do not buy DELL laptop cause they don't back up their product!!!

Inspiron laptop 2016 - Great buy $$ wise, but after installing Windows one is left with 10% user space. So, add just a wee bit of data and Bingo - no space for updates! Windows will continually tell you you haven't the required space to accomplish the updates. Whaaat? And this is after cleaning, dumping, defragging etc. So, why buy a computer that can't handle the Windows program? I do not advise this computer unless you plan to use an exterior memory to run your Windows.

It has been 5 months my Dell laptop overheated and burned on November 4, 2016. The purchasing day was 12/7/2015, which is under the one-year-warranty. Dell has never discussed with me anything about repair or replace (Incident # ***). Got the estimate from Best Buy. BBB had also contacted Dell and getting NO response (Complaint ID#: **). I am taking this case to court with the help from my Business Law professor. We are going to show the class and all the college students what kind of company is Dell.

I purchased my Dell Vostro at the big electronic shop here in Kuwait, it's genuine from the box. I got 5 days and used it. First day I used it watching movie in a couple a hours then I observed the heat is increasing from the exhaust underneath. Your feature are good. I read some of review which are good ratings. So I do multitasking browsing in the internet, YouTube and playing the mp3 player on my laptop. And the heat become increase, I wonder what if I use for gaming, Photoshop, 3d rendering etc. and I might be worried to be more heating issues. So I installed music production software and I tried, so that's what the result. It's still increasing the heat. I feel on my hand from the keyboard while typing.
I ask the sales promoter at that shop and shared to him about the problem and his reply, "the reason is the processor is still new and started to boost! Try to observe till 1 month if still same." I was unsatisfied about his advise, the warranty only fourteen days and I wait for one month for that observing! So even now while I'm typing on the keyboard my hands feel the warm. I feel I'm holding a hot iron cloth, came from inside of my Dell laptop. Yeah I know how being a promoter what he can do his customers, I don't know maybe he don't want me disappointed to the product. Please can update me for these issues. I will send my reply and proof about these issues. I was disappointed for these issues.

The computer (Latitude 3570) did not run smoothly from the start. The touch pad had to be replaced. Then the computer shut off and smelled like burning plastic. It would not come back on. Dell used 2 hours of our tech company time trying to troubleshoot. They came and put in a new motherboard and another new touch pad. Now the computer made a horrible loud crackling sound. They wanted to troubleshoot again but I had had enough. They sent a new computer which took a couple of weeks. When it arrived it did not come with programs as the original purchase had. It had Windows 7 instead of Windows 10.
This is what they emailed me - "I have looked up the service tag, and am seeing that it should definitely have shipped with Windows 10, and that is the only key on the system. Windows 7 should not have been able to install without this key. Windows 7 would not even be able to run on this new system, as it has no Windows 7 key on the motherboard, downgrade or otherwise." I had to send them a photo showing Windows 7 on the computer. Dell then sent me a link to download Windows 10 but no license. I paid for windows 10. I will never buy another Dell again. Incompetent is the only way to describe the experience.
How do I know I can trust these reviews about Dell ?
743,097 reviews on ConsumerAffairs are verified.
We require contact information to ensure our reviewers are real.
We use intelligent software that helps us maintain the integrity of reviews.
Our moderators read all reviews to verify quality and helpfulness.
For more information about reviews on ConsumerAffairs.com please visit our FAQ.

Have had the Dell Laptop 5575 for a little over a year. The hard drive quit on me and notified Dell. They ran an online diagnostic and said the hard drive was defective and would send me a new hard drive. When it arrived I replaced hard drive but system would not reinstall Windows 10... Had to send laptop to Houston Dell depot. Got an email advising the laptop was damaged and now warranty cancelled??? Long story short they refuse to reimburse or send a new one... or send them $159 to repair damage they did. What can I do?

I just got this Inspiron 15 3000 series laptop a week ago and had problems second time I used it. You have no way to reset your password. Your password may decide it don't work anymore and there is no way of getting "help" from technical support because the software, even though you JUST bought it, is out of warranty over a hundred and something days old, so they want to charge a fee to help you or make you buy a warranty. Not to mention the narrator toggle works when it wants to. I had a computer, not Dell, that last me 17 years, now I have one that does not last two times!!!
Who comes up with a computer you cannot reset the password? Who makes a computer that the password screws up after twice? Well Dell does and then wants you to pay to fix their problem. Disappointed, disgusted is an understatement. I will not ever buy another laptop from them again!! I wasted time on the phone, and money!! Guess I should have read reviews. I hope this helps someone!

I requested to get information about the best laptop I can get for note taking, and they gave me the wrong product. They are not knowledgeable about their product. The return process is a nightmare. They would not cancel my order. They said that they have to ship to me first then I could return it, and cancellation is not allowed (item is still not ready to ship, and they don't cancel). After I return it, I must wait up to a month before I can get my money back (that's what they told me over the phone). They do not even ship their product from Canada. They order it from USA warehouse and ship it from there. It takes forever to get an order fulfilled, and they will not cancel once order placed.
The customer service agent told me that he doesn't care what I think or feel about their service. He is only following company policy, no cancellation is allowed after you place your order. He kept interrupting me and kept ignoring my questions (I had to keep asking if he is still there on the phone while on the phone with him, very rude). When I was placing the order, the sales agent also tried to scam me. I asked her to include a stylus with the laptop, and she overcharged me double the price than the price advertise on website. I asked her to send me the link of the product, she refused, she said that this product was only available in their warehouse, and she is the only one that can order it but when I google the product name on their site, there it was half of the price they charged me. I will never buy from them again, and I will not recommend them to anyone. My advice, stay away.

Literally, the battery went out of the first one in under a year. It was replaced because we paid for a warranty that was well above $200 (which was worth it). The replacement laptop came and it was a gigantic piece of **. I traded in a computer that was "ok" for one that runs like it was dropped in one of Dell's slave labor camps on the way to the transport.

This is the third Dell laptop I have owned over the past 15 years. I wore the other two out. I purchased the Inspiron 11 300 Series thinking the size was good, and I like to live simple. It is the worst laptop I have ever used, and I use a lot via my work. Just now the cursor jumped up three sentences which is one of many things about it that annoy me. I type really fast, and I need a laptop that can keep up. It hangs up when you are trying to pay bills online. The internet is a joke. I have never figured how to use the camera, which is another reason I bought this particular model. Go for the middle price models. I love Dell just not this model.

The right side hinge on my daughter's new Inspiron 5000 laptop broke. This is a manufacturer defect and has been very difficult to get repaired. I see a lot of similar people have this issue. The laptop was never abused, dropped and stayed on a desk. There is not a scratch on the unit and it looks new - except for the broken hinge. We purchased the extended warranty through Costco and it has taken over a month to be repaired and the hinge cover is missing after it was repaired. This is the last Dell computer our family will purchase.

Bought a new XPS 15" 9550 from B&H (after years in the Mac ecosystem), and also a new 28" 4K Dell monitor to go with it. But when I took it out on the road, XPS-15 won't connect to my iPhone 7's Hotspot? I just spent almost 2 hours with Dell Online Chat, then got transferred 3 more times and told that this is MY PROBLEM now! Dell DOESN'T support this area!!! UNBELIEVABLE!!! Will return this unit back and wait for the 2nd generation of the MacBook Pro 15 with touch bar this September!

Purchased a $2000 laptop in 2004 and again in 2016. Each lasting less than a year. Customer Service is terrible. Parts are always out of stock and they will "call you back." I can't believe I was such a fool to purchase any of their equipment again. Never again in my life! Goodbye Dell!

Dell service tag obtained. Dell service rep ULISES informed me that my computer was out of warranty and I would have to pay to fix the problem caused by their software update (Alienware Respawn). Dell should fix any problem related to their own updates at their own cost instead of requiring the consumer to research for hours to fix problems that they cause.

New Dell Inspiron, less than 6 months old, left hinge broke separating the screen frame from the front of the computer. Dell will not repair. Says this is normal wear and tear. Laptop was not abused. Laptop was moved from center of desk and hinge was frozen in place and would not close. If forced to close will break screen. This problem is located all over the internet, even on the Dell website. Wish there was a way that government would require recall like they do with bad automobiles... New buy a Dell boat anchor again.

Dell sold these computers knowing there would not be drive space for Windows 10 and Dell critical updates. Will not refund after 30 days. Computer didn't malfunction before 30 day return period. Also sold me an external hard drive trying to fool me into thinking this would solve problem. Should get class action going against them.


It's been over a month, and after filing a BBB complaint Dell then tried to offer me a brand new laptop but a downgrade from 7000 series to 5000 series 2 in 1. I rejected, then they tried to offer me a refurbished laptop the same model as mine, but a hard drive with half the capacity. I said no. They need to replace with the same, they still build these models, but they refuse to use new parts, they rather use second hand parts and junk parts. Now they don't have those, and a person from executive resolutions now refuses to replace with the exact same system. This company is **.

I purchased a Dell Inspiron 15 Laptop for my wife to use connecting to her brother quilting machine and to manage running a small business. When we received it, we set it up for facial recognition but the camera didn't work. I called tech support and they determined it was a motherboard problem, sent a tech to replace it and it seemed to work fine but then started having power issues and giving error messages. Finally the hard drive failed.
I called Dell again and they said it was a customer level repair, and that they would send a replacement. I refused to install it fearing I could be held accountable for any other problems. So a tech came to install it and the new drive would not install the windows system - the factory tech had not removed his/her password. So another hard drive was sent to the local tech to install. This time it worked. Then the computer had power issues again and started running more and more slowly.
I called Dell again, but lo and behold the 12 month warranty had expired. To replace the now dead AD Adapter I reluctantly purchased a service agreement for it, and they sent a replacement. I plugged the replacement into the wall socket and the green light turned on. Then I plugged the male end into the computer, the green light went out and no power went to the computer. So, today, I called Dell again knowing that they needed to repair this for once and for all. I offered that they take it back and close my loan account or fix it. They require the warranty to be extended or pay for the repair. I refused stating that this is not a new problem as they see it and that they never adequately repaired it which leaves their warranty as ineffective. I should not have to pay them more money to fix this problem.
I have had Dell computers for years and never had issues. This laptop is now a dead brick leaning up against the side of my desk. I still make my monthly payment for the privilege of owning a perfectly useless box. I am waiting on a call from the tech's supervisor who I am sure will reassure me that he/she will do their level best to resolve my problem and explain that the warranty will cover everything. But as a retired businessman I know customer care is not the customer's responsibility and delivery of "GOODS" and "SERVICES" is the company's responsibility. Dell fails at both. I encourage users to use the "buyers beware" attitude when shopping with Dell and one way to avoid the hassle will be to buy elsewhere.

I bought an Inspiron 17 7000 series a few months ago. The warranty will end on October 5, 2017. I called Dell for help because a plastic part came out of a USB port. After being transferred to three different departments, they told me that they can send a box for me to ship the laptop to them, and that it will cost me almost $160.00. NOT FUN! I told them that I owned a Sony laptop for 8 years and nothing fall apart, nothing broke and nothing stop working. How come my Dell is a few months old and it had already started to fall apart? Those Indians people only said that they are sorry but that is how it is. I am very frustrated because I take good care of my laptop and I am the only one who uses it. How come I have to pay extra when the cheap parts they use to make their laptops fall apart? NO FAIR... NO RIGHT! Crappy people! Crappy Company! I will NOT buy Dell never again; I am not spending any other dime on Dell. I do not recommend DELL to anybody.

I purchased 2 laptops for Christmas. One for my daughter and the other for my grandmother. I must say, my experience with their customer service was horrible. I was trying to get help due to an error message "hard drive not installed". On 2/12/2017 I spoke with 8 different people including a supervisor. I was on the phone for a total of 4 hrs of my Sunday morning. Finally, they scheduled a technician to come out, he was here yesterday 2/14 and even after changing the hard drive there's still a problem.
Now because I can't simply bring my computer to a location for a tech to repair, I have to wait for a box to arrive so that I may ship it to them. They say 3-5 business days total. But this is completely outrageous. They explained that the tech only handles hardware issues and is not bothered with software problems. I honestly will never purchase a Dell again, and at this point I really want to just return both laptops. Including my grandmother's (which by the way is still in the box).

Dell survives only on brand name. I had bought a Dell Inspiron on September 2015. Within 30 days I realised that the laptop is extremely slow. I contacted the Dell customer care. After almost 10 to 15 days follow up they agreed to sent a technician. The technician himself confessed that when the parts has to be replaced Dell always gives a recycled part. They never give a new or a genuine part. He was more concerned on sending his work report from my system rather than resolving my laptop's issues. In spite of repeatedly complaining the company has never reverted.
Now once my laptop is out of warranty, even before listening to my concern they advised me a motherboard replacement. And they demand that I must make a payment of Rs 15000 in advance, even before the technician visits and actually confirms the problem. So if there is no problem with the motherboard I still will have to purchase it. Wow!!! I have never seen such a bad customer service. Post sale service in Dell is hopeless. So dear friends make a sensible choice and don't be fooled as me chasing the brand name.

I have purchased many electronic items from Dell. My main concern is about my personal laptop that I purchased back in 2003. After the initial warranty was expired I purchased what was supposed to be extended warranty for 3 years only to be told when my computer finally broke down. My warranty was only for one year for $239. The last time I had someone work on my computer she was working on it for over 8 hours but never resolved the issue which led my husband to have to wipe my computer clean and to restart it. After contacting Dell requesting tech support I was told that I had no warranty on my computer. When I asked why I didn't have any warranty on my computer since this warranty was purchased in 2015 it's now February of 2017 but the warranty was supposed to be for three years as promised but was told by the tech support it was only for one year.

I loved my Dell Inspiron 5000. It had all of the features that I needed and a dream to handle and just what I needed. That was until the nightmare started about 3 months after purchase. It started with little things like keys falling off, cap lock light not working. Then odd things, sound on & off, colors shooting across the screen, the frame around the screen coming loose, etc., then it would not hold a charge and & the whole laptop became unusable.
When I could finally connect with tech support, that was when the real nightmare began, they would not call back, could not communicate because of their thick accents, would not give me an English speaker, a total run around for 3 months. Another 4 months & 3 times of sending laptop back and forth by mail, uncountable phone calls and still not working and then had the nerve to tell me that now my warranty was up! I now know they were waiting for me to give up. I threatened to have my attorney contact them & all of a sudden a new laptop appeared in the mail. Ok now all is well? Not a chance! After 4 months I found out today the new one needs a new motherboard. I can't face going through the above again. HELP!

I ordered battery for my Dell laptop. It never arrived. The customer service told me that the battery I asked for is out of stock because my laptop is several years old. I asked them to tell me which batteries were in stock. They gave me two other options for my Dell laptop. I ordered one of them and it never showed up either. I had to cancel my order again. The customer service people are in India. They are extremely rude, they lie and don't have any knowledge of how to help the customer. Dell is an unprofessional company. I will never buy a Dell product ever again.

Dell Inspiron 15 - Dell have refused to offer any help towards this distasteful problem. From day 2 the on/off stopped working so 11 days waiting for repair. Then about 19 months later problems started with the hinges. They eventually let go so the lid flops around like a prick in a bowler hat. Dell quoted £430 to do the screen. A local company have 5 yes 5 waiting for the same parts and repair. They quoted £160. 100 is the cost of the lid from Dell. When asked would Dell pay for a new lid and I will pay the labor they declined to even answer me. DELL YOUR SERVICE IS SUCH CRAP. I WILL NEVER BUY FROM YOU AGAIN. I will encourage everyone I can to avoid you like a bad STD.

My laptop crashed last Wednesday so I called Dell to help me. They sent me a recovery disc and I ended up calling them back to help me. The rep was very nasty and was getting frustrated with me as I am not computer savvy and everything he was telling me to do would not work. So after about 3hrs, he finally said to me he could not help me that my hard drive was probably fried, and attempted to try and sell me a new one over the phone. I took it to the Geek Squad after that which I guess should have done in the first place and they told me Dell deleted my entire hard drive. I will NEVER deal with that company again and from looking at these other reviews I am not alone.

The computer (Dell Inspiron 5000) works well for now, bought it a year ago, but it won't last long because it is falling apart. It is literally unhinged. No abuse on my part, the computer was always stiff to open from day one. So stiff that opening it for a year has now caused one hinge to come off the computer which has subsequently caused the plastic frame around the computer to come off in the lower left hand corner. Physically this computer is not-durable/substandard/poor-quality/crap or a similar adjective of your choice. Will avoid Dell in the future, they surely know this product was defective but have kept it on the market.

I purchased a new 17" laptop computer from Amazon and found out 2 months later that the warranty had expired. I called both Amazon and Dell to get the warranty updated. Every time I contacted Dell I was faced with an 5 different levels of choices and then when I finally got a real person, they had an accent you couldn't understand and they would transfer me to a different agent phone number with the same 5 levels of questions to try to get to the correct person. After 14 phone calls and the same runaround I gave up. If you need support for a new computer, DO NOT GET A DELL!

I have always purchased from Dell, but will not after the last laptop I purchased. The hard drive had to be replaced within 2 weeks of receiving, then the keyboard had to be replaced, a technician had to come out to fix the power supply outlet, and now it won't even turn on. The technical support is horrible as the technicians take over 2 hours to be able to fix something and half the time don't even know how to fix an issue. It seems all Dell cares about is their stockholders and lining their pockets.

ConsumerAffairs Research Team
The ConsumerAffairs Research Team believes everyone deserves to make smart decisions. We aim to provide readers with the most up-to-date information available about today's consumer products and services.
Dell, now renamed Dell Technologies, is a computer company that was founded in Round Rock, Texas in 1984. Dell was started with the goal of making technologies like computers more accessible and affordable to consumers. Dell's various lines of laptops can fit consumer needs from basic application functions to business solutions.
Inspiron 3000: Dell's Inspiron 3000 series is an ultra-portable 2-in-1 laptop series designed to perform basic computer functions.
Inspiron 5000: The Inspiron 5000 is a 2-in-1 laptop that is capable of displays at stronger resolutions due to a more powerful processor than the basic model.
Inspiron 7000: The Inspiron 7000 is a high-performance laptop capable of running more taxing applications and some light gaming. The Inspiron 7000 15 is Dell's most powerful Inspiron model.
XPS: The Dell XPS is a laptop designed for powerhouse visual quality. They are built to be durable despite their thin size.
Chromebook: Dell's Chromebook 11 and Chromebook 13 are lightweight computers designed for home or business use.
Best for Dell laptops are best for casual users, home offices and businesses.
Dell Laptops Company Profile
Company Name:

Dell

City:

Round Rock

State/Province:

TX

Country:

United States

Website:

http://www.dell.com/